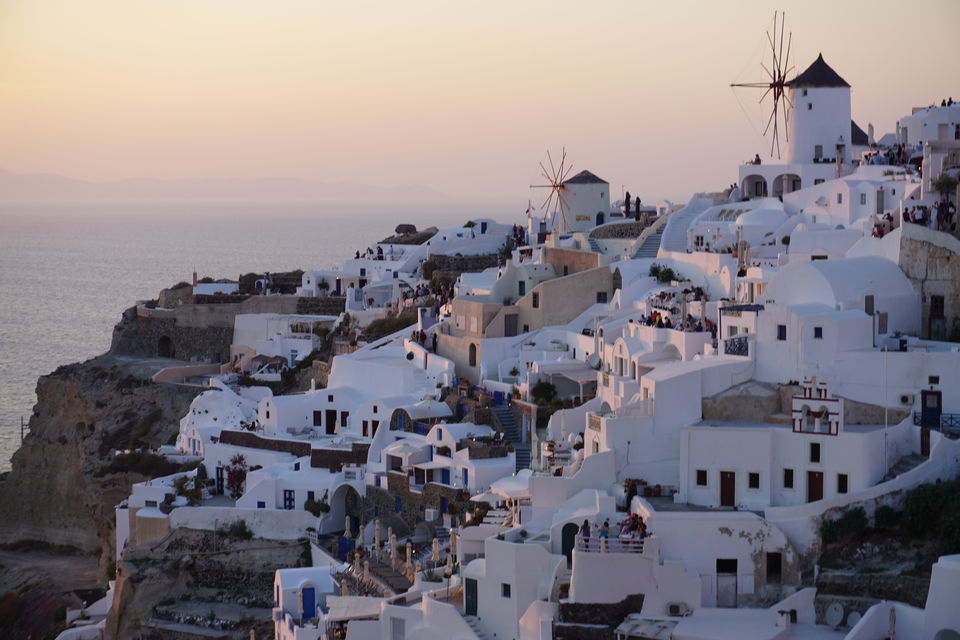 Everyone has a dream place they want to visit some day. For me, it was always Santorini. When I was in school, I watched The Sisterhood of The Traveling Pants at a slumber party with my best friends. That was the first time I saw Santorini, and immediately fell in love with it! We girls decided that someday we will go to Greece together. Growing up, we forgot that dream somewhere. Then three years back, out of nowhere, that memory came up in a conversation. Just the idea of Greece made us so excited that we started gathering the necessary information, and started saving for our grand trip. We later decided to add Amsterdam, Belgium and Paris to make the Schengen visa worth it, which I will cover in another article.
Although our main destination was Santorini, most flights to Santorini have a halt at Athens. Athens is the capital of Greece and historically very significant. Since all major attractions in Athens can be covered in a day, we decided to spend a day here before heading to Santorini. We landed in Athens on a rainy evening. We finished immigration and got a cab from airport to our AirBnB. Athens Taxis take 35 Euros cash to go to the city center from airport, they have a fixed rate. They do have a bus going to the city center as well, but since we had luggage and it was dark outside, we decided to take a cab. We chose a centrally located airbnb since we planned to walk to all the major sights in Athens. Now I have stayed in a lot of Airbnbs, but my favorite to this date is Vassilios's apartment in Plaka. The apartment itself was perfect for the three of us. Vassilios is an amazing host, with warm and enthusiastic personality. He had a guide mapping all major attractions, and gave us good suggestions for food. He also had enough jam, jellies and fruits that we had an amazing breakfast in the apartment next day. Big bonus was the view of Acropolis from the apartment.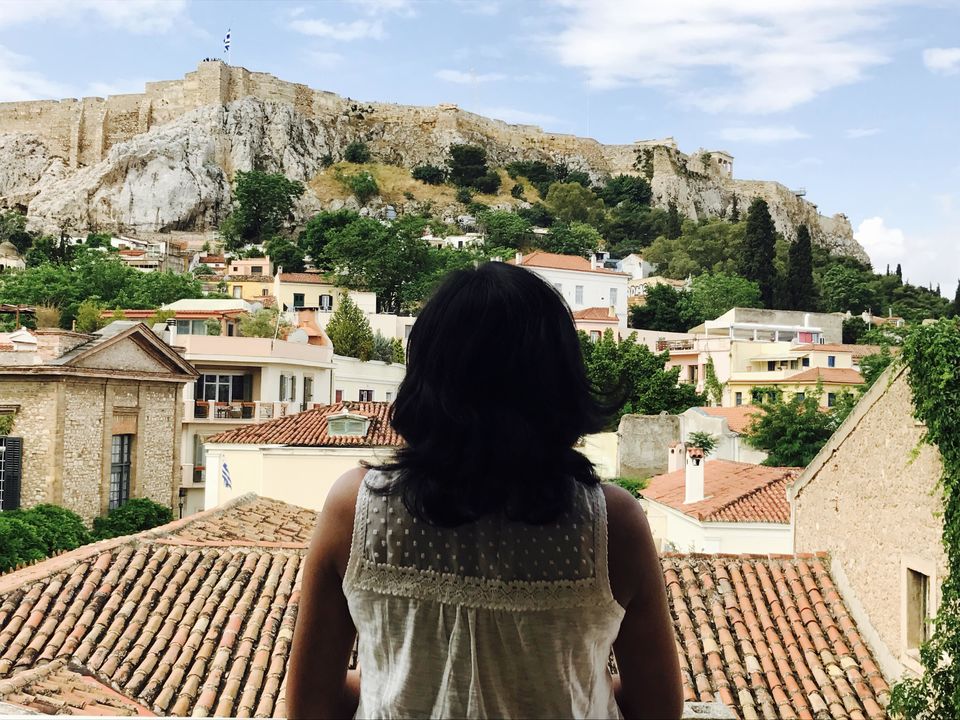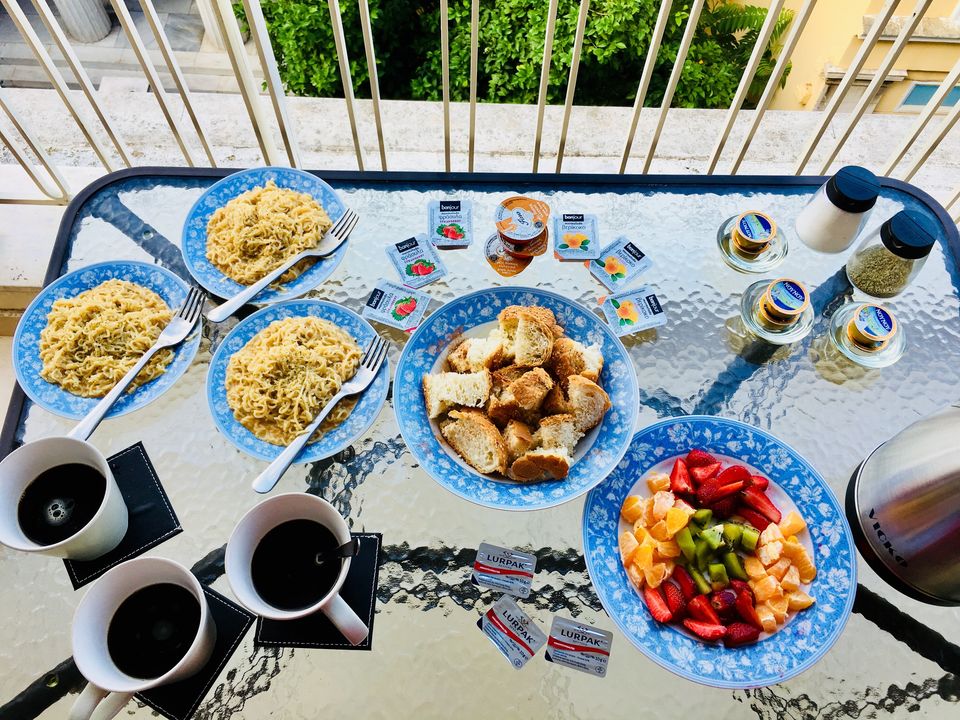 After breakfast we left our bags at a bag storage facility since we were leaving for Santorini the same evening. You can feel greek culture and history by just roaming around the streets of Athens. At our first sight, we got the Athens Sightseeing Pass (E30), which is available at all major attractions. We started our journey at the Temple of Hephaestus. It is an ancient greek temple built in 415 BC. Can you imagine visiting a site built in BC timeframe? As an architecture lover, I marveled the sight of the majestic pillars.
After roaming around the temple and taking lots of photos from every angle, we headed out to the Ancient Agora of Athens. Agora simply means gathering of people. There are many ancient structures built around this area, so we took a short walk around it.
Next, we visited Roman Agora. Again, it's just a small park with lots of structures worth visiting, plus it was included in our pass. Our next stop was the great Acropolis. The best thing about Athens was that all the major attractions were next to each other. Granted, we had to walk a lot, but it was manageable. The famous Parthenon, Temple of Athena Nike, Erechtheion and Theatre of Dionysus are all in one complex called Acropolis. Acropolis has a ticket of E20, but it was included in our pass. Parthenon had some construction going on when we visited, although it is so huge that you can still see most of the parts through construction. We spent plenty of time exploring this area as this was our last official sightseeing stop in Athens.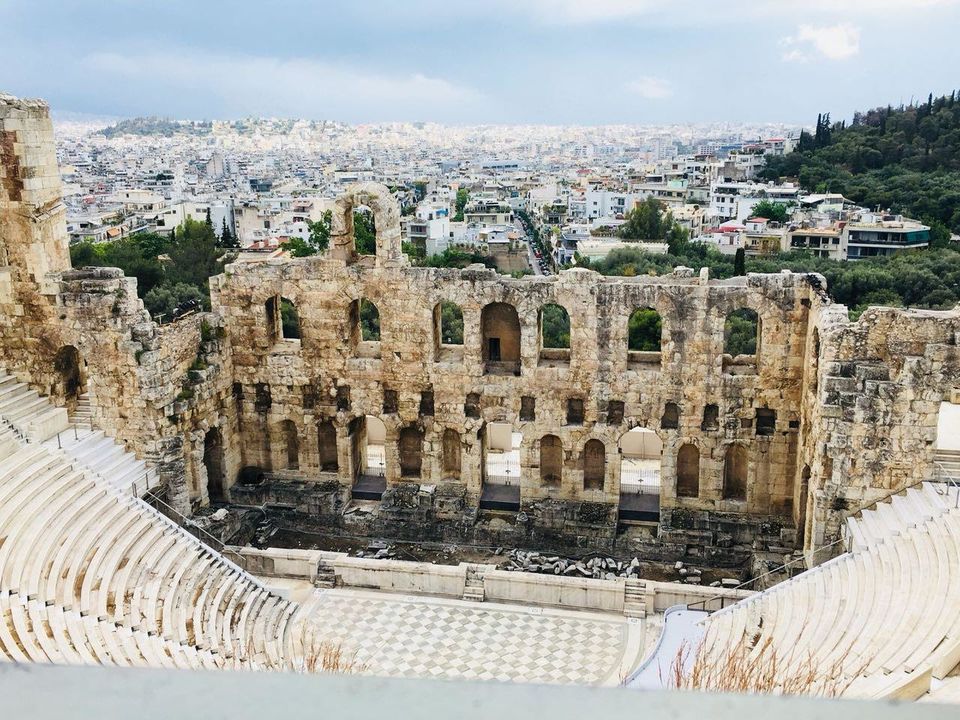 Hours of walking had made us very hungry, so we started looking for food. We found this amazing restaurant called Aspro Alogo on our way. This was our first chance to try Authentic Greek food, and this place did not disappoint us. Just have a look at the Greek Salad. By this time we were running a bit late for our flight. But the owner insisted that we stay for some more time. He got us a piece of cake for desert, a Raki & Orange juice to drink and a bottle of water. Greek people are amazing in their hospitality! After the overload of food, we ran to pick up our bags and headed towards the airport in the cab. On the ride to the airport, we took in the city and replayed the memories in our minds, saying bye to one amazing day.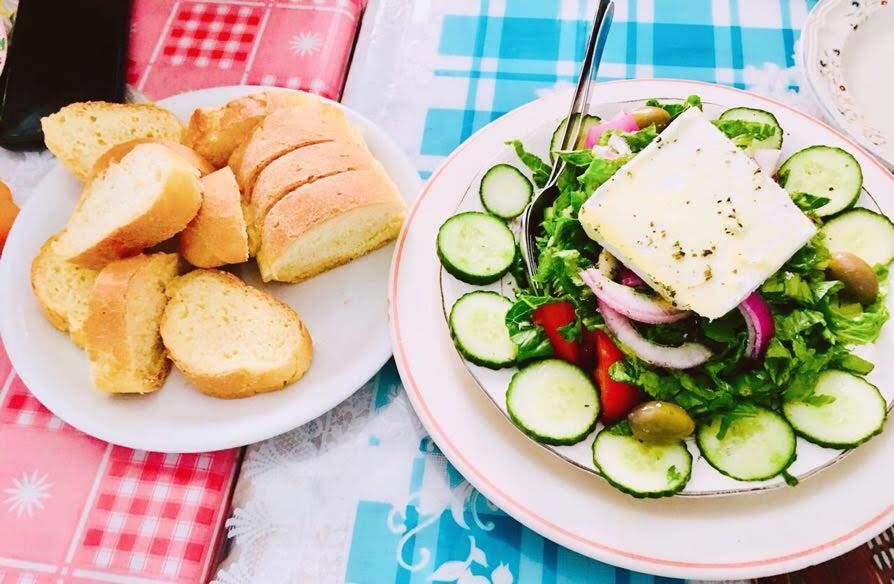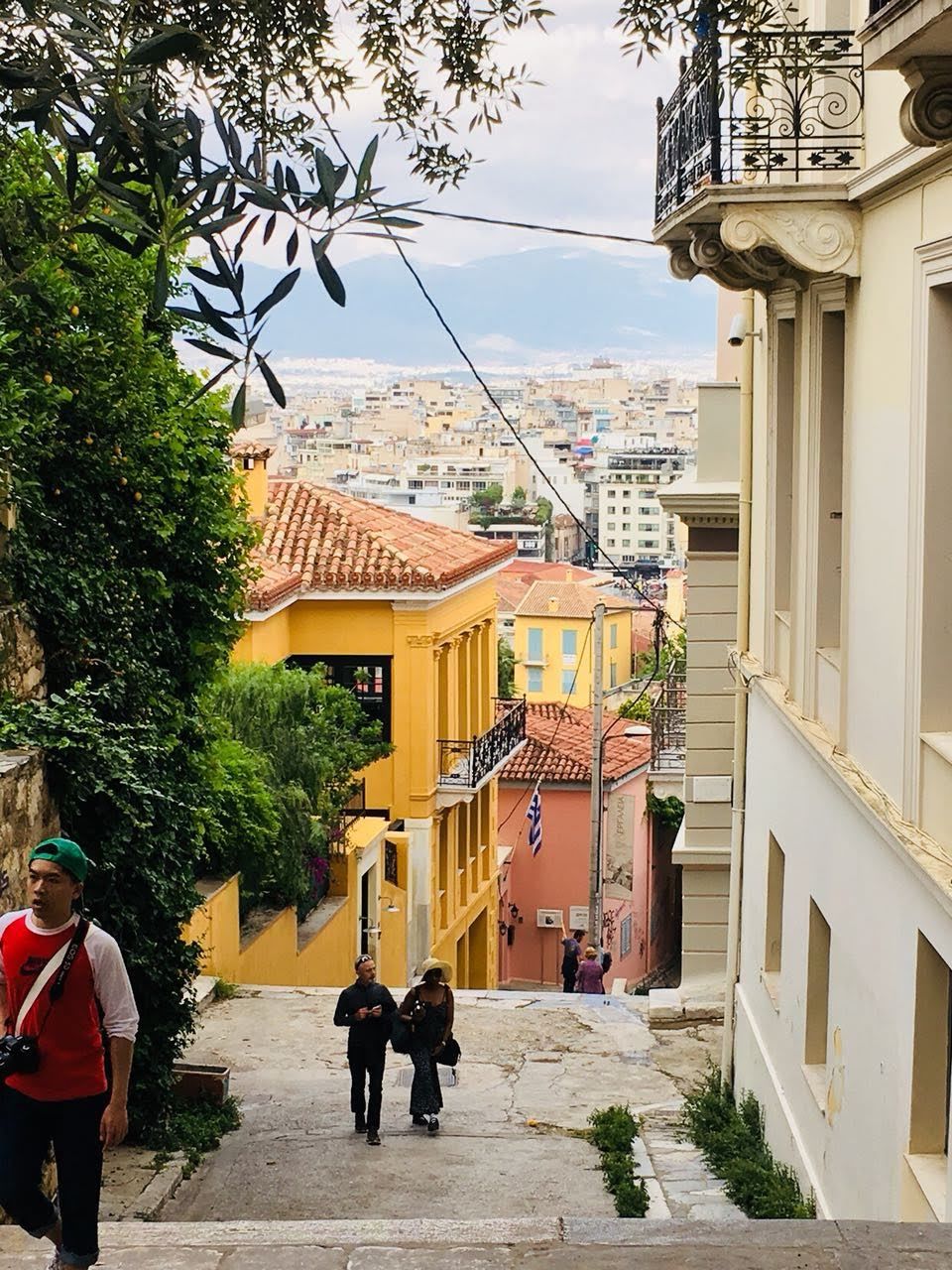 Santorini, Greece:
As we started descending in Santorini, we were mesmerized by the sight of the tiny island. Since none of us knew how to drive, our villa manager had sent a cab to pick us up at the airport. As soon as we reached the villa in Oia, we took in the beauty in front of us. While witnessing a beautiful Santorini sunset, we had dinner at a restaurant nearby. The best part of this villa was the jacuzzi facing the Aegean sea. We chilled in the jacuzzi for a while before heading to bed.
Next morning, we enjoyed the breakfast sent by our villa manager and got ready to explore Oia. The village of Oia needs no introduction. Whenever you see a photo of blue domes and white walls, it's most likely from Oia. We walked around the town for hours and took in the blinding beauty. Few places we covered were Ammoudi Bay, Oia Castle and the windmills. We took few breaks at Pitogyros for mouthwatering gyros and at Lolita's ice-cream. After a tiresome day, we reached Oia castle to catch the very famous Santorini sunset. This castle is undoubtedly the best spot to witness sunset. As we were already tired from roaming around, we got to the castle 2 hours before the sunset, and took some rest while people-watching. As the time passed, a lot of tourists gathered around, readying their cameras to catch the beautiful Santorini sunset. The hours we spent here, chatting about everything while witnessing one of the most beautiful sunsets, were the highlight of our tour. We packed some gyros for dinner from the same restaurant and took a bus to Fira, where we had booked our next stay.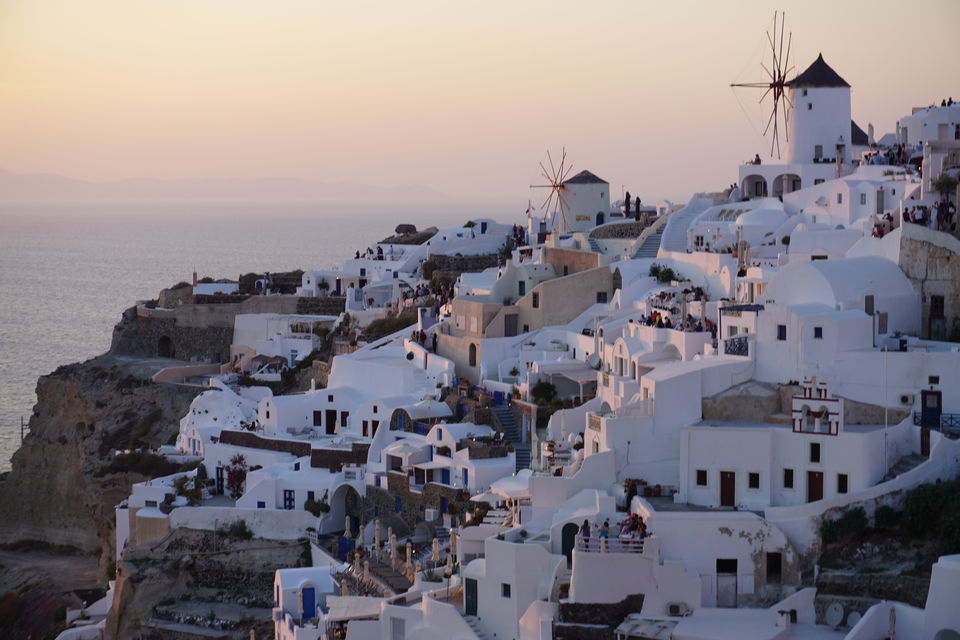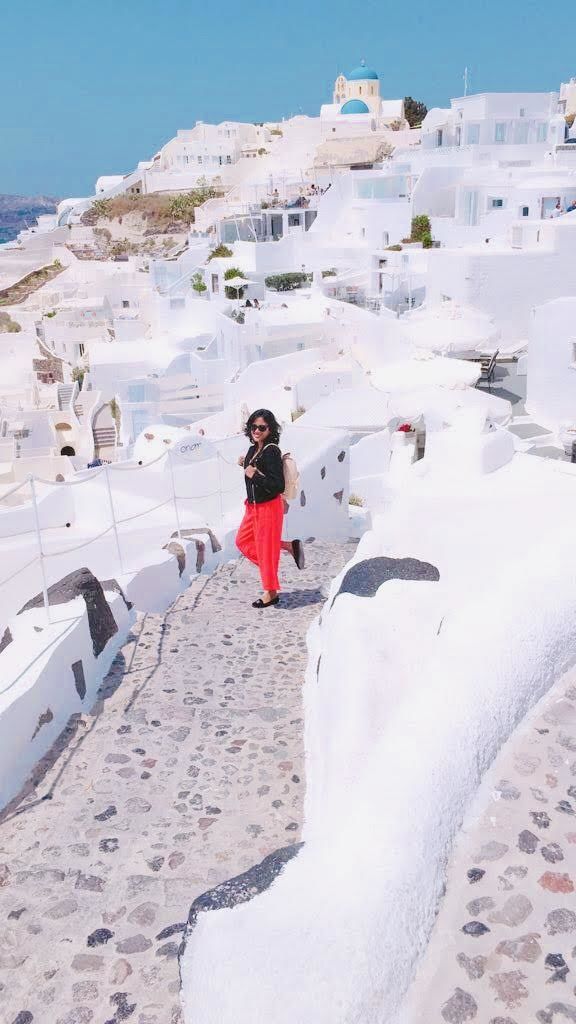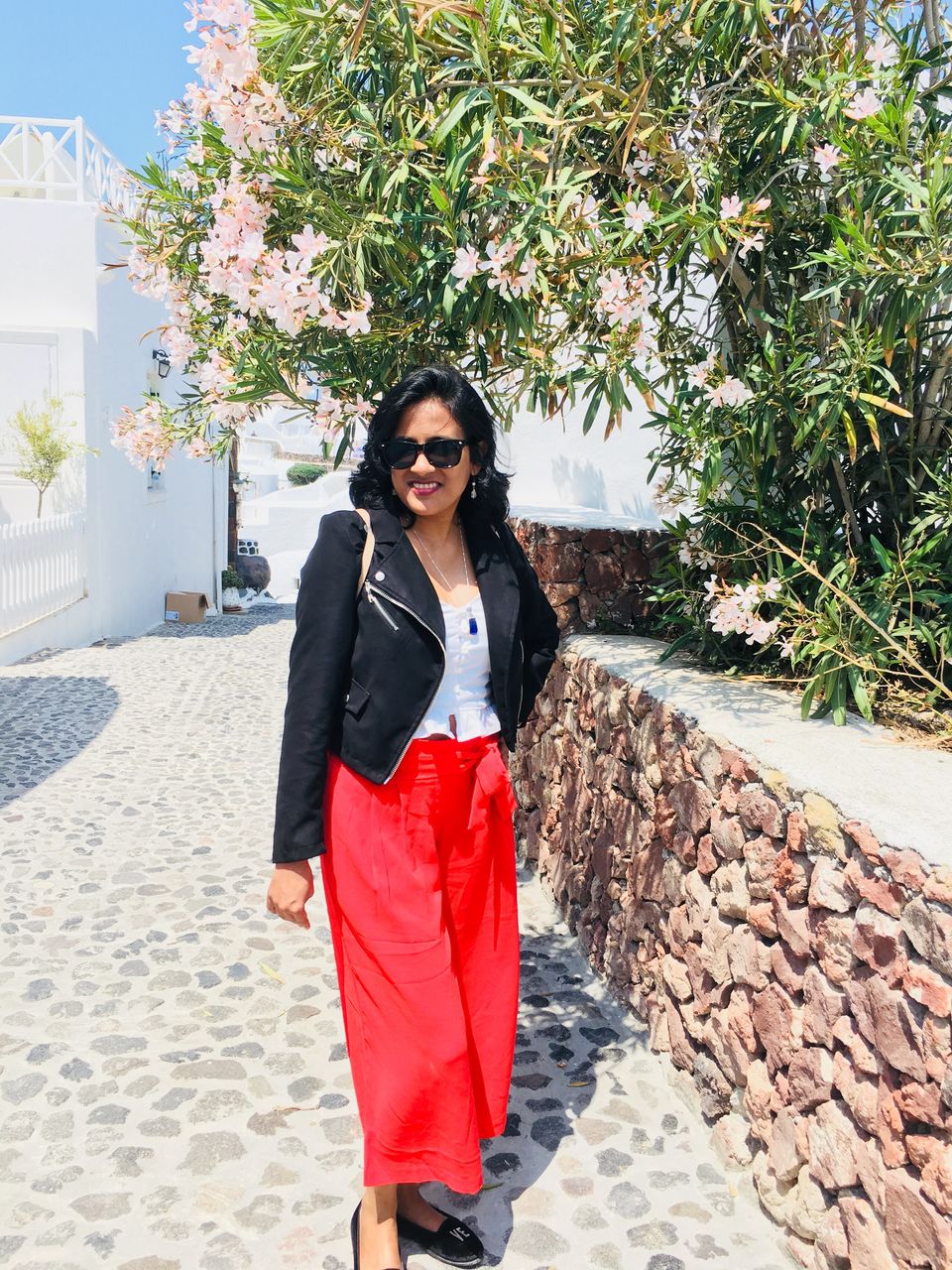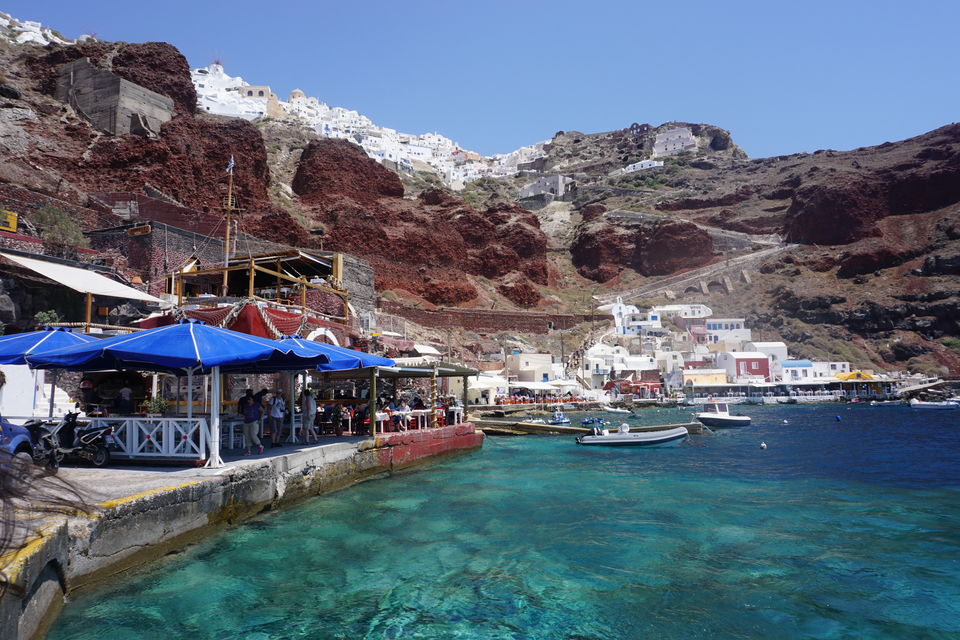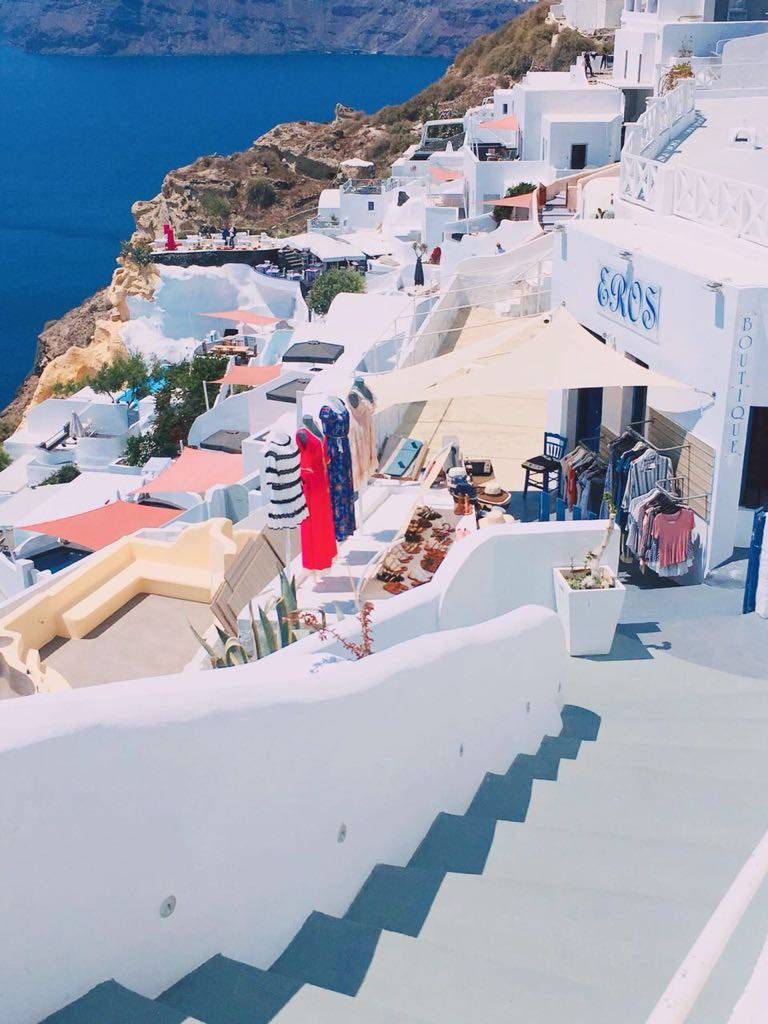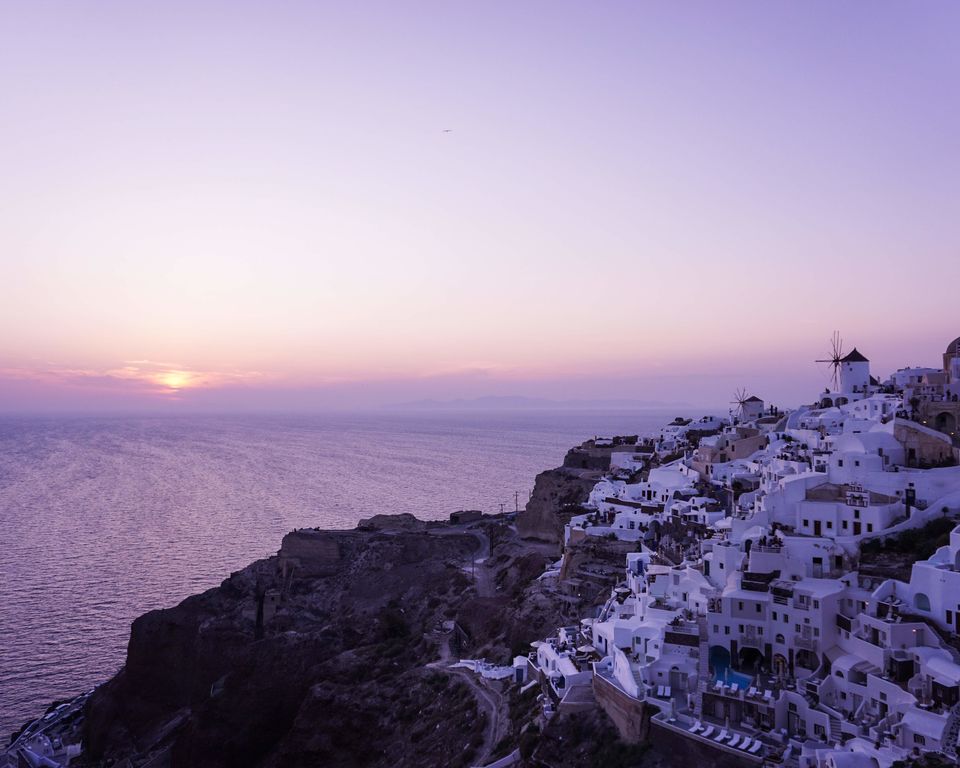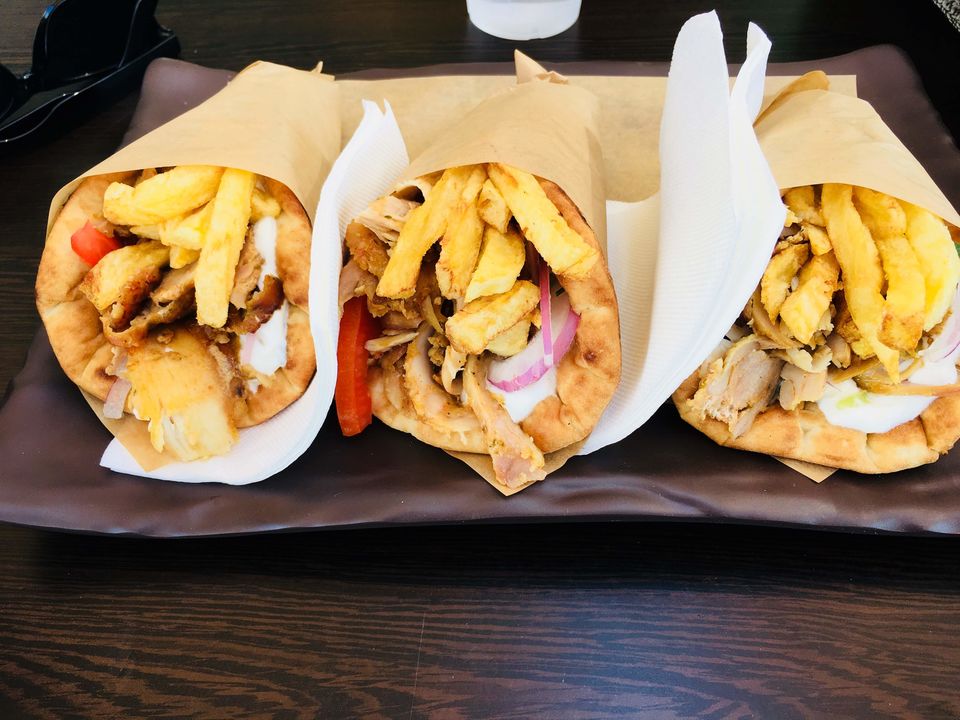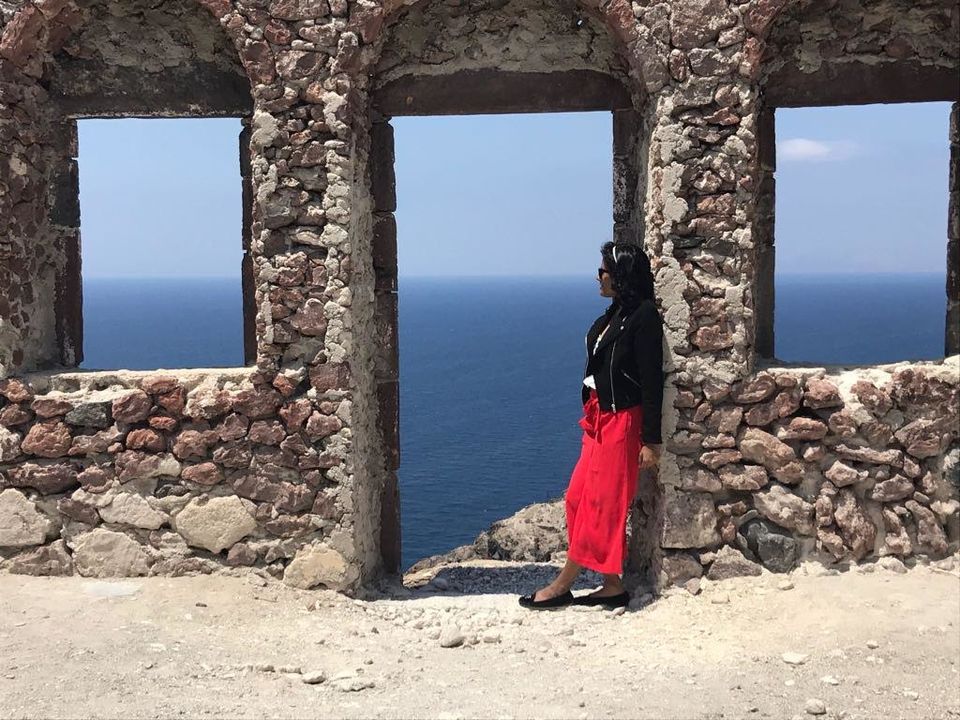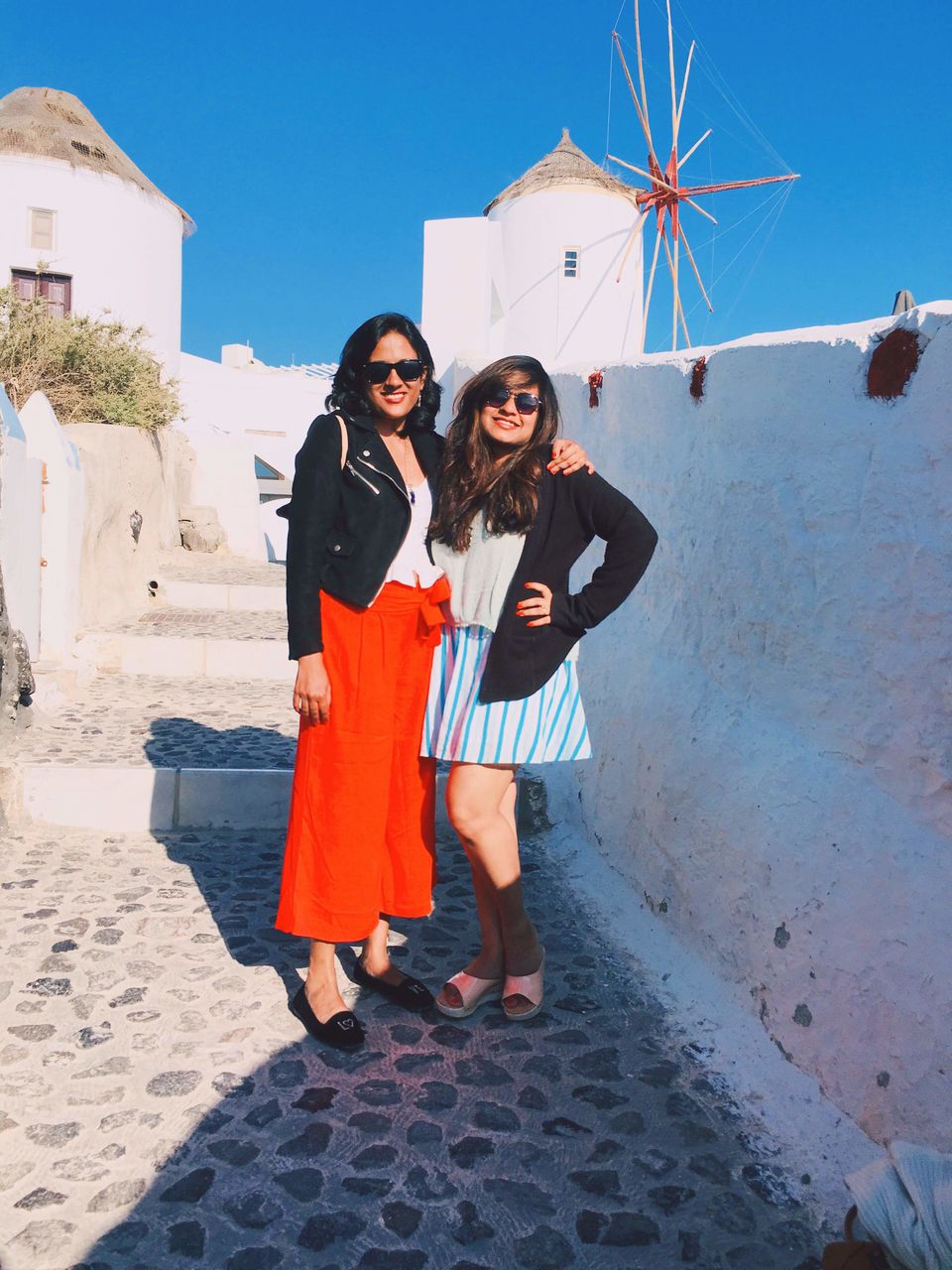 Although Oia is the most famous village in Santorini, Fira is the most connected one. If you want to travel from point A to B in Santorini via bus, you most likely have to go via Fira. As we started our day in Fira, we first visited the Three Bell Church. The view from here is very mesmerizing. After taking a lot of photos, we started walking towards the village of Imerovigli. While researching for Santorini, I read that the hike from Fira to Oia (3-5 hours) is the most picturesque one. Since we didn't want to walk all the way back to Oia, we just covered 30 minutes of it, till the Skaros Rock. Along the way, we got some delicious gyros (all that we ate in Santorini), and took a lot of photos. Skaros rock is a huge rock formation due to volcanic eruptions thousands of years ago. By the time we walked back from Skaros Rock, we were extremely tired, and decided to take a nap. We took a bus to the Perissa Beach for the evening, but by the time we got there, it was almost sunset, and not many people were around. We roamed around the beach for some time, and took the bus back to our AirBnB. The next day, we took an early morning flight to Amsterdam.