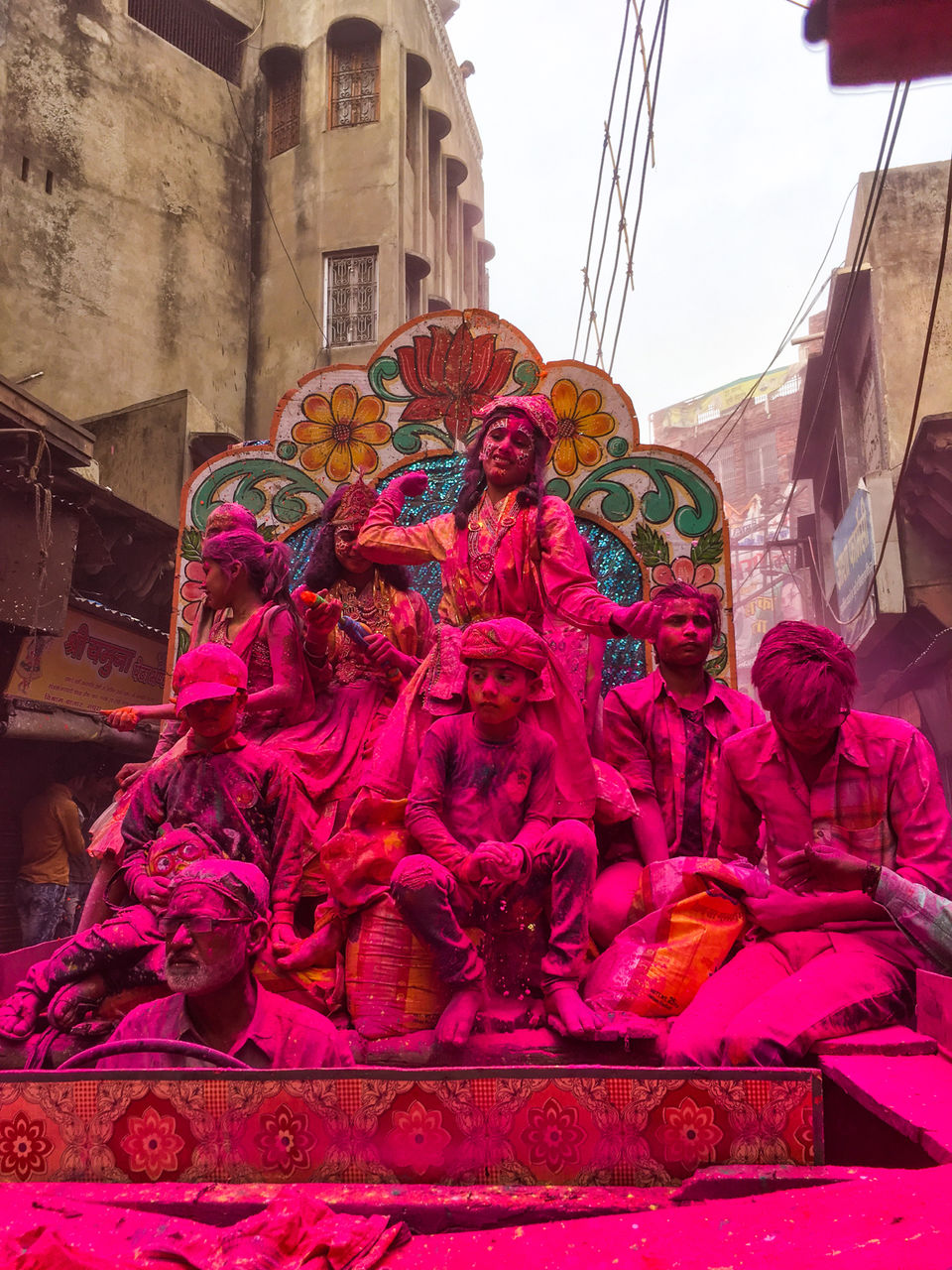 I always wanted to celebrate holi, festival of color, splashing colors on our loved ones, getting our whites dresses drenched in rainbow colors & keep it as a souvenir. When I think about holi, Mathura is the one place stuck in my mind, beautiful krishna, divine bhajans, hearing Tam-Tams, rickshaws sounding "Radhay Shyam''. Evening snack on the small lanes selling hot cutlets, Samosa's, Panipuri's, lassi and "Doodh ka Paeda'' (milk kova) all that smells divine, & those colourful Mala's for Darshan, Naughty Bhandars (monkey) snatching everything you carry, however they only give your belongings back, when you buy them eatables, they are very clever, Weird share autos with loud bhajans, weird I mean here is you will never see a share autos of that kind, like a buzzing bees 😜 with disco lights stung on it. Overall it's a wonderful place with a lot of memories attached to this place.
We arrived one day before Holi, that was on the eve of Holi, we stay in Maheshwari Kunj Nivas, which was ashram, we can see bhajans every morning & night, they offer food to poor after the soulful bhajan, this one time we didn't get our stays on our usual stays, it's Houseful & all the houses around Gopinath Mutt turned into stays because it's usually high demand to see holi, not only people from India has this in wish list, many outsiders come to take colourful pictures and celebrate. We found another stay nearby, this the hotspot in vrindavan because it's just 10min to "Bhake Bhihari Temple" we're we are going to celebrate our Holi, we quickly freshened and took a rickshaw to Bhake Bhihari, guess what they already started celebrating on the Holi Evening before the D-day.
We also found the place where to take pictures from of the celebration.
Next day morning we took a rickshaw reached before 6am, but it was a huge que before us, I lost hope whether we get the spot to take pictures, but Rangji has other ideas, it took almost one hour we moved inside the temple and found pandits letting people upstairs to Photographers, We paid around 500Rs and look some beautiful shots of Holi & slow motion video of beauty & chaos ❤️
Next we had a plan of taking part in Holi walk that happens in Vishram Ghat.
We did some boating in Gol pada, on the banks of river Yamuna. This place has colourful temples lined on the side of banks, this place will resembles Varanasi ghats.
A Walk to Vishram Ghat.
This walk united several cultures together, that was rare to sight, foreigners were one among us they were dancing to our beats and celebrating holi march like they belonged here. We saw people dressed up as Shyam and Radhay came in cars with colors and played Holi splash with commoners who marched down the lane.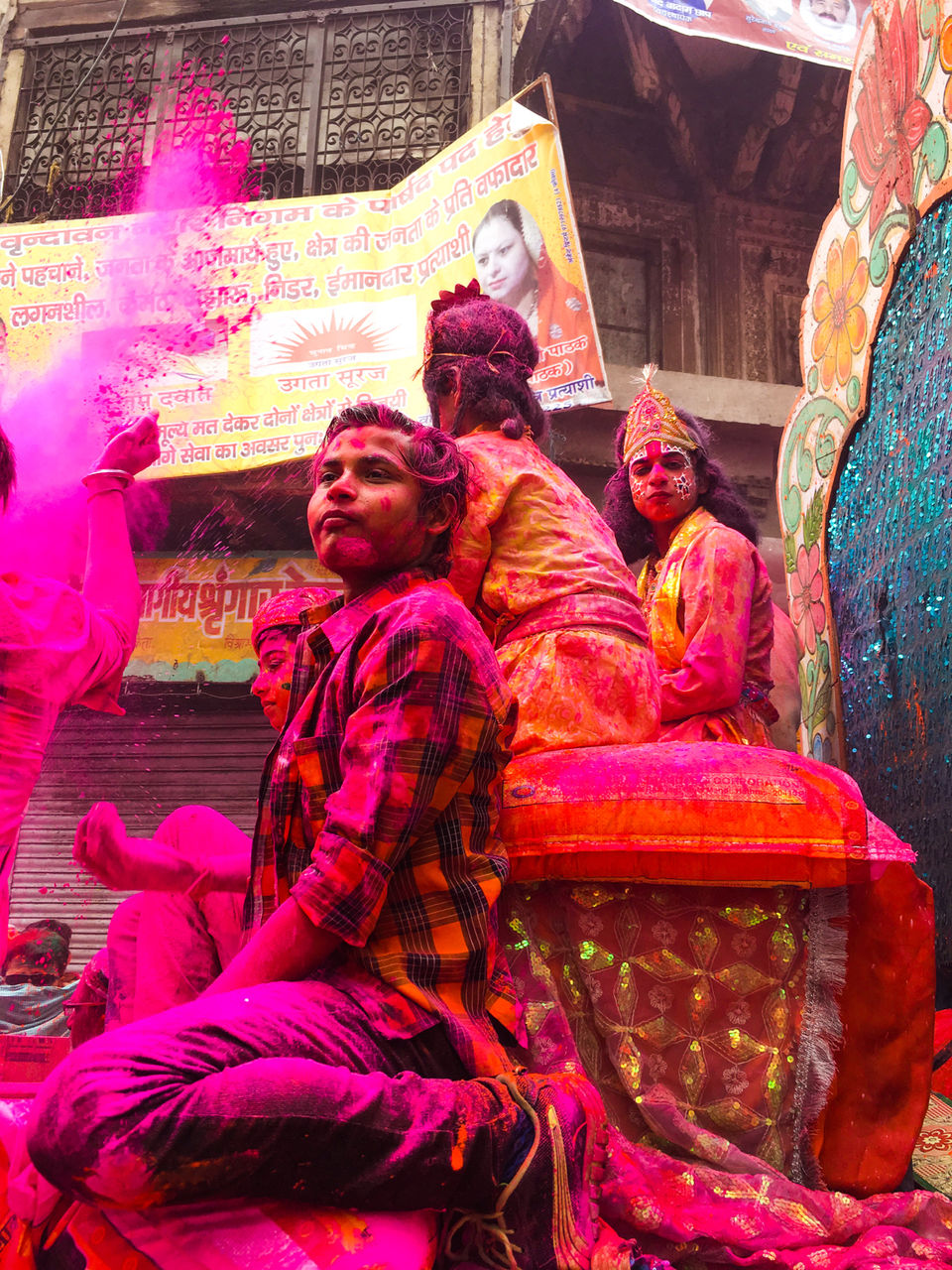 We also witnessed Holi in beautiful Dwarakadheesh Temple which is located in Raja Dhiraj Bazaar. Beautiful lanes to witness vintage buildings & smallest shops painted all vibrant.
We went to Shri Krishna Janmasthan Temple where camera, cellphones, belts, pen, everything besides water bottles should be kept in locker rooms available outside the temple. One temple shouldn't be missed if you are in Mathura, this is were it's believed Little Krishna was born and the cell were he was born is still in there. Sends down Chills when you pass inside the birth place of Krishna ❤️.
Other places not to be missed : Shri Rang Nath Ji temple which has two types Architectural Gopuram.
Govind Devji Temple - Architectural Beauty.
Rangji ka Bhagicha - Garden where Rangji & Radha who is still believed to live and play in the garden in the evening, & misery that happens to people who enters here after 6pm is still haunting to hear.
Chir Ghat, where krishna stealing goodies cloths and boating on the banks.
Nandgoan & Bharsana.
End of the Story ✨
Next Holi plans includes Barsana.
Phoolan Ki Holi & Lathmar Holi.