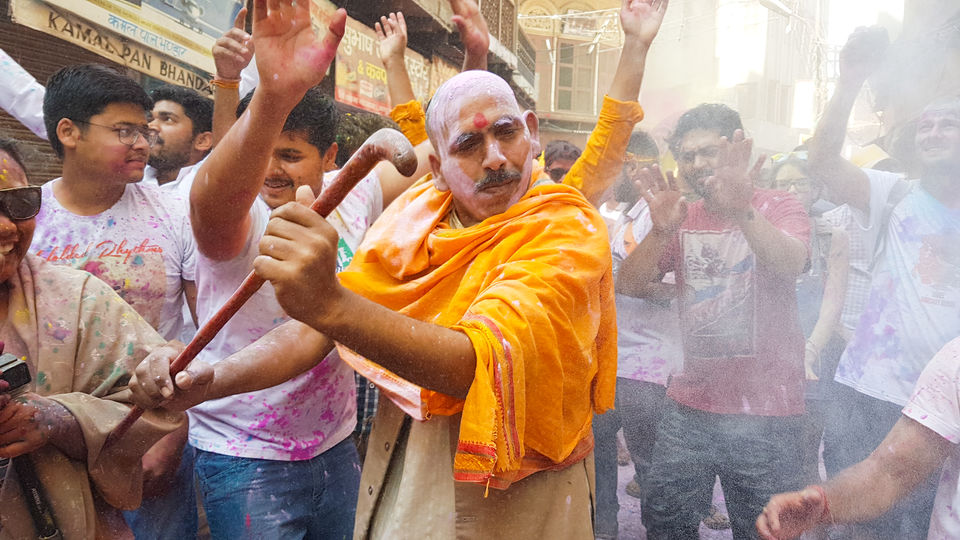 Celebrating Holi in Mathura and Vrindavan is something which was in my bucket list since the day I got to know about it, but until this year (2017) my stars never aligned to make this happen. I was planning to go to Mathura since it was going to be a long weekend, but seven of my friends were going to Goa and were trying their level best to convince me to come along.
In hindsight, I am content that I decided to travel solo on my bike and got to see the most colourful Holi ever in my life.
Day 1
After it stopped drizzling, I started my trip to the holi city form the chaos of Gurgaon, and it took me three hours to reach the destination. The roads from Gurgaon-Mathura is in an excellent condition and cruising on my Avenger with music in the background really gave me the ride I was longing for. Morning drizzle had made the weather serene and the villages of Haryana falling in the way added to the charm of it.
As soon as I entered Mathura, I could sense the positive vibes and the energy and enthusiasm that the city contained. I quickly went to the guesthouse I had reserved on the phone and compared it to other options and found it to be the best one (guesthouse details at the end). The location where you are staying in Mathura is crucial as you would not want to stay far from the happening places. I would recommend staying near Vishram Ghat, as this place is close to all the essential places like Dwarkadheesh temple, Janambhumi, and Holi gate.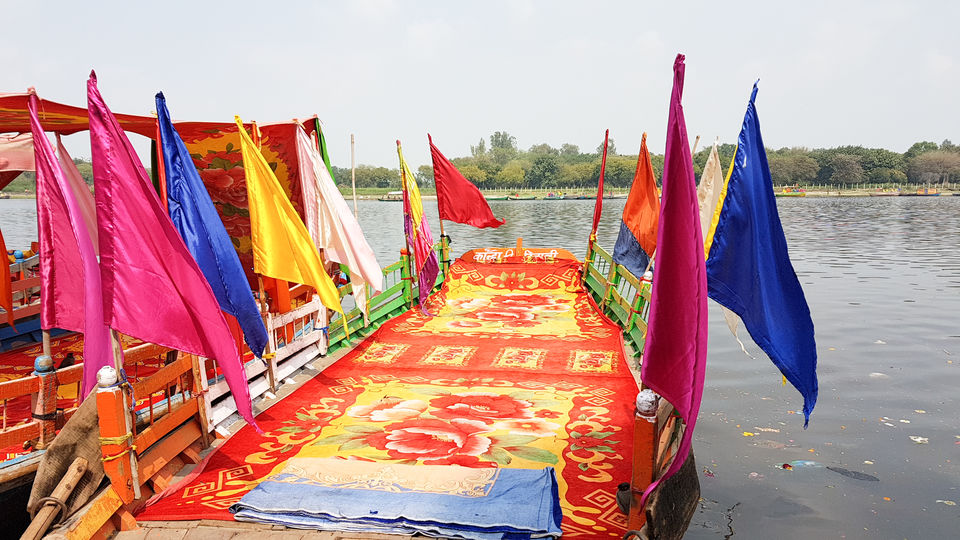 On this day, there was no event which was happening, and I spent the evening by strolling on the peaceful ghats of Yamuna and then exploring the local streets from Vishram Ghat to the Holi Gate (the main street of Mathura where there are a lot of options available to eat and enjoy the authentic UP cuisine).
Mathura is filled with varieties of street food and enjoying the tasty Kachori and Jalebi at Oma Pahalwan near the Holi Gate is something which should not be missed. Right opposite to it is Brijwasi sweets, which is the most famous shop in Mathura for the famous Pedas and other desserts. Its 'badam-milk thandai' is a must-try item.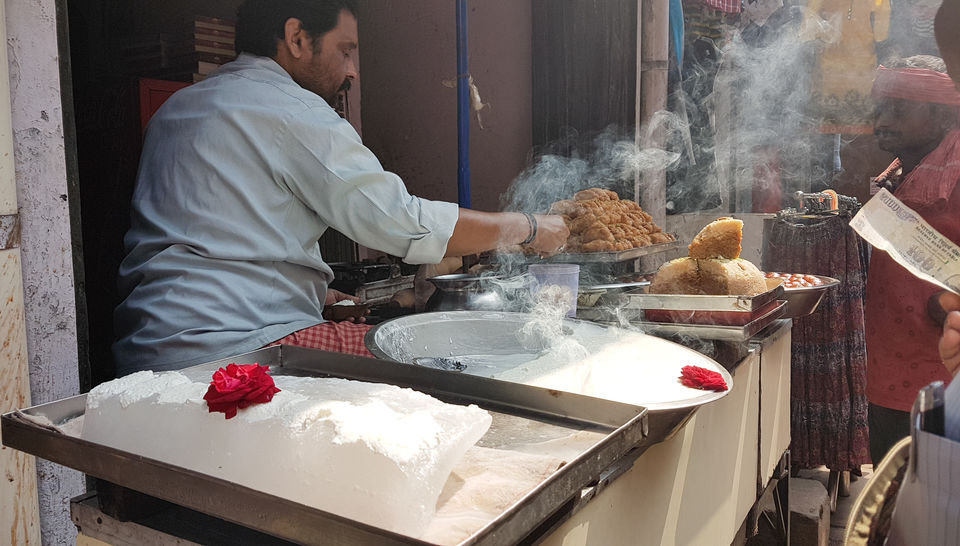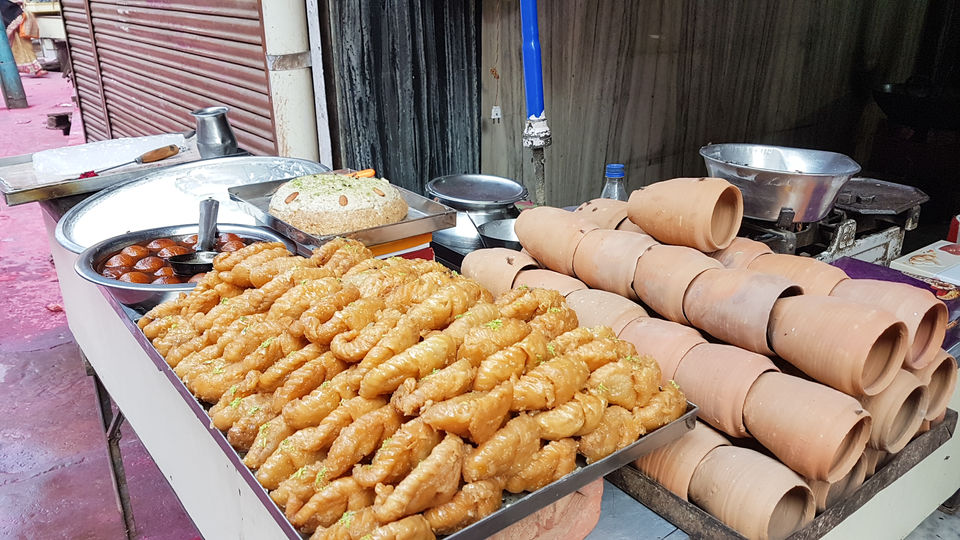 I returned to my guesthouse for a quick nap and then walked to the Krishna Janambhoomi temple. This temple is built around the prison cell where Lord Krishna is said to have been born. People were flocking in the temple, and bhajan and kirtan made the environment lively. Some people were also celebrating holi with flower petals, and the overall atmosphere was quite energetic.
After a light dinner, I called It a day and slept early only to wake up with full energy the following morning.
Day 2
I met few travellers from the TripAdvisor community in Mathura, and we all went to the famous Banke Bihari temple in Vrindavan and joined the never-ending line of people in the streets, which leads to the temple. Banke Bihari temple is tiny, and it can't accommodate the number of visitors. As a result, there is no space inside the temple, and people are literally standing without any gap. Priests were throwing gulaal and coloured water from pipes on the devotees.
We then went to the backyard of the temple and clicked some pictures with the fantastic backdrop of colours splattered on the walls and diyas which were lit for the puja.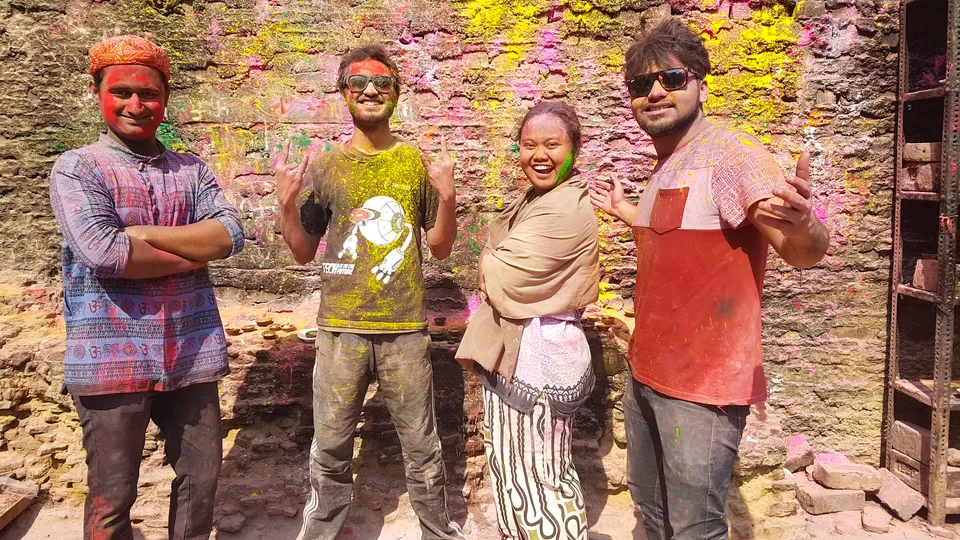 After Nidhivan, we went to the Prem Mandir which remains closed in the daytime and hence we proceeded towards the ISKON temple. The atmosphere was lively there, and everyone was participating in and enjoying the high energy bhajans of Lord Krishna. This place had so much energy that I did not want to leave it, but there was no alternative.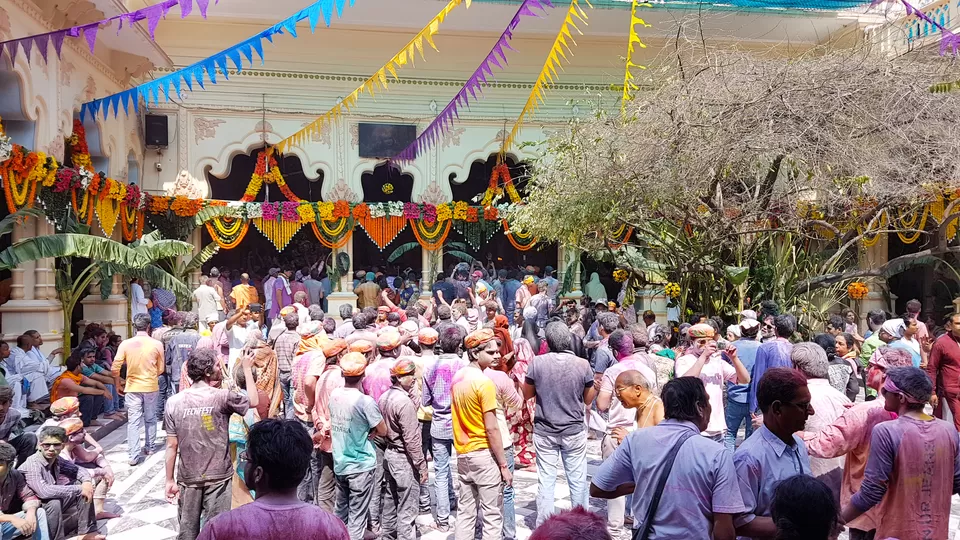 Since Prem Mandir and ISKON are really close, I decided to revisit ISKON. This time it was more crowded, and priests were enchanting bhajans in the corridor as well as in the main temple premises. I never realized how I spent an hour there and wanted to stay more, but it was already 9 PM, and I had to return to Mathura.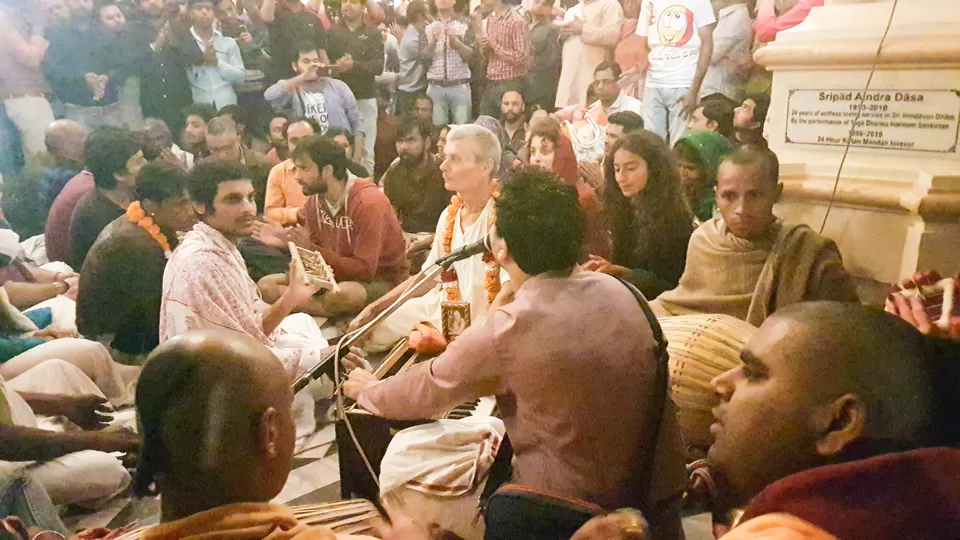 Somehow we managed to go to the top of the temple from where it was possible to see what exactly is happening on the ground floor. It looked magical there, I was trying to absorb the moment, suddenly all the Indians were evacuated from the balconies which were overlooking the courtyard of the temple. It was done to make way for the foreigners who had paid donations to the temple (read priests) to access it.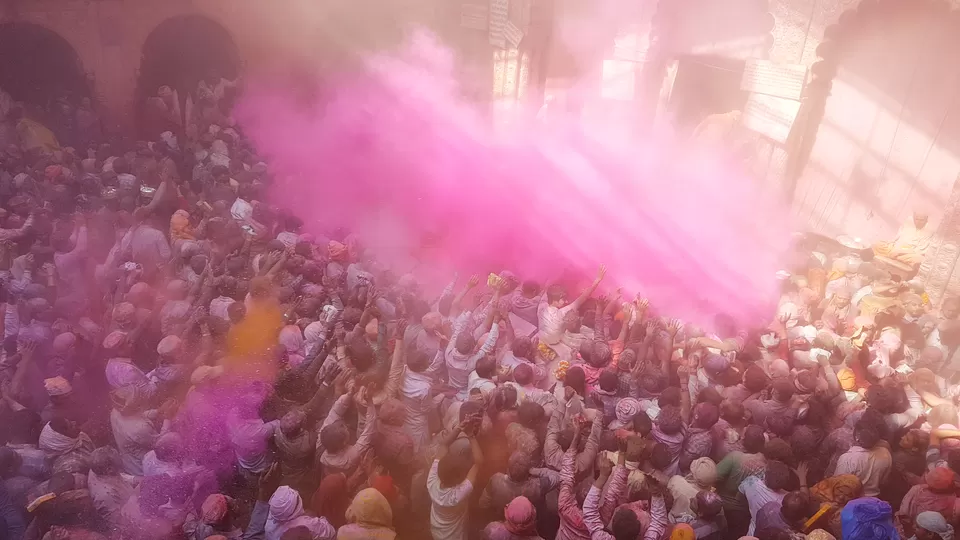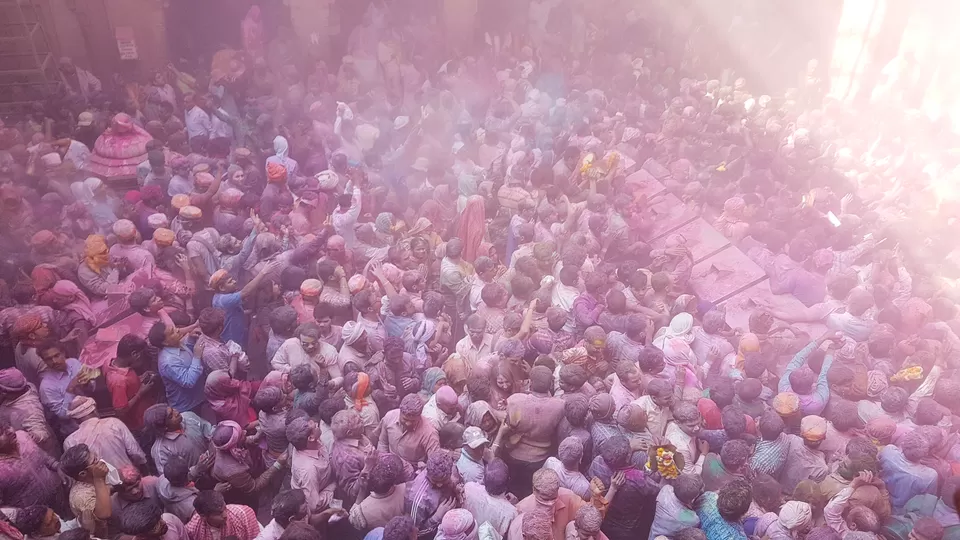 Next stop was Nidhivan temple inside a jungle, and it is believed that Lord Krishna visits it every night. Nidhivan is considered as a haunted place in the night, but honestly, there was nothing spectacular about it.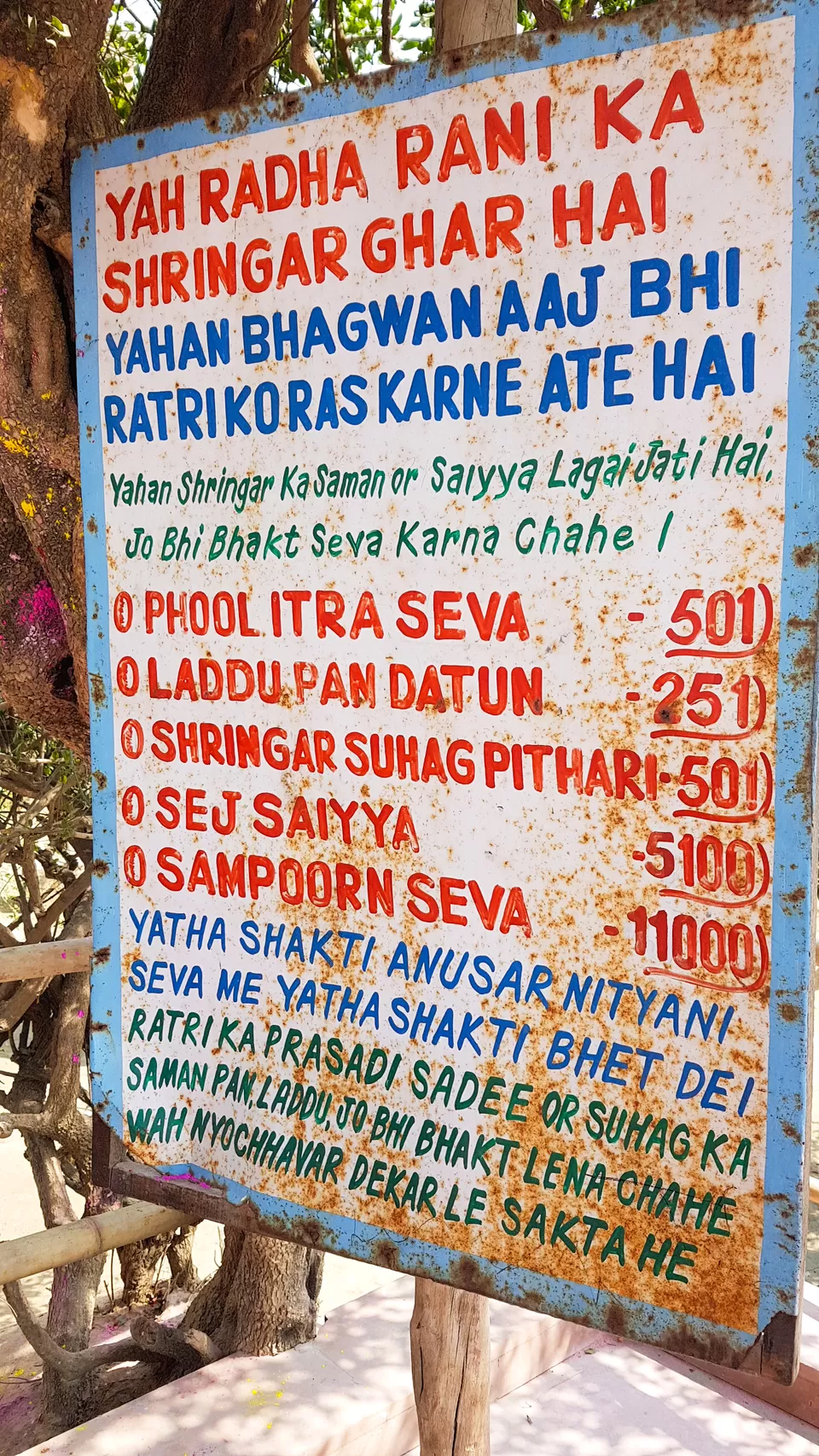 At about 2PM, we reached the Vishram Ghat from where the procession starts to the Holi Gate. Dozens of trucks and tempos are decorated and kids enacting Lord Krishna, and Radha sits inside the decorated vans. All the vans have music playing ranging from Bhajans to the latest Bollywood numbers, and people are dancing and celebrating while local kids throw colours from the rooftop of their houses. It is an event which must definitely be attended, but many people are not aware of it.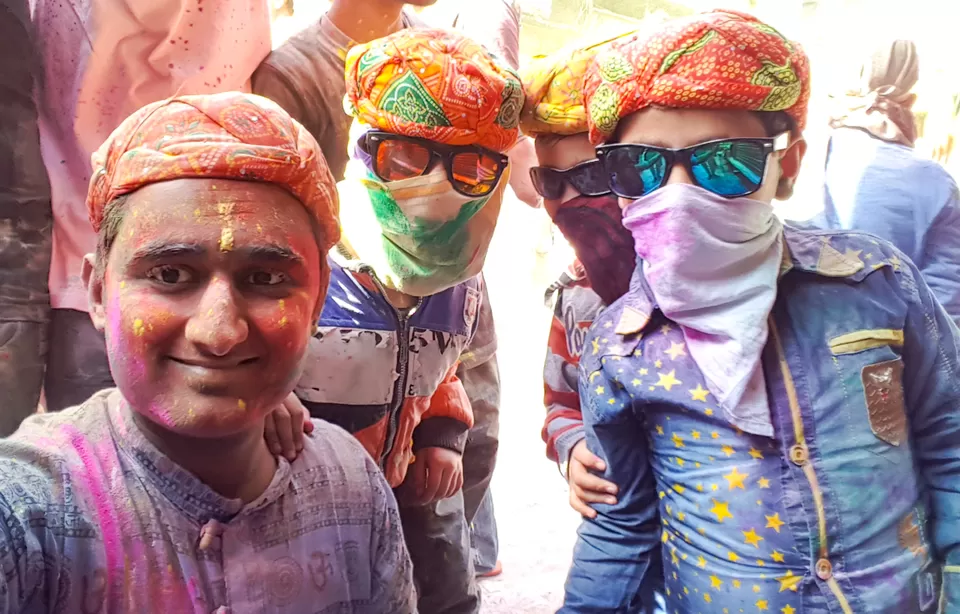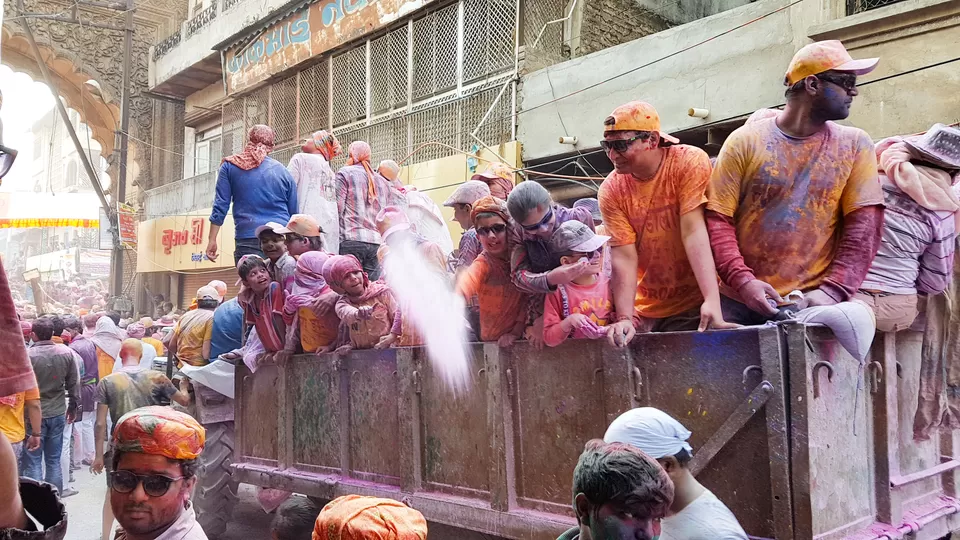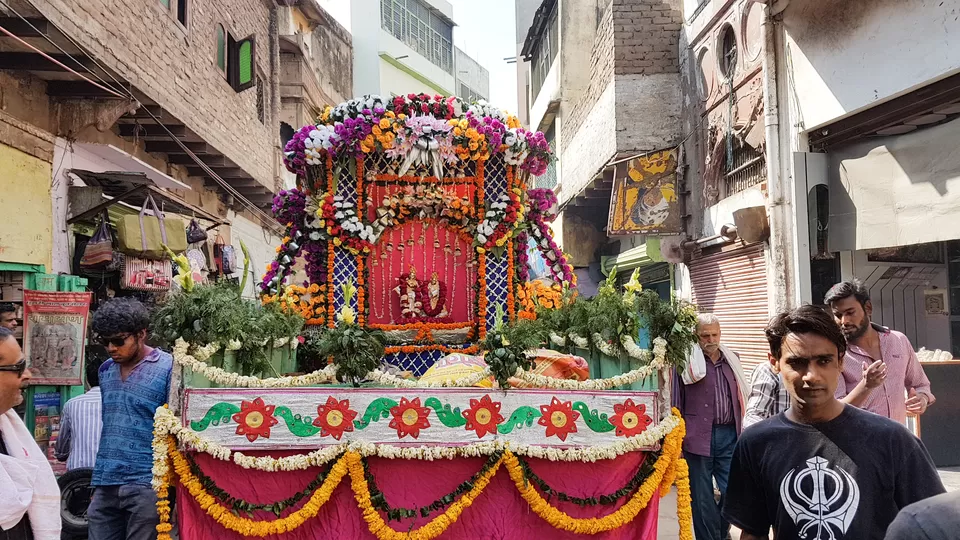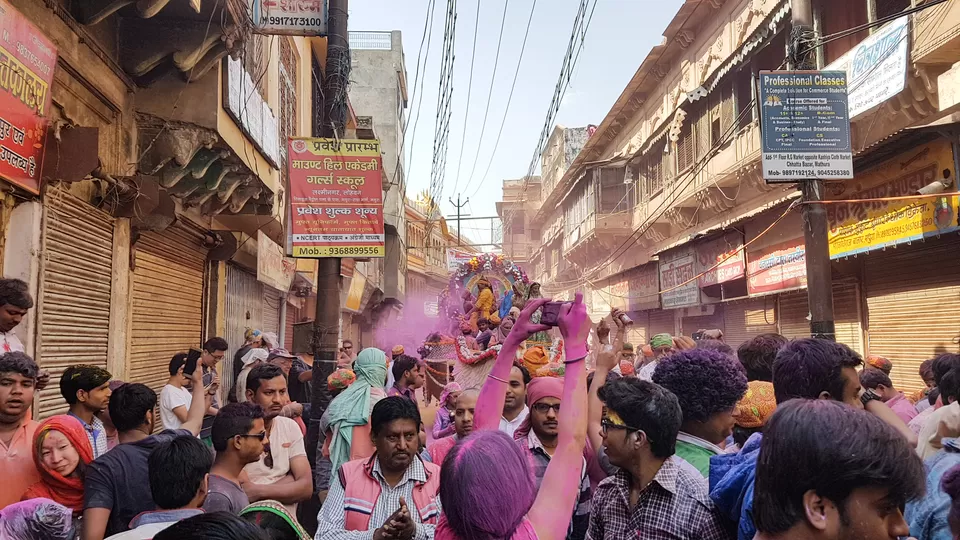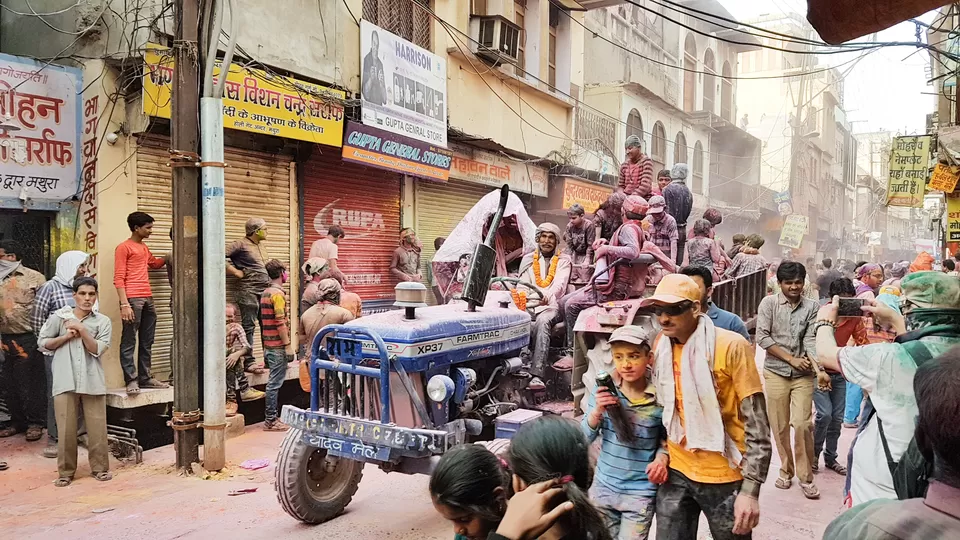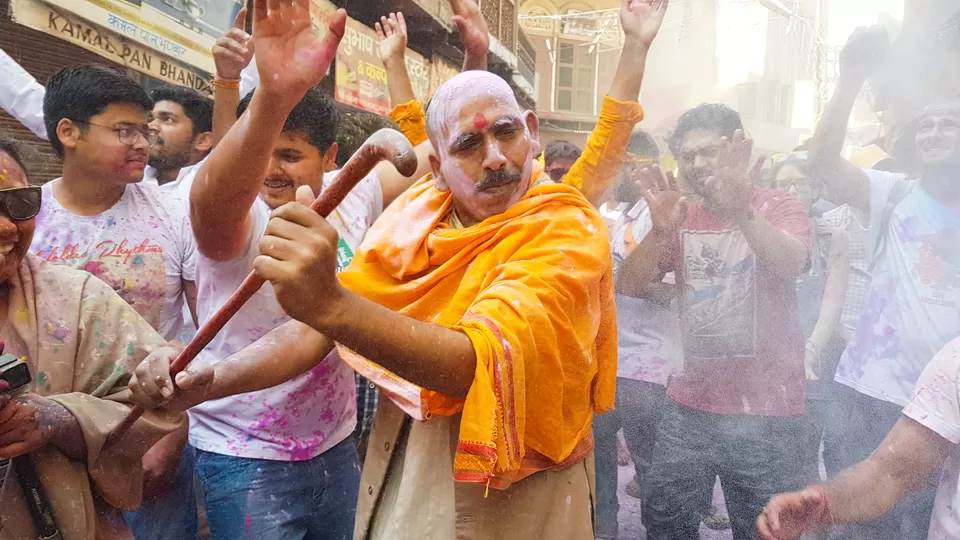 In the evening, Holika Dahan ceremony takes place, and the main event happens at the Holi Gate, where effigies of Holika and Prahalad are burnt. The burning ritual is celebrated at almost every 100 steps in the adjoining street, which leads to the Vishram Ghat.
This was the last event for the day after which I retired.
Day 3
The plan for the day was to get up at 7AM visit the Vishram Ghat where priests are seen preparing fresh bhang and distributing it in the temple premises, but I woke up at 8AM and missed it. Later I got to know that it starts at around 5-6 AM and not at 7AM.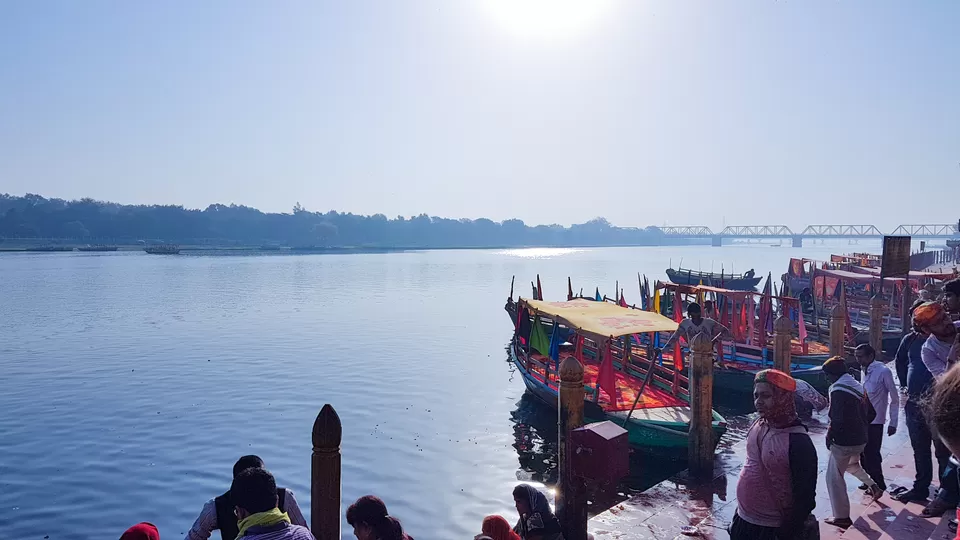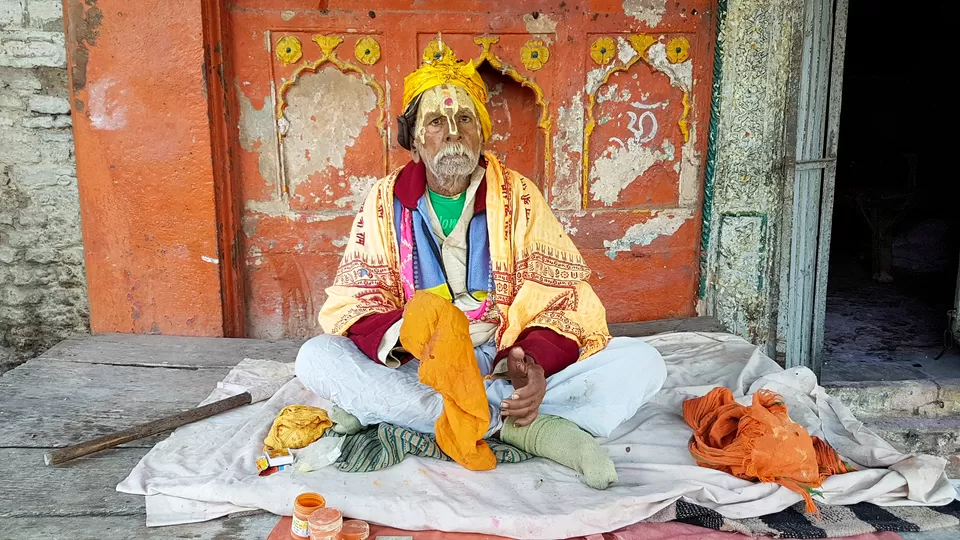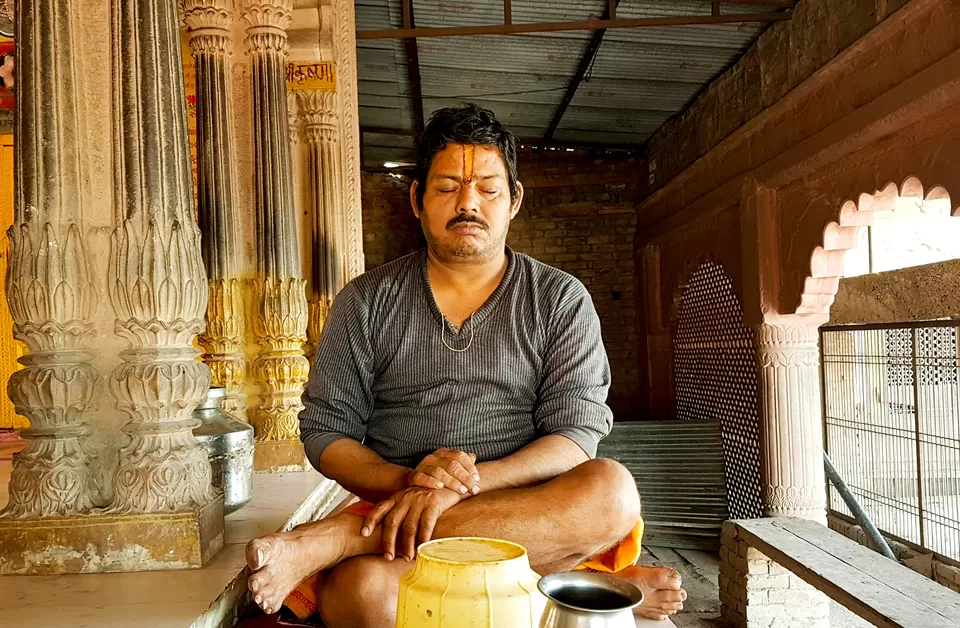 Nevertheless, Mathura won't disappoint for bhaang on holi, and there was a shop by the name of 'Babu bhai thandai waale' right outside the Dwarkadeesh temple which was serving bhang thandai to the visitors and there was a crowd of almost 50 people in the queue to get a glass of it. I also managed to get one after about 15 minutes though it was so light that there was no effect of it on me or any of my new friends.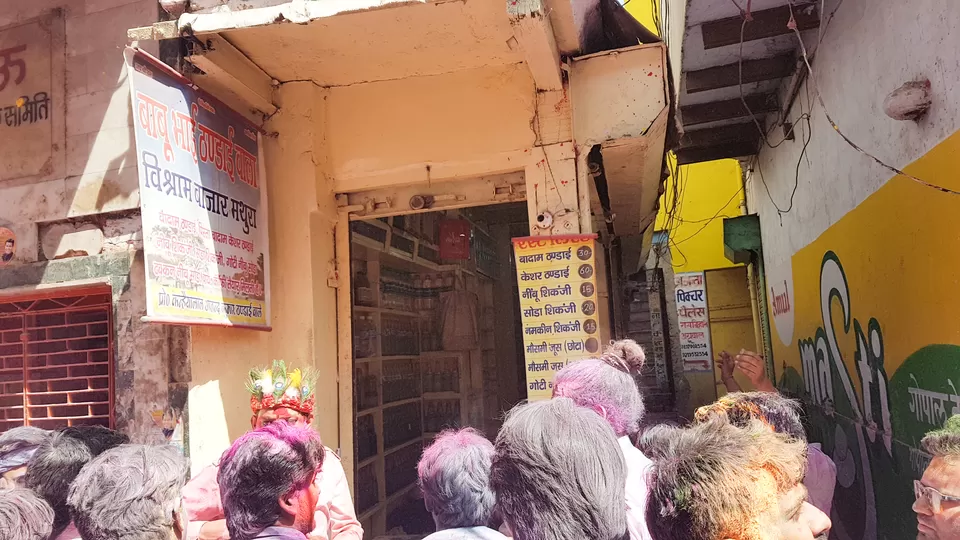 Temple gates open at 10AM but people start assembling and celebrating holi on the streets from 8AM only. It is amusing to be standing in the crowd and chanting 'Haathi-ghorra-palki, Jai-kanhaiya-lal-ki' to the top of one's voice.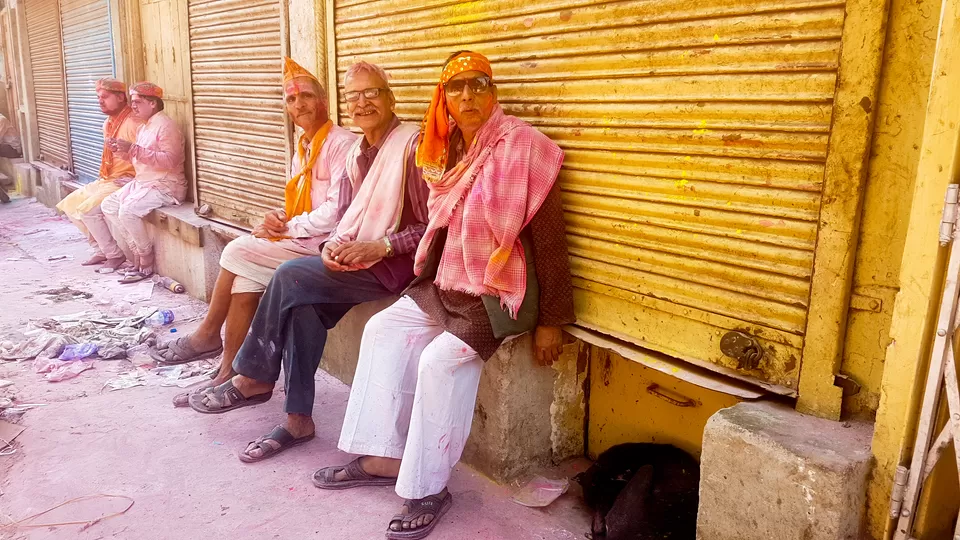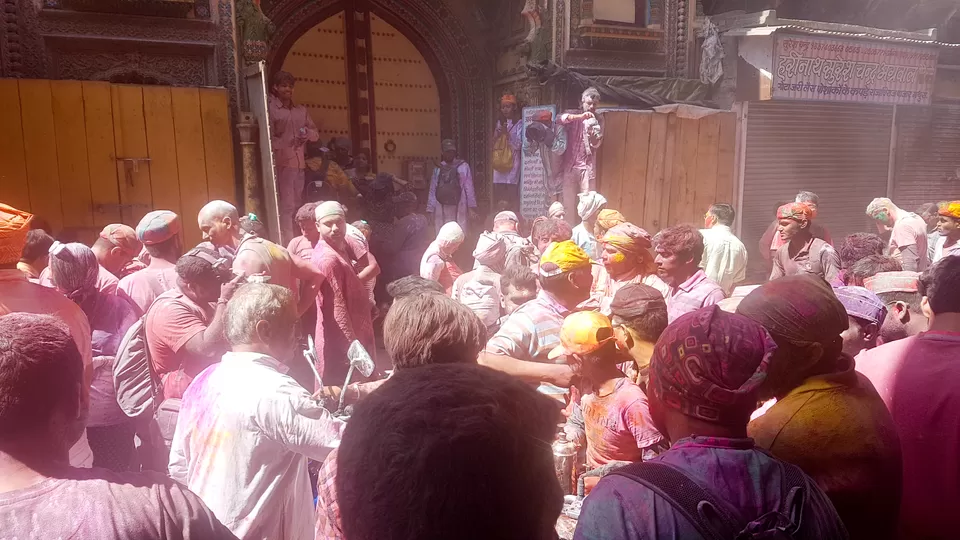 After the gates were opened, everyone moved inside, and the temple was so huge that there was ample room for everyone to enjoy without it being overcrowded, unlike the Bankey Bihari temple.
What makes Dwarkadheesh temple really interesting is that priests here were playing huge drums and singing songs like 'Holi khele raghubeera Awadh me' on loudspeakers which were joined by the visitors to create a genuinely dreamlike Holi experience for everyone. Looking up in the sky felt like seeing clouds of all the different colours of the rainbow due to the gulaal in the air. It is a sight which can only be experienced, and words would do no justice to it. The temple gates close at about 12 noon and again reopens at 1.30 PM, but in the second half the crowd is lesser, and the level of energy is not as much compared to the morning session.
After enjoying the holi in the temple, I went back to my guesthouse and rested for a few hours before heading to the Prem Mandir in Vrindavan, which opens in the evening.
Prem Mandir is a reasonably new temple and looks marvellous due to the light effects. It is covered in LEDs which keep on changing its colours after every few seconds. The temple is spread across many acres, and there is also a water fountain show in the evening which was genuinely delightful and something which I had never seen before.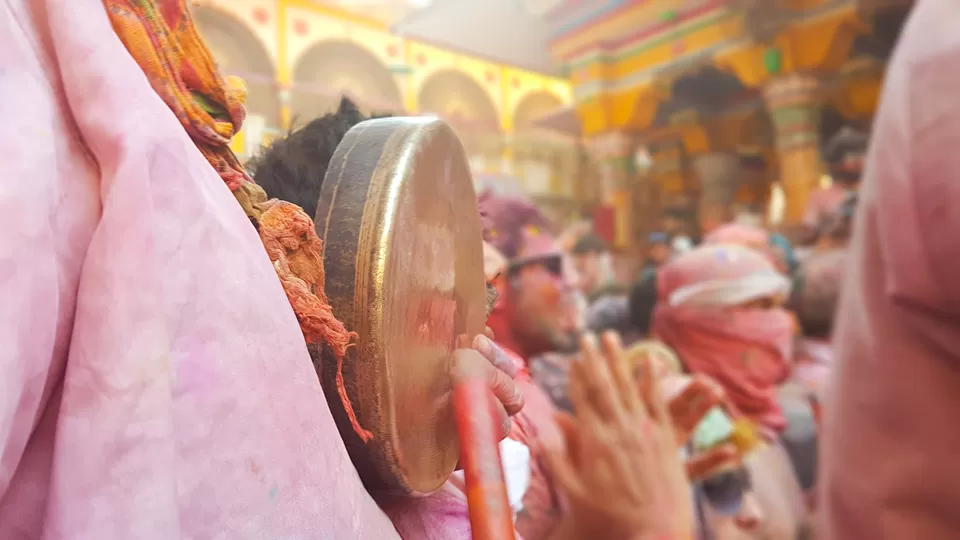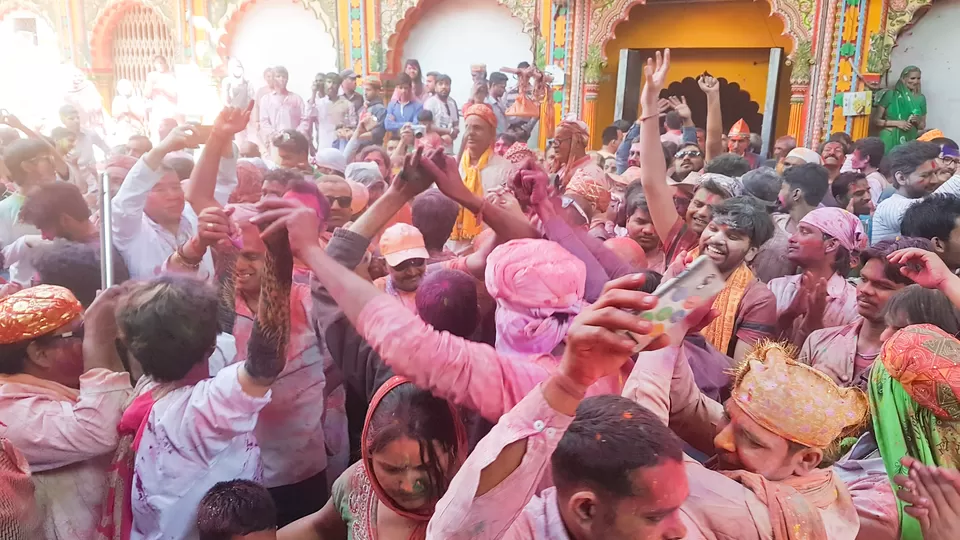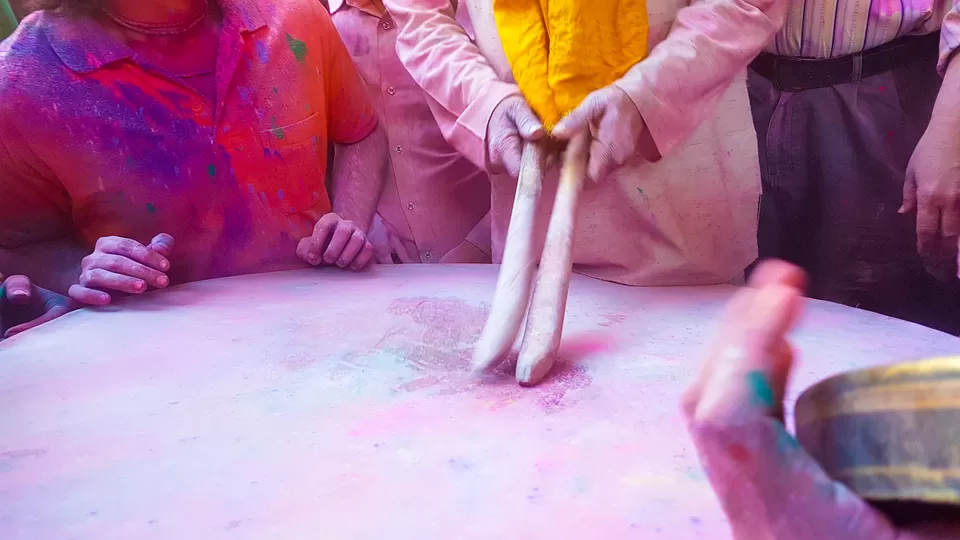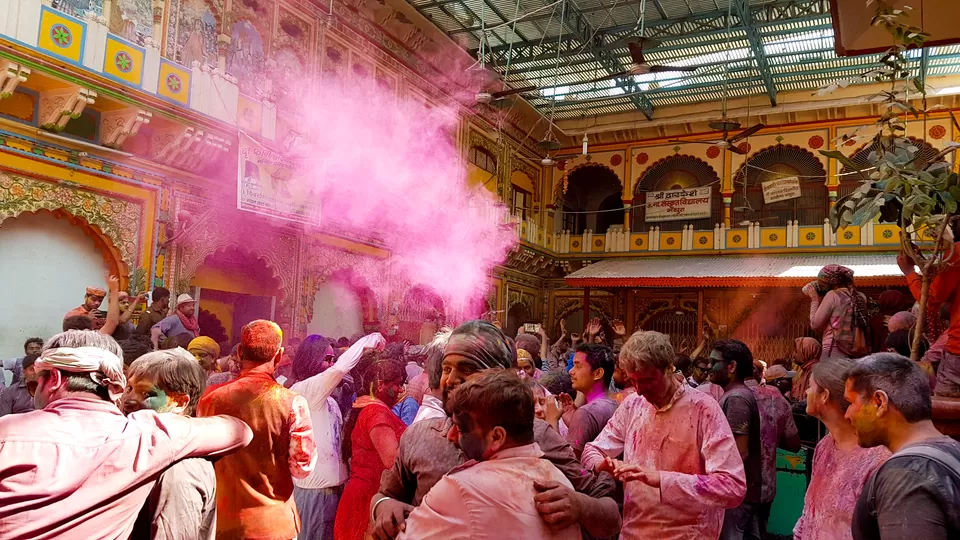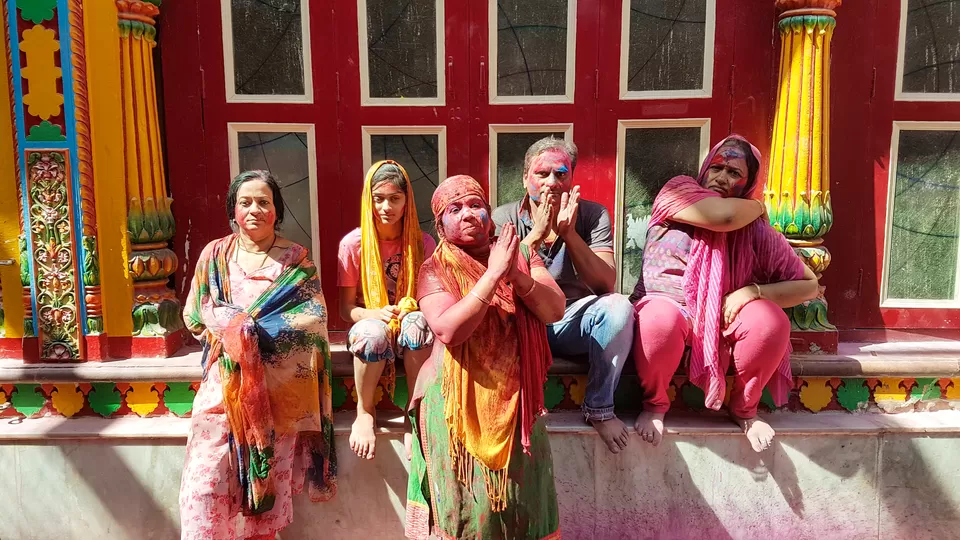 Markets in Mathura were closed by the time I reached, and my guesthouse owner suggested me a place to have dinner called 'Murla Guesthouse' which was five minutes walking from my site.
Next morning, I left Mathura at 5 AM and reached Gurgaon after 2.5 hours to get back to the monotonous work life with memories which I will cherish forever in my life.
Finally, I have ticked Mathura Vrindavan Holi from my bucket list, and it was an absolute delight.
Guesthouse details – Kalindi Guesthouse (INR 600 per night for a double bed (+91-9837266505)
General Pointers –
•It makes me sad to write this, but Mathura and Vrindavan both the places are really unsafe for women on Holi as it seems that men have legal rights to harass women on those days. I met multiple foreign and Indian women travellers, and all of them had been groped or harassed by someone or the other in the crowd. Worse is that even kids aged 10 years are into this practice and there is an absolute lack of safety measures for any of the visitors, let alone women. Foreigners are targeted at every junction, surrounded by groups of men who start taking selfies and throwing colours and harassing without being objected by anyone.
•Try to book someplace in advance for holi as it is tough to find places on the dates. I had called this guesthouse from Justdial and reserved on the phone without paying money and later explored Mathura to see nothing better than this.
•Plan to reach 2 days before Holi to enjoy it in its full glory and explore the city
•There is no scarcity of food even on the main day of Holi, and there is no need to stock food items as suggested by some
•Cover your head to protect it from colour, pagdis are available in the local market.
•Please take care of your footwear in the temples as it is effortless to lose it, and once someone loses it, there is a never-ending chain in which everyone has to participate involuntarily.
•There would be water and colour thrown from random places, and it is utmost essential to protect phones and camera. Thankfully my phone is water-resistant, so I just put it in a condom which worked like a charm to seal it.