#MyWanderlustStory
I just saw this that it's time to time write about the wander story and why I love traveling??????
What t say ?
It's for so many reasons
Everyone wants adventure,who not love to see the places ,who not love to explore,who not wants his vacations be spend on some beach/high hills ???
So many question??
In most of instances either I m a solo Traveller or I m traveling with my parents . Traveling with parents I mostly plan to some religious and cultural places but me as a solo Traveller love to visit anywhere moreover sometimes without planning
Travelling for me is living ur life during that stream flow when u r excited to see new things ,get into new culture,adapt to new life style though for sometime,learn few words of new language,tasting new food and getting into areas where people dream to visit
India is one of the most amazing , wholesome country that here u will find all types of places .It depends upon u where u want to travel and what u want MY INDIA always welcome everyone with open hands
Atithi Devo Bhava
During my vacation I love to visit one of states of my own country bcz what I feel is one should atlest know his country first and when our own country provide us every type of place to explore then Why Not?
So my one of trip that I will be sharing today is a religious trip where not only Indians are HIS followers rather people from other countries they worship HIM
Hare Rama Hare Krishna
This trip begins from my city Ferozpur.Punjab on 08oct19 by train where we reached His Janambhumi Mathura on 09oct19.
The essence of relief what u feel here can't be explained by words....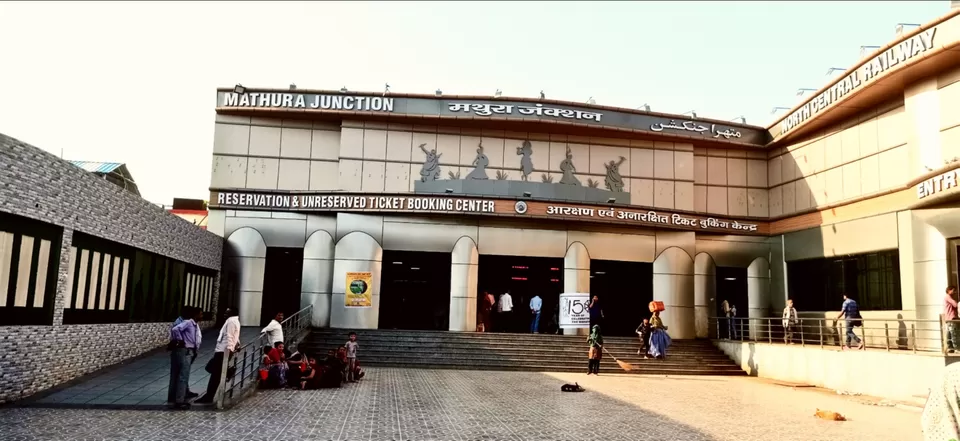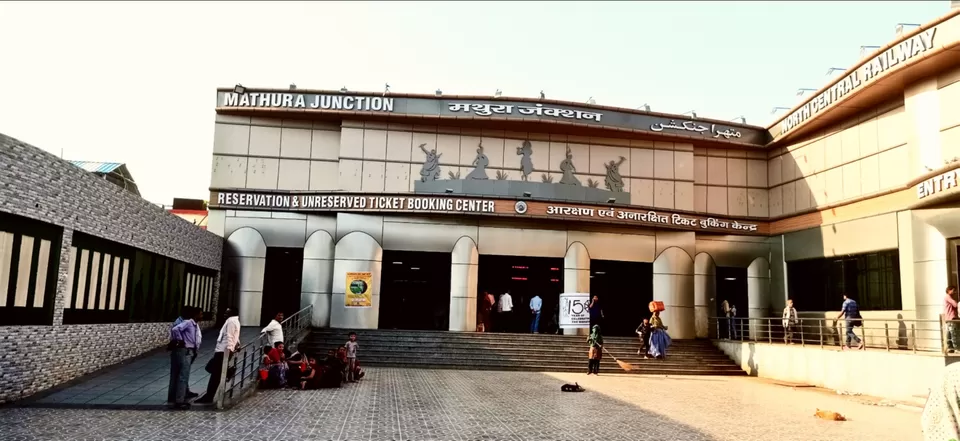 From here then we reached Vrindawan by private taxi .Our residence was near Iskon Temple.After getting ready and some rest we went to Darshana of Lord.
What to say about Him , Rightly said Mote Mote naine ketu,Kari kari Murat Kai tum mazar na lagjaye BANKE BIHARI kajrare tohre mote mote nain . Mesmerized by Him "Jitna bhi niharlu tujhe mun Mera nahi Bharta"
After the Darshana we got a chance to eat Parshadam "Bal Bhog". And then we went for Darshana of
#Shri Radhavalabh Ji-Radhavallabha is a Vaishnava denomination which began with the Vaishnava . This temple is among the most famous 7 temples. In this temple, there is no deity of Radharani, but a crown has been placed next to Krishna to signify her presence.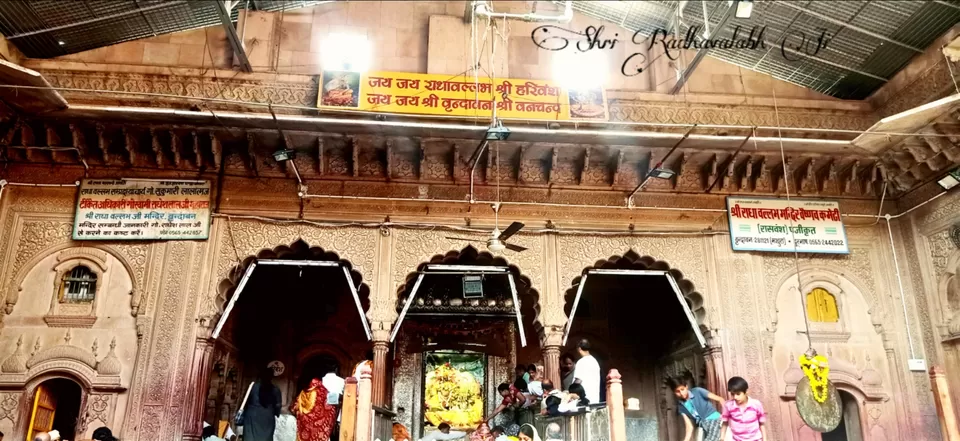 After Darshana of Shri Radhavalabh Ji we went for Darshana in
#Seva Kunj-Seva Kunj or Rasasthali is the place depicting the loving pastimes of Radha and Krishna along with the gopis. It is said that at this place Lord Krishna and Radha used to rest and spend their time embraced in arms of each other. Lord Krishna used to massage the Lotus feet of Sri Radharani and decorate them with vermillion. He also used to comb her beautiful long hair and decorate her with flowers and gems studded ornaments prior to Rasalila. Due to menance of monkey i avoided to take pics here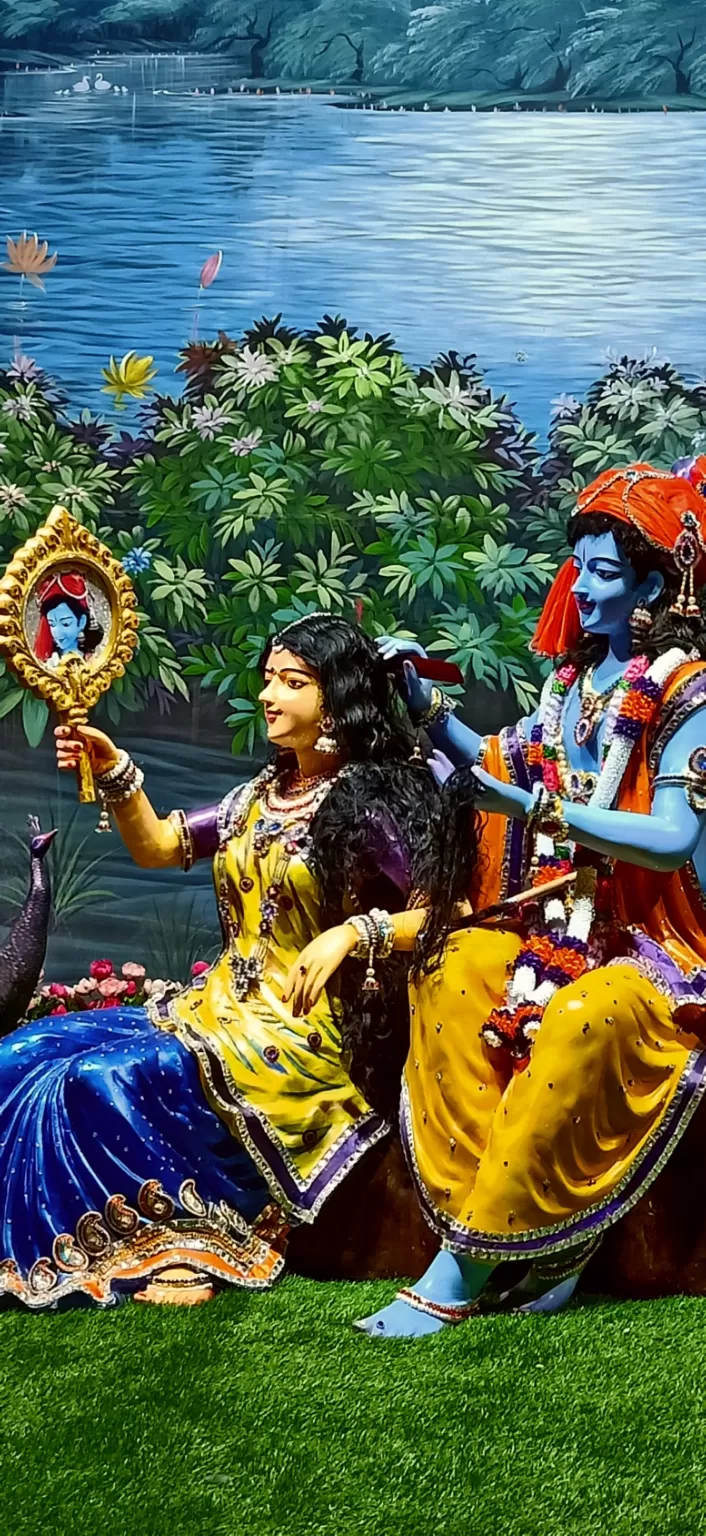 10/10/19
On this day me with my parents went to nearby places by hiring a private cab
#Nandgaon-Nandgaon was the home of Lord Krishna where he resided for nine years and 50 days along with his foster father Nanda Baba and mother Yashoda.Located at 55 km from Mathura, Nandgaon is located to the south adjacent to the Nandiswar hill. Nand Bhawan is nestled on a mountain peak verdant with green foliage all around. The rolling mountains at the backdrop make this place more spectacular.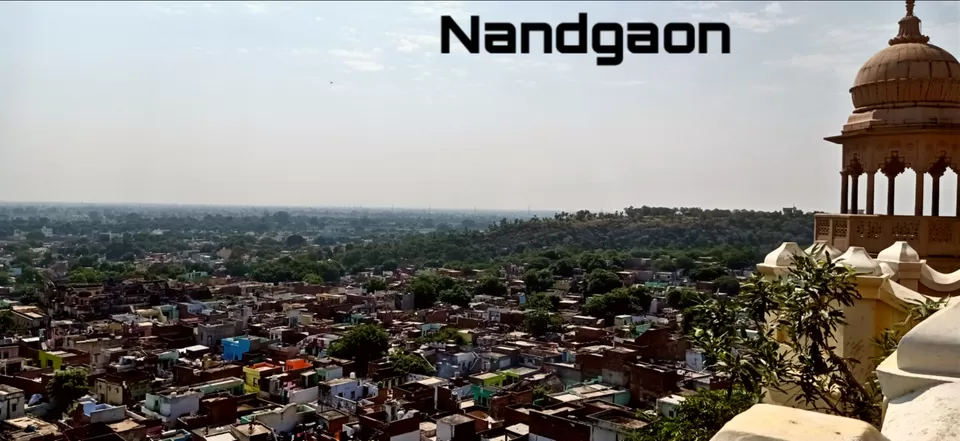 #Banaras - At approx 45km from mathura is located the birth place of consort of Lord ,Radharani.
#Shriji Temple-Locates on the top of Bhanugarh peak ,this temple is said to have been actually established by king Vajranabh 5000 years ago. But with the courses of time the deities were lost and the temple was turned to ruins. Later Narayan Bhatt, one of the disciples of Chaitanya Mahaprabhu excavated the lost deities in the nearby place and installed them here in this temple. The original old temple was erected by raja Bir singh in 1675. Ladli means the beloved daughter and Lal means the beloved son thus the temple enshrined with the deities of Lord Krishna and Radha is also known as Ladli Lal Temple.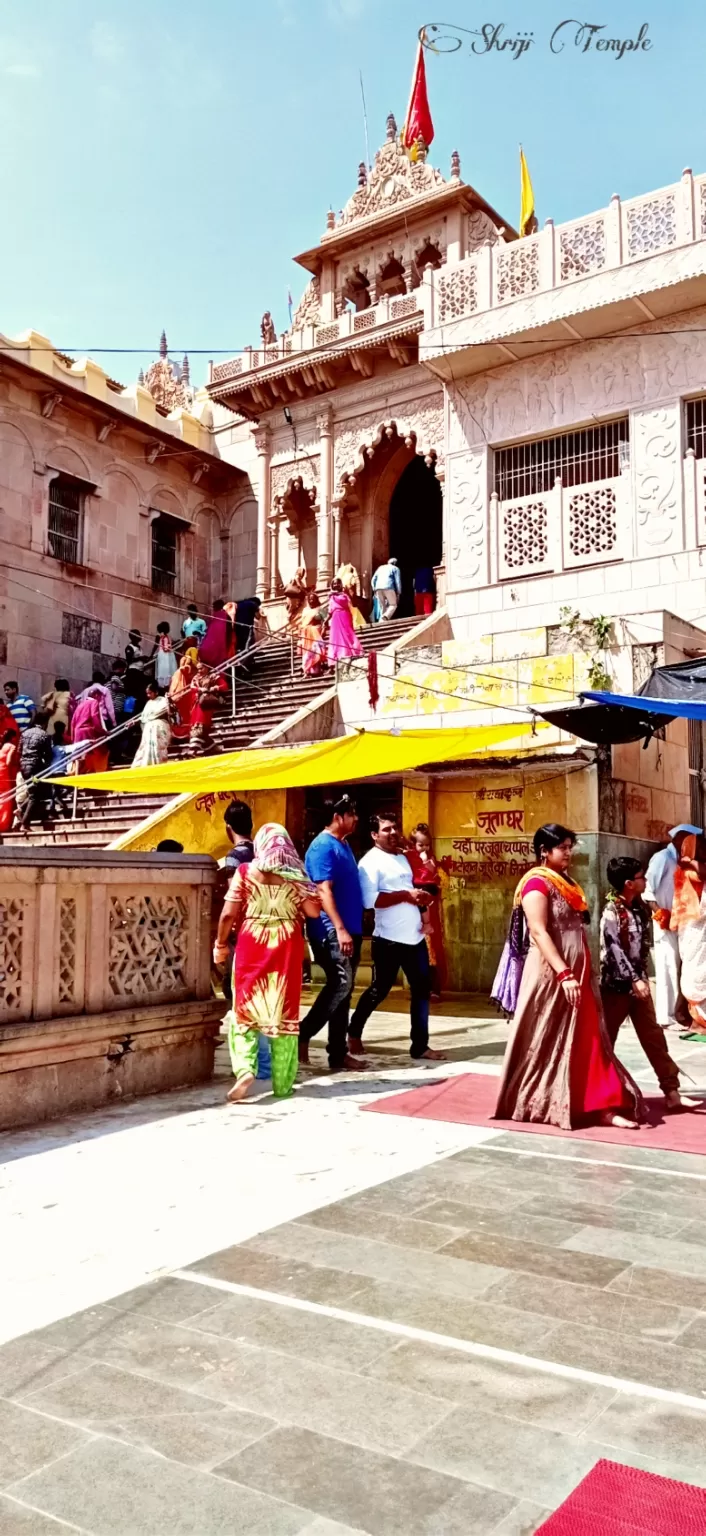 #Rangeeli Mahal-It was founded in 1996, by Jagadguru Kripalu Parishat.There are also beautifully landscaped gardens, waterfalls and other attractions.It is named as Kirti Mandir after name of Shri Radharani's mother, Kirti Maiya. We have the unique darshan of baby Radha sitting in her mother's lap which will be the only kind found in this world.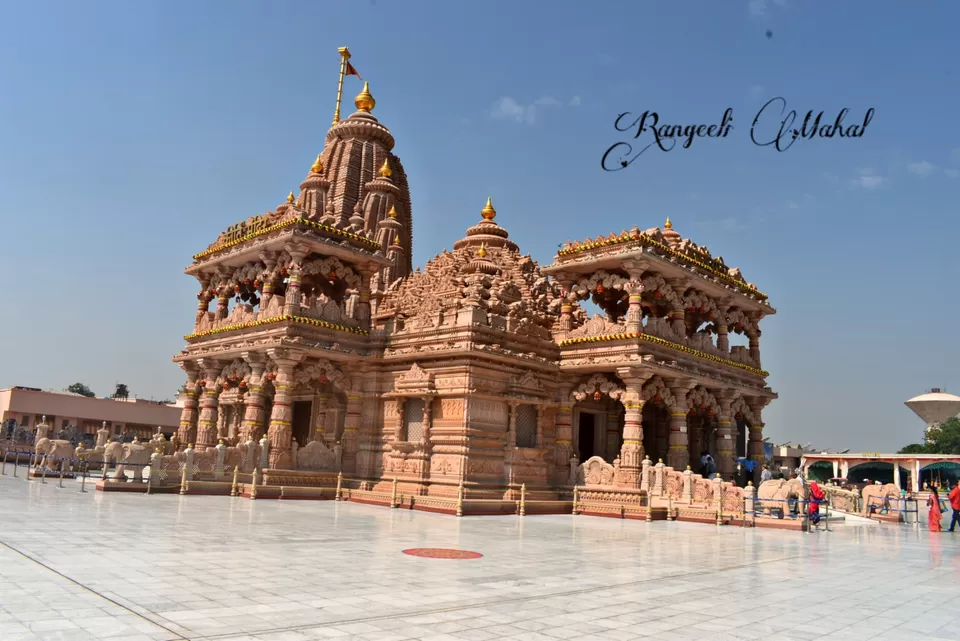 From here we went to Govatdhan Parikarama for which we hired auto and it took approx 2 hrs for us too cover parikrama
#Goverdhan Parvat- Govardhana Hill (Devanagari: गोवर्धन), also called Mount Govardhana, Giri Raj and Royal Hill, is a sacred Hindu site in the Mathura , on an 8 km long hill located in the area of Govardhan.It is 22km from mathura.On the way we got lot many monkeys and there are various temples on that way.Govardhan parvat is being lifted by The Lord on his little finger to protect from the continuous hail storm that begin in the region. Since then The Lord is being worshipped as Giriraj in this region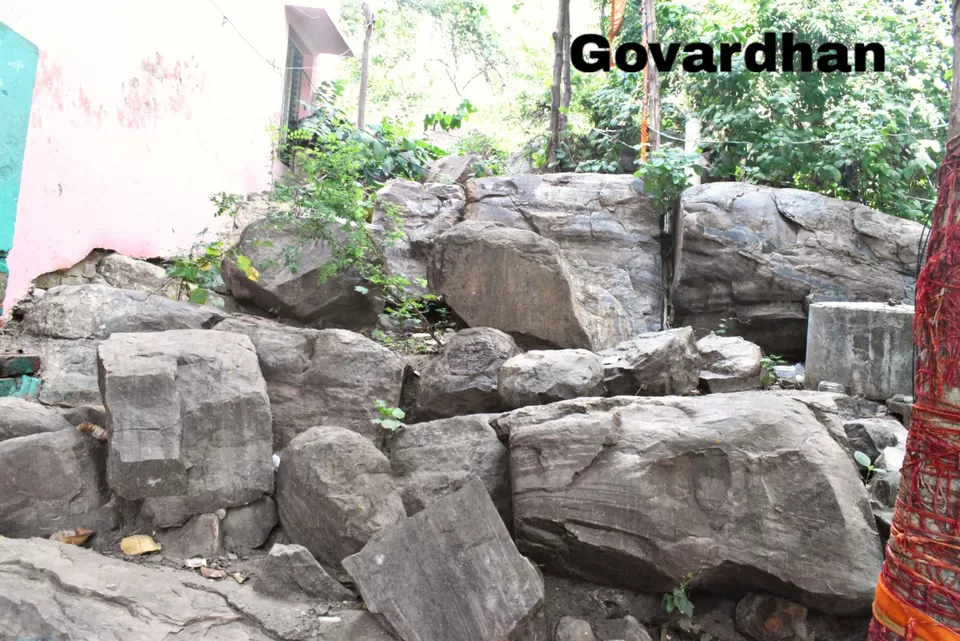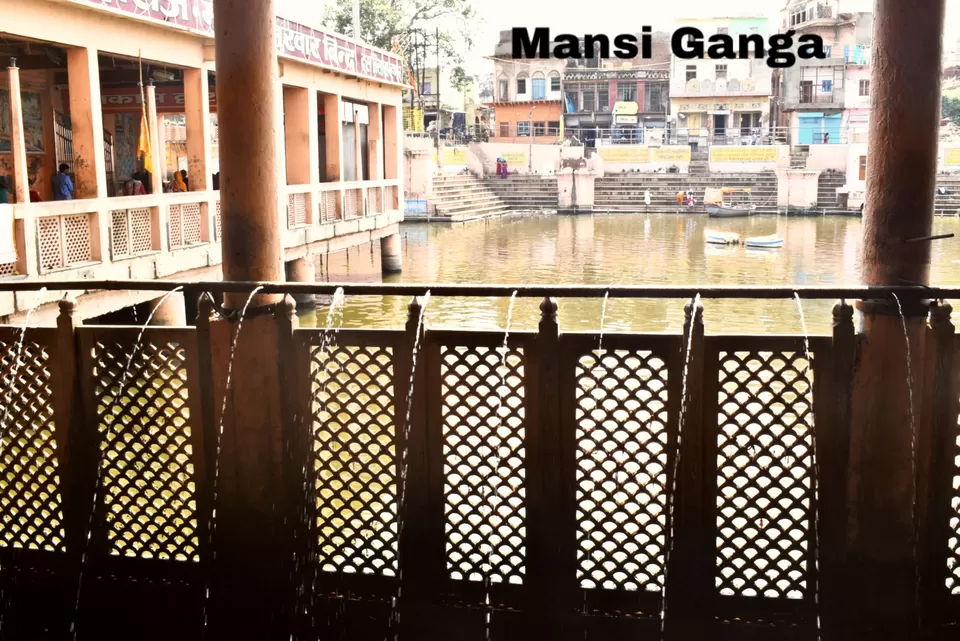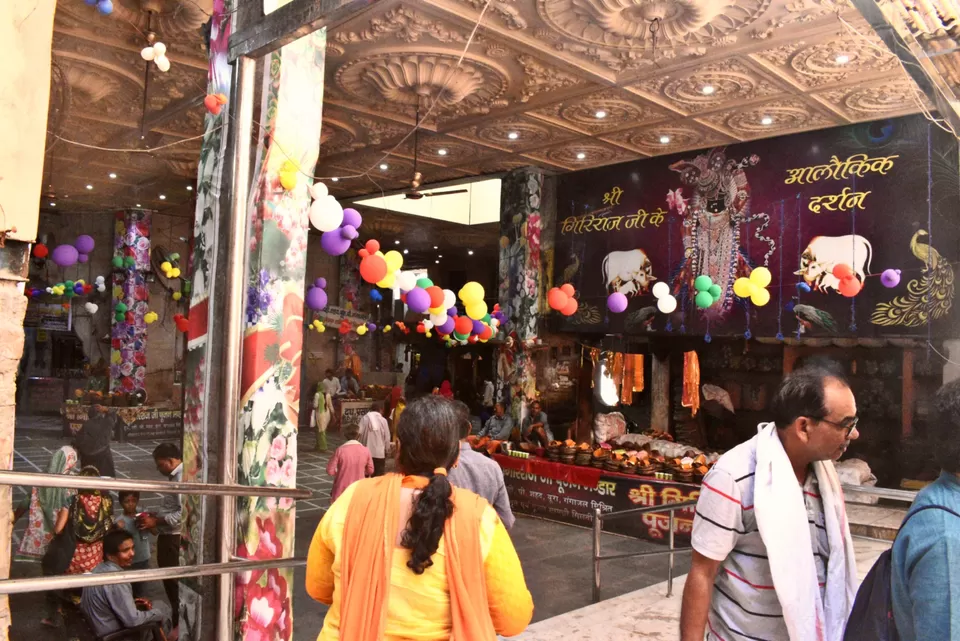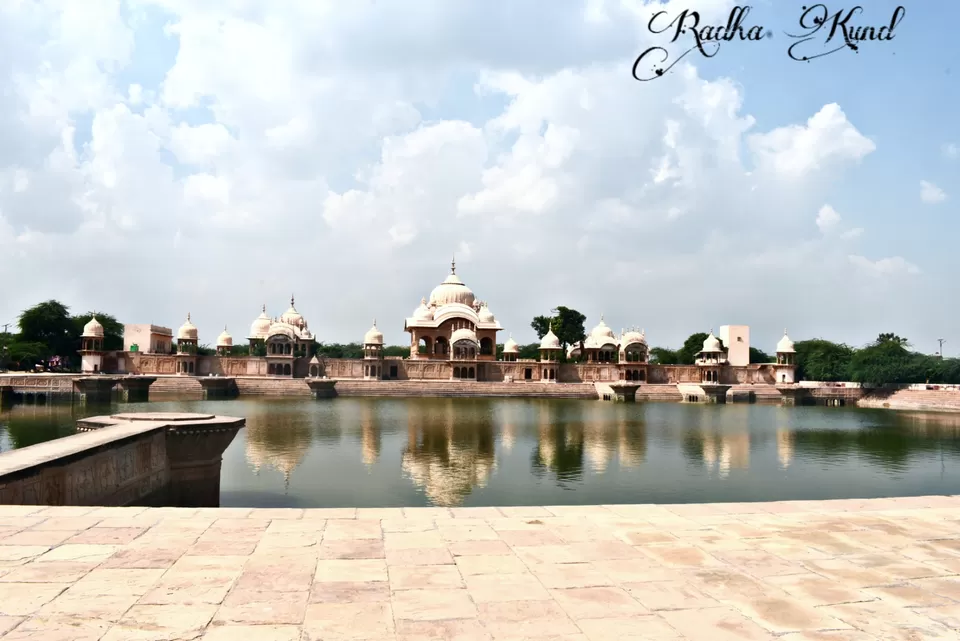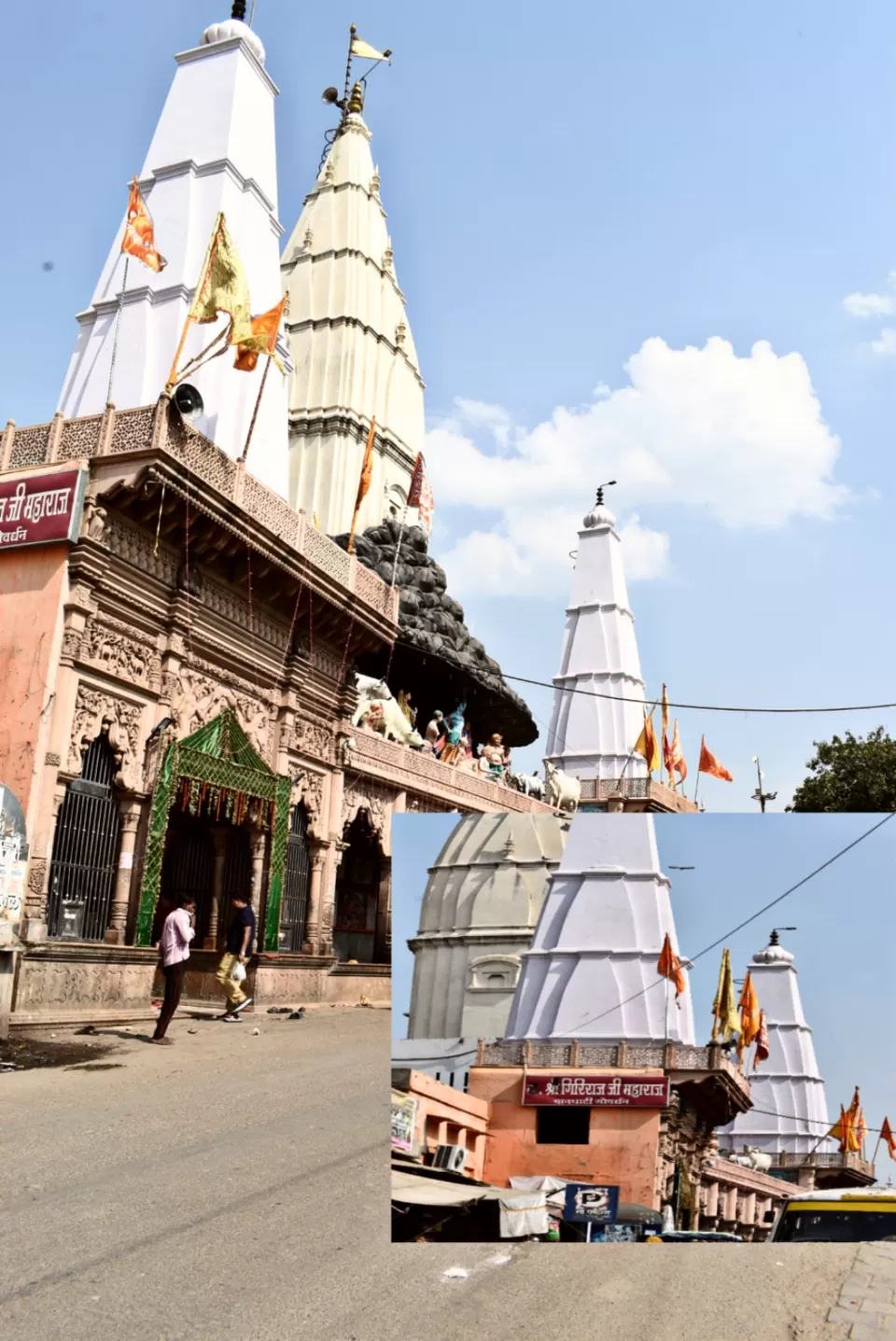 #Gokul-Situated at a distance of 15km from Mathura it is the place where Lord Krishna was sustained and raised under the guardianship of Nanda and Yashoda. Here when u enter temple premises the priest will ask u to sit down and then proceed further for Darshana as it believed that Lord Krishna as a newborn will become afraid of the shadows of person when u are going towards HIM in standing position.
#Nand Bhavan -Architect Vishwakarma had built Nanda Bhavan more than 5000 years ago. Located on a hill, it was the house of Nanda, foster father of Lord Krishna. It was in this house that young Krishna and his brother Balaram were brought up while his birth parents were imprisoned.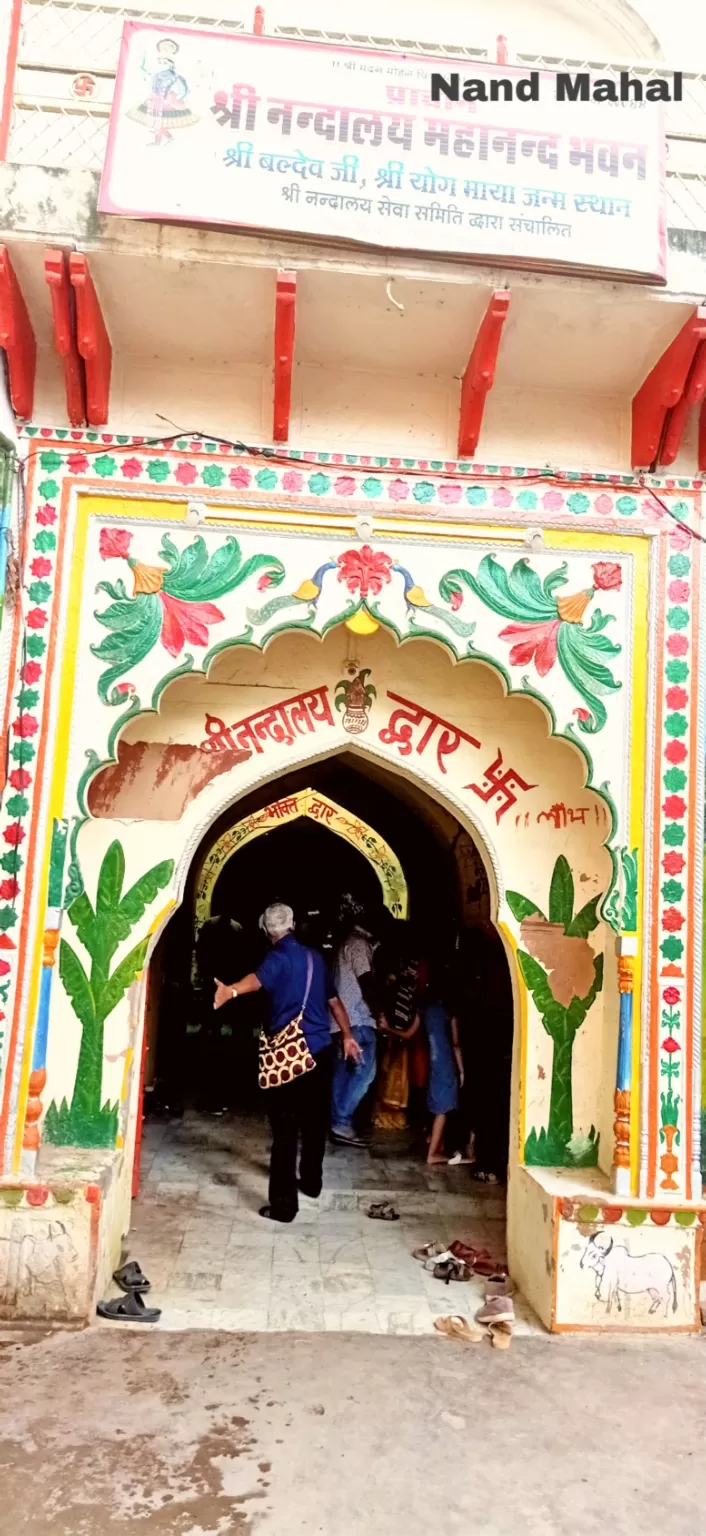 #Shri Balram Temple is in walking distance to Nand Bhavan .Here older brother of Lord Krishna Shri Balram is worshipped.
#Brahmand Ghat-Brahmand means the universe. This is the spot where infant Krishna, after swallowing a few mud particles while playing, had apparently revealed the entire cosmic universe in his mouth, much to the bewilderment of his foster mother Yashoda. Brahmand Ghat has an old temple overlooking Yamuna River along with 'Braj Ki Raj' .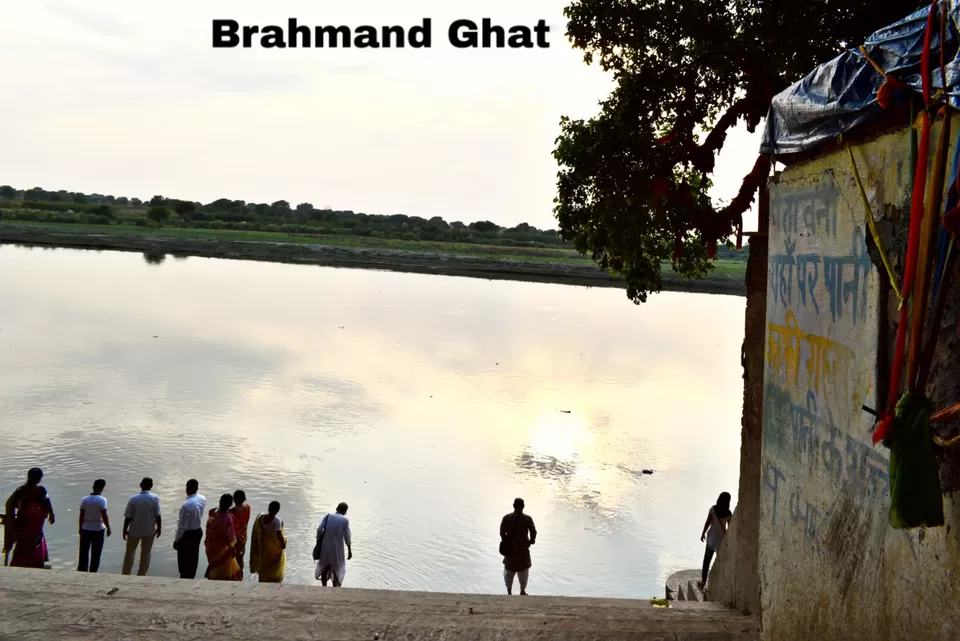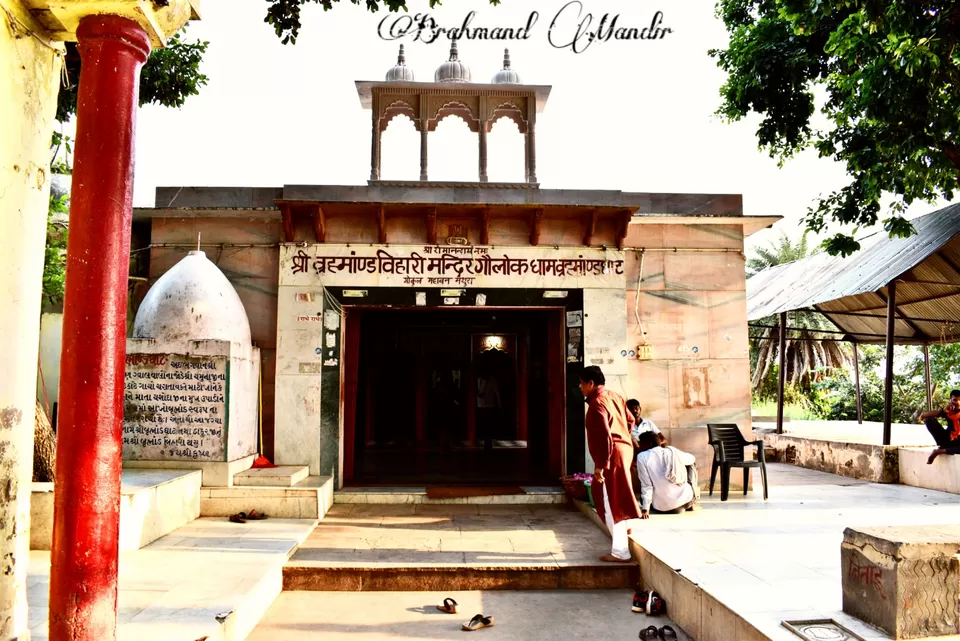 #Raman Reti-A place where Lord Krishna used to engage in divine play (Raman) with his brother Balram and cowherd friends in sand (Reti). This is also place where Lord decide to meet his love Radha before embarking to their journey to Vrindawan. Here we saw the ashram and houses of saints made of bamboo sticks and jute.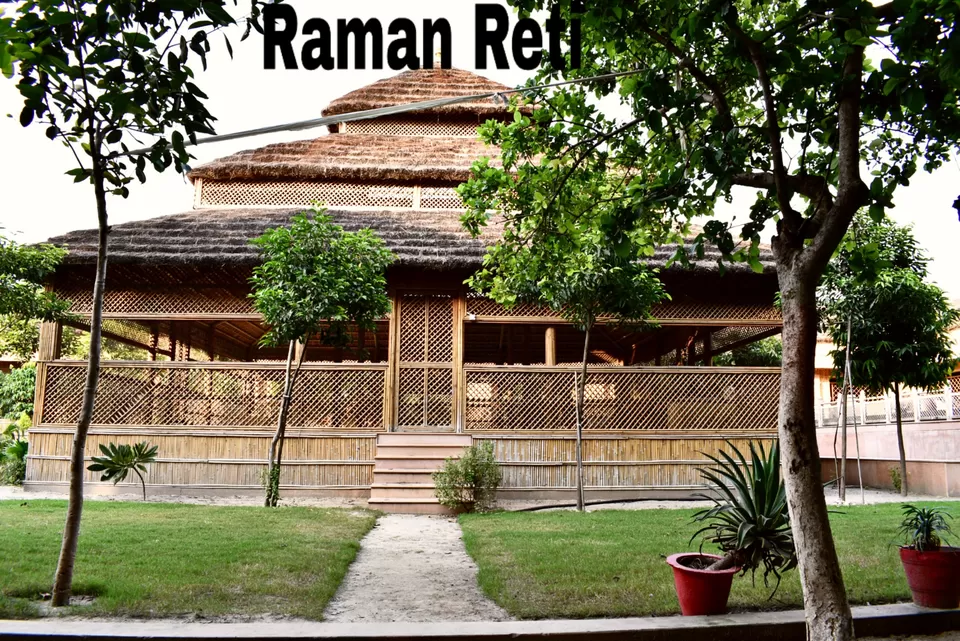 #Cinteshwar mahadev-A few km from Raman Reti is Chinteshwar Mahadev temple .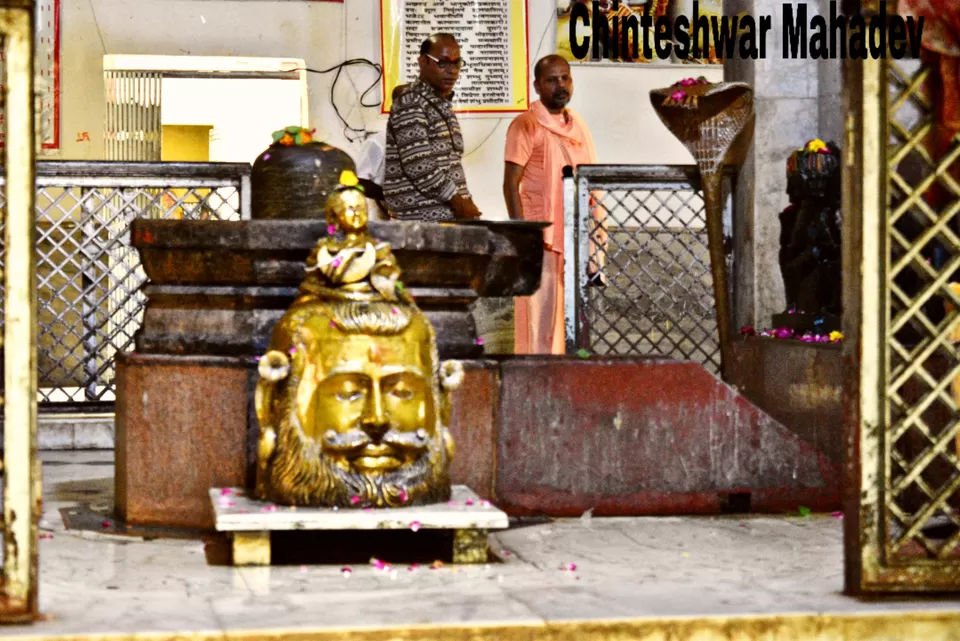 After Darshana of Nandgaon,Barsana,Govardhan and Gokul we head towards Mathura
#Mathura-In Hinduism, Mathura is believed to be the birthplace of Krishna, which is located at the Krishna Janamsthan Temple Complex.It is one of the Sapta Puri, the seven cities considered holy by Hindus. The Kesava Deo Temple was built in ancient times on the site of Krishna's birthplace (an underground prison).Here the birth place is marked by high ground made of red bricks and Idols of Lord Krishna are kept here.Lord Krishna was born here in Jail by Mata Devaki and pita Vasudeve .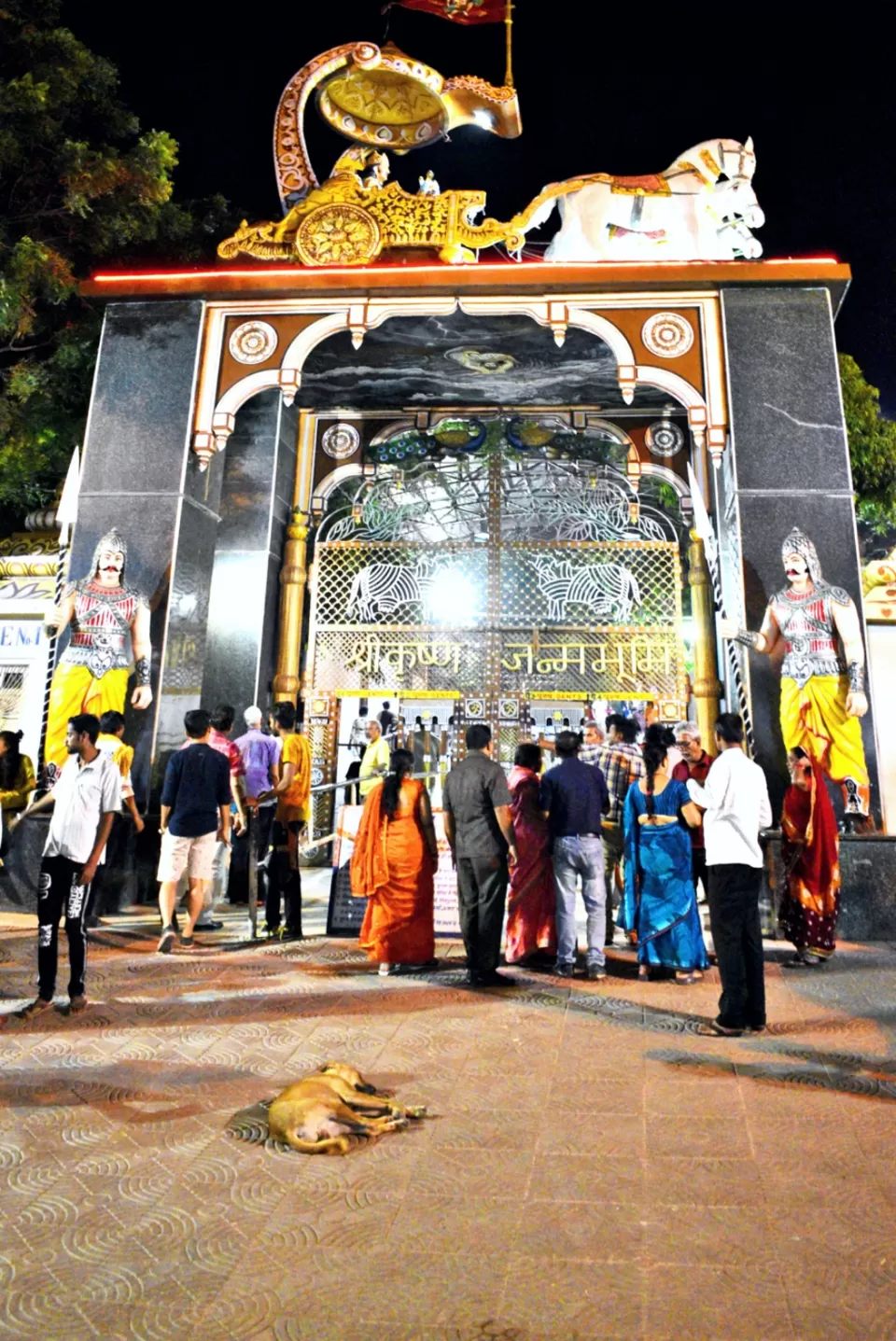 #Dwarkadheesh Temple-It is one of the oldest and largest temples of Mathura.
It was built for the famous Hindu deity Dwarkadheesh (meaning the God or king of Dwarka, where Lord Krishna has shifted from Mathura and settled till his life on earth). There the main deity is of Lord Dwarkadheesh, a form of Lord Krishna seen in a black Marble idol named Dwarkanath. With him is the White marble idol of his counterpart deity Rukmini Devi.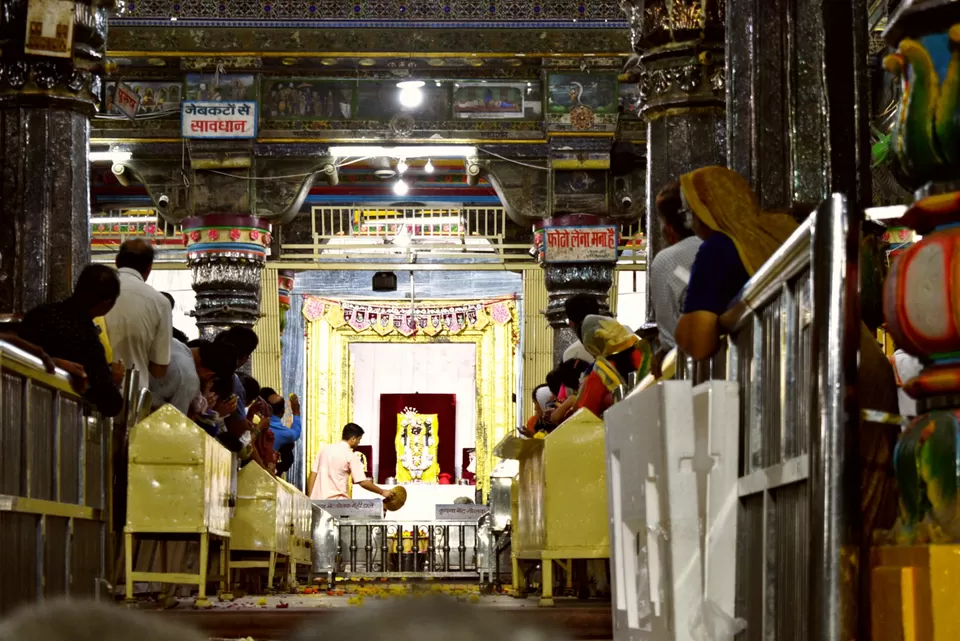 #Bhuteshwar Mahadev-Mahadev here is considered as Shetrapal of region and Mathura Yatra is considered sucessfull only after his Darshana and underground we have darshnan of Patal Devi.
After the Darshana we give viashram to our today's Yatra
On 11/10/19
After the sound sleep with all the Darshana in dreams we next day were ready for Darshana and went to
#Nidhivan- Considered to be mysterious place which is closed after evening aarti at 0700pm where where the bed made of sandalwood is prepared for Lord Krishna each night. On the bedside are kept a jar filled with water, a Neem Daatun (to brush teeth) and Pan ( betel leaf with areca nut). It is believed that once the doors are opened in the morning, the bed looks as if someone has slept in it, whereas the water in jar is also looked consumed and so does the Pan and the Neem Datun. No one after evng aarti stays here as believed that Lord Krishna plays Rasleela with gopis here and trees here are mostly short in height and have entangled trunks .Even the plants of Tulsi found in the premises are in pair.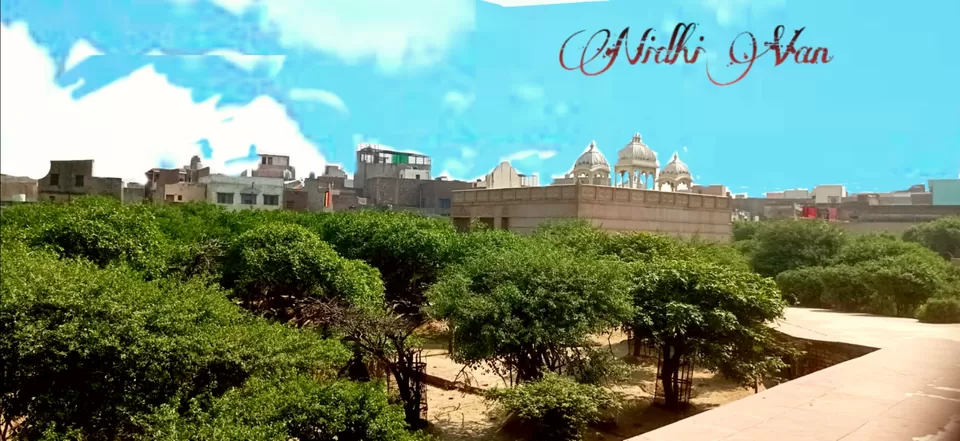 #Yamuna Ji-Originating from the Yamunotri Glacier at a height of 6,387 metres (20,955 ft) on the southwestern slopes of Banderpooch peaks of the Lower Himalaya in Uttarakhand. The story of Lord Krishna associated in this region is that Lord Krishna used to stole the clothes of Gopiyan in order to give them message that Ladies should not bath nude in open and here he also killed Kaliya Naag (Snake) which used to poison the water of Yamuna River.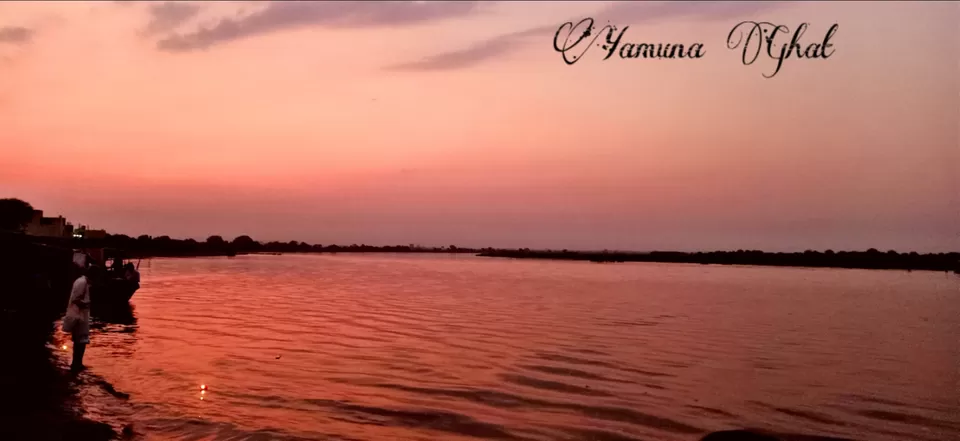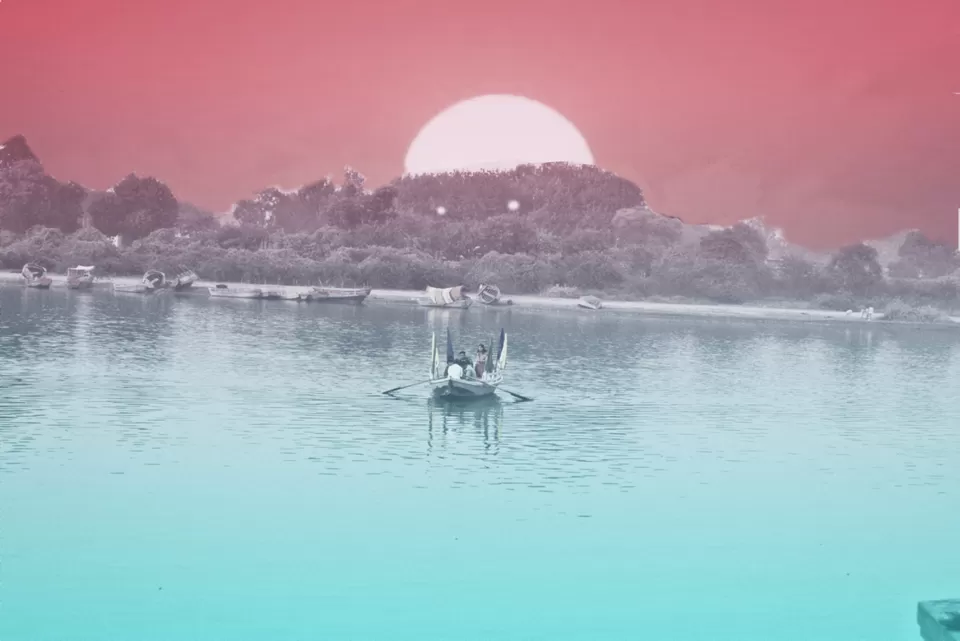 #Shri Ranganatha Swamy Temple-Sri Rangji Mandir is dedicated to Lord Sri Goda-Rangamannar. Goda or Andal as she is popularly known in South India was a famous 8th century Vaishnava saint who had composed "Tiruppuvai" which centers around her love for her beloved Lord Krishna and his leela bhoomi Vrindavan. She pines for him, fasts for him, sings songs in his praise and wants to attain him by marrying him. Lord Ranganatha who is none otherthan Krishna answers her prayers by becoming her bridegroom. In Sri Rangji Mandir, Lord Krishna is present as the bridegroom with a walkingstick in his hand as is the custom in a traditional south Indian.Magnificent view of temple and the Lord
#Iskon Temple- What to say ? I visited the temple for Darshana on Akadeshi were I got chance to eat Akadeshi Parshadam. Then in evng the time of Hare Krishna Hare Rama and aarti is still refresh in my mind.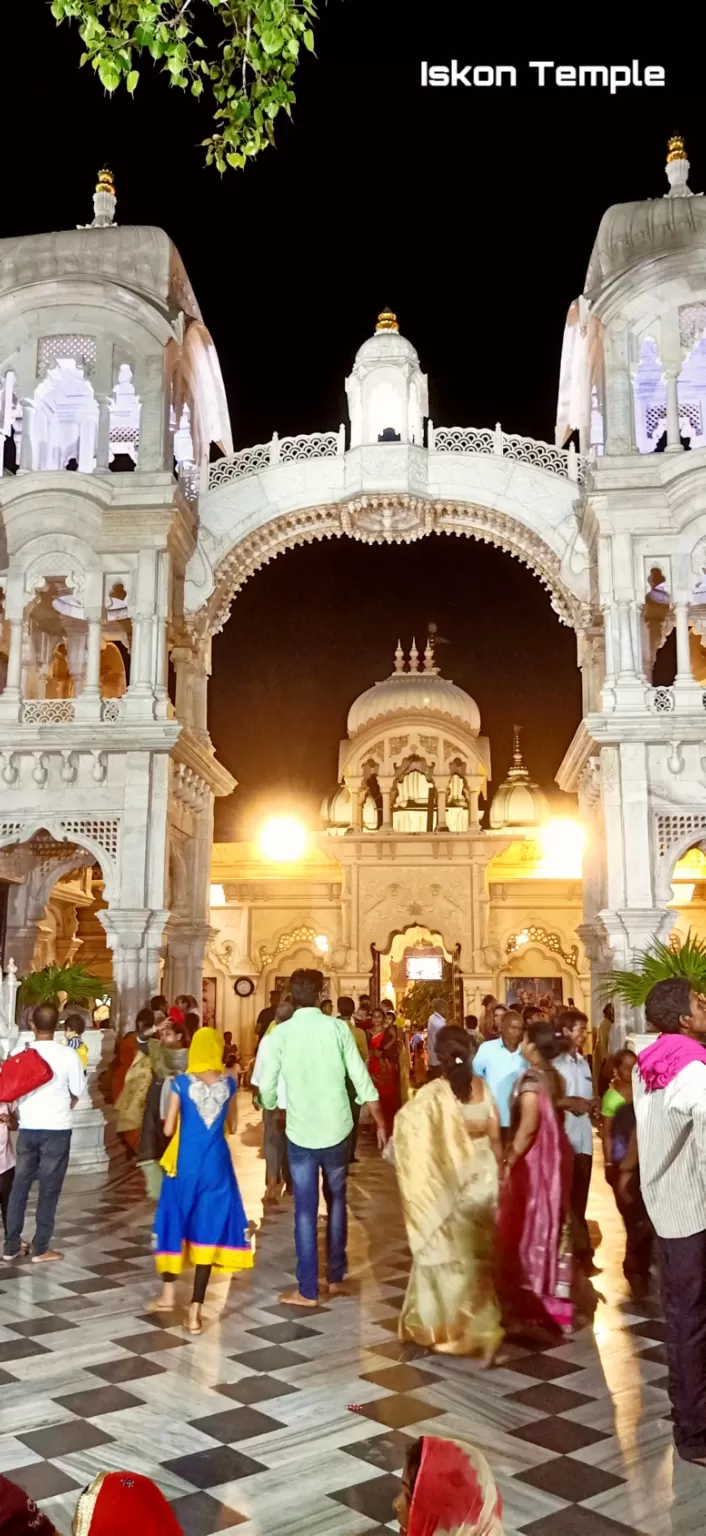 #Prem Mandir -Foundation stone was laid by Jagadguru Shri Kripalu Ji Maharaj in the presence of thousand devotees on Jan 2001,approximately 1000 artists about 12 years to build the complex built with entirely of Italian marble..Surrounded by beautiful gardens and fountains, the temple complex has life-size depictions of four leelas of Shri Krishna – Jhulan leela, Govardhan leela, Raas leela and Kaliya Naag leela.It was built with cost was 150 crore rupees ($23 million).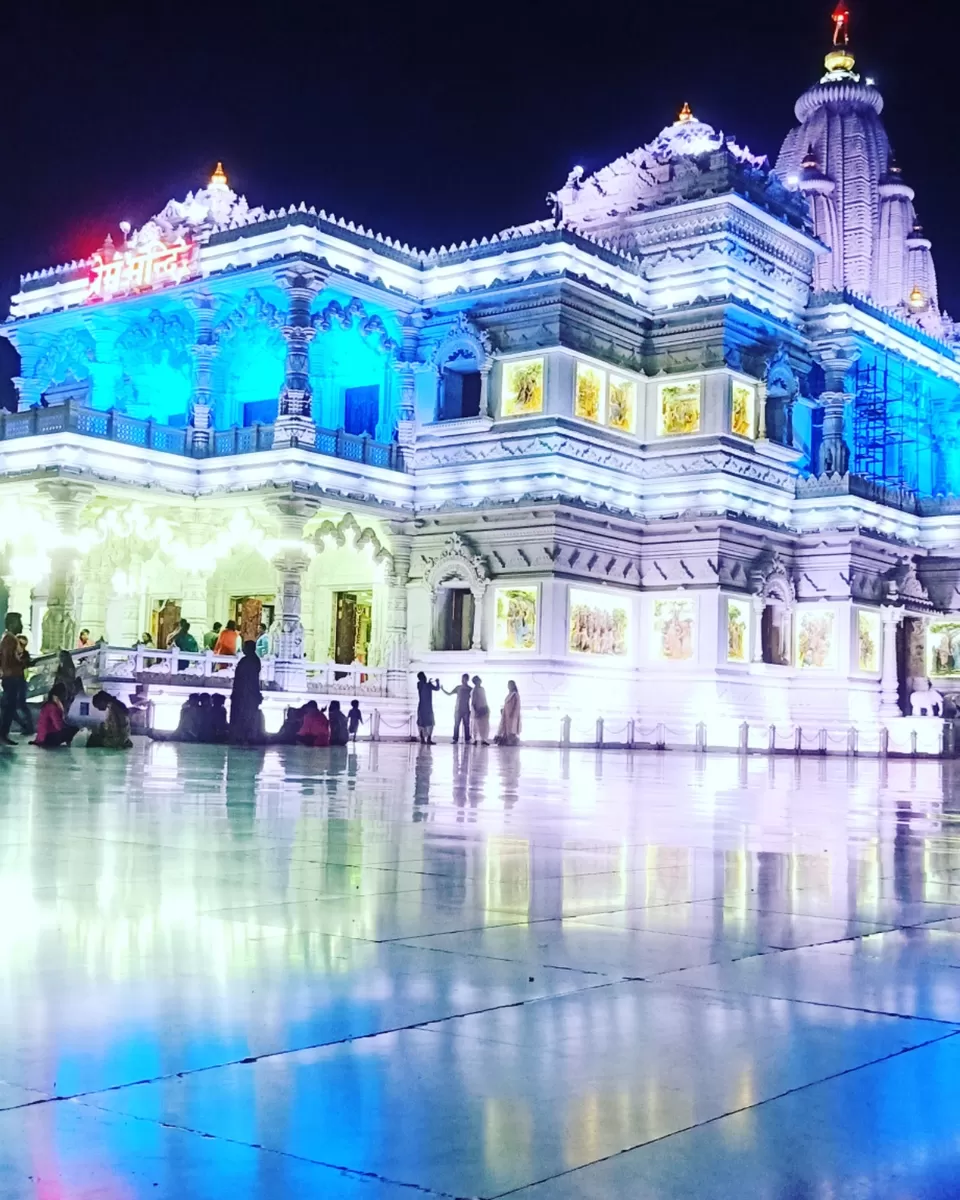 Finally we visited to Shri Banke Bihari Temple for his Viashram Aarti.
Next day early morning on 12/10/19 we started our journey by train and reached Ferozpur Punjab by evng 0800pm.