It was 14th August , the day of the week when most of the people are hit with Monday Morning blues (sometimes I do too) and the next day being 15th August was holiday .As usual , I had nothing to do other than to lie on bed lazily the whole day . Suddenly it occured to me that I should visit Agra . I never have had any chance to visit Agra previously . Agra is just 230 kms from Gurgaon and around 4 hours drive . 
I geared up and quickly booked an Activa online for 2 days . I cost me 650/- INR excluding fuel . I left the office early and picked up my ride from Wheelstreet (online bike renting plattform) . I reached my place , took a quick shower , packed the necessary items for two days and started my solo - road trip to Agra . If you go on a bike , road trip do not forget your powerbank , face mask , driving gloves , and arm sleeves .
 One thing to note here that if you are going to Agra on a road trip on 2-wheelers , do not take the Yamuna Expressway . Instead opt for the Palwal highway which is pretty good .
In my case , I did the same opted for the latter , which is comparatively safer  . 
I left Gurgaon at 7.30 pm after having some evening snacks .Google Map was of great help and the connectivity throughout the journey was good.
I had a pit stop at one of the dhabhas along the way . The food was yum and the price reasonable . I passed through the famous towns such Gokul , Vrindavan and Mathura . Even at around 12 o'clock at night , these towns were lively and jubiliant as the next day was Janmashmi . The celebrations of this festival was in full swing and most of the relevant shops were open . 
At around 1 AM , I was on my bed at my Hotel Room . I had not booked it earlier , so I had to pay a little extra which I regretted . After 4 hours drive , I needed rest and I dozed off as soon as I hit the bed .
So friends please , book your rooms beforehand or be ready to make a good bargain .
I checked out from the hotel at around 8 AM and headed towards the legendary Taj . This symbol of love or so it is called , stands in white marble on the banks of river Yamuna . The morning sun appeared to be filtering the white marble and giving it the glistening glow . I stayed there for 2 hours . One can take rest in the gardens  and feel the cool breeze making the atmosphere more relaxing . Since it was holiday , the place was flooded with people . By the time I left , the ticket counter appeared no less than Rajiv Chowk Metro station during peak hours(Delhi People would understand the fact).
Taj Mahal has four gates on all the four directions - east , west , north , south . All the gates are similar and a first timer can get easily confused . So if you are by your own vehicle , do not hesistate to ask anyone regarding the directions . I too had to face similar illusion. 
On coming out , one can find various sweet shops and eateries . I have had breakfast in one of these   and bought a packet of the famous AGRA PETHA from one of the shops .Agra is famous for two things - one the obvious and the other is Agra ka petha . Donot forget to try these sweets .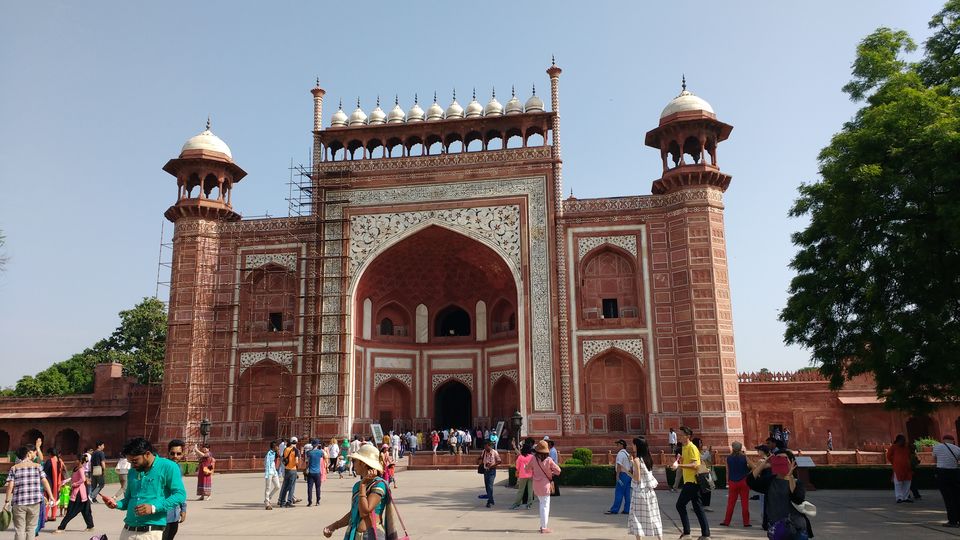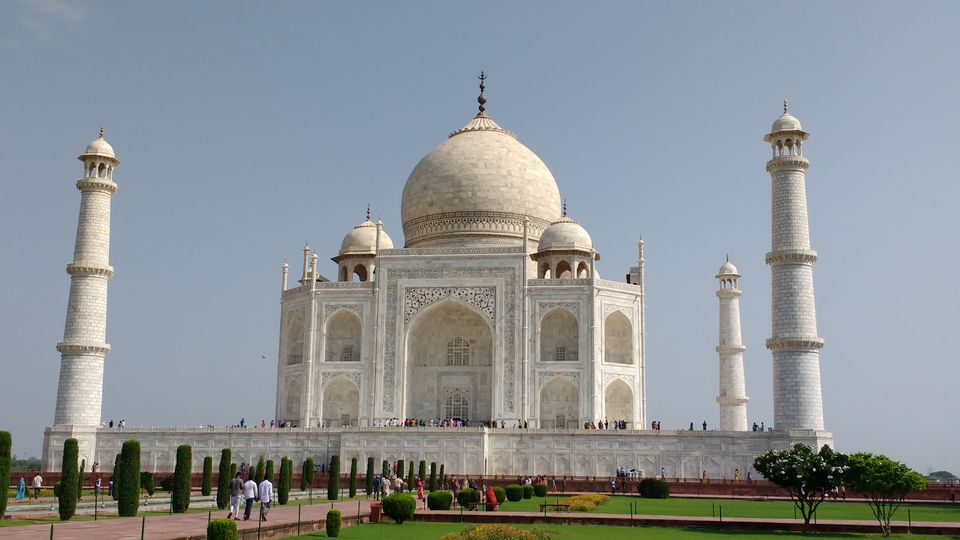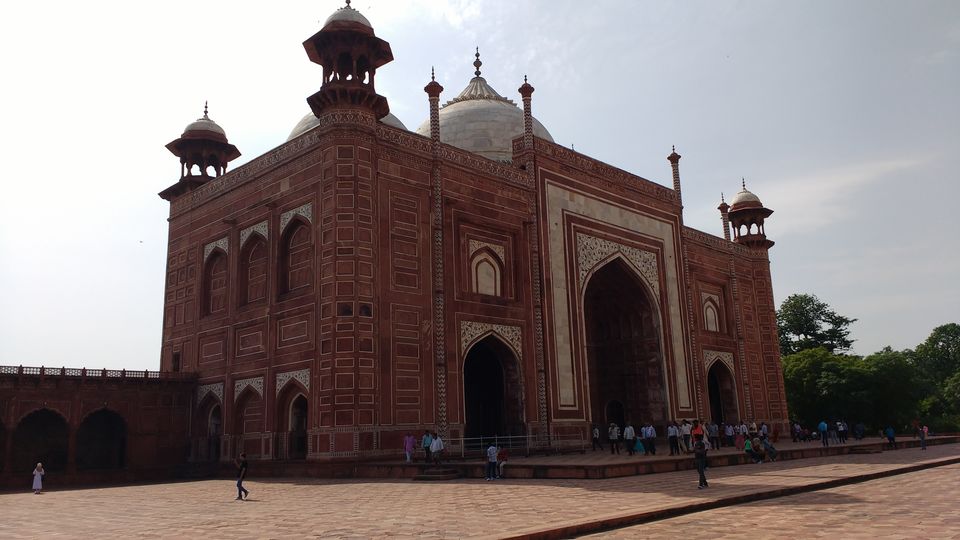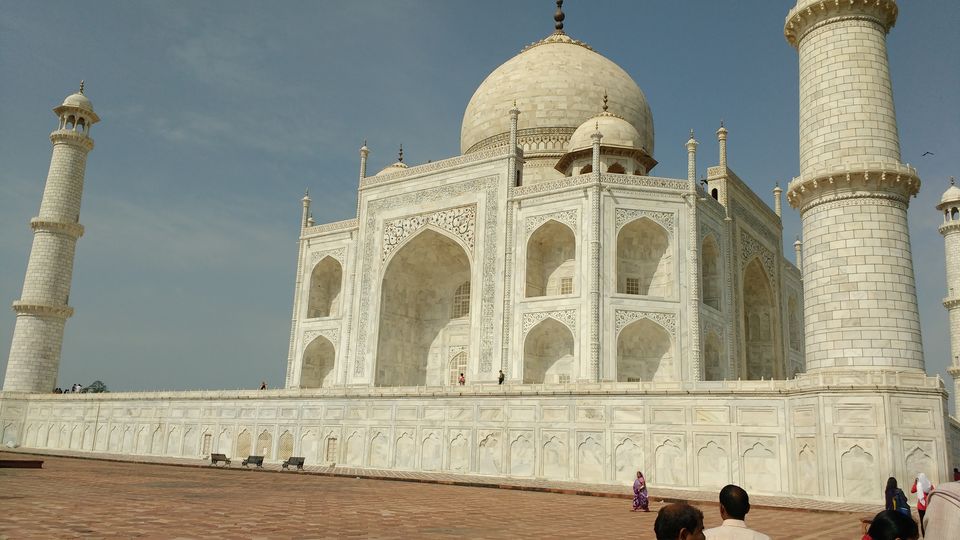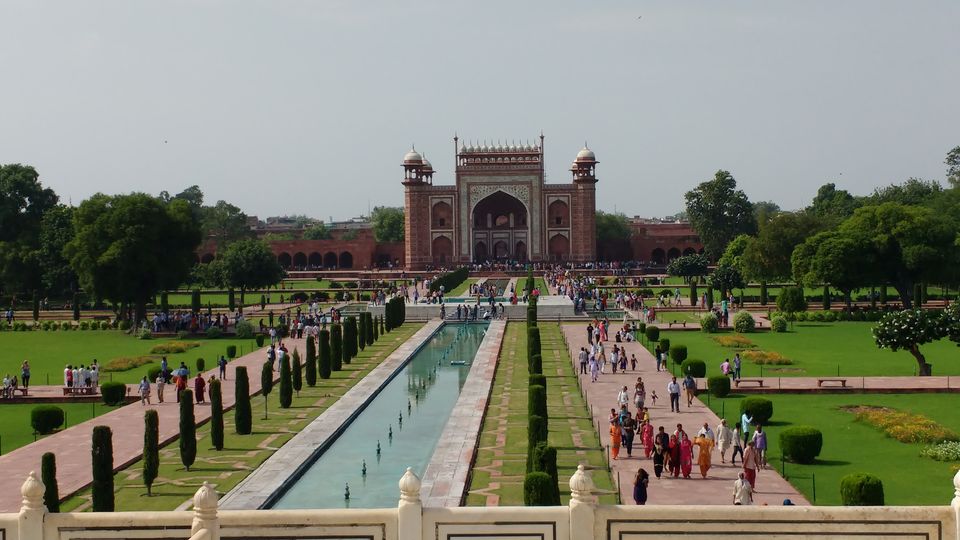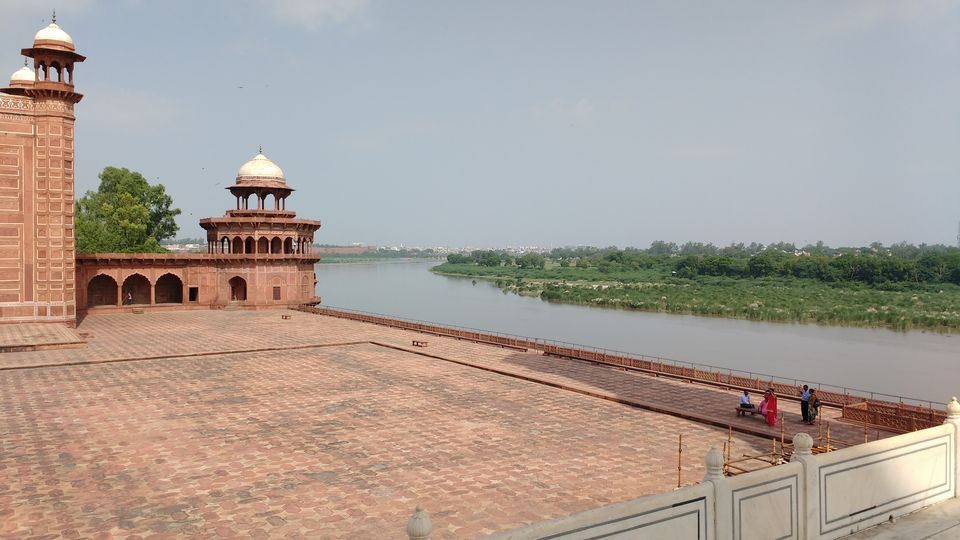 Next I headed towards Agra Fort . This magnanimous fort still stands erect and firm even after 400 years of its construction and showing 9no sign of ageing . It took me a good one and the half hour to take a tour of this fort . Guides are available , so one can hire them too .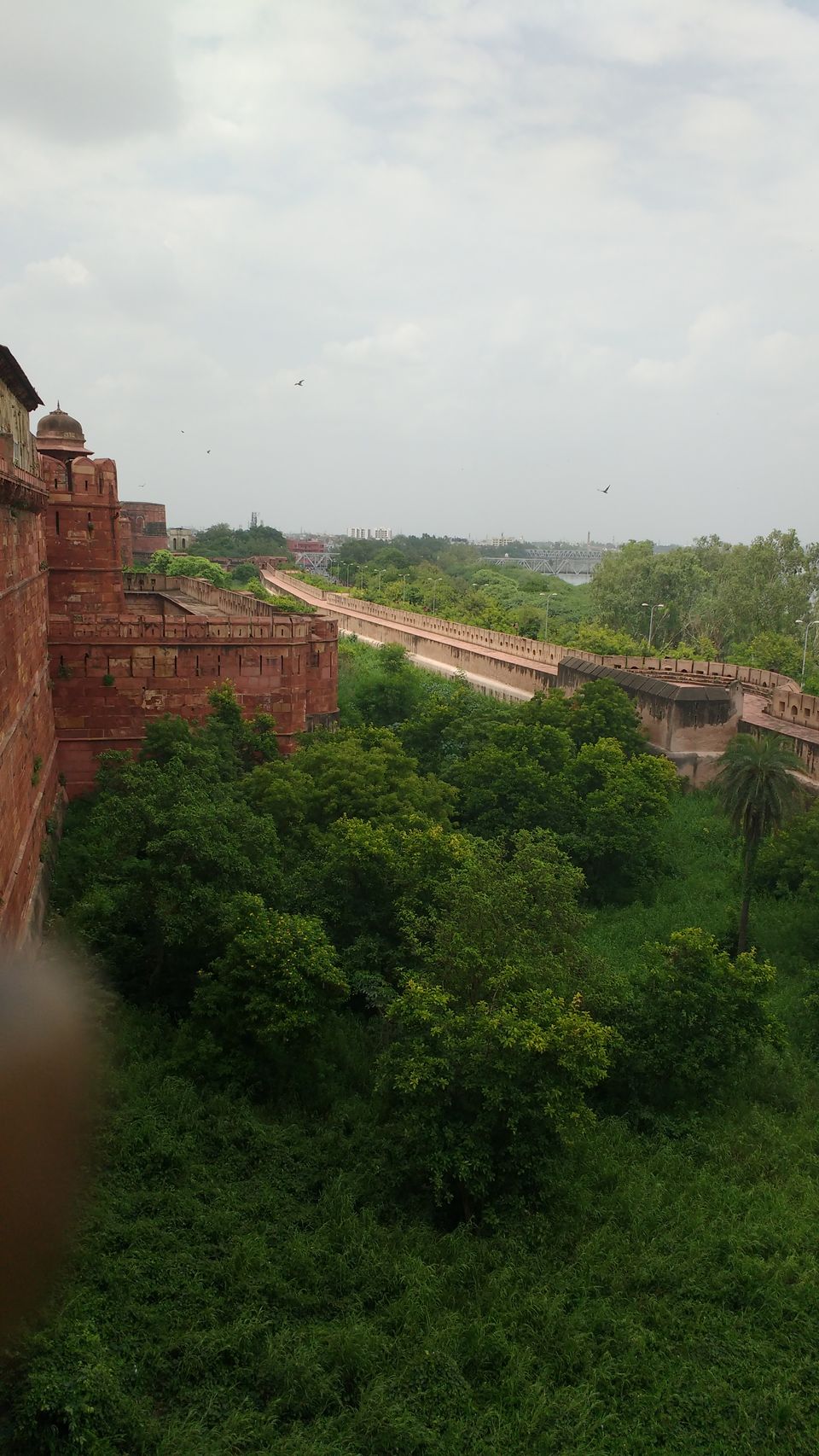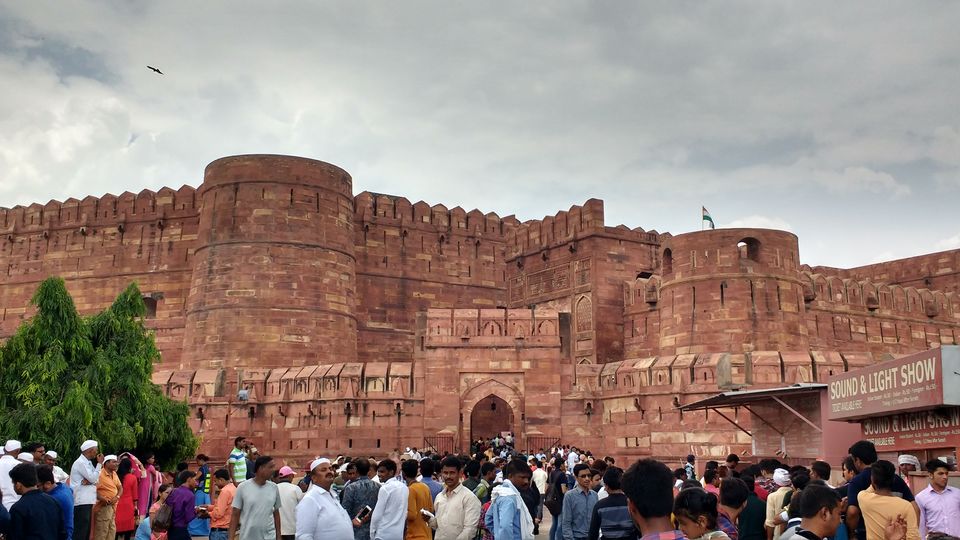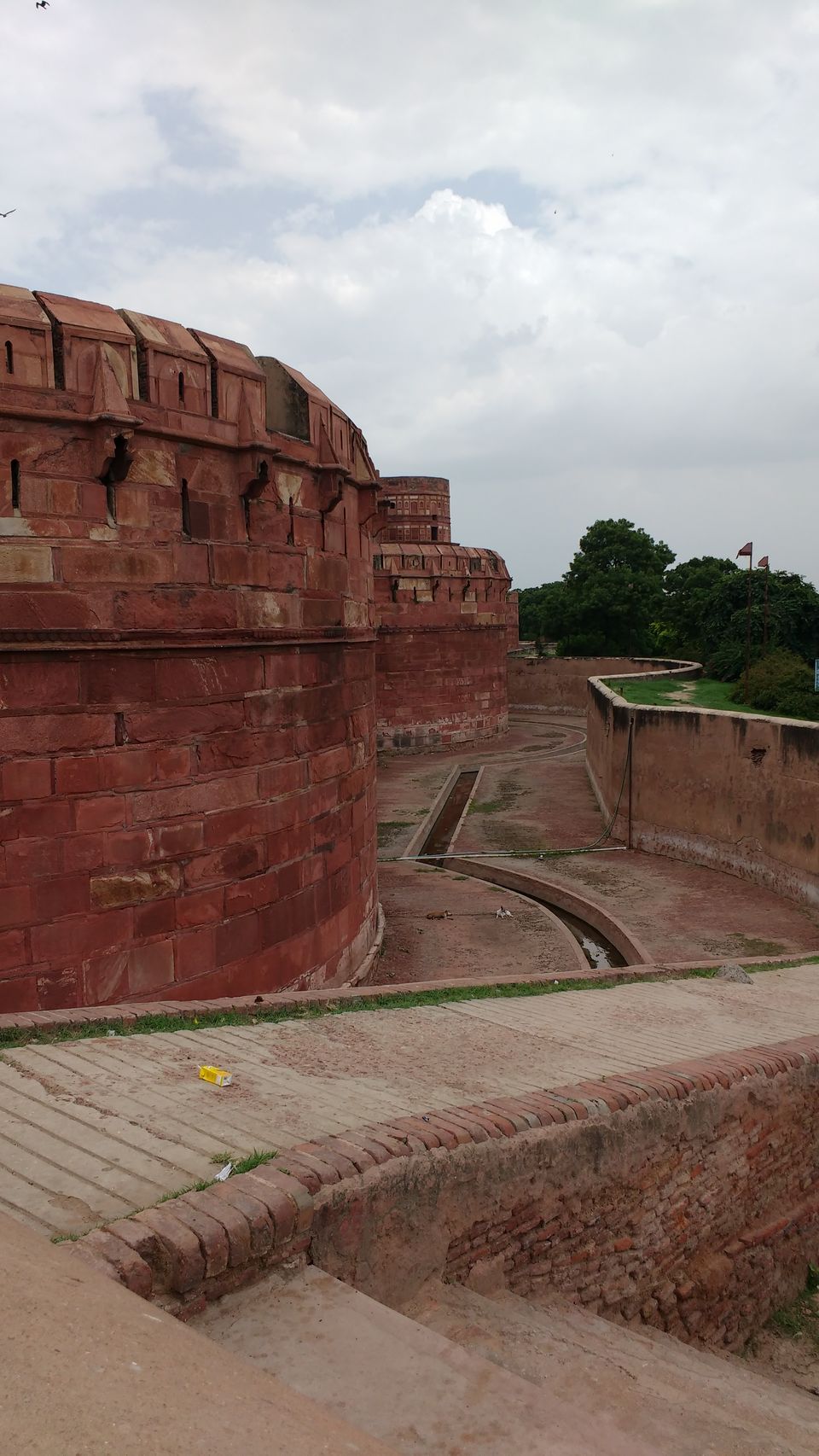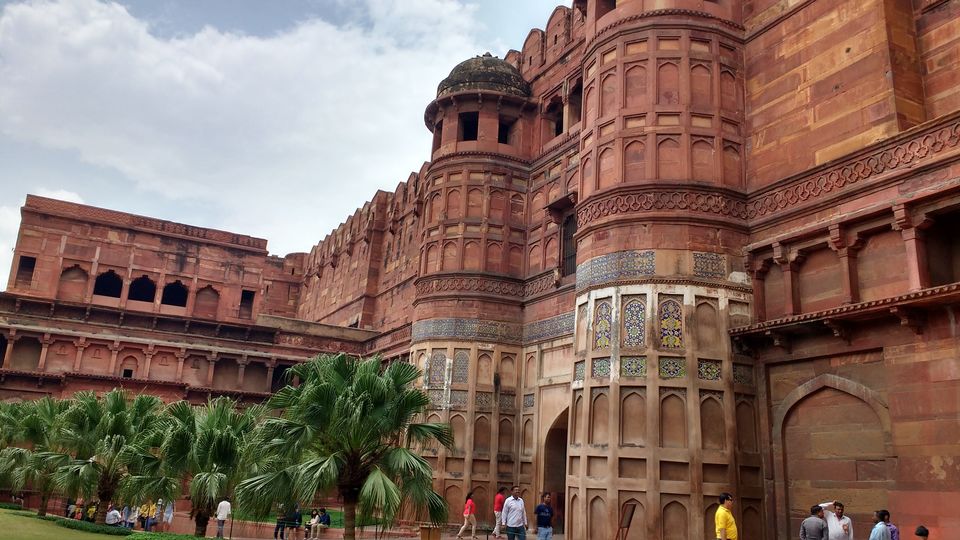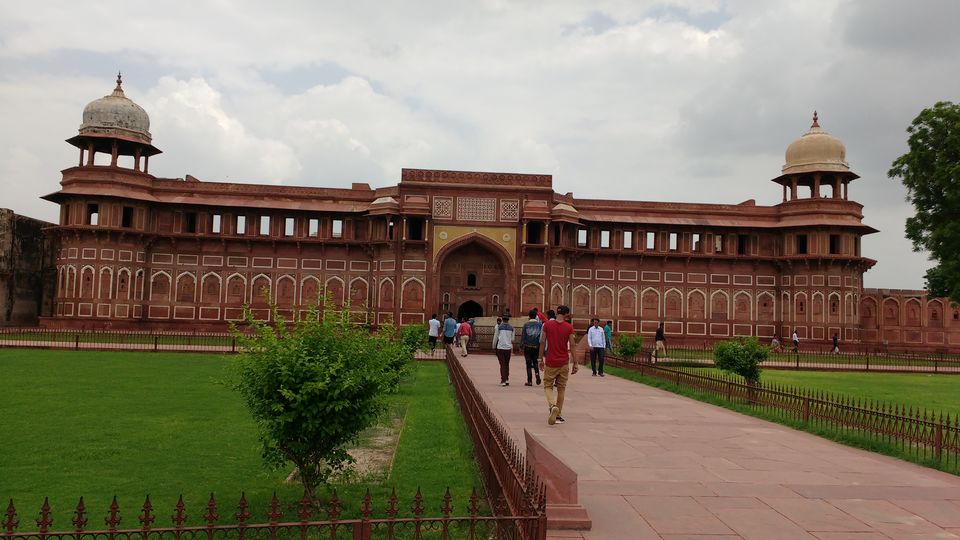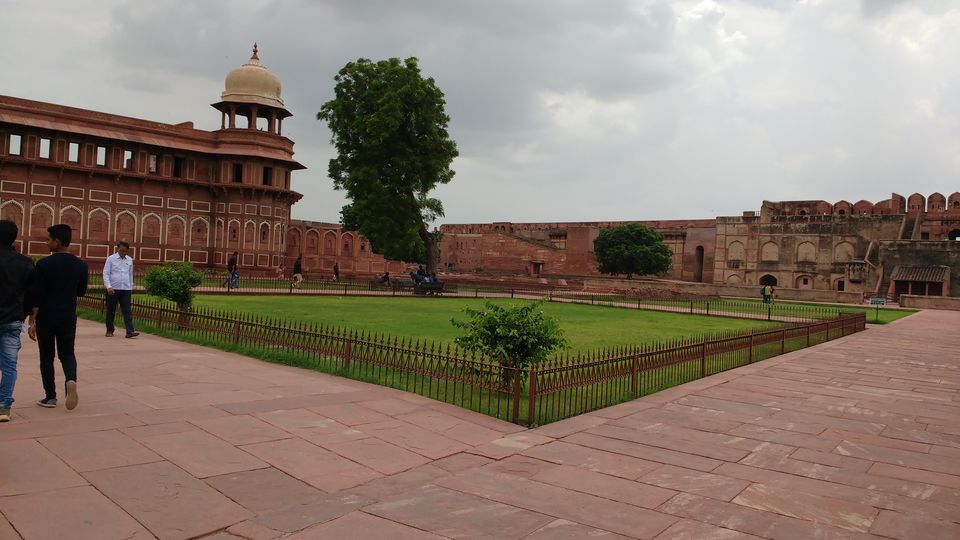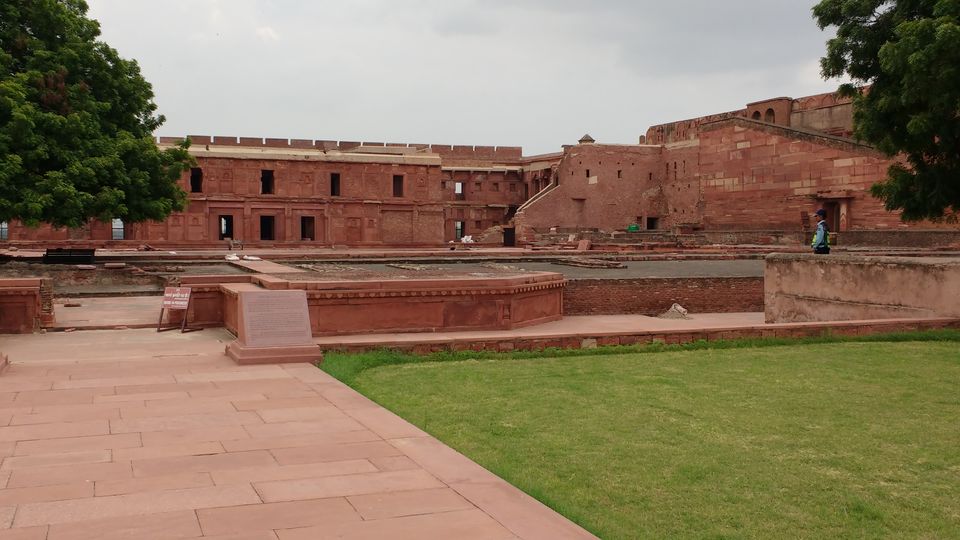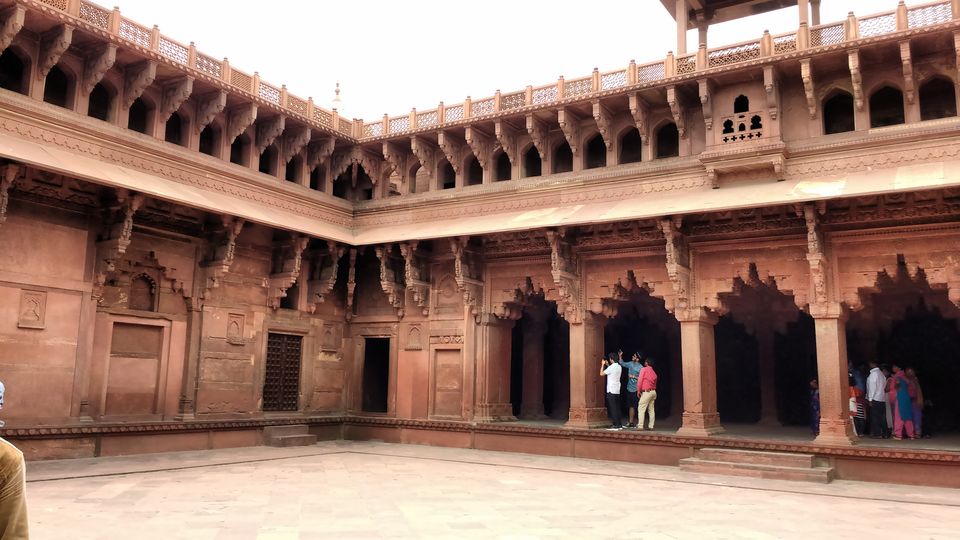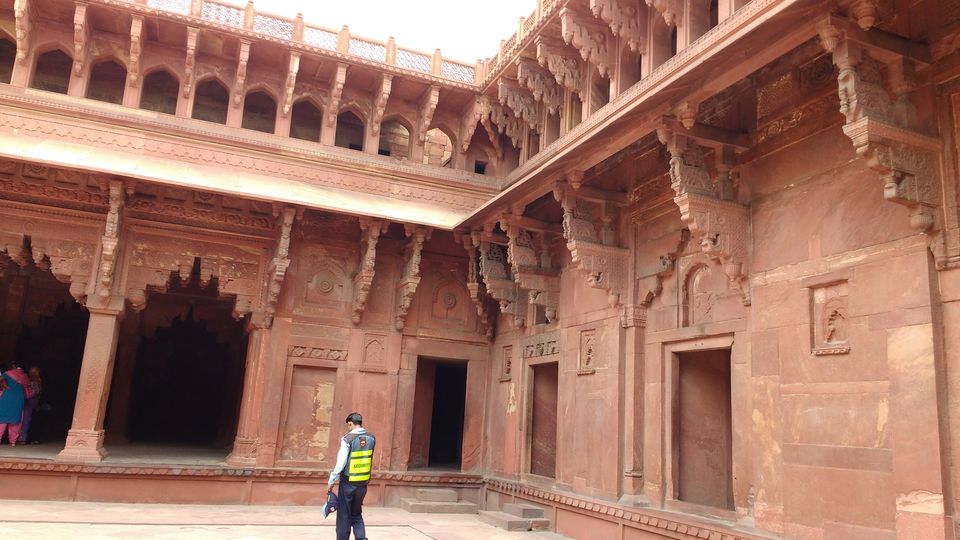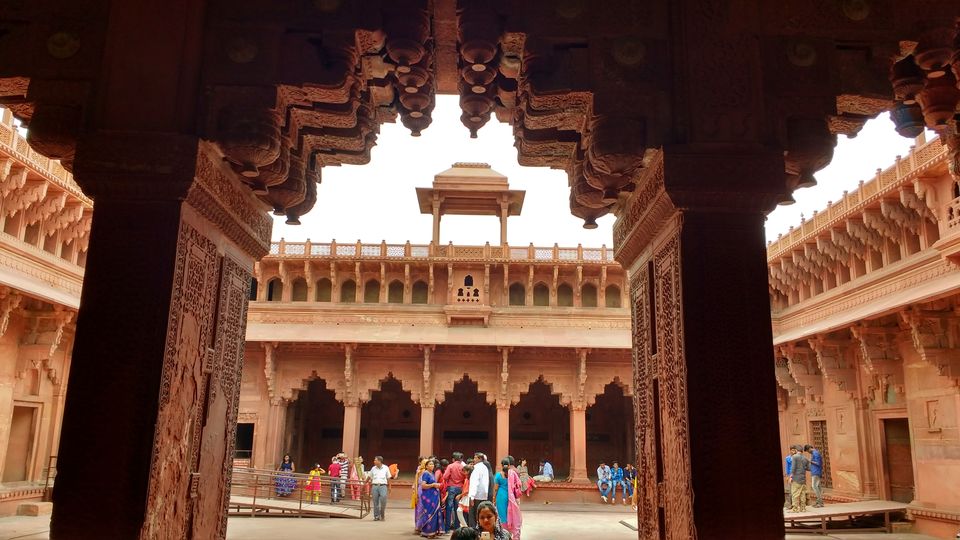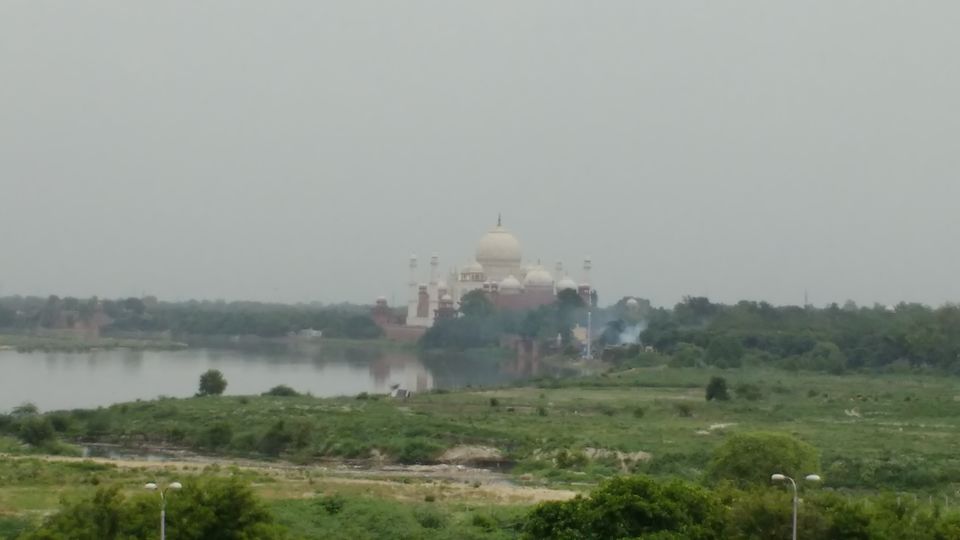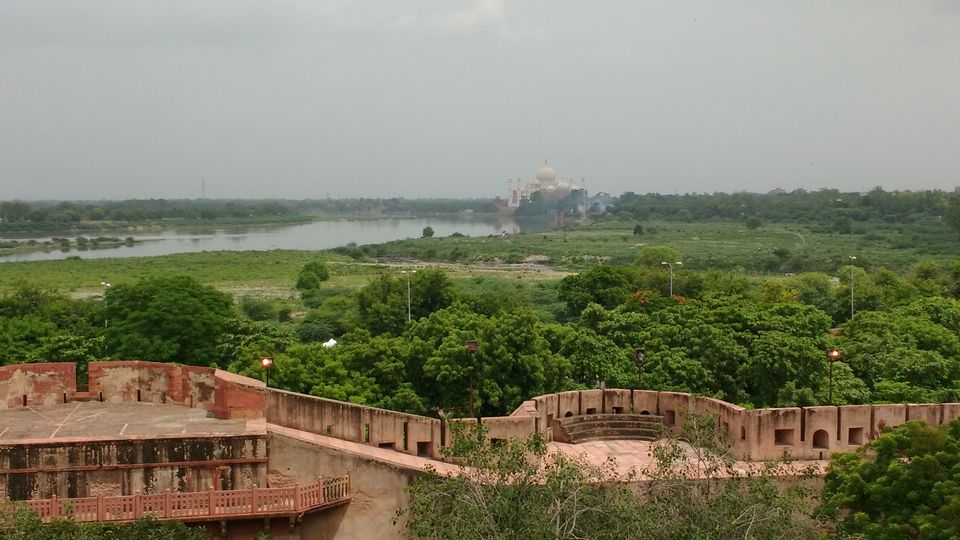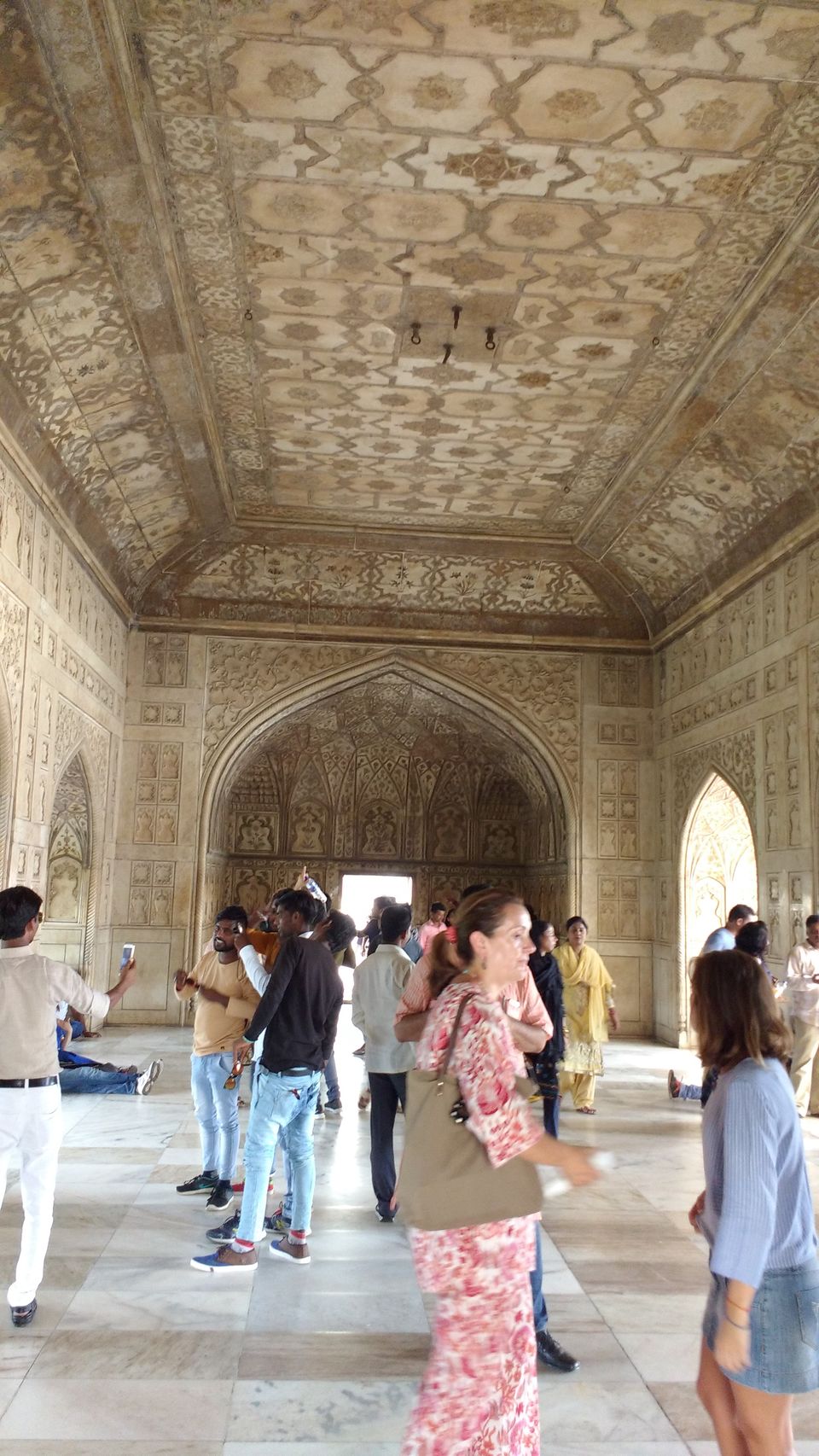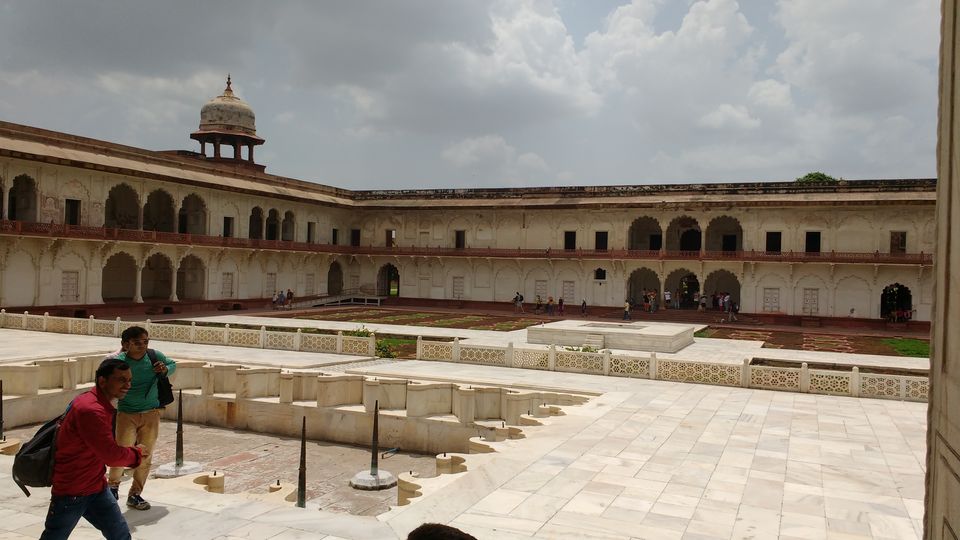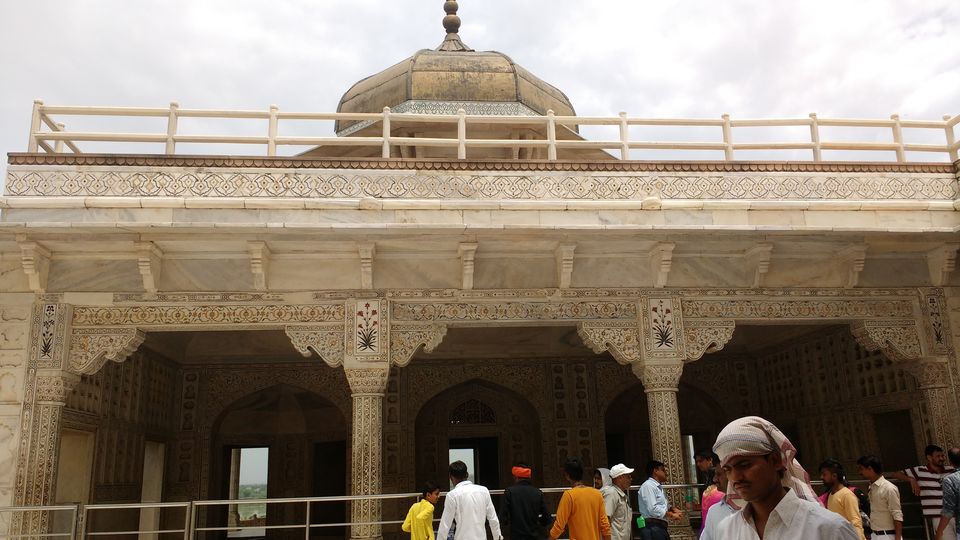 My next destination was Fatehpur Sikri which is around 50 kms from Agra Fort. It took me around 45 mins to reach there amidst the light traffic and clear road .
There will be lot of local boys posing to be guides and claimimg that they can give a tour of the place . I would ask you to avoid all of them and visit the place by yourself . 
This place is divided into to parts - one where final residing place of Sheikh Salim Chisti is housed.Legend has it that the Emperor Akbar was could not have a son , so he prayed day and night for a child . One night he had a dream in which he was told to visit Ajmer Sharif(one of the holy places for Muslims) . Once he visited Ajmer Sharif , Moinuddin Chishti told him to go barefoot and meet Sheikh Salim Chisti in Agra . Akbar walked barefoot from Ajmer to Agra barefoot to meet the sufi saint . The saint blessed him and soon he was blessed with a boy . In the memory of Sheikh Salim Chisti , Akbar build this tomb . 
On entering this tomb , again many localites will start pestering you claiming to be the tourist guides . I would again suggest you to avoid them . 
While entering the tomb you will find this huge architecture know as Buland Darwaza . I had to strain my neck to  have a good view :D
The second part of Fatehpur Sikri is Sikri , where the Royal Ladies used to reside . For this place I would advise you to hire a guide .It took me around 2 hours to have a good tour of FatehpurSikri . 
At around 5 pm , I started for Guragon . Amidst the green fields and the village roads , it was quite  a ride . Google map kept guiding me through out the way . On my way I stopped at one of the roadside dhabas . I was famished as since breakfast I have had nothing . I had a panner butter masala , 4 tandoori roti and a large lassi . Believe me the food I had , it was one of the tastiest meals I ever had . And the taste of lassi is still fresh in my memories . 
At around 10.30 pm I was comfortably lying on the bed at my home . It took me four n half hours to get back to Gurgaon . 
After 28 hours of riding and 600 kms of solo-trip , I can say it was worth an experience .