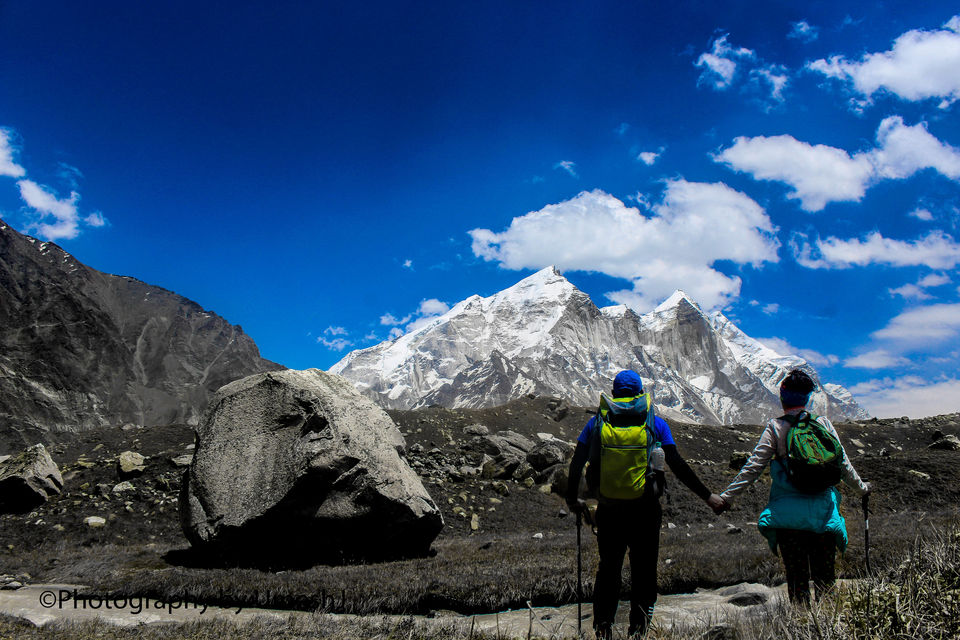 So, before we indulge ourselves in the story of our journey, I would like to share some tips and useful information for those people who don't have enough time to read my enthralling story????
Information and Tips:
There are 2 ways to reach Gangotri
We selected Dehradun, as road condition at this route is better than the other one. This was confirmed by tour operators with whom I coordinated.
Delhi - Dehradun (10:30 pm - 04:30 am)
Dehradun to Uttarkashi (05:30 am - 12:30 pm)
***Also, there is one direct bus available in early morning hours from Haridwar to Gangotri. Below is a quick update on the route:

Note- There are many hotels available in main Gangotri market in range of Rs. 400 - 1000, GMVN would be the best option if you can get it, it's in beautiful location near to Gauri and Surya kund.
Few tips for an unforgettable experience :
- Permit is a must to enter in Gangotri National park whether you visit till Gomukh or Tapovan or further.
- You can take permit from Uttarkashi or Gangotri forest office by visiting or by applying online from http://swsuttarkashi.com
- It's possible to complete trek till Gomukh without help of guide but as per new rule you must declare the name of tour operator while applying for permit online.
- Best time to visit in summer is between end of April till mid of June and in winters Sep till Nov.
- It's recommended to take guide if you are planning to go to Tapovan. Initially I planned to complete the trek on my own but no operator agreed to give me a permit without taking guide as Gomukh to Tapovan is really a difficult trek.
- For potter, you have to pay Rs. 800 per day and if you want a Guide as well you have to pay additional Rs. 1500 per day to the tour operator.
- During trek, you can fill up your water bottles from the streams on the way. You will find enough on the go. Carry eatables from Gangotri itself as there are no shops available between Gangotri & Chirwasa which has 9 km distance.
- If you are planning for Tapovan trek, I will advise you to start some physical activities at least a month before you planned a trek. Try to run 5kms, it will help you.
- You must carry your first aid kit which includes Sunscreen, Disprin, Paracetamol, Avomine, Avil, Metorgyl, Volini, Norflox, Bandage, ORS, Lip Balm, Cold cream, band aid and other items as per your need.
- Trek Essentials Which Include Identity Card, Sun Glasses, Torch, Rain Cover/Rain Coat/Poncho, Trekking Shoes, Jackets, Trek Poles, Trek Paints, Fleece T Shirts, Thermal Inners, Sun Cap, Woolen Cap, Floaters And Other Items As Per Your Need.
Ever wonder about the source of river Ganga?
According to popular Hindu religion, Ganga arrived on this planet when Lord Shiva released the mighty river from the locks of his hair. When the Ganga arrived on this planet, it was here in Gangotri, where she started her journey throughout the country. Gangotri, the origin of the River Ganges and seat of the goddess Ganga, is one of the four sites in the Uttarakhand Char Dham pilgrimage circuit. This place has a certain charm to it, seeing the Ganga flow with all her might is very intimidating and a pinch of serenity strikes with the sound of temple bells and the shlokas "priests chanting" in your background.Our Trekking background:
" Oct 2015 " Pindari Glacier trek was some sort of experiment to test our strength and endurance.
" Oct 2016 " we trekked Kedarnath, Deoria Tal, Tungnath and Chandrashilla in 5 days and after that we decided to trek some high altitude mountains. With much of thought and research, we decided on "Tapovan (14640 Ft). I checked with Anjali and she was more than happy to join the adventure.
After thorough search, I contacted one Tour operator named REAL ADVENTURE " http://www.realadventuregangotri.in ".
I talked to Mr. Deepak Rana owner of real adventure agency. The package was very costly so after much discussion we decided to take one guide with us and to stay in ashrams instead of camps. We were sure to have the a great experience while living with the locals and learning about their way of life from up close.
Our journey started on 3 rd June (Sat night) after completing a hectic day in office.
Day 1: Road Journey from Delhi to GangotriDistance : Approx. 500 Km - Night Stay:Local hotel in Gangotri Market - Altitude: 11200 ft.
On 3rd June night, we started from ISBT at 10:30 AC bus (Rs 550 per person) and we reached around 5:30 pm next day at Gangotri. During this we crossed Dehradun, Mussorie by pass, Chinaylisaur, Uttarkashi, Harsil, Dharali and finally reached Gangotri. The main attraction of first day was Bhagirathi river and Harsil valley.
We got a chance to chat with the local people and some local photographers, guides and few other people who were working in Gangotri. Guide was very funny and interesting person and kept us engaged without worrying about time. He shared his stories of how they escaped from ghosts " Aatma nd chudels " , how they survived when they got stranded in the snow, how they rescued travelers and one fascinating story about the Bhagirathi river, according to them there is one portion near to Harsil which looks dry most of the times and it makes you feel like you can cross the river from that portion but once you start crossing river the flow increases automatically and you will never be able to cross it. We had a great time interacting with him.
It was a very long and hectic journey to Gangotri. On our way, we saw amazing landscapes and heard good stories. Finally, we reached Gangotri at 6:00 pm and it was time to find the decent hotel, without struggling much we got one room at cost of Rs. 700, (Gangotri hotel). We took a room on 3rd floor as view was amazing from there. We asked for a hot water bucket that was served in our room at cost of Rs. 50 per bucket. We took a bath, had dinner and started preparations for next day trekking which was scheduled to start at 7:30 am. Late evening, we had a meeting with the Tour guide Mr. Keshav Rana (just a 20-year-old boy) and we had a small chat about the next day's program. The discussion was mainly on when to start and accommodation options. He confirmed us that apart from Aashram there are other options too like GMVN rest house, so we had nothing to worry.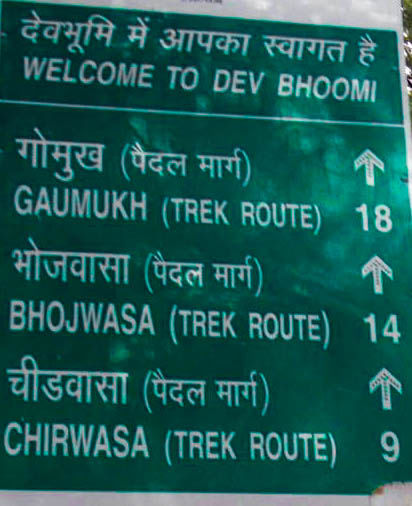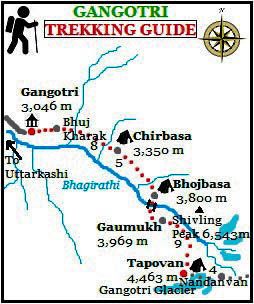 Day 2: Trekking from Gangotri to Bhojwasa Distance: 14 km. - Night Stay: Bhojwasa at Ram Baba Aashram - Altitude : 12440 ft.
On our second day of the trip, we were ready for the trek of 14 km, long enough for the 1st day of trekking . Gangotri is situated at an altitude of 10200ft. and Bhojwasa is at 12440 ft. It was raining from last 2 weeks so night temp. fell at sub-zero level even at Gangotri. We woke up at sharp 6 and after getting ready we went to Gangotri temple which was hardly 500 meters from our hotel, we saw a long queue there so that day we decided to visit holy Ganga river only. As we were getting late so we decided to do Gangotri temple " darshan "after completing the trek. We spent some time near Ganga river bank and captured some pictures of few performers & pilgrims, later we prayed for our safe journey and went back to hotel for breakfast and final bag packing.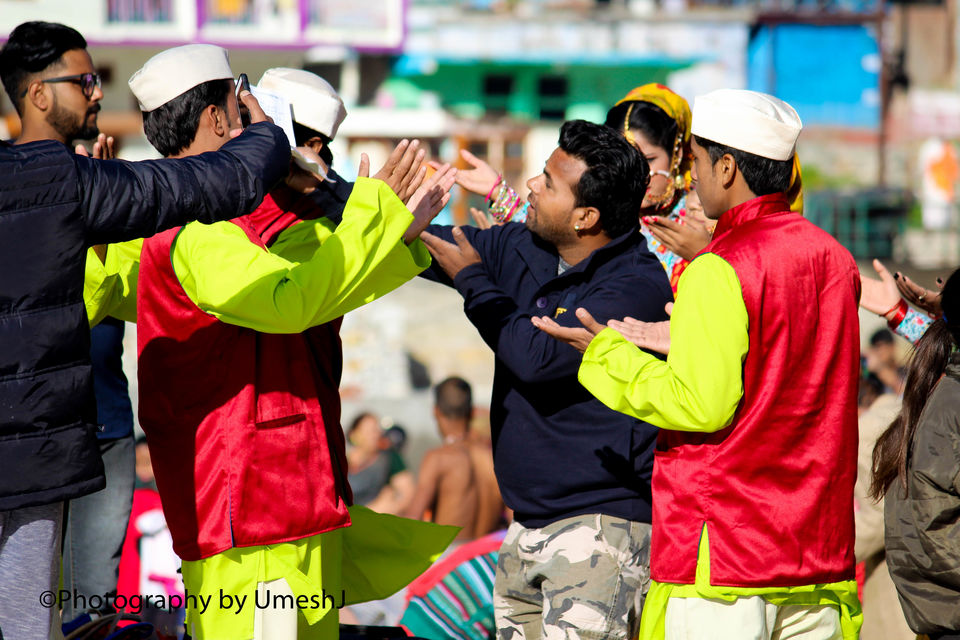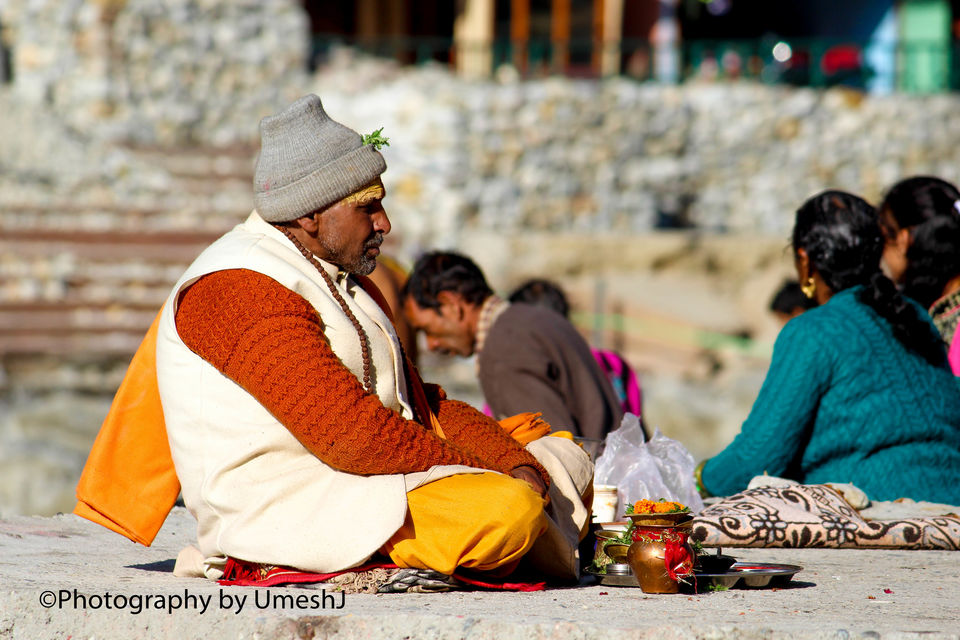 With the blessings of Goddess Ganga, we initiated our trek towards Bhojwasa. The trek starts from the Gangotri Mandir itself. I kept few packets of Biscuits, Namkeen, chocolates for the way and filled my bottle with some fresh water. It was 8.45 AAM already do so without wasting much time we started trekking. Just after Gangotri temple, there was a steep ascent through a stairway up to a point where it met with the trekking trail. So right at the start it was sort of a tiresome effort. After an hour walk we reached at the Gangotri National Park check post where permits and eatables were checked.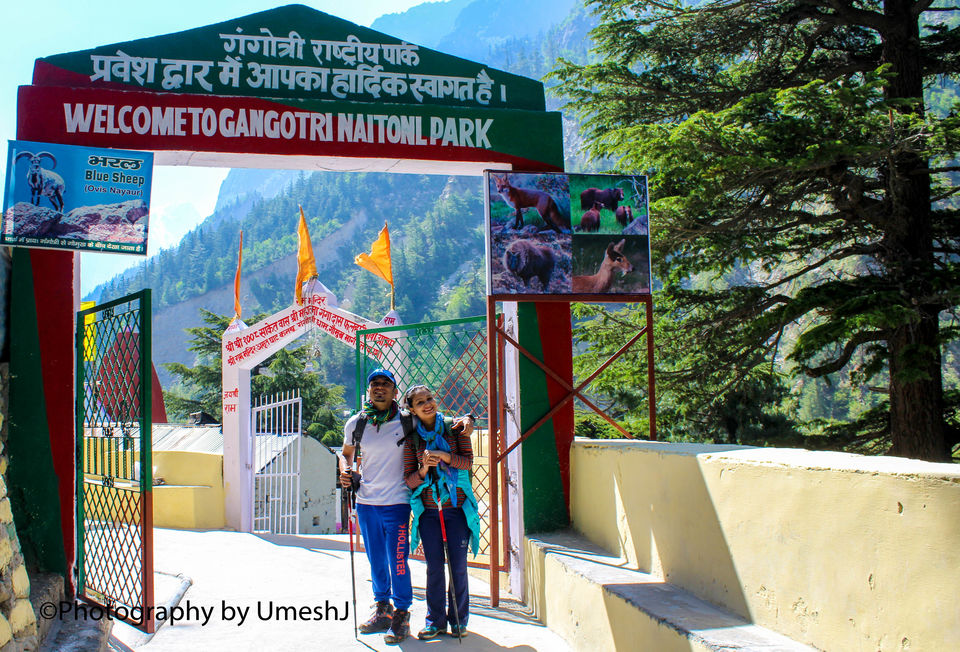 Now the entire trekking route was under Gangotri National Park and so it required permission from the District Forest officer of Uttarkashi which was already taken by the tour operator for both of us. (Rs. 150 per person). If you are carrying plastic bottles or anything wrapped in plastic, you have to give a declaration and deposit fee on the basis of items, we deposited Rs. 200 which was refundable. We showed our permits and headed out for the 14 km trek to Bhojwasa, our first campsite. We were apprehensive about what was awaiting for us in Bhojbasha & Tapovan.
As we climbed further, greenery unfolded and mountains started to uncover their secret waterfalls to present the picturesque views. With every kilometer passed, views of Himalayan peaks became more clear and visible. The trek was not tough, but long. We kept walking and reached Chirwasa, which is 9 km from Gangotri. We reached there around 12:30 pm. There was a small hut which served tea, paratha and maggi to the trekkers. We sat down and had Fruity, Paratha and Maggi. Once we finished with lunch, we quickly headed out for Bhojwasa.
During the trek, there were few passages allowing only one person to pass at a time. In some places, the route was completely damaged by landslides. Passing this area was difficult as rocks were loose and getting a good grip was a challenge, but nature's expression about its creation with majestic landscapes gifted us the deep pleasure to carry on the trek and often forced us to test our photography skills.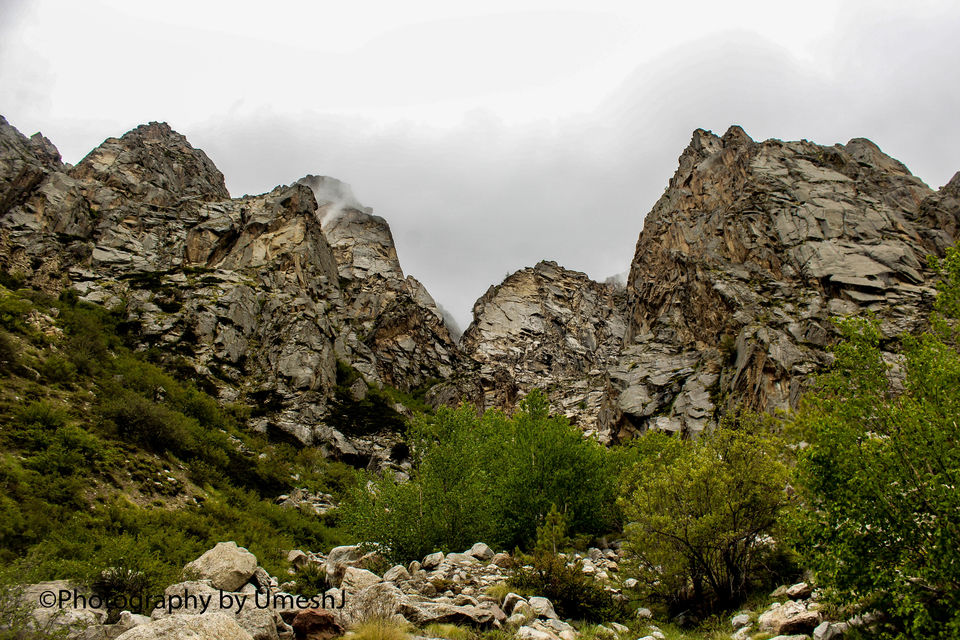 We reached Bhojwasa at 2:30 pm and realized that we were the first to reach there but within an hour many other groups joined us. Bhojwasa is a peaceful place with temporary living arrangements set for the pilgrims. One can choose GMVN or LAL/RAM/NIRMAL BABA ASHRAMS for the rest and night stay. We took shelter in Ram Baba ashram and they welcomed us by serving herbal tea. We booked the camp, which costs Rs 300 per person per bed and the camps were warm and cozy. This cost includes Dinner, Breakfast and accommodation. We found a neat and clean Indian as well as western toilet in back side of our camp, just 100 meter away from our camp.
We had a chat with other people who were sharing our tent and later we went for a walk. It was 4 pm and sun started to add color on Bhagirathi peaks, we did some photo shoot and spent some time near Ganga river. During photo shoot, we saw flock of Himalayan sheep's"Bharals" near River bank which was exciting.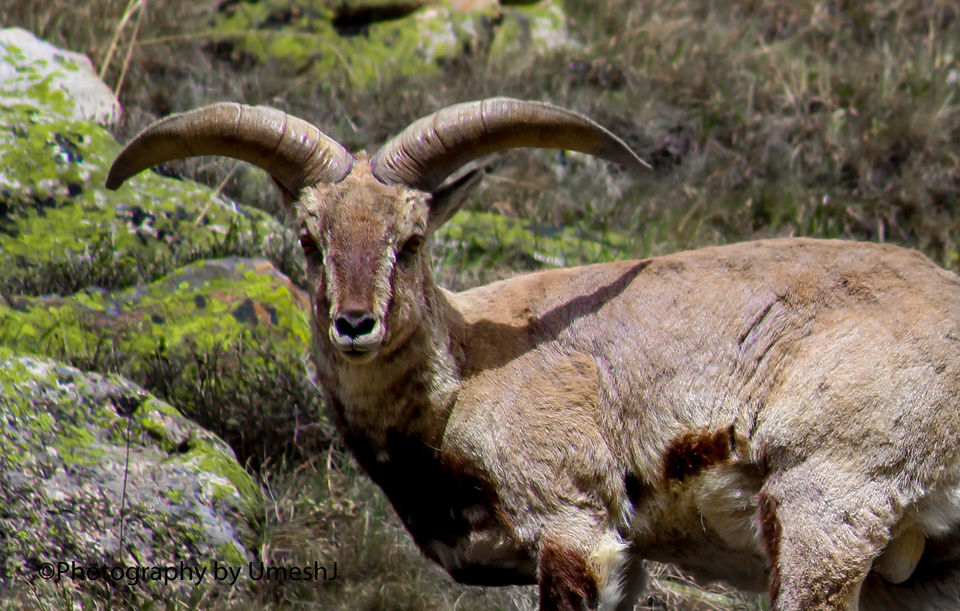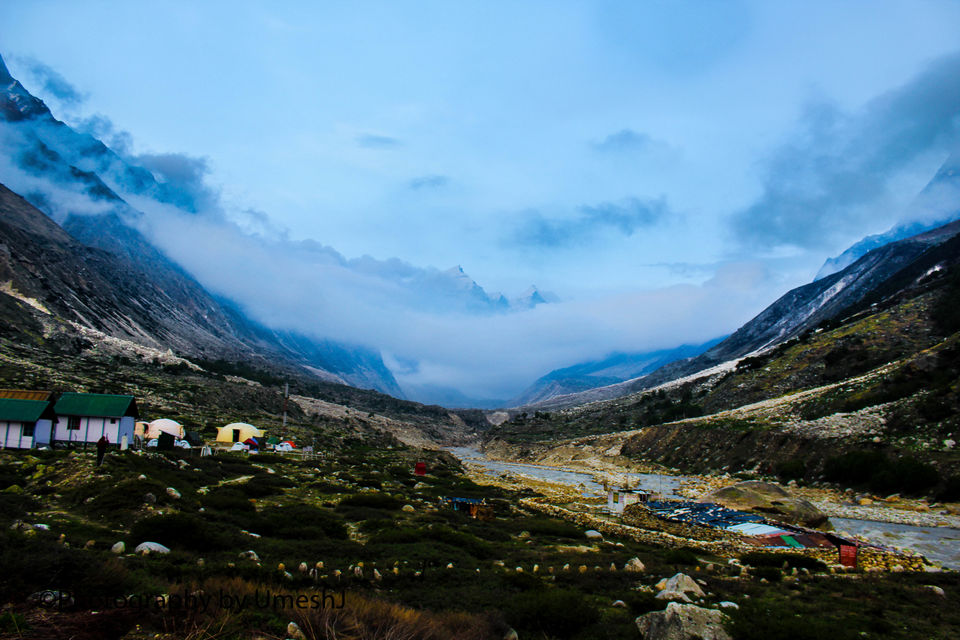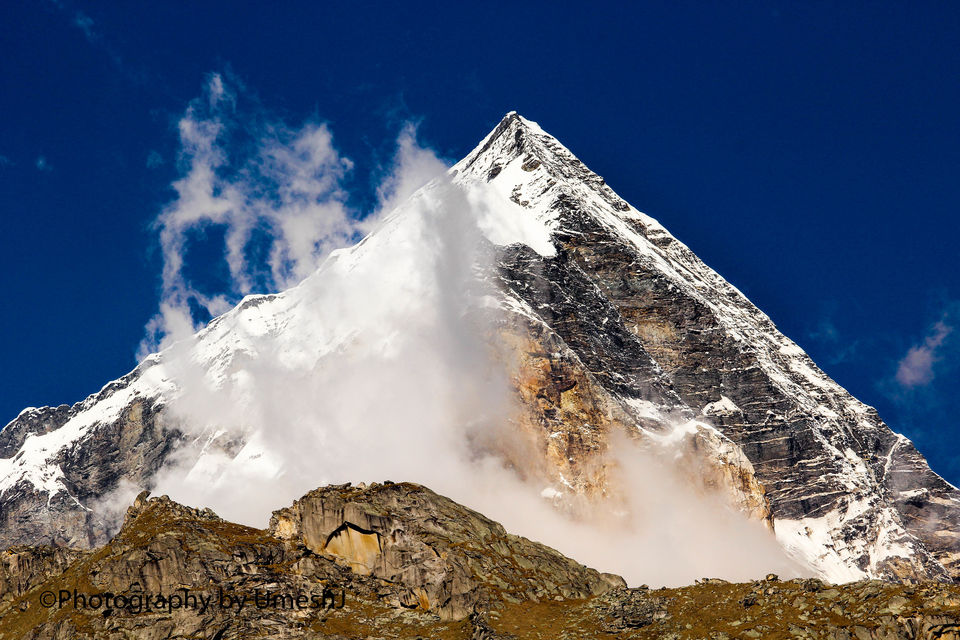 It was 6 pm and the temperature was falling quickly. It was freezing outside so we decided to go back to our tent. At late eve, we were called for dinner in a small warm hut. We were surprised to see a young boy cooking for all of us and our guide was helping him. The food was simple but delicious, they served Chapati, Sabzi, Dal and Rice which was good enough in such isolated place. You will find a rule written in hand made display board "kindly wash your utensils after use!!!". After washing dishes, we went to our tents to get some sleep.
Day 3 : Trekking from Bhojbasha to Tapovan via Gomukh-Aakash Ganga Distance: 9 km. - Night Stay: Mounibaba Ashram at Tapovan - Altitude: 14640 ft.
Waking in the lap of nature fills you with an amazing strength and happiness. We woke up at 5am with the chirping of birds and could see light which was entering in our tent. Without laziness, we woke up and stepped out from tent to see the view. It was as expected beautiful and calm. We started capturing the beauty of valley of nearby places and by doing this we spent almost one hour. At 6 am we returned to our camp and had breakfast at 6:45 am. We were expecting a healthy and heavy breakfast after the wonderful dinner which we had last night, but it was a heart breaking moment when they served us one bowl of " Sujii ka halwaa only!!!!". After having halwa we left our tent and started trekking. Initial 500-meter walk was steep rise and it was very tiring, we took our first break very soon once we reached the top of this mountain.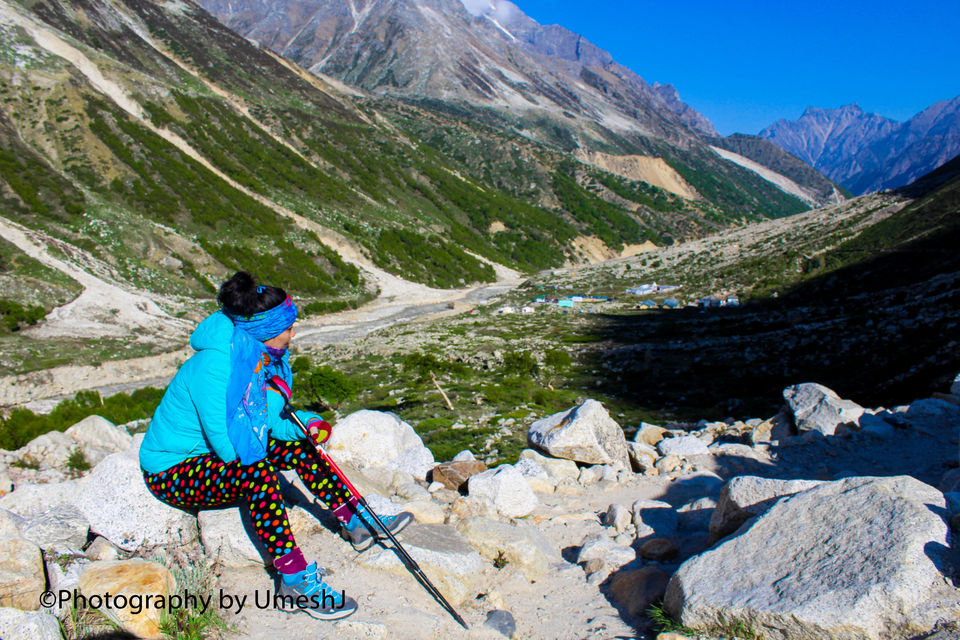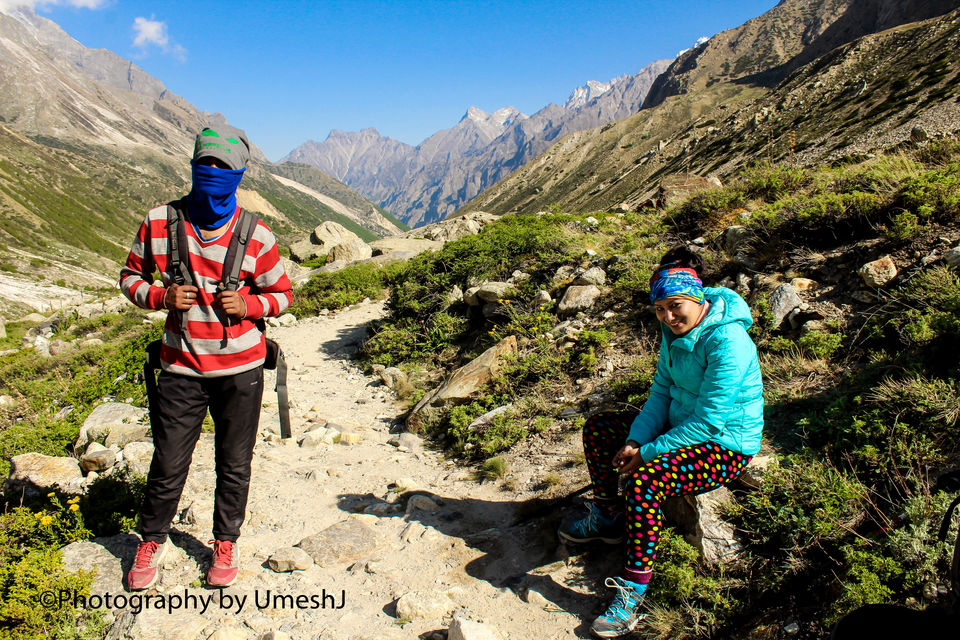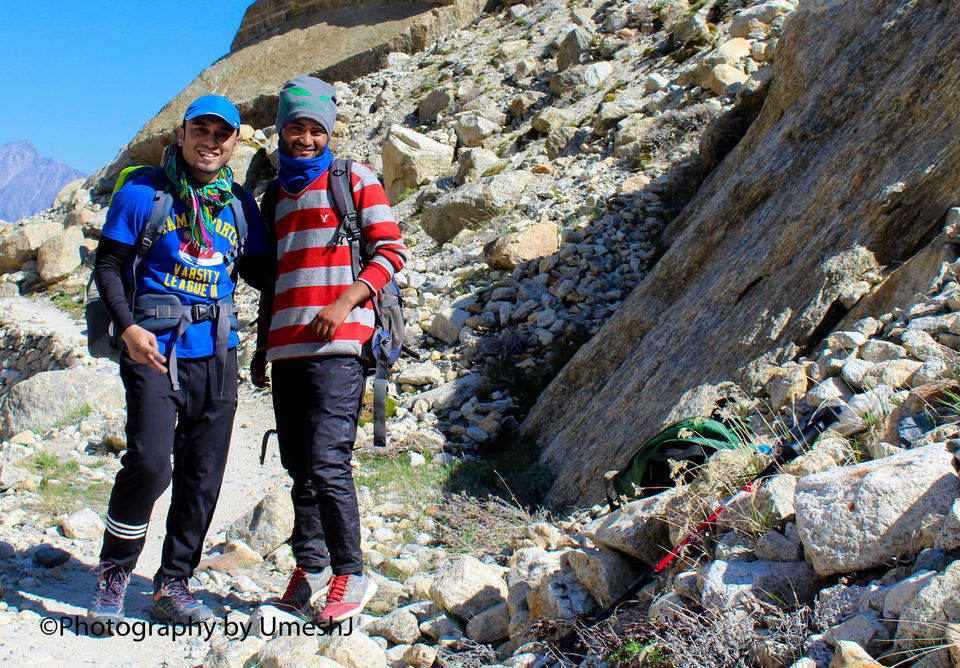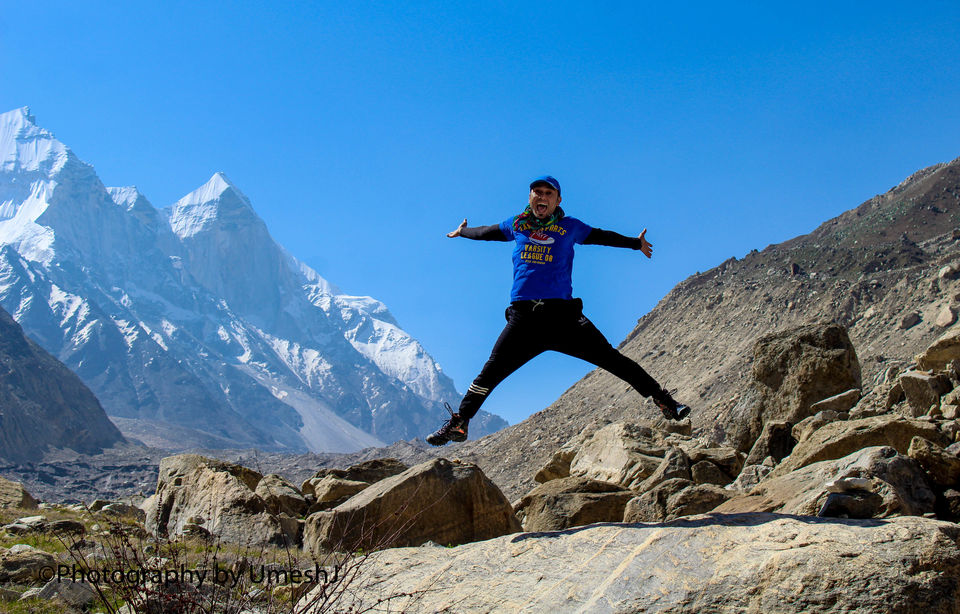 With the passage of time we started interacting and knowing our Guide "Keshav Rana" in better way. He was very keen to learn photography and I taught him few basic concepts of using SLR, he clicked few good shots during trekking. After walking 2 km we could see the shiv ling peak and some other peaks too, their view was getting closer with every step we walked. During this walk, we met some local people who were coming back from Gomukh, they told us about Ganga tulsi, which looks like a bush and its aroma is very nice and strong, they advised us to smell this Ganga tulsi in short intervals as it helps in breathing problems.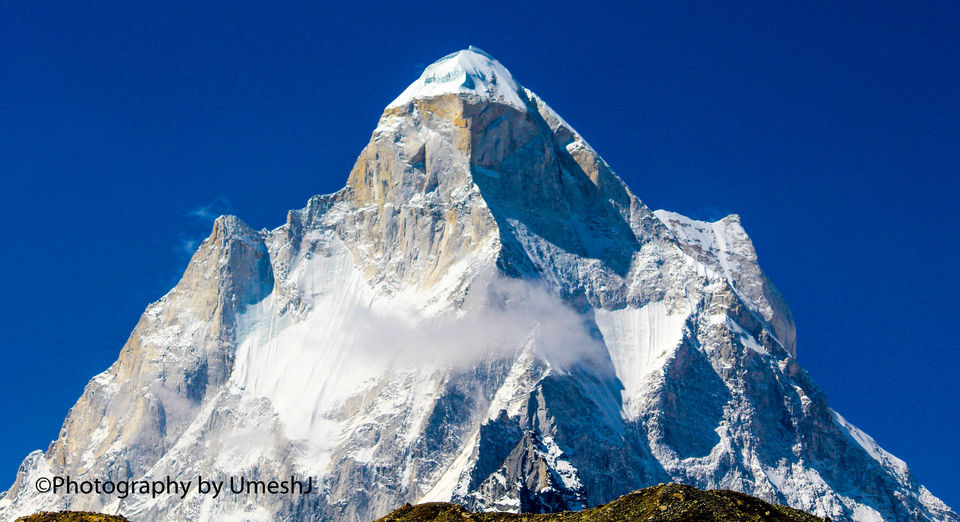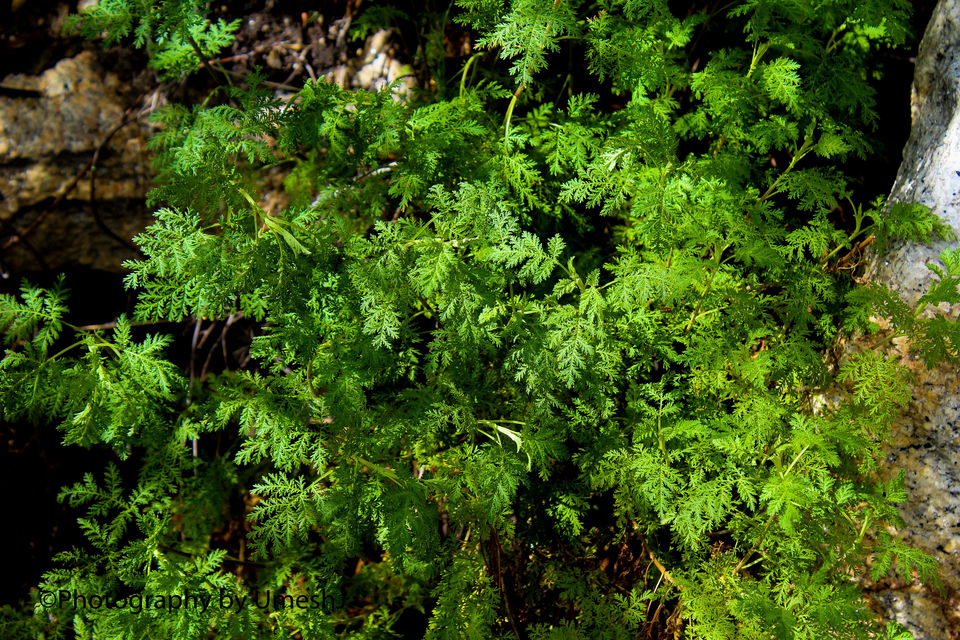 Once again it was a time for a break. When Anjali asked for a break I felt happy as this was the perfect time for me to click pictures of the view around me. This time I was trying to find some Himalayan birds and much to my surprise I got to see the first bird of this trek ...a colorful tiny bird in the bushes at some distance. It kept flying here and there due to which I was not able to take a perfect shot and I had to run almost half km to capture it and finally I clicked few good pictures of this bird.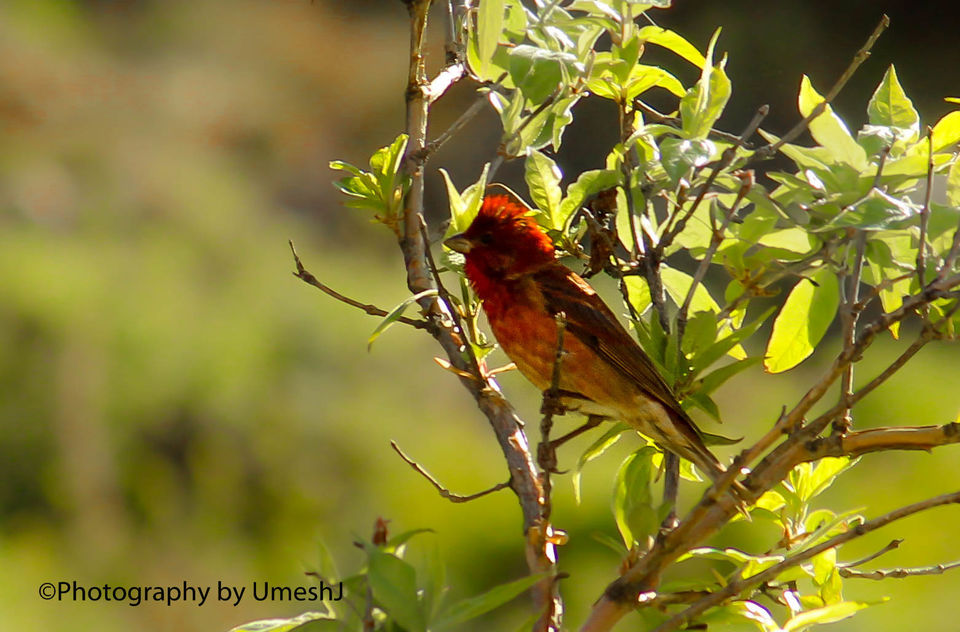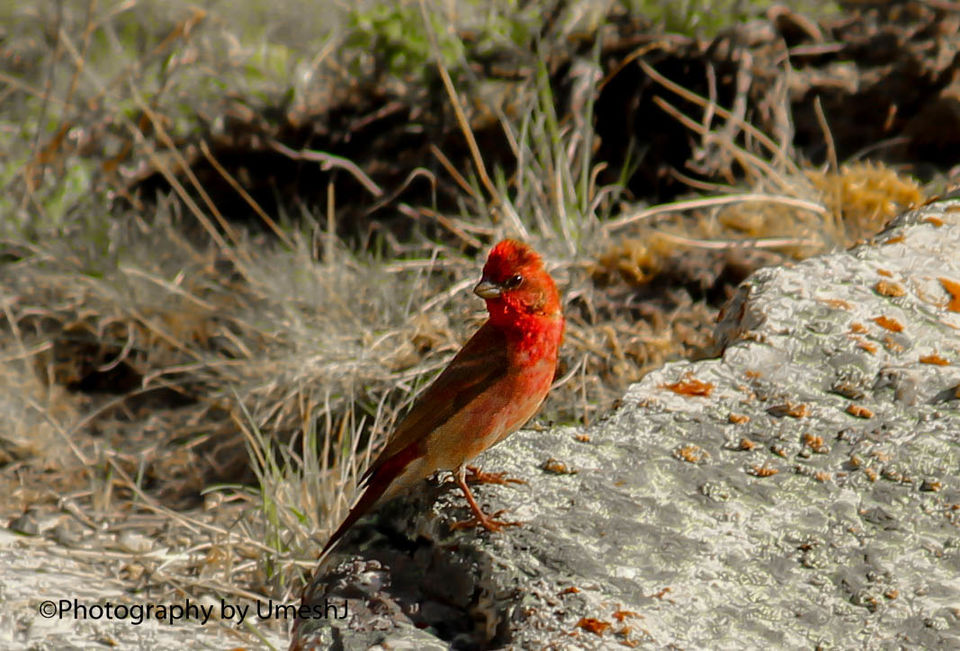 I was delighted to capture a beautiful bird in my camera and it made me more energetic. We started walking once again towards Gomukh and the terrain was becoming rockier. The path was paved but it was very weathered in most of the places, making it hard on our feet. It took approx. three hours to complete us this 4 km trek, We stopped at the small temple that's been made to mark Gomukh.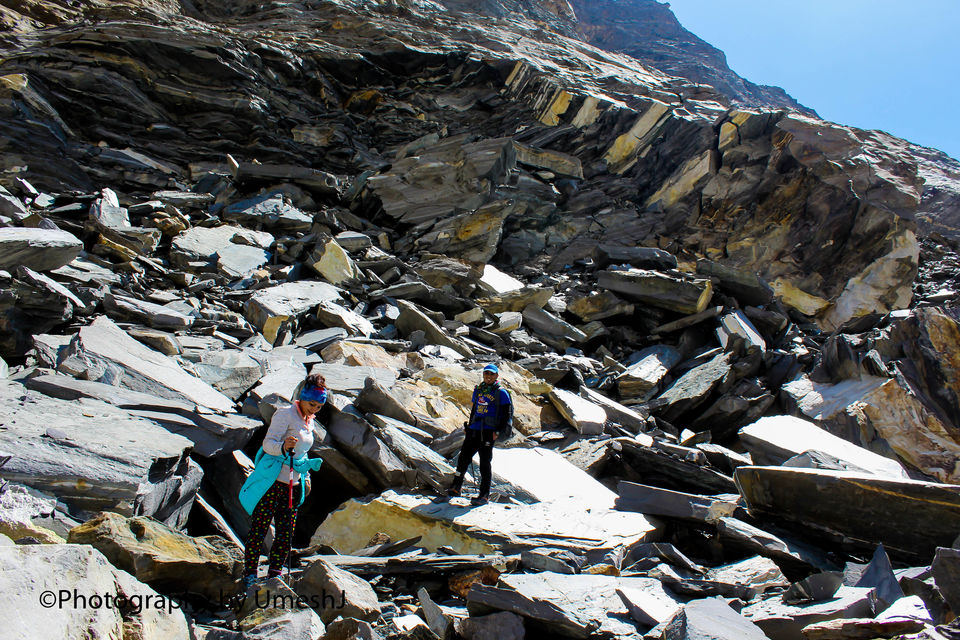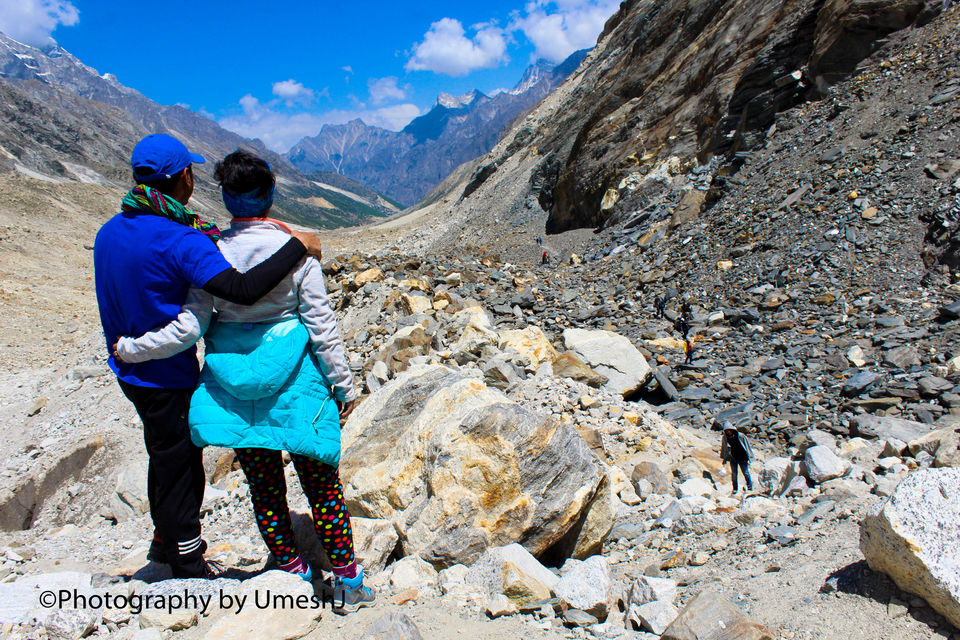 Gomukh is the origin of the river Ganges. It is at the altitude of 13200 ft. and said to be one of the largest glaciers in the Himalayas. Gomukh is one of the popular Hindu pilgrimage place and a very popular trekking destination as well. It is reported that a huge crack developed on the glacier during the cloud burst of 2013 in Uttarakhand resulting into the collapse of large chunk of glacier the front end of Gomukh disappeared.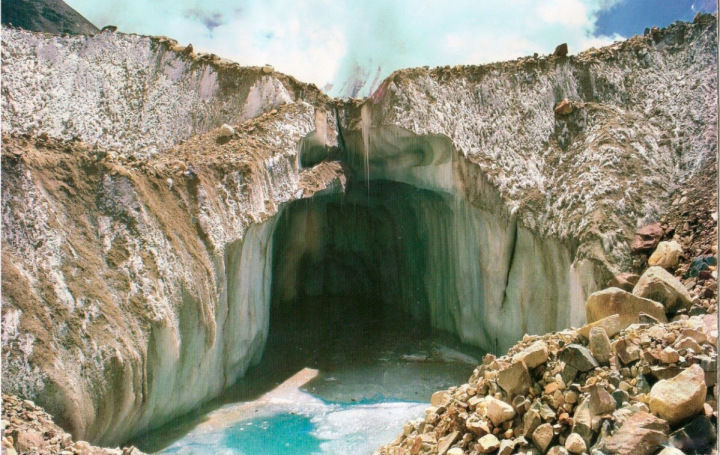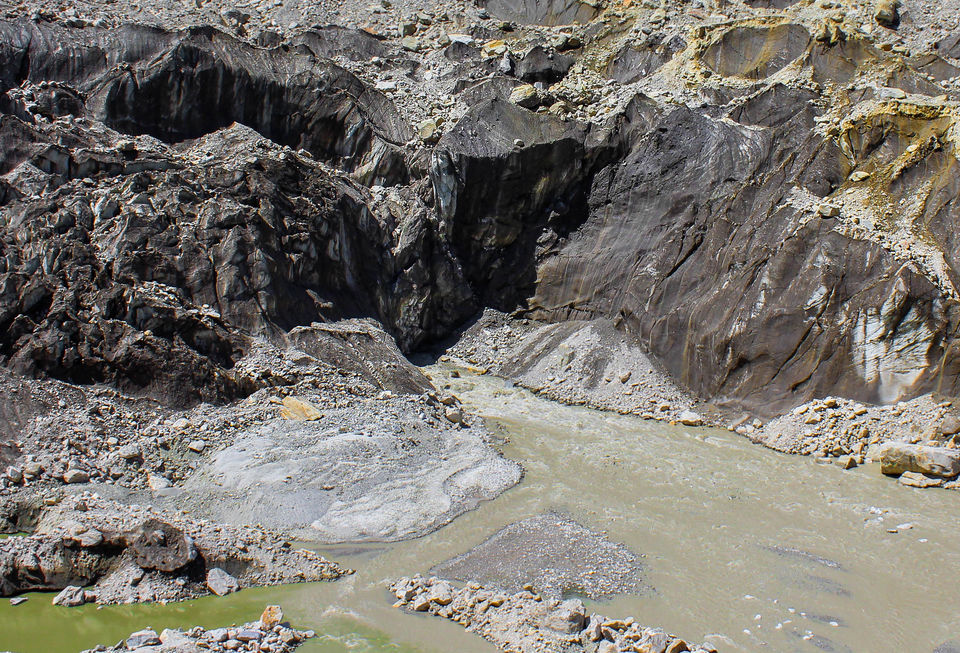 Our guide told us that one can feed biscuits to the crows in Gomukh Glacier and they pick it right from your hand, That sounded interesting, so we began our search for crows and started calling them by making a sound " kow kow" ( I don't know why I did that) we were screaming and literally praying for them but did not find any crow coming to us. We waited for 15 - 20 mins and then finally with a lot of disappointment we started walking towards Tapovan. We walked for a 100 meter when I heard Keshav's voice " Sirji kauwa " and that was music to my ears. Initially there was only one crow but in next few minutes I saw a group of 10 -15 crows coming to us and flying over our head. Within few seconds they started flying very close to us.
Initially I asked Anjali to feed the crows. She tried to but scared as they came very close to her. I took the project in my own hands and handed over my camera to Keshav. Now it was my job to feed Crows and his job to capture everyone in one frame and he clicked very good shots, Thanks to Keshav.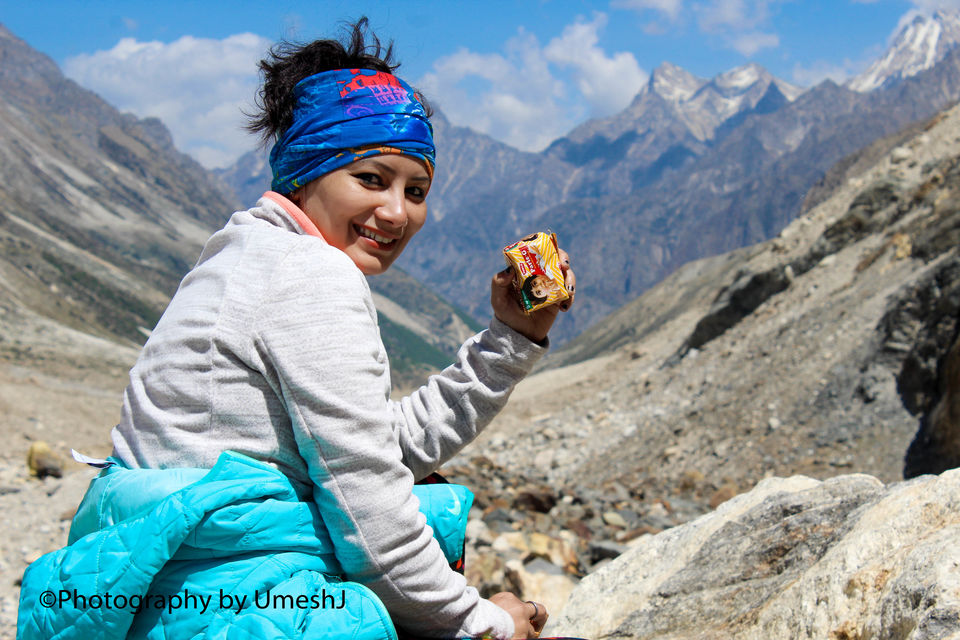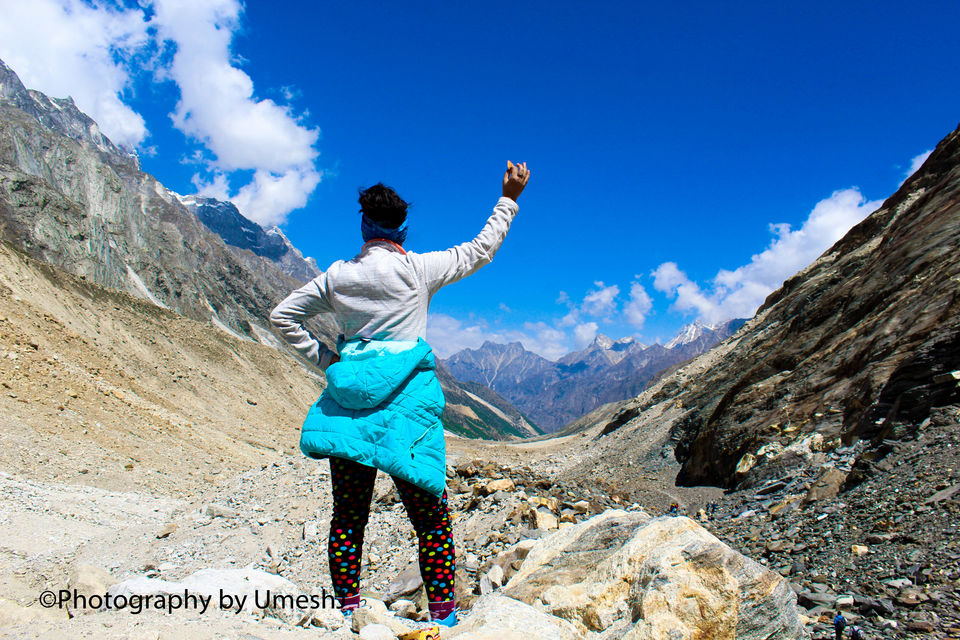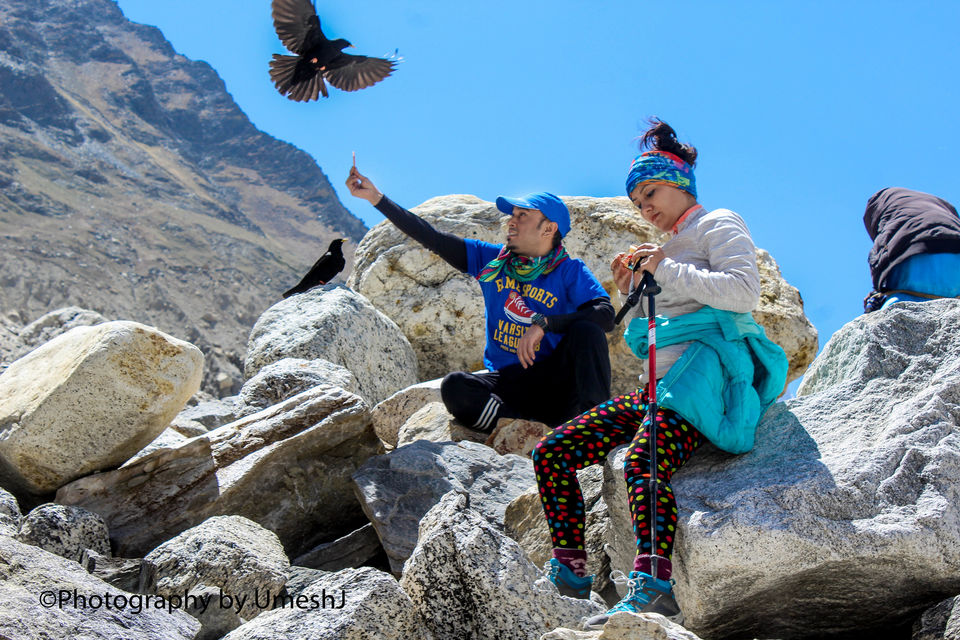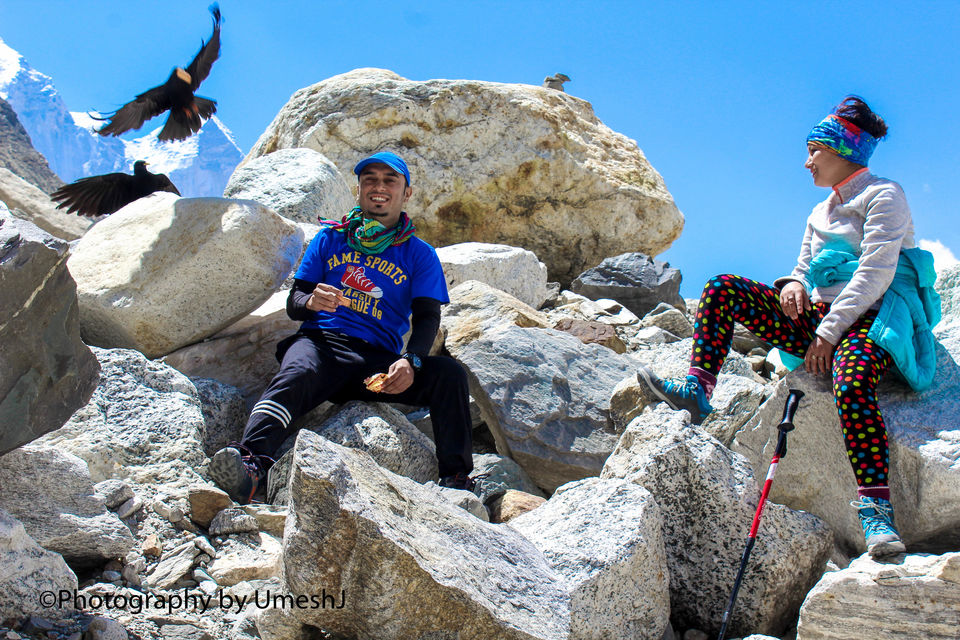 3 hours has been passed and we have already witnessed lot of good things. We captured our first Himalayan bird, got to see the first glimpse of Shivling peak and after a lot of efforts we found biscuit eating crows and succeeded in feeding them. Now it was the time to leave Gomukh with these happy memories and move ahead to explore more.

After Gomukh there was no well demarcated trail. One had to cross the glacier diagonally. Keshav started to explain us about the rest of the trek. He showed us the path which was not a path as such but large rocks all around covering the glacier. It was all rocky and hard ice with large and deep splits. The Glacier was approx. 2 km long. Crossing the Gomukh glacier was another experience all together.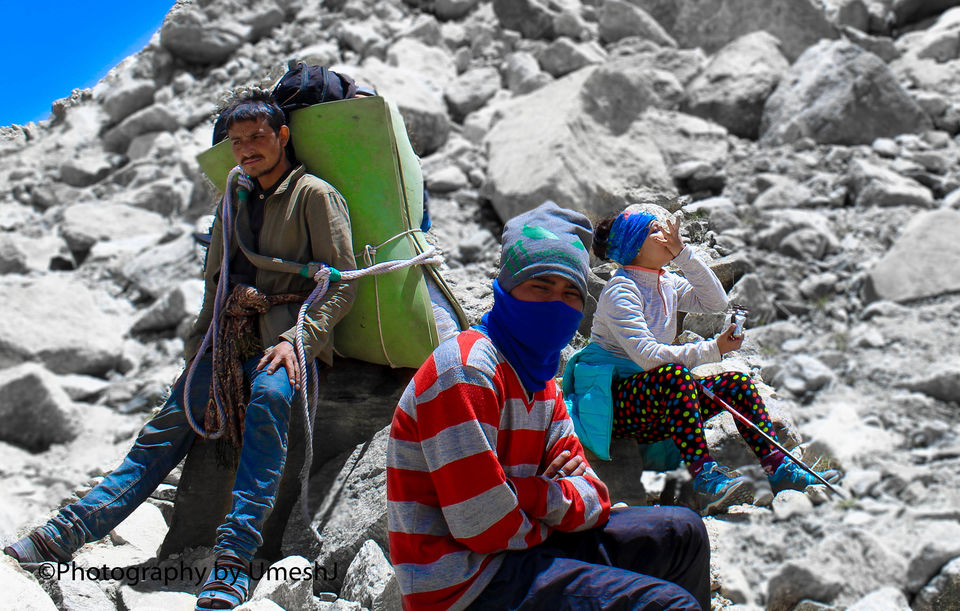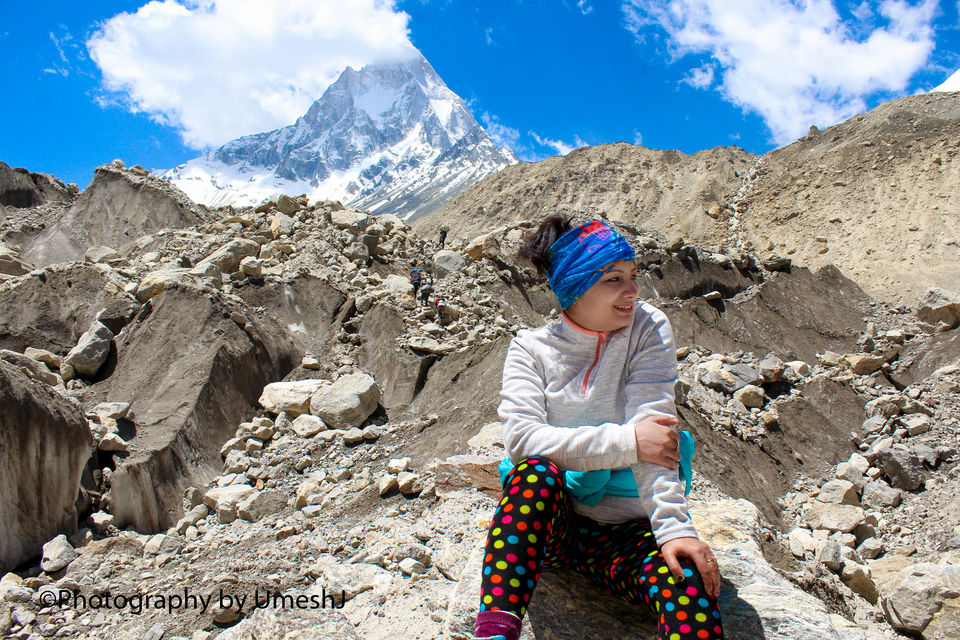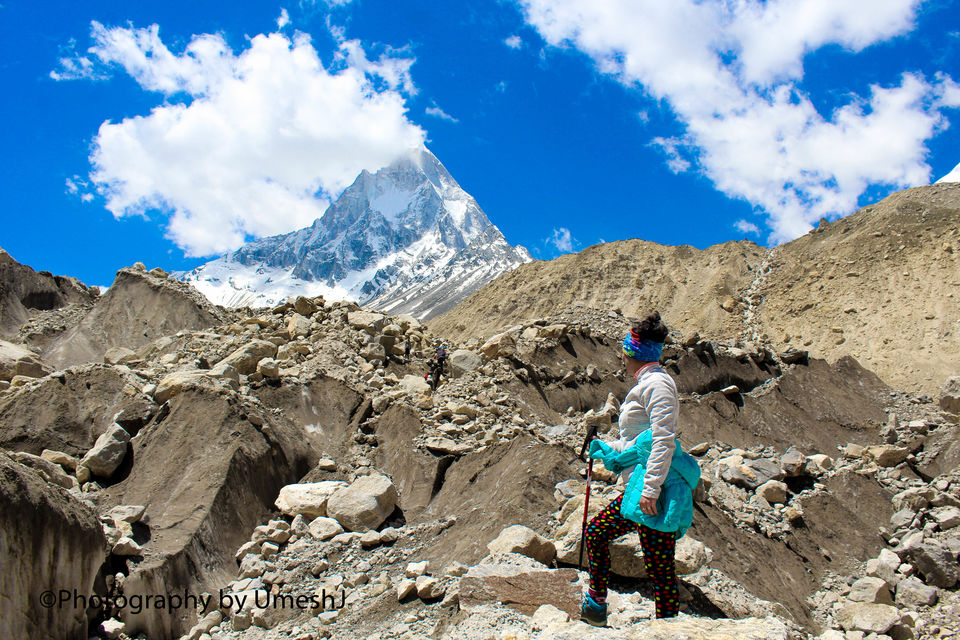 After crossing the Gangotri Glacier diagonally, we could see a 2-3 Kms steep rise with loose soil, pebbles and rocks. I can easily say that it was the toughest path I had ever seen. There were streams of water flowing from the top. Getting foothold and pulling ourselves upward was very difficult in the slippery trail, this is the most difficult part of trek. We started the ascent. We took some rest many times but kept moving. By this time, we had lost all our energy which we gained from " suji ka halwaa " in morning breakfast.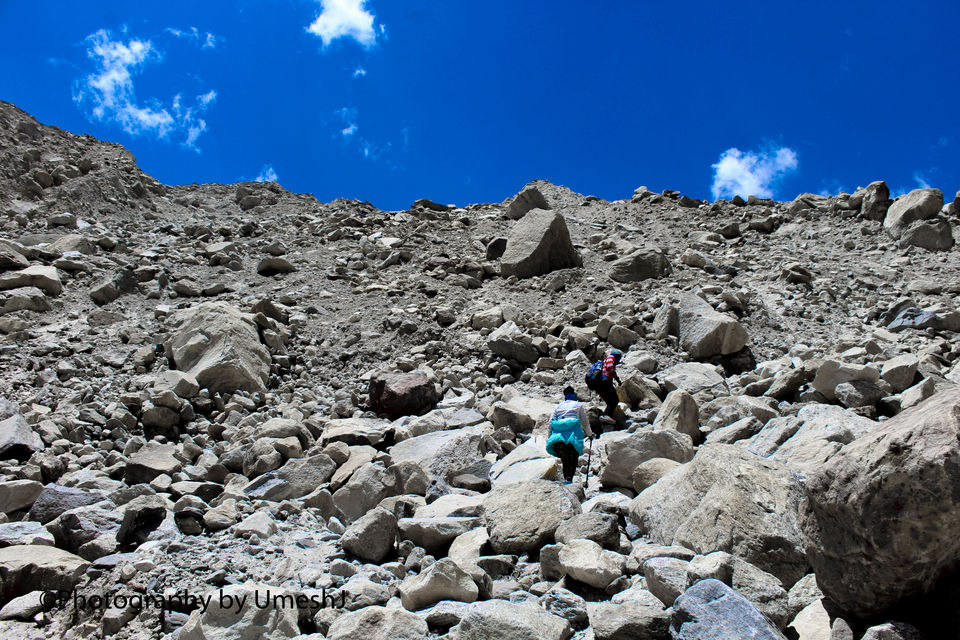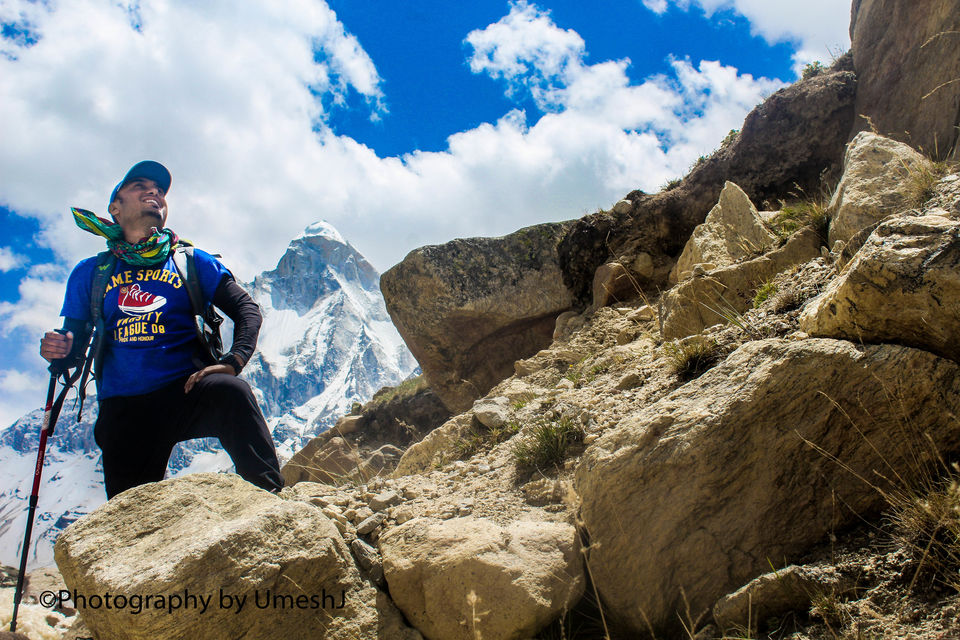 The most thrilling and daring part of today's trek crossing Akash Ganga was about to come for whom we were not mentally prepared, initially it looked like an impossible task to us, Akash ganga river was flowing in 80-degree angle, it's more like a big and heavy water fall. Our guide took some time he trekked few meters onwards to mountain alone to find out the best part of river from where it could be possible to cross. First, he checked it and later we crossed this river with help of him. I must admit, we were fortunate enough to have a very good helpful guide Keshav Rana.

The route from Gomukh to Tapovan was something I never imagined. Thrilling! amazing! enchanting! beautiful! It was everything one could hope for. The landscape had everything, High rise, rocky steep mountains on one side, green mountains on the other side, a river (Bhagirathi river) flowing in between, and snow-clad mountains up ahead at the end where we had to go. Everything in one frame!!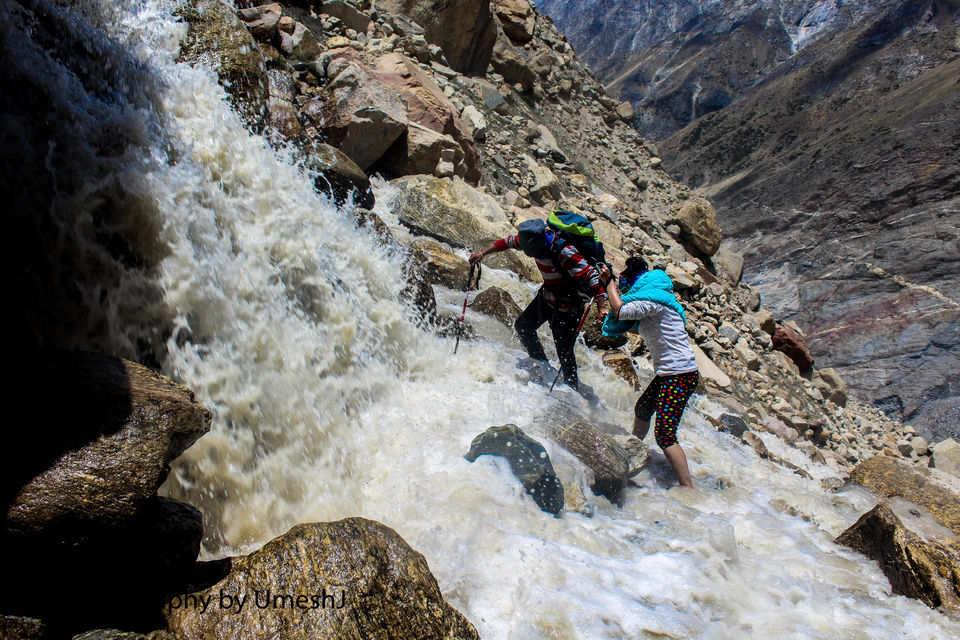 We reached Tapovan valley at 2.30 pm and once we stepped in, it was a feeling of joy, ecstasy that rarely come in life-time. It was beyond my wildest dreams. The surroundings were full of snow peaks. Bhagirathi group of peaks (I, II, III) and Shivling are situated almost at the rear end of the valley. A stream flowing at the foot of Mt. Shivling, looking at Mt Shivling up close was a different experience all together. We absorbed the moment and clicked some pictures and walked towards Babaji's hut.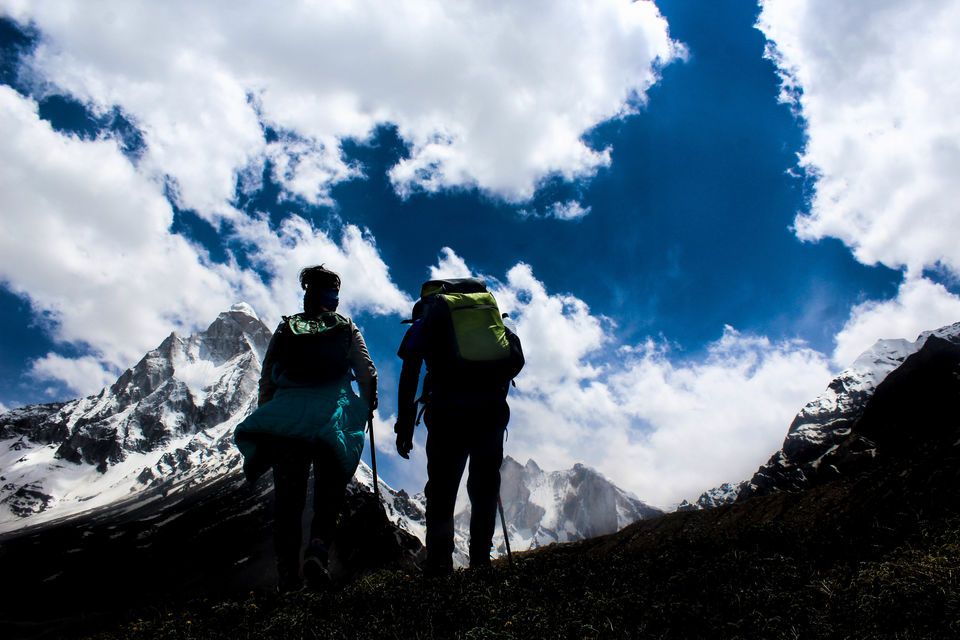 Thereafter, a half-an-hour easy leisurely trek put us in the Mouni-baba Ashram. We got shelter there. It was nearly 3:30 p.m. The valley was full of sunshine. We requested our guide to check with baba if we could get something to eat as from last 8 hours we trekked without any proper food. Our guide managed a little rice and dal (8-10 spoons ) which we cherished. I could feel how each bite of food was travelling from my mouth to throat to my stomach. After having this wonderful meal, we got some energy and Anjali decided to take rest in hut. I decided to explore Tapovan further to take some good photographs and roamed nearby areas to have better view of the surroundings.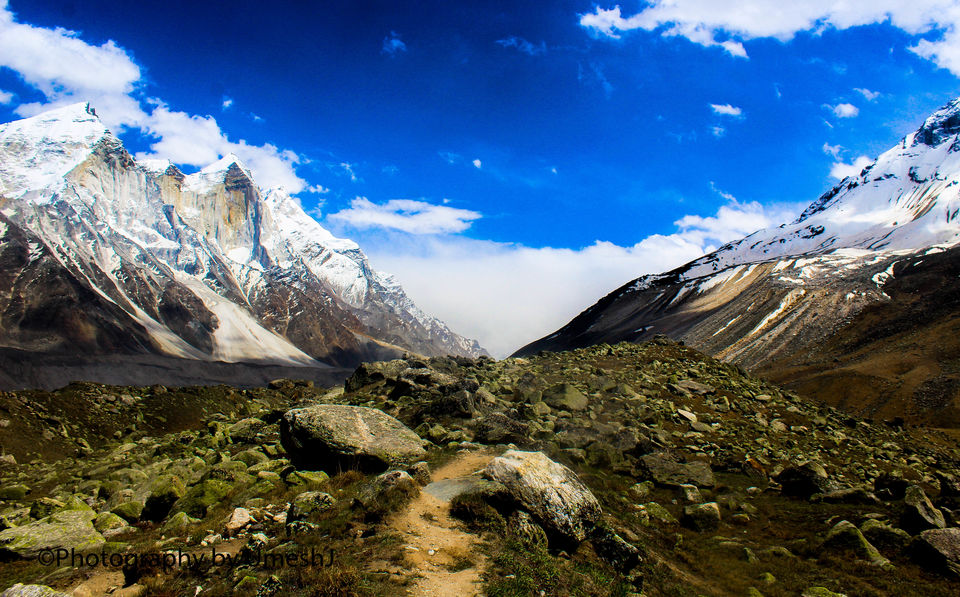 I walked with Keshav for approx. 3 km. As it was a straight walk, I did not have any problems walking a bit more. While walking, we again found a different Himalayan bird and got a chance to click awesome pics of Bhagirathi I,II,III. We saw a herd of Bharals on our way, found very commonly in this area. These animals are very shy so it was a difficult job to get a picture with them. I tried multiple times and followed them for a long distance and finally Keshav got success in capturing me with Bharals.

We spend more than an hour walking and I could see the clouds coming from Shivling peak. The weather in the mountains is most unpredictable and the possibility of rain and snow fall in the eve time is very high, so before we could be trapped by the unexpected weather, we decided to go back to Aashram quickly. When we were going back to Aasharm , the view drastically changed so we decided to do a final photo shoot.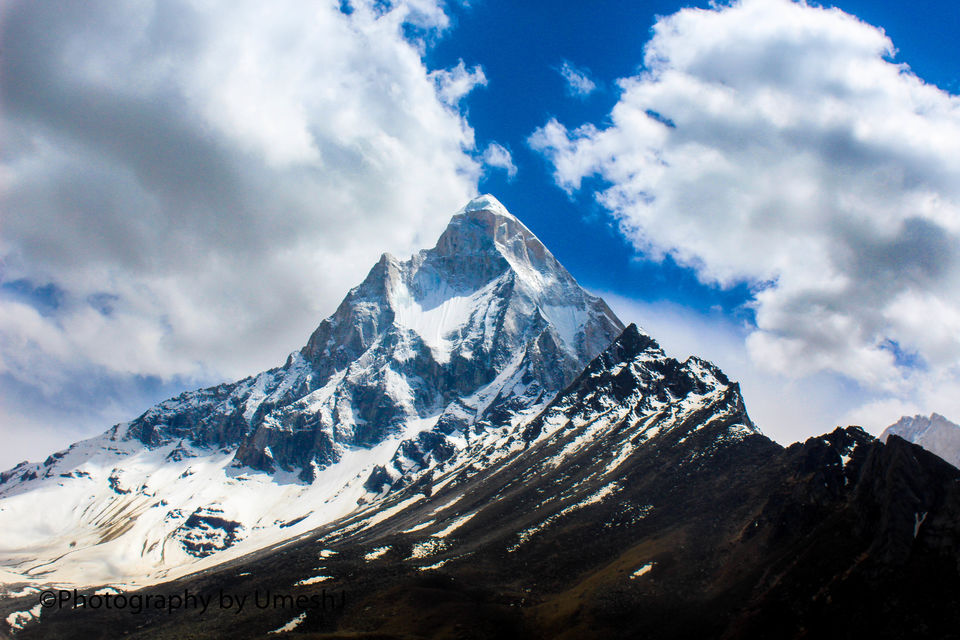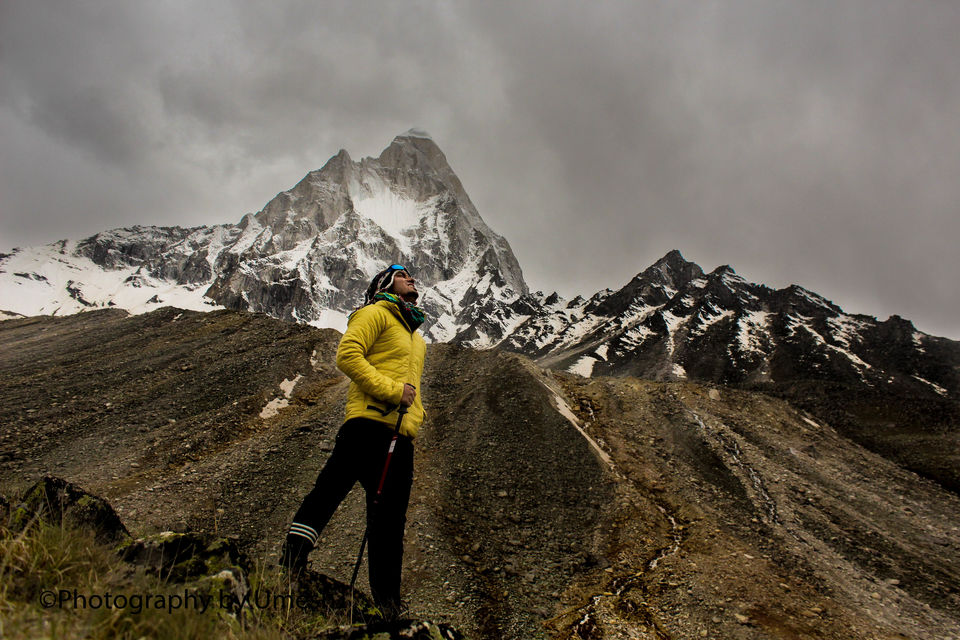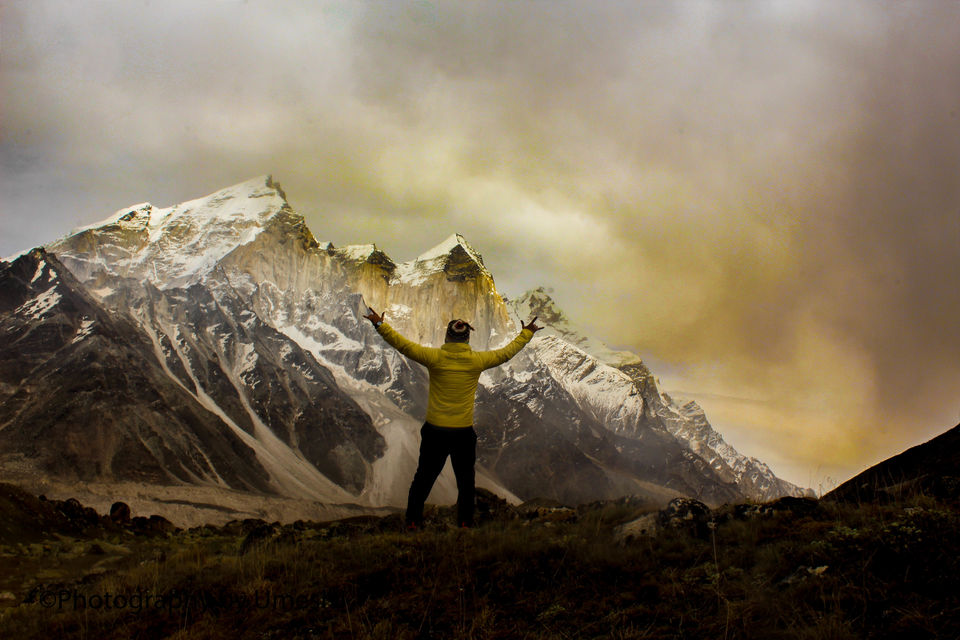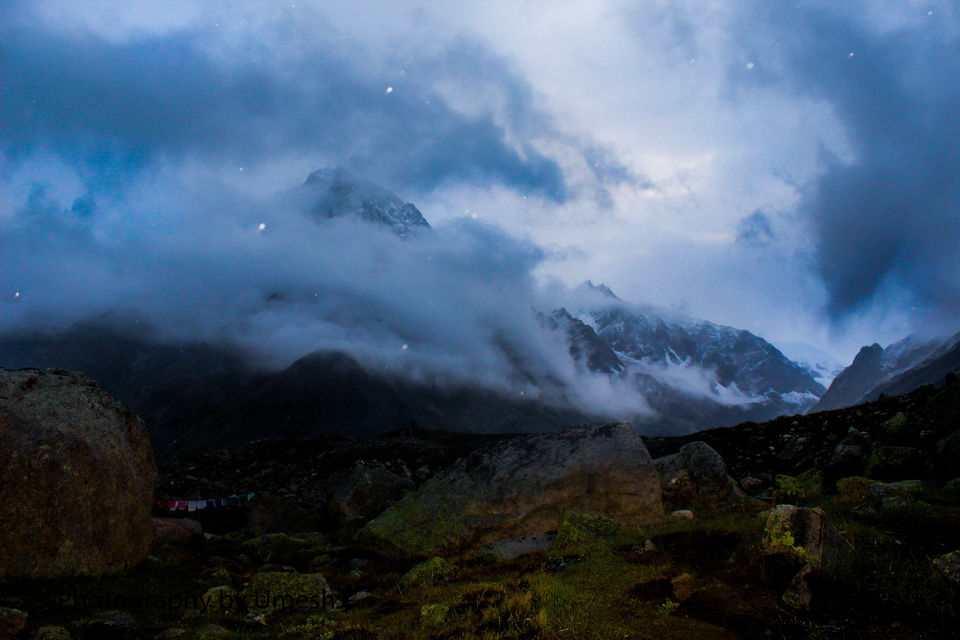 We reached Aashram at 5:30 pm and a hazy Sun started moving down behind the hills and from the very moment temperature started falling. Severity of cold was such that it became difficult to remain outside so I went inside the hut and found Anjali was waiting for me. Without wasting a moment I started telling her about my last 2 hours experience.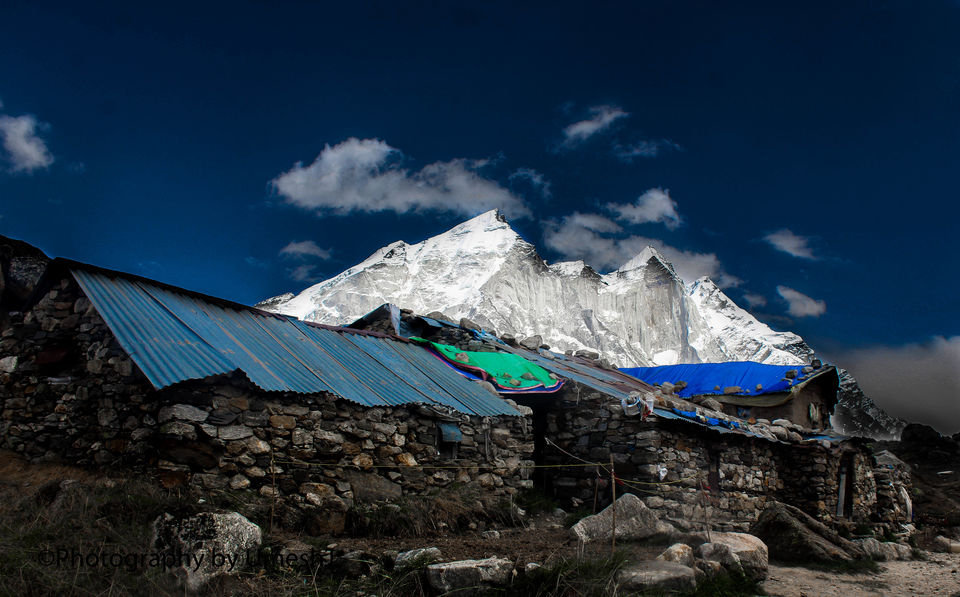 At 6:30 pm Keshav called us for dinner. Mouni baba's hut was near our shelter. He performed his prayers before the distribution of food and after finishing his daily evening Aarti he distributed " Prasad "to all people who were present there at that time. Afterwards all guides and potters served us a life saver and delicious dinner. (Chappati , Rice, Dal and One Sabji ). By 7.00pm, it was raining outside and the rule was same here "everyone should do their dishes by themselves after use" so we quickly cleaned our dishes and rushed inside our hut.

By 8pm most of the people were ready for bed but proper sleep was not possible due to altitude and suffocating atmosphere of the room, whole night we kept trying, 2 of them woke up in the middle of night and went outside, they were nauseated and 30 min later I felt the urge to pee so I also went outside, it was terribly cold but when I stepped out from the hut I saw a picturesque landscape, it was something which I have never seen before not even imagined. The view was just amazingly beautiful. The valley and all mountains were shining incredibly in dark night due to fresh snowfall, the stars were shining like diamonds, I wanted to capture the beauty of nature but it was very difficult to stay outside in that temperature. It was almost 1 am when I finally got some sleep.
Day 4: Trekking from Tapovan to GangotriDistance: 23 km. - Night Stay: Gangotri - Altitude: 12760 ft.
We got up at 5am, I stepped outside to check the view with excitement as I was expecting a shiny morning and orange mountains so that I can capture some scenic views but the moment I stepped outside, my excitement turned into disappointment. It was cloudy and rainy with visibility of hardly 10 meters. I was upset because I had photography plan and that got ruined.
By 6.00 am weather was still same. I kept checking outside in every 10 min to check on the weather. At 6:45 am I looked outside and something incredible happened. SNOW FALL " I informed Anjali and asked her to come outside, we enjoyed it for some moment. In the meantime Mouni baba gave us a signal for breakfast. He served us tea and chholey which we loved. After breakfast I discussed with Keshav and Anjali if we should take a chance and their response was positive, there were around 30 people in Tapovan on that day and most of them were just waiting to stop the snow fall but I did not have such intention to waste my time just waiting there.
Our main concern was crossing Aakash ganga river whose flow might increase due to continuous rainfall since last night, so we wanted final call from Keshav, he simply said anything can happen in next one hour, weather could be worst or it could be good, with lots of confusion we put on our ponchos and left tapovan at 7:45 am after paying our regards to ' Mauni Baba' and thanking him for his kind hospitality.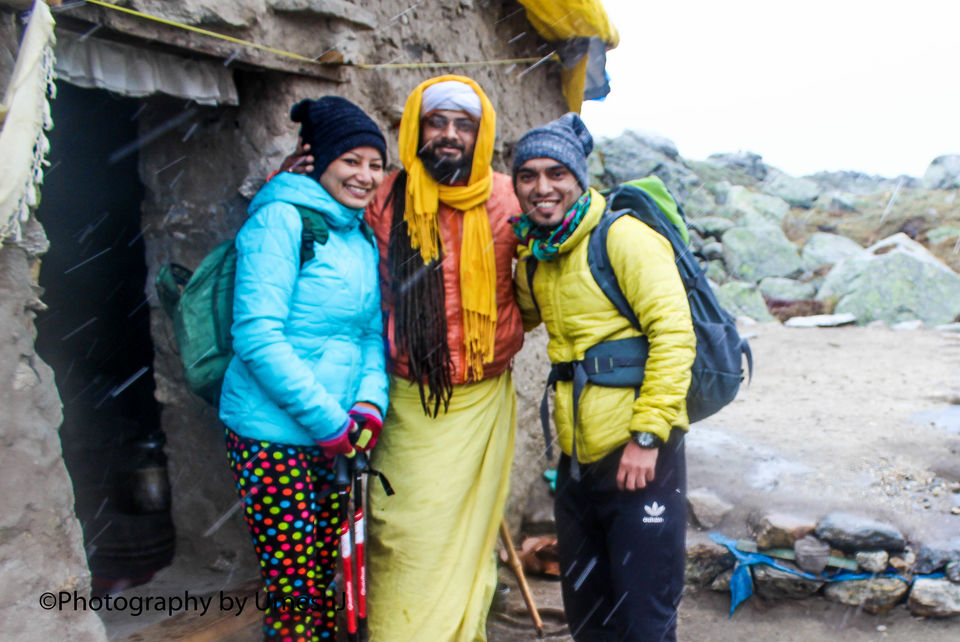 We had walked for 20 minutes and snow fall stopped. It was a good sign but still the weather was cloudy and somewhat dark. The amazing shining peaks of the mountains were nowhere to be found.

Getting down in mountains is always risky than going up hills especially when it's raining because surface gets very slippery. We took some photographs from the edge of the valley along the trail of our treacherous return journey. Once again, a beautiful blue Himalayan bird passed in front of us and I did not miss the chance to capture it.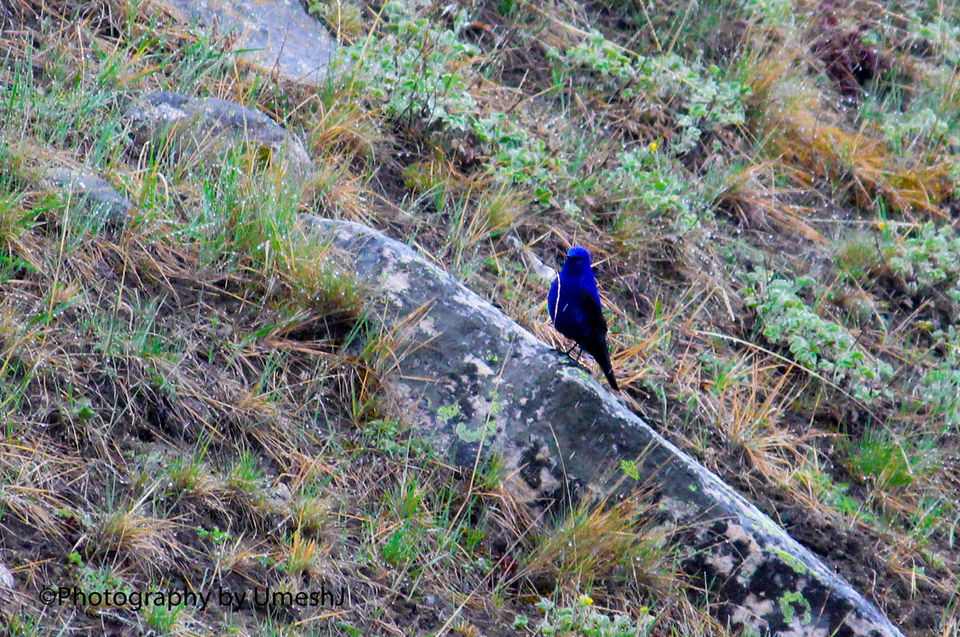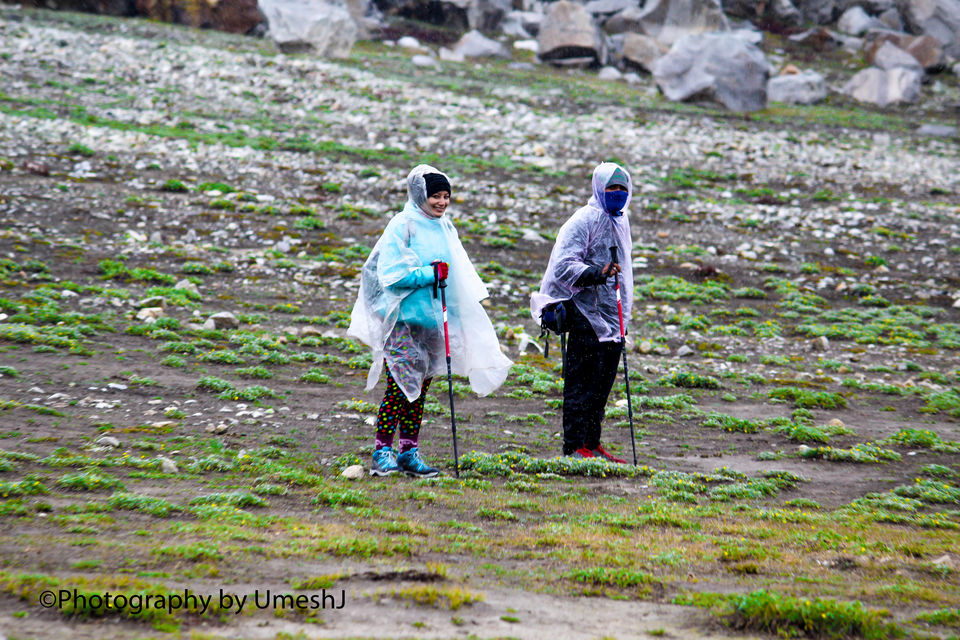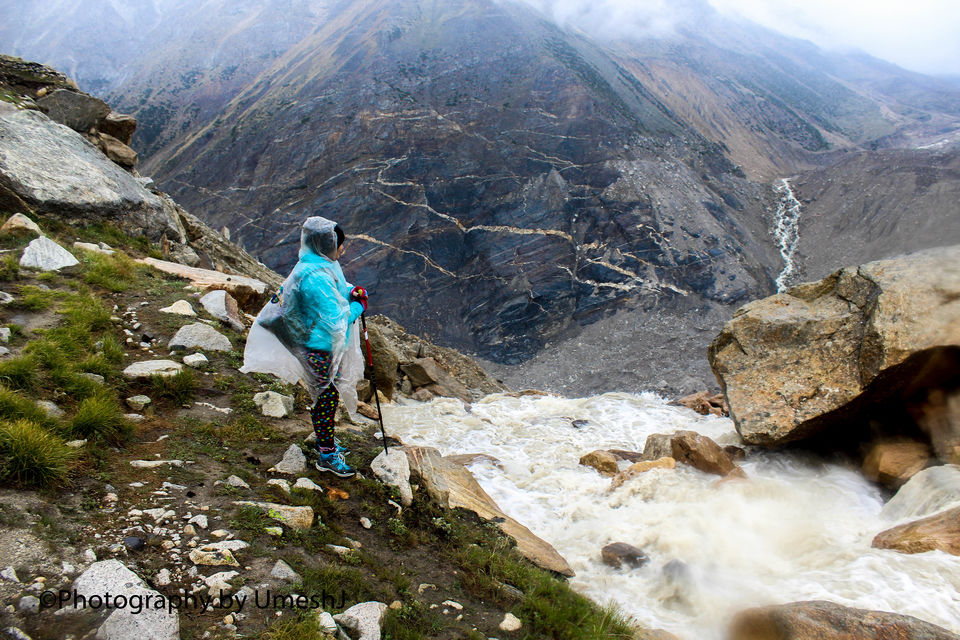 Now it was time to cross Aakash ganga which was flowing overwhelmingly. We were only three people which made me even more skeptical. It was dark all around us, pin drop silence, except one voice which was very loud and yes that was the great Ganga .First Keshav checked the whole stretch by crossing it alone whether it was safe or not, then he took Anjali and now it was my turn, I was giving a pose and suddenly I slipped and lost my balance and Keshav too because he was holding my hand, for a moment I felt like my heart beats had stopped but any how we balanced and crossed the river.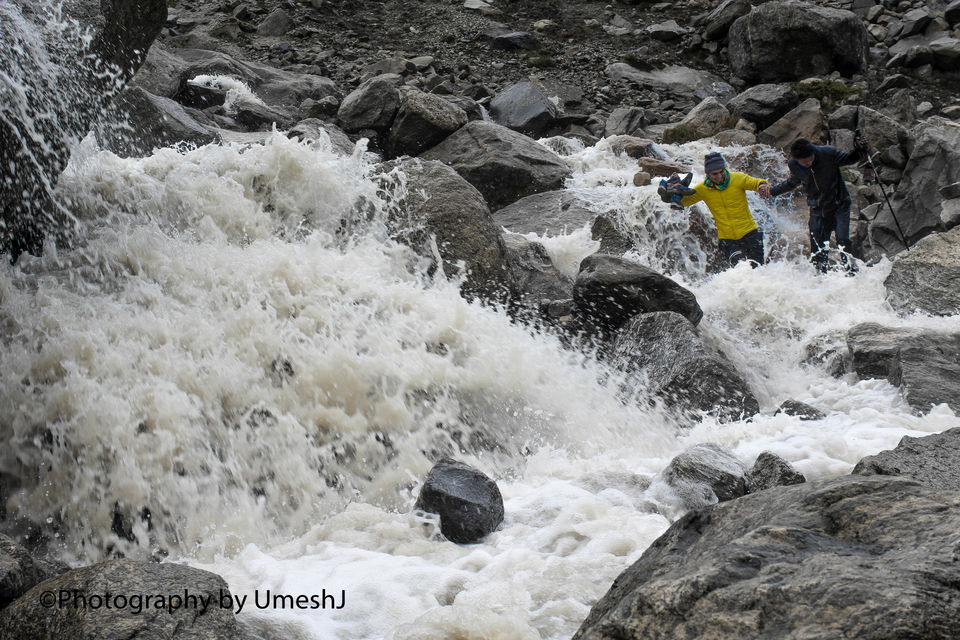 We were not aware of the purpose of keeping bottles of hot water which was advised by Keshav before leaving Tapovan, and now once again we were thanking Keshav for his wise decision. We used the hot water to wash our feet as the water was freezing cold. We felt a sense of achievement after we crossed as it was definitely very challenging.

Further we took 2 breaks, one in Bhojwasa and the last one in Chirwasa "Lunch Break", during the entire journey that day, it remained cloudy and it was drizzling most of the time. Initially cloudy weather and rain was a big concern for us as we had to cover a long distance and it was slowing down our speed but in later stage it was a boon for us and other trekkers because towards Gangotri the temperature increase simultaneously. As it was cloudy and raining it helped us to maintain our speed without sweating a lot.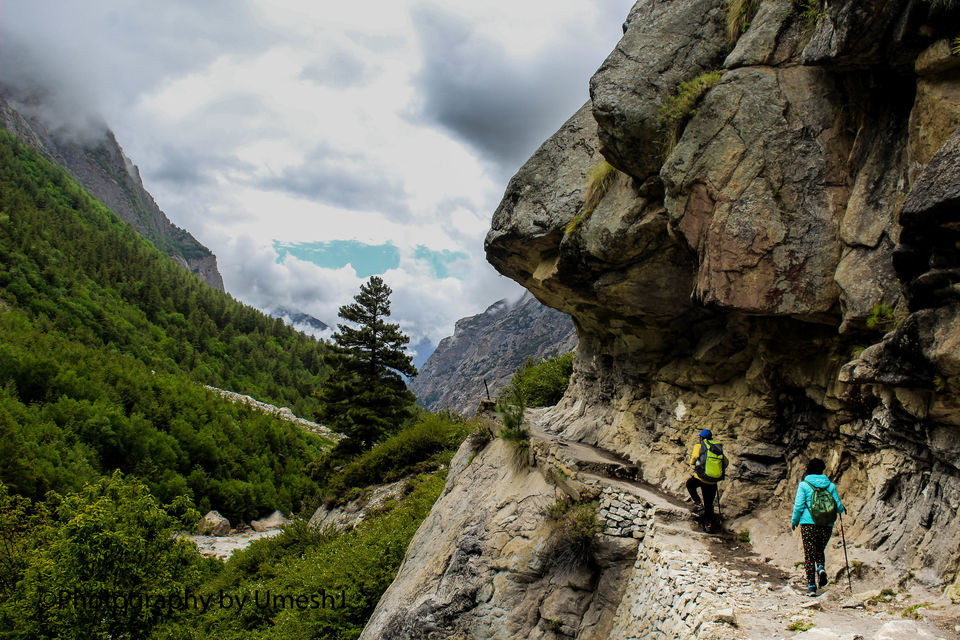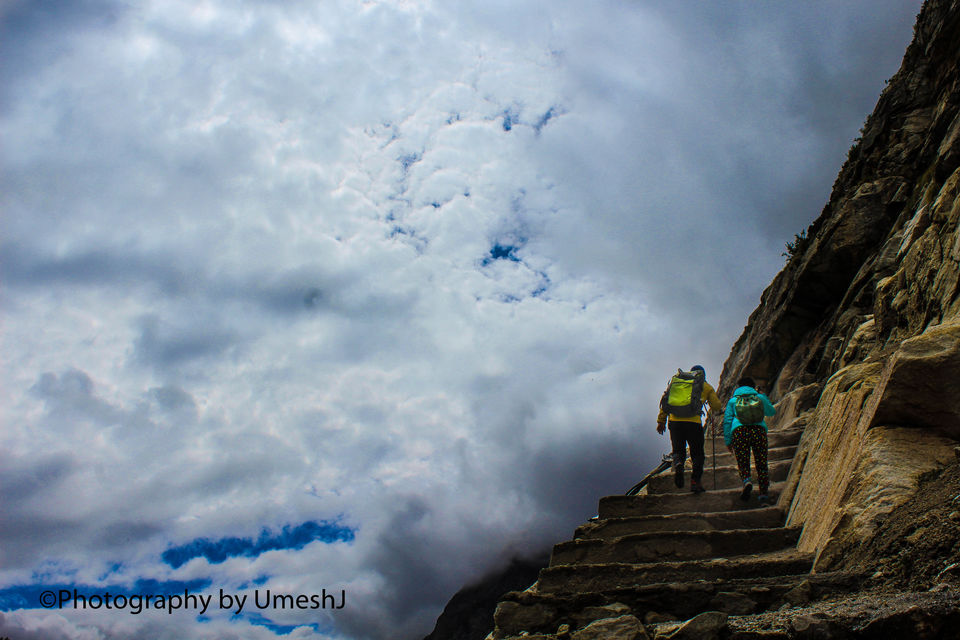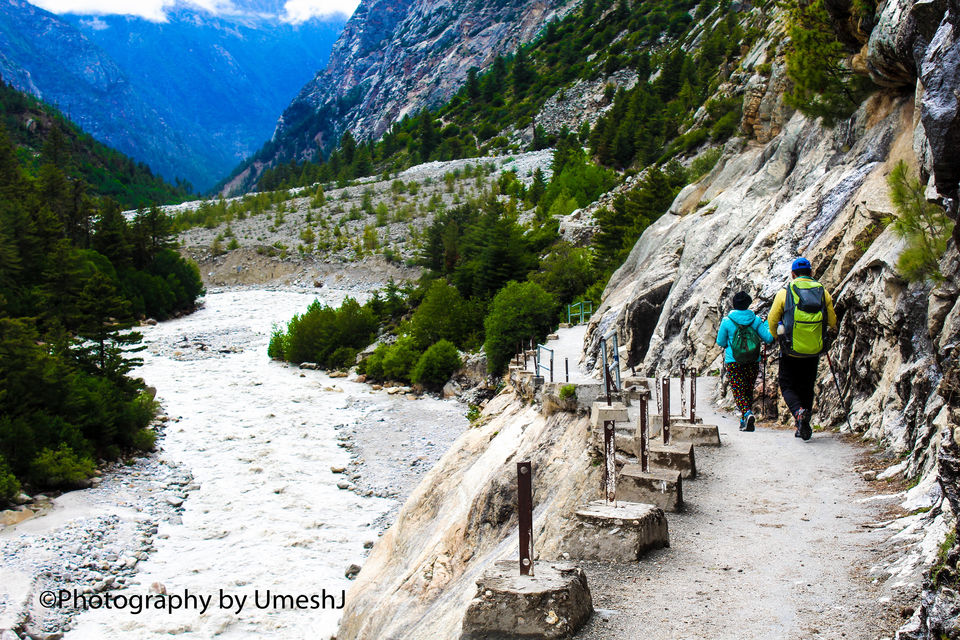 We spent 30 mins in Chirwasa and then started walking again towards Gangotri national park entrance gate. We reached by 4 pm and submitted all plastic wrappers and bottles which Keshav and we collected during trek and got our Rs. 200 back. In the next hour we reached to hotel.

We took a shower and ordered " Mix veg Pakora with tea " as a celebration of completion of this trek. Now as it was last night in Gangotri and there were few places left to see so we decided to visit those places as well. We walked down to Keshav's shop and asked him if he could give us company. He agreed and we started our leisure walk at 6:00 pm. As it was very late to visit Pandu Gufa, we saw only few people in route who were coming back to hotels and many sheep's resting on the way. It was very dense and peaceful forest route. We saw Ganga falling into Surya Kund, and then Gauri Kund. Surya Kund is supposed to show all seven colors when the morning sunlight falls into it. Unfortunately, we were there in the evening. We went till Pandu Guffa, and then returned to Gangotri. It was 8 pm and we were tired as we walked almost 28 km that day. We had our dinner from market shop and we decided to go to sleep.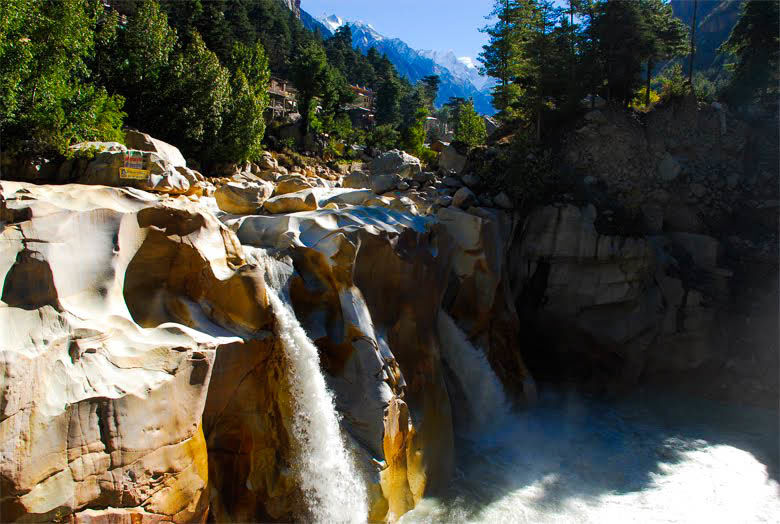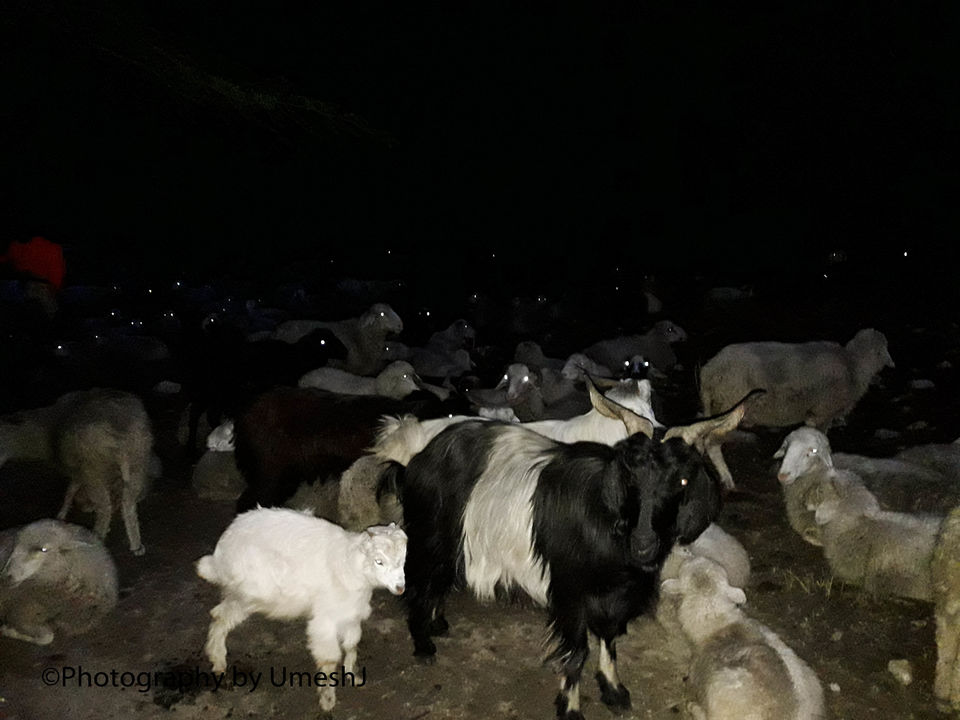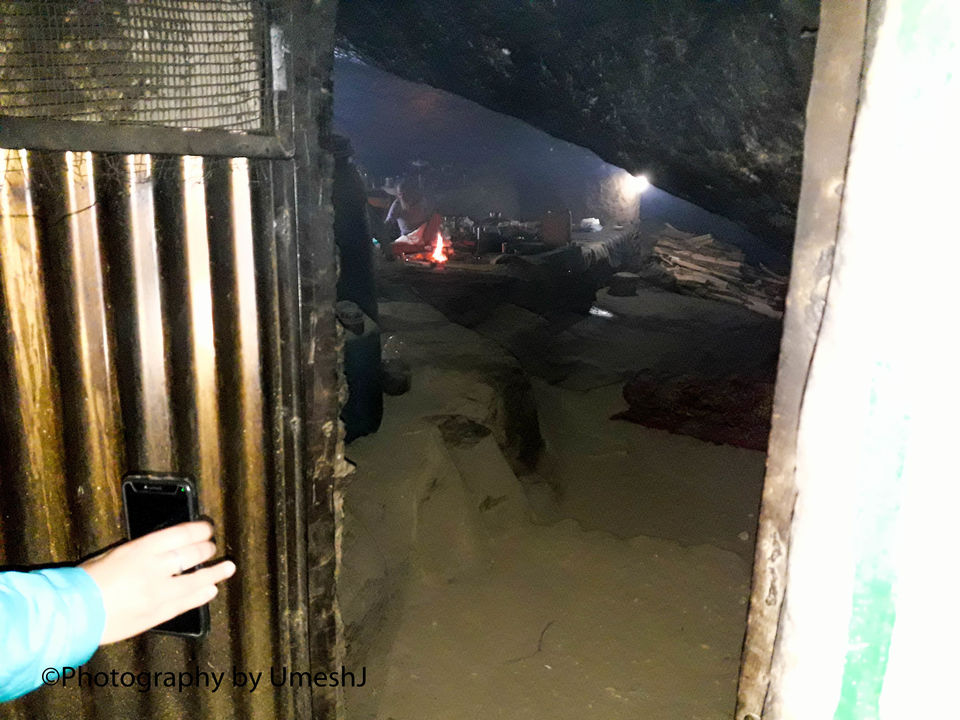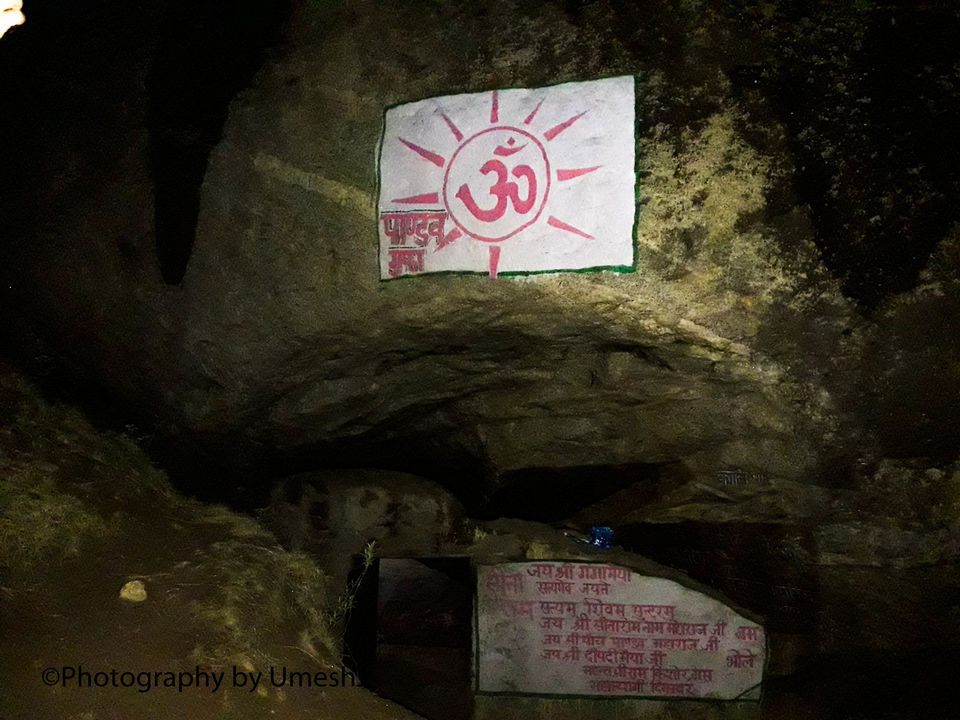 Day 5: Travelling from Gangotri to uttarkashi to Yamunotri - Distance: 135 km. - Night Stay: Yamunotri
It was our final day in Gangotri so we woke up at 6 am and visited the Gangotri temple. We spent some time near the temple and while returning to hotel we bought some " Prasad " for family and friends. After breakfast, we checked out from hotel at 8 am.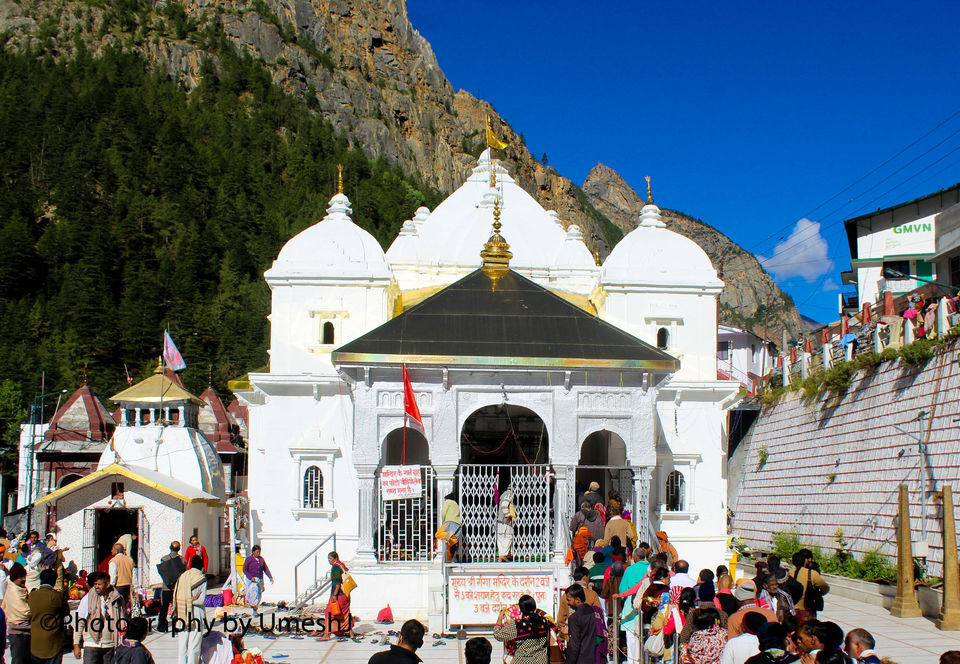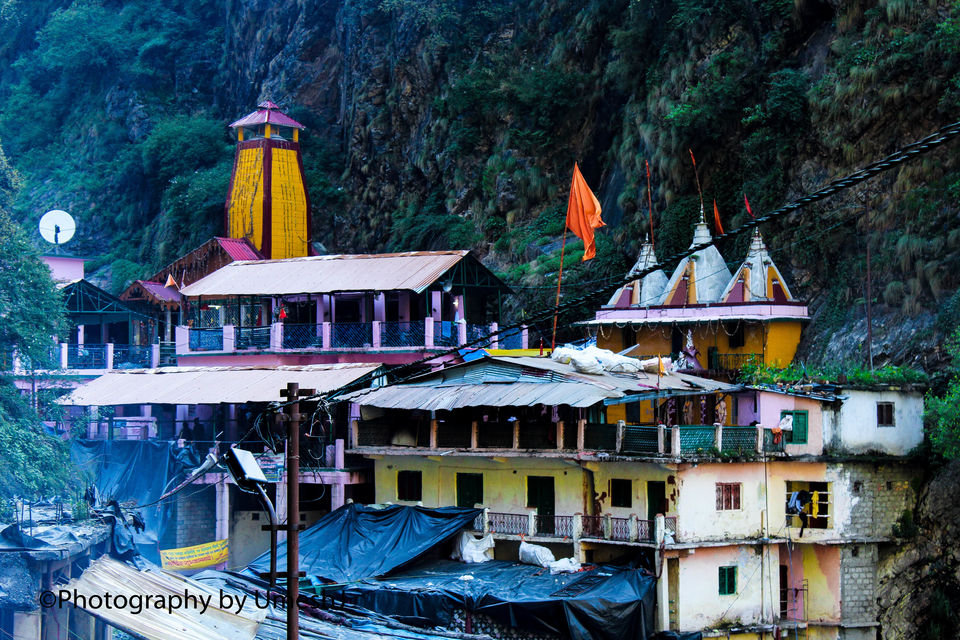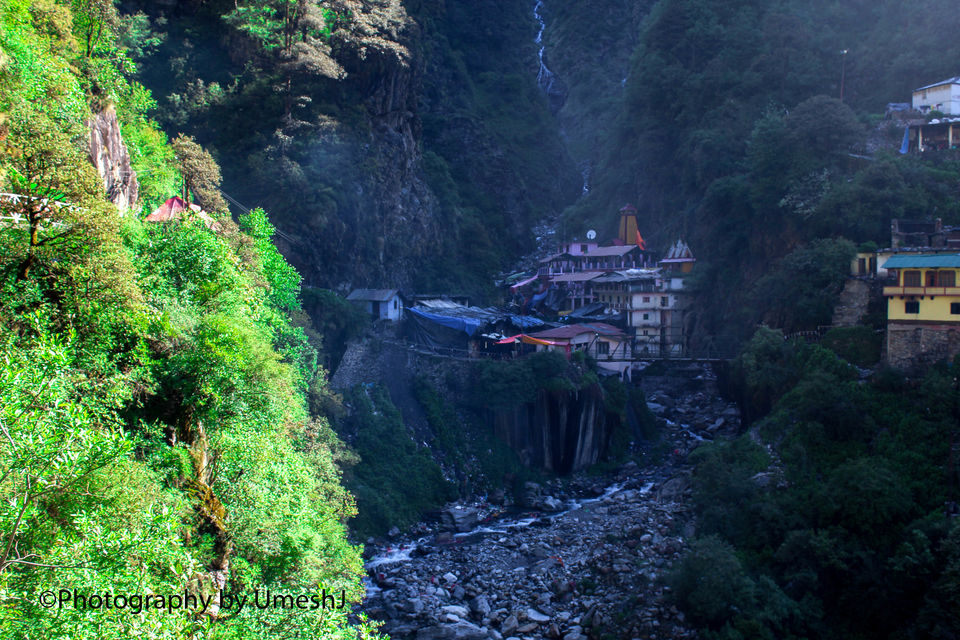 We took a shared taxi from Ganogtri taxi stand to Uttarkashi at Rs.250 per person. We reached there at 12:30 PM and had our lunch. We moved to Yamunotri. In all we spent 4 days in Gangotri along with trek and met many people who shared a lot of their personal experiences. I would advise everyone to try and do this trek at least once in their life time. There is much for these eyes can see and this soul can experience. The photographs posted in this blog do not give justice to the mesmerizing sceneries which we witnessed throughout our journey and the trekking route, particularly in Tapovan.

We are fortunate to have a very helpful, cooperative guide Keshav Rana.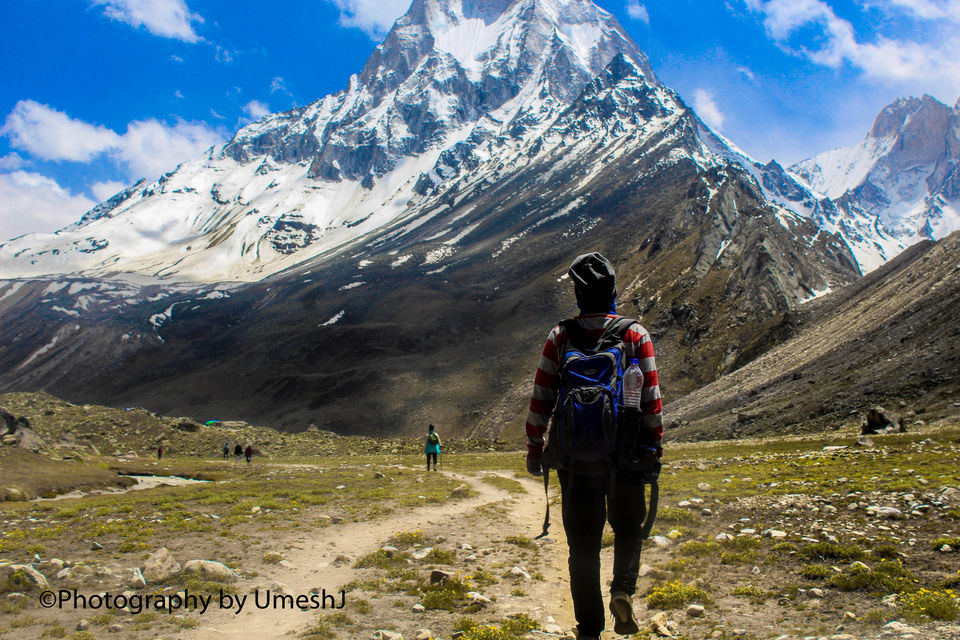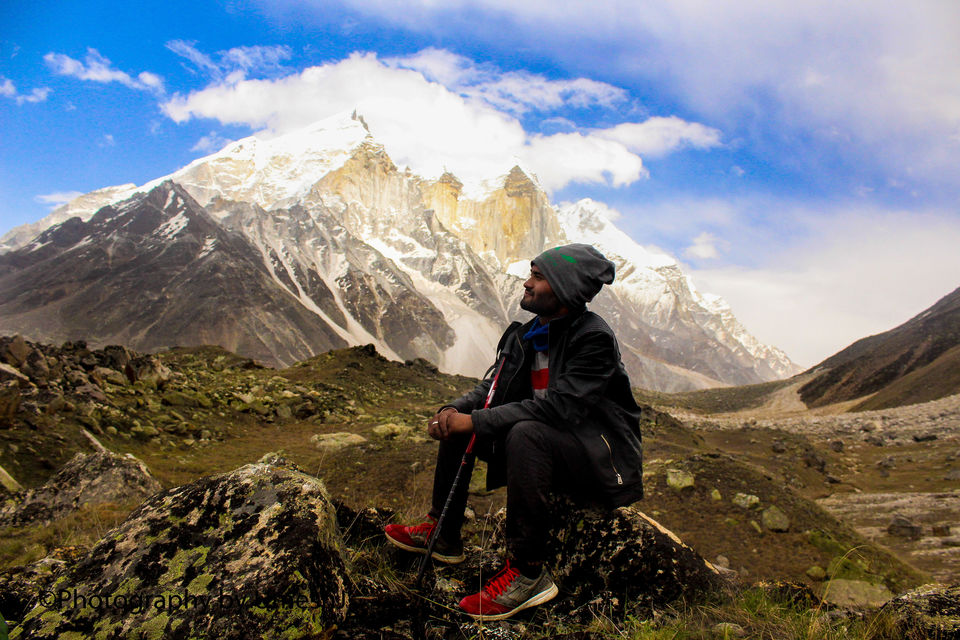 Friends, I feel that whatever we learn in life, it's from our experiences with people and places. This journey has been one of the closest with the nature and every moment of it was worth it. Not only you get time to spend with yourself but you take one closer step into the Mother Nature. Mountains have always pulled me closer to them and I must say that this bonding has become even stronger this time. The trek, the people, the experiences and places have definitely given something back to us that we will cherish for life.
Thanks for your patience for reading my experiences as they truly come from my heart and are totally unedited version of my journey. Hope this helps in case you are making up your mind for this delightful journey.
This is my first blog on demand of my family and friends and I have to say that without their guidance and help I might be not able to complete this, they all helped me and motivated me. A big thanks to everyone.
Stay adventurous
Umi Joshi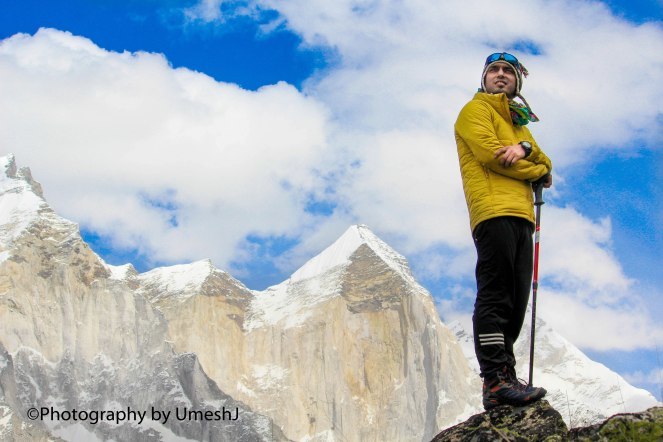 Follow me on Fb https://www.facebook.com/TravelChroniclers/
Follow me on instagram https://www.instagram.com/umijoshi137/
Follow my channel in youtube https://youtu.be/JpfDPh6CRLA
To follow more Blogs Journey to the middle land - Lahaul Spiti and Chandratal Lake