Trip to Jannat(Gangotri) begins at Delhi.
Where I took Bus To Rishikesh
In order to start the Journey 🙌

Reached rishikesh 6:00 am.
Rishikesh has that kind of spark. No matter how tired you are, or how bad you are feeling, Once you touch down Rishikesh you will feel Good that is for sure.
Now, In order to start the Journey afterwards I took a bike from the local vendor for my solo trip to gangotri . And afterwards Trek from Gangotri to Tapovan via Gaumukh (A dream I dreamt of).
This was the day Finally 🙈🙈.
Well, Let me tell you something
Rishikesh to gangotri is nearby 300km.
And Going solo on a bike was not gonna be easy with the present road conditions. Where Roads are getting wider under "Char Dham Rashtriyr Mahamarg yogna".
Actually it was pre decided to go solo. Finally I took the bold step.
I set a Target to reach gangotri within 7-8 hours, According to Google map it is 8-9 hours. It was a long due so I had to take that chance.
20th September 8:30 am at Rishikesh all set to go.
Now the journey begins.........
With 1 little breaks in the middle i reached Chamba (Where recent Shahid Kapoor movie "Batti Gul Meter Chalu" were shot.
Rishikesh to chamba is nearby 70 kms.
After having my breakfast I left for Uttarkashi at 10:30am.
Here is the time where I had to be more cautious while driving.
I Set a Target to reach Uttarkashi from chamba which is 90kms
Let me tell you one thing, All of this was a complete mountain biking. It was really difficult to maintain speed at the same time keeping the balance intact.
This was going to be tuff as Roads were really bad. Dust was so bad due to renovation that I couldn't be able to see the Roads clearly.
But slowly and steady I moved on.
Finally....
After facing all odds At 2:00 PM I reached uttar Kashi.
For those who don't know.
"INFORMATION ALERT"
For trek From Gangotri to Gaumukh or
Gangotri to Tapovan and beyonds.
Each and every person have to take permission from the Forest department at Uttarkashi.
Which is 100kms before Gangotri.
I Had my lunch at Uttarkashi.
Related myself a bit.
And headed towards forest department. Guess what, When I reach Forest office, what I found was more disheartening, it was closed.
My dream of Gangotri to Gaumukh was about to Broke into pieces, I started questioning myself unnecessarily, Why did I take this step without a proper plan, But in subconscious mind thr was some positivity, What ever if not trek, Atleast I will get to witness the scenic beauty of Gangotri (Which is in itself a Big task that too solo). However thr is a saying right, If you are passionate about something, Even with odds you will be able to finish it anyway.
Good news,
While I was continuously questioning myself, A guard came from the office, told me that I can take permission for the trek to Gaumukh from Gangotri, But not to Tapovan. As Only Uttarkashi forest Department has the authority to issue pass for Tapovan.
Trust me.... I am not lying I never felt that good.
" Chalo kuch th hua".
I felt so energised, Finally headed towards Gangotri from Uttarkashi which is 100kms.
Trust me this 100kms was worth taking a risk.
The views were astonishing, The mountains on both side and a river in between, I really felt this isn't real.
I must have done some good thing in life to be here. To see this beauty.
It's 4:00 pm I reached Harshil(which is 75 km from Uttarkashi). I had some snacks over thr.
Wait, I forgot to tell you another hurdle came in between...
After Uttarkashi thr was NO Petrol pump. Not even in Gangotri.
The fuel indicator was not working properly, it was fluctuating, Though I full the fuel tank in rishikesh only. I was worried as hell, Asked the locals about the petrol pump, They told me thr is no petrol pump here. But you will get petrol( which they carry for emergency purpose) costing @150/ Litre.
I had no other option but to take fuel from them, in order to reach Gangotri.
Somehow I Departed from Harshil to Gangotri.
Scenes in the way were Breathtaking as heaven.
It was about 15-20 kms left to reach Gangotri, Fuel indicator was again fluctuating.
Trust me I wasn't that terrified in my life as I felt that time.
It was nearby 6:15-6:20pm, Dark everywhere, Since it was off season,So it wasn't much crowded.
Just me in the middle of the road, Going slowly slowly, thinking if fuel gonna end right here, What will I do, As thr was nobody Trespassing. I felt like I will gonna be a victim like in "Wrong turn"movie.
I trusted Goddess Ganga to help me reach Gangotri safely.
Guess what...
Finally I reached Gangotri at 7:00 pm.
Seeing people at Gangotri was never this relaxing.
I parked my bike Nearby hospital in Gangotri. And started hunting for hotels.
After 30minutes of hunting finally I got a room Behind the Ganga Mandir just for 300bucks/ per day.
Which was owned by some of Pujaris of Ganga Temple.
I will recommend you guys to give priority to those Pujaris and take rooms from them, as they were really cheap and also as an act of being Altruistic. They really helped me to plan my afterwards journey.
Coming to Ganga,
Sounds of ganga at "Gauri kund and Surya kund" were so refreshing, I felt it was worth taking a risk.
Well, The trip has just begun.
End of Day 1.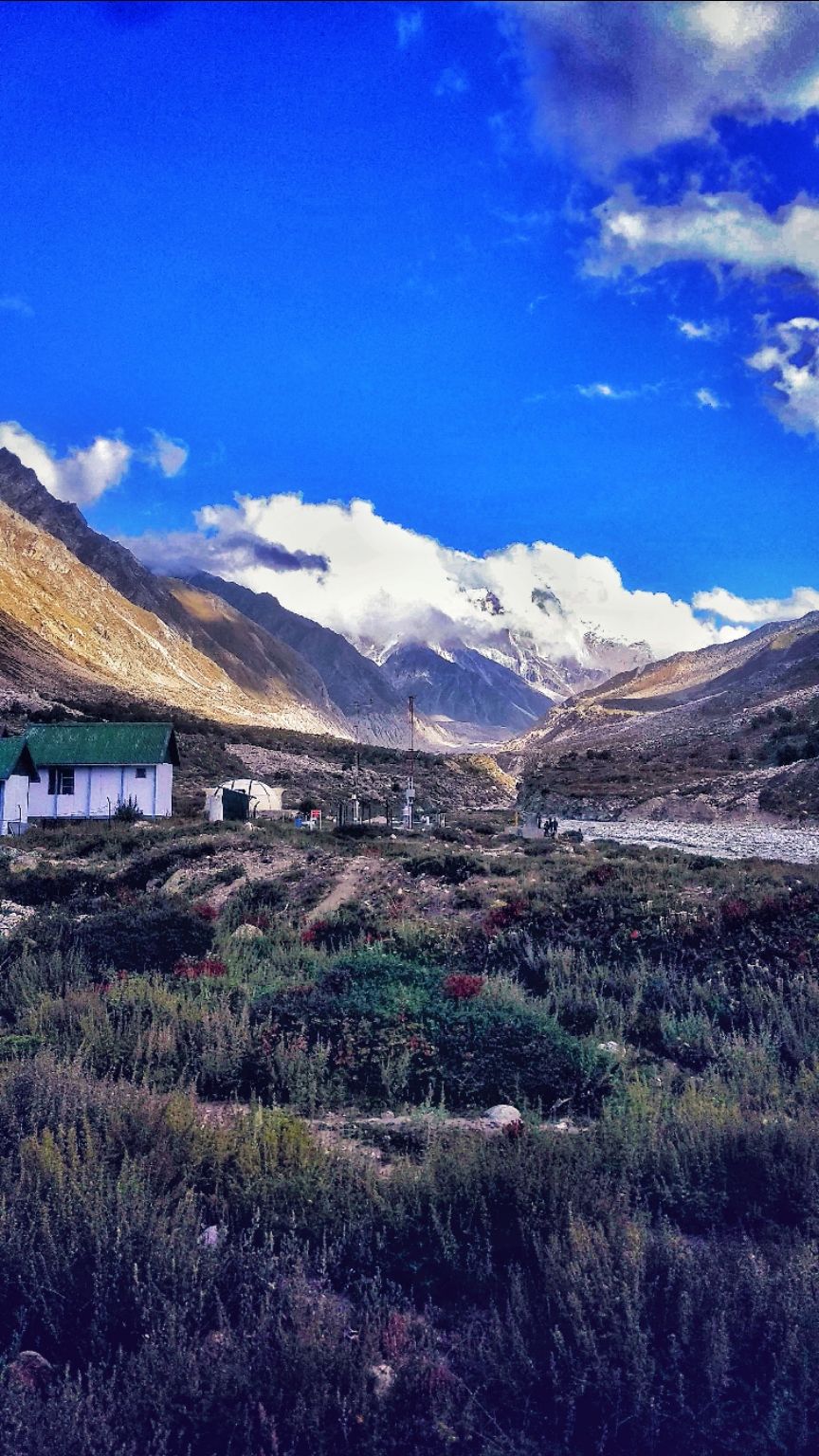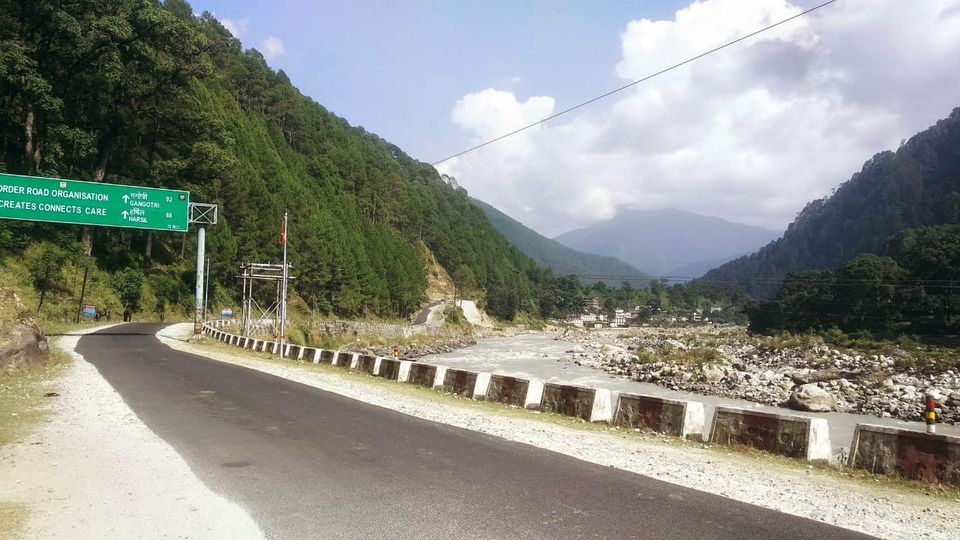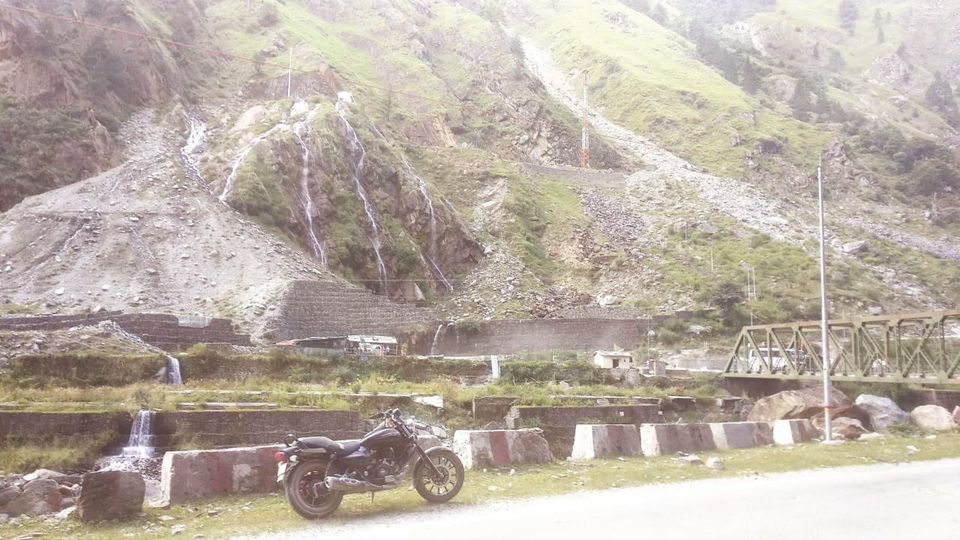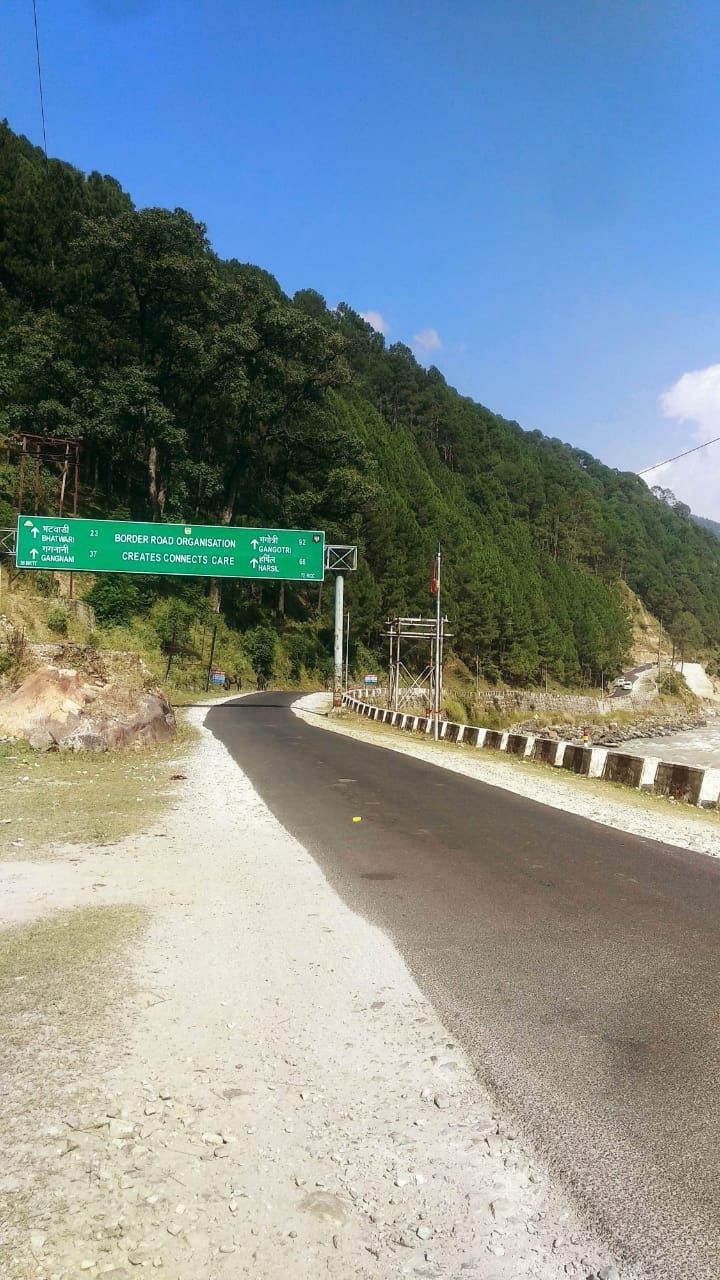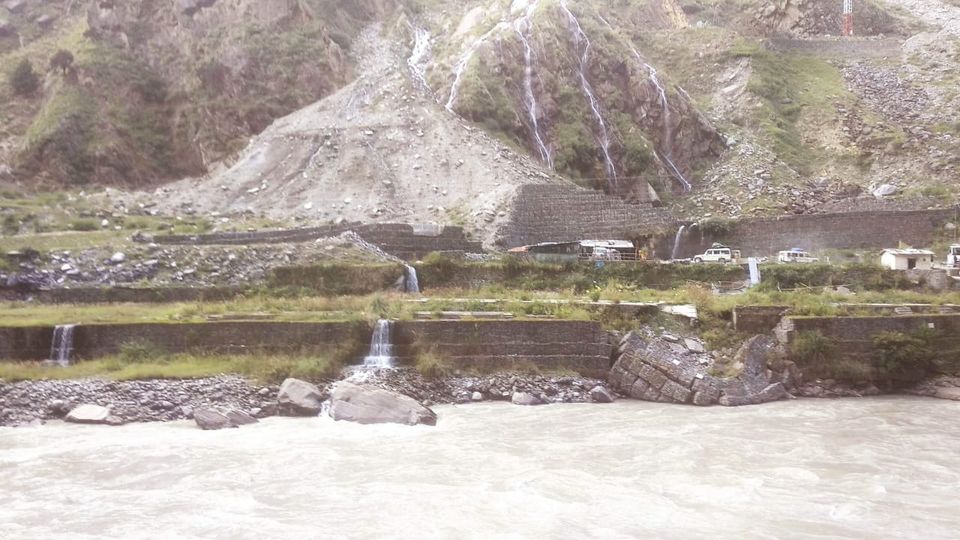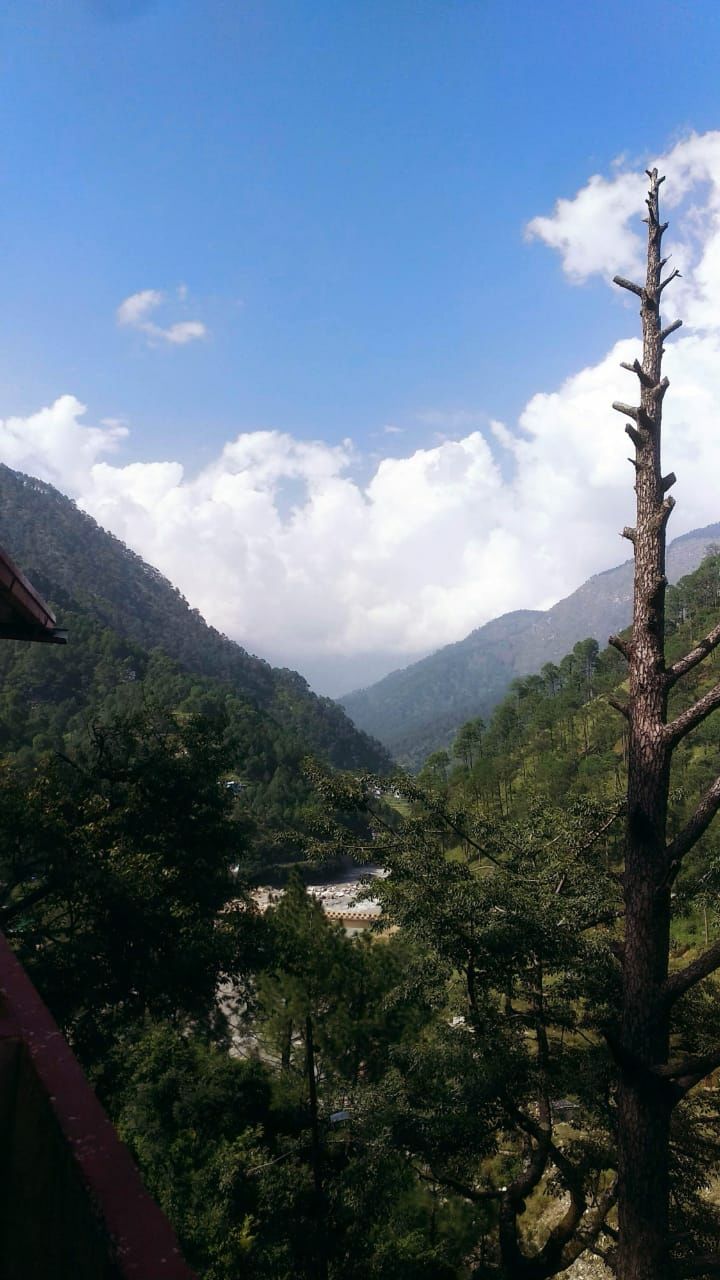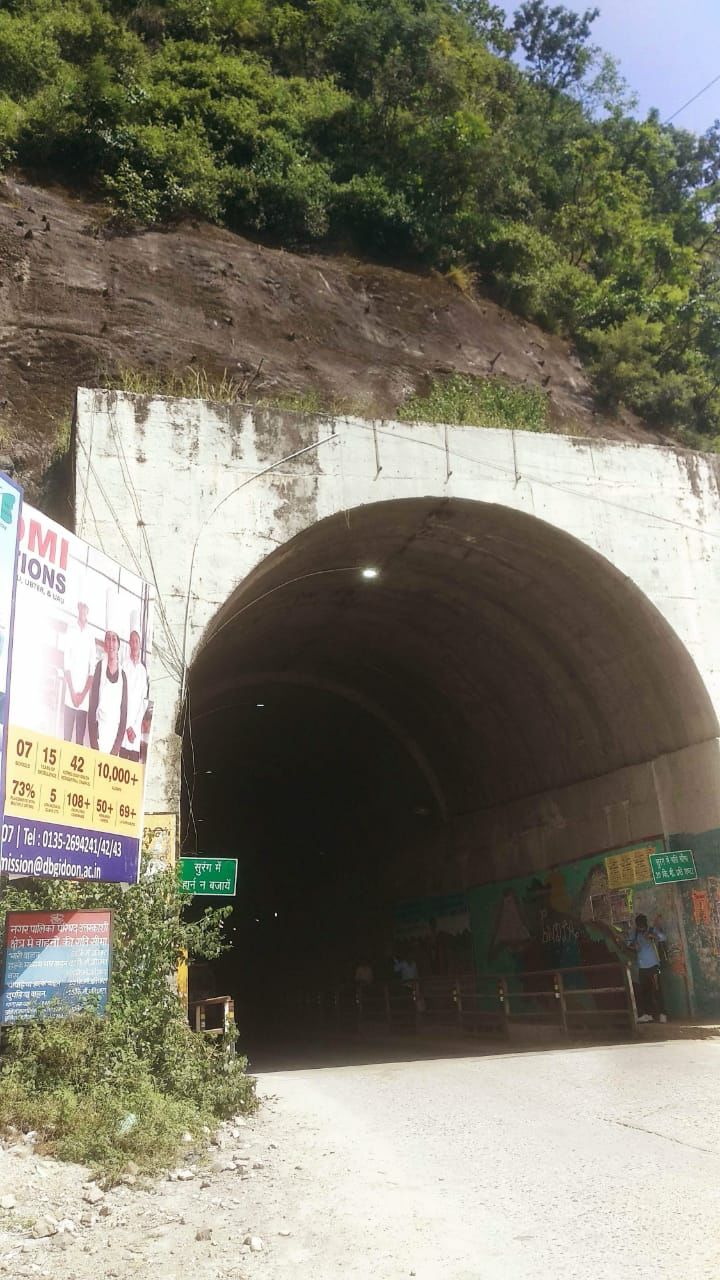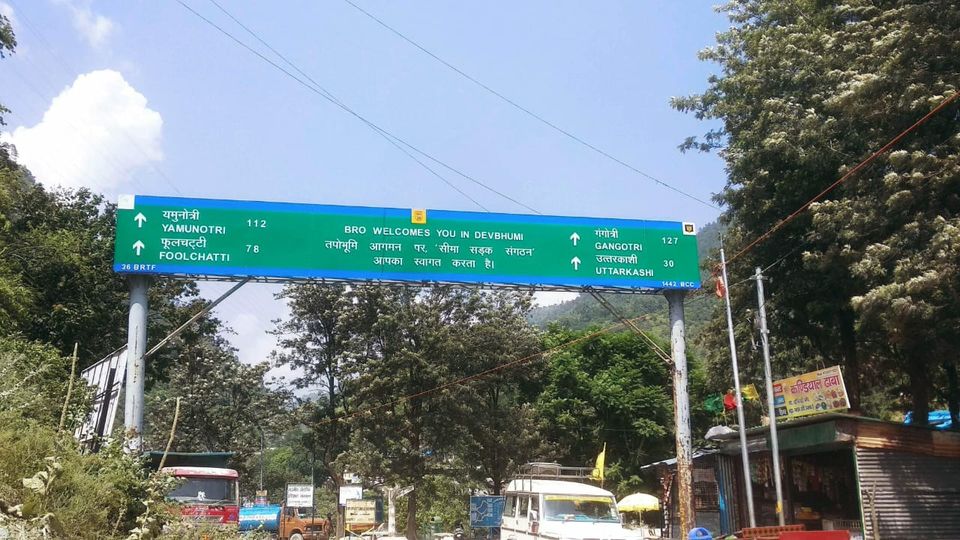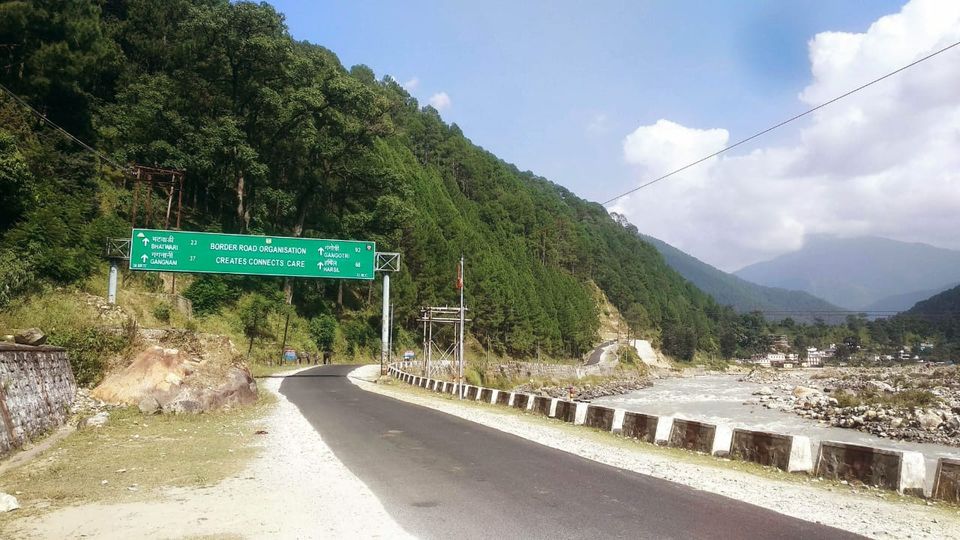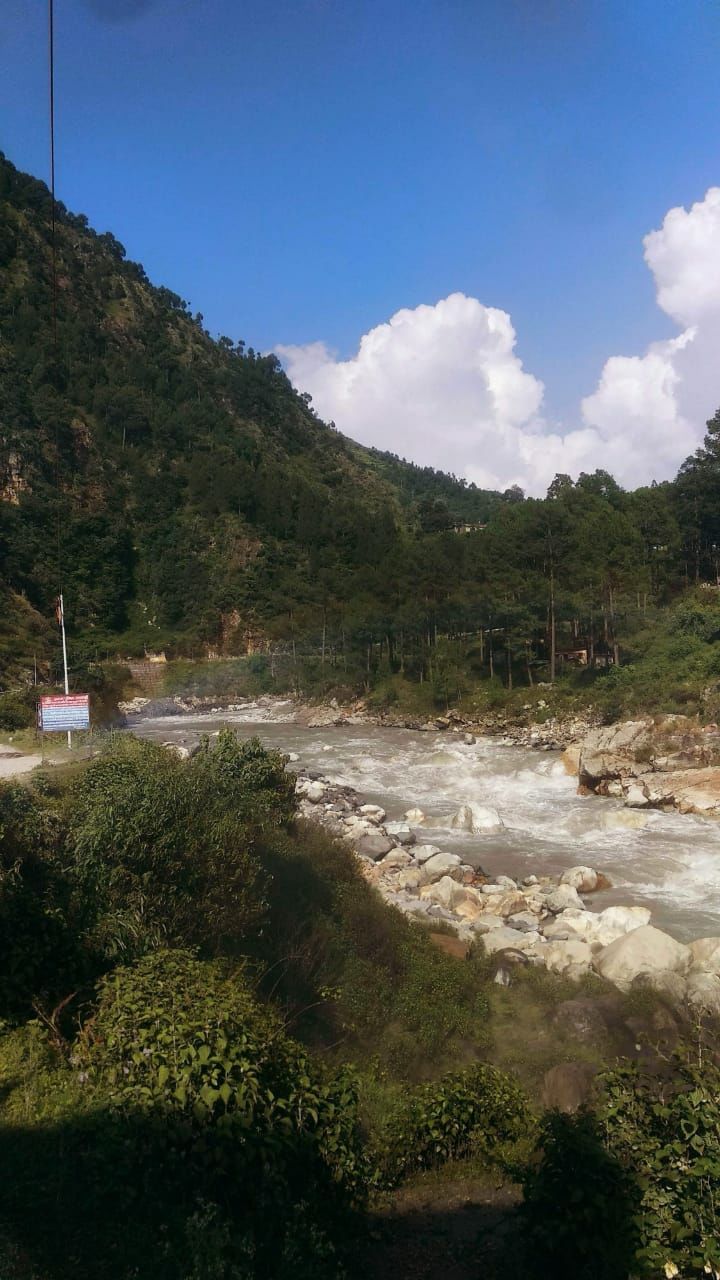 Next morning I woke up at 6:30 am. All those fatigue were gone. The View from the Ashram window was Spectacular.
And the sound of river was Mind boggling.
Now the real journey begins,
Which is Well known trek from Gangotri to Gaumukh.
First I had to take permission for the trek from the forest department which I couldn't take in Uttarkashi.
Note: Forest department doesn't Give pass to Single person, Unless and until You have a group of 2,3 or more,
But I was alone, How did I get permission...🤔🤔🤔🤔
Well, I had to lie a bit in order to take the risk, I told them few of my friends have already taken permission yesterday, I came today so I have to take permission individually, Somehow they agreed, And gave me permission.
Well, I can't tell you how happy I was, All those risk that I took and hustle in between was working out positively.
But, I realised This trek was not gonna be easy.
Anyhow, I started the trek, After 2.5 km thr was a check post, Where Everyone has to show thr respective permissions, So that Thr will not be any Trespassing.
"Gangotri - Gaumukh trek is no plastic zone."
They will going to check ur bags thoroughly, So avoid carrying any sort of plastic.
Distance from Gangotri to Gaumukh is 20kms.
First 9kms was the real challenge, Which is pure trekking, You won't get any food stalls or anything in the first 9kms, So You have to carry Your belongings liek water bottles, Snacks and other necessary things.
This 9 km trek was more of climbing the mountains then trekking on flat surface, It was really tough to do so.
The scenes were really Amazing 😍 Which can't be described in words.
After 9kms thr was a stop Named "Chirwasa".
Reaching Chirwasa is in itself a achievement. I saw people, Some of them decided to take shelter for a day in Chirwasa only, While My plan was Not just to reach Gaumukh but to return Gangotri the same day,
I realized I did take a risk. A big risk. Which Can't be recommended to do so. But anyways I had no other option than to complete it.
Many times during the trek I felt like I shouldn't have started this All alone. Because my condition wasn't that great to move forward, The temperature wasn't that supportive, I was troubled, But then I saw local people Carrying more than 20 kgs on thr back and moving forward without any difficulty. This was my opportunity I had to grab it, I started following them in order to complete it otherwise I couldn't be able to complete it on my own.
And trust me We had amazing conversation That helped me a lot, Both emotionally and mentally. I Didn't even realize when did I reach "Bhojwasa" Which is around 15kms from Gangotri and 6 KMS from "Chirwasa"
Most of the trekkers put up thr tent in Bhojwasa, Or had the opportunity stay in "Garhwal Nigam " and thr was one "Lal baba ka ashram" as well.
Where my plan was not just to reach Gaumukh but to return Gangotri at the same day.
I Basically reached Bhojwasa at 2pm. I didn't spend much time thr, Just had chai and I started trekking towards Gaumukh
The scenes were surreal, I couldn't believe myself that I was really thr to witness it.
I felt like I was some kind of mountaineer.
Trek from Bhojwasa to Gaumukh was covered with White mountains. 🙈🤩.
I couldn't stop reminding myself, This can't be real.
Well, Thr was 2 way to reach Gaumukh from Bhojwasa,
One is towards tapovan, Where I could get to see the origin,
Since My was permission was for Gaumukh So I denied access to that route,
While Other route ended 500 metres before the Origin of Ganga The Gaumukh, Because of the Road blockage from Snow.
Anyways I Couldn't complain, Bcoz What I already witnessed was far far more than worth it.
" I just thank God for giving me that Kind of courage to take the right step."
During the trek I felt nothing but gratitude for everything that helped me.
No complains nothing at all.
Just Gratitude and blessings.
Finally I took "Ganga jal" from The Gaumukh and started my way back.
Well I Wish I could stay thr for long,
But Unfortunately I couldn't bcoz of the time limitation,
So I had to get my ass back to Bhojwasa Super quick.
Well, I am still Shocked, From where did I get that enthusiasm which eventually helped me reach Bhojwasa.
Finally I was at Bhojwasa at 5:30Pm.
Sunset was about to begin.
Without spending much time I had snacks and Get myself packed for the return journey.
To be honest I was ossified with the darkness and the cold winds.
But yeah, Do I had option to stay thr?
No, That's why I keep myself positive in whatever way I could, while returning my way back to Gangotri.
The Scenic beauty of sunset, My god was eccentric.
Felt like I am was in heaven.
Cold breeze were so rapid, I almost felt like I m Frozen. And that was not able to stop me.
At 7:30pm I reached "Chirwasa".
Trust me when I get there, My legs were not allowing myself to take one even one further step. Bcoz I already pushed myself A lot, that day.
Well, I thought I should stay thr and get back to Gangotri the another day.
But see, God helped me in Every possible🙈....
I saw one horse rider returning thr way back to Gangotri.
I asked them whether they could take me along.
Somehow they agreed,
* Here is another twist*
When I check pocket whether I will be able to pay them.
I was traumatized by the fact that I left my wallet somewhere in the middle.
Cash, Cards everything was in the wallet, and I dropped it somewhere.
Since, God was with me that day, Even in odds, Positivity wins.
After few minutes of being petrified,
Few cops who were actually patrolling thr came with the wireless message from Bhojwasa(Where I dropped my wallet),
Calling my name, Asking people Whether They have dropped thr wallet in Bhojwasa.
I heard that voice, and ran towards them,
" Yes yes it is me I left my wallet" I keep repeating, It is mine, It has cards, few bucks etc etc.
They told me calm down, You are lucky that you found your wallet in no time.
Trust me I never felt so blessed in my Life.
I was about to leave in 5 minutes and they come up with good news.
Now, How I got my wallet is another topic.
See here is the beauty of people with pure heart,
Somebody at the Baba ashram gave my wallet to the cops at Bhojwasa,
And in no time the cops circulated wireless messages at each and every check post regarding my wallet.
(Words are not enough to thank them for the efforts they undertook in order to return my wallet.)
Well, I was at
"Chirwasa" where I negotiated with horse rider to take me back to Gangotri,
The ride continued,
I was awestruck with Kind of skills those horses had, It was all dark, But the roads were shinning which were helping them to move forward, They crossed 2 rivers which was more of Glacier water flow, But the current was real, Even that didn't stopped them crossing it while carrying me on thr back. I Had mixed emotions both Petrified and enthusiastic at the same time.
Well, Finally Somehow I managed to get my ass back to Gangotri with full of Emotions, Gratitude, Thanksgiving and Respect.
I Felt I must have done Some good work to witness it all in one day. I will never forget this trip ever in my lifetime.
**With that Experience, I would like to say, Few thing's --
If Your intuitions are positive enough about doing something, Even with 60-70% assurance, Go for it. Trust me the experience you get in the end, Is worth taking a risk.
LIVE YOUR LIFE TO THE FULLEST
, SPREAD HAPPINESS AND POSITIVITY ❣️🙏