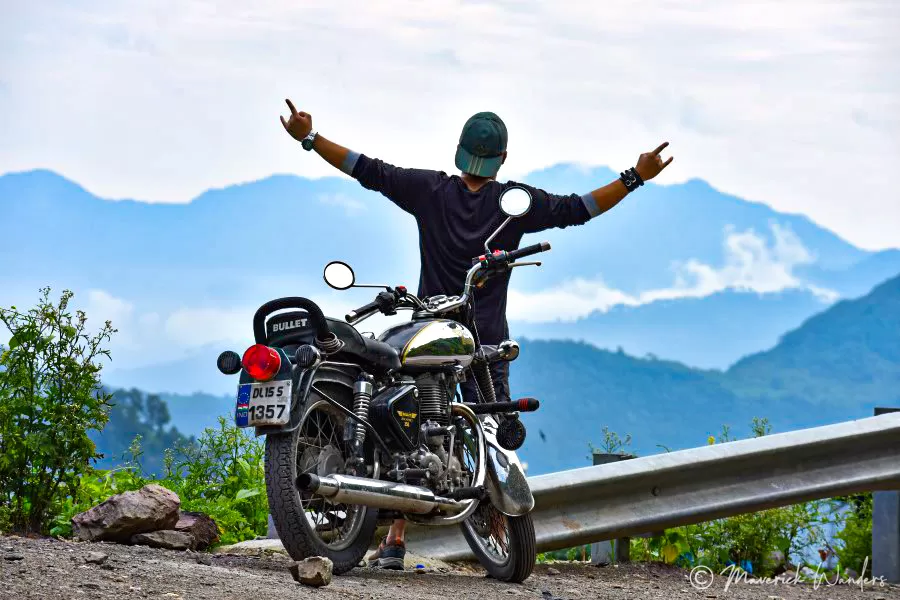 Rishikesh – Where Adventure and Serenity Walk Together in Harmony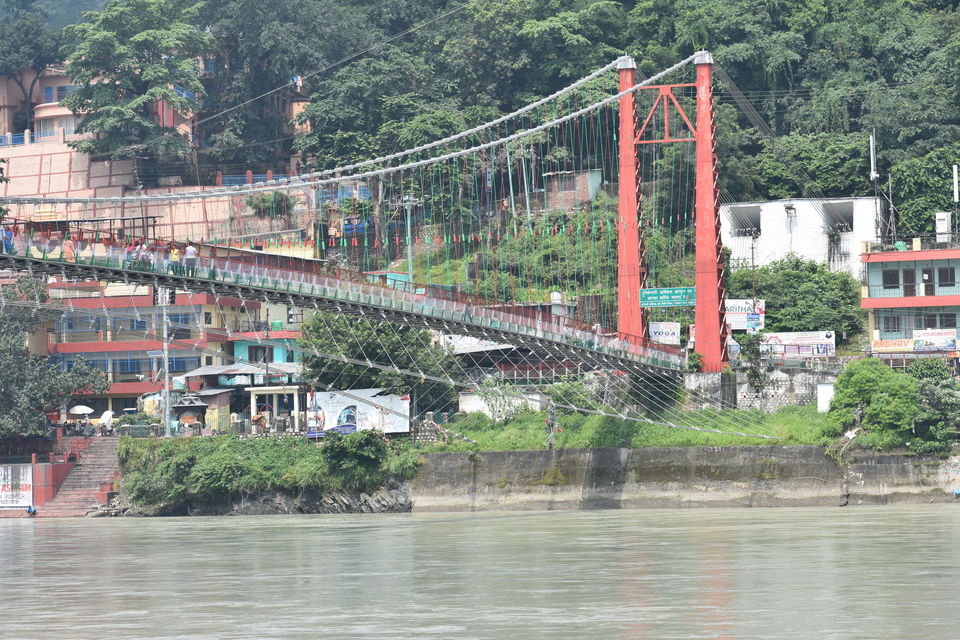 I have been to Rishikesh numerous times, but it is one place I can never get over with. There is so much more to Rishikesh than it meets the eye.
It does not matter whether you are a solo soul or travelling with your loved ones, whether you are an adrenaline junkie or you seek peace, Rishikesh is definitely for you. Ask any of the solo travellers you meet here, they will tell you one interesting story of how they found themselves by getting lost in its tranquility and then you will know what I mean. Here is everything you need to know about Rishikesh.
1. Where is Rishikesh?
Rishikesh, renowned as the "Gateway to the Himalayas" is located in the Himalayan foothills of Northern India. Just a 4-5 hour drive from Delhi, it is resting on the bank of the pristine Ganges which is the source of both adventure and tranquility here. How? Well, read along!
2. How can I Reach Rishikesh?
Reaching Rishikesh is not difficult, on the contrary, leaving Rishikesh is! Never has it happened that I went to Rishikesh and would have wanted to come back, Never! Experience it yourself!
a. How to reach Rishikesh by Road?
Rishikesh is well connected by Roads. With the newly constructed Delhi-Meerut Expressway and then the Meerut-Haridwar Highway, the journey from Delhi to Rishikesh takes only 4-5 hours. The road is amazing and the journey comfortable. We generally prefer our own 2 Wheeler (Bullet to be specific), but you can reach here by bus too which runs from Kashmere Gate ISBT (Delhi) every hour till midnight. There are private buses too which you can book online from various bus booking sites. The buses generally take 6 hours to reach Rishikesh.
b. How to reach Rishikesh by Air?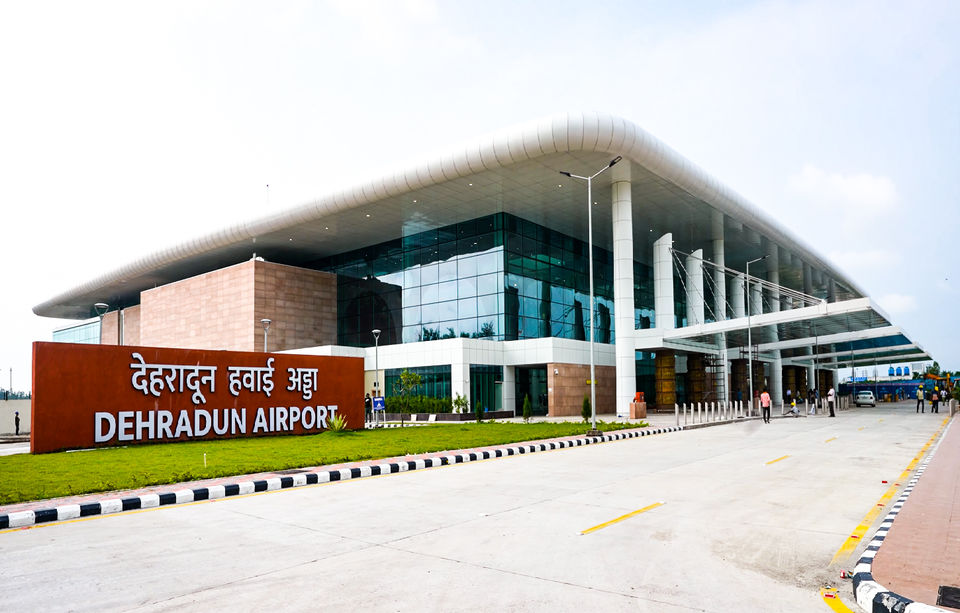 The nearest airport is Jolly Grant Airport (Dehradun) which is just 22 km from Rishikesh. One can easily get a cab from the airport.
c. How to reach Rishikesh By Train?
Though Rishikesh has a railway station, not many trains halt here. But don't worry, you can board the train to Haridwar which is 31 km from Rishikesh. Haridwar to Rishikesh is easily accessible by buses and shared tuk-tuks all day long
3. What is the Best Time to Visit Rishikesh?
Rishikesh is favourable to visit any time of the year depending on your purpose of visit. Although Rishikesh has a pleasant environment throughout the year, here is a monthly breakdown of the weather so that you can plan your trip accordingly:
Rishikesh's winter season runs from October to February, with temperatures ranging from 19°C to 27°C on average. Despite the little chill, this is an excellent time for rafting. The coldest month in Rishikesh is January and rafting can give you spine chilling cold (extra adventure?) so bring plenty of woollen clothes with you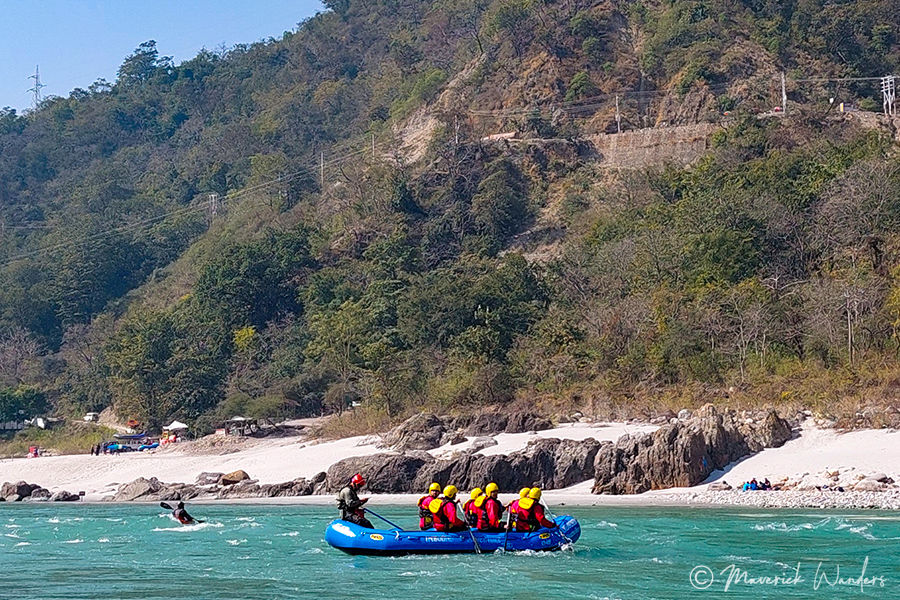 March to June: The weather in March is ideal for rafting and attending the renowned International Yoga Festival. These months make up Rishikesh's summer season, with June being the hottest month and temperatures reaching 35°C. However, the crowds are thinner, making it an excellent time to relax. But remember, there's a good chance that rafting will be closed by June.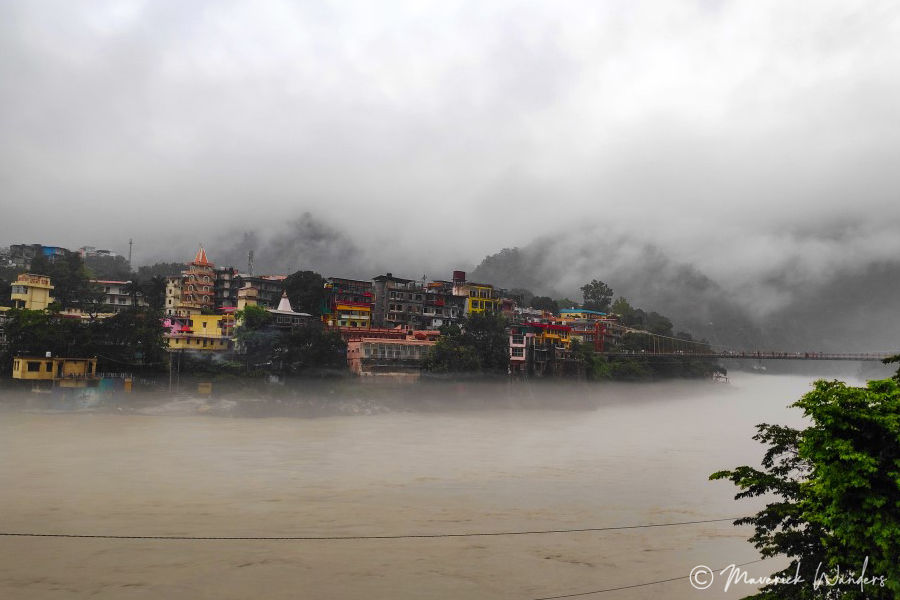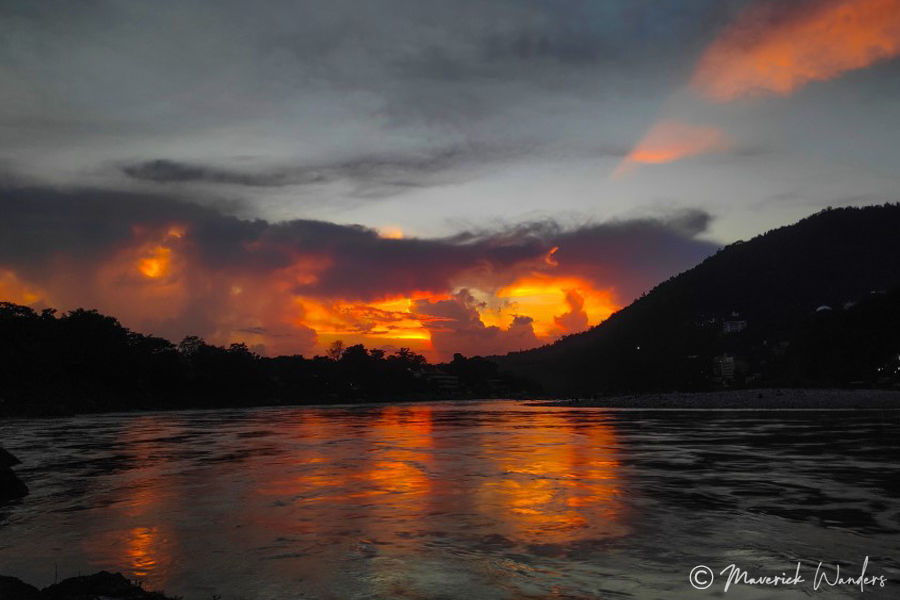 From July to September, Rishikesh receives an average amount of rainfall during the monsoon season. The water level rises as a result of the rainfall, and rafting is closed. So travelling in this season is not recommended as you will not be able to enjoy the place with its full potential. These months are ideal for those seeking peace, far away from crowded cities.
4. What is the Best Mode to Explore Rishikesh?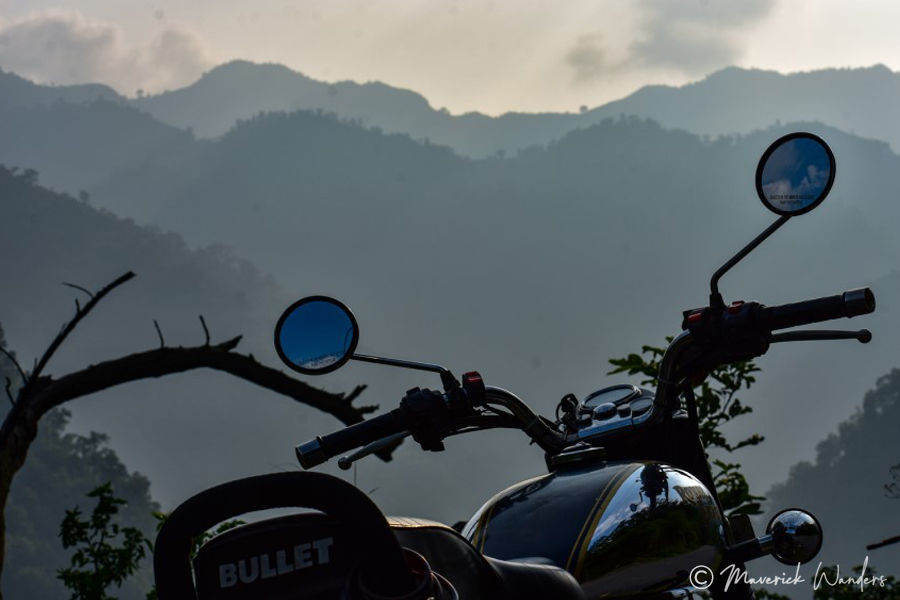 Visit Rishikesh by two-wheeler (if possible) since it will be useful when exploring the area. If you are travelling by other means, you can easily rent a scooter for as low as 300/- INR per day. Try to visit Rishikesh on weekdays as weekends are overcrowded and prices surge!
5. Where to Stay in Rishikesh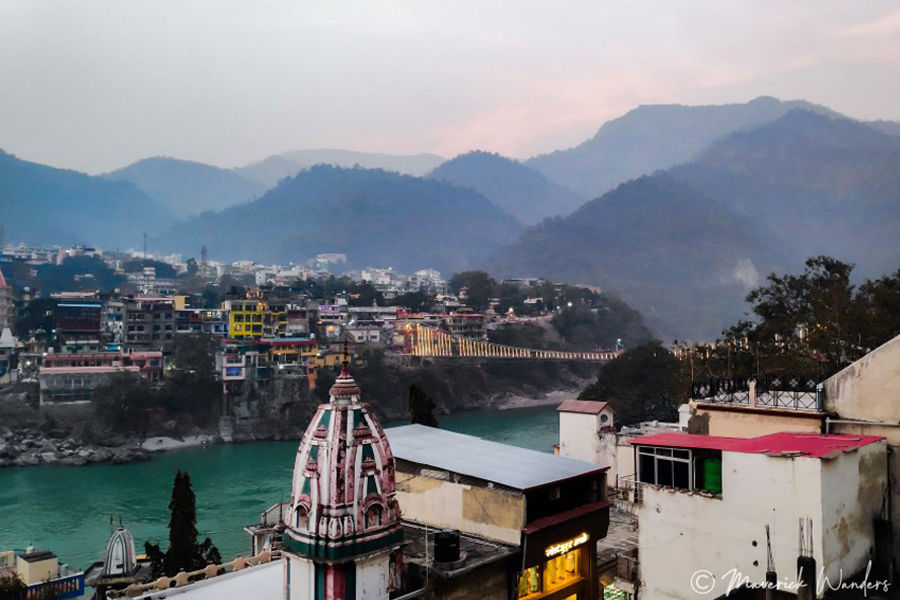 People searching for accommodation in Rishikesh are mostly unaware of the fact that the real Rishikesh lies on the other side of the river Ganga i.e., between Laxman Jhula and Ram Jhula. Therefore, they book a hotel in Tapovan, which is located on the Rishikesh-Kedarnath Highway. Though there are some very good hotels in Tapovan, if you want to experience real Rishikesh, you would need to walk for 15-20 minutes down to Laxman Jhula and cross it. So I would recommend booking your stay in Laxman Jhula rather than Tapovan.
There is a myriad of hostels, hotels, guest houses etc in Rishikesh and you need to explore the online hotel booking sites to find out the best one that suits your need. Check the reviews before booking and see if the location is at Laxman Jhula. If you would like to explore the area first, you can go there and check it out yourself. Then book a place according to your budget then and there.
6. Things to do in Rishikesh
a. Adventure
i. Camping in Rishikesh
From luxurious camps to budget camps, riverside camping is one of the best experiences in Rishikesh. You can book camps as per your budget from several booking sites. Most of the camping sites are on Neel Kanth Road – Gattughat while several others are in Shivpuri. The camping package also includes meals.
ii. Rafting in Rishikesh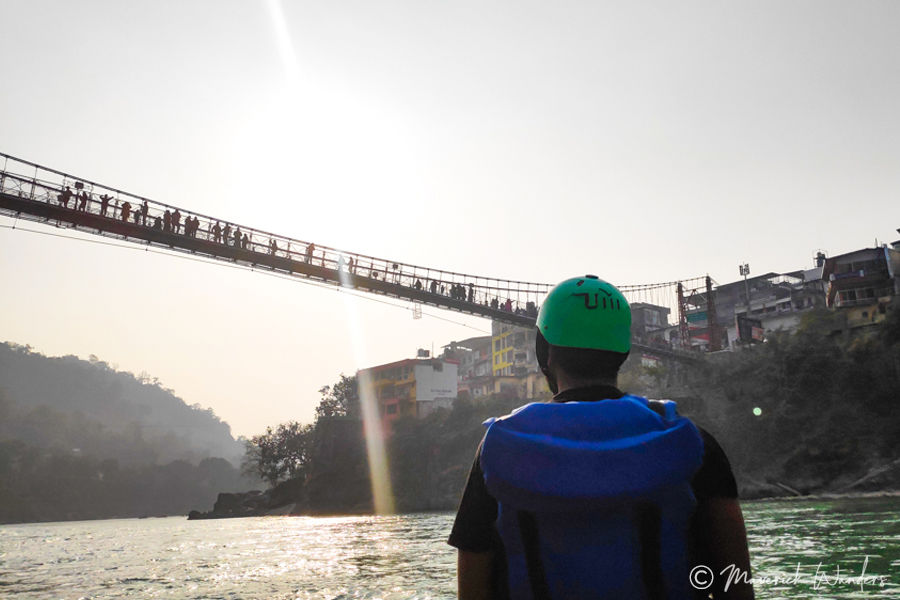 One of the most thrilling activities in Rishikesh is rafting. Yes, it is safe to raft unless you are scared of water. There are 4 packages of rafting.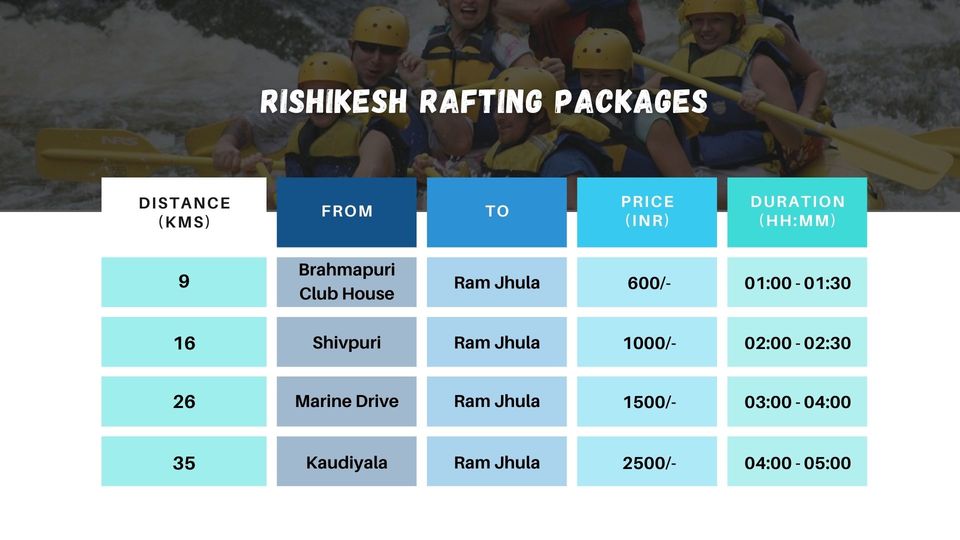 It would be best to bring quick-dry clothes for rafting, but you can wear any comfortable clothing. Prices can be negotiated. I highly recommend Cliff Jumping off the "Maggi Point" as it is a blast!
Best season for rafting – Summer
iii. Bungee Jumping in Rishikesh
Bungee jumping is one of Rishikesh's oldest adventure sports. There's the highest fixed platform for bungee jumping in India here, which offers thrill-seekers a 270-foot jump. The best option for bungee jumping is Jumpin Heights which is run by ex-army officers. Jumpin Heights follow the Australian & New Zealand Standards Authority Guidelines for commercial operations. They also offer Giant Swing and Flying Fox Zip Line. Pricing details are as follows:
Timing: 09:30 AM – 05:30 PM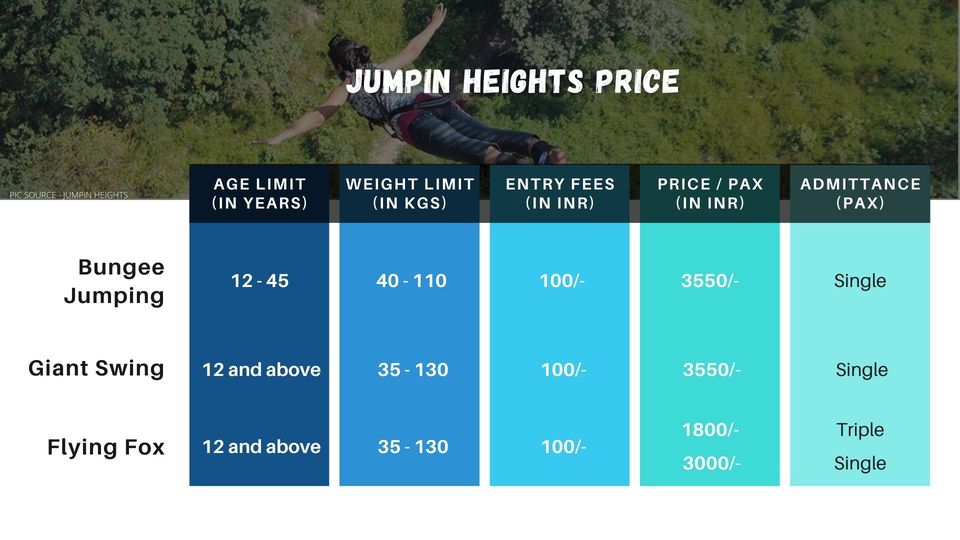 Jumpin Heights also provides Combo Offers: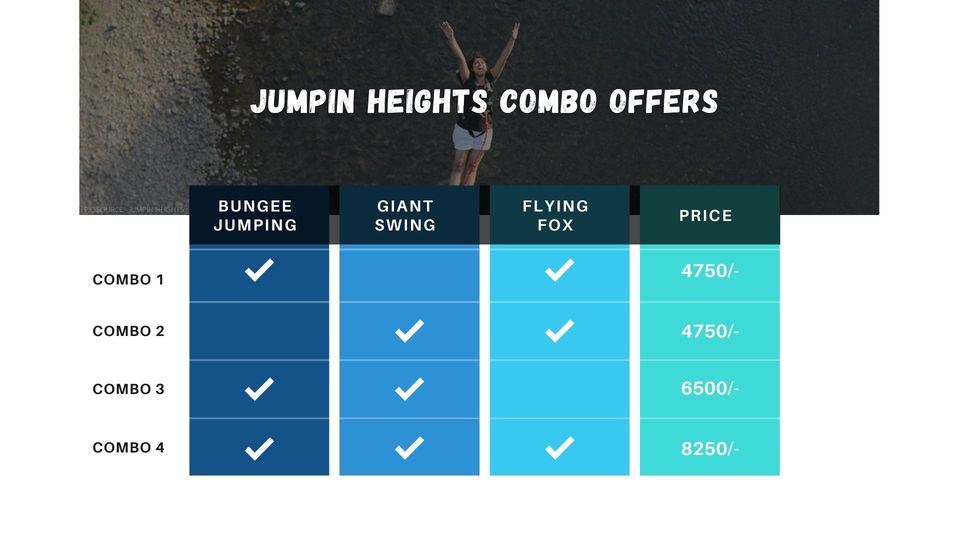 They also provide photographs and videos of your adventure at extra cost: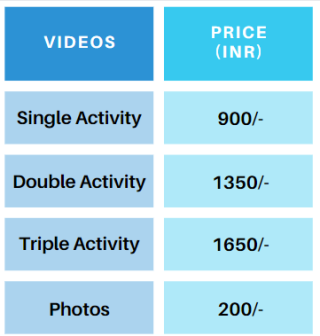 Due to the popularity of Bungee Jumping, you will usually have to wait a while for your turn. So I recommend you to reach there as early as possible.
iii. Waterfalls in Rishikesh
That's my kind of adventure. Do you love hiking? Well if you do then you will love the view, and if you don't, then still you will love it a lot! You'll find many big and small waterfalls in Rishikesh that await exploration by travellers like you, and guess what! These waterfalls are great for bathing in too! So go for it!
Waterfall Timings – 8:00 AM – 6:00 PM
1. Patna Waterfall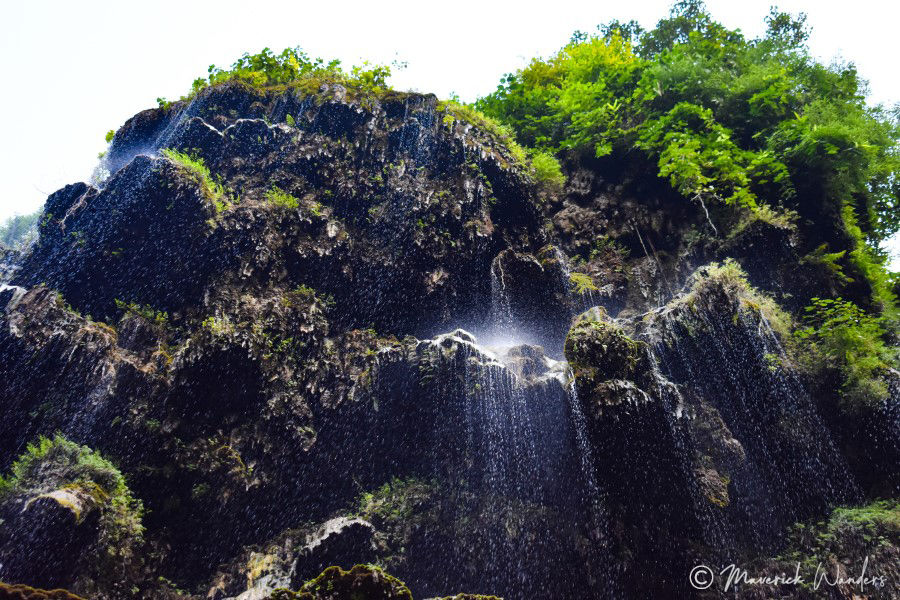 After a 20 minutes hike, you can reach this mesmerizing waterfall. Patna waterfall is the least crowded due to its accessibility and location. If you hike further up, you'll be able to see Patna village as well.
2. Garud Chatti Waterfall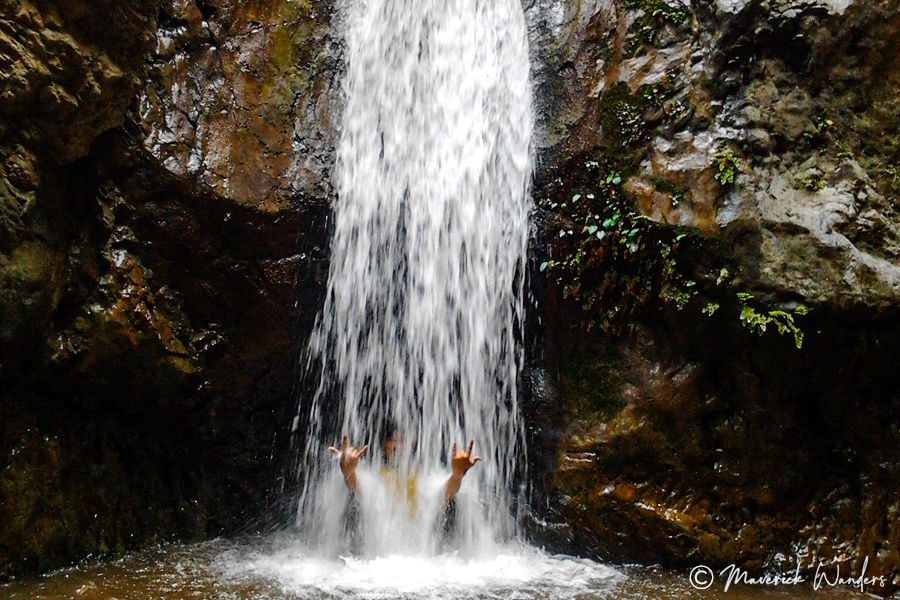 Located near Patna waterfall, this waterfall requires a 1.5 km hike. There are many levels to Garud Chatti waterfall, and it is more popular with foreigners.
3. Neer Garh Waterfall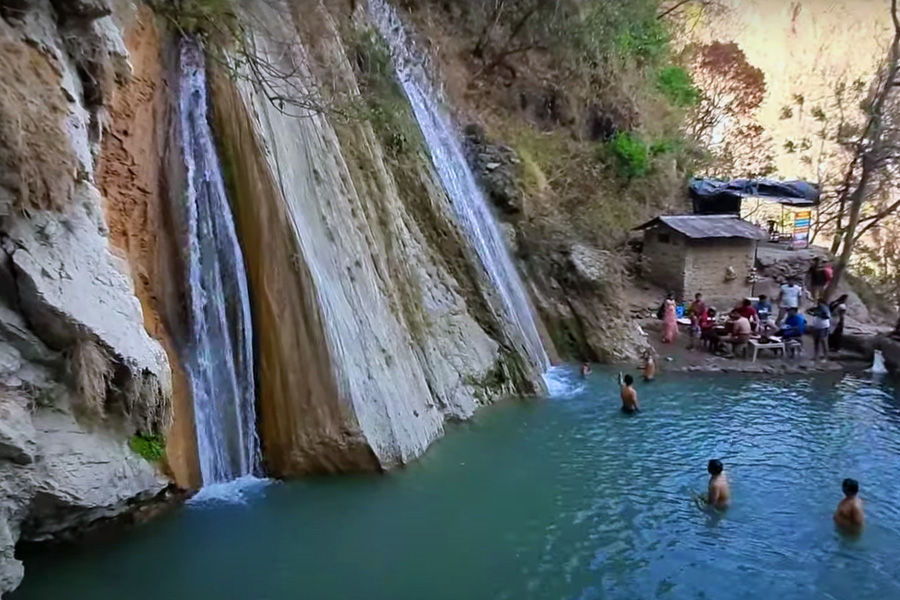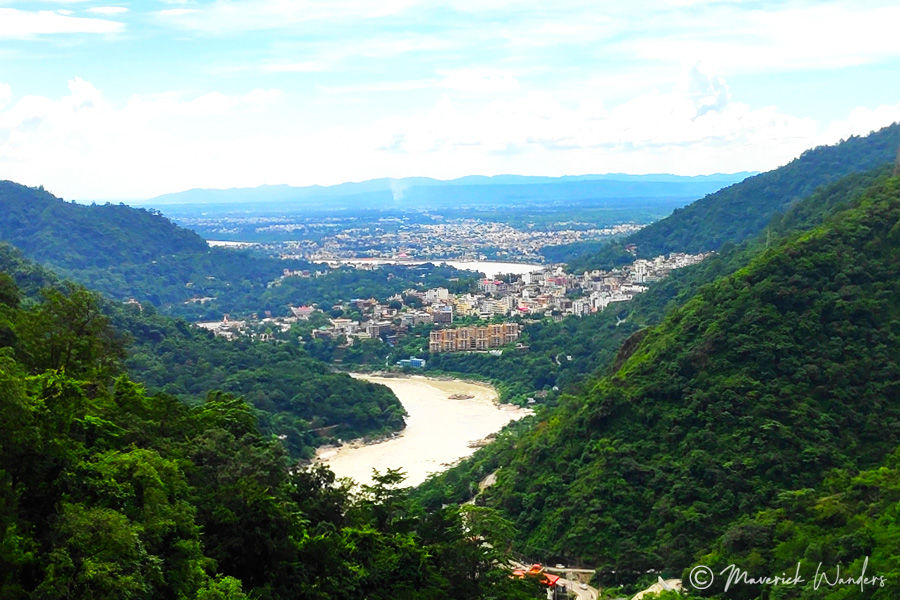 Neergarh waterfall is the most popular waterfall because of its accessibility. You need to buy a ticket at the starting point to explore this waterfall (30/- per person). Since Neer Garh waterfall witnesses a lot of visitors, it is best to visit it early in the morning.
b. Explore Rishikesh
Remember when I said, Rishikesh is more than it meets the eyes? Well apart from all the adventures it has to offer, there are some other places where you can gallivant and confront some surprising elements
1. Laxman Jhula – Ram Jhula Trail
It is not just a walk, the trail is replete with handicraft shops, cafes, jungles, ashramas, vibes, views, and much more. Take an early morning trail and a shortcut from the Police Station to the right. You will find hidden stairs that lead to a secluded and serene river bank where you can meditate to the sound of the river Ganga. As you head towards Ram Jhula, you will pass the beautiful Ganga Beach where you can relax while enjoying the view.
2. Beatles Ashram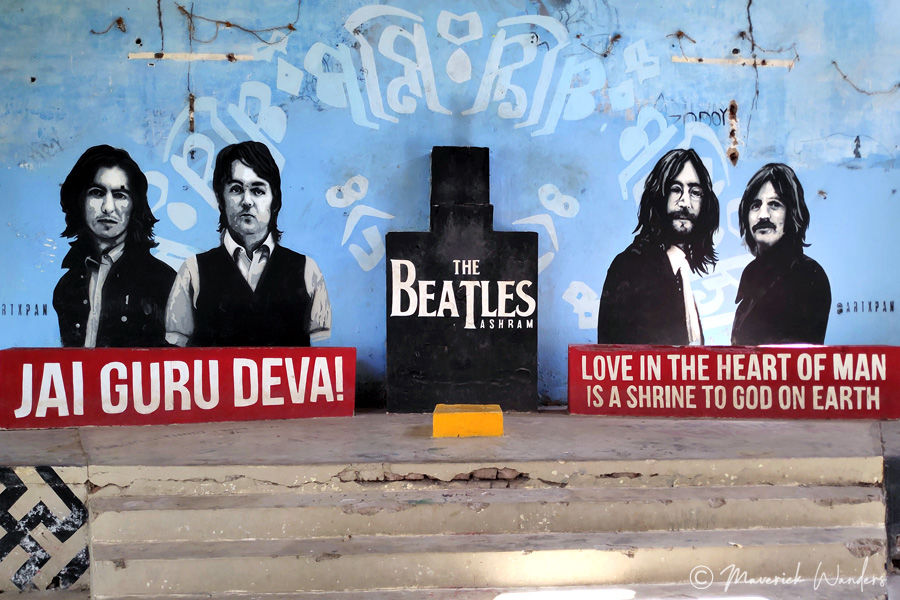 During the '60s this place was known as the International Academy of Meditation built by Maharshi Mahesh Yogi where the Beatles visited during that era and learnt meditation. It now boasts mind-blowing graffiti and Instagram-worthy ruins that you will love to see at this abandoned place.
Ticket Price is 100/-
Timing: 10:00 AM – 4:00 PM everyday
3. Triveni Ghat
Triveni Ghat is famous for aarti in Rishikesh which starts at 6:00 PM so you better reach at least 45 minutes before to get a good place with the best view to enjoy aarti.
4. Parmarth Niketan
Parmarth Niketan has the iconic Shiv Murti that you will find whenever you will search for Rishikesh online. Another place where evening aarti is performed and is equally beautiful as the aarti at Triveni Ghat.
5. Goa Beach
Foreigners love this place for its ataraxis experiences. I'm sure you will as well.
c. Chilling Out in Rishikesh
Rishikesh offers you the best of everything you could hope for in a place. It is home to some amazing cafes where you can enjoy food from India, Israel, as well as other countries. A lot of these cafes offer breathtaking views of the Ganges and an atmosphere that will last a lifetime. Some cafes are in the Tapovan area while others are in the Laxman Jhula area, each cafe has its own speciality and vibe.
1. TAT Cafe
TAT Cafe is in the Tapovan area of Rishikesh and provides a Panoramic View of the Laxman Jhula area and the Ganges. You'll love this place for its view, vibe, and food!
2. Beatles Cafe
More popular among Beatle Fans, Beatle cafe is adjacent to TAT Cafe and provides an equally good view
3. Shanti Shanti Cafe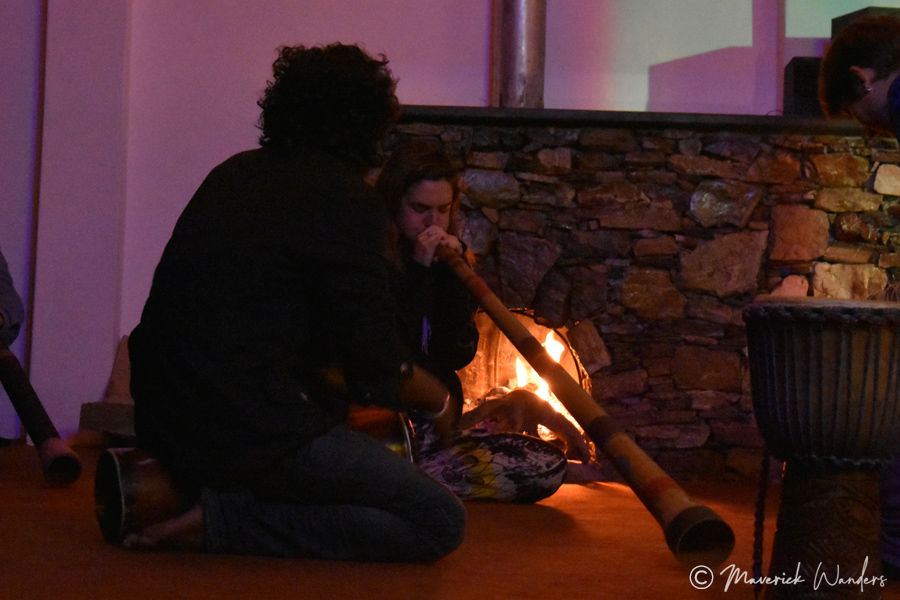 Downstairs from The Beatles Cafe, you will find Shanti Shanti Cafe next to a small shop. Night at Shanti Shanti Cafe brings you an aesthetic mood. As soon as the sun sets, there is no "Shanti" at Shanti Shanti cafe, instead, it has a distinctive vibe and great live music happening now and then. It also provides a unique sitting arrangement on the 'Machan' with a mesmeric view.
4. Harry's Cafe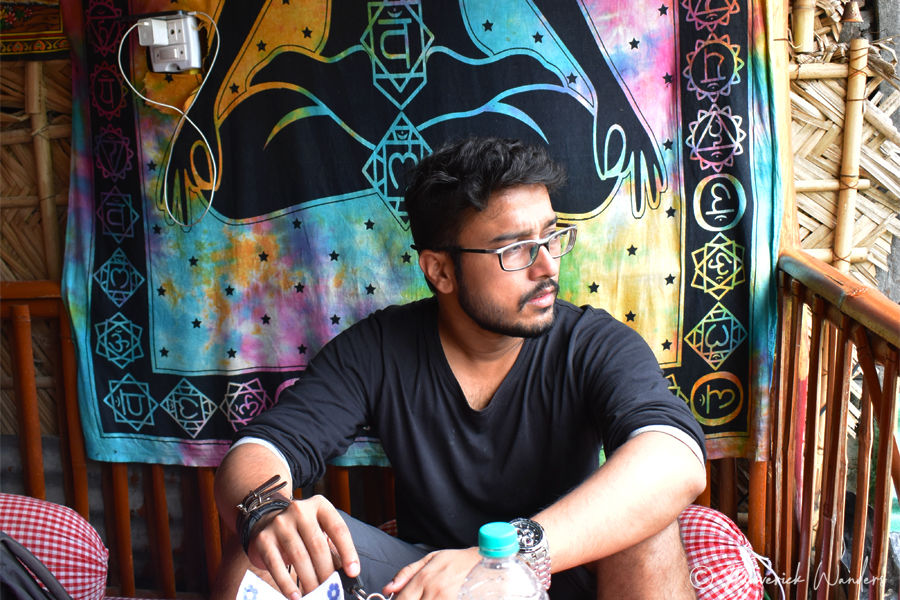 Mr Hari Bhai, aka Harry, is a wonderful host. Anything you need, he can provide. Harry's Cafe offers exotic food with a picturesque view of the Ganges.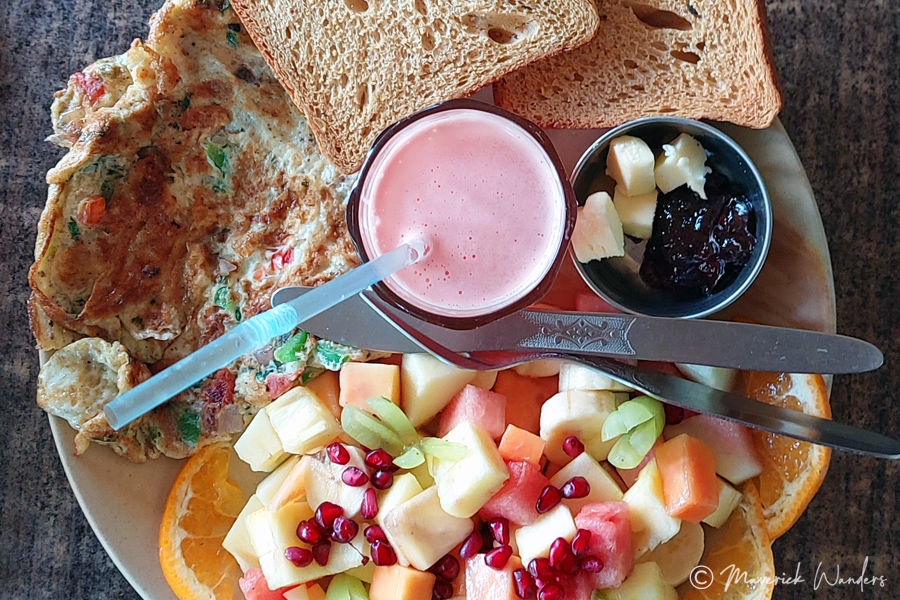 There is nothing like sitting here all day and admiring the view. The staff is very friendly and the food is excellent. Among all the cafes in Rishikesh, Harry's Cafe is my most preferred.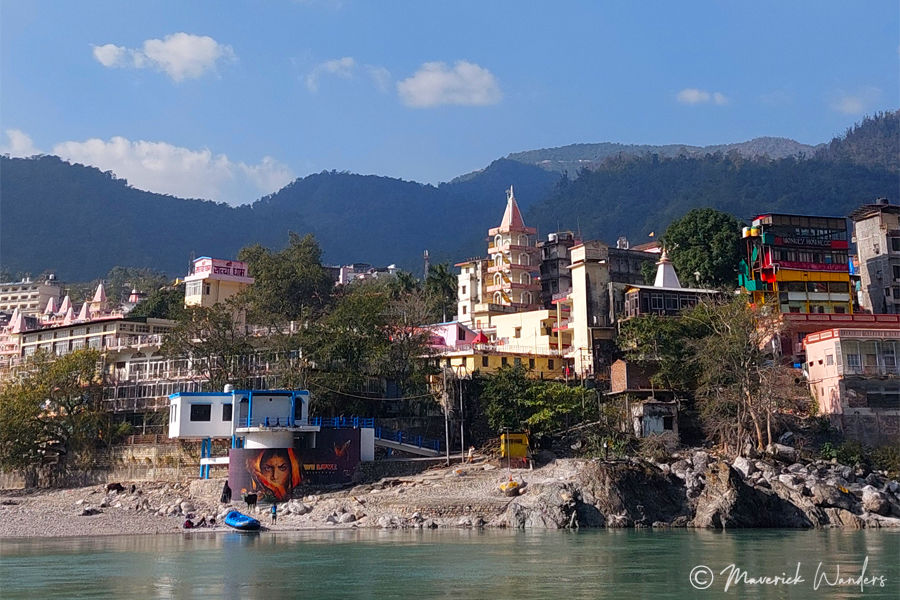 It always has some kind of musical activity going on. You will find some band or an individual playing musical instruments and singing amazing songs.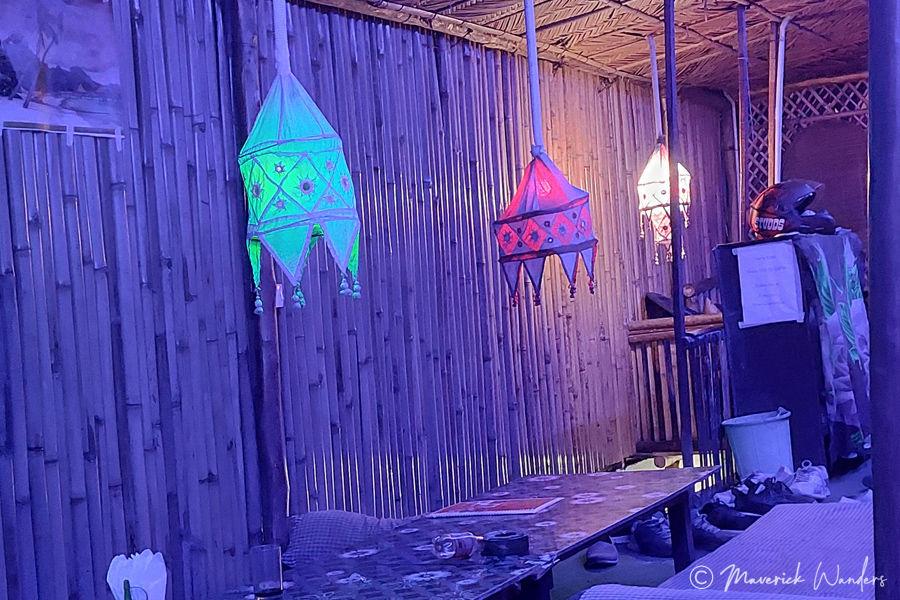 You won't be able to stop yourself from singing along. Such is the vibe of this place. Do not forget to try 'Lemonana' here.
5. Om Freedom Cafe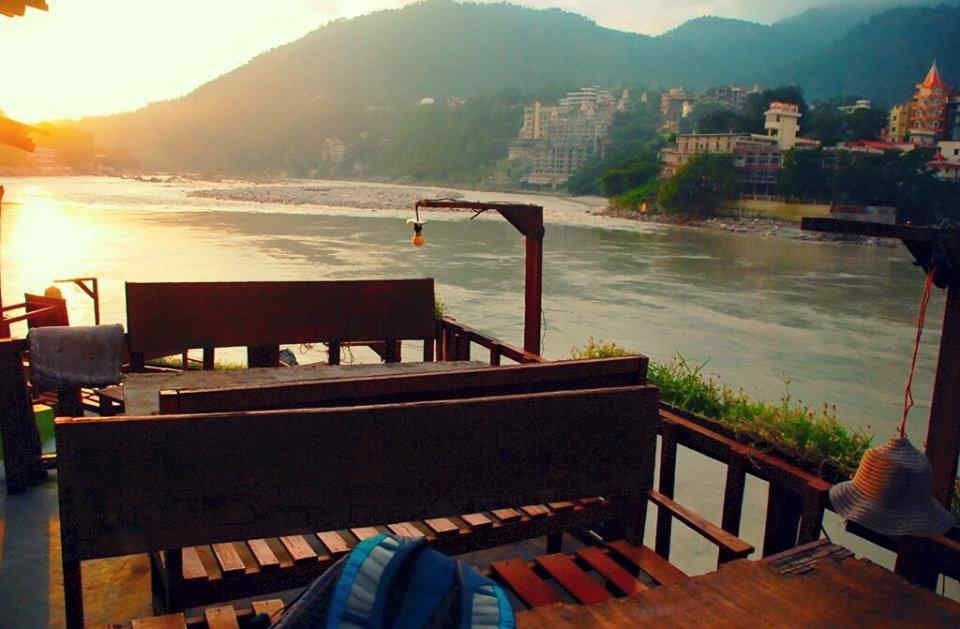 Om Freedom Cafe is close to Harry's Cafe, though food is not at par, the view and seating arrangement are unparalleled. Unless you visit Freedom Cafe, your trip to explore cafes in Rishikesh is not over.
6. Little Buddha Cafe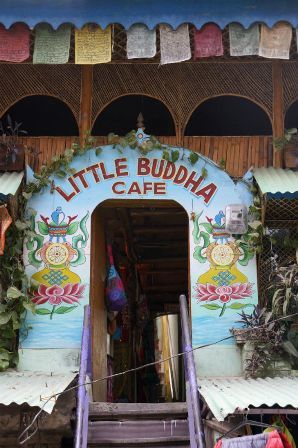 From the entrance to the seating arrangements, this cafe looks shady, but do not be fooled by its appearance. Little Buddha Cafe is one of the most famous cafes in Rishikesh.
During the evening, many foreigners hang out here. There is a constant change in mood here.
There are several other cafes which you can explore on your own but the mentioned cafes are a must to visit!
And if you know some cafes that are worth mentioning, please share :)
d. Yoga in Rishikesh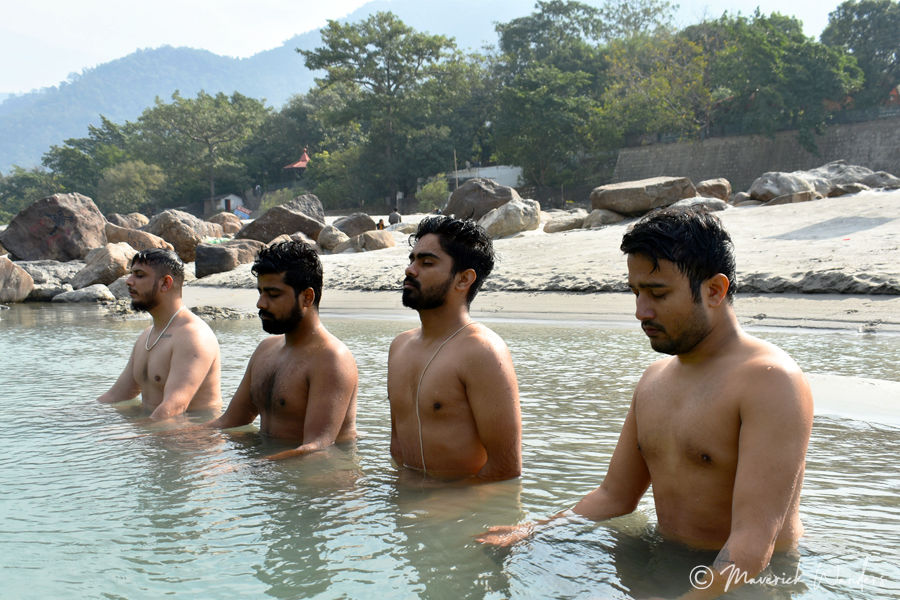 Rishikesh is popularly known as the "Yoga Capital of the World". People from all over the world visit Rishikesh to learn Yoga and seek peace. Many of them become Yoga Teachers. If you thrive for peace and want to learn Yoga, there is no place else you better be. Rishikesh is full of Ashramas which can help you in learning all types of Yoga including meditation, you can contact them and get the details. Some of them are:
Parmarth Niketan
Sivananda Ashram
Omkarnanda Ganga Sadan
Shree Mahesh Heritage Meditation School
Phool Chatti
Anand Prakash Ashram
Yoga Niketan
Swami Dayananda Ashram
Rishikesh Yogpeeth
Osho Ganga Dham Ashram
For more details, you can visit: Top 10 Yoga Ashramas in Rishikesh
7. Around Rishikesh
If your budget allows (though Rishikesh is quite budget-friendly) and you have enough time (that is the most important factor! ), consider exploring some of the beautiful places near Rishikesh to get the most out of your trip.
1. Kunjapuri Temple / Sunrise Point
Distance from Laxman Jhula – 35 Kms
Duration to reach – 1 Hr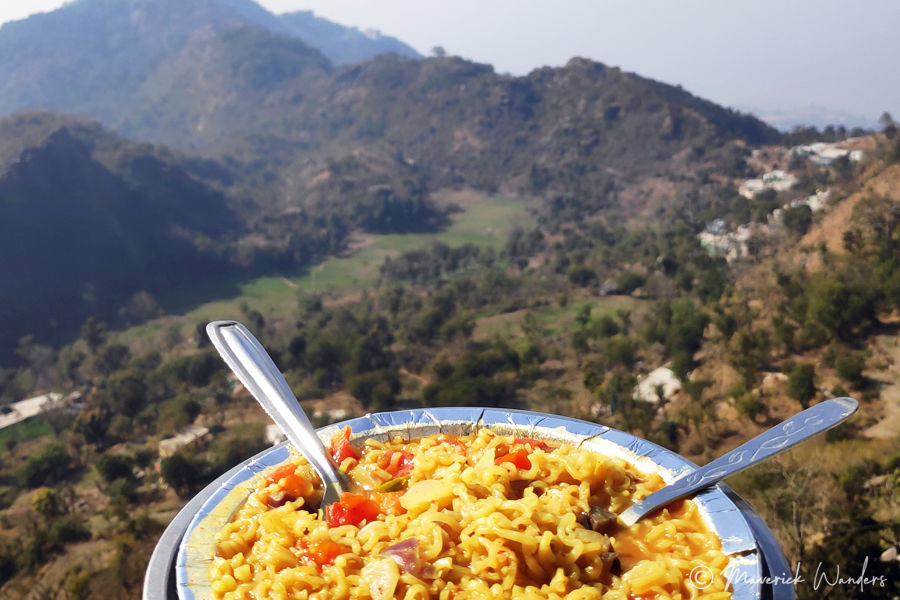 Kunjapuri is famous for Sunrise. Unfortunately there were clouds and we had to come back without watching the sunrise. If you are fortunate enough to visit Rishikesh during a period of clear weather, you should take a ride to Kunjapuri temple to view the sunrise. The journey is magnificent and has one of the best roads you will find in this area
2. Dev Prayag
Distance from Laxman Jhula – 65 Kms
Duration to reach – 2 Hrs
This is the final Prayag (Confluence) where Ganga is formed. See the formation of Ganga with your own eyes as Alakananda and Bhagirathi merge. What an exhilarating experience it is. This river has thousands of fish, and if you are lucky, you might be able to see them with your naked eyes. You can even feed them if you may.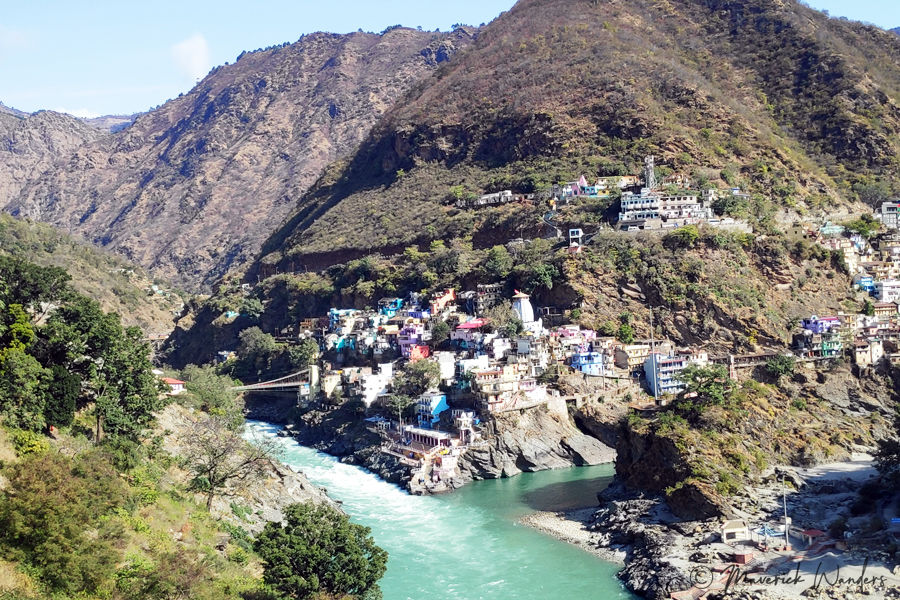 The road between Rishikesh and Dev Prayag is part of the newly constructed Char Dham Project Highway, but due to the landslide-prone area, you will find road work ongoing from time to time. It is nothing to worry about though. DevPrayag is not accessible by vehicle, instead, you may park your vehicle on the highway side of the river and walk for 10-15 minutes to reach the confluence after crossing a bridge similar to Laxman Jhula.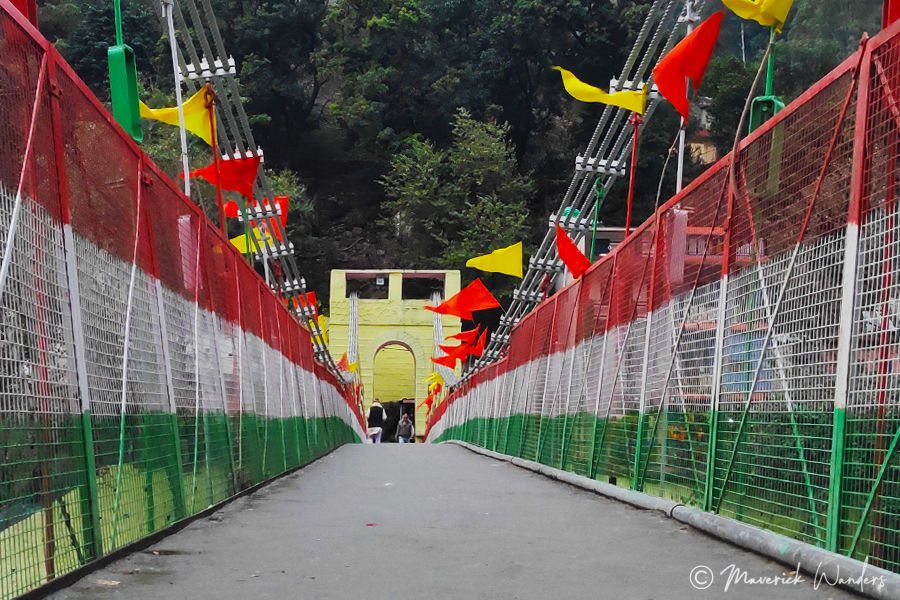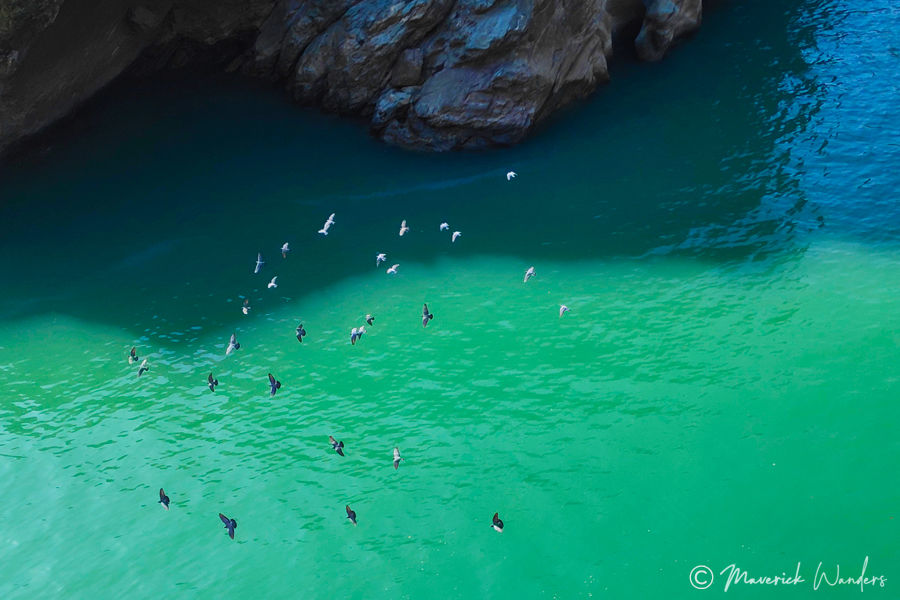 3. Barrage – Chilla Road
Distance from Laxman Jhula – 12 Kms
Duration to reach – 0.5 Hrs
Barrage – Chilla road is a secret treasure of Rishikesh near AIIMS (yes Rishikesh also has AIIMS). All you need to do is cross a dam and voila! A beautiful road with a canal running side by side. The green lush forest and mountain view it offers will make you exclaim with joy! It is one of a kind experience to ride or drive on this road
4. Rajaji National Park
Do Elephants enthral you? Well, then I would recommend visiting Rajaji National Park since it is home to more than 500 elephants. Not only that – 12 Tigers, 250 Panthers and a variety of prey including Spotted Deer, Sambhar, Wild Boar, Barking deer, Goral, Two kinds of Bears Himalayan Black and Sloth. With over 400 species of birds, Rajaji National Park is a great wildlife and bird watching destination. If you'd like to go on a Jungle Safari, this is the place for you.
5. Road Trip to Maldevta
Distance from Laxman Jhula 41 Kms
Duration 1.25 Hrs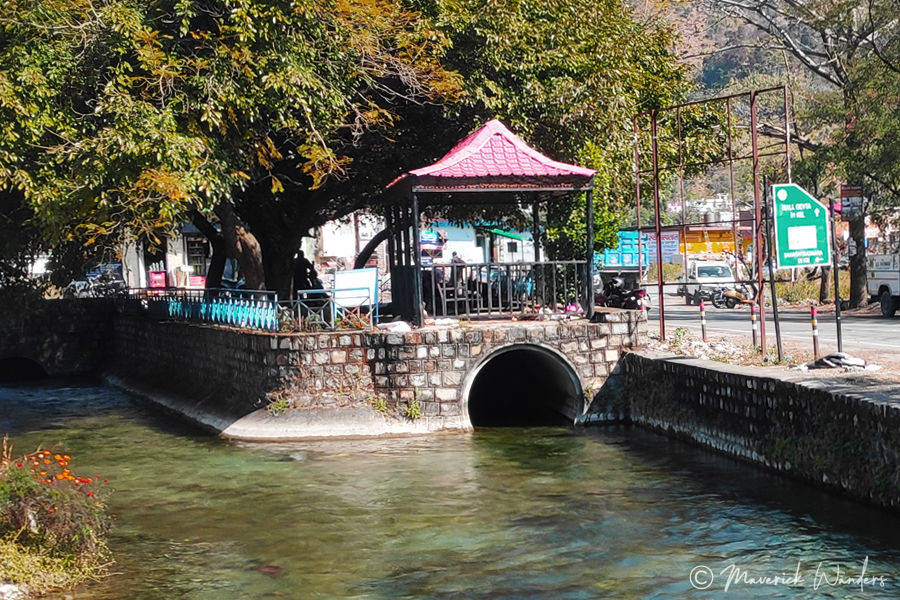 Road Trip to Maldevta is not about the destination, it is about the journey. The road amidst Jolly Grant Forest is nature's blessing and we were lucky to witness the route. We stumbled on this path by accident, but this is a hidden treasure for those seeking a secluded road trip in the woods. Guess What! Maldevta also has a beautiful waterfall.
6. Haridwar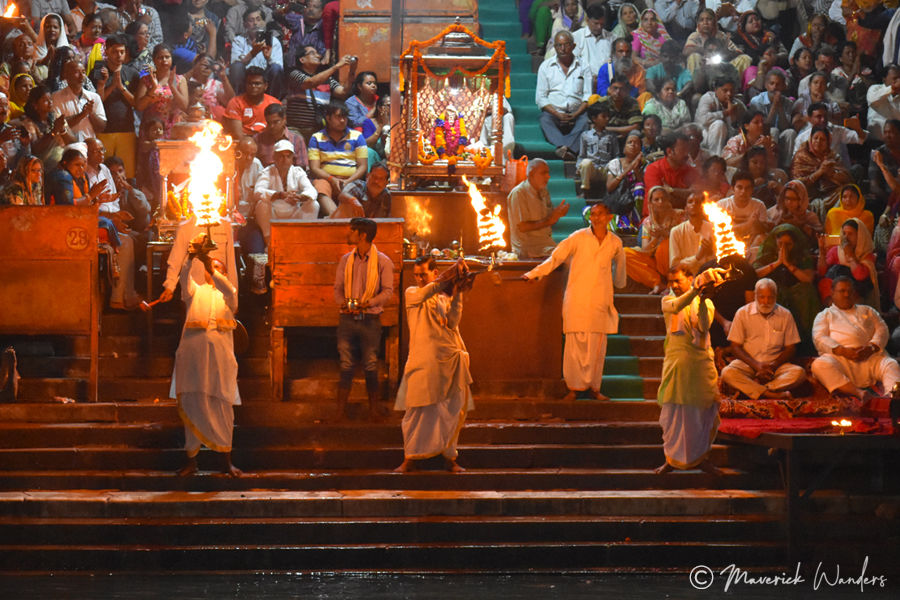 The Kumbh Site Haridwar is a religious place where you can visit some famous temples and Har ki Paudi, where devotees take holy baths. It is also renowned for Ganga Aarti.
Several other places are also worth visiting such as Dehradun, Mussoorie, Landour, etc. I will write about them separately.
My Experience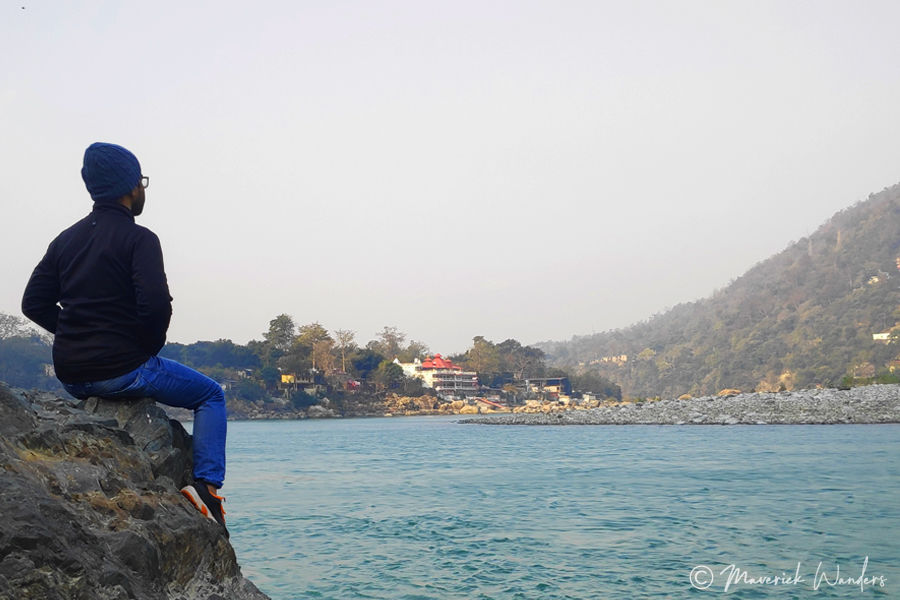 In one word – Transcending. That is what Rishikesh means to me. Of all the places I have ever explored, Rishikesh always will remain close to my heart. This is my place of "Nirvana". The more I explore Rishikesh, the more I want to and the more it offers.
Have you been to Rishikesh before? If so, tell me what are the must-explore places I haven't yet discovered, and which places you enjoyed the most so far? Share what places you would want to visit in Rishikesh if you haven't been there yet. You can contact me if you need help or have suggestions. I would love to hear from you. Until then, Godspeed!