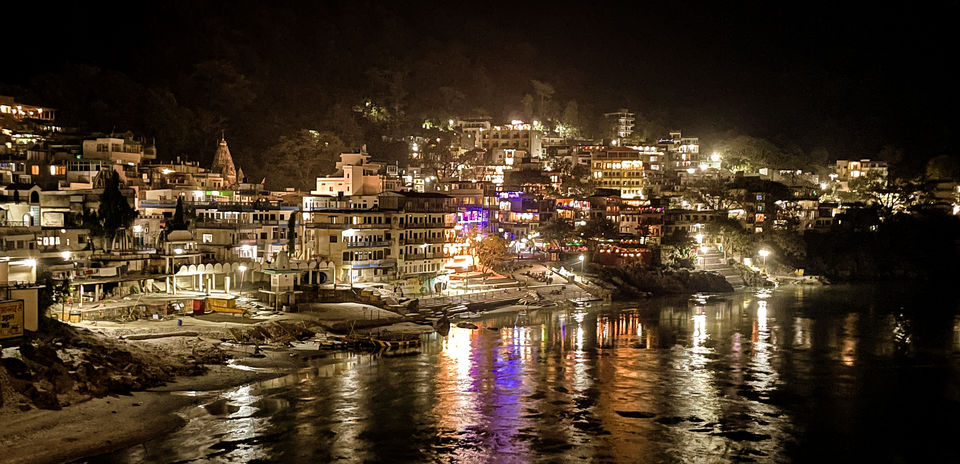 Rishikesh - The Land of Yoga, Culture and Gunga.
Route to Rishikesh
There are two routes to reach Rishikesh from Lucknow, one is via Hardoi, Bareli ,Moradabad, Haridwar which is around 530 kilometres from Lucknow and will take appropriate 11hrs, highway is not very good but decent to travel and another route is via lucknow Agra express way, Delhi, Meerut, Muzaffarnagar, Haridwar which is around 790 kilometres and will take approx 15hrs on continue driving the route via Delhi is definitely long enough but u will drive mostly on express way and the route from Bareli is highway and somewhere in between the road conditions is not so good not so bad but you can drive decently.
So choice is all yours if like to drive from express way distance doesn't matter for you then you can choose the route from Delhi and if distence matters for you then you take a route via Bareli.
Places to visit in Rishikesh
Ghats of Rishikesh
Image Link - Login • Instagram
The main attraction in Rishikesh are ghats there to see arti.
Triveni Ghat: You can visit Triveni Ghat which is in Rishikesh city and the timing of Arti is at 6:30 usually people reach there before the time to get space and to see other cultural activities there befor the Arti, you can do pooja also there by paying some little amount for Flowers and Deep.
Goa beach: Goa beach is another ghat in Rishikesh where you will get sand and stones and please come here for yoga and rafting you can sit here for a while in a peace at riverbank of Ganga.
Ganga Beach: Gaga beach is next to ram jhula and well decorated place people sit there on benches with friends and family also you can go down to ghat where you see people enjoying sand and sitting on stones and relaxing.
You can also visit the bridges in Rishikesh which very popular in tourist.
Image Link:
Laxman Jhula: Laxman jhula is a very popular bridge in tapovan Rishikesh people for safety reasons Laxman jhula is closed from April 2022 before April it was open for people to walk around, you can still go and visit the bridge from the road downside people also do some activities there sometimes like dancing, singing, playing guitar which you can enjoy there.
Ramj Jhula: Ram jhula is another very popular bridge in Rishikesh you will see while reaching to tapovan from rishikesh city, there you are allow to walk and drive your two wheeler, 4 wheelers are not allowed here at ram jhula as the bridge is not so wide and old, also people stand there to take pictures and enjoy the wind blast.
Waterfall of Rishikesh
The secret waterfall: The secret waterfall in Rishikesh is a very popular waterfall in tourist it's just 2.5kms far from tapovan you have climb little bit to reach there also the best timings is to reach there is in the morning early.
Patna Waterfall: Patna Waterfall is around 5kms far from tapovan, you have to climb from aloud 700 meters to reach at waterfall, here the water falls like a shower from up hills, you take bath in cold water here.
Janki Setu: Janki setu is not that old as Ram jhula and Laxman jhula this bridge started in March 2013 and connect Tihri and Pauri from different parts of uttarakhand, you can drive any vehicle here, you can see people taking pictures here and enjoying the beauty of this bridge.
Cafes are always rocking in Rishikesh
People are always very much interested in visiting places where they can enjoy the nature and food together, Rishikesh is the place where you can get this combination very well, most of the cafes in Rishikesh are next to ganga ghat you will get all kind of cafes there some row cafes and some modernize cafes so choice is all yours where you want to go, I personally like to sit in row Cafes to enjoy the nature and reality, most important thing is you will not get the drinks in cafes.
Activities to do in Rishikesh
Image Link: Login • Instagram
Most of the tourist reach to Rishikesh for adventure sports, Rishikesh is the best place in india for different types of adventure sports, if you want to experience river rafting riahikesh is the best place to do that, you can to rafting for 9 kms, 12kms, 16kms and 24kms which is decently popular in people, cliff jumping is a part of river Rafting in Rishikesh as it is in beetwin the route of rafting time height of cliff jumping if not too much it's around 25 to 30ft but it's adventures enough, you can do Kayaking there which you do alon so you have to hire trainer first and learn Kayaking, the another popular adventure sports is in Rishikesh is bungee jumping, bungee jumping in Rishikesh is the India's best bungee jumping and they charge around 3500rs.
You can follow me for regular updates:
Instagram: Login • Instagram
Facebook: Riding Yogi
YouTube: Riding Yogi
Twitter: Riding Yogi - The Lucknow Biker