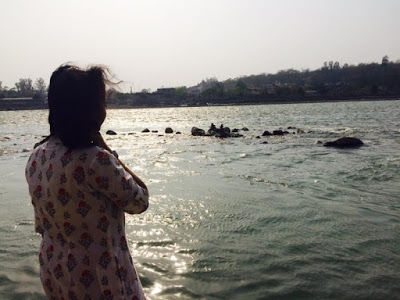 Our trip to Rishikesh began with confusion. I said, "We would have a gala girls' night out there. Sitting around the bonfire at the riverside camp; humming a soft tune; strumming the guitar with some new-found friend; grilling chicken legs in the bonfire ...". ''Ahem, non-veg is available nowhere in Rishikesh. So maybe a less grand plan will do," my friend reminded me sternly. Now, I am a foodie and an idle fellow and non-veg is my life. So even before we set out on our trip to Rishikesh, my heart sank not a little. But who would have thought that Rishikesh may have so much in store even for non-believers like us!
Rishikesh is a seat of Hinduism. A small town located in the foothills of the Garhwal Himalayas, it has innumerable myths associated with it. According to one legend, an ancient Hindu saint Raibhya Rishi practised rigorous penance on the banks of Ganga and as a reward to the saint's tenacity, Lord Vishnu appeared before him in his incarnation of Lord Hrishikesh. Thus the place got its name.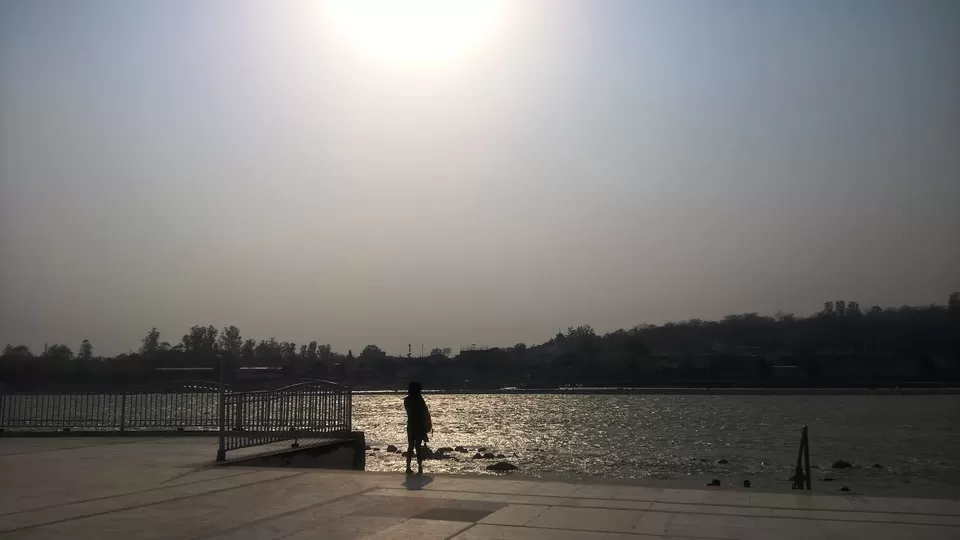 The town has many temples, ashramas, yoga and spiritual healing centres and attracts a lot of people seeking to understand the essence of Hinduism.
But my friend and I formed a team of two, desperately looking for a break. In our heart of hearts, we knew we don't possess a religious temperament, far from it.
Hence each did her own research on alternative activities to do in Rishikesh and happily found many.
With some luck, we found a nice hotel, with a wide view of Ganga from our bedroom. City-bred and used to being locked inside tall glass towers for the greater part of our day, my friend and i could not believe our luck to find ourselves in a place where we don't even have to step out to have a full view of the roaring river.
The hotel was near Laxman Jhula. We spotted a few very good hotels/cafes there and ate well.
Ram Jhula and Laxman Jhula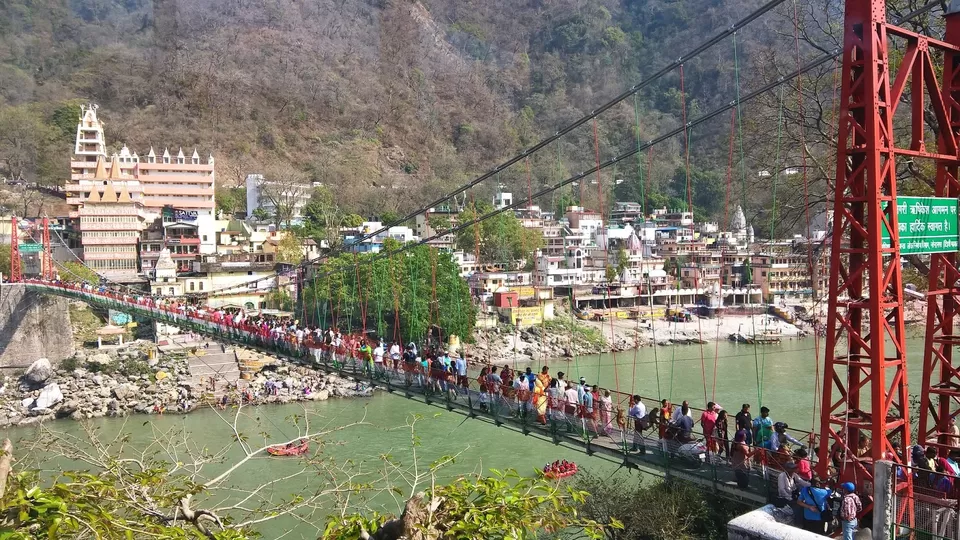 We started out the next day on our way to Laxman Jhula. Legend has it that Laxman, the younger brother of Lord Ram, had built this bridge with jute ropes to cross Ganga.
Laxman Jhula in its present shape is made of iron and steel and affords a breathtaking view of the majestic river. Ganga here is boundless, full of waves. Standing on Laxman Jhula, looking down at the roaring waters, dotted with colourful rafting crafts, with our hair blown by slightly salty wind, we started relishing our trip.
From there, we headed to Ram Jhula.
Ram Jhula seemed humble in comparison to Laxman Jhula. Laxman Jhula is by far the most famous spot in Rishikesh. Ram Jhula is smaller in stature and less popular. But the river remained as beautiful!
The banks of Ram Jhula were dotted with peaceful ashramas and banprastha grihas (retirement retreats), overlooking the river. The ghats, calm and spotlessly clean, didn't seem to be part of the same town. One can simply sit on these ghats and enjoy an uninterrupted view of Ganga. It was close to sunset and the slanting rays falling on the rippling water created a mystical effect. The river looked like liquid silver—dancing, sparkling, mesmerizing. It felt like we could spend hours sitting there, listening to the stories the ancient river has to say.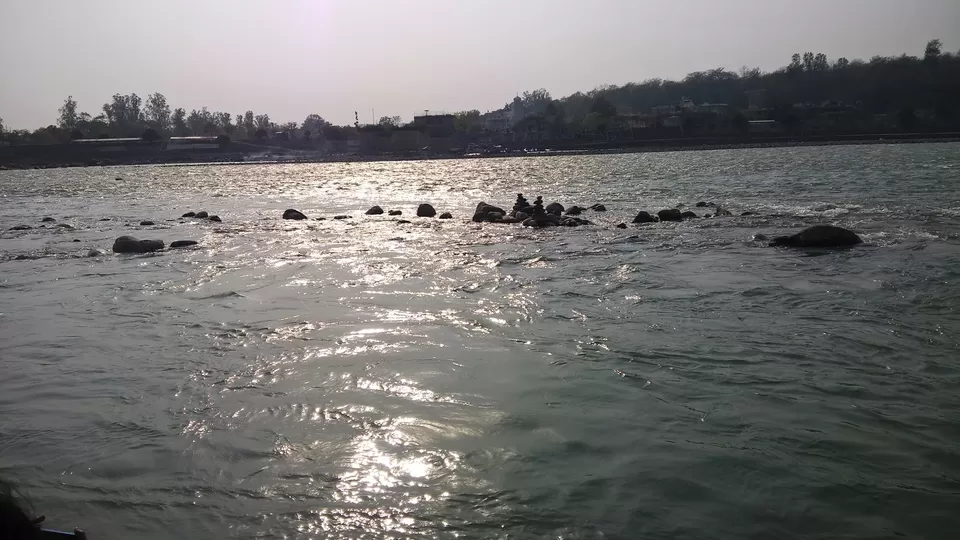 Our next stop was the famous Beatles' Ashram. It's an easy 15-minutes walk from Ram Jhula. This place originally was called Maharishi Mahesh Yogi's ashram. But in 1968, the Beatles came to Rishikesh and stayed in this ashram for several weeks. They sought spiritual wisdom and apparently attained it here. A major part of Beatles' album The White Album (released on 22 November 1968) was conceived here.
To us, the place was holy. The ashram has 12 caves where the Beatles stayed. The inner walls of these caves were painted with awesome graffiti. While some believe that the graffiti were done by the Beatles themselves, some others opine that in 2016, a group of 4 professional artists did all the paintings.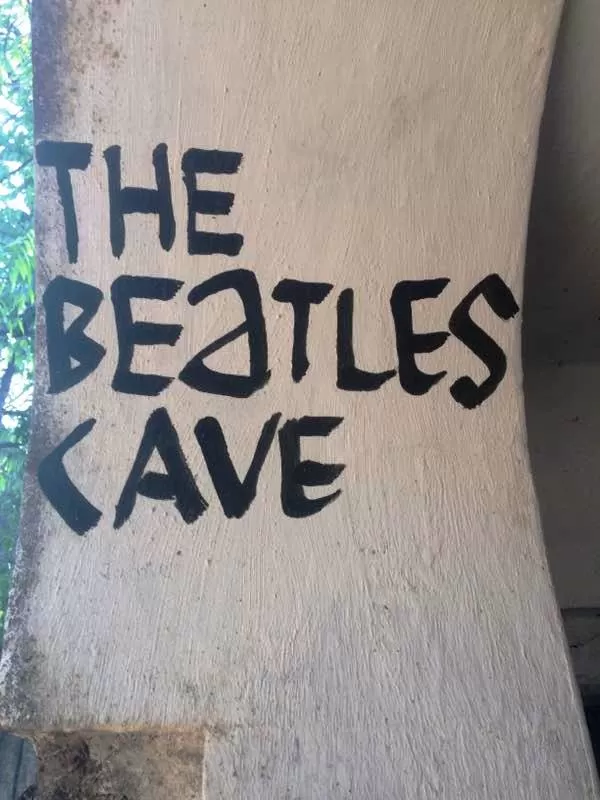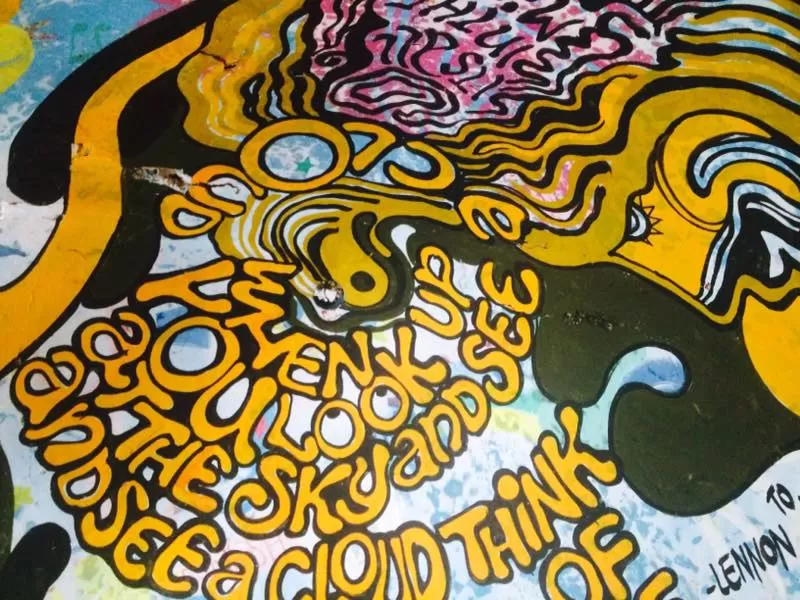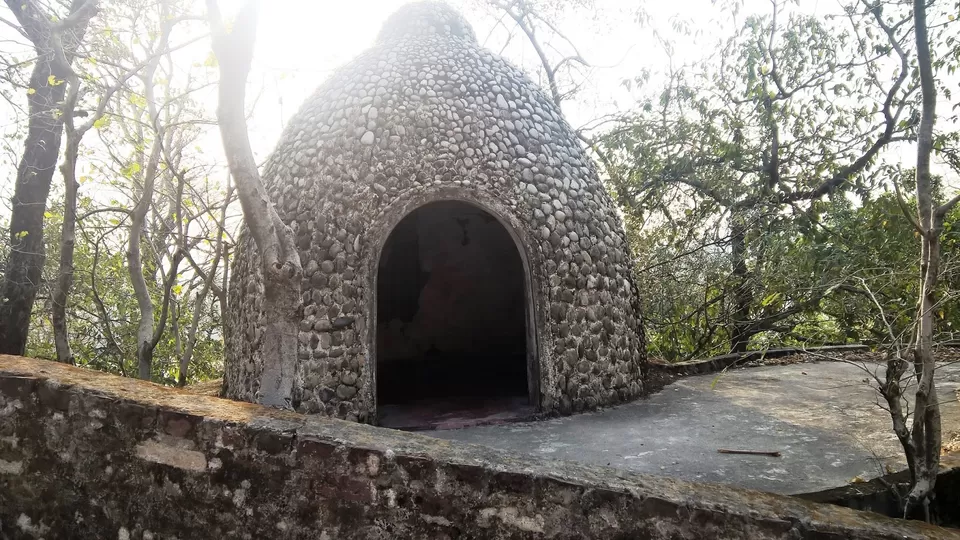 The place gave us goosebumps.On our way back, we spotted a quaint cafe where we stopped to have lime soda. The sign there promised that the cafe offered good food, music and 'good vibration'.
We had goosebumps, again!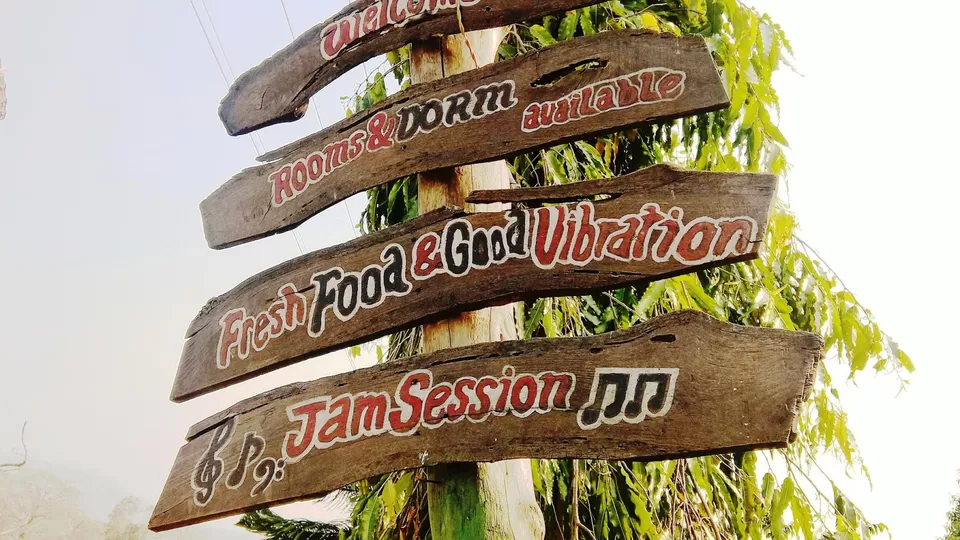 Rafting
Exhilarating experience, if you are looking for some goodly adrenaline rush. But please avoid this adventure if you don't know swimming, or have a fear of water.
The charge for river rafting is around INR 500-1500.
Time to head home:
The trip seemed to finish in a jiffy. Before we knew, it was time for us to pack our stuff and head back to Delhi.
Rishikesh, we realized, holds many surprises for agnostics like us. The majesty of the river mesmerizes. It has different meanings for different peoples—in some it arouses devotion, in others it appeals to a sense of beauty—each meaning is valid in its own right. As pilgrims we didn't make much progress, but as traveller we enjoyed every bit of the trip. To us, it was the cordiality of the local people, the soothing calm of the riverside cafes, and the excitement of rafting that made Rishikesh so special!
Tips:
Reaching Rishikesh
The best way to reach Rishikesh is to hop on a Uttarakhand Roadways volvo. It takes only 5 hours from Delhi to Rishikesh, and the journey is so comfortable that you will reach Rishikesh before you knew.
The ride costs INR 798 per person.
The volvos start from Kashmere Gate, New Delhi at convenient times:
The bus is fabulous, and offers free WiFi (yes, you heard me right).

Where to stay in Rishikesh
Once at Rishikesh, try to put up at the hotels around Laxman Jhula. The area has a cosmopolitan vibe and houses a host of riverside cafes, where you can enjoy good food and spend a blissful time.
My personal favourite is Hotel Ganesha Inn. The room tariff is pretty reasonable; the rooms are excellent, offering a splendid view of the river.
They arrange rafting trips for their guests; no need to look around for a reliable rafting troop.
The hotel staff is polite, always ready to help you with everything. As we had a late night bus to catch while coming back from Rishikesh, the manager personally took charge and arranged for an auto, so that we can reach the terminus, without worrying about our safety.
A word of caution: there are many home-stays in Rishikesh, promising "mountain view" and calmness, being away from the bustling city. Do not sign up for them!
We initially put up in one such place, which we had booked from Delhi. The place is literally far from the main centre, meaning that for only to feed yourself, you have to travel at least twice for 30 minutes to reach the main point which is Laxman Jhula. Now if you are spending only 2 days in a town, you surely wouldn't want to spend minimum 2 hours everyday going up and down a dusty road only to have your lunch and dinner!
Plus, the place we chose was right beside a garbage heap. Perhaps, by "mountain view", they meant view of the mountain of accumulated trash.
Just don't fall for the cozy pictures you get to see in their websites.
Where to eat in Rishikesh
Our vote goes for the 60s Cafe, popularly known as the Beatles Cafe. It has an outside sitting area, where you can spend quality time enjoying the river breeze. Their menu offers a combination of Indian, Chinese and continental food. Do try their Beatles Special Paratha.
Germany Bakery is another favourite of ours, fond of baked goodies as we are. Here you can gorge on yummy fruit pancakes, cheesecakes, heavenly fruit salads.
Check out more available options here:
http://www.euttaranchal.com/tourism/restaurants-cafes-in-rishikesh.php
Frequent Searches Leading To This Page:-
weekend trip from delhi, weekend holidays from delhi, weekend trip to rishikesh, 2 day trip to rishikesh, weekend holidays to rishikesh