It is in continuation of my last post 'A Road Trip in the Lap of Majestic Mountains (Binsar)'. We left Binsar for Chaukori in the morning after breakfast. Chaukori is 112 km from Binsar. As we reached a little further than halfway, we came at the confluence of Sarayu and Gomti in the Bageshwar district. The clear shallow water of the river was very inviting so we decided to step into the river. The cold water of the river was very refreshing. Spending about 1 hr on the riverbed, we headed for the nearby Baghnath temple. One has to walk down a narrow lane from the main road to reach the temple. KMVN's TRH at Bageshwar is also nearby this temple.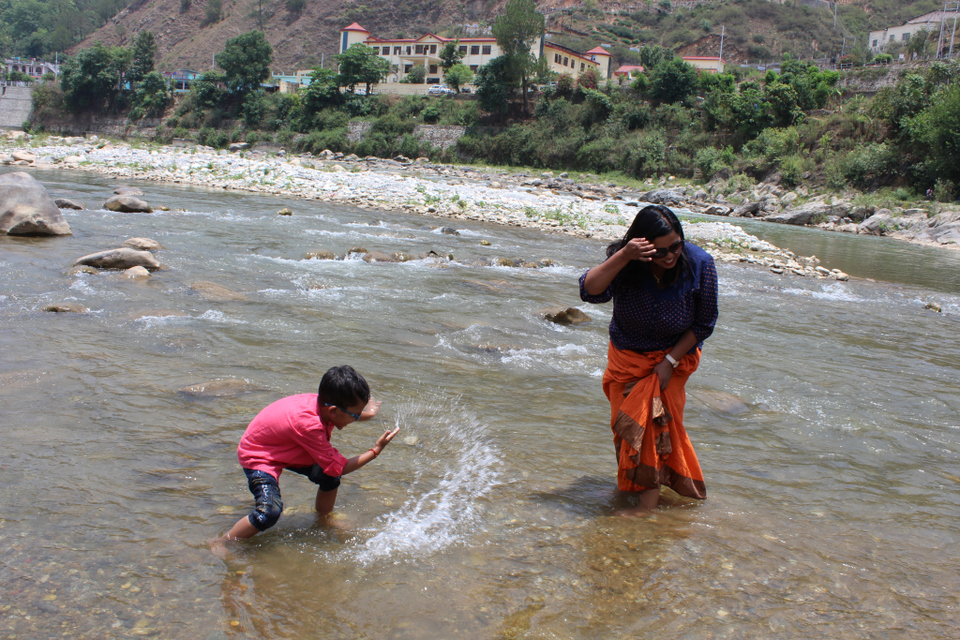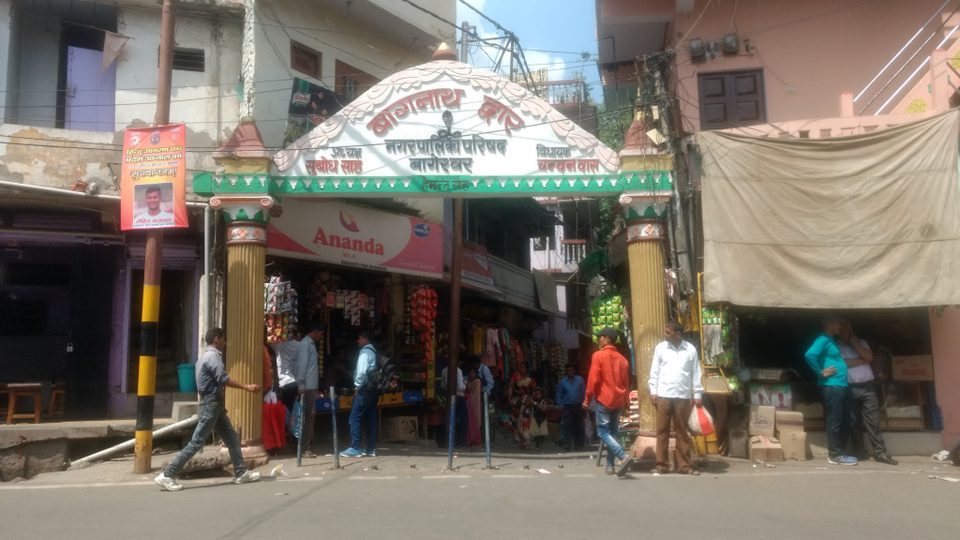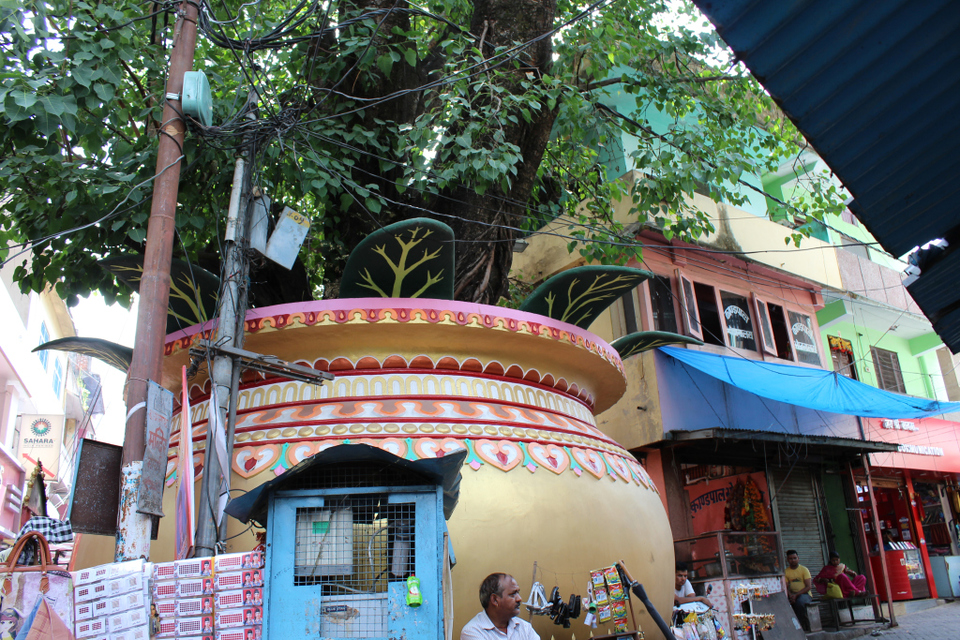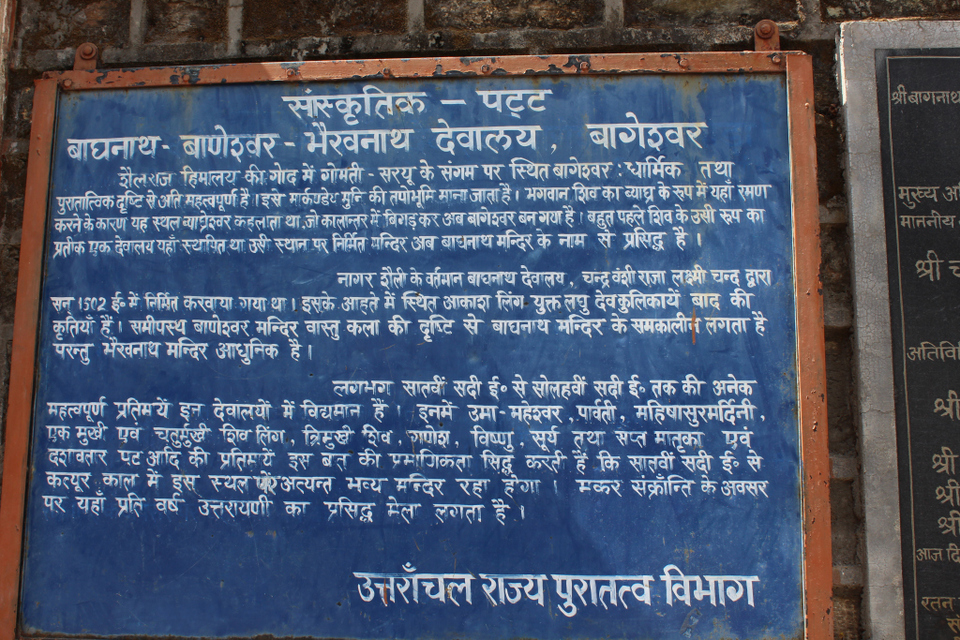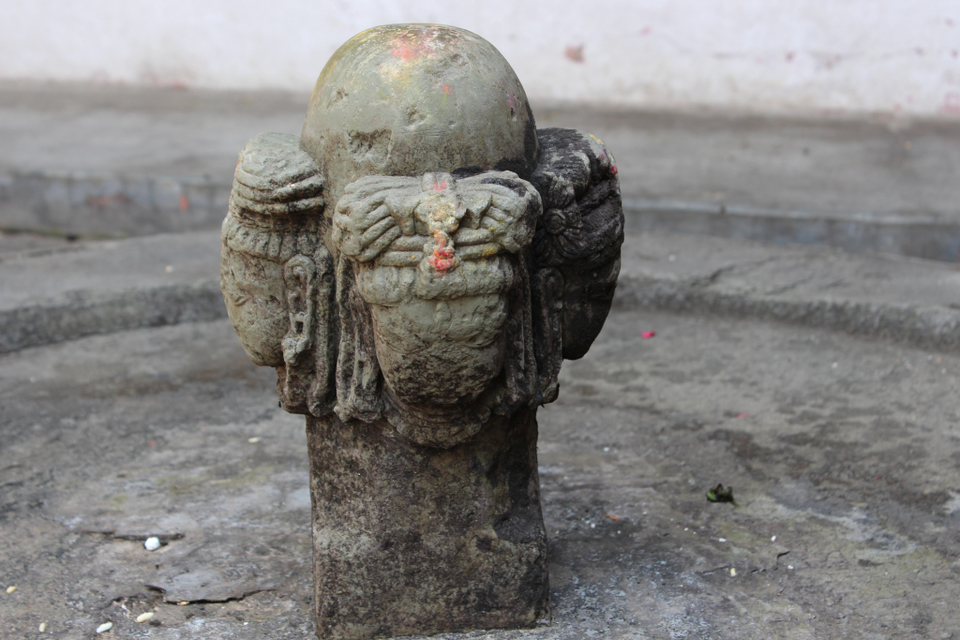 Baghnath Temple is an ancient temple constructed in 1450 by Kumaon ruler, Laxmi Chand, at the confluence of Gomti and Sarayu rivers. Lord Shiva is the main deity of the prime shrine. 17 more subsidiary shrines are there dedicated to various deities including Lord Kedareswar, Lakshmi-Narayan, and Brahmini Devi. According to Hindu mythology, Lord Shiva and Parvati got married at this place. It is said that Lord Shiva roamed here in the form of a tiger, thus giving the name 'Baghnath' to the temple and the city. Devotees throng the place on the occasion of Shivratri and each Monday of Hindi month 'Shrawan'.
There are many eating joints near the temple. We had our lunch at 'Tangaria Sweets and Restaurant'. An Indian sweet called 'Jalebi' is a must-try there. We started our journey after that and at around 5 p.m., we reached Chaukori.
How could I describe Chaukori? It is beyond all adjectives. It's like a dream. The clear blue sky with snow-white clouds sailing, the green forests of oak, pine, maple and birch, the colourful smile of known-unknown alpine flowers and above all, the Himalayan peaks including Nandadevi, Nandakot, Trishul, Panchachulli, stretched like a pristine white canvas in front of your eyes. It's a place to detox your body and the soul. Chaukori is a very beautiful bowl-shaped hamlet in the Pithoragarh district. It is set among the lofty peaks of the western Himalayan Range in the Kumaon Division of Uttarakhand at an elevation of 6590 ft.
There are not many hotels in Chaukori. We had booked our stay at KMVN's Tourist Rest House (TRH). The TRH Chaukori is in itself very beautiful but the USP of it is the views it offers. People who were not even staying in TRH used to come over there and spend some time clicking pictures. There is a watchtower, which was my favorite place during my stay. The first thing that I did after reaching there was to climb up the watchtower with my camera and binocular.
To witness the sunrise, we woke up very early on the next morning with our fingers crossed for a clear sky, so that we could capture those mesmerizing and colorful moments through our camera to cherish lifelong. The skyline was not as clear as we wished but visible till the far east. We were waiting...waiting and then the moment came! A ball of fire started coming up from the end of the horizon and started painting the sky with millions of colors.. yellow, orange, crimson, red, pink, and golden....!! and there were we.. standing at the watchtower, lost completely in the nature, mesmerized, without even blinking our eyes, watching such a wonderful painting on the canvas of the nature and listening to the melodious twittering of the birds.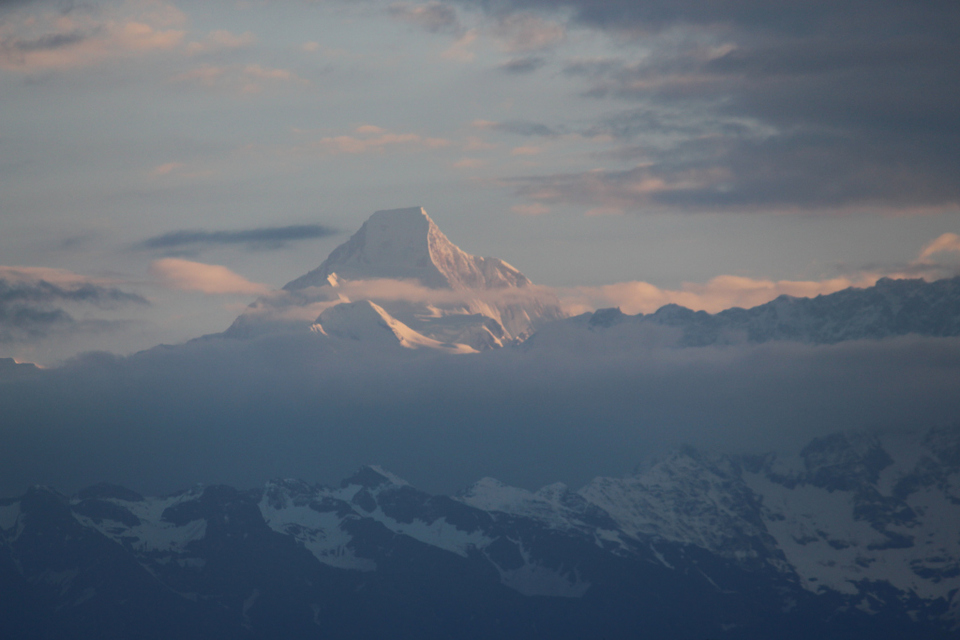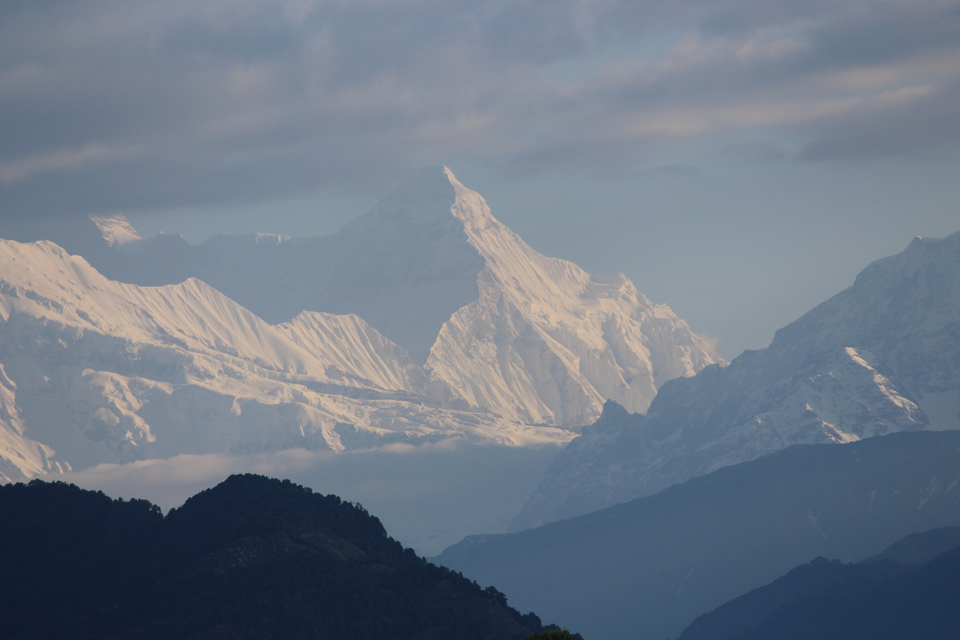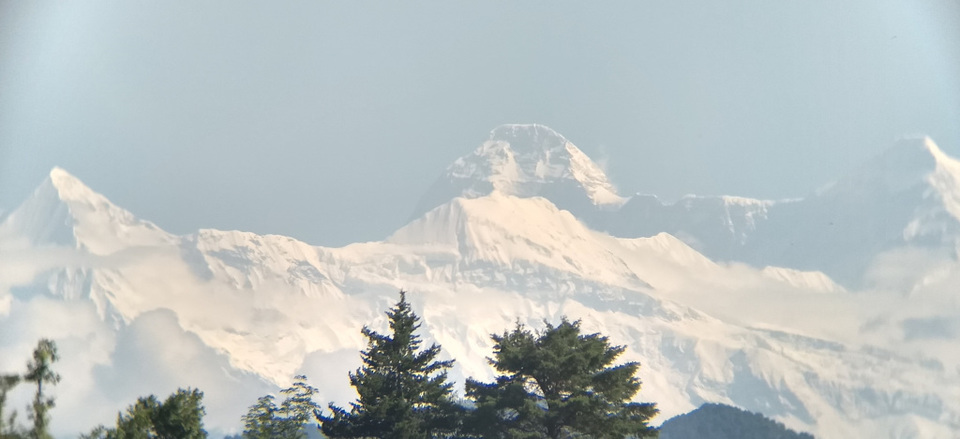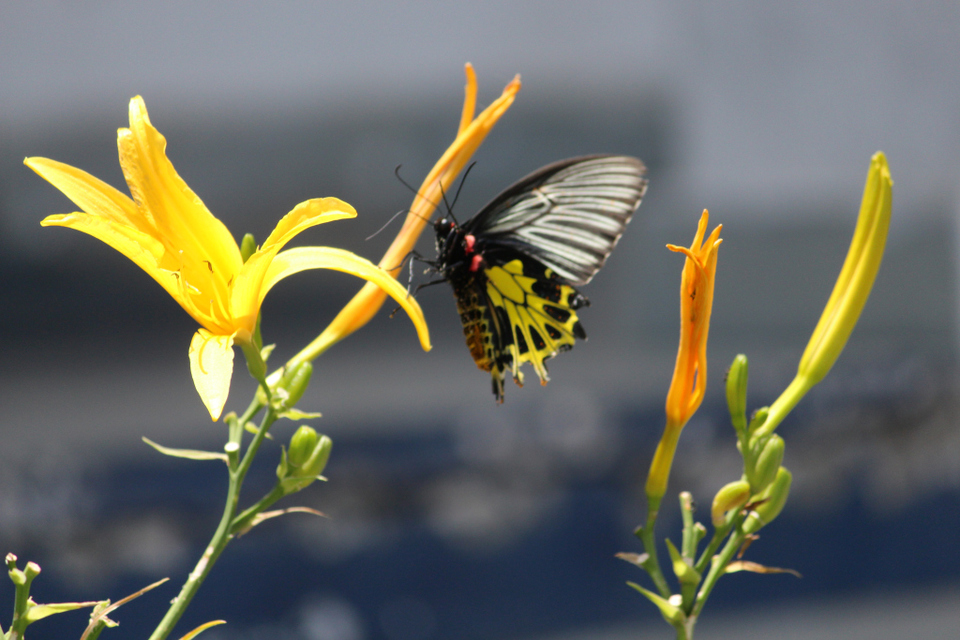 Near to TRH, there is a beautiful spot for the view of Himalayan range and that is the 'Hanging Rock'. This rock, projected outside of the hill, offers a picturesque view of the snow- laden peaks of Himalayas. To get there, walk with the boundary wall of TRH till you reach a police check post. From there, take a slight right and walk up the hill till you cross the mobile phone tower. Keep following the top of the mountain for about 800 mt. until there is a big clearing on the right, from there you should be able to see the rock. If you don't visit this site at Chaukori, especially at dusk you will be missing much. There is no indications/signboard. Also, the place remains very lonely, so it is better if you go in the group. You can also wander in a tea garden near the Ojaswi resort.
One of the most magnificent aspects of Chaukori is its sunrise and sunset. The mountain ranges seem much nearer as compared to Binsar. On a clear day, the entire range turns to golden at dusk. It is also known as the 'Golden Sunset'. Chaukori is covered with forests of oak, pine and rhododendron, and fruit orchards. It is an idyllic heaven for vacations. No shopping, no amusement parks, no traffic, no chaos, no schedules, nothing to do, just hold a cup of hot coffee, sip and relax and sublimate slowly into unadulterated nature. The amount of seclusion I got here, the uninterrupted photography, the pleasure I felt, is hard to explain. Chaukori is a place where I'd like to return again and again.
When to Go:
The best time to visit Chaukori is between March to June and then September to November. During these months, the temperature is pleasant, with October being a beautiful month to witness the different shades of the fall season.
Chaukori in summer remains quite pleasant with maximum temperature not beyond 25°C, while the minimum temperature is around 10°C that insure mild chilly nights. During March-April, the entire forest area turns scarlet red in hue due as the flower of Rhododendron blossoms. Also in late June, clouds start gathering, that might hinder your views.
The monsoon season is from July to September and during this time most of the activities are suspended as the region receives heavy rainfall. Travelling in monsoons is always a concern because the entire region is prone to landslides and cloudbursts. Although it is on NH 309 still it is advisable to enquire with local authorities about weather and road conditions before travelling to hill regions.
In the months of October and November, the conditions are pleasant and temperature remains low. Winters are extremely cold as the mercury sometimes dips below freezing point. Chaukori receives enough snowfall. So before planning in winters confirm about the state of roads. This time is favourable for honeymoon couples. Heavy woollens are needed in these months.
How to Reach:
By Air: The nearest airport is Pant Nagar, which is 228 km from Chaukori. From there you have to travel by road.
By Road: You can hire either a taxi from Kathgodam/Haldwani/Pant Nagar to Chaukori itself or take public transport up-to Almora or Kausani and then take taxi to Chaukori.
By Train: Kathgodam is the nearest railway station which is 194 km away. From there you have to travel by road.
Where to Stay:
Chaukori is a small hamlet. Only few options are available here. The hotels situated there are might be full, especially during peak season in summers and October (referred as Bengali Season, as Bengalis throng to Kumaon mountains during Durga Puja). If it is possible, book your accommodation in advance. KMVN's Tourist Rest House, Ojaswi Resort and few other options are only available.
Where and What to Eat:
Not much options are available outside your hotel. You can check for some local cuisines on some road side shops.