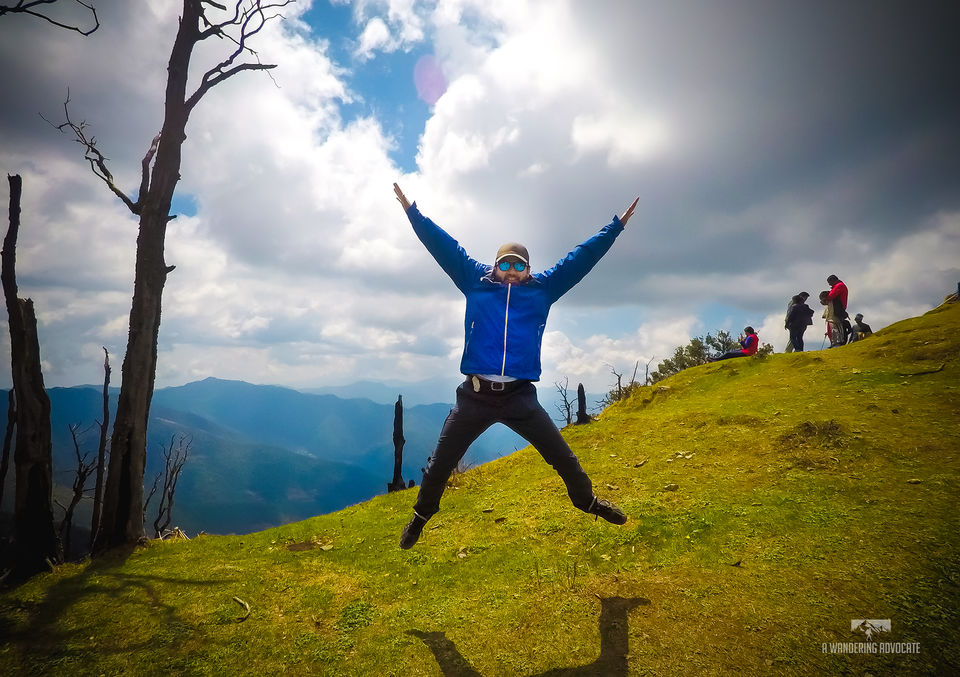 Nag Tibba is the nearest trek which can be covered by any fit person in 3 nights & 2 days and is located at an altitude of approximately 3000 m. Further, upon reaching there, you will get to witness majestic view making this place a heaven for adventure and photography lovers (me included). Once you reach to the peak you will get a panorama of BANDARPOONCH PEAK, GANGOTRI PEAK, KEDARNATH PEAK, DOON VALLEY and THE PEAK OF CHANGABANG.
Brief Itinerary
Day 1: Overnight journey via bus from Delhi to Dehradun;
Day 2: Dehradun to Pantwari Village, Tehri Garwal via Tempo Traveller/Bus. Hereon, begins the trek to Base Camp, Jaunpur and stay overnight;
Day 3: Trek to Nag Tibba Summit and same day trek down to Pantwari Village to catch a bus to Dehradun. Catch a bus from Dehradun for an overnight journey to Delhi.
Things to Carry
A sturdy trekking bag to carry all your stuff while trekking. Camera, if you are into photography or loves to store travel memories. Dry fruits, chocolates etc. to keep you charged. Water bottle to carry water while trekking. Trekking shoes. Believe it or not, good trekking shoes are must, they will help you to retain your grip while climbing to steep and slippery mountains. First aid kit that includes bandages, combiflame, paracetamol, moov/iodex, vominos (if you get motion sickness or vertigo), glucose, etc.Cost
It would cost you around INR 5000 to 5500 per person, depending on the mode of travel you opt for your journey from Delhi - Dehradun - Delhi.
My Journey
I was looking for a place to traverse a long weekend (Good Friday week). After studying a few options, I came across a place called "Nag Tibba Summit", it was a trek starting from Pantwari village and would take at least 2 days to complete. After reading and having a look at some amazing pictures over the internet, I made my mind to visit this place during this long weekend.
The next thing to do was to book it from a good travel agent so that you can have peace of mind before getting into the woods. Travel agents basically provide you all basic amenities required to survive in the forest like food, tent, sleeping bags, etc., and also support in case of any emergency. Moreover, they are familiar with the locals and know about surroundings. Hence, it is advisable to book with a good travel agent or at least book a guide who will help you in cooking food, set up the tent and also, help you with the routes. I booked this trek from Himalaya Shelter. Moreover, Himalaya Shelter is quite renowned for their services and everything else was included in the package like pick and drop from Dehradun, food, tent, sleeping bag, and a guide. It was a steal deal for me as it cost me around INR 3500, from pick up and drop from Dehradun bus stand. Now, the next thing was to book a bus which will take me from Delhi to Dehradun. You can easily book a bus from various applications available like Paytm (not recommended), Google Pay, Mobikwik, Redbus, etc. I booked mine from Redbus.
I was supposed to leave on Thursday night hence, packed my bag and was ready to leave the rush and chaos behind for three days. I left from my place at around 8 PM to catch my bus from Majnu Ka Tila scheduled for 10 PM. I was informed by bus owner that I have to reach there by 9:55 PM because they will start at 10 PM exactly and will not be waiting for anyone after that, even though I didn't believe them but to be on the safer side, I reached the location at around 9:55 PM. The bus left at 10 PM sharp (It was surprising to note that private bus owners are adhering to the timeline provided but happy to know that competition actually making them better). It took me around 6 ½ hours to reach Dehradun bus stand, I reached there at 4:30 in the morning.
Once I reached Dehradun I was wondering how to spend next 3 hours because as per the itinerary the people from Himalaya Shelter would only be coming to pick me up at 7:30 AM. Since I got nothing to do and it was so chilly in the morning, I had some tea and matthi (an Indian snack to have with tea) to be in my senses ☺. Realizing that it will take hell lot of time to catch the next bus from Dehradun to Pantwari village, I moved inside the bus station where I sat and waited. At 7:30 AM sharp, I received a call from Mr. Rishabh Bhandari from Himalaya Shelter that they were here to pick me along with other fellow trekkers. I introduced myself, got along and boarded the tempo travelers, we had 85km ahead of us to complete which we were supposed to cover in 4hrs. After completing some 40/45 km we stopped for the breakfast (this was not included in the package, we had to buy for ourselves), we stopped there for good 30 to 40 minutes and then resumed our journey to the Pantwari village.
So finally at around 12:30 PM, we reached to the destination i.e. from where we had to begin our trek to Nag Tibba Summit. We had a quick refreshment, we met our guide for the trek Mr. Raghav who was there to guide us with the way to the Nag Tibba. We began our trek after a short briefing that we will not be taking too many halts during our trek and will only be getting only 4 water points in the way so spend water wisely.
After trekking a while, gravel trail ended and I entered into the forest and that was the place from where you can actually feel the beauty of the nature surrounding you. I couldn't resist myself, I took out my camera to click some landscapes. But since I was trekking with a group, I had to match my pace with the others so as not to leave behind and get lost.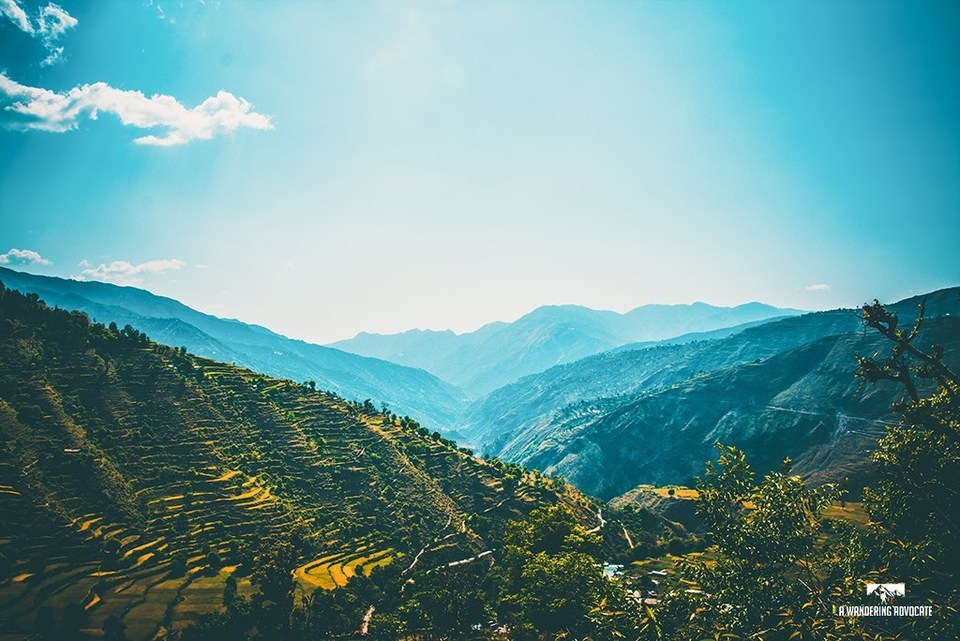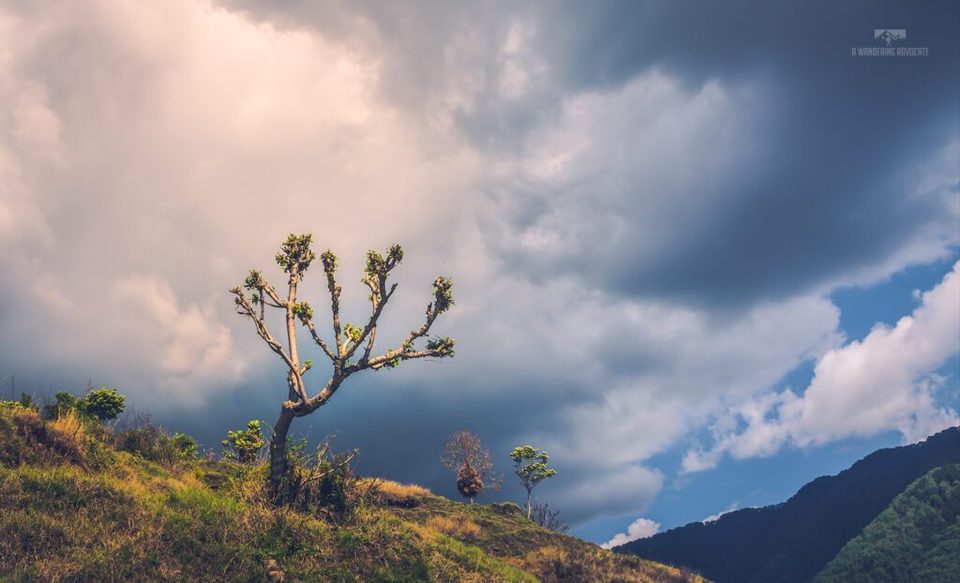 During the hike, I came across several mud huts with some weird roofs made of stones trimmed to plain tiles and also came across a decomposed body of blue bull (nilgai) eaten half by the wildings. The scene was not pleasant for the eyes seeing the rotten body of an animal eaten partially by the wild animals. Believe me, if I would have been alone there, it would have scared the shit outta me knowing that I am among the wildings who can eat anything for their survival, including me (just kidding ☺). I couldn't stay for long there because of the miasma created by the decomposed body.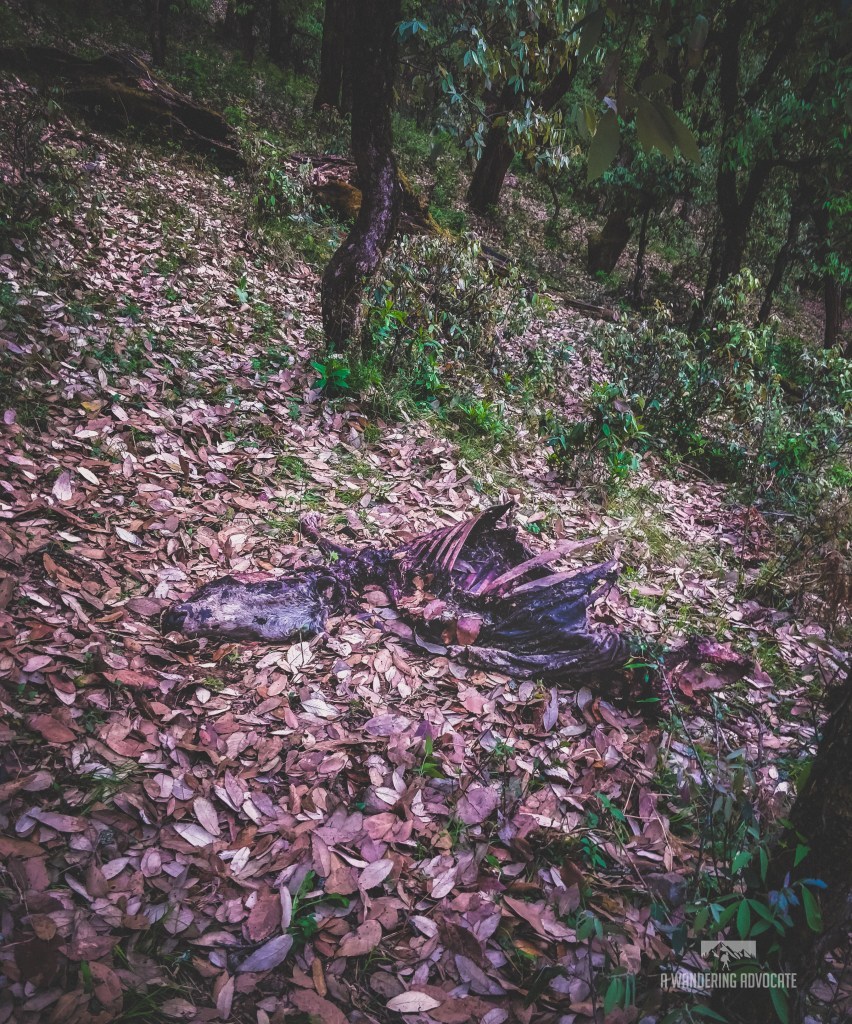 Finally, after quite a struggle and some weird experiences, I reached the base camp at around 6:30 in the evening along with fellow trekkers who were following me throughout the trek. The moment I reached there I was astonished to see that place, green meadows, a pleasant sunset and a lot of mountains all around you; that panorama left me ineffable. We relaxed for a while since, I was starving I had some snacks (tea with vegetable pakoras, an Indian snack) with tea provided by Himalaya Shelter. Simple food also becomes exotic when provided in a remote area. Thereafter, I simply sat there and watched the sun go behind the mountains. It was a great day, we sat before the bonfire, had our dinner and called it a night.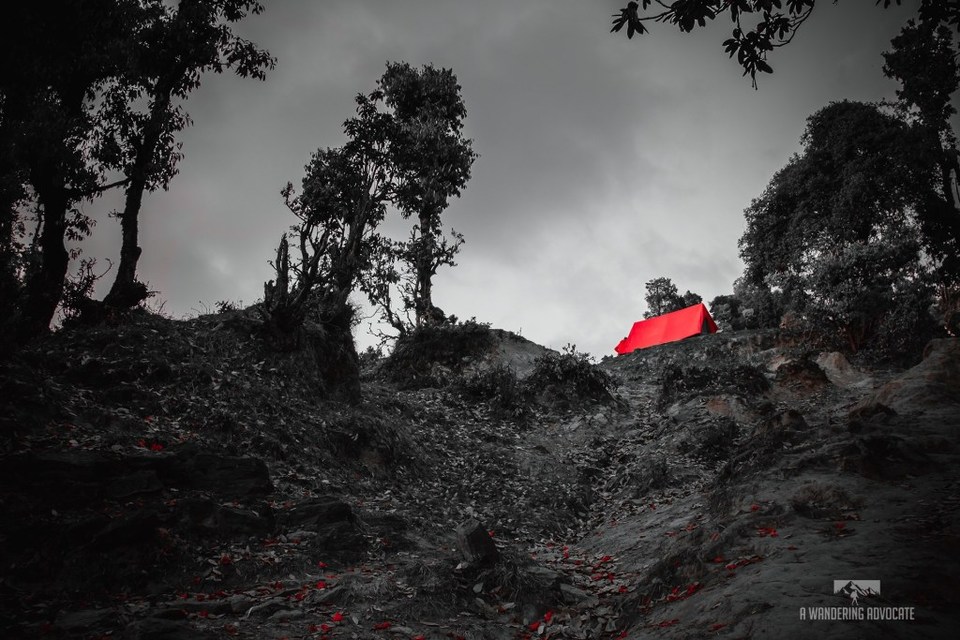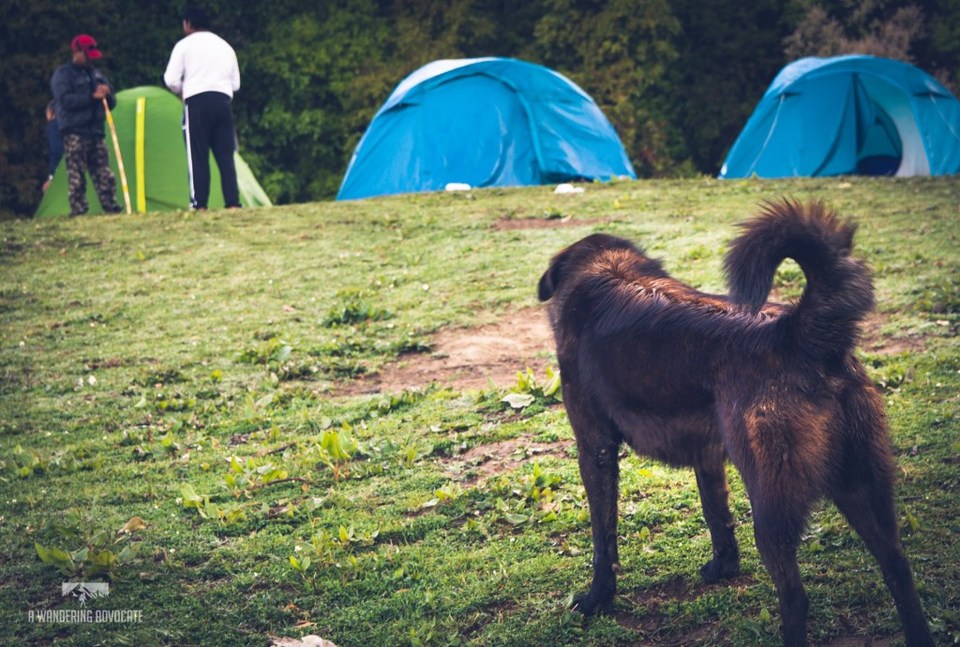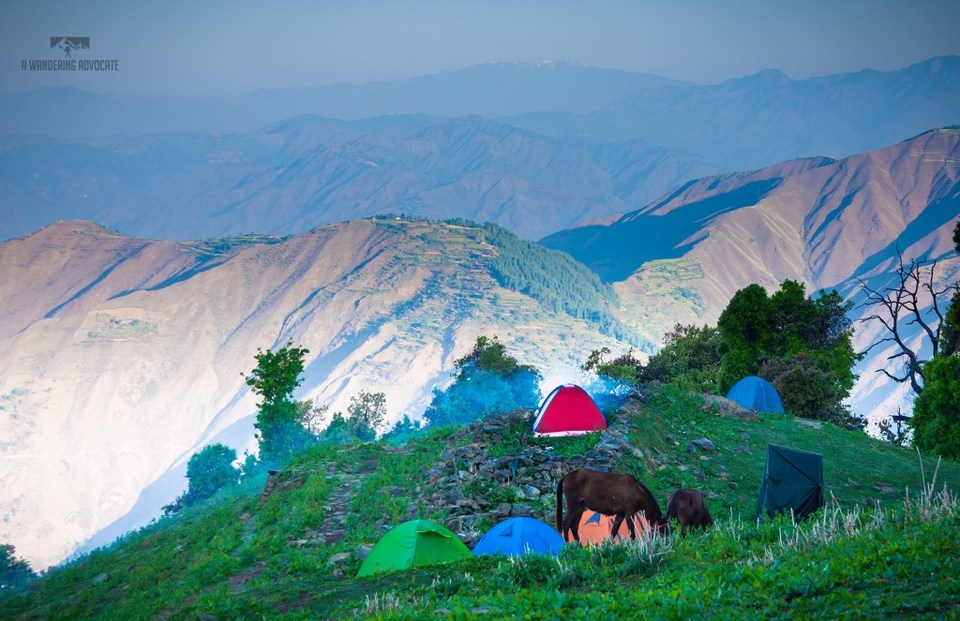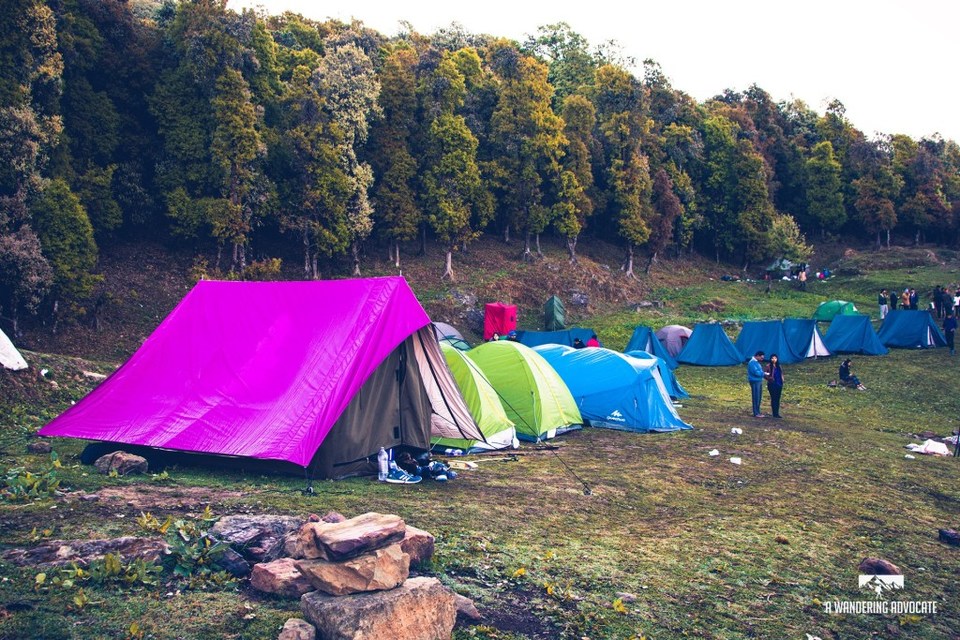 Next morning, I woke up listening to the birds chirping and chilly waves. That was something which cannot be described in words and neither the photographs can do the justice. The temperature there was somewhere around 2/4 degree Celsius. Believe it or not that for me was surreal, mountains covered with clouds and fog, chilly waves going under your skin, it was an experience worth visiting Nag Tibba. After cherishing the view of long ranges of beautiful mountains, I had my breakfast and left for the Nag Tibba peak. We had to leave early in the morning because we need to complete at around 16KM trek (5km to Nag Tibba peak and 11km back to Pantwari village) in a single day.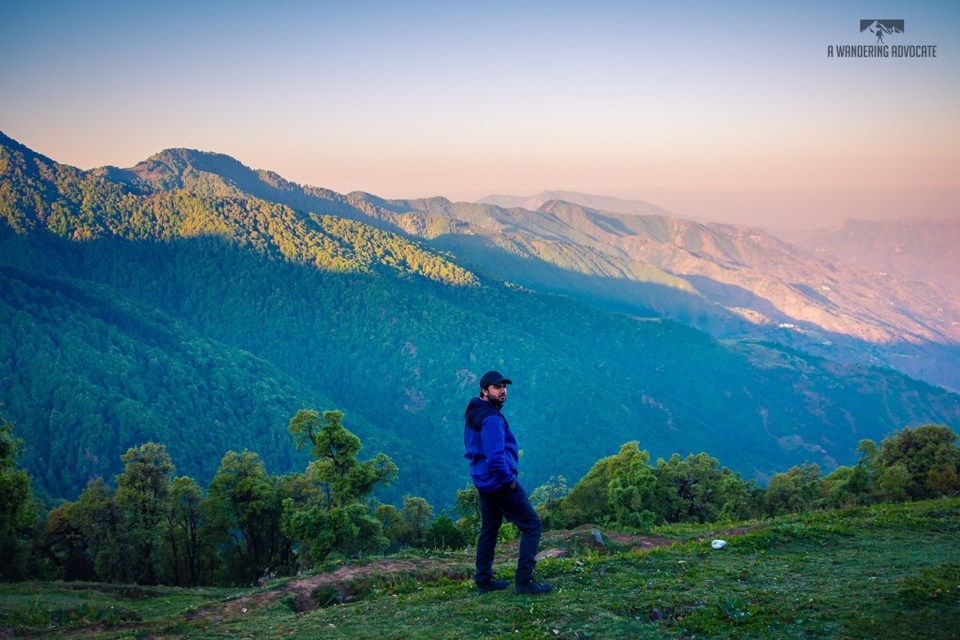 We left at around 7 AM for the trek from the base camp. In the beginning, the trek was easy through the dense forest but as soon as we were reaching near to destination, it was becoming more and more difficult. A piece of advice from me, always trek in groups because if you're trekking alone then chances are high that you will be lost in the woods as there are not definite trails to the Nag Tibba Summit. You will find many ways there, some of them take you to the villages and some to the forest.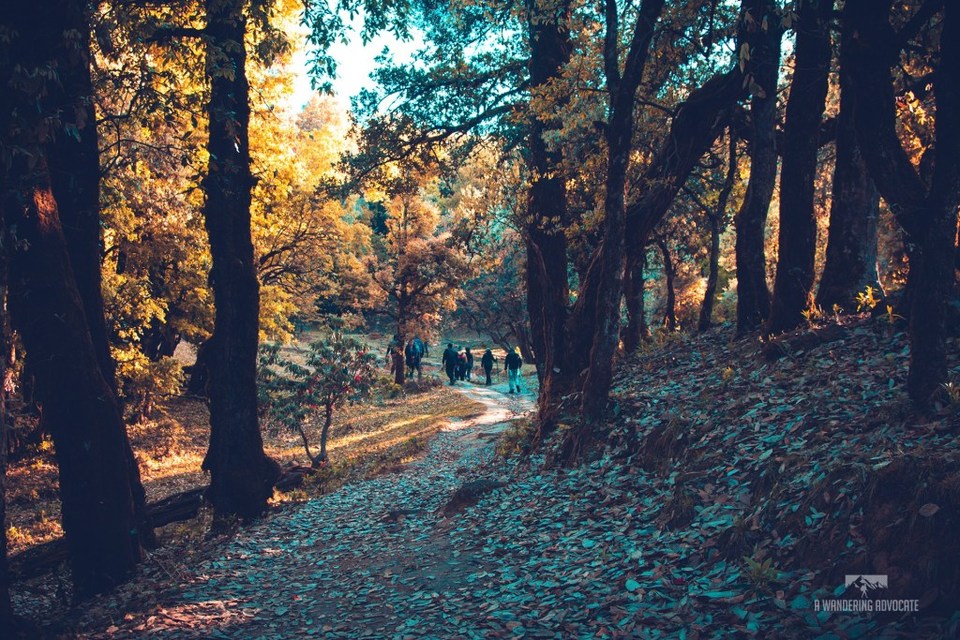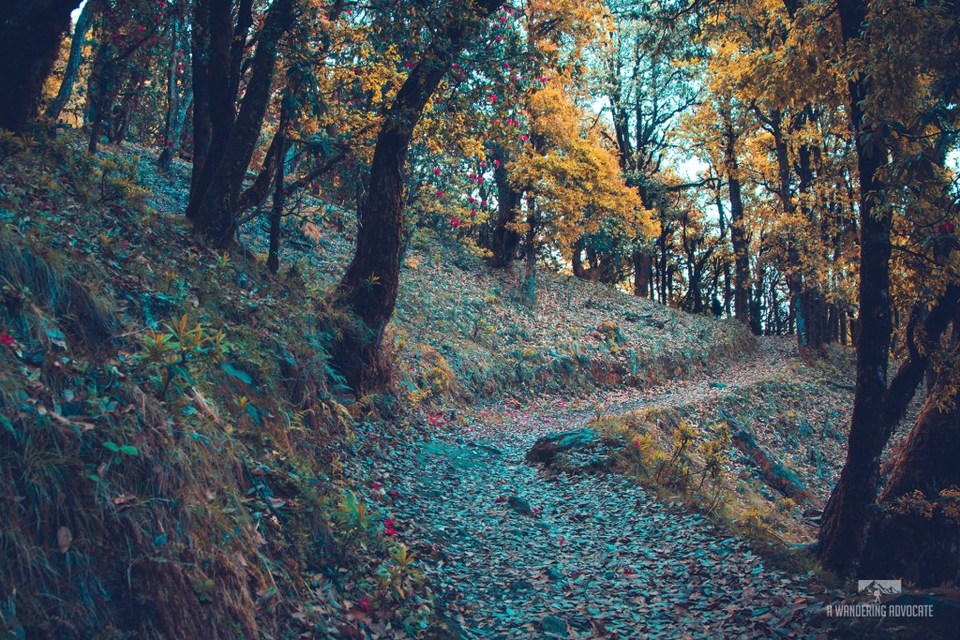 After a tiring trek, I made it to the peak and the view that I witnessed that was astonishing. Seeing entire Tehri Garhwal from the peak is something out of this world. Upon reaching there you will see a longer range of mountains there, pine trees, blue sky covered with clouds and a lot of greenery around you. You can relax there depending how much time you have on your plate to relax. I sat there for around an hour keeping myself busy in clicking photos and gazing the beauty of the place. I, inside my mind, had made a promise to myself that I will be visiting Nag Tibba again but in winter this time. That place was such a beauty.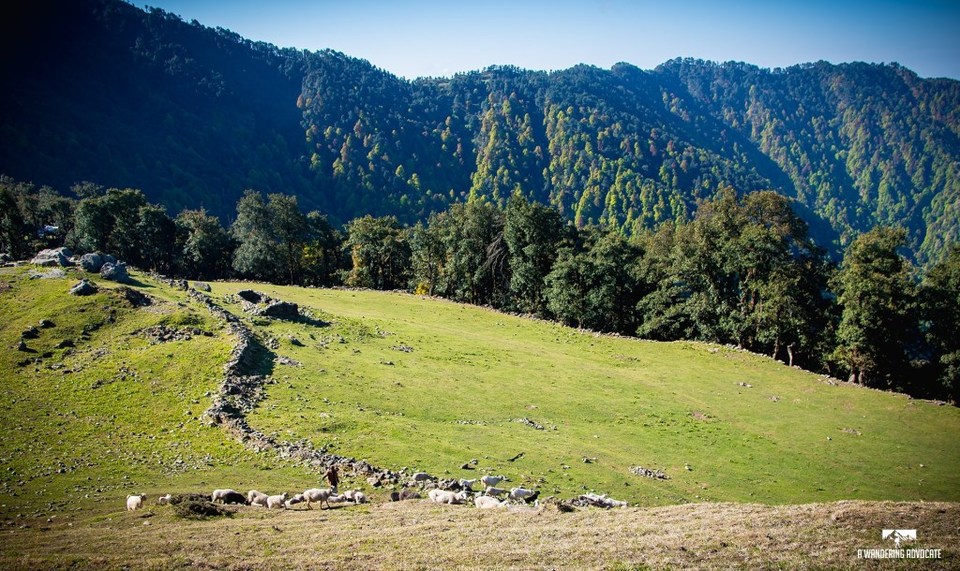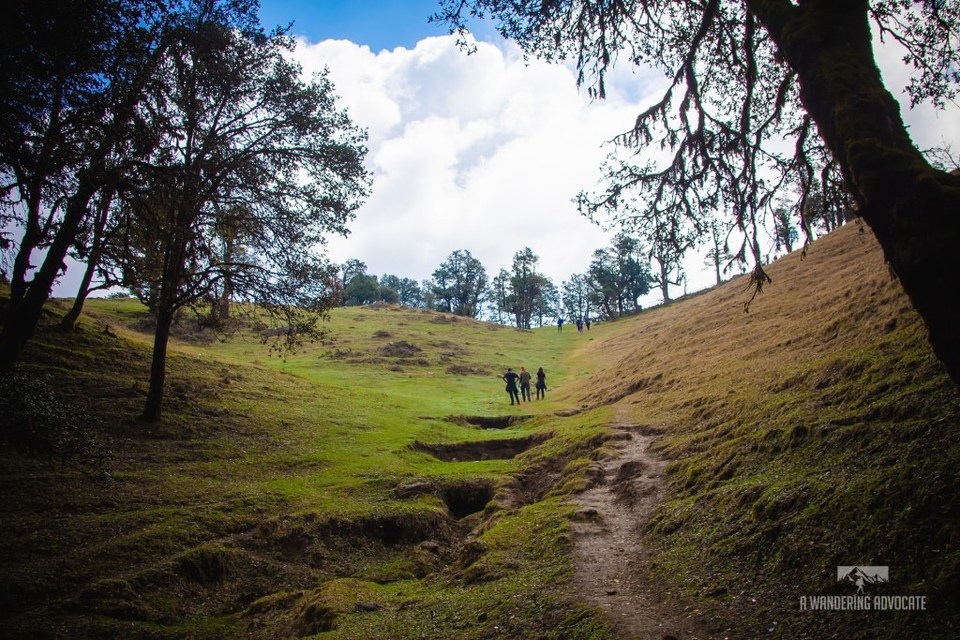 I trek down to Base camp, even though, could've sat there the entire day but couldn't as I had to get back to the same busy schedule lined up for the next day. I reached base camp at around 12:30 in the afternoon, had my lunch and continued my trek down to the base camp. I reached to Pantwari at around 5:30 PM i.e. after 4 ½ hours of trekking. Coming back from the height is not as difficult as it is going up but it was tiring.
As soon as I reached Pantwari, I waited for my Tempo Traveller which would drop me to the Dehradun Bus Stand. It came at around 6:30 PM and left from there at around 6:45 PM. We reached to Dehradun Bus Stand at 10 PM. Boarded my bus to Delhi and reached Delhi early in the morning at 6:30 in the morning. I never expected this whole long weekend would be so enjoyable and adventurous that I would never get tired speaking about it.
"Hiking is a bit like life: The journey only requires you to put one foot in front of the other and repeat...again and again and again. And if you allow yourself. the opportunity to be present throughout the entirety of the trek, you will witness beauty every step on the way, not just at the summit"
Read more on my website: