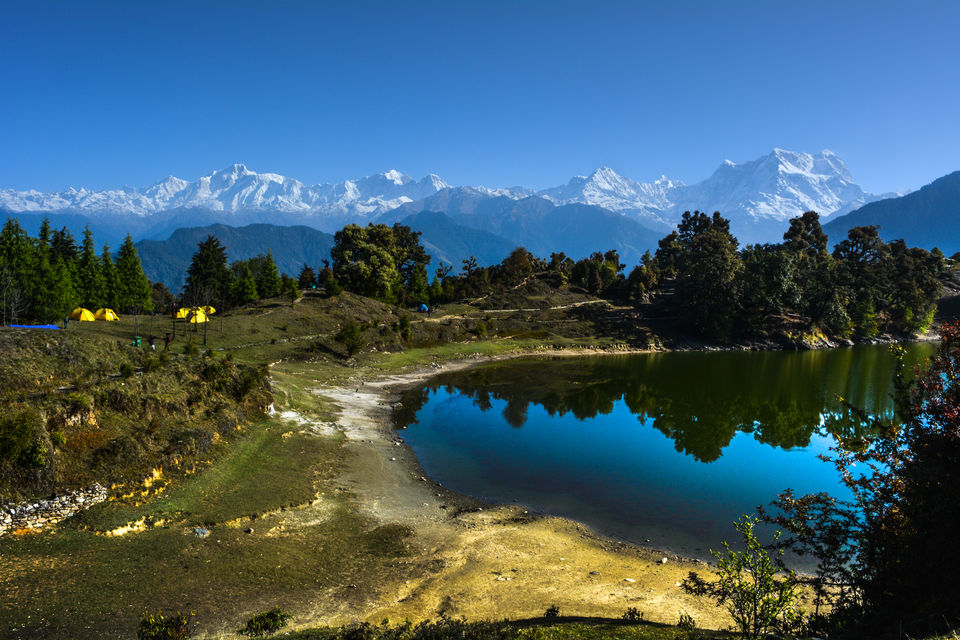 Tungnath, a place which has a hold over me.
I had completed this trek in August of 2016 with my good friend Gaurav. However, silently I had made a promise to myself of returning back here someday.
And so I did, in the Spring of 2018. Around the mid of April I planned a weekend getaway with my friend. She'd never trekked/camped ever in her life & so I thought of introducing the mountains to her with an easy and isolated trek. Hence Chandrashila trek, served both purposes here. To reunite myself with the mountains and to introduce another soul & ignite the love for mountains.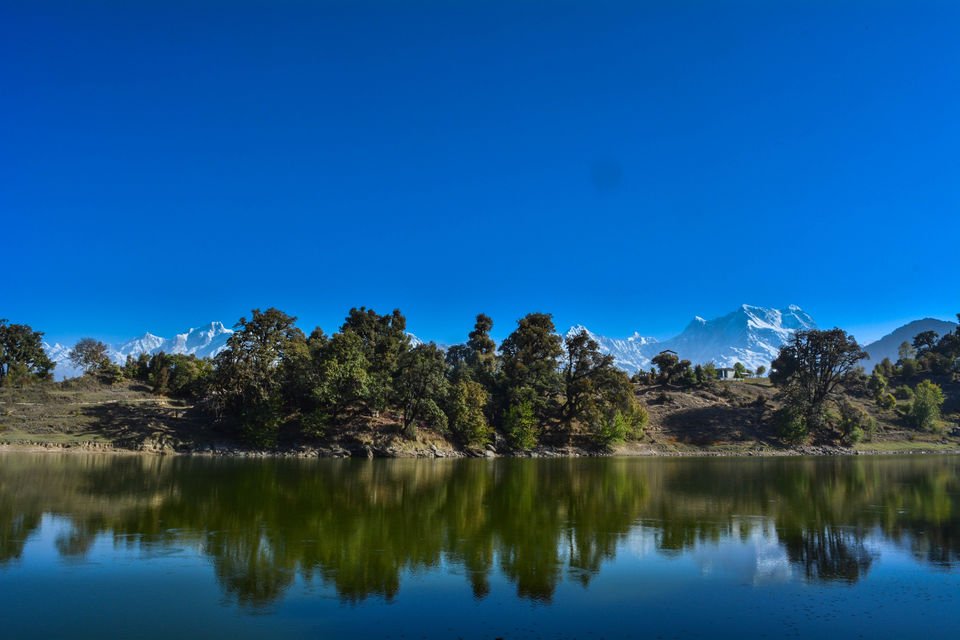 We reached Kashmiri Gate ISBT and planned to catch a bus from here till Rishikesh. The mango people we were, we hopped on to the next available inter-city bus. It was crowded but we got seats.
Cost from Delhi to Rishikesh: Rs 275/- (per head).
Upon reaching Rishikesh, our driver picked us up from the bus stand. I had booked the taxi from GozoCabs. A cab company of whom I'd heard good reviews. They didn't charge for the round-trip as well, leaving us more flexibility to plan the trip.
Rishikesh to Sari: Approx Rs 3000 /-
I had plans to capture the confluence of Alaknanda and Bhagirathi rivers, forming the holy Ganga at Devprayag & hence had informed the driver beforehand to stop at the right place in case I slept during the journey. But my excitement kept me awake.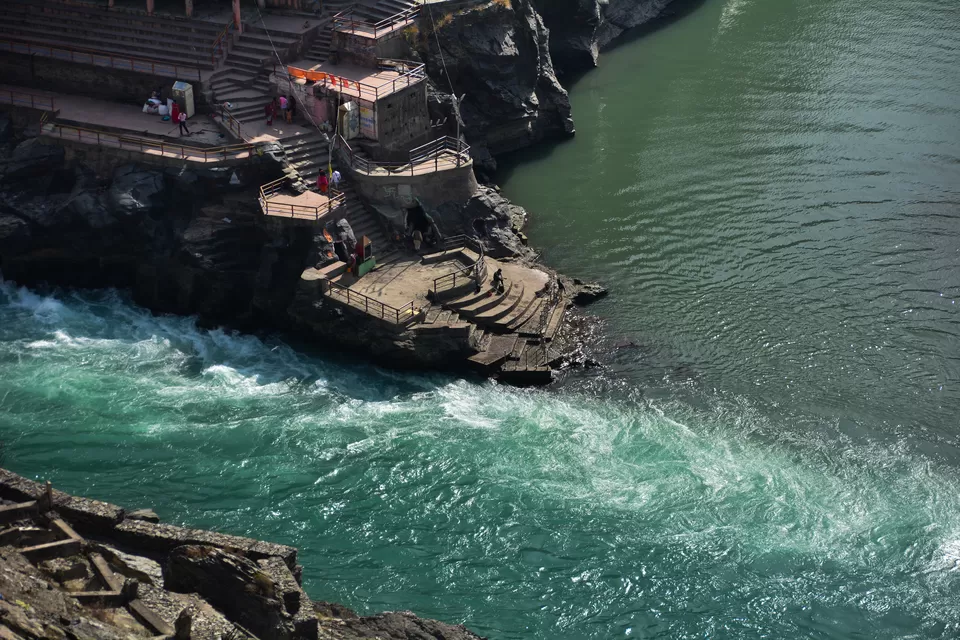 We progressed till Sari, a quiet village. I had no plans of halting here as I felt no sign of fatigue. One of my connections from facebook, had contacted one of his connections at Sari village and arranged a place for us to sort ourselves.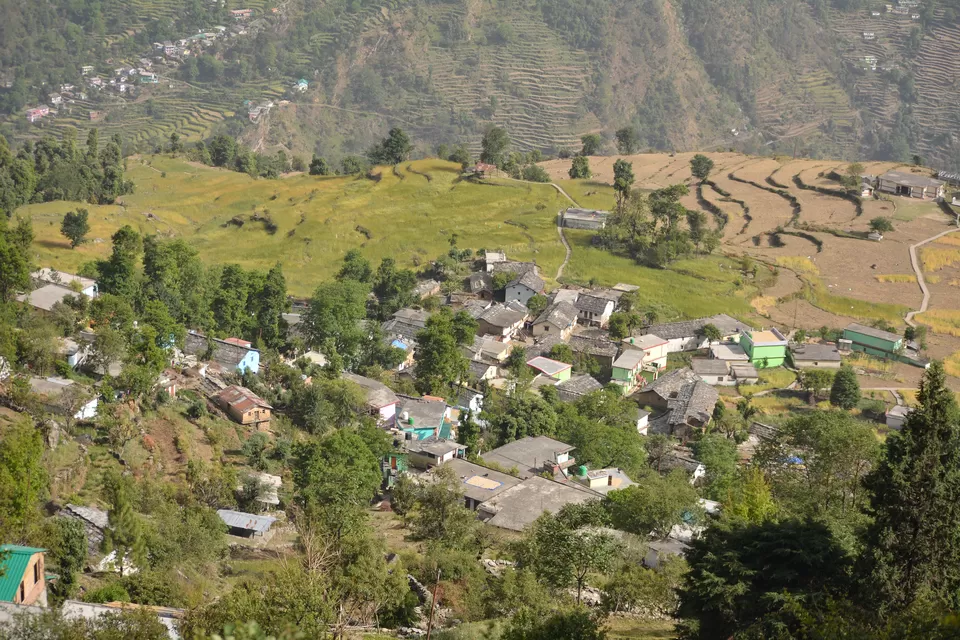 My main purpose was to hire a porter and these mountain people arranged one for me. Little did I know, he was a school kid. I almost felt bad. We had 2 rucksacks and a 5 KG tent (Arpenaz 3XL). I offloaded one rucksack and the tent to him and trekked with the other and the camera bag on me for the rest of the journey.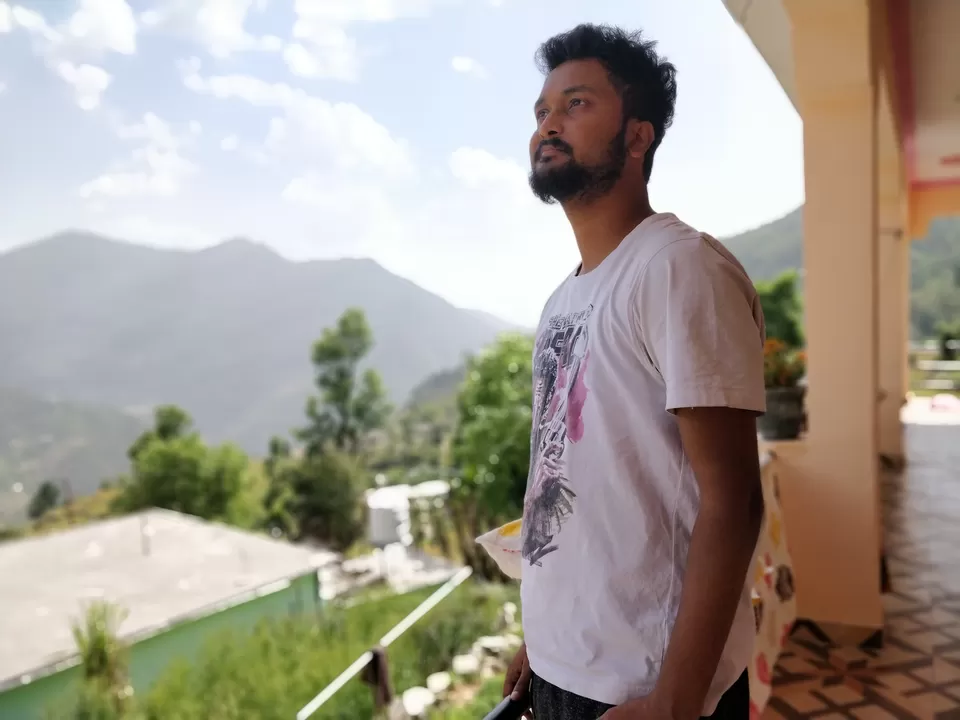 The last time I was in this region, I went to Chopta and retreated after completing Chandrashila. I had missed out on Deoriatal (A lake) due to time constraints.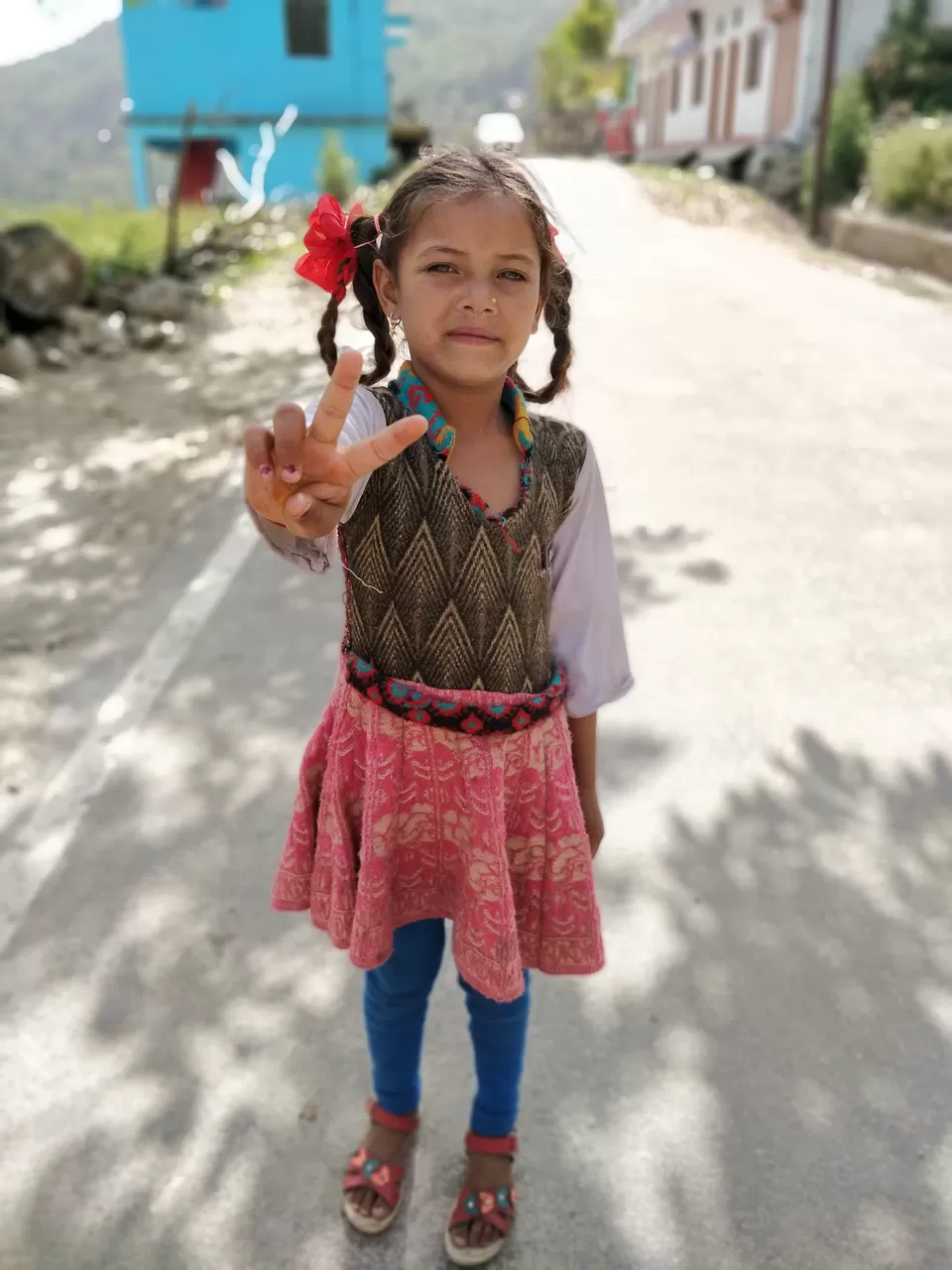 After a light lunch, my friend and I set off with the porter towards Deoriataal. A short 3 KM hike from Sari village.
I had no prior experience of photography but had arranged a Nikon D5200 to practice on this trek. Over the years, everyone remarked I needed to step up my game, as I did some good candid photography via my phone. And it was time I needed to shoot from a proper camera. And so I succumbed to their requests.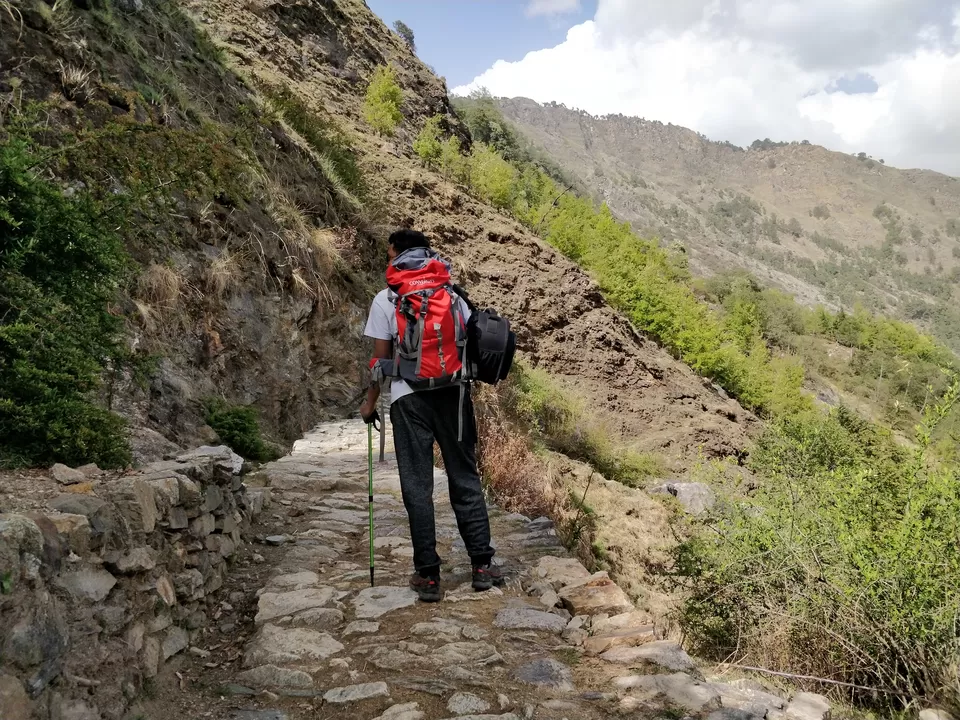 I told the porter to inform me if he spotted any bird along the way and he did.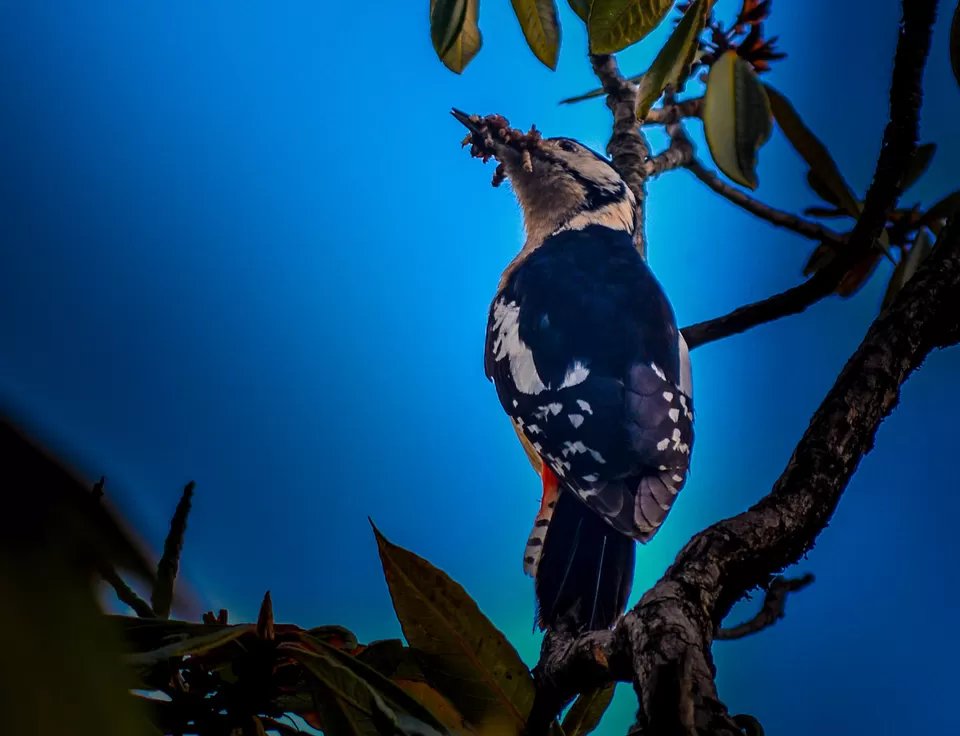 A gray capped pigmy woodpecker was one of my first shots I was a little proud of! Finally a photo for which I wouldn't have to give credits to someone else I thought :D
In about 3 hours or by 5 PM we reached the lake. A few other camper's were present but it was pretty much isolated. I was glad to find the pristine lake devoid of human chaos. I only wished it to remain this way. There were a few shops along the trail from where one could arrange for food or shelter (tents) at reasonable rate.
Cost of Tent: Rs 500-800/- depending on the size
Cost of Sleeping bag - Rs 100-300/- depending on the material
As daylight hadn't vanished we captured a few shots.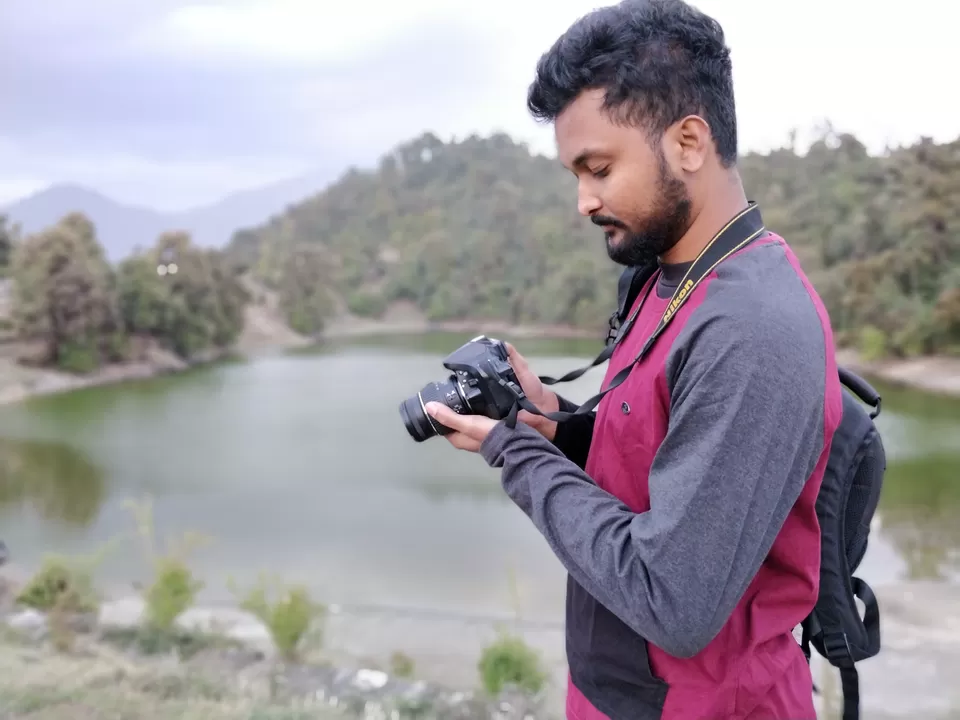 We already had a tent and one sleeping bag and hence procured an additional sleeping bag only. A child like excitement consumed me as we began to pitch our little home in the mountains together. Two people came to help us out as well.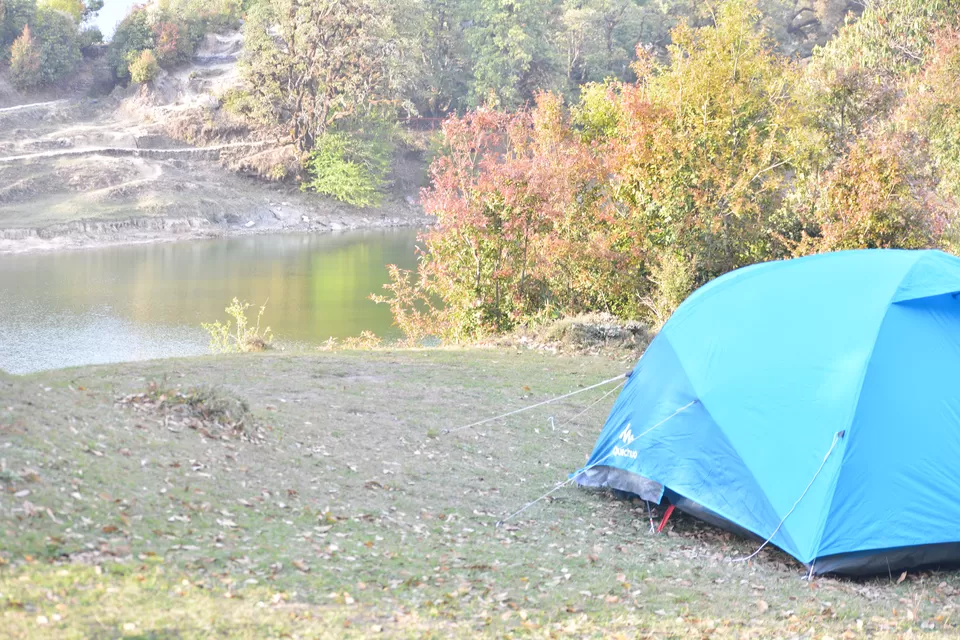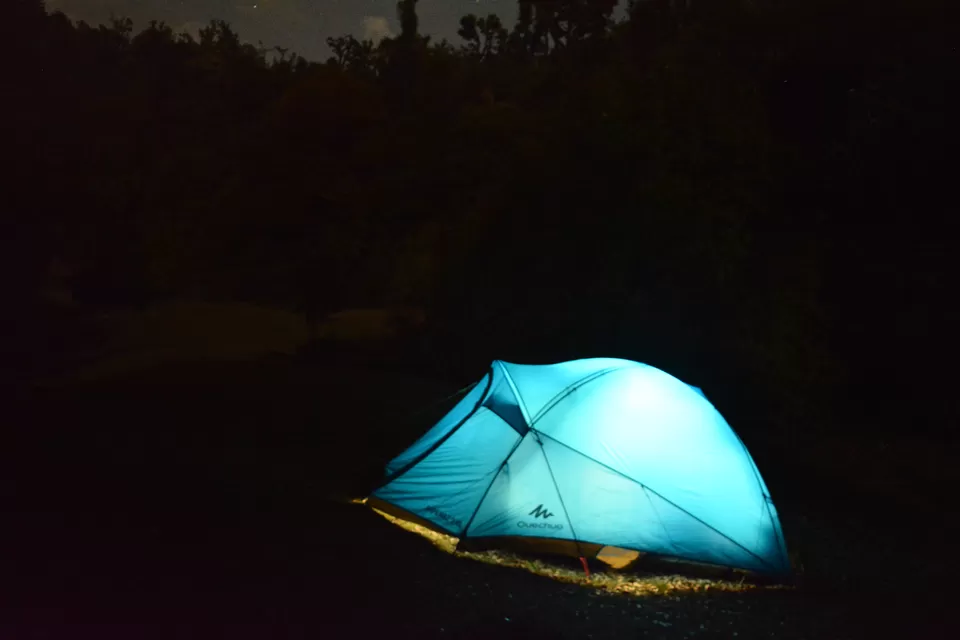 Camping under the stars has been such a peaceful feeling as of late for me. A therapy. A getaway from the madness we face in the cities. I felt I belonged here.
I tried my luck with a bit of astral photography but the results were so disappointing I was almost demoralized for a while. But then, I was never trained on a DSLR. This concluded the 1st night.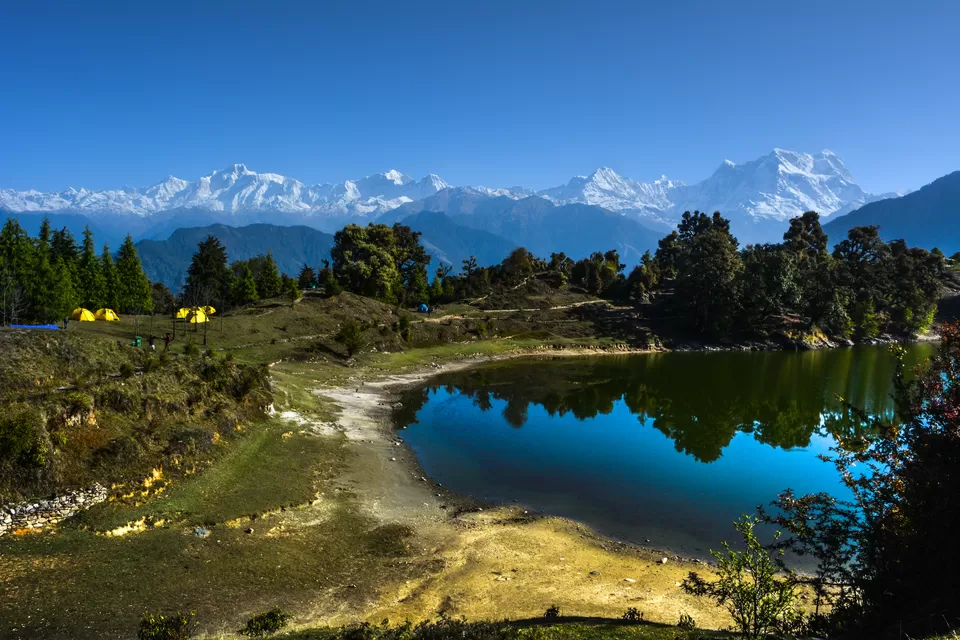 Mighty Mt Chaukhamba (7,138 mts) visible towards the right in the backdrop.Our porter, as scheduled, arrived at 8 AM the next day.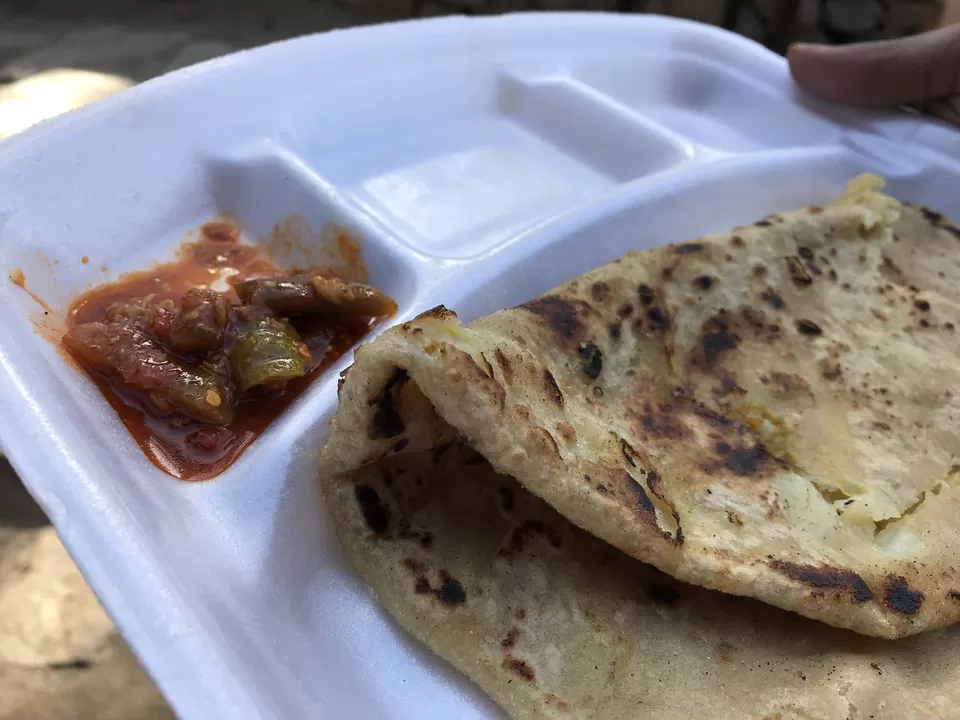 We had a mild breakfast, packed chocolates and energy drinks for the 12 KM hike from Deoriatal to Chopta.
It was going to test us brutally!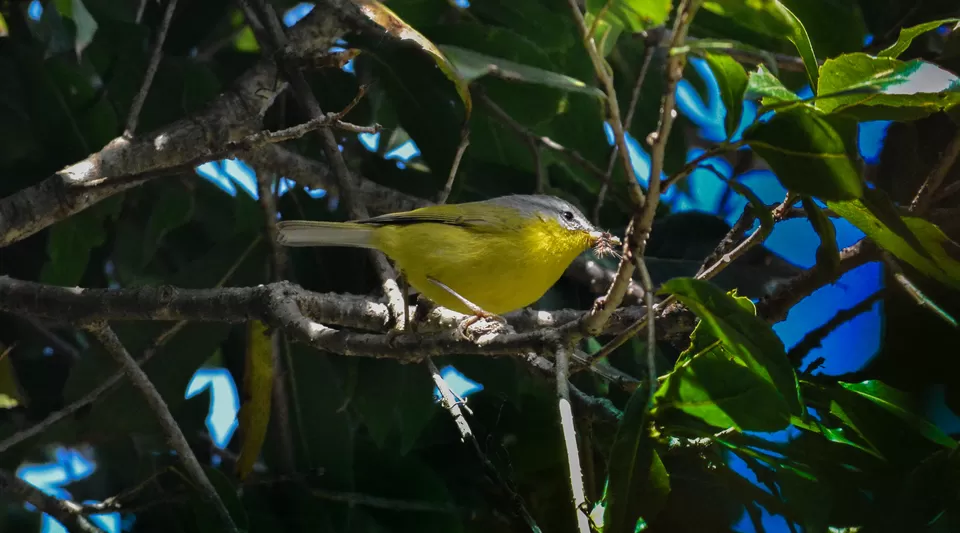 Deoriataal to Chopta via Rohini Bugyal
Most of the people (except Indiahikes folks) returned from the lake back to Sari village. I noticed no one was progressing towards the forest trekking in a self-supported way. This was a bit unusual.
The 12 KM trek tested us mentally, physically as we made through canopies and meadows. Climbing and getting down from boulders hurt our legs but we had each other's back and we progressed. Our porter was always ahead of us, but he'd wait at any intersection he thought might confuse us.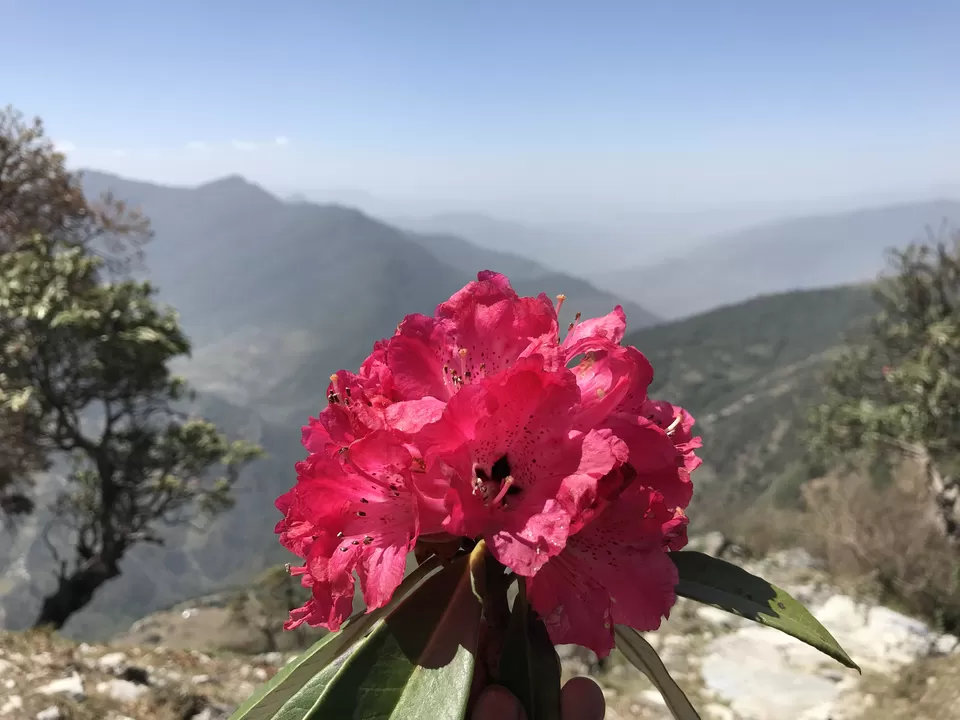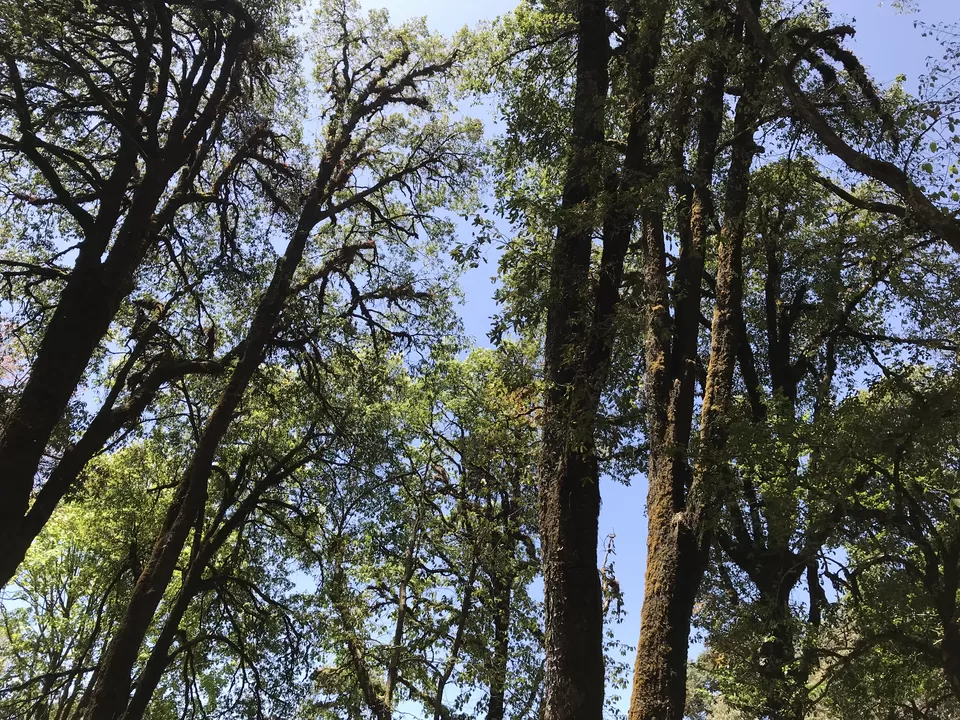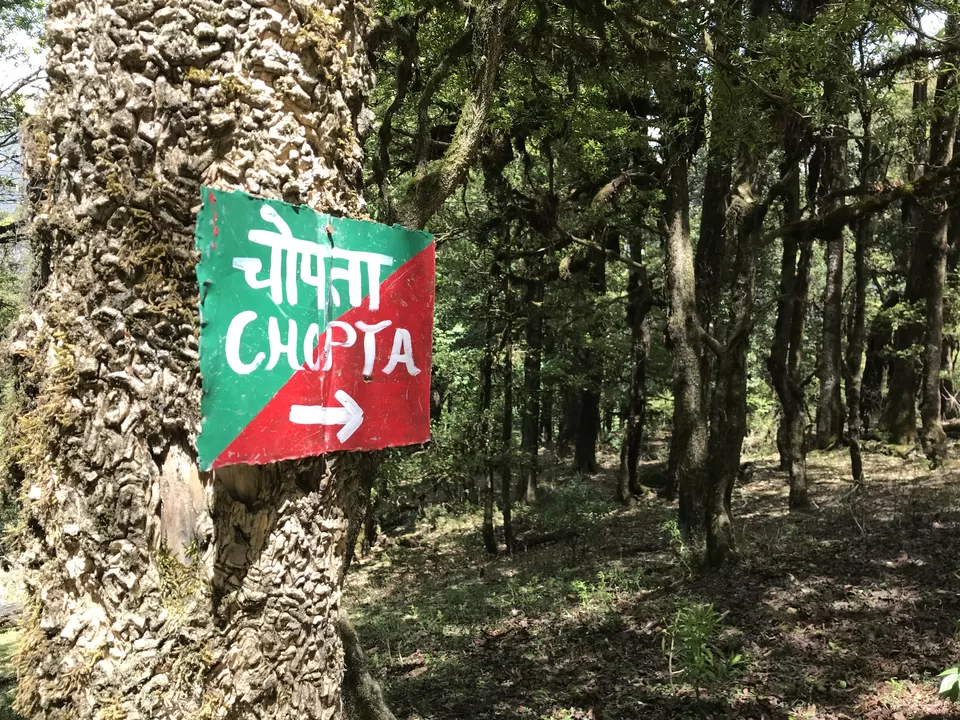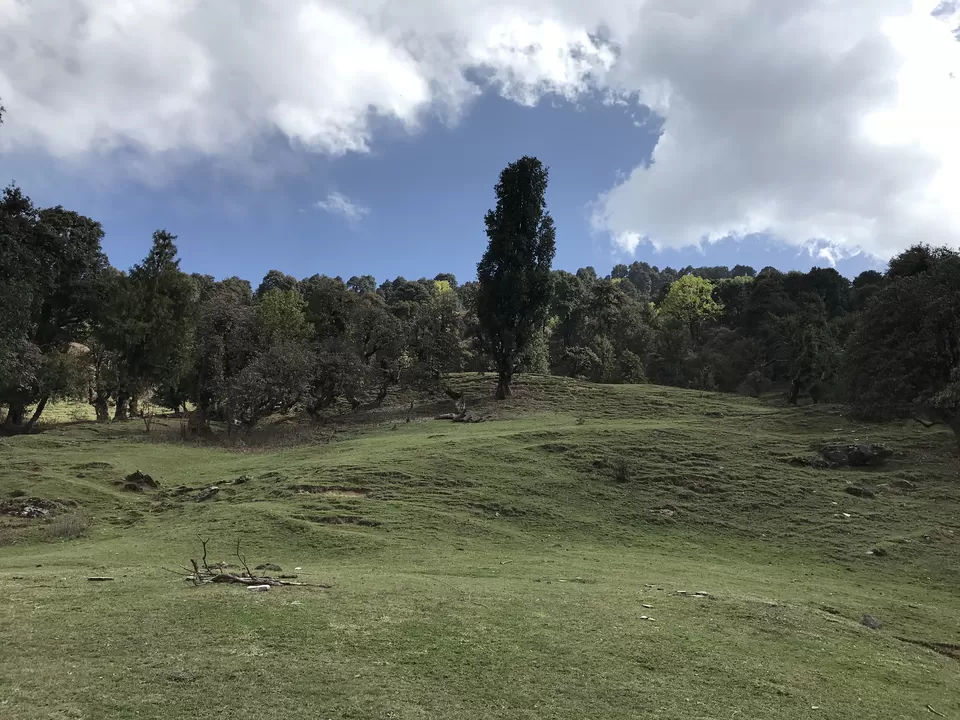 Our throats had dried and we regretted not purchasing an extra water bottle. It was a mistake on my part as I knew before hand that Deoriataal-Chopta leg has no water s0urce in between. I was a bit angry on myself on miscalculating this even after doing my homework.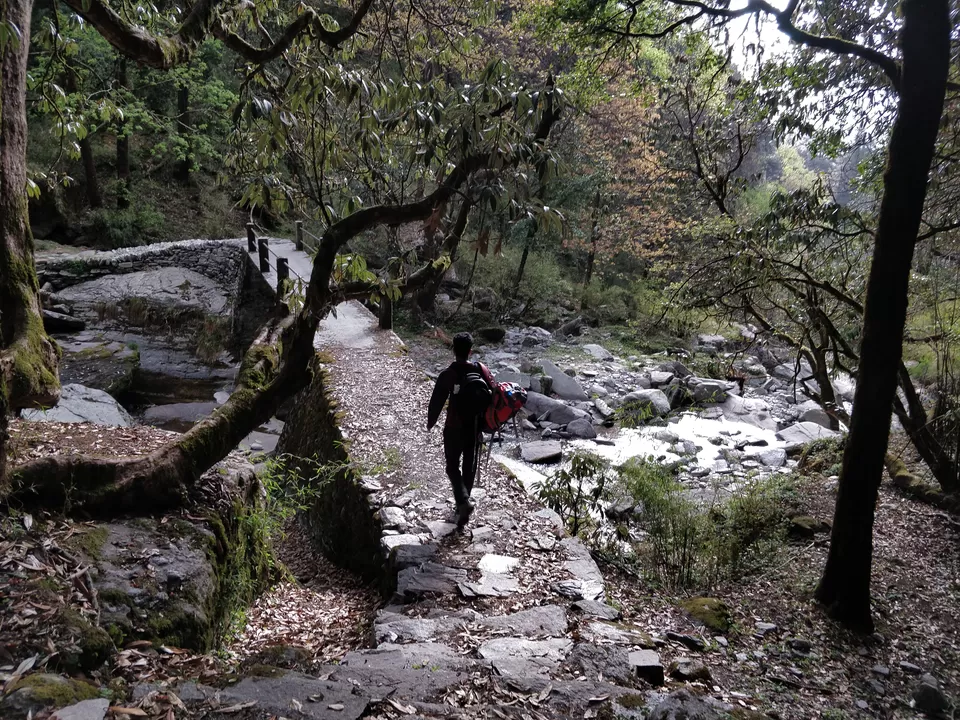 But the despair ended after 90% of the journey was covered. Online documentation needs to be corrected. There is a water source indeed next to a small makeshift bridge one has to cross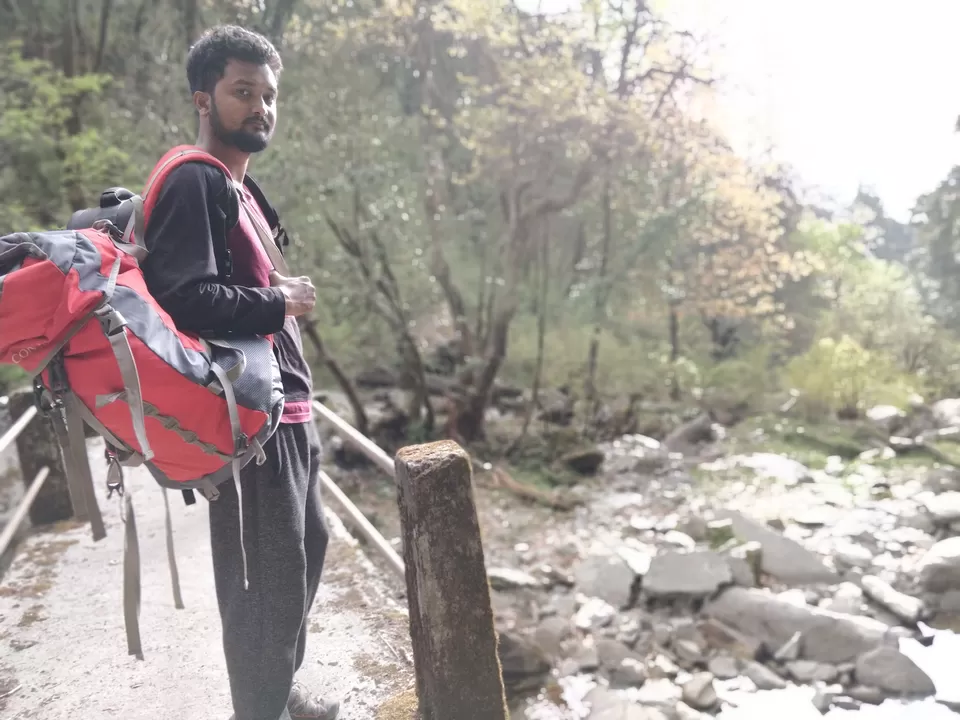 It started to rain a little in the last 1 hour of our trek & we prayed to the rain Gods wishing it to stop. Getting ill would mean change of plans which are a total mood spoiler. Luckily our prayers were answered and the drizzling stopped.
The trail opened at a U-Bend section of a road leading to Chopta village. A few vehicles passed but none stopped seeing our signal. A vacant tempo traveler was passing and our porter signalled and shouted something in Garhwali language. They stopped and asked us to hop on!! We reached Chopta at about 5 PM in the evening. Sun had not set completely. I spoke to a dhaba guy and he arranged accommodation for us. In Chopta, people rely on solar cells/batteries. They store electricity during the day and mostly use it at night.
Cost of Room/Night : Rs 400
Trek from Chopta to Tungnath
We decided the next morning to take only the essentials to the top. So we packed a lighter bag. The trek is more of a pilgrimage and hence the path is a paved one. Children and elder-lies alike, can be seen on the trek to seek Lord Shiva's blessings.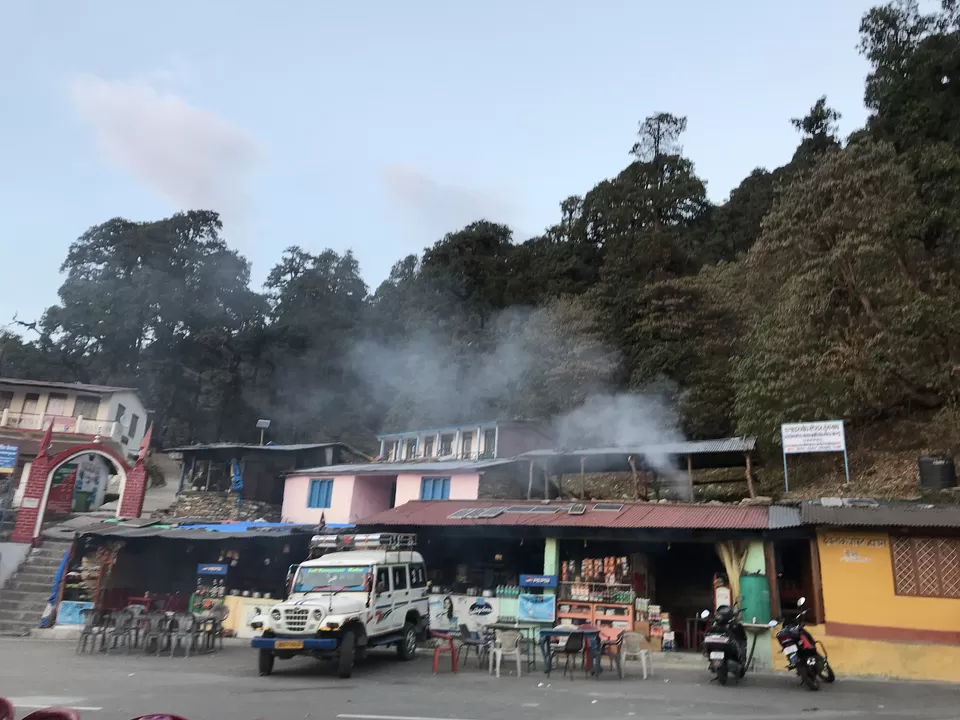 The evidence of my presence from 2016. (Wrote my name with chalk in an abandoned hut along the trek 2 years ago. Still present!)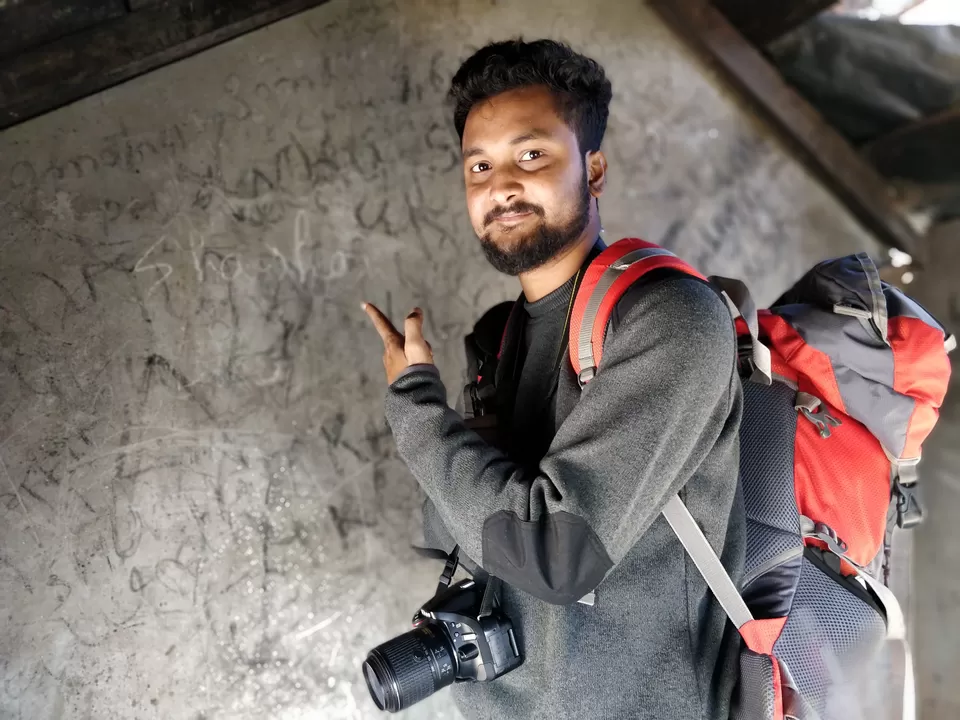 A few more pics along the trail.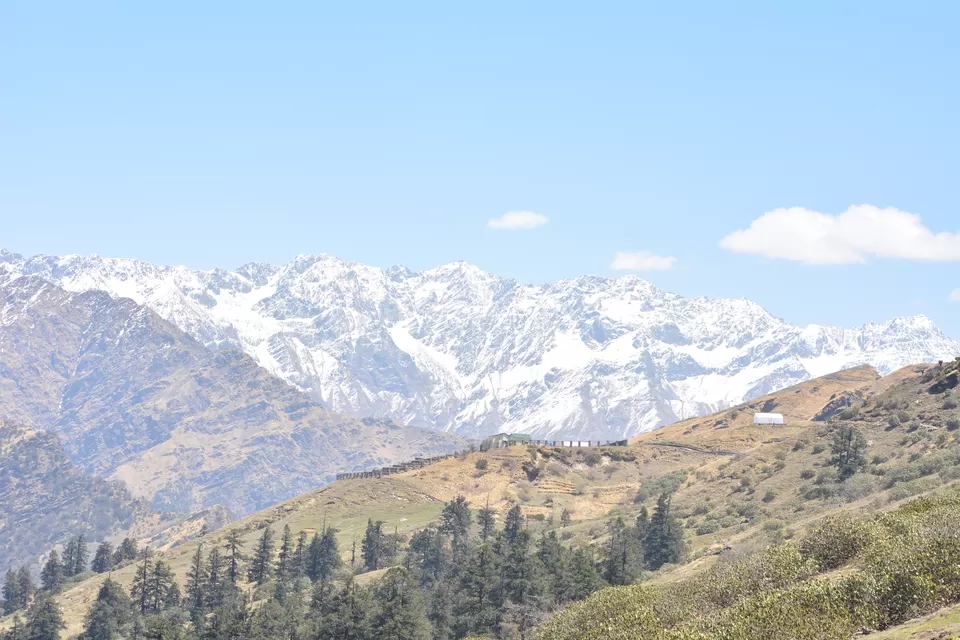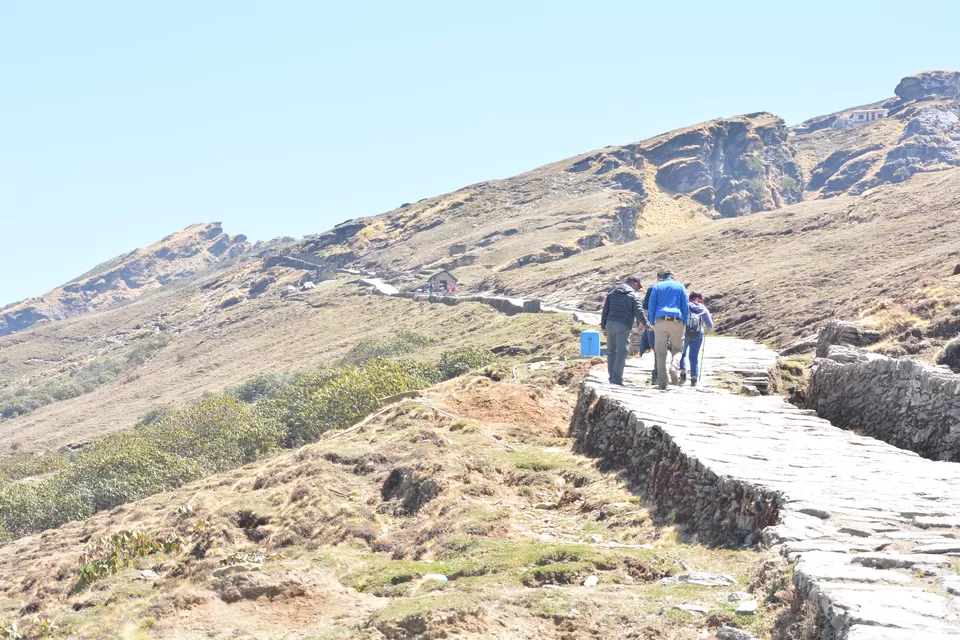 Reaching Tungnath temple. Highest Shiva temple in the world and centuries old too.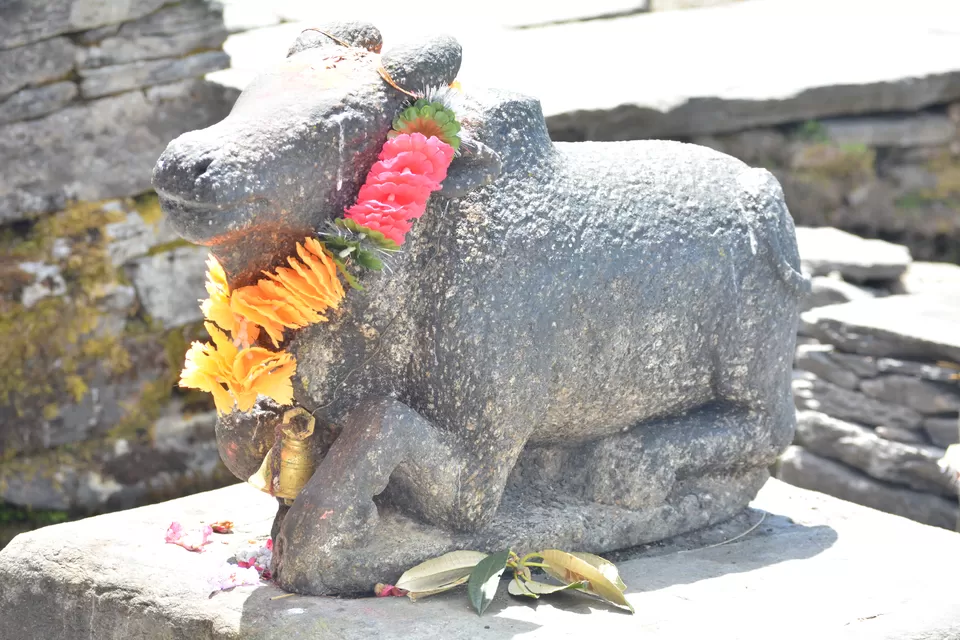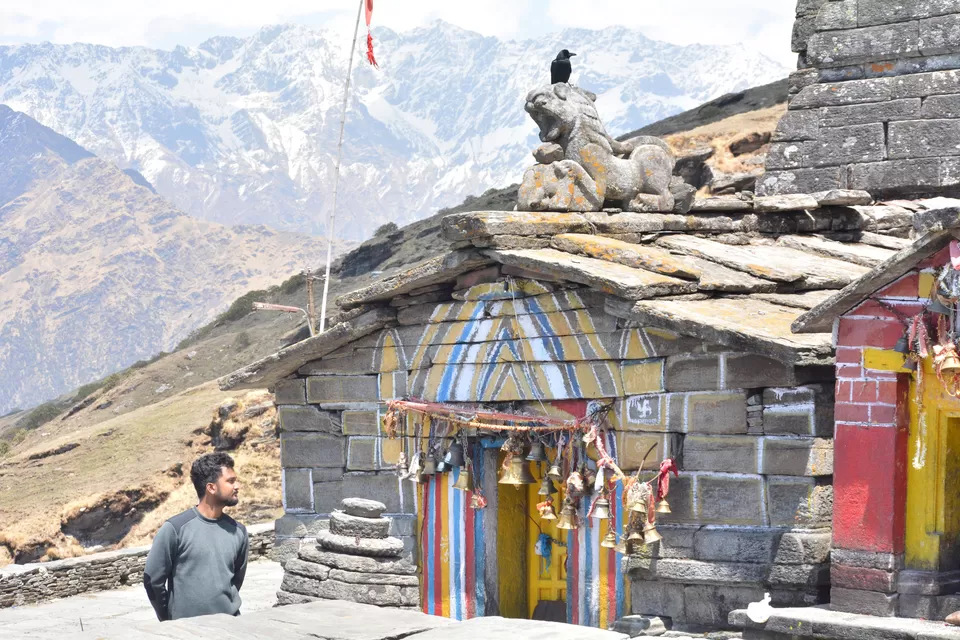 The legend of Tungnath:
The Tunganath is indelibly linked to the origin of the Panch Kedar temples built by the Pandavas. The legend states that sage Vyas Rishi advised the Pandavas that since they were culpable of slaying their own relatives (Kauravas, their cousins) during the Mahabharata war or Kurukshetra war, their act could be pardoned only by Lord Shiva. Consequently, the Pandavas went in search of Shiva who was avoiding them since he was convinced of the guilt of Pandavas. In order to keep away from them, Shiva took the form of a bull and went into hiding in an underground safe haven at Guptakashi, where Pandavas chased him. But later Shiva's body in the form of bull's body parts rematerialized at five different locations that represent the "Panch Kedar" where Pandavas built temples of Lord Shiva at each location, to worship and venerate, seeking his pardon and blessings. Each one is identified with a part of his body; Tungnath is identified as the place where the bahu (hands) were seen: hump was seen at Kedarnath; head appeared at Rudranath; his navel and stomach surfaced at Madhyamaheshwar; and his jata (hair or locks) at Kalpeshwar (source: Wiki).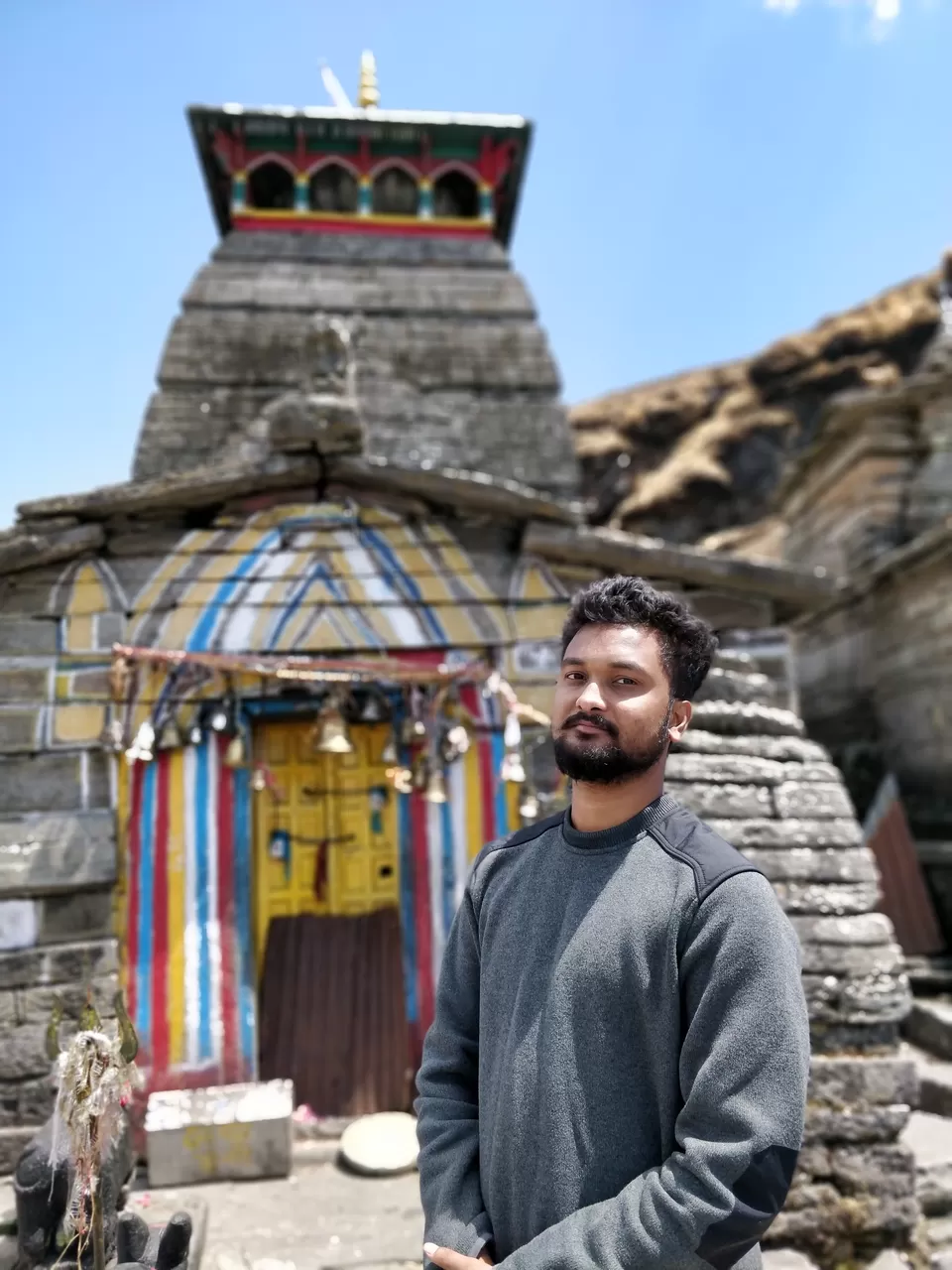 The kapat opening of the temple was schedule in the first week of May. It was pretty silent, reaching the shrine. I learnt from locals, more people would start visiting in May. That is also when more rooms will be available for people (I noticed a few locked doors). This was a different sight from Aug, 2016.
We hanged around for a bit soaking in the solitude and discussing if there was enough daylight left to reach Chandrashila and also head back to Chopta. It was decided, we could do it.
Chandrashila, The Moon Rock.
It is believed that Lord Rama meditated at Chandrashila peak after defeating the demon-king Ravana.
We followed the trail & greeted a few travelers who were descending. The plan was to reach the summit in 1 hour from Tungnath.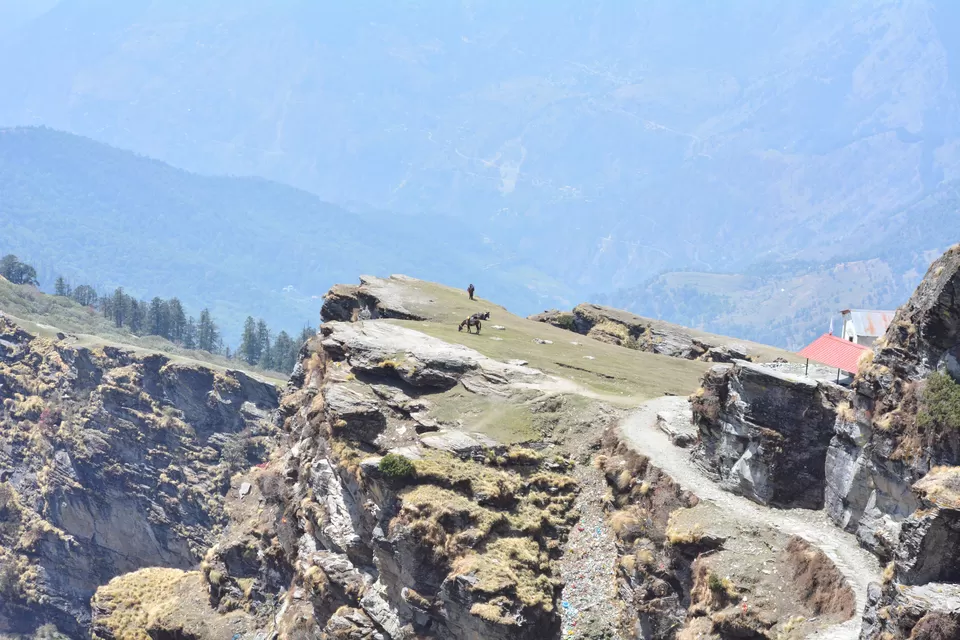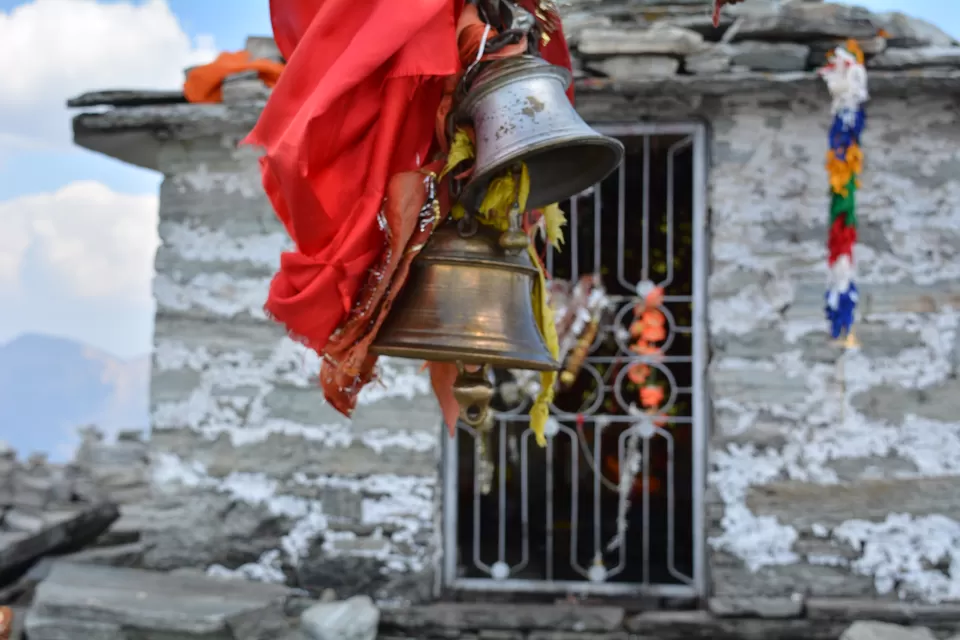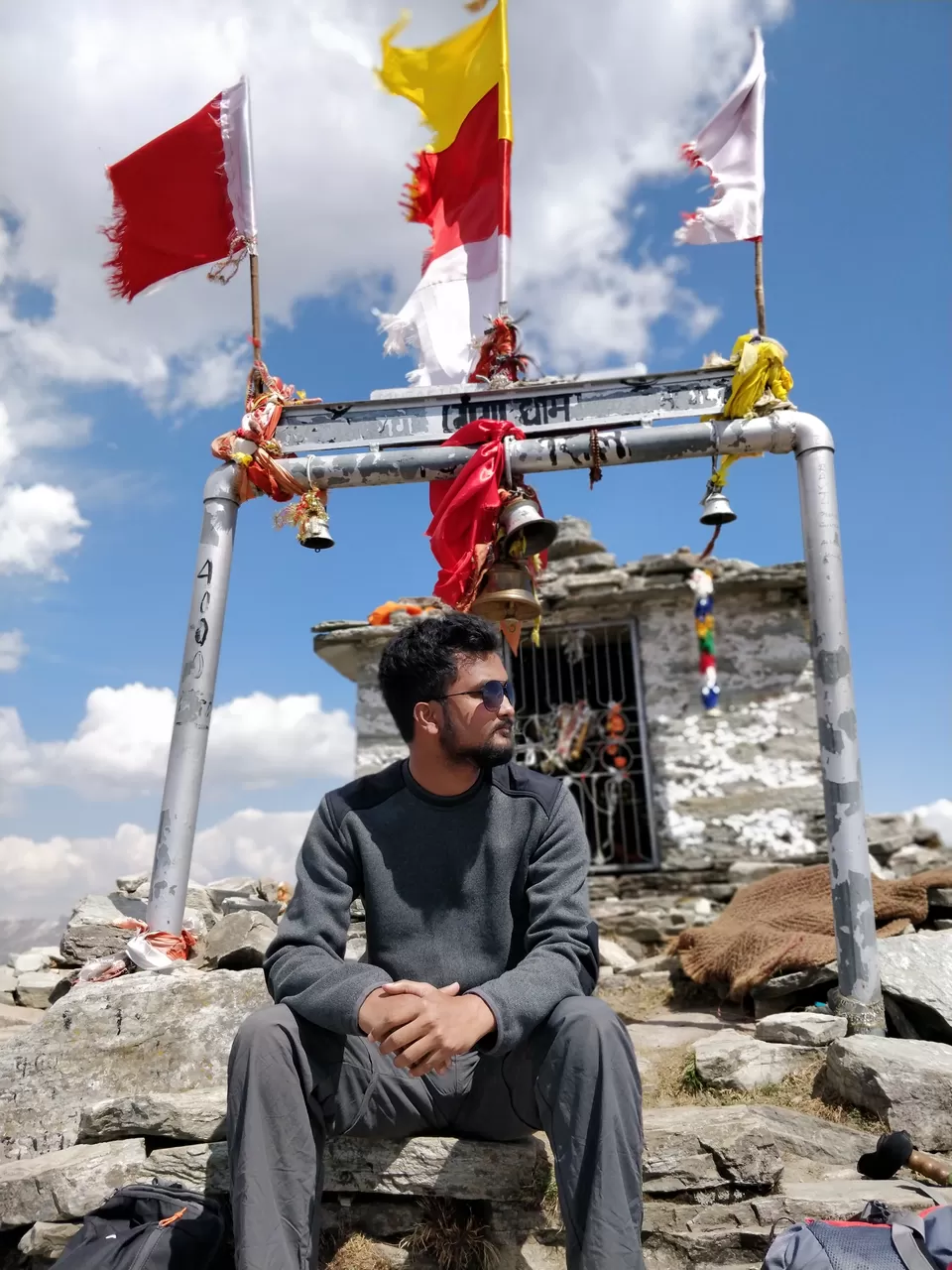 And we accomplished. The 360 degree view of the mountain ranges around was impeccable.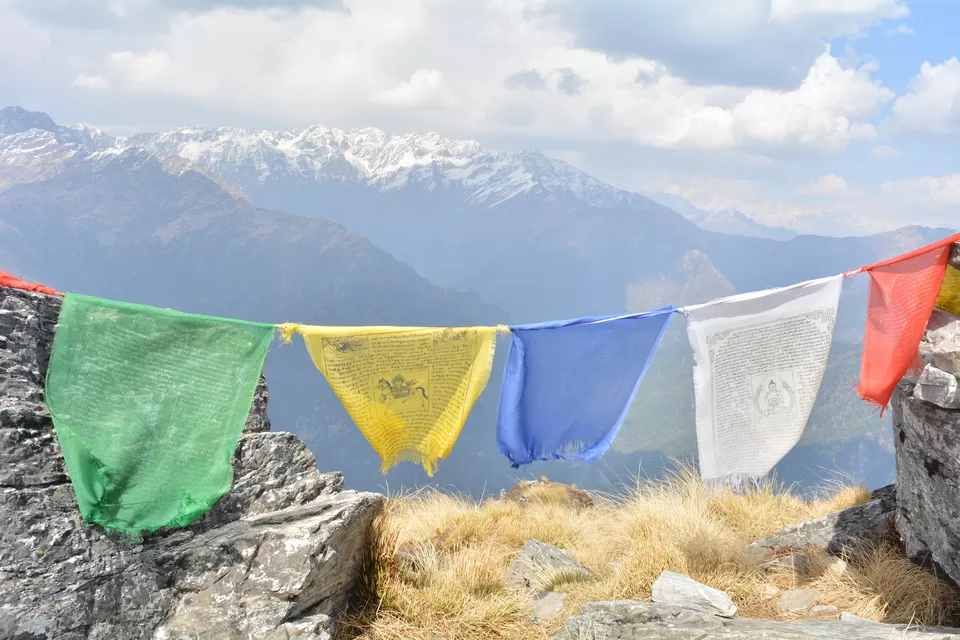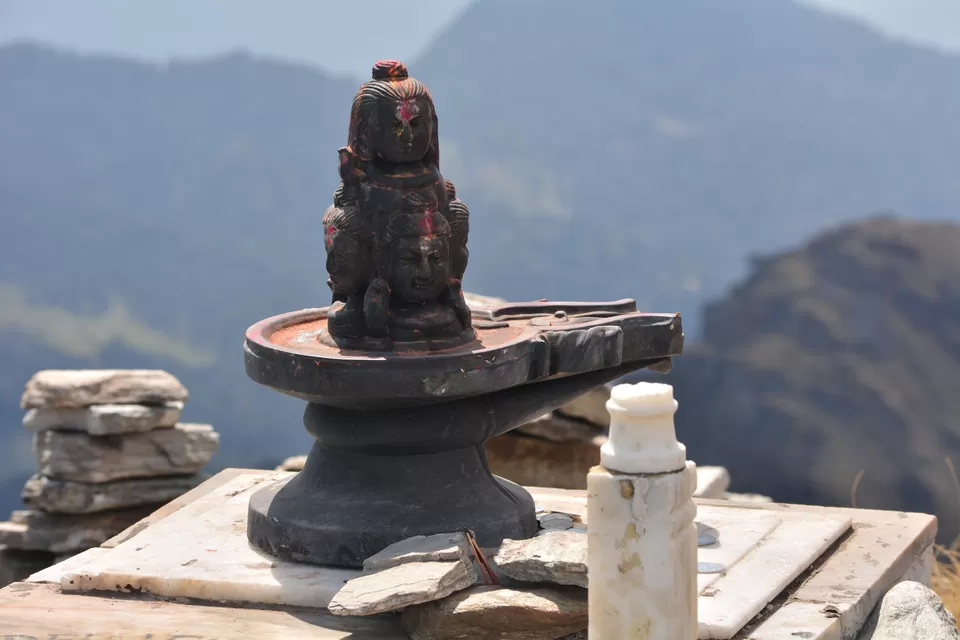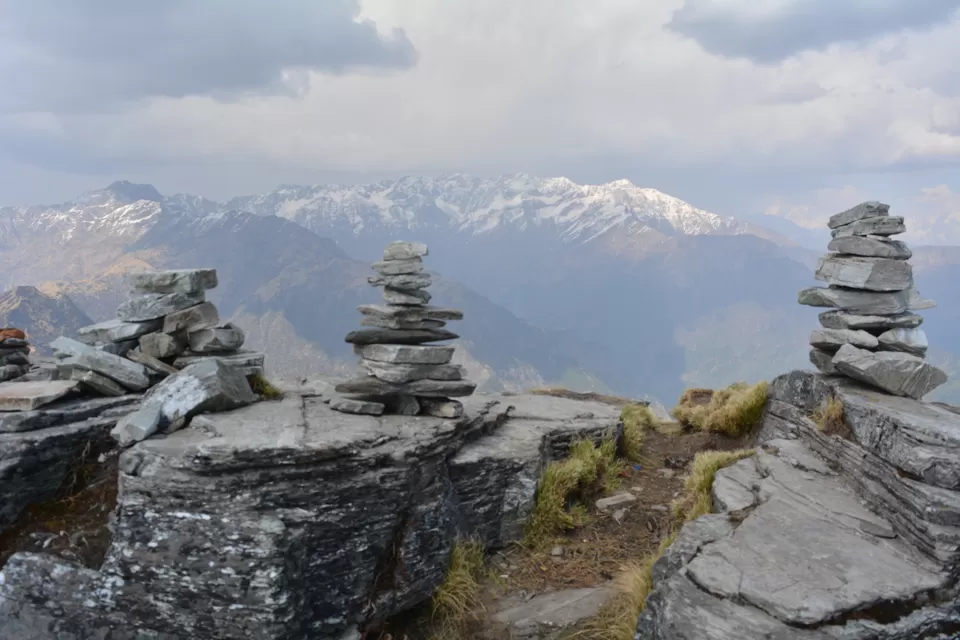 It was same old, same old. I mean, mountains aren't gonna change right? Not in our lifetime at least. We are a dot in their shadows. Each breath was making me feel alive. Coming back here, for the 2nd time in less than 2 years, I made another promise to myself. Visiting Chandrashila, in all seasons of the year in the upcoming years. A tranquil feeling, coming here.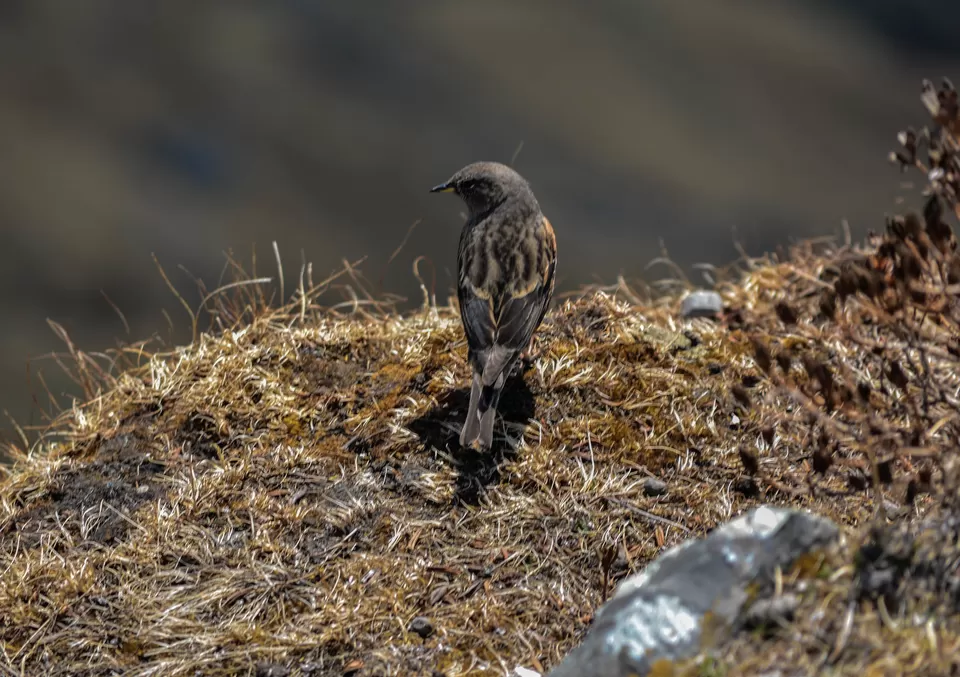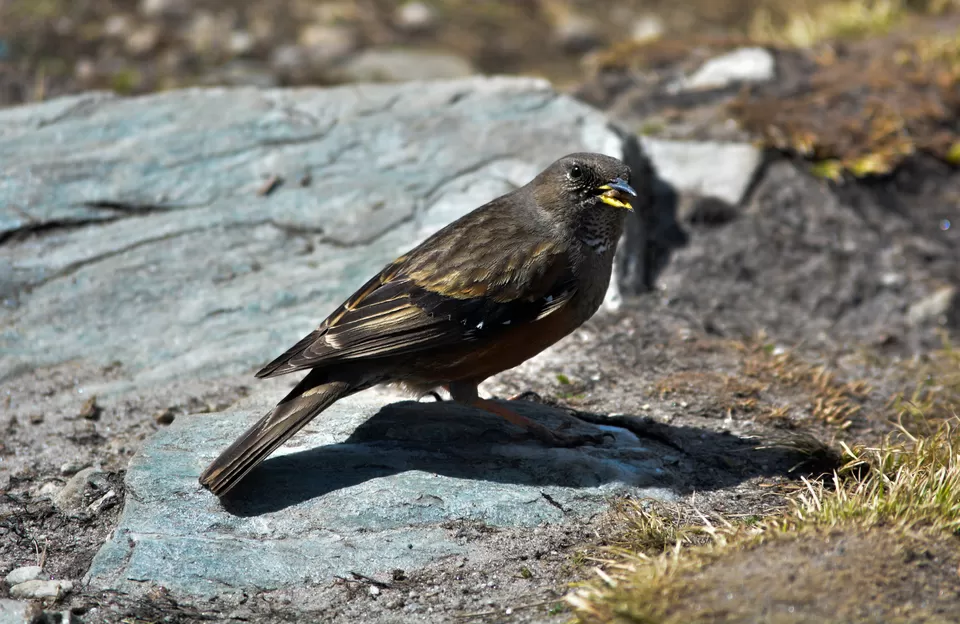 Descending was pretty easier as we had to let gravity do it's job. But yes, we had to be careful in controlling our pace.
Upon reaching Tungnath again, we stopped by to feed a dog. I think I have a photo also, let me check.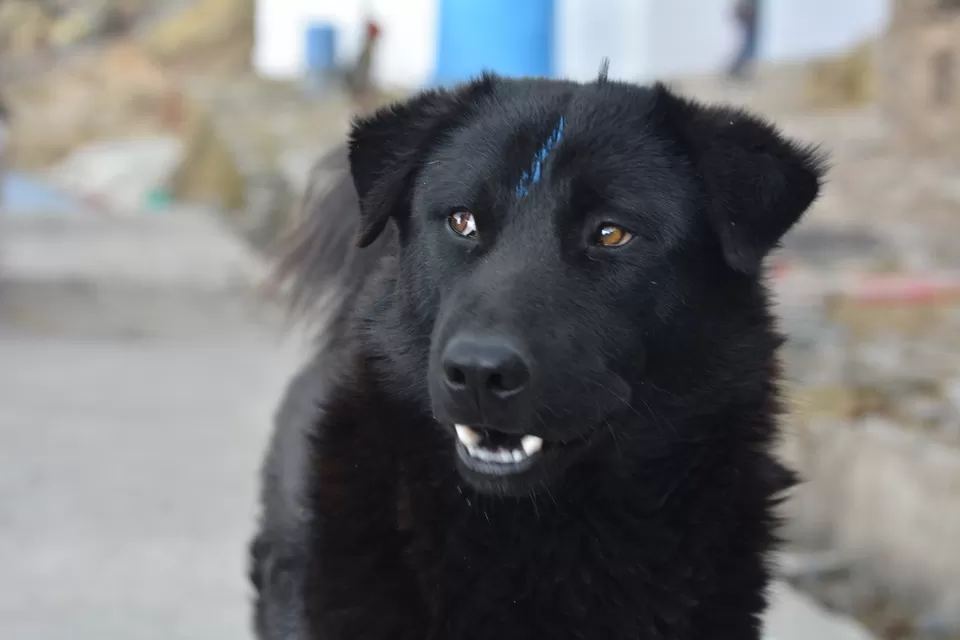 Feeding this guy set off some weird chain of events. I placed my camera bag carefully aside and fed him. And carelessly enough, I forgot to pick the camera bag and began descending further.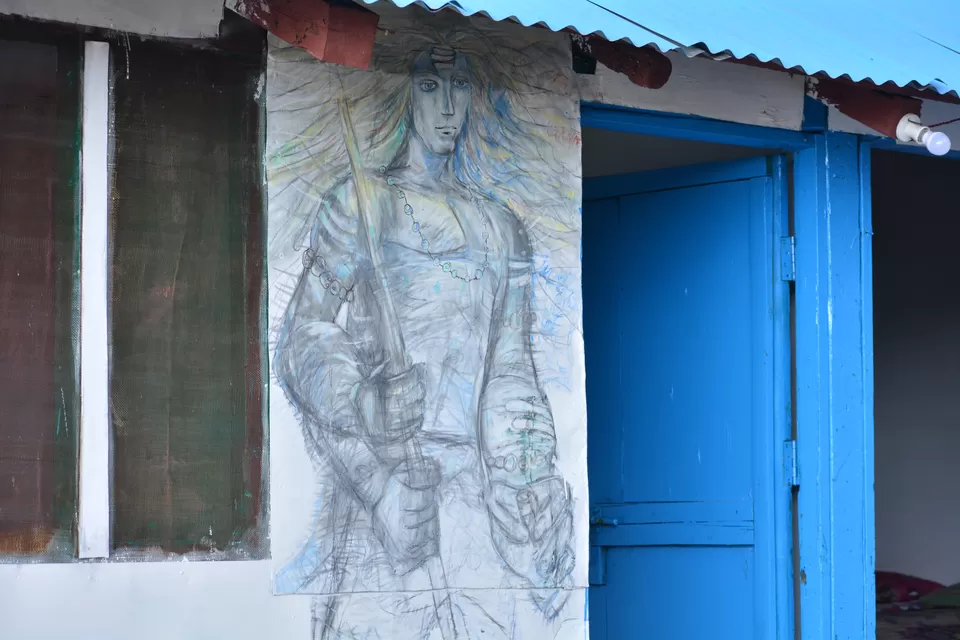 Stopping at a shop for tea, a kilometer below Tungnath, we realized the camera bag was nowhere to be seen. We inspected the shop and asked the people around but nobody had a clue! I had the camera with the kit lens hung across my neck (like a dead albatross?!) whereas the bag with the other lens, my wallet and room keys was gone!
The weather outside the shop had taken a turn for the worse. It started to rain and partially snow. Only moments ago we were laughing and playing with tiny snow particles and all that laughter was now gone.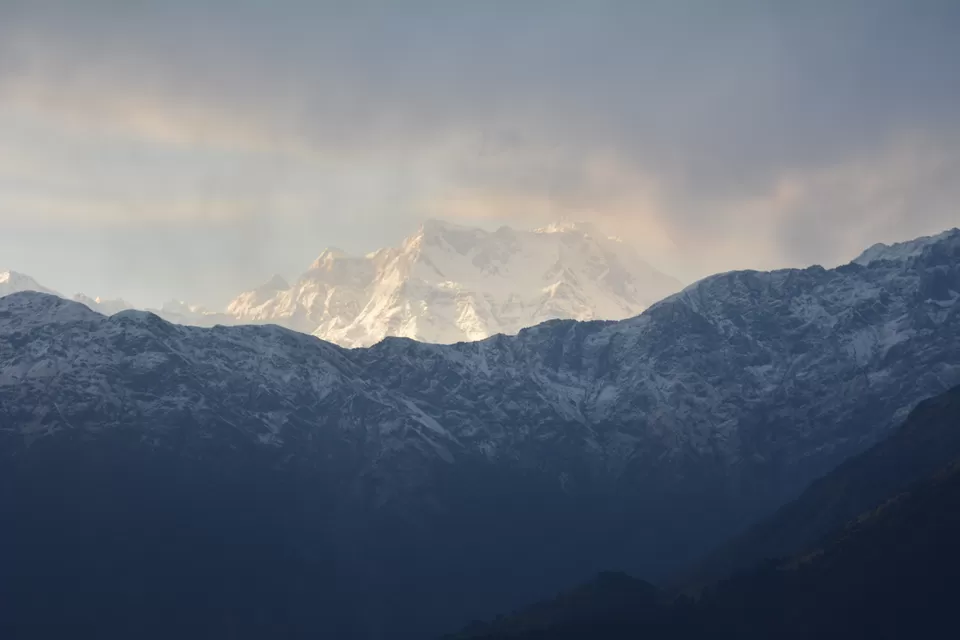 We backtracked and figured out going back up was the only option. But only I went, as it was my responsibility. Besides two people heading back up would be futile.
My knees ached as I tried to ascend again in strong winds and slight drizzle and cursed me for being careless. I had a hunch it'd be lying around where I was photographing the dog. Panting heavily I reached that spot only to my dismay. It was gone.
I entered a chai shop & narrated what had happened to the locals. One of them asked me to follow him. There was a silver lining after all! I had already verified the contents of the bag in my tale & the man took me to another man's house. This second person went inside and fetched the bag and asked me to verify all the contents! I thanked him from the bottom of my heart. And for his honesty handed him a small amount as a token of thank you. Mountain people are very humble, I had seen it for myself.
Seeing the camera bag, my friend's joy had no limits. The laughter returnedm the weather also cleared a bit and we headed back to Chopta.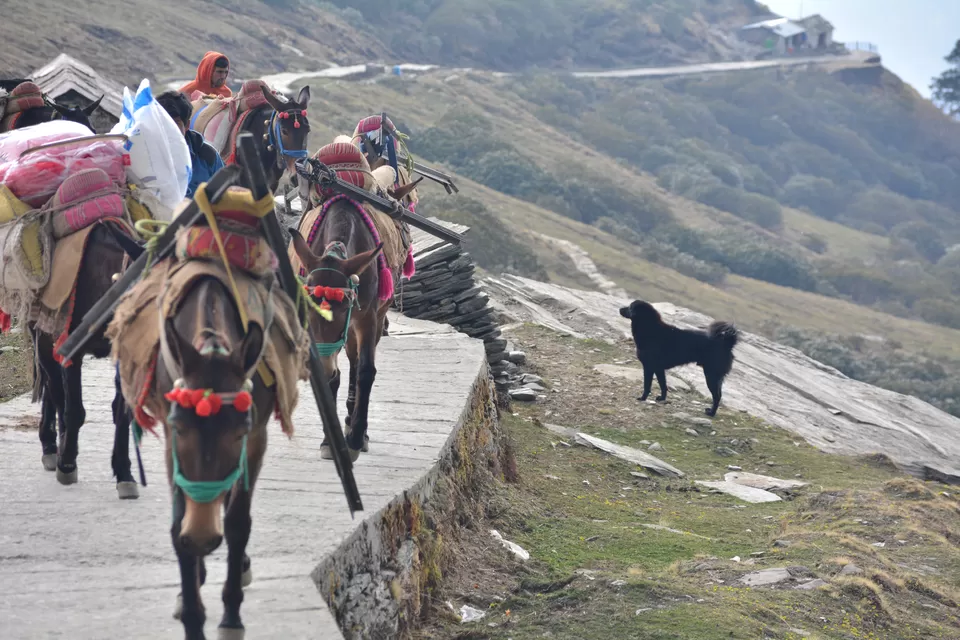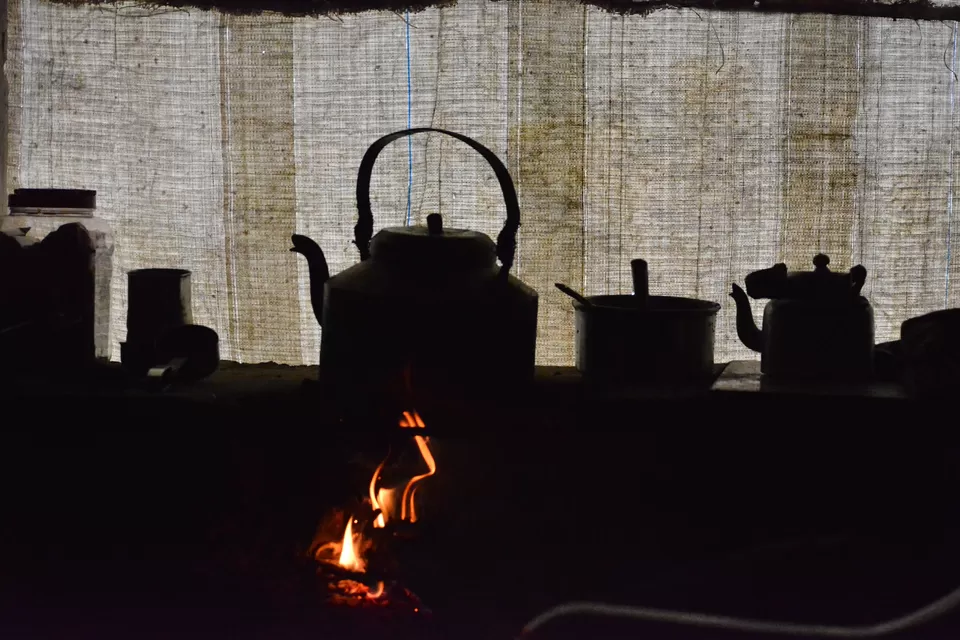 We reached about 7 PM and called it a day.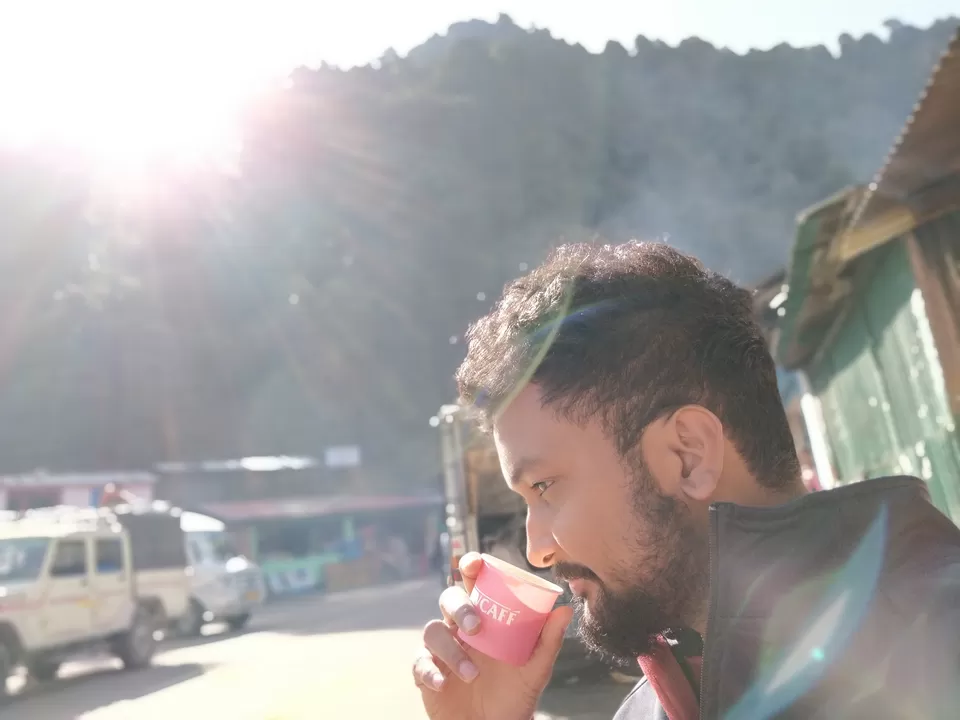 The next morning our GozoCab was supposed to pickup at around 10 AM. We were awake by 8 AM and did a little bit of photographing around the parts of Chopta.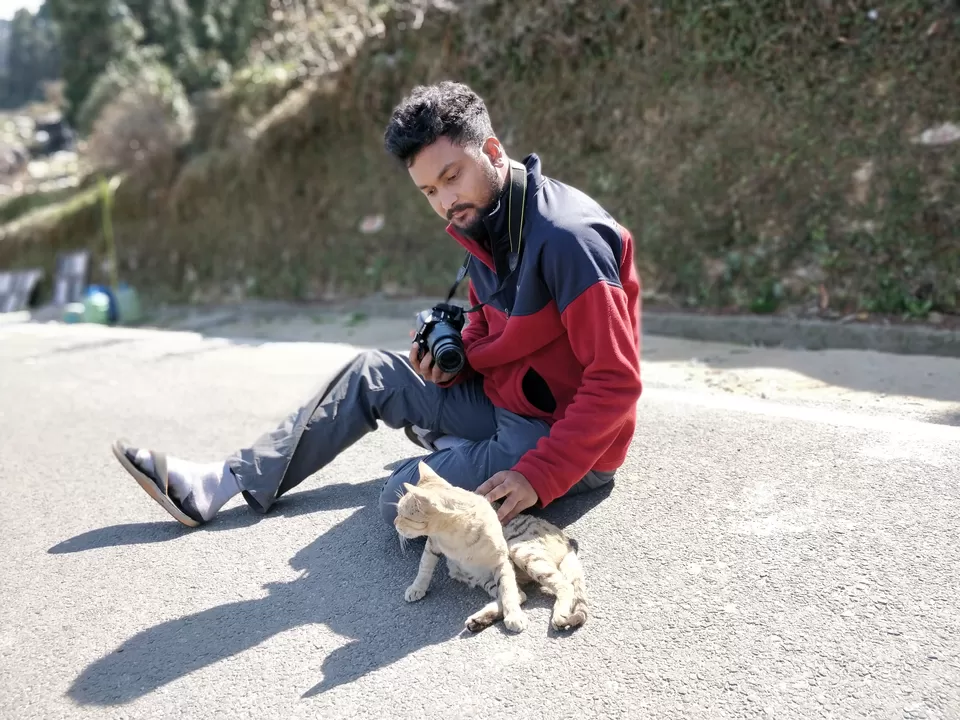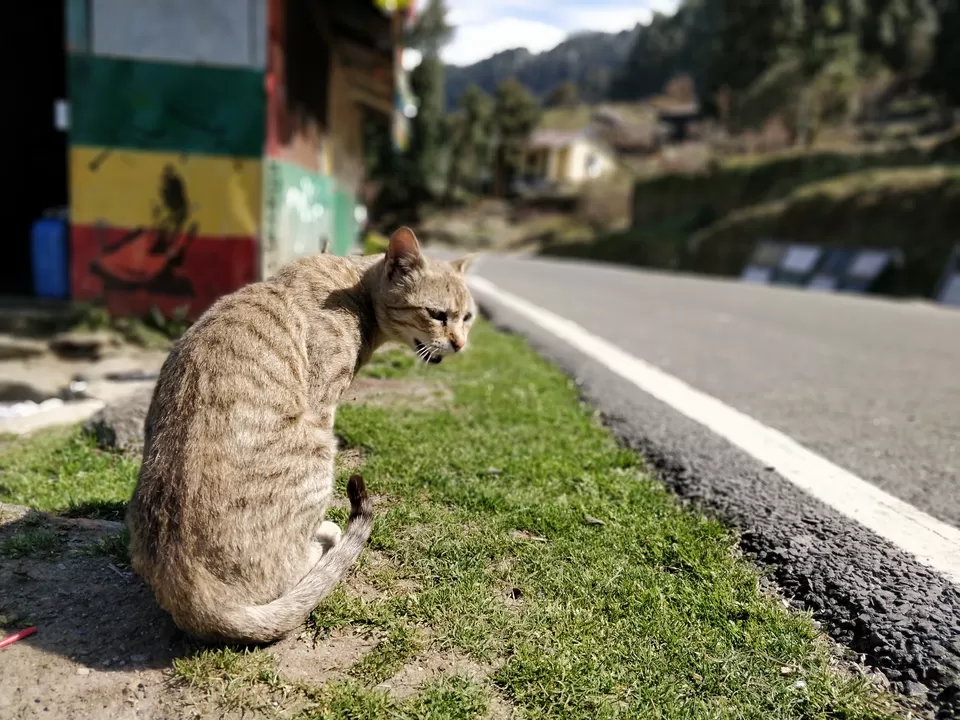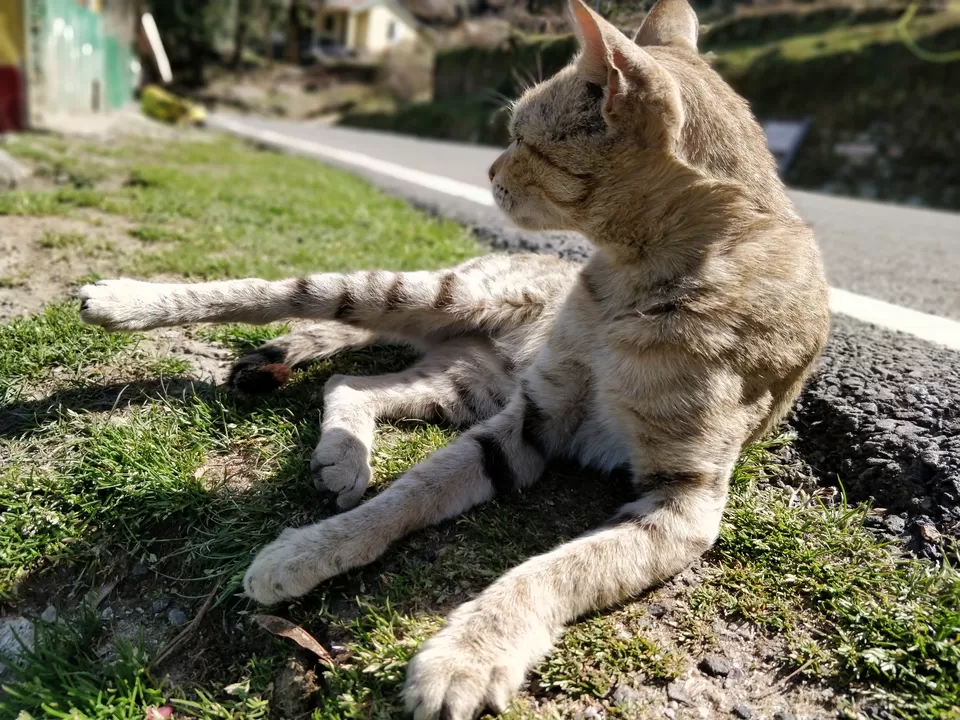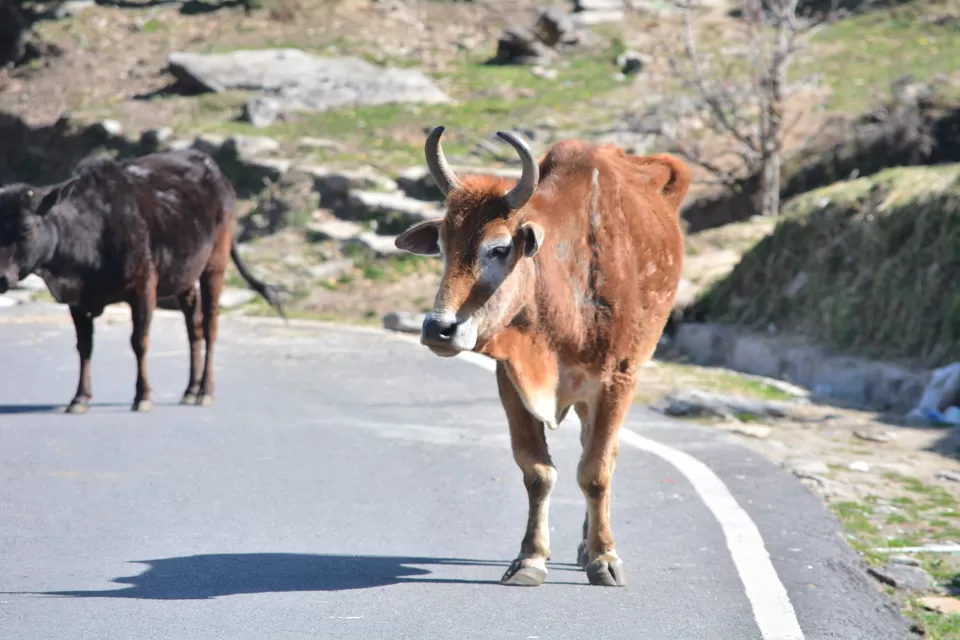 Our driver was very polite and was pretty informative too. On the way back till Rishikesh he informed us about a lot of mythological legends. He showed us the famous tree from which Jim Corbett took the shot and killed the man-eater tiger of in the 1910s or 20s. He gave us many intricate details of the Kedarnath disaster of 2013 which was caused due to a landslide/flash-floods in the Mandakini river, causing everything to wash in its wake. He'd say "Water levels had risen where the taxt is right now". And the visualization which followed would shake us. So many lives lost.
He said, locals believed the tragedy happened due to uplifting the temple of "Dhari Devi" due to a hydel project. Hours after this was done, the cloudburst occurred as a revenge of the act. Superstitions?
Reached Rishikesh around 6 PM & booked seats in the next available Volvo. I reached Delhi around midnight with incredible memories from yet another trip to the mountains.