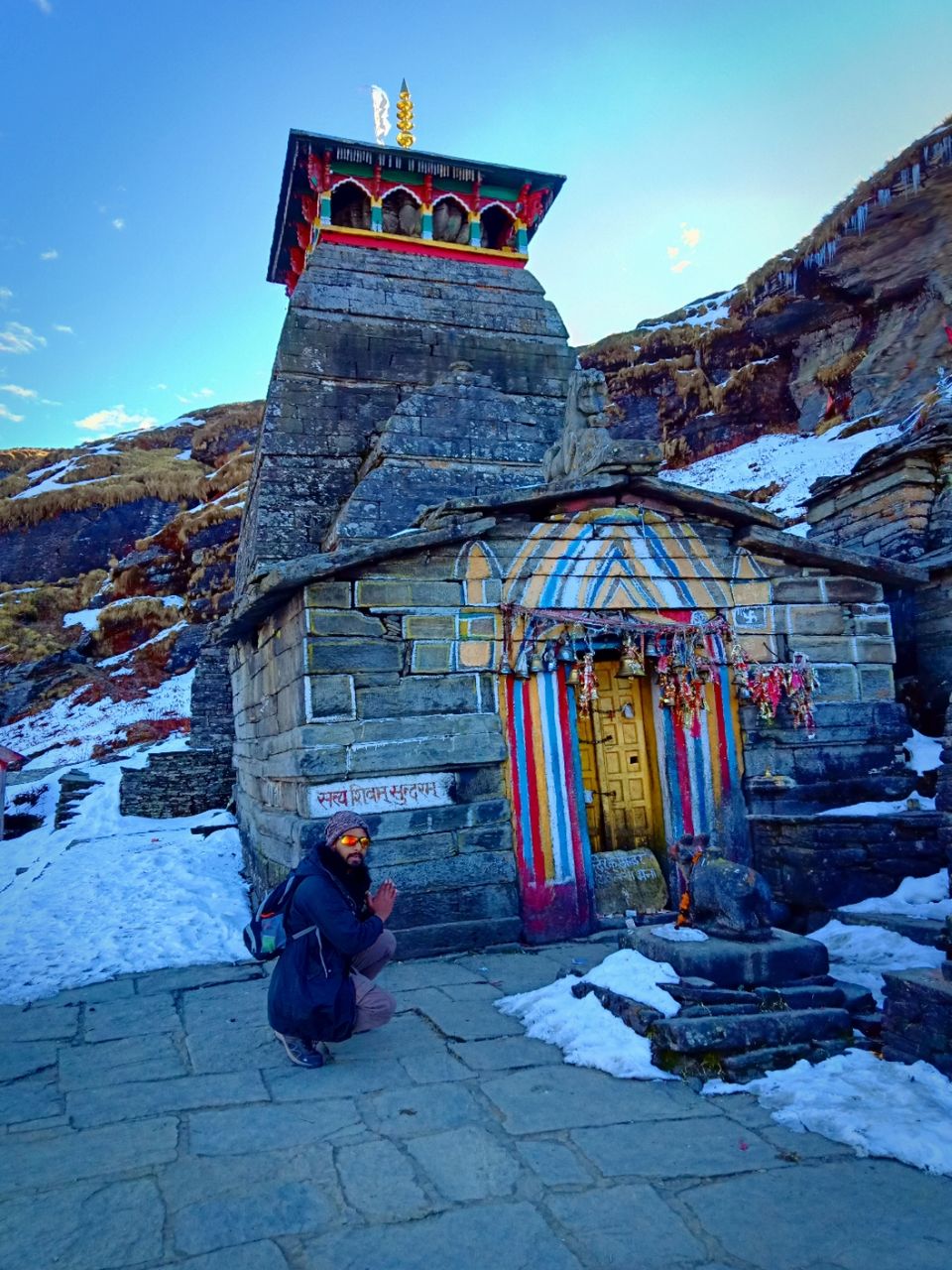 As it was a trip which was completely unplanned, we reached kashmere gate I.S.B.T around 8.30 pm on 15th november to catch a bus for guptkashi in uttarakhand. Actually I got the information from someone in my backpackers group that we should catch a bus for guptkashi which leaves around 9pm every night from kashmere gate. The only thing he didn't tell was that the bus is going to be an ordinary URTC bus. The moment when I saw the bus and the giant replacement tyre placed right next to the driver, I took no time to realise that this bus journey is going to be a hell of a ride. It was 12 hours from delhi to guptkashi and we had to get down somewhere between rudraprayag and kund to reach the remote village mastura (The only thing which was pre-booked was the lodge in mastura ).
Hi, I am gaurav and I am a mountain lover. I just needed an escape from my job and I chose november to fulfill my desire of wandering with my colleague debasish. I have read a lot about the chandrashila trek and the magnificient tunganath temple and I always wanted to go there. I believe from uttarakhand you get better views of high himalayan peaks that's why I chose Tunganath chandrashila trek as my destination. Tunganath temple is located in a small hamlet called chopta which lies in ukhimath district of uttarakhand. This chopta should not be confused by the actual chopta village because this one is better known as - "Chopta Tunganath". Google maps has pranked many riders who came to chopta tunganath for trek. Tunganath is the highest temple of lord shiva, at 11,500 feets and the third kedar among the panch kedars of the hindu religion. Above it lies the paramount of the mountain - The chandrashila peak at 12,000 feets !!!
We took the bus from kashmere gate ISBT around 9pm which left the terminal somewhere around 9.45pm (For which they are known for ). Although the bus was neat and clean but it was lacking space very badly. Overhead carriers for luggage were already jammed by the people, even before the bus conductor open the bus for the passengers. I am still wondering how they have placed their luggage inside the bus even before it was open for public. I had to place my rucksack underneath my seat as I didn't have any other option for my luggage at that time. The journey was nice and smooth till rishikesh but as we started from rishikeshfor departed towards rudraprayag, our bus became a roller- coaster on road. A large scale construction was going on in uttarakhand as per "Char- dham yatra project" .We saw dumpers, cranes and massive bulldozers on our way working even in the pitch dark. There was a lot of fog on the way may be because we were running parallel to the mighty ganga. I could feel my ears buzzing with freezing winds as I was sitting next to the window.
We crossed devprayag around 5pm.
It's morning 7am on 16th November and we've reached Srinagar garhwal bus stand. Mountains were still far away but the view of the sunrise blown away our minds. The only thing which was causing discomfort was the thought that we have to deboard somewhere in between which we were not sure about. We were told that we have to get down at the Kund but on Google maps it was showing that ukhimath is nearer to the mastura village. My friend has a friend who has a lodge in mastura called Devriya lodge. Shardul, the co-owner of the lodge texted me and asked me to deboard at Agastyamuni stop.
We did that and took a shared Jeep to ukhimath from that stop immediately ! The road was all muddy and Rocky but the views of kedar dome and chaukhmaba ranges didn't let us lose our focus from them. They were skytouching milky white mountains, we were able to see it from everywhere. I was astonished to see such big mountains.
After paying just 120 rs. for a roller coaster adventure to our driver, we reached Ukhimath. Ukhimath is the main town in that area and all the private transport aligns at ukhimath bus stop for the nearby villages ( specially chopta). So again we took a shared Jeep for mastura from there and again we got back seats in that 8 seater SUV. If you have travelled in a SUV on mountains then you will understand my pain. After a Jeep ride of an hour, we reached our destination mastura. He just charged 50rs from us ( You won't need to flow money like water on travelling in uttarakhand).
Devriya lodge is located at a peaceful and scenic location. You would be able to see the complete chandrashila range right from their entrance. The co-owner, Shardul, welcomed us and took us to our room straight away. I guess he was able to see it on our face that how tired we were at that time. We were travelling from past 12 hours and we needed to sleep. Our eyelids were half-open half-closed as we were damn stoned in the daylight !!! He offered coffee to us and we took a sigh of relief.
Despite of being tired, we say no to sleeping and started taking pictures of the place immediately. Network connectivity was exceptionally well in mastura and I was really surprised by it. This is something which needs to be appreciated that we never faced a challenge in terms of mobile connectivity throughout our whole journey, even when we reached the highest temple Tunganath !!! He asked us, " Aap log kya khaoge? ". We silently said, " Is time to sab chalega, Jo hum khaate bhi nahi wo bhi ab to has ke khaayenge". We asked him to prepare the food as soon as he can. He took us to the terrace of the lodge and it was damn lit. It was maintained really well, an amazing bed was there on which one can take a sunbath ! We were getting amazing views of the nearby villages and gigantic peaks from the terrace of the lodge itself. I did a video call to my mom to show her that I am alive and at a serene place with this such a views. She was awestruck too.
Shardul prepared really delicious food for us. We didn't took time to praise him for the food. We told him that we seriously didn't expected food to be such tasty. He smiled and said, " Arre thank you ". He was very humble and everytime we thank him he used to say, " Arre koi baat nhi, yeh bhi koi bolne ki baat hai". His service and hospitality was awesome. I had a bitter experience last time when I visited uttarakhand for kedarkantha trek but shardul completely changed my perception for uttarakhand. He is a gem of person, he helped us a lot during our stay there.
Around 3pm when we were done with our food, he asked us to pay a visit to a waterfall downside the hill. We left for a short hike to mandakini waterfall down the hill. It was just 1km from devriya lodge but it felt like miles may be because we were exhausted after the long journey from Delhi. We could not make it to the waterfall as it was all covered with the long bushes and some wild itchy plants. Debasish shouted on me when I was trying hard to reach the waterfall, I was hoping on the boulders. We just stayed on the bridge which was made over the waterfall and clicked a few pictures from there only. We realized it very soon that this will be a little tough uphike for us as we were carrying a daypack and camera bag with us. We took almost 1.5hrs to cover the distance back to our lodge which we completed in mere 30 mins while descending down to waterfall. Debasish was all jacked up. We somehow reached our lodge and that too by climbing a house's roof and then following the trail to our lodge. Shardul gave us a surprise by saying that he is going to cook chicken for us. We were overjoyed. At the time of dinner, There were more than two or three dishes in the menu. Shardul was preparing chapatis for us in his small kitchen and we were eating on the dining table right next to the kitchen. We ate like monsters that night.
Debasish decided to take rest for the day. I was trying to take rest but don't know why I just can't sleep when I am on mountains. I don't know if it was the excitement for the next day or the beautiful weather in mastura. I took a night stroll with shardul for a few kilometers after having the delicious dinner prepared by him. He was telling me about one instance when he and his pet dabbu seen a leopard at just few metres from the lodge. That was the incident after which he named his pet "dabbu" as it ran away leaving shardul alone on seeing the big cat. While coming back to lodge, we saw shooting stars. I am still lovestruck with that view . After completing 4-5 kilometers , I felt like taking rest for the day on reaching the lodge. "We need to get up 6am next morning as we have to leave for a day hike to Deoriatal" shardul said while saying goodnight to us. I took my blanket after setting an alarm for 5.30 next morning.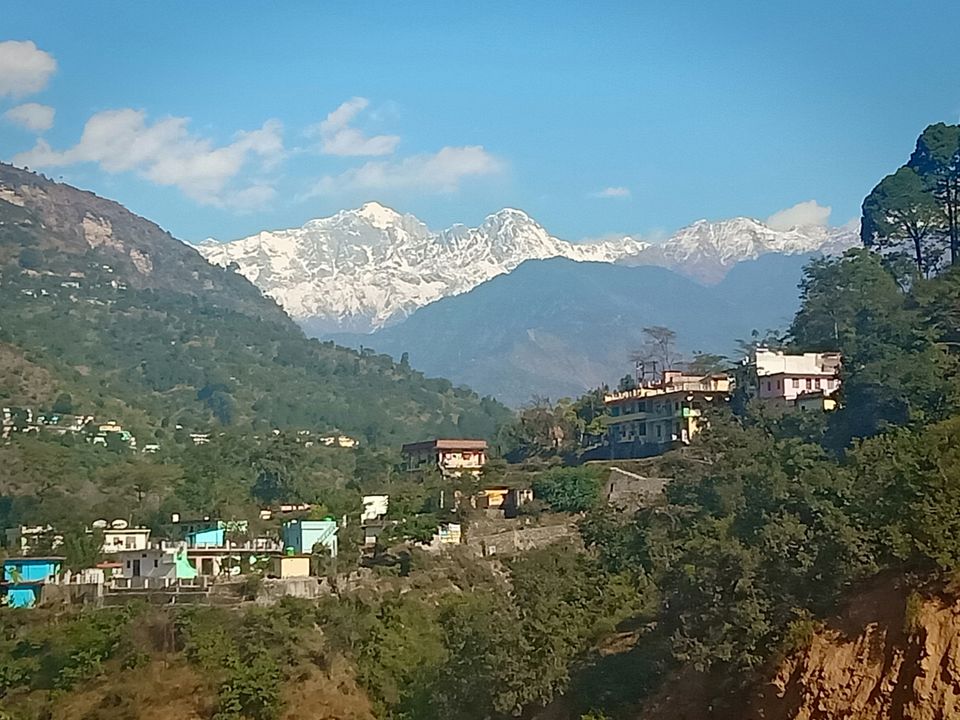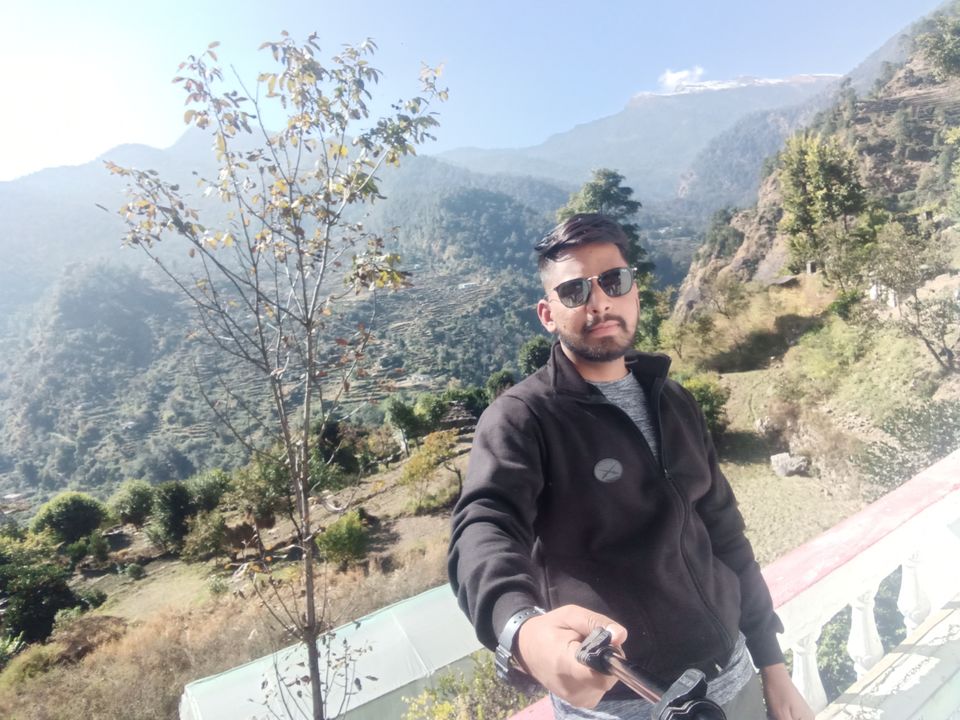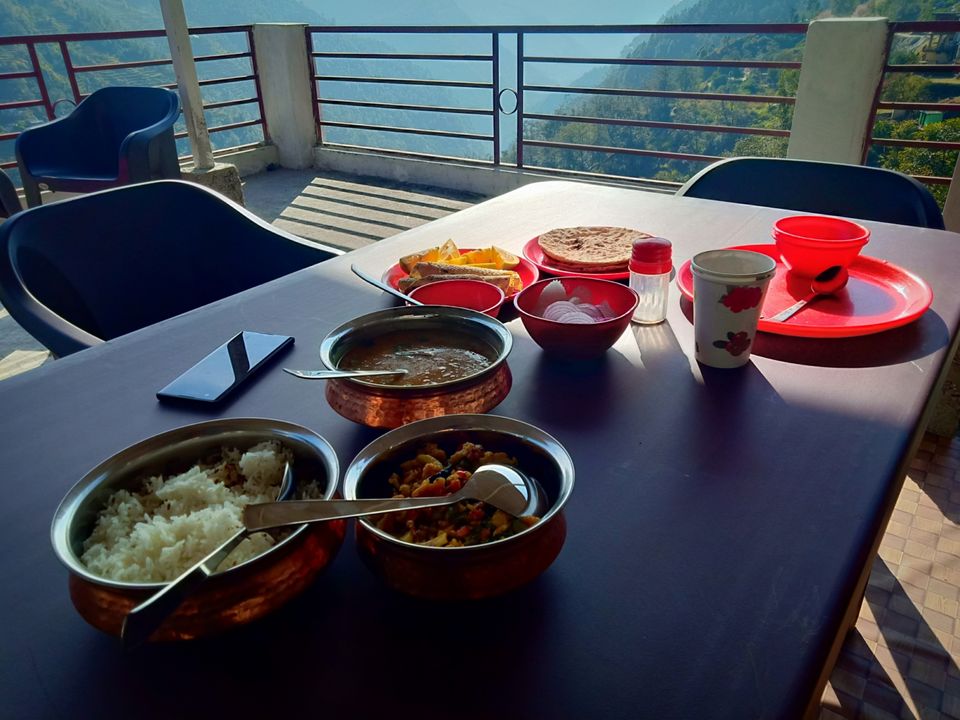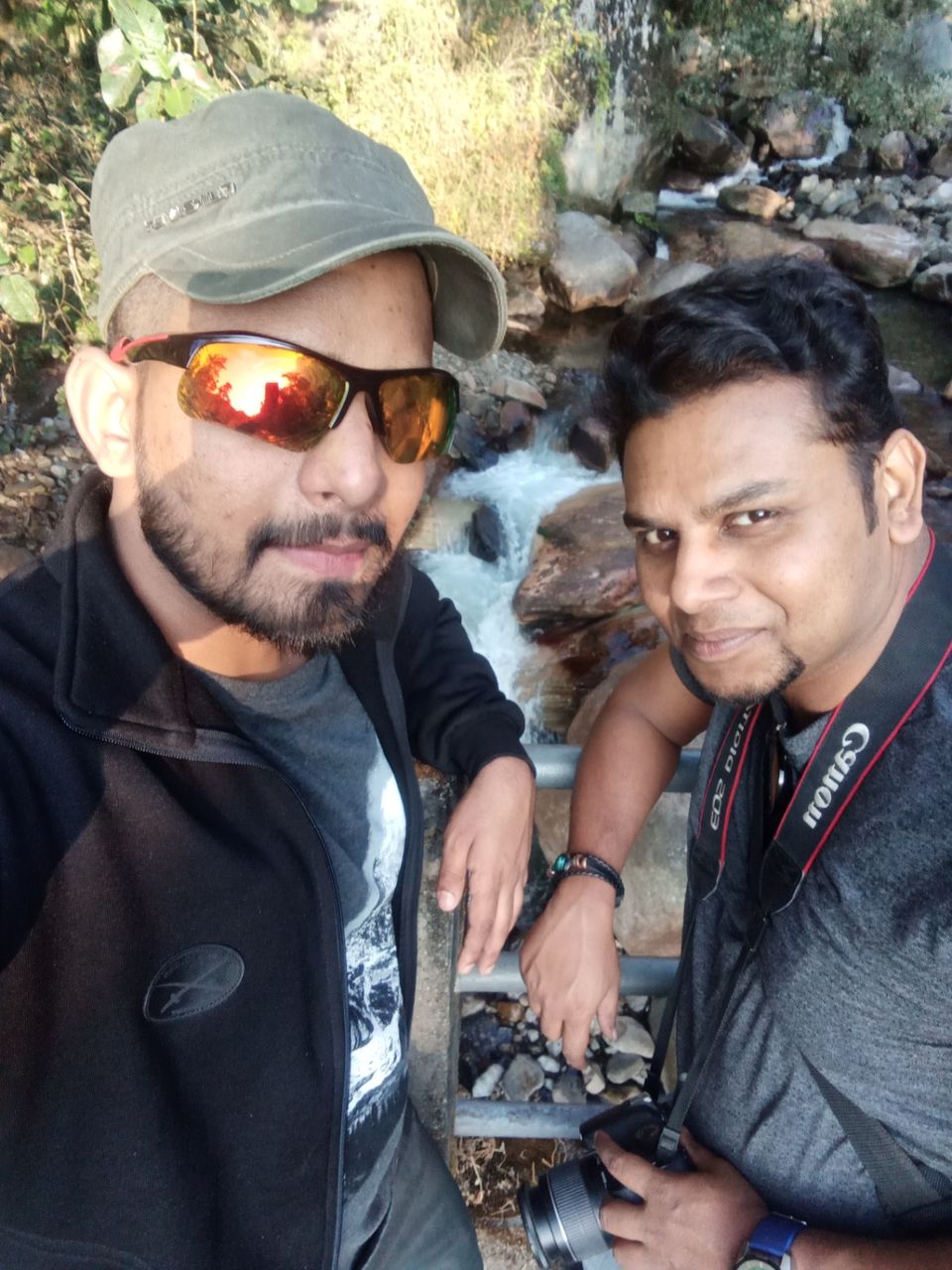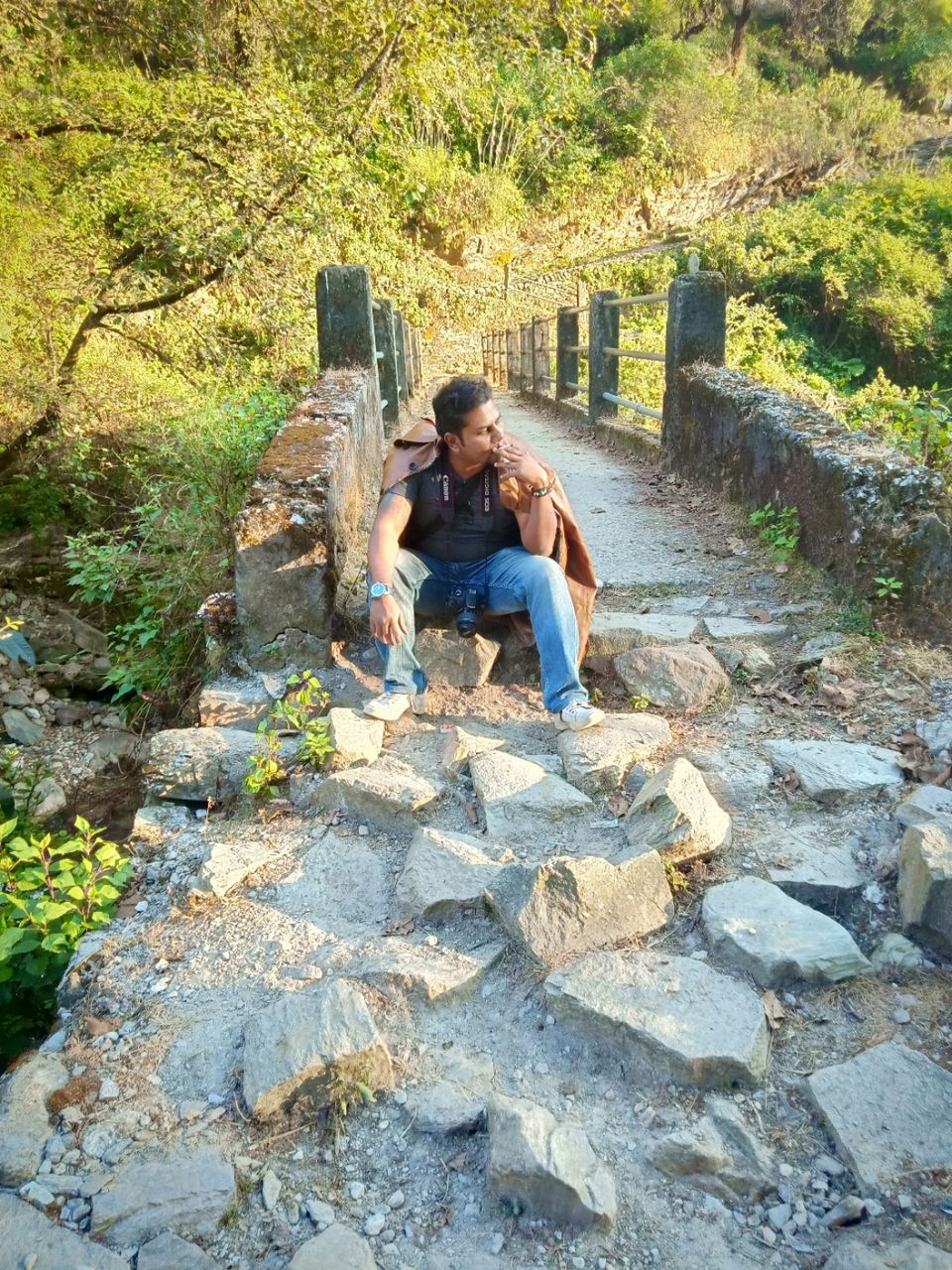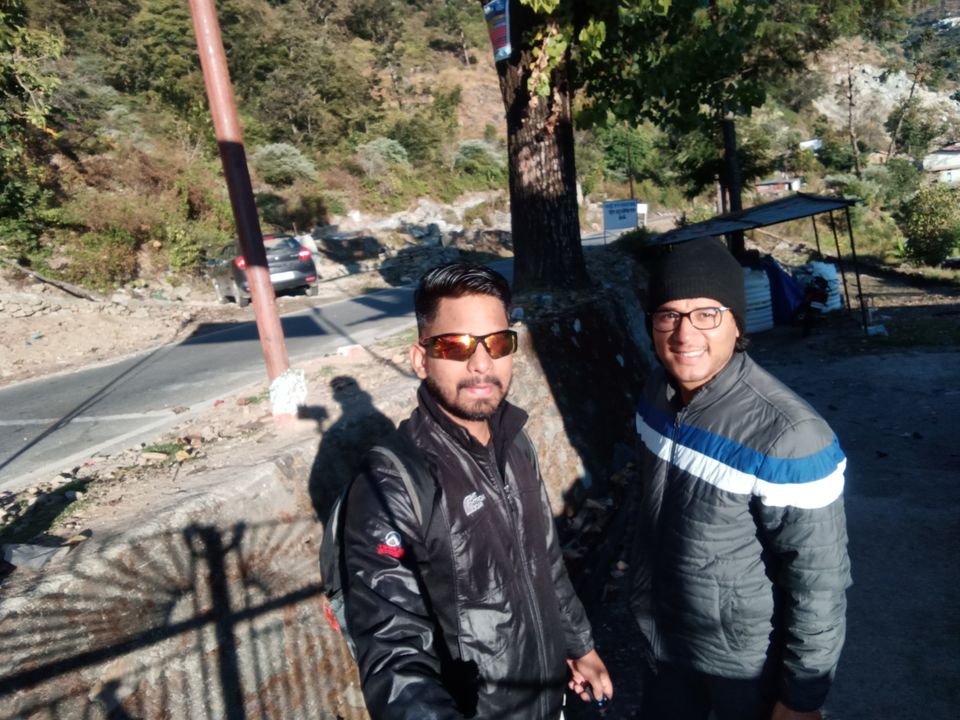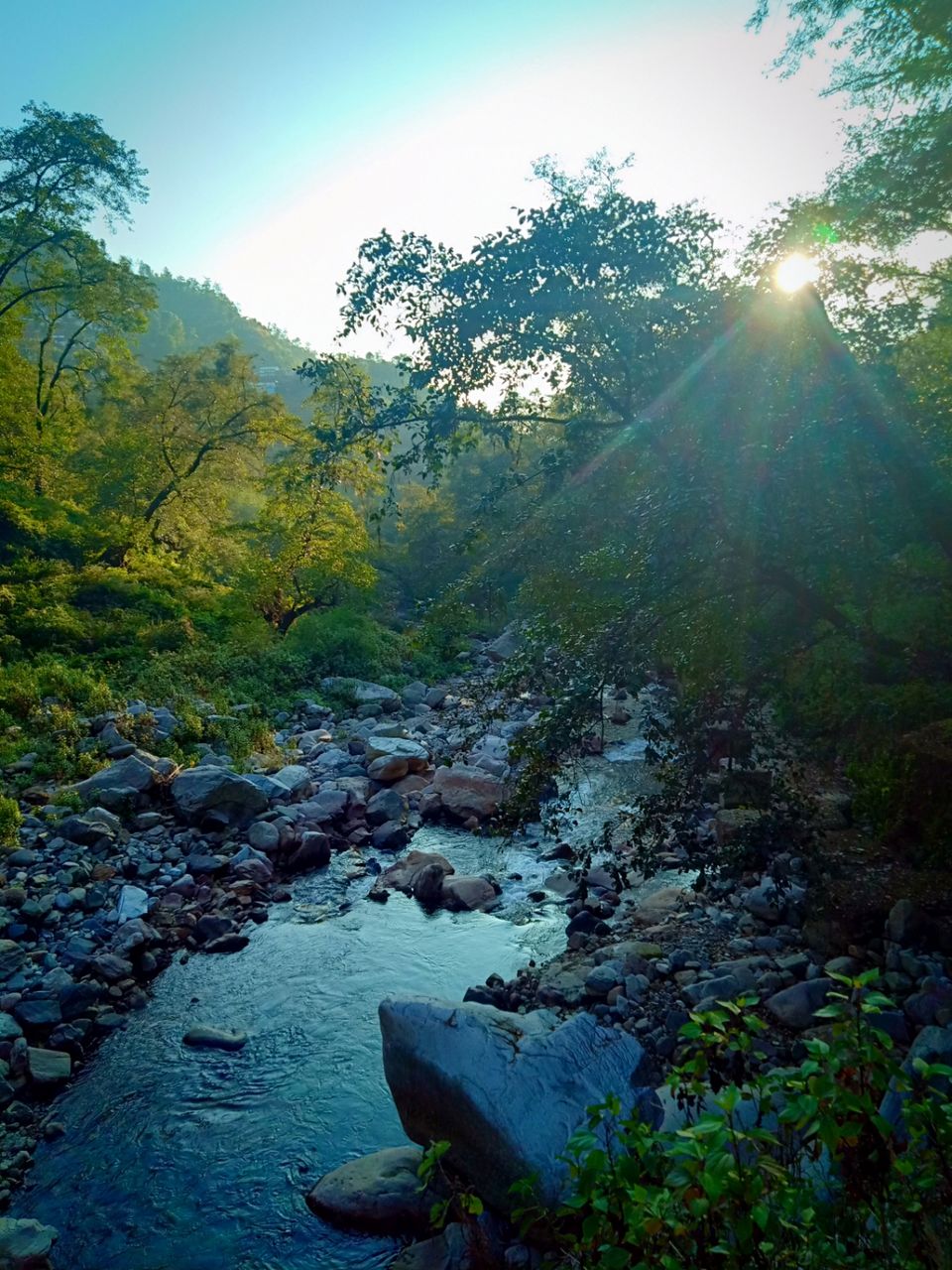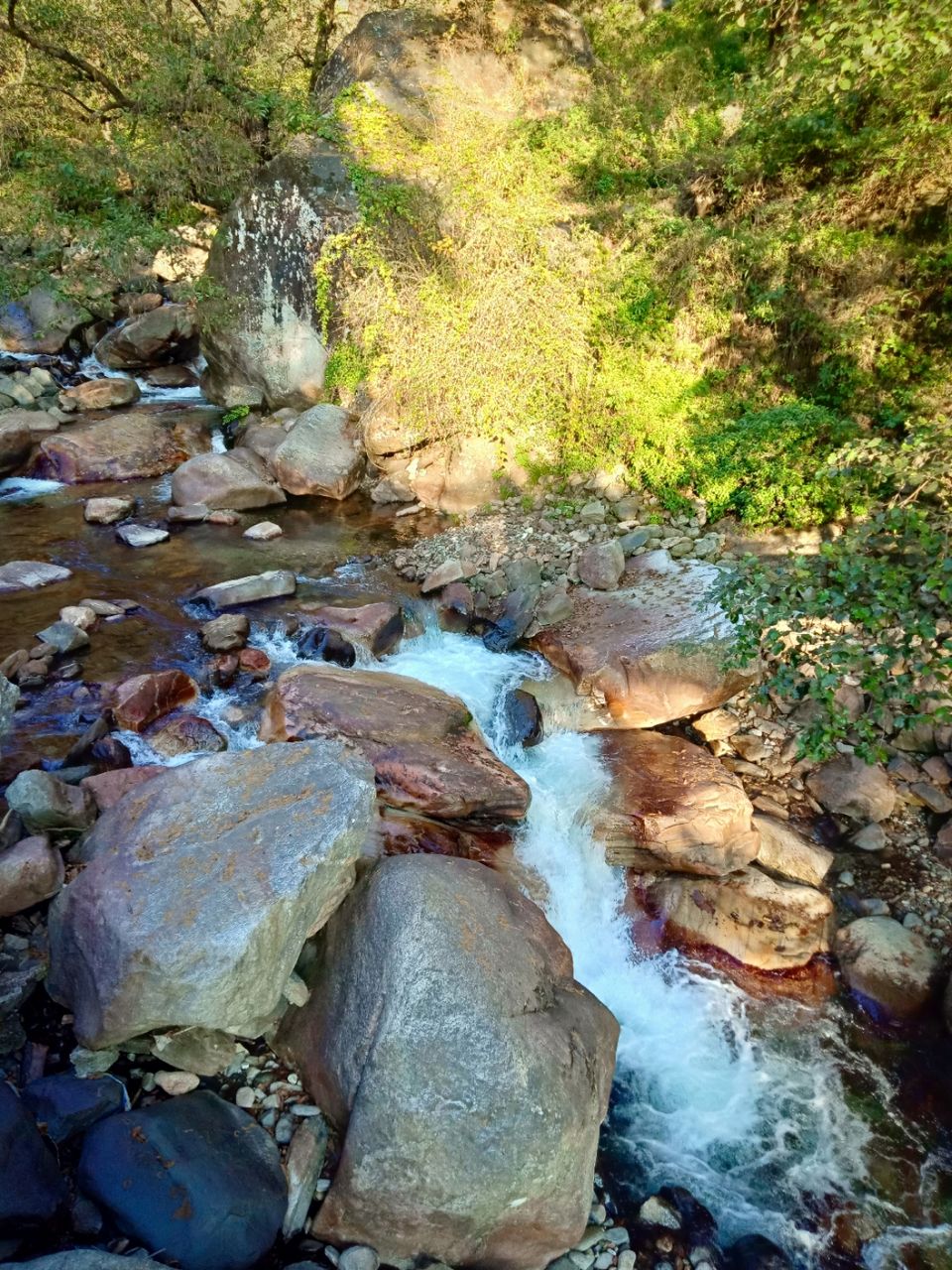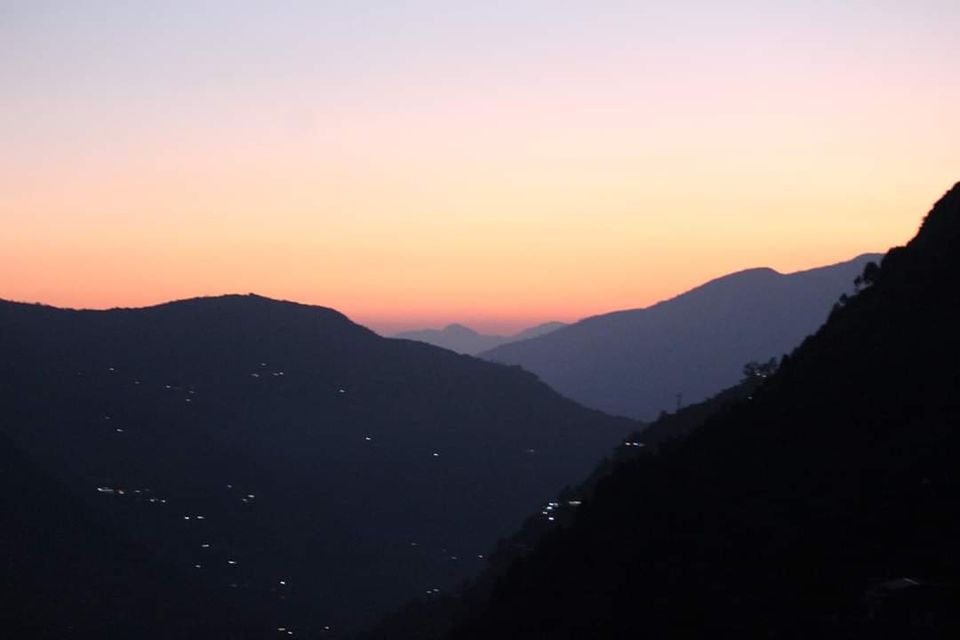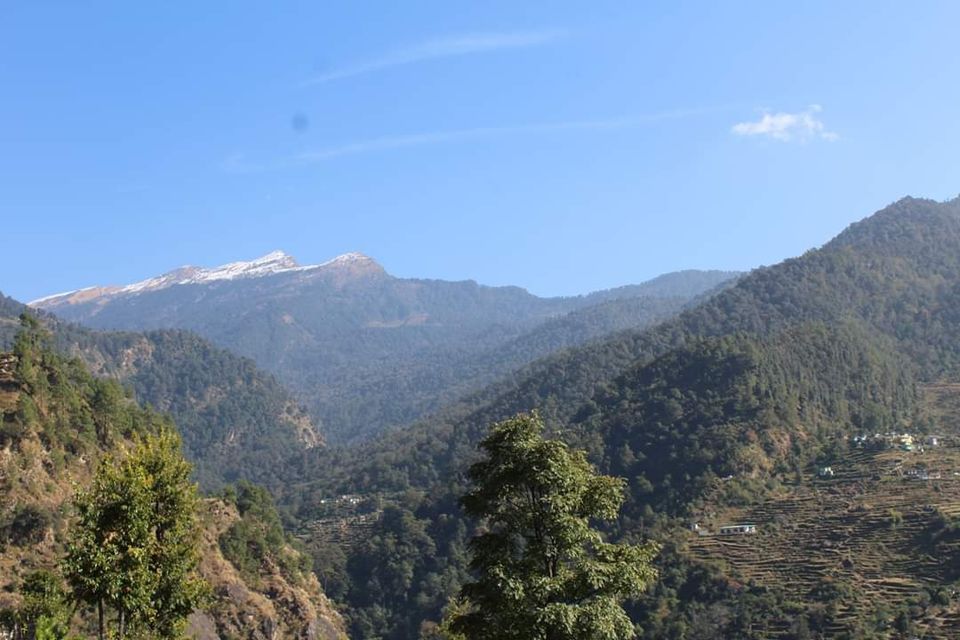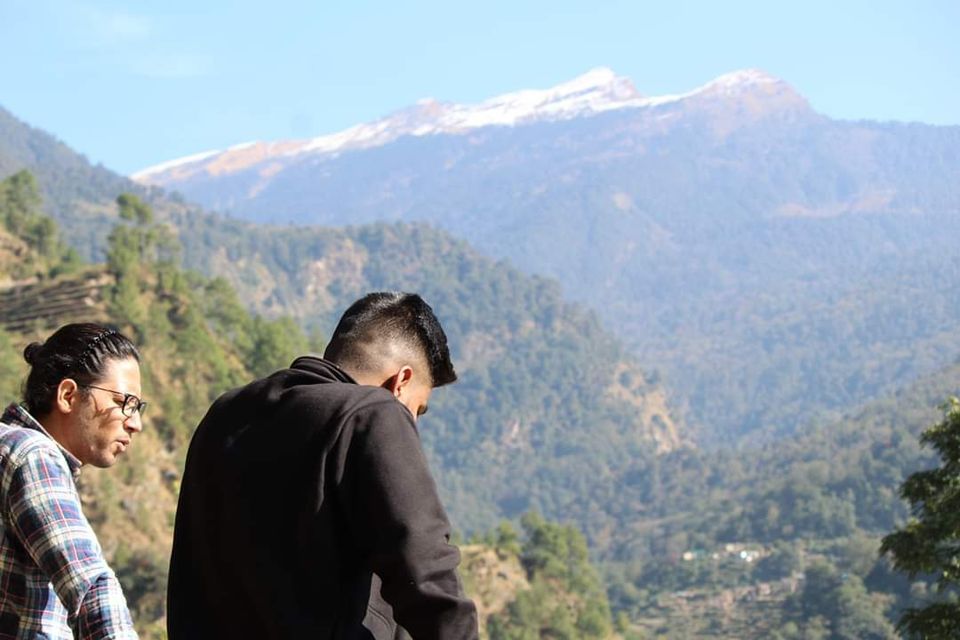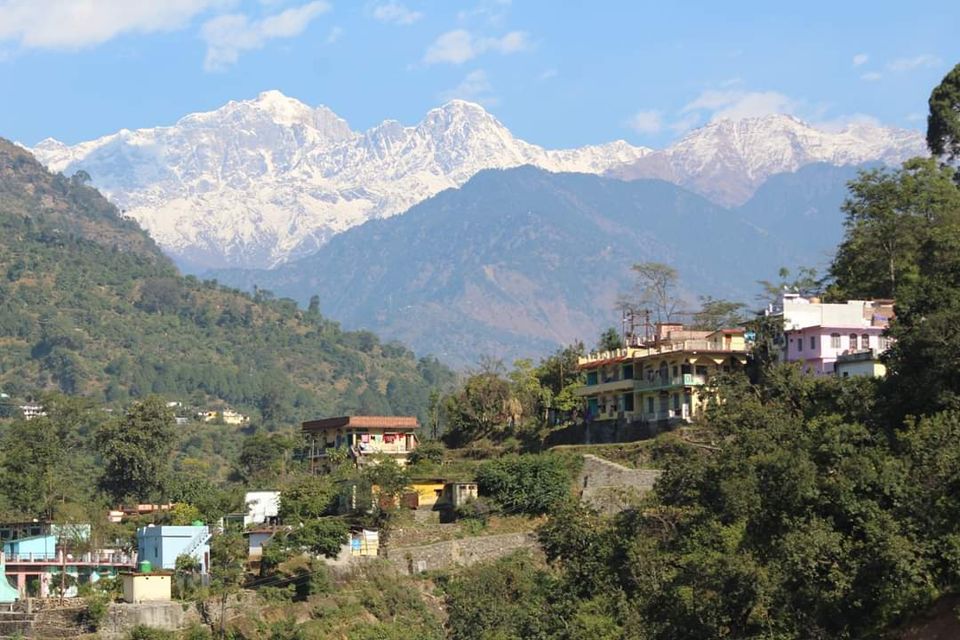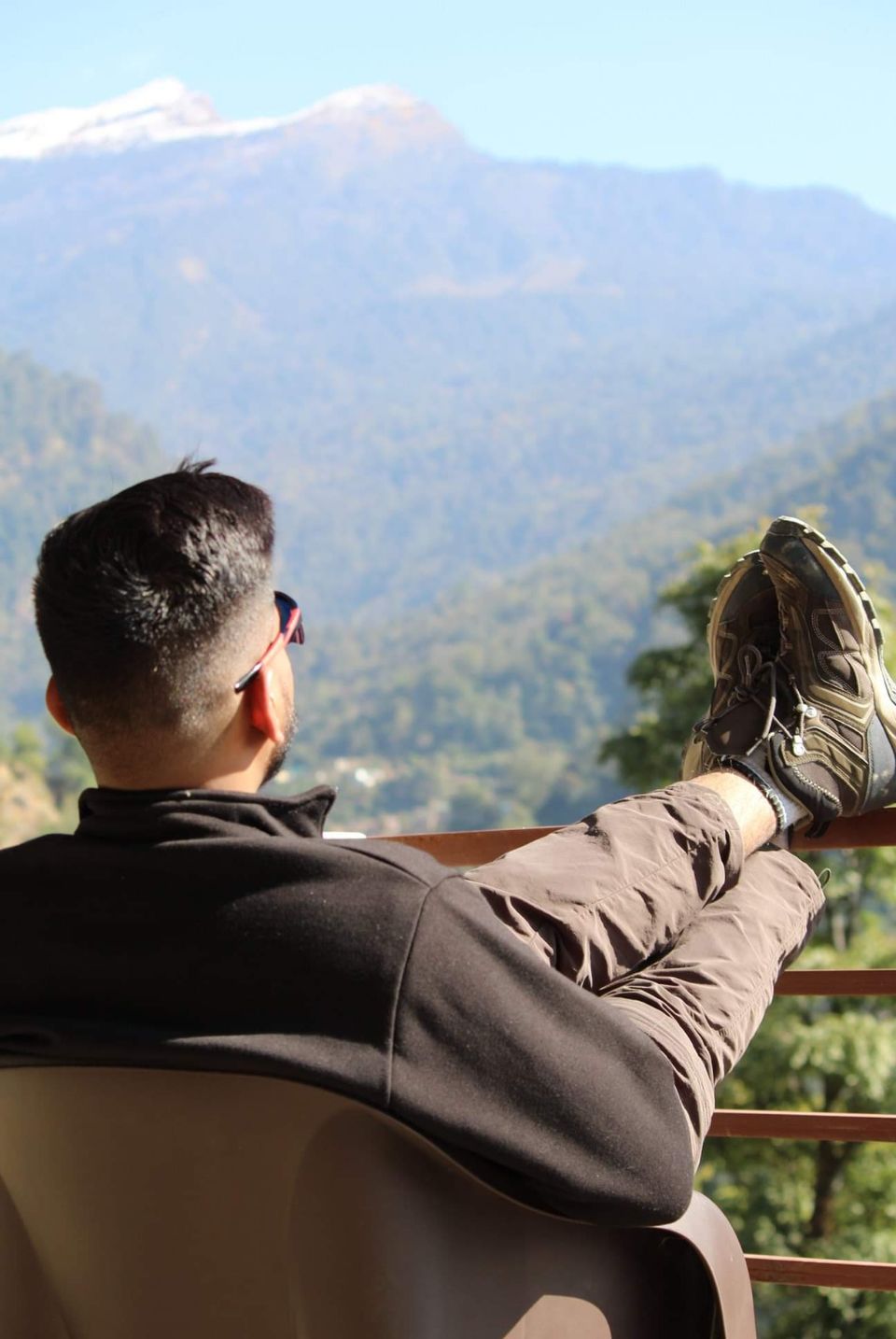 Short hike to devriyatal :
We were supposed to get up at 6 but we were so tired last night that we even missed the alarm and the alarming shardul at our door. I woke up at 7am and rushed to washroom immediately. Although it was just a 3 km hike from our lodge to devariya taal via sari village but we need to complete this hike as soon as possible as we had to arrive to Chopta as well on the same day. As no public/ private transport was available from mastura to Chopta at that time of year, shardul advised us to get back to lodge around 2pm at any cost. Debasish and me nodded to him and looked at each other.
Shardul gave us a company till sari village from where the forest trail to devariya taal starts. It's just 2.5 kms from sari village but quite steep. "Dabbu" also came with us. It was a bright sunny day with a lot of himalayan birds chirping around. As shardul is a birdwatcher and birds photographer by passion, he told us a lot of things about the birds in that region. Mastura is the home to numerous types of birds. After an hour or so, we reached sari village. What a pleasant sight it was !
Steep terrace farms with kids going to school and smiling for no reasons on seeing us. The houses were so beautifully made as they were crafted by the old himalayan sadhus themselves. People were so kind, they were asking us, " devariya taal Tak jaana hai, hum chale ?" And shardul was like, " Yeh chale jaaenge !". That walk somewhere in between the houses and the Malta trees guiding our way to devariya taal trail entrance were heavenly. I just can't believe something natural and beautiful like this to be existent.
Just before the entry gate for devriyatal, we took a tea break as the next tea stall after sari was on the hilltop. We started our hike by clicking selfies and singing retro bollywood songs but I could not sing for longer as my lungs were bursting out due to steep path. On the way, we seen a lot of pahadi culture. Everything and everyone was so calm and content as they have found the mantra to stay happy forever. Happiness was sparkling out from their face unlike us poor city peeps as they don't have any longing or urge for anything. They look fully satisfied with whatever they had. Even the dogs were so smart that they were not barking for no reason like dogs do in delhi. Though we were strangers for them with bulky rucksacks on our backs but they still gave us a warm welcome as they were saying, "Padharo mhare sari mein".
After hiking for about 90 mins, we were all soaked in sweat as the sun was shining very bright that day. We were really confused as if we are following the correct trail or not because we were the only group on that path. Nobody was there other than us. I gathered some power to walk for a few more metres to reach the visible top (You can never judge by just seeing that how high the mountain really is) and then I saw a tea stall.
I ran towards it and shouted, " Kitna door hai ab aur devriya taal ?".
They said, " bus yeh aage se neeche utar jao yahi se aa gya bas". I took a breath and took few steps from there towards the woods and after just 20-30 metres what I saw was breathtaking !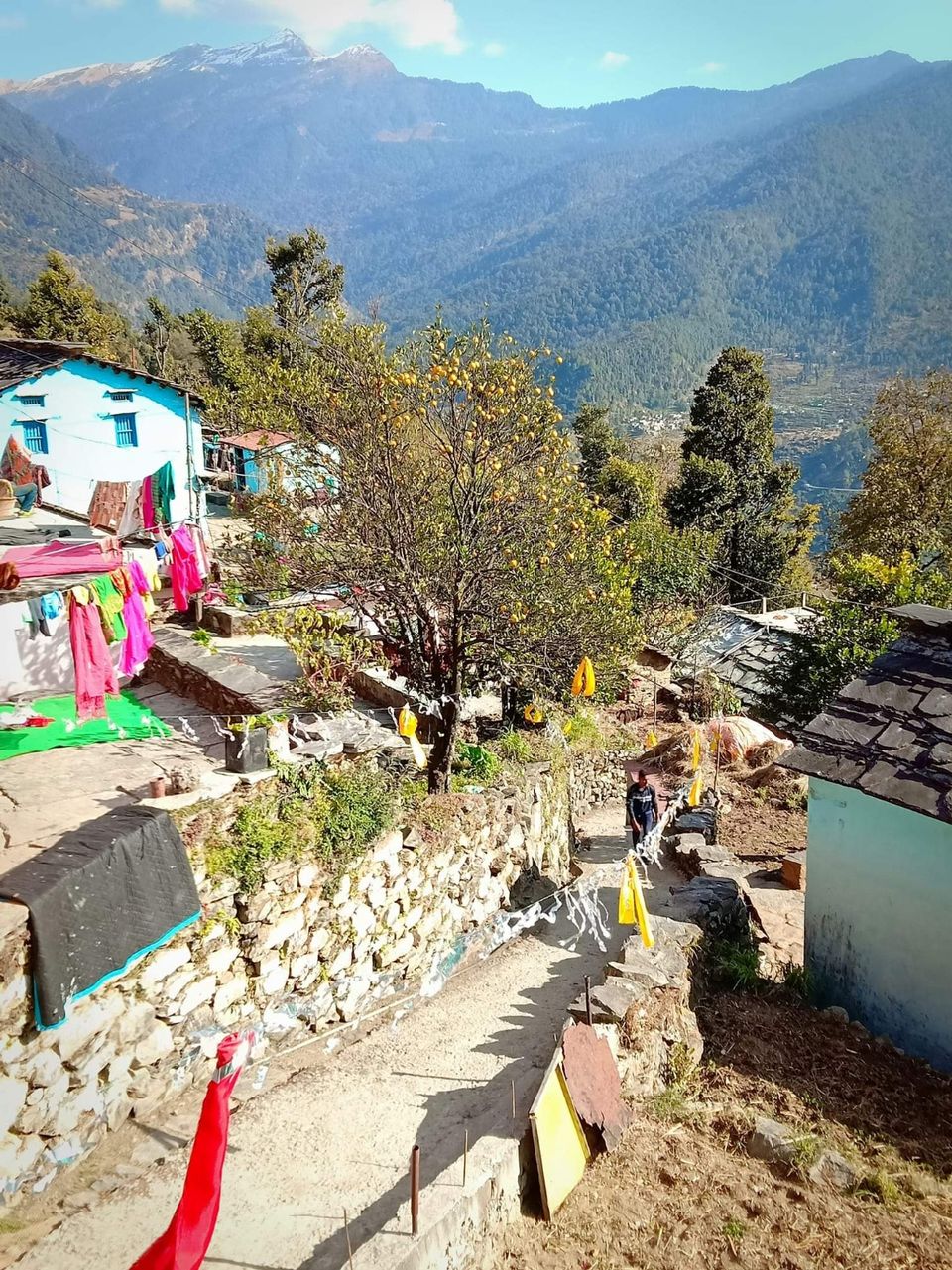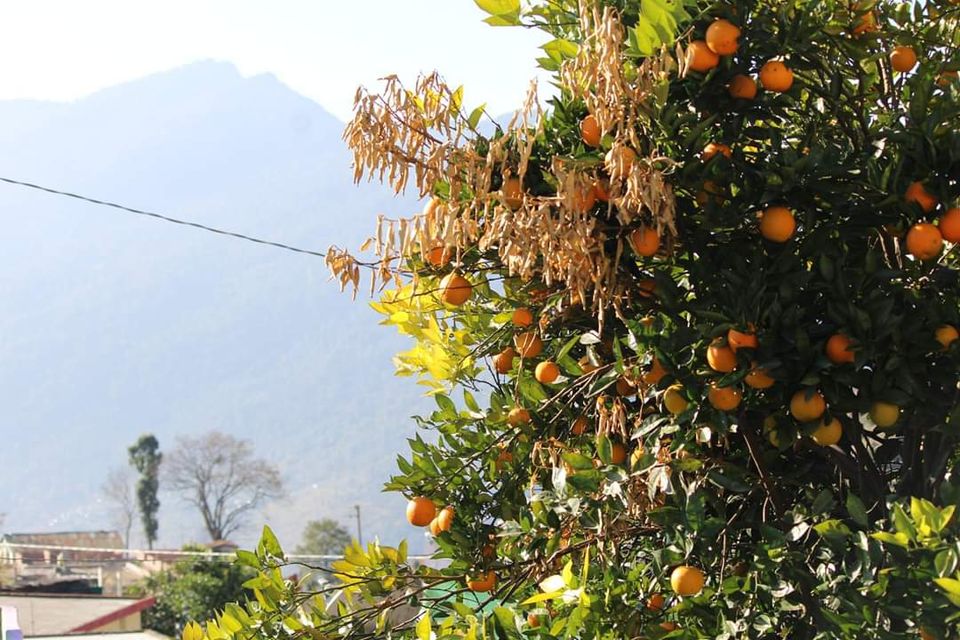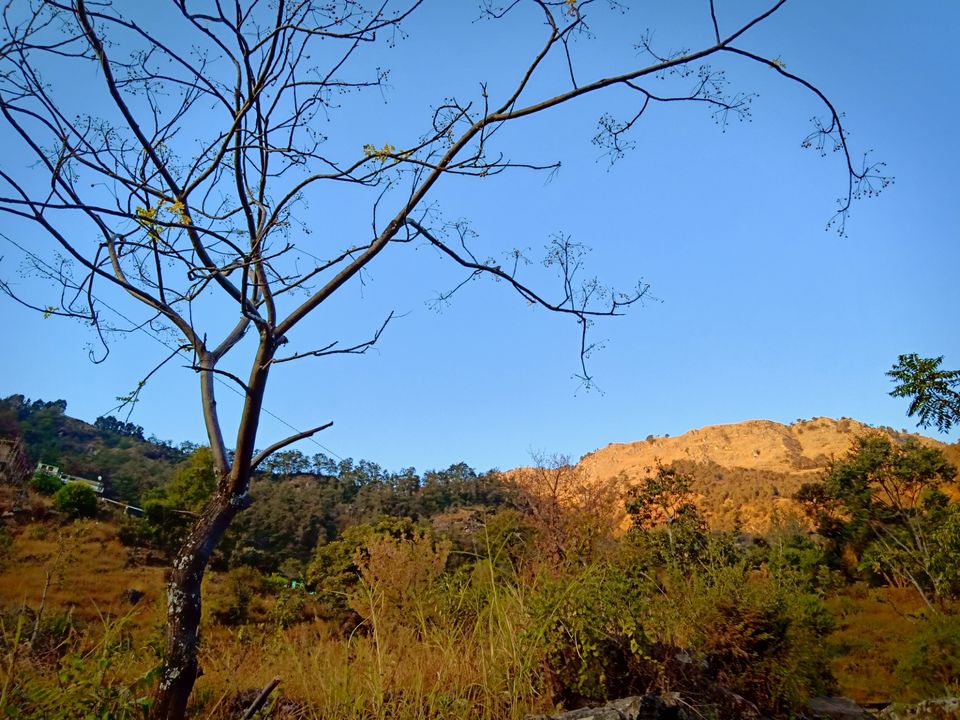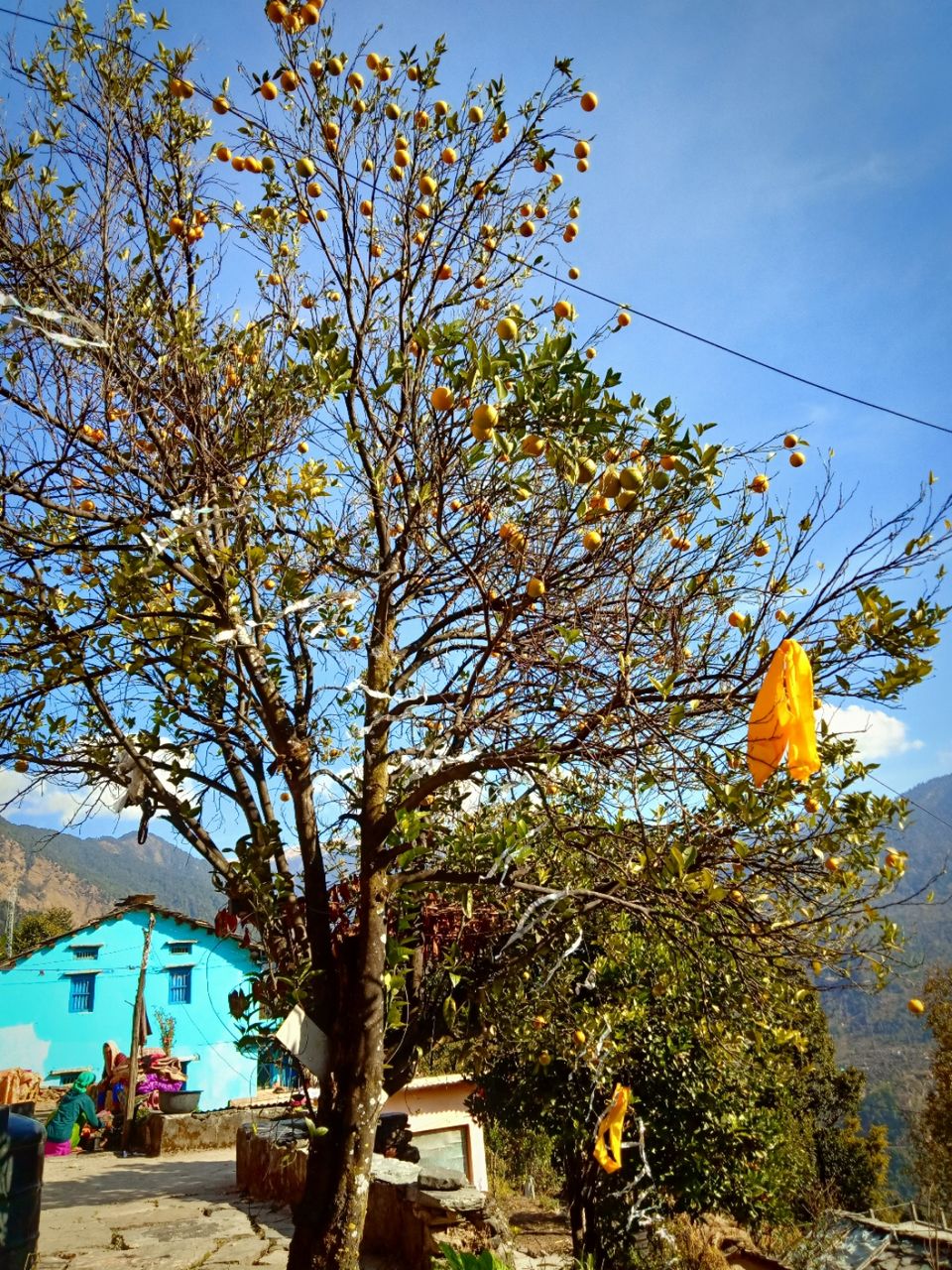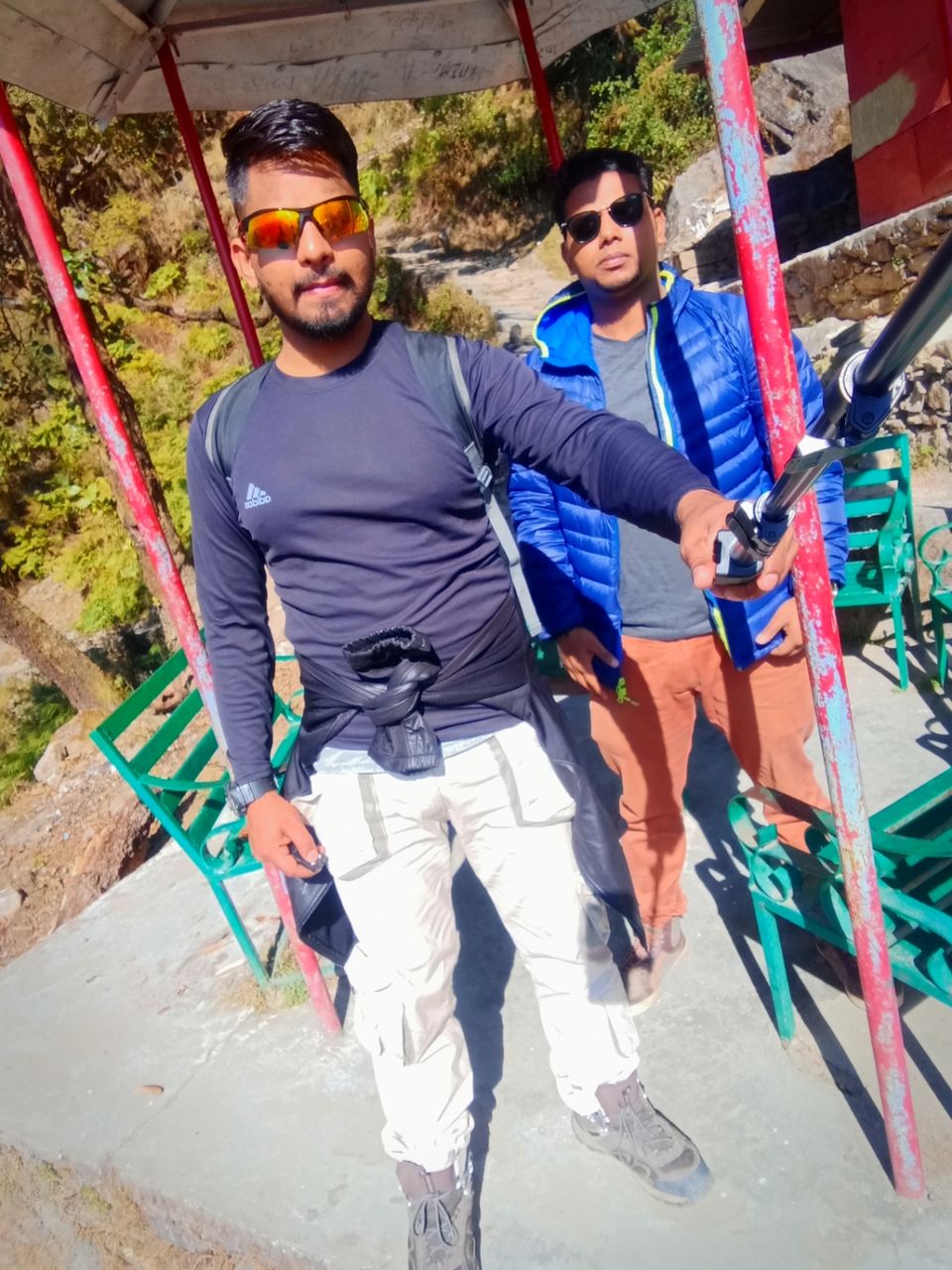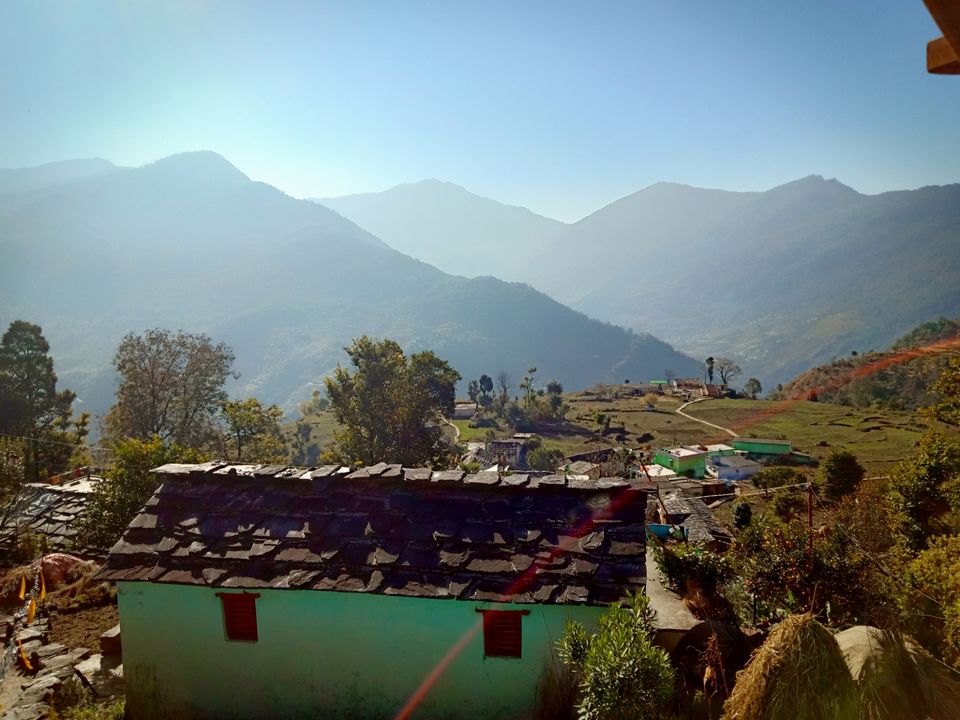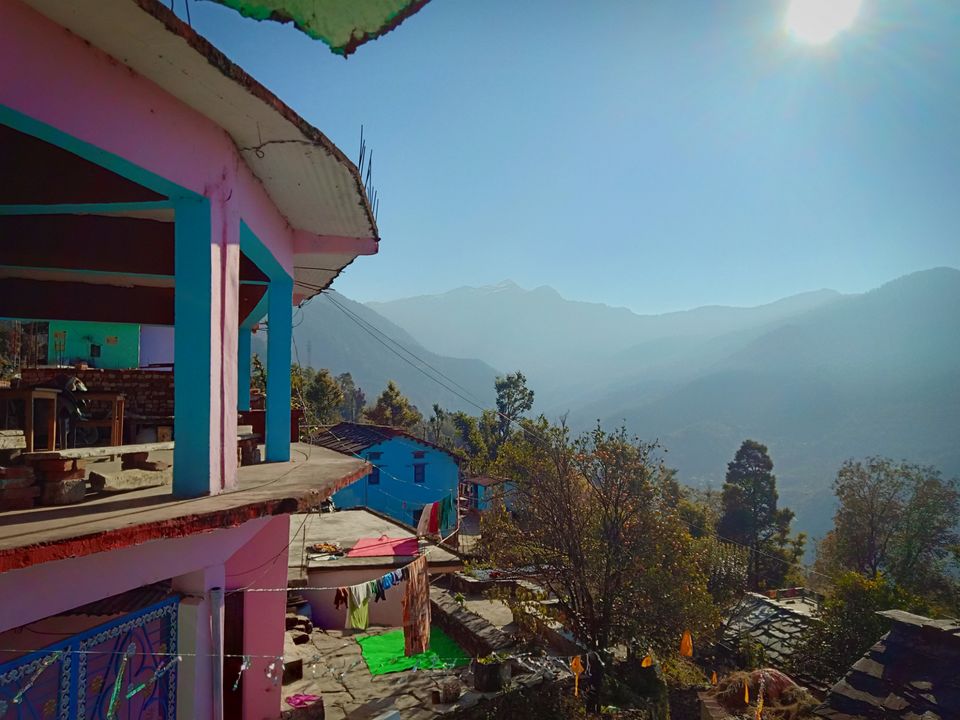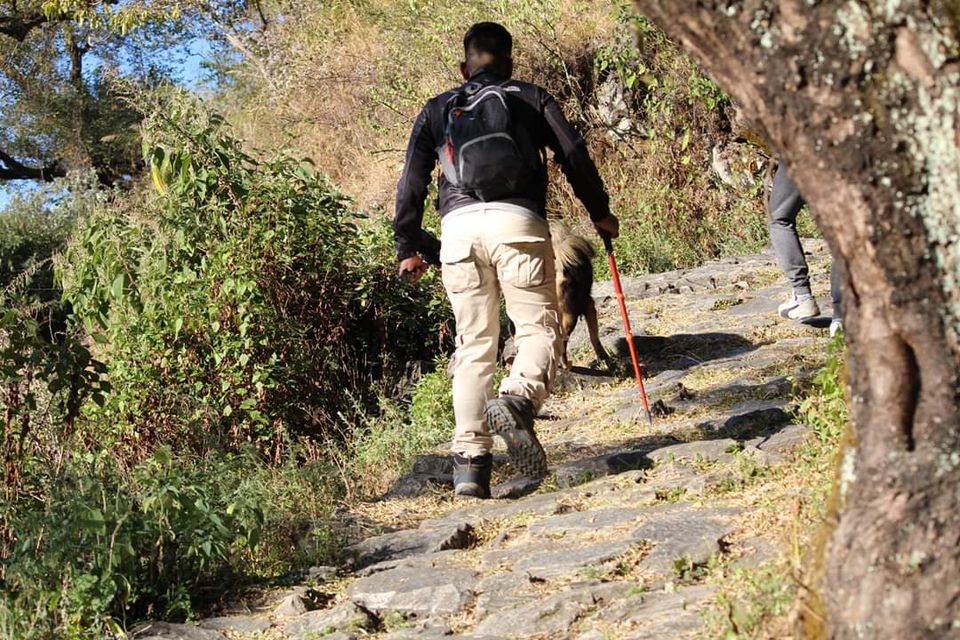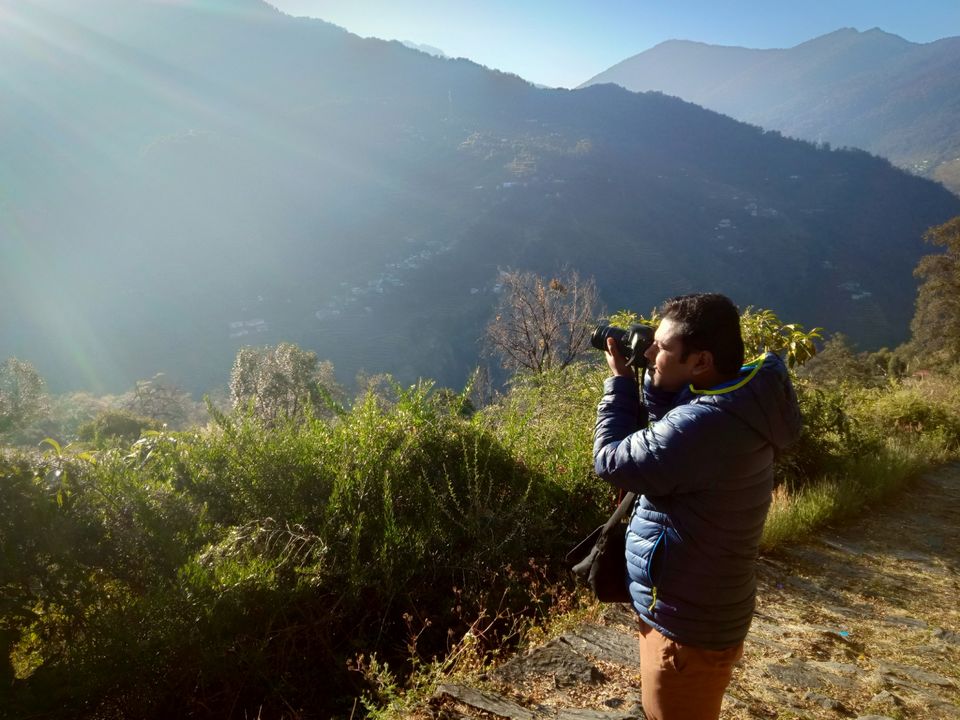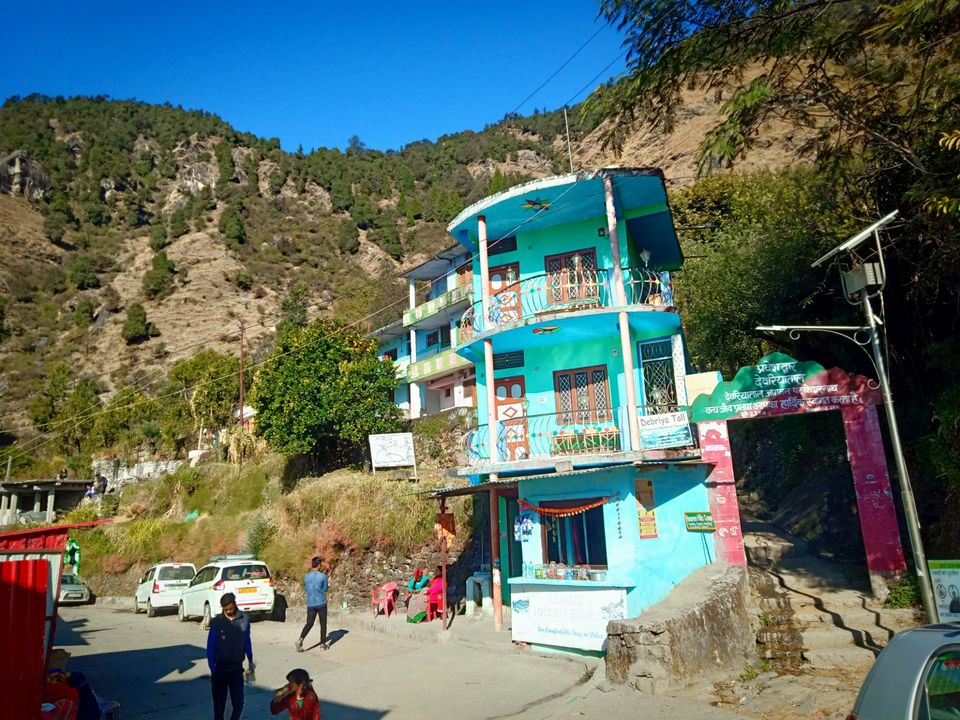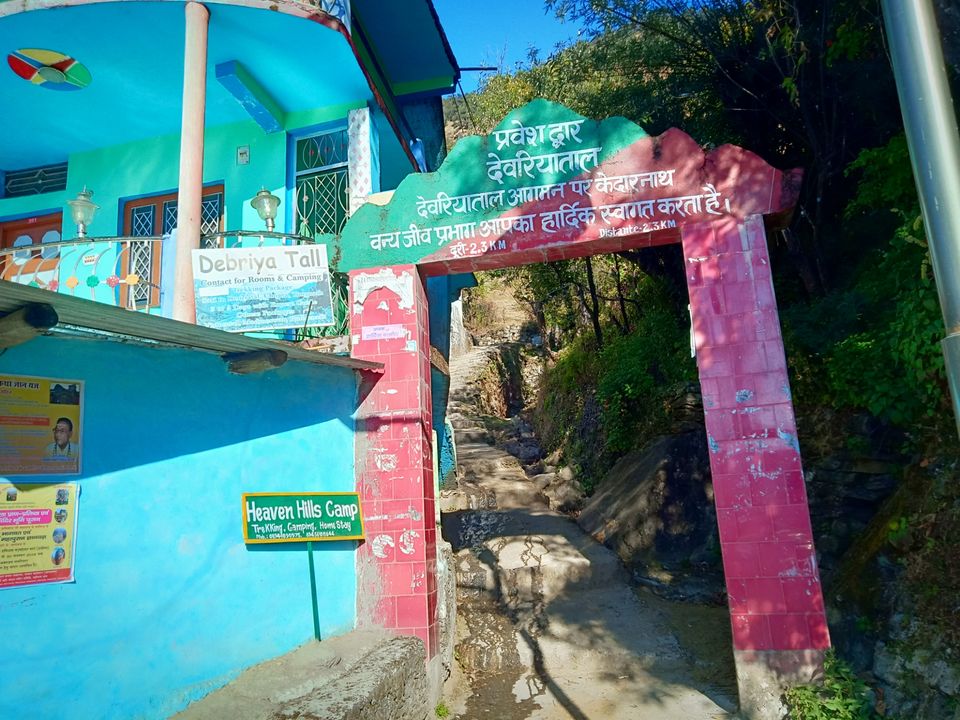 As we reached the devriya taal after having a quick breakfast at the tea stall, we were awestruck to see the towering heights of mountains in front of us. We were getting a 360 degrees view of the whole Kedarnath wildlife sanctuary from there. We immediately started clicking pictures of the mountain range and the serene devriya taal. However the name of the place is on the name of the lake- devriya taal but as per me the main attraction of the place was the Chaukhamba range. Shardul also told me last night that we get the closest view of Mt. Chaukhamba from devriya taal. We stayed there for more than an hour, clicked 100 pictures or so and then left for our lodge. On the entire hike from devriya taal to mastura, we were talking about the pleasure and peace we experienced on the hill top. We have never been to any hill station/ hill top with such a privacy. I was feeling like someone has asked the tourists to evacuate the place for us. We left from devriya taal at around 2pm and we reached our lodge around 3.15pm. Shardul was standing at the entrance of the lodge, he asked me with a smile on his face, " Kar hi lia devriya taal aapne aakhir" . I laughed and replied, " Aaj ka to ho gya, lekin asli exam to kal hai".
There was no transport from mastura for chopta. We reached late at our lodge so transport arranged by shardul for us had also moved. Although he had a word with his friend and accommodation for the night has been booked but reaching there was the new challenge for us now . After few hours, shardul came running to our room and said "Jaldi Chalo ek jugaad hua hai aapko chopta pahuchaane ke lie" !!!
Shardul somehow convinced a teacher who was going to Chopta for his duty, we got in his Alto in no time. On the journey from mastura to Chopta, The teacher kept requesting us to not tell anyone that he is doing this. He told us to inform if someone asks that we are his relatives and he is just doing us a favour. Debasish and me looked at each other, smiled and said in unison, "OK guru ji".
He just took 500 rupees for taking us to Chopta.
Again the fare was surprisingly cheap as the distance was more than 14 kms and it was off season. All thanks to shardul and guruji. Even shardul just charged somewhat around 1600 rs. from us for the one and the half day stay. He was such a humble person that he kept guiding us when we were in chopta about when to leave, when to come back from tunagath, where to find the transport and so on.
We landed in chopta around 4pm that day. Sun was about to set and snowy winds were unbearable. I had to pull out my heavy jacket out of my bag as I need to take few pictures from outside. Moksha cafe in mastura was waiting for us. It was a small cafe with two rooms in the backyard, an abandoned camping site with a few camping chairs placed here and there. He served us coffee once we checked inn. Sun sets around 5.40 or 5.50 in the mountains in the month of November so I prepared myself to take some sunset shots. This time even before I could gather my photography tools to go outside for photography, debasish goes outside to take some pro-shots . It was a perfect landscape in chopta that evening. We took a few hell of the pictures. I also tried to shoot a time lapse of the sunset and was quite successful.
After staring at sun for an hour, we came back to our lodge cum cafe. It was such a small room but we could not ask for more as It was recommended by shardul. Also we just need to spend a night so it didn't matter to us. I asked debasish to come outside for dinner but he said he doesn't want to come. I went outside and it was freezing cold. I guess temperature was 3-4 degrees at that night. I just met with a few mastiff dogs few metres away from our stay, offered them the national biscuit and came back to lodge.
We ordered omellete for the night. We had to leave at 4am sharp next morning so I crashed at 9pm to take a proper sleep.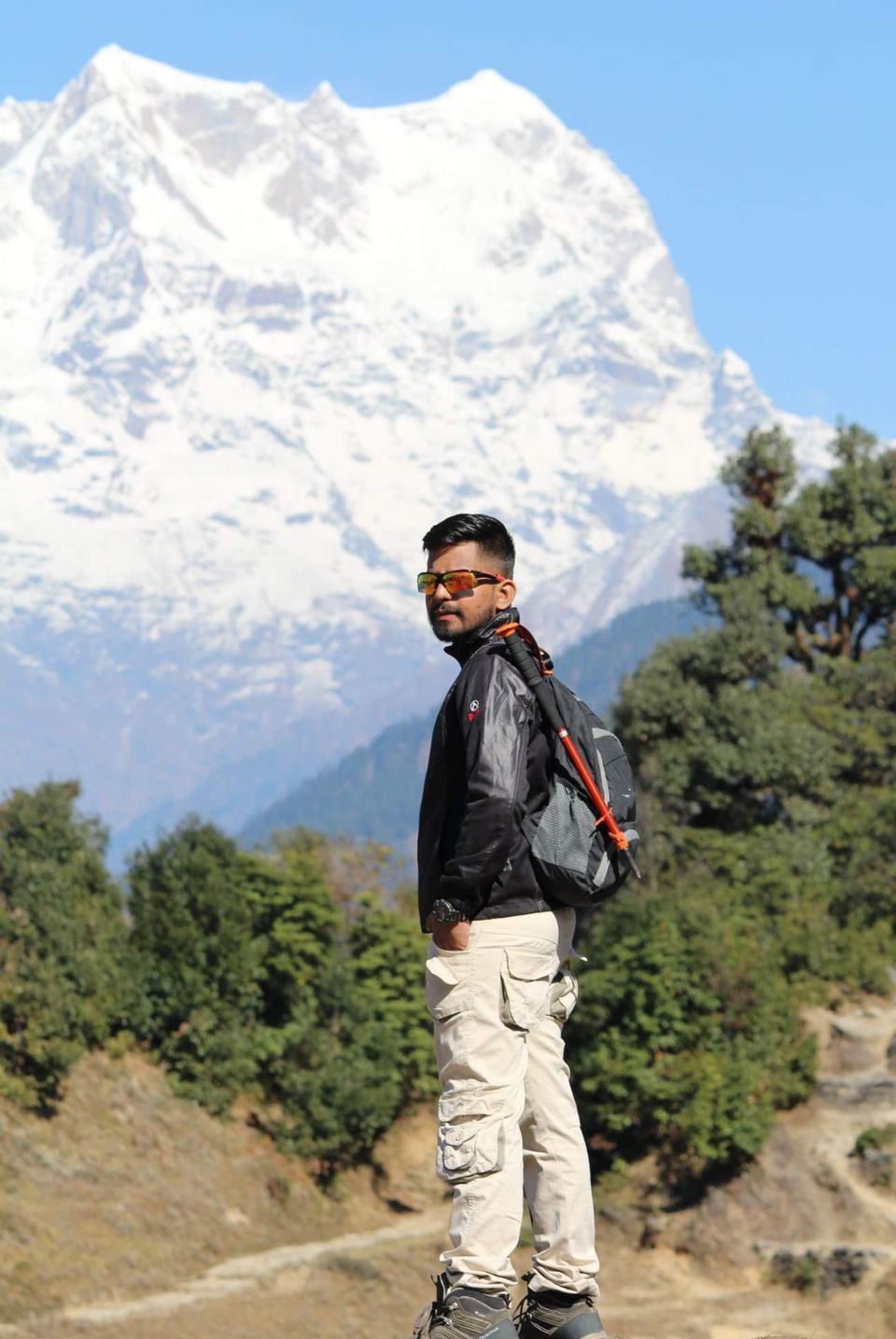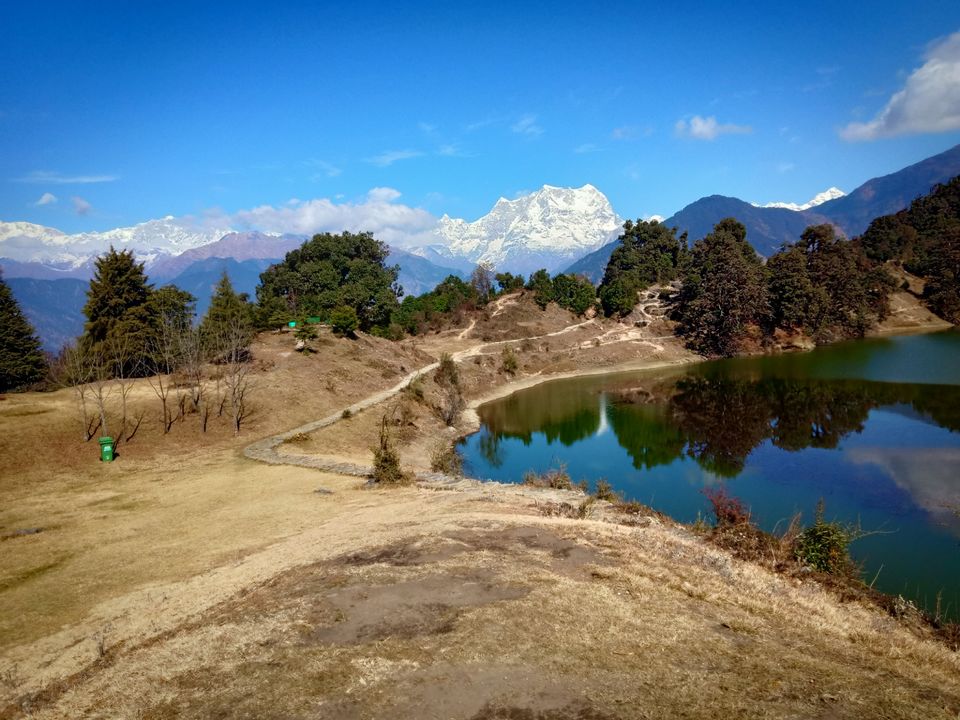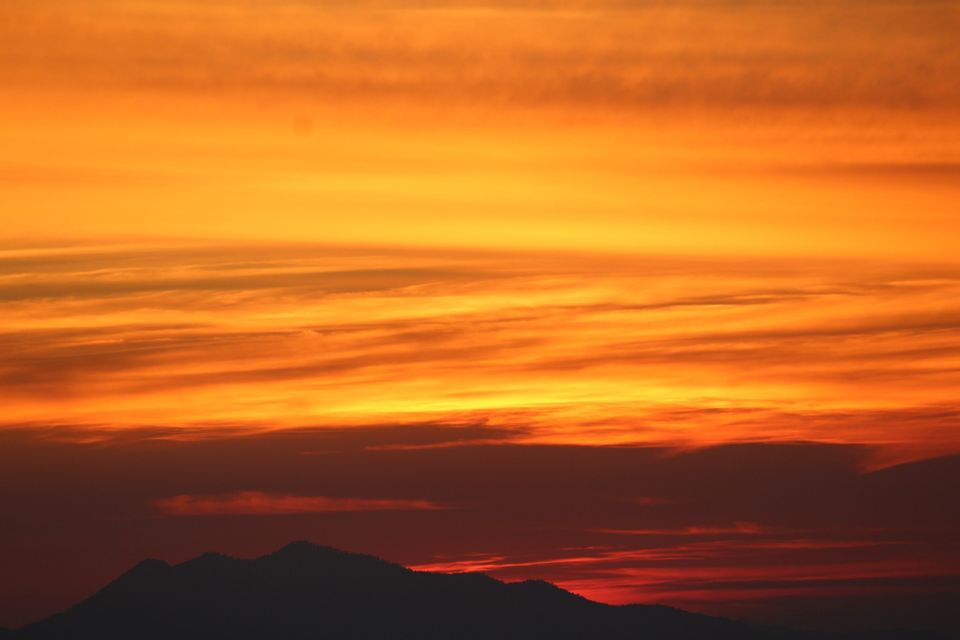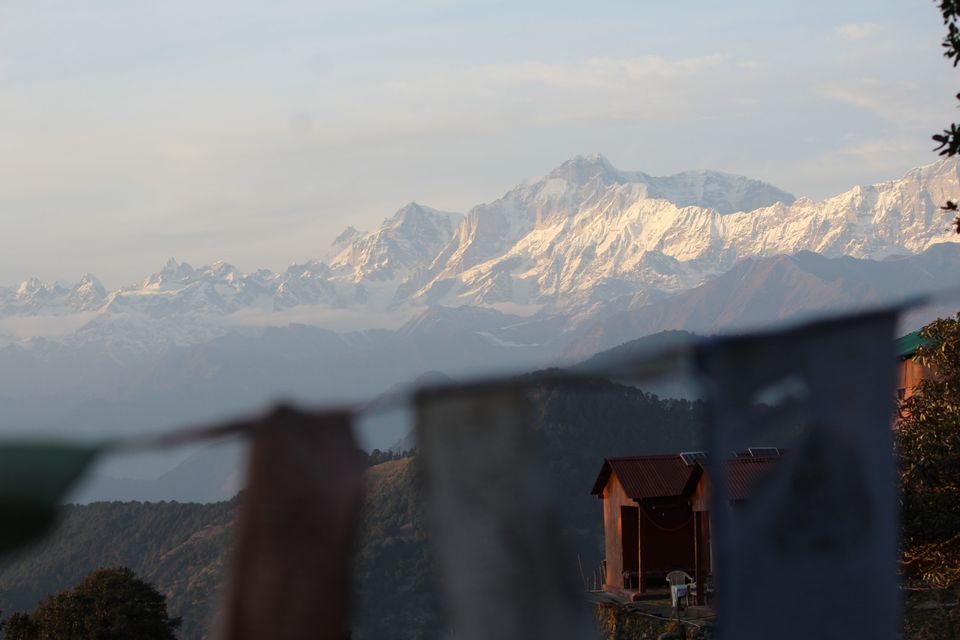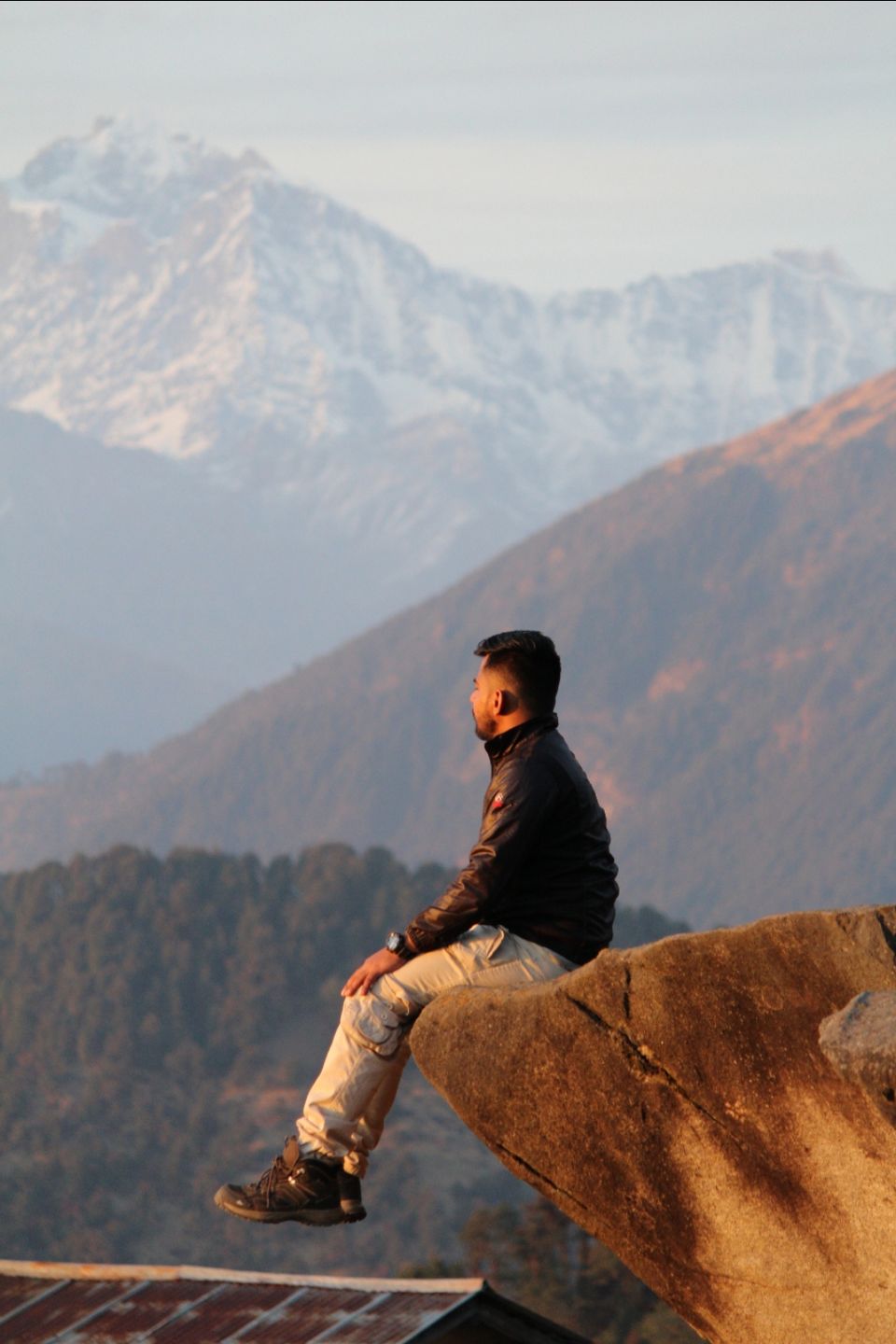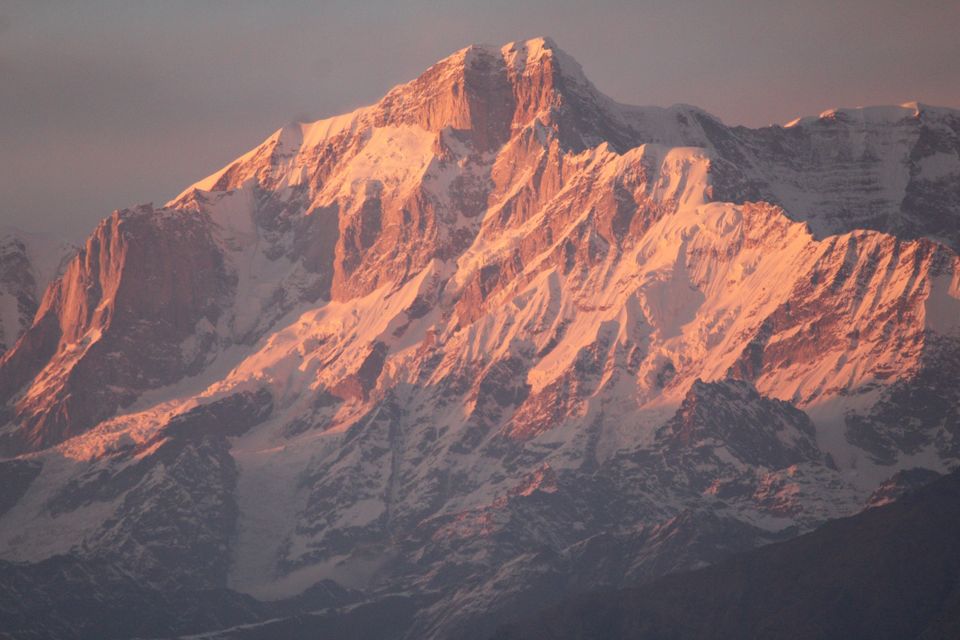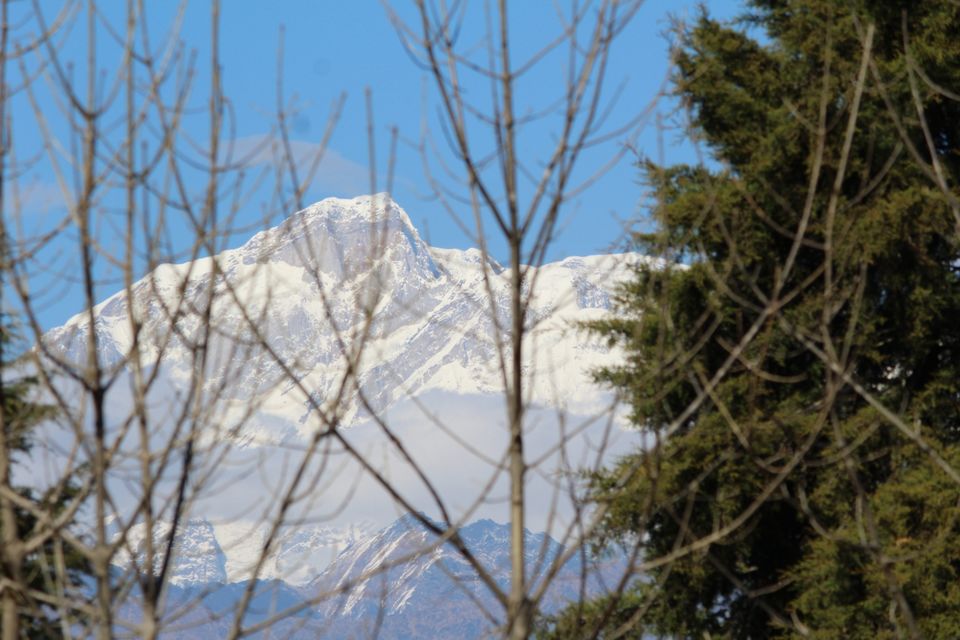 November 18, 2019
The Summit day : Chandrashila
We both got up at 3.15 am as we were damn excited about the day. We quickly started picking out our best layers for the trek. It was pitch dark outside and so cold that one could not even put his feet on the b floor. We wanted to see the sunrise at 7.40am from chandrashila. We reached the starting point for Tunganath yatra at exact 4am but there was no one around. Debasish asked me to wait for 10-15 minutes, let an another group come and we will join them. Actually we were thinking about a discussion we had a day before in which someone was telling us that there are good chances of seeing a leopard on the trail. We took that seriously but it was nothing but a hoax.
Just after few minutes, a group reached there. They looked at us, we looked at them and we started moving together as they were also looking for a company. Trail starts. Only the bright gleamy stars were visible at that time, it was pitch dark. We started walking on the trail with mobile phone's flashlights in our hands. On the way to Tunganath, You will only pass through the trees for the first one hour or something. After that there will be only open sky with big rocks and slippery ice.
We were taking a halt after every 15-20 minutes as this trek has one of the quickest altitude gain. Chopta is at around 9000 feets and then you quickly reach up to 11,000 feets or more at Tunganath.
And just after that you will reach chandrashila peak which will only take 1.5 hrs from Tunganath temple. The altitude of the peak is 12000 feets. After trekking for about 3 hrs, we reached Tunganath temple. It was already 7.30am and I didn't want to miss the sunrise from the peak. With that determination in mind, I proceeded to chandrashila peak without paying visit to the Tunganath temple. However the temple was closed as it was November but seriously at that time only summit was coming in my mind. I realised it very soon that I am the only one going up to the peak. The other group has already reached the peak. One of them was visible from where I was. I started walking swiftly but carefully. At one point there was such a deceptive snow/ice that I could not see it. I slipped on it and fell down. It didn't cause any harm to me but I somehow saved my phone from felling down in the valley.
After that I became over cautious and hyper active. I just took 40 minutes from there to summit. Thanks to my past experience of kedarkantha, it helped me a lot in walking on snow. There was a small temple on the peak called ganga temple and I was looking at the waving flags of the temple as they were calling my name.
I thanked God on reaching the summit. It was such a beautiful view that you can see a mountain everywhere you turn your neck. The sun was shining so bright at 12000 feets that even my Polaroids were facing a hard time in reflecting the rays. I opened my bag and pulled out the juice can out of it. Even the juice was tasting like Amrit there. I met the other group, we had a discussion on treks and ecology, clicked a few selfies with my Monopod and then said bye to mighty chandrashila .
After that we stayed at Tunganath temple for about half an hour. The other groups had already left for chopta by the time we reached there as it started getting colder . Tunganath was such a marvel to see, huge rocks craftily sculpted to form a temple ! It was all laid in the blanket of snow. All the dhabas were shut as they operates from March to October only. After biding adieu to Lord Shiva, we started descending to Chopta. There was a huge temple bell at the entrance of the temple and it's sound was so loud that it was even audible in chopta.
We took around 2 hrs to reach chopta and we were overwhelmed to see the dhabas due to our craving for omelette and tea. During breakfast we had a word with the dhaba owner but he said there is no transport from here to ukhimath. We were stunned to hear that. As it was off season in chopta so private cabbies were on off too. Reaching chopta is not as difficult as leaving from there is. After few minutes a driver came to us and asked if we want to go to ukhimath or kund ( Kund is a tri- junction from where road diverges for madhyamaheswar, Kedarnath and ukhimath).
As per the driver, buses leave regularly from rudraprayag to rishikesh so reaching rudraprayag from Ukhimath is what he suggested to us. The frequency of transport was better at kund so we asked him for taking us to kund. He agreed at an fare of 600 per person. He got the only taxi in the area and we didn't want to stay in chopta for one more night. As it was the only option for us, we hired him and asked him to reach Moksha cafe.
Moksha cafe was little adamant on room charges, he charged us 1000 for one night. We immediately called shardul and he got us a discount of 200 rs. Our souls were satisfied.
Chopta is perfect if one is searching for a peaceful and undisturbed place. The distance of 36 km from chopta to kund passed in no time as the driver used to work in Delhi few years ago and he was talking continuously to me. He was taking sharp turns on ukhimath roads laughing and telling about his Delhi experiences. Debasish was sleeping on the back seat. He dropped us at kund, we tried to bargain but were unsuccessful.
Kund was nothing but a highway with a giant welcome gate, a few cops at a check post and a narrow water stream coming down from the hills.
We asked the cops about the bus and they replied that the morning bus is already left so better to take any transport which passes by kund for rudraprayag. It was 30 kms from kund and fortunately we got a shared Jeep in just 15 minutes from there. As usual, we got the back seats in the Jeep and the road was in even more dilipidated state than before. We reached rudraprayag bridge in 1.5 hr. We wanted to reach rishikesh as soon as possible because we wanted to stay there for the night and the public transport hardly operates after 4pm in uttarakhand. Our Jeep driver waved another driver who was coming from the other side of the bridge and asked us to get in that jeep. He said, " Isme baith jao yeh apko Srinagar chhod dega waha se aapko rishikesh ki bus mil jaaegi". Without giving it a second thought I came out of the jeep, jumped on top of the jeep to get our bags down and ran towards the other jeep. Everything was happening like a video game as we are on mission to reach somewhere. It was little annoying but we were enjoying it.
We reached Srinagar garhwal around 3pm. We were so hunched up that we decided to stay in Srinagar for the night. Also there was a direct bus to Delhi from Srinagar bus stand next morning. We took an above average lodge at just 500rs. Just 500 rs !!!
The room had a hot water geyser so finally we drenched ourselves after one day. Food was not good in Srinagar but the place where we had the breakfast next morning was quite good. Don't go for anything fancy, just order Aloo parantha when you are on mountains. They are seasoned in making the aloo paranthas. After satisfying our appetite, we finally took the bus around 8.30am from Srinagar bus stand.
It took almost 12 hrs for us to reach Delhi but it didn't bother much as we came sleeping all the way. Trek to Chopta - Tunganath is something which has a charm of it's own. It's a must do.
And it would be more adventurous if you do it without booking with any travel agency.
Do it yourself.
Plan properly.
Execute brilliantly.
Happy travelling to all 🖐️
Please click like and share it if you like my travel blog.