Located on the banks of the Bhagirathi River, Harsil is a largely unexplored and hidden jewel of Uttarakhand. It is in fact ironic to call it hidden because it is located on a road that receives thousands of tourists and pilgrims each year. But everyone seems to be in a rush to get to Gangotri and Harsil remains goes unnoticed.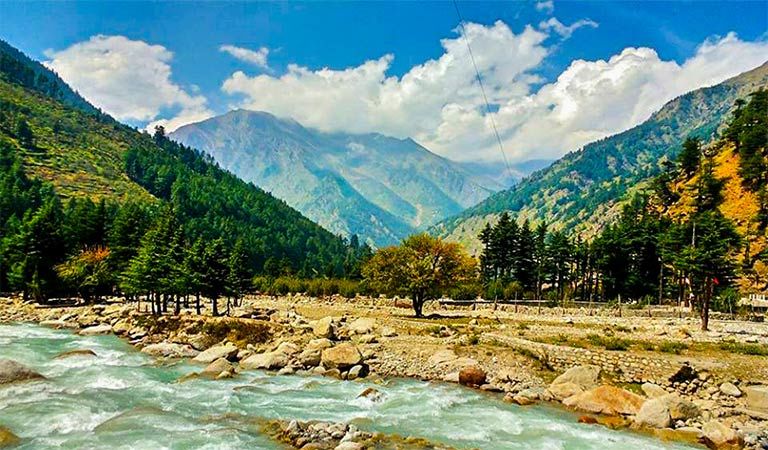 The entire 270 kilometers long route from Rishikesh to Gangotri has high importance, both in terms of tourism and religion. The road is marked with some of the most scenic and beautiful towns of Uttarakhand that are also significant as pilgrimage sites. Harsil is one such little sleepy town.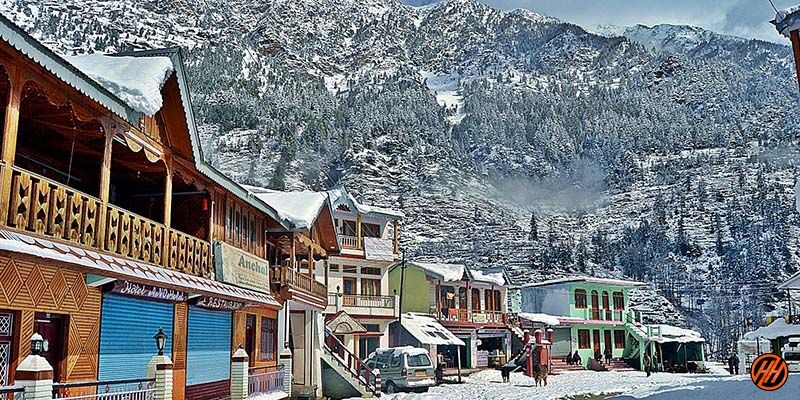 Remember Raj Kapoor's superhit film Ram Teri Ganga Maili? That movie was extensively shot in Bagori and Harsil. It is said that Raj Kapoor was so mesmerized by the beauty of Harsil during an earlier visit that he decided to shoot his next movie here; which happened to be Ram Teri Ganga Maili. Another story claims that it is because Raj Kapoor wanted to shoot a movie in Harsil is why the story developed as such and named after River Ganga that flows through the valley.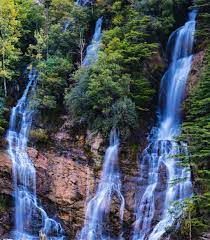 If you were thinking about visiting Harsil in the future, the travel guide below can help you with details on how you can best plan your trip for a hassle-free experience.
Harsil Weather
Being a hill station in Uttarakhand, the Harsil weather is always pleasant – even in the winter months. Winter months experience an average high of 12-15 Degrees with the lows hovering around 0. It is one of the places of Uttarakhand near Delhi to experience snowfall.
Summer months can be in the higher '20s with enjoyable nights. Monsoons are always tricky in the hills, with landslides expected. Hence, better to avoid late July to August period.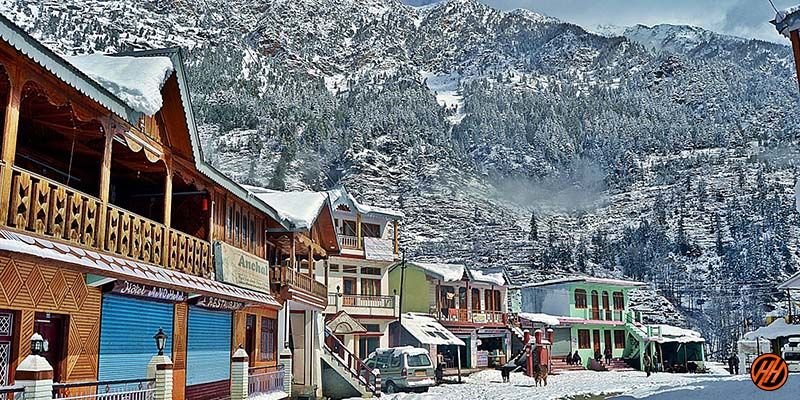 Best time to visit Harsil
While Harsil is always accessible, September to June is the best time to visit Harsil when the plains are getting too hot to handle. Summers are the epitome of pleasant Himalayan weather, where the evening is cool and the mornings are bright.
Tourist Attractions
Harsil has beauty in terms of the never-ending apple orchards, the meeting of Bhagirathi and the Jalandhari river, and the scenic backdrop. When you're in Harsil, one more place worth visiting is Wilson Cottage.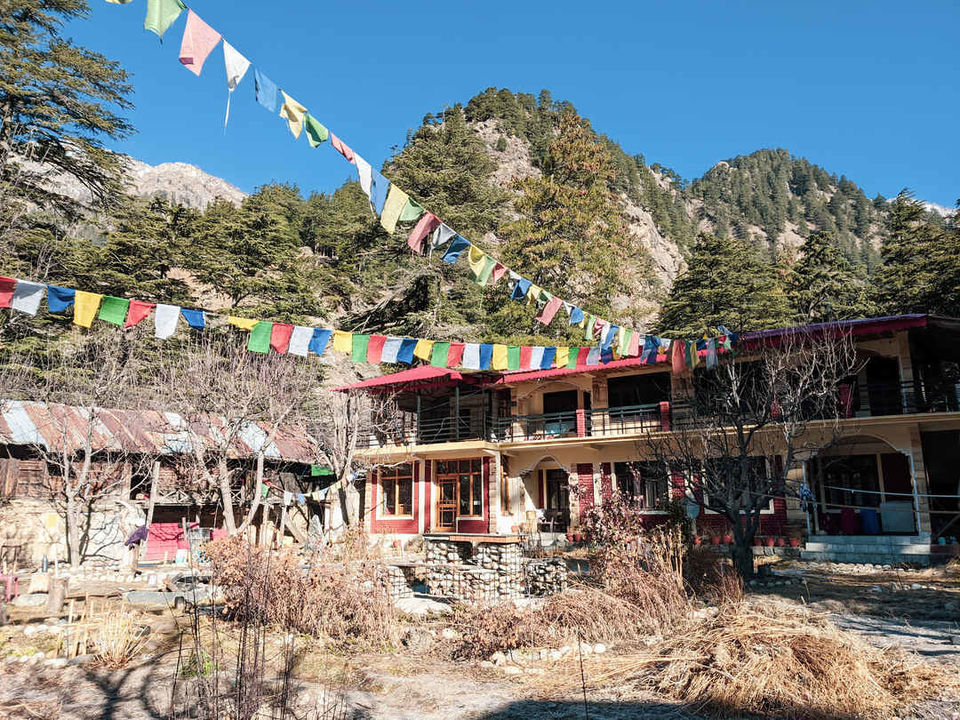 Wilson Cottage
Set up by Mr. Wilson in 1864, he built by a deserter of the British Army who me the Raja of Teri. When the Raja refused to shelter him, Wilson moved to Harsil and built this property.
Upon finding this out, the Raja started receiving a certain profit for "leasing" his land. Wilson built a 350 ft long suspension bright over Jagdanda for the local people. So loved he was, that the locals still affectionately call him Pahari Wilson
Places to explore nearby Harsil
You can explore the following places near Harsil which you will enjoy visiting apart from Gangotri.
Dharali
A tiny hamlet, Dharali has many stories to tell. Located merely 2 KMs from the Harsil village, Dharali has beautiful apple orchards that will captivate you. There are many mythological stories from this place – including Bhagirath meditating here to wish for Ganga to flow from heave to Earth. So strong is this belief that there is an ancient Hindu temple with Shivji's shrine at the right location.
Other things to do near Harsil
There are many unexplored trails in the region which you can explore in your own leisure time. Most of these trails will lead you to spectacular views of gushing waterfalls, beautiful lakes, and everything in between. It is a great way to learn the value of natural living.
The village in itself boasts of highly eco-friendly tourism where you can partake in a calm environment and enjoy meditation, yoga, etc. I highly recommend speaking and interacting with the locals to understand their way of life and appreciating how easy they make it feel to survive without most of the amenities we take for granted!
Snowfall
Harsil valley receives a constant amount of snowfall during winters. Between the months of December and February, the valley remains covered with a thick sheet of snow.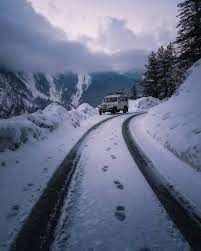 During these months, the temperature in Harshil ranges from 0 to 10 Degree Celsius. However, by the end of February, the weather becomes calm and pleasant.
We recommend to inquire about road conditions in advance and pack your bags with woolen clothes before visiting Harshil during Winters.
Where to stay in Harsil
Uttarakhand Tourism is amazing, and of course, a GMVN is available with luxury views. While the rooms might be minimalistic, the food and the views make up for everything. The Nelangana Resort is a beautiful property located in Harsil.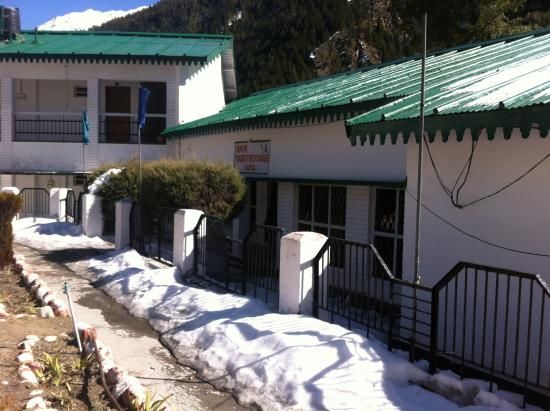 Where to eat
Given the size and the isolation of the village, it's no wonder that there are no restaurants in the village. However, there are a few roadside dhabas that will serve tasty, though basic, North Indian food.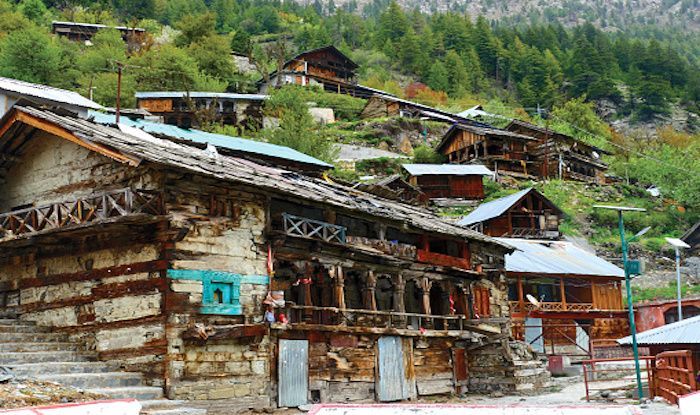 In-house restaurants of hotels are your best bet. Also, Indo-Chinese food such as momos, thupka is available aplenty. But, I would recommend trying the Garhwali cuisine of Gahat Dal, Sisunak Saag, Chainsoo, etc.
Few Facts About Harsil or Harshil
Harsil's apples and Rajma (Kidney Beans) are quite popular in the whole state. They have a rich taste, which one can easily identify.
They are very high in demand but the valley can produce a limited amounts of apples and Kidney beans.
Harsil was a popular tourist spot in 1980's also. It was the shooting place for popular Bollywood film "Ram Teri Ganga Maili".
During the 80's it was more popular than it is now. Today it witnesses only a few thousand visitors per year.
Because of the beautiful landscapes, some people refer Harsil (or Harshil) as "Mini Switzerland of India".
It lies on the route to Gangotri, a popular pilgrimage site. One can stop by in the valley while on the trip to Gangotri.
The heavenly valley of Harsil is primarily inhabited by Bhotiya tribe, who have very unique and interesting customs and a great way of living.

How to reach Harsil
Due to its high altitude location, the only way to get to Harsil is by road. The good part however is that it is not a difficult task at all. The small town is well connected with the rest of the country by a good motorable road and regular public transport. Depending on your preference, you can either drive by your own vehicle or catch a bus to Harsil.
Also Read: Gangotri and Gaumukh – How to Best Plan your Journey
By Road
There are two things that add to the importance of Harsil. The first is its significance as a pilgrimage site and close proximity to Gangotri. The second reason is that it is also an Army cantonment. Due to both of these factors, the road to Harsil remains open for all 12 months, except for rare occasions when either too much rain or too much snow may block it temporarily.
Even if that happened though, authorities immediately jump into action and restore connectivity as soon as they are able to.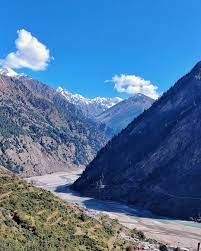 How to reach Harsil from Delhi
Starting from Delhi, the route of the journey will be as mentioned below.
Delhi – Ghaziabad – Meerut – Khatauli – Muzaffarnagar – Haridwar – Rishikesh – Narendra Nagar – Chamba – Uttarkashi – Gangnani – Harsil
Traveling this way, the total journey will be close to 500 kilometers and will take you at least 14-16 hours to complete. Ideally, it should be completed in two days with a night halt at Rishikesh.
Another way to travel is to go via Dehradun. After Muzaffarnagar, you can take the internal road to Saharanpur via Deoband, continue to Dehradun, and then go to Uttarkashi from there. I will not recommend this route though because even though it will be the same in distance, the travel time will increase.
How to reach Harsil from Dehradun
But in case you decided to go to Dehradun first or were starting from there, the route to Harsil will be as mentioned below.
Dehradun – Mussoorie – Suwakholi – Narkuchi – Dharasu – Uttarkashi – Harsil
This will be a journey of about 220 kilometers but will easily take you 8-10 hours to complete. Another version could be that from Suwakholi, you can go to Dhanaulti, exit near Chamba, and then go to Harsil. But that will increase the distance by around 70 kilometers.
By Bus
There is a daily bus available from both Dehradun and Rishikesh for Gangotri. It starts early in the morning at 7 AM and reaches Harsil by evening. The Rishikesh bus actually starts from Haridwar at 6 AM so you can in fact board it from there as well.
If not a bus for Gangotri, you will easily find one for Uttarkashi. From Uttarkashi, you can opt for a shared cab to drop you to Harsil.
Please note that there are no luxury buses available on this route. The state-run buses are the ordinary ones and can be a little inconvenient as well for some people. The only deluxe buses you will find on the route are operated by private operators for pilgrimage.
Distance Chart
Last but not least, here is a chart showing distances from Harsil to other cities.
Bareilly to Harsil: 530 km
Chandigarh to Harsil: 380 km
Delhi to Harsil: 480 km
Gurgaon to Harsil: 500 km
Jaipur to Harsil: 740 km
Kanpur to Harsil: 800 km
Lucknow to Harsil: 780 km
Meerut to Harsil: 420 km
Modinagar to Harsil: 425 km
Moradabad to Harsil: 420 km
Shimla to Harsil: 370 km
Noida to Harsil: 470 km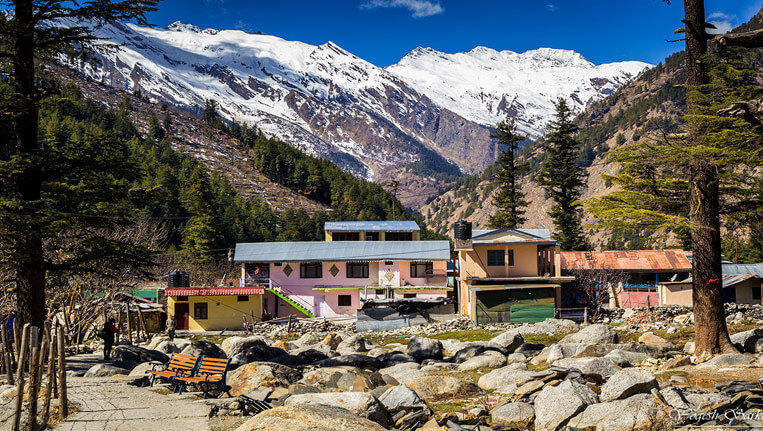 While it is lovingly known as the Mini-Switzerland of Uttarakhand ,as Indians we should get use to knowing that there are so many gorgeous places for us to enjoy in our very own backyard.
hope the information above on planning a trip to Harsil was of help for you.