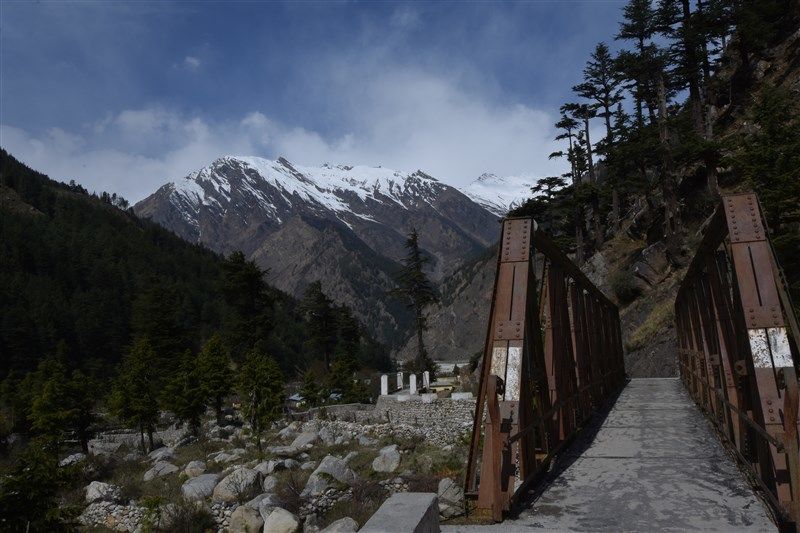 One of the items in my bucket list had been to visit Harsil, an unexplored splendor of a place in Uttrakhand region of Himalayas, lying en route Gangotri Dham just 25 kms ahead. Though I've been to Gangotri and even trekked 18 kms, beyond to Gaumukh twice I never stopped at Harsil overnight. Gaumukh is a glacial ice-cave and the origin of Bhagirathi River flowing out of it. The river is later known as the sacred Ganga from Devprayag onwards after confluence with Alaknanda flowing down from Badrinath side.
This time I was determined to spend at least a couple of days here in the idyllic and enchanting surroundings. This year I learnt that the Gangotri Temple would be reopened on the auspicious "Akha Teej" day falling on 18th April 2018. I and a couple of my friends, Susheel and Anil from Mumbai, decided to visit Gangotri on the opening day of the temple by making Harshil as the base.
Garhwal Nigam Vikas Mandal mostly known as GMVN, has a lovely Tourist Complex in Harsil, just by the side of the river Bhagirathi amid fields of apple orchids. Now talking of apples, Harshil is a major apple growing zone. Mr. Wilson, a Britisher, planted the first apple tree here in the 19th century. The fruit is THE juiciest I have ever eaten available during the season time of August – September, while driving from Gangotri to Rishikesh via Uttarkashi. Now, in the April month they resembled cherry blossom trees adorned in white flowers making a pretty picture of damsels in white.
We had booked our stay for two nights in two rooms, from Mumbai itself from their Tardeo office, for 16th and 17th April, 2018. The accommodation offered is in Super Deluxe, Deluxe rooms and a Cottage suite. The rooms were small just adequate enough to accommodate a double bed. The April month was warm during day but frightfully chilly during night. Although heaters were available, the vagrant electricity deprived us of this luxury. We had to make do with extra set of blankets. The food was reasonably good for both vegetarians and non-vegetarians. We had all our meals, not to mention appetizers too, in a gazebo, a glass house like enclosed structure which shielded us from the icy blast of breeze. The TRH is situated right next to the flowing Bhagirthi amidst apple trees.
The following day we set off exploring the area along some of the various hiking routes among old village houses and copse of deodar and pine trees. After an invigorating hike we decided post lunch to visit the winter abode of Ganga deity in a nearby sleepy hamlet of Mukhwa. A day before the opening of the main temple at Gangotri, the image of Gganga Maa is carried down in procession on foot to Bhairon Temple at Bhaironghati for the night. Next day the deity is again carried down to Gangotri's main temple which is open for the ensuing eight months till the determined day in winter. We visited the Ganga Temple at Gangotri on the auspicious day itself on 18th April. The village was in festive mood. People from all over the country, from all walks among them sadhus and pujaris thronged the temple precinct. Ganga flowing beside had its share of devotees too. People were busy bathing in the icy waters or performing "pooja" for their departed ancestors. The place was resonating with calls of "Jai Ganga Maiyya". After 'darshan' we headed back to Harsil to collect our baggage and then drove off to Dehradun from whence we were to part and head back home to Mumbai with loads of memories.
Harsil is a quaint little hamlet situated at an elevation of 2,620mts above sea level and a trekker' delight situated amidst incredible beauty of snowbound mountain peaks, pristine valleys, waterfalls and tall trees. It is one of the most beautiful places in Garhwal region. It has a cool climate throughout the year and is approachable even during winters though it gets snow between December to March. Harsil is a cantonment area and restricted to foreigners being close to inner line area. It is also the entry point to the Kinnaur Himalayas in the Himachal Pradesh. There are a few hotels too but the GMVN's complex out beats all others in terms of beauty, location and charm. Harsil can be reached from the plains from Rishikesh 243 km away which is a railhead and also from airport at Jolly Grant 260 km away.