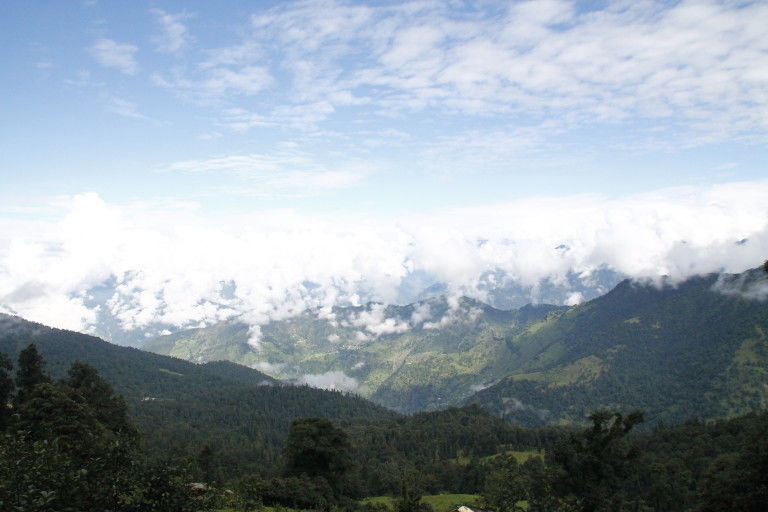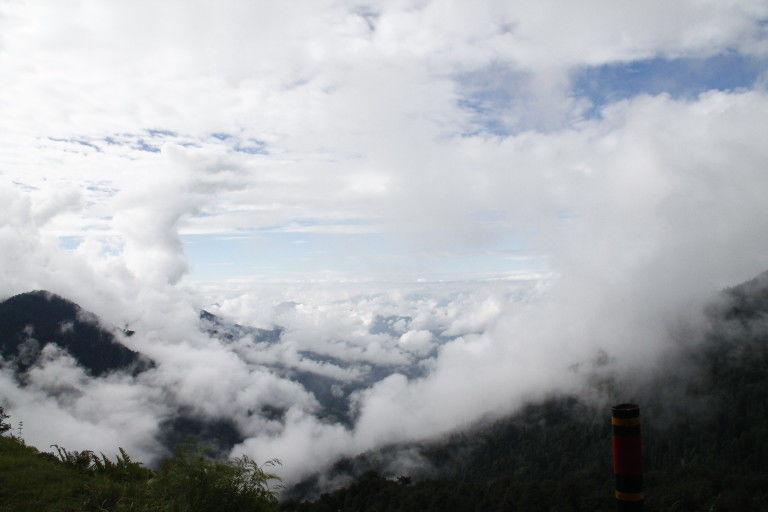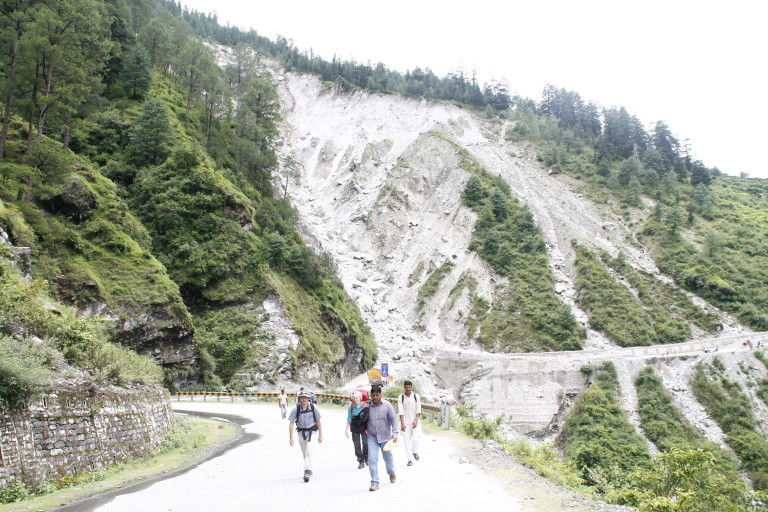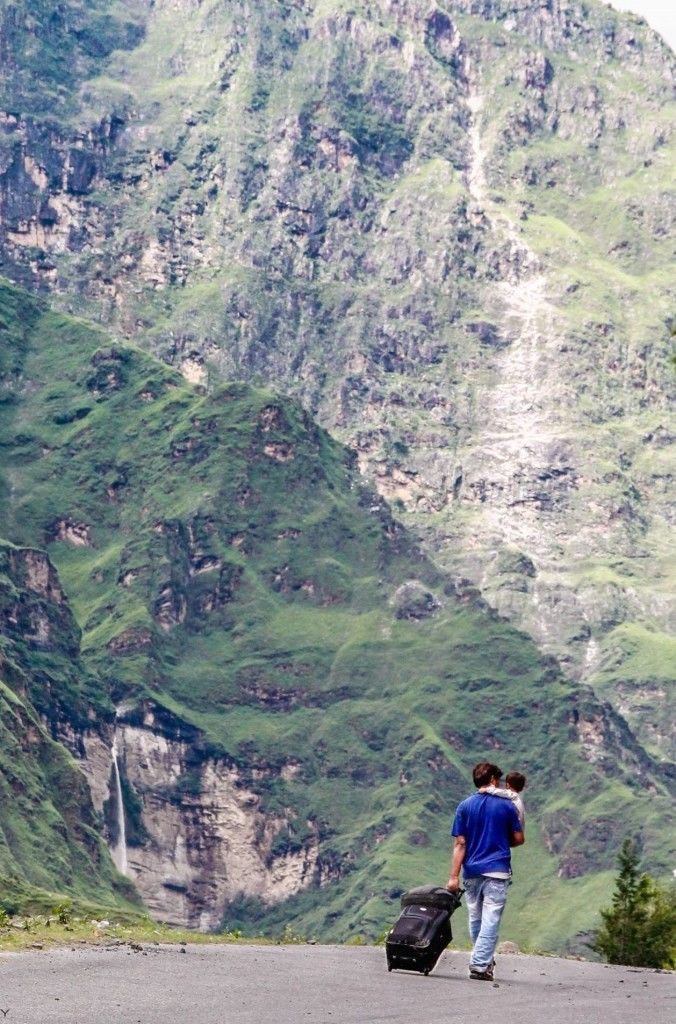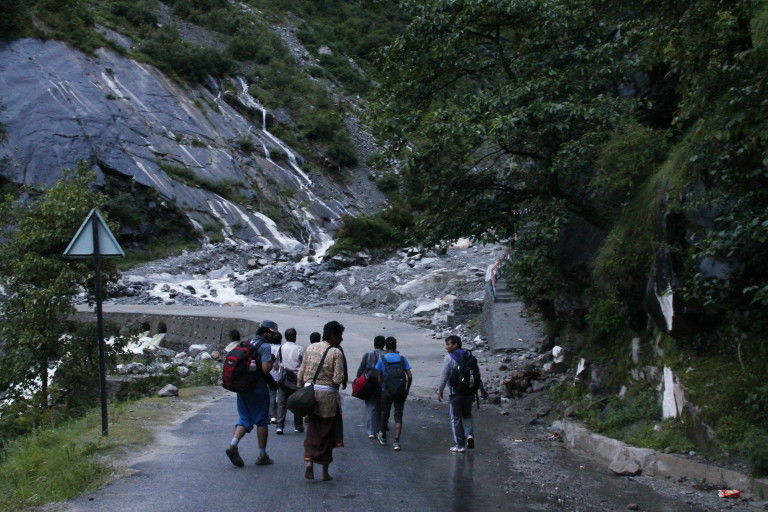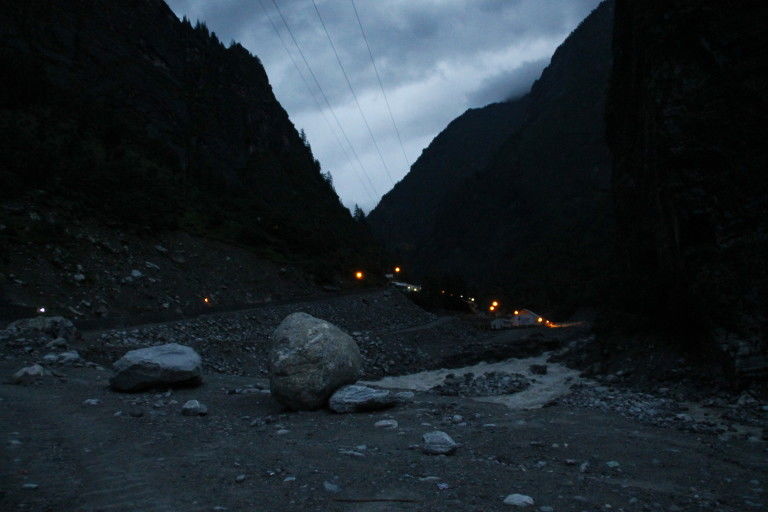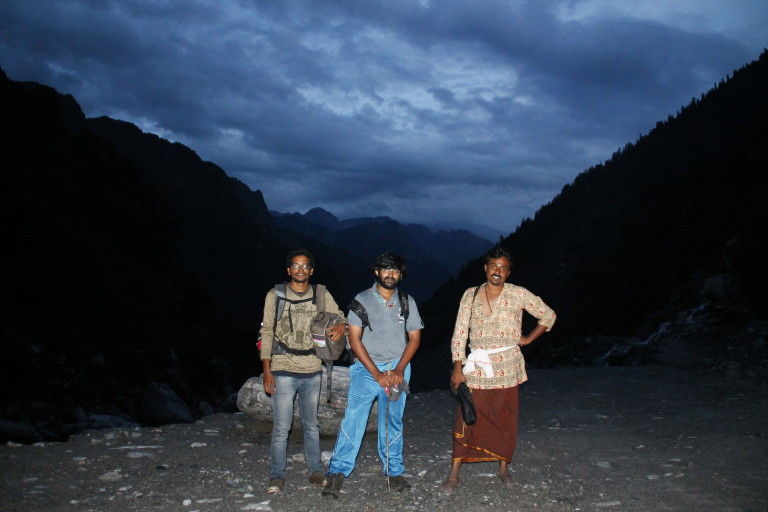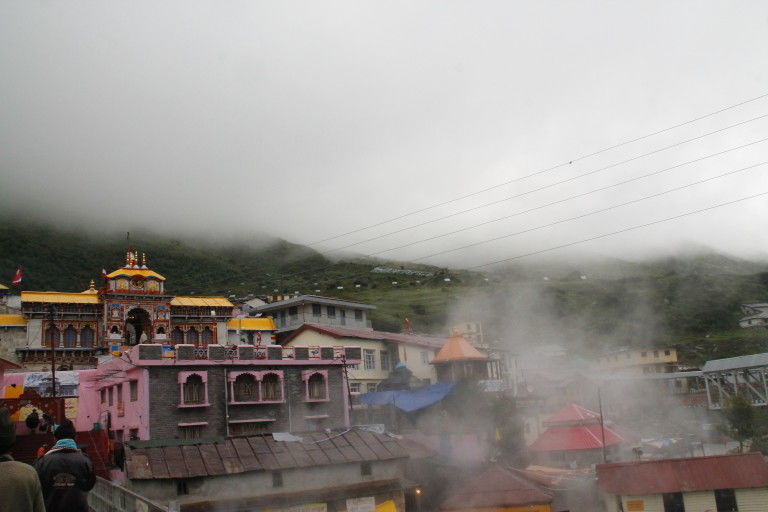 We woke up early and checked out from the hotel in Chopta, and had some black tea, which looked and tasted like something else. Earlier somebody had informed us that a share taxi will be arriving, and we could take it to reach the next point, Mandal, and proceed onwards to our journey to Badrinath. And so we waited.
I walked aside the only few food stalls in Chopta, enjoying the fresh air, and the attention was borrowed by a voice, singing happily. Inside an eatery, there was this young man in ancient robes, making rotis and singing some unknown song in a beautiful voice. Trusting my instincts, I got into the hotel and namasted him. It's always a personal motto of mine to follow my intuition, whenever it struck, and it doesn't strike like that often.
That simple man was wearing a plain dhoti and t-shirt, both of which looked ancient due to its colorless shades and brownish dust. His name was Somnath, and he was too cordial and willing to speak, and listening to him was like listening to someone who spoke through his heart. He always had a big smile on his face all the time and talked as fluent as he sang, narrating his solo journeys on foot across the Himalayas. While I said we were heading towards Badrinath next, he gave tips about attractions that lay ahead on our way.
He listed about seven points and places to visit or things to do, which included the beautiful path of excellent sceneries from Chopta to Mandal, known as the mini-Switzerland of India, the Musk deer sanctuary nearby and probability of seeing Musk deer along the way, the Badrinath temple, obviously, the last Indian village viz. Mana nearby the Chinese border, the juice made from a flower called Buraaz which is available at Mana, and Bhimpol and Satopanth, explaining the mythical significance of both.
By this time it got obvious that the share taxi won't be arriving today morning, most probably. There were one or two taxis at the place, and the guys tried to force into booking a ride to Mandal, around 30 kilometers, for 1000 bucks. We insisted on Rs.600 and finally the driver agreed for 700 rupees. I hugged and bid goodbye to Somnath before getting into the Maruti 800, and started our ride.
The path, needless to say, offered spectacular views of bluish mountains and cloud belts, refreshing our spirits and minds alike. One side was full of small violet flowers covering the entire valleys, spinning a surreal view while seen from the moving car. Streams did flow under the roads, with a greenish glow and displaying utter purity and embracing the lushness around. Up above some rocks, there was a herd of deer too, watching our passing vehicle with curiosity. The sweet fragrance filled the air then, for some distance, making us wonder whether they were the Musk-deer. The fresh air, the aroma, the views, the sound of the silence, altogether widened and reopened the dormant shades of our senses.
And then, we came upon our first roadblock, facing a rock fall zone.
There were two other vehicles too, stopped ahead of us. The road was completely blocked by rocks that fell from above, some small and some big (later on the journey I realized they were not really big.). We talked with the other travelers and decided to move them ourselves rather than waiting for the guys-appointed-for-doing-the-job to arrive. Everyone together, including the girls I noticed yesterday on the trek down Tunganath, started moving the rocks. It was but harder than we anticipated. One by one, we dumped the small rocks onto the downward valley.
It was time to move the large rocks too. Now the spirit of teamwork was rocketing high. One old traveler from Kolkata complained about his arthritis not letting him join us, but inspired us in getting the job done. One driver brought a long iron rod, and for the first time since school, we used the Archimedes' principle and tried moving the big rocks with the long rod. On the final note, we three together moved the last big rock and pushed it into the valley downwards, and we all clapped together for the open road ahead. The whole process took more than 45 minutes to complete.
Yudhveer, our driver, started the car, and we continued our journey. On the way we saw two middle-aged guys wearing monkey caps walking upwards carrying an axe and iron rod each; definitely, they were going to clear the roads, which we already did.
We reached Mandal, a simple village, thanked and paid Yudhveer, and took a share taxi to Gopeshwar, a large town. We roamed around for some time, passing a ground where something like a military training/test session was going on. The guys undergoing the training looked at our backpackers and smiled like they saw some strange beings. We got into a small one-room eatery, and had omelets stuffed between buns, and it tasted better than any burger I ever had.
I took some money from ATM, and we got into a bus to Chamoli, our next point. We had no idea about these 'next points' until we reach a place and ask someone how to get to Badrinath. Then that someone will tell us to get into this or that vehicle and get to that or this point. And like old-school travelers we head ahead, without depending on Google Maps or stuff alike. The bus was somewhat packed, and the inside was suffocating to a limit, but we got seats anyway.
At Chamoli, we waited under the scorching heat of the sun in want of a share taxi. We had to get at least until Joshimath before sunset, so that we could either stay there or decide whether to go to Badrinath or Auli, depending upon the state of the roads, which according to what we heard, were not in good conditions.
Little did we know then that they were far worse than what we imagined?
We got into a share taxi but after a few kilometres got blocked by another landslide, much worse compared to the mild first one we faced. The road was shattered, and a stream was flowing across. The vehicle left us there and went back with people who crossed the landslide from the other side. There was a huge rock in the middle of the road, the sight of which was enough to make the weak heart faint.
Garo walked in front along with other travellers and we carefully crossed the rockfall zone, utilizing the little space left. A little misstep and you could easily fall to the deep gorge aside. After crossing the danger zone, we walked like two kilometres until we crossed another landslide area. There were foreigners and other travellers too, either natives or with backpacks, who moved forward with us. The mountains were greenish, and the climate was neutral, but a hint of rain appeared on the horizon.
The walk continued which ended up crossing another rockfall zone, a less dangerous one compared to the previous. There were like many travellers attacking the single share taxi left, a Tata Sumo, and so as per the driver told us to do, we jumped to the top of Gaadi along with many others. For lack of space, Vipin hung on to the ladder in behind, reminding me of the bus journeys back in school.
The vehicle started, and this became an unanticipated adventure for sure. Several guys occupied the top area, and on the background, mountains and the sky moved, and sceneries changed as the Sumo moved cautiously forward. I hung on to my bag and tried to inhale the mountain air.
But that journey lasted only a very few kilometres, as we got down at another landslide. This was getting ridiculous, hazardous and adrenaline-pumping at the same time. For once I cursed the moments I felt bad about the roads in Kerala; at the least there were roads in the first place. We carefully passed the area, considering the level of the devastation done to the road. One of the guys was carrying a trolley bag on one hand, and a child on his shoulder. And he was travelling just like us, crossing danger zones, switching taxis and walking the extra mile, all the time making sure his kid is safe and smiling.
Then it happened. From across a large rock that occupied the road, what I saw was this man, with his kid (probably) still on his shoulder, fell into a pit nearby, on the gorge-side of the road. I was unable to find at first whether he fell into a pit or to the valley downward, but all I knew was I ran, along with Vipin, to the spot immediately. To our solace, we saw him get up without getting hurt, and the kid was standing nearby safe and calm.
"Are you okay?", we asked as we reached them.
"Yeah, we are fine.", he said, smiling.
To their luck, they had fallen into a pit of loose sand and hence escaped without a single caution. We took his trolley so that he could be more free with his walk carrying the kid until we reached a point past a meagre roadblock of scattered pieces of sand and rock mass. We got another taxi, this time, we occupied the seats inside.
Now, this taxi took us far more than the others. Vipin was sitting on front seat along with a chubby yet energetic guy named Viplav. He instantly connected with the guy in his mid-thirties, and two were talking with utmost interest, non-stop. Viplav had all those ingredients in talking and keeping his listener keen to his words; he had that vigour and enthusiasm which lacked in other guys who sat inside the vehicle.
I asked a guy in formal dress nearby, in hope of starting a conversation:
"So, do you live here?"
"No," he said, without much energy and looking outside, with a mix of fear and uncertainty tingling in his eyes.
"So? Are you travelling?", I asked again.
"No yaar.", He said, " I work here. My fate!"
I tried to concentrate on Vipin and his newly found friend talking, considering his lukewarm attitude. Viplav was describing his last journey to Kedarnath when he had to trek up to 35 kilometres in a stretch. He spoke of some calling from Shiva, and receiving some answers for his two questions on life, both of which he refused to disclose. Vipin discussed with him about his start-up plans and they kept on talking without a break.
After a moment of silence the man next to me asked:
"So why are you going to Joshimath?"
"To see the places. I am travelling. I like to…"
As I was getting ready to vomit my Following-my-passion-of-wandering-around bullshit over him, he interrupted by saying,
"Marne ke liye yehaam aaya hai kya?"(Did you come here to die?).
I was startled, obviously.
The taxi dropped us on another landslide zone then. We walked to the place and stood a little far behind, along with many others, observing what was going on. A narrow path with straight mountain wall on one side and deep gorge on the other side was filled with a huge pile of a black coloured mix of mud and small rocks. Water was oozing from above, and occasionally small rocks fell too. A bulldozer was working to get the thing moved and dropped into the valley down. Like us, many travellers stood on the other side too, waiting. We had to wait some time, about more than half an hour, until the road got cleared enough for those on foot to move across. Still many stood doubted, as while we moved, a small rock fell before us, small but big enough to make one unconscious. But thanks to Viplav's encouragement, we moved across, my shoes completely immersed in the black mud and trying hard to balance. On the other side, there were several Sikhs waiting for the road to be cleared, so that they could take their bikes forward. Someone told us that they were returning from the Hemkund Sahib Trek, a holy pilgrimage for the Sikhs, right next to the Golden Temple in Amritsar regarding significance.
Another share taxi. It took us until Joshimath, a large enough town. It was dusk by now. We waited there for some time when I told my opinion of staying there at Joshimath for the night. After all, it took us about 8 hours to travel the 140 kilometres from Chopta to Joshimath and considering the state of the roads it was wise, in my opinion, to avoid travelling at night. Vipin but insisted that we should continue to Badrinath as Viplav is going there too, and that it's necessary for him to accompany the guy as he believed he could help him with his start-up plans. Garo had no particular opinions, as he was okay with whatever decisions we took.
Viplav came near us and told that a share taxi is ready to leave soon, and so we headed inside. As before, they started talking, while the taxi moved. The vehicle passed Govindghat, the starting point of the Valley of Flowers trek, and stopped midway after a few more kilometres. We didn't know what happened as there seemed to have no problems with the road. But the driver insisted us to get out as there was a long stretch of a landslide over the next curve.
After a little confusion to whether head forward, we started walking forward again thanks to Viplav's untainted enthusiasm. After a few steps, he asked a local person about the current scenario of the road and of easy shortcuts to cross the roadblock. The man pointed upwards a narrow path that led to the mountains and said that a two kilometres trek would take us across. Viplav thanked him, and we started walking up the narrow mountain path.
It was slowly getting darker, and the trek seemed harder as the mud path narrowed and slipped, while the climb became steeper and challenging, like a zig-zag route at times. We had to stop intermittently to catch up the lost breaths owing to our lack of experience. Viplav, despite his vigour and energy, sometimes found it hard to climb, but he was much elder compared to us. After some distance, the path led downwards, and then straight. Sometimes it was paved, and led to a village, a very small one with very few huts, and we walked through the courtyards while the natives bowed their heads and indicated forward. Sometimes thorn-plants filled the sideways, and we had to walk carefully. The rock paved path led downwards too at last, and we reached the main road finally, with no tarmac and dust and rocks. We had walked for about less than three kilometres to surpass half a kilometre of landslide area. And we felt good.
It was dark at the time, but the yellow light from street lights were comforting. We sat on the rocks and rested, the mighty Alaknanda roaring beneath us and the wind blowing on our faces, and the moon-lit sky appeared magically blue while the fellow travellers tried to find comforts in the nearby shops. I was kind of feeling ecstatic, and silent, while the flowing river played orchestra under the hidden stars.
One of the guys I met while trekking was Kuldeep, a young guy who carried a weightless backpack. This simple guy called me Saab, despite me insisting not to do so, and trekked with utmost easiness. His light backpack was showing funny faces to my heavy one with all the unnecessary things stuffed inside.
We walked forward and sat near another shop; I lied on top of a concrete barrier on the side edge of the road, watching the mountain, river, and the sky, trying to catch it all in a single frame of sight. Using my backpack as a pillow, I lied there listening to the music of the river and enjoying each blow of the wind. That's when Garo came with a kit of green mangoes purchased from the nearby shop and handed me one.
I bit the mango once. Yellow juice spilled out of the thing and spilled into my chin.
I could say it without any doubt that it was the most delicious mango I never ever tasted in my whole life, and the scenario was opening my senses one by one with absolute pleasure.
I was saturated. I was complete. I just wanted to lie there and sleep.
But the team decided to move on as there was no vehicle available to carry the journey forward. By saying team, I meant the guys, a total of ten including us, who happened to travel together in the last share taxi and decided to trek together. So, despite my dislike to go forward, the situation demanded me to join them and walk forward.
The sun had set completely, and moonlight lit the path for us, as we walked forward sometimes crossing small water streams. As the team moved forward, I found the least likeable thing happening. My level of energy was dropping, and slowly I was being left behind. At first, I caught up with them by being just a few metres behind them, but as we moved forward, the gap was getting bigger. So when the team rested together on rocks or the road, I was still walking. While I reached them, they usually got done with resting and moved onwards yet again. And along with being left behind, anguish popped up while Vipin started making me feel bad about myself for my inability to walk fast, while what I wanted was them to walk with me during my moments of weakness. Then I remembered that the same thing had happened in Tunganath trek either.
After a while, my thinking almost stopped. The team was much ahead of me, and I walked the path under the moon-bathed mountains, totally tired and exhausted. I stood for a while and circled to see the view around; the moon had created a silver colour touch over the mountains all beside, and the silence shot a rocket high pace for the ferocious river which faded away for a moment, and the sky that was getting nearer with each step, and the gravity, which sucked away all my energy and left me all alone in this god-knows-where place.
On the way, a monk, in his ochre robes and carrying a stick and water-carrier, walked past me. He was a little old with long hair tied above the head and long beard, walking barefoot. Before passing me, he insisted that I walk with the group rather than staying alone. I found them all taking rest by the road. I reached them, threw my backpack down and lied on the road. After a couple of minutes, they started again. Kuldeep, seeing my disastrous state, offered to carry my bag in exchange for his. I looked at him; funnily he was already carrying Vipin's camera bag with him. I tried to deny the offer. But he insisted saying that it's okay for him. So not thinking again, and surrendering my ego, I refused to deny again, as he may not offer the same for the third time. We exchanged bags, and I felt much relieved. His bag was too light compared to mine, and I still think of him as someone who saved my life as my walking became a far less painful act now. But I was left behind anyhow.
The group was like walking faster now thanks to the low gradient of the roads. I was on my own. I looked down at my feet and walked taking deep breaths. When I raised my head, there was a long bridge in front of me, above the river. They had already crossed the bridge, but I stood there dumbstruck, due to the sight of three buffaloes that stood on one side of the bridge. I tried to call my friends, but sadly my voice would be drowned by the sound of the ferocious river. I stood like that for a moment or more, remembering the attack from a buffalo I had to face at Chopta. But I had no other option than to cross the bridge as soon as possible, as the group members were moving forward beyond the bridge without even looking back. I secured two-three stones in my hand and walked slowly past the creatures, and got across unscathed, and with all the energy briskly walked towards the others.
On one side of the road, there was a hotel or guest house on a high platform. Viplav, along with some others negotiated with the guy there and got permission to stay at the place for the night or until we get a vehicle. I walked the steps up and past an apple orchard to crash on the verandah, which along with a large room the guest house guy had allowed us to stay. By this time, we had walked more than seven kilometres straight, after halting from our last share taxi.
Then came a Tata Sumo. All the guys who had been settling to have a good night's sleep suddenly jumped on their feet, except the monk. The taxi agreed to take us all to Badrinath; though the rate per head was a little higher. For lack of other options, everyone agreed. Viplav, who plucked an apple from the guest house while the guy there wasn't watching, now ate it saying 'The fruit of hard work is sweet.' I sat inside with a blank, emotionless face and we reached the Badrinath town after some time. This was eighth or so vehicle we caught to reach from Chamoli up until here, a distance of about 90 kilometres, besides walking for more than 10 kilometres and crossing several landslides.
The time was around 10 pm by now, and all I wanted was a bed to sleep. The fellow travellers left, and I thanked Kuldeep for the great favour he had done for me. Viplav joined us to share the room, and he along with Vipin entered into some hotel. But they were not ready to pay the rent the hotel guy insisted, and started to have a bargaining war at night. I like bargaining for lesser rents, but taken for the condition I was in, I just wanted them to agree to whatever the hotel guy says and get the room asap. But they didn't. So we went to Nanda Devi Tourist Home and got a four-bed room at a lower price.
I slept well, after all, the tiredness and adventures, finally realizing how alone each one of us really is.
The word that came to my mind then is Paradox. On one side there is the charm, and on the other side, there is the harm. Walking and moving through the roads where huge rocks had fallen from the sky, there was danger everywhere. But beauty too. Thus ended one of the most eventful and the single most-adventurous day of my life.
Though I slept getting exhausted like anything, I woke up by 6 am the next day. On one side there was tiredness, and the other side there was ecstasy. Paradox.
I set out solo to the Badrinath temple since it felt much better and the others weren't up by then. Despite being a non-religious person, I walked into the temple, which had fog playing around, with a peculiar kind of devotion. Perhaps it was the dangers I had to face throughout the way that made me feel so, the reason they are called pilgrimages, the reason on every mountain top the ancestors had built a temple! I got inside past the hot springs, not knowing they were naturally hot, and not knowing the main pundit of the temple is from Kerala, not knowing Badrinath is a Vishnu temple and not a Shiva temple as I had thought….
I got inside, and sat there amidst other believers, including foreigners, amidst chants and fumes, amidst the duality of my wandering still mind, and meditated……
And after one and a half years, strangely, I am still non-religious.
This trip was originally published on Wander Maniac