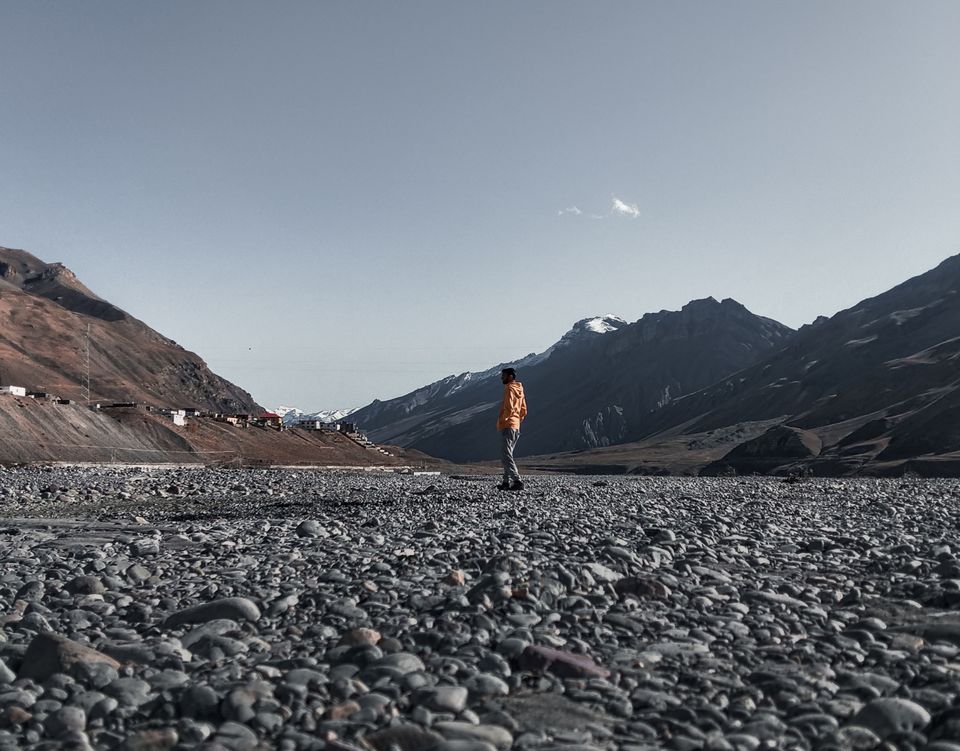 Hello Supertramps, how you doin? Myself Sandeep Nagargoje I'm a full time travel & adventure Photographer based in Pune but recently moved to Kinnaur, Himachal. This is my first Ever blog, maybe I'll start writing more often. Bt yeah let's go to Spiti, not by bus, not by taxi bt Hitchhiking only. Because I think Hitchhiking is more than just saving money, it's like spreading HAPPINESS. so seat back get a cup of coffee or tea and play some music!
10AM : 'I've-to-go-somewhere' kinda Mood.
I always wanted to do a trip like this and last couple of days were so boring here in Kalpa and I hate monotonous life, I needed some 'cheap thrills' in my life. That's when I decided to go somewhere and I made a make pact tht 'I won't spend more thank 2k for a weeek' and yeah read the full blog to know how much I spent in total for this 7 days backpacking and Hitchhiking throughout the Kinnaur and spiti valley.
I started from Kalpa somewhere around 11am I couldn't get a lift till 12pm I guess. I was just walking on the road towards Reckong Peo. Roads were kinda empty and no one was really ready to give me lift. Idk why though. After some 15-20 rejections
12pm : Lift no. 1 Kalpa to Peo
I finally got one car bt I was almost reached, I Must have walked 4kms already. Bt anyway I took tht car. His name was Rohit, he's a local from kalp, his wife was singer and he's drunk 😅. He talked about his family and offered me a stay at his place whenever I'm back, idk tht was because of alcohol or he's genuinely sweet. Bt those 15 mins were Enough for us to bond. We're good friends now, we met couple of times here in Kalpa.
12:15 pm -Lift no.2 Peo bus stop to Peo bazaar
After Rohit Bhaiya dropped me to Peo bus stop and suggested to go by bus bt I was pretty clear in my mind ki I won't take a bus unless and until I don't have any option. But suddenly got another Lift, this guy wasn't drunk bt idk why he didn't even talk a word with me. He was doing to NH bt I was so not convinced to go with him he's kind of weird so I told him to drop me at Bazar. That's it. I got down at Bazar.
12:30pm - Lift no.3 Bazar to NH
They're going to Sangla to deliver some electronic stuff. I totally forgot to ask them their names as I was starving cause I didn't have a Breakfast in rush. Bt they're super sweet and super curious to know about me and how I Earn money through Photography and stuff. This guy was so much into cameras n all. Actually he had more technical knowledge about cameras n all than I'll ever have. Such a darling they both were. They dropped me at NH. They're smiling and wishing me safe journey. I mean such moments are just Priceless. That's why I said hitchhiking is more like spreading happiness and Makin memories and friends rather than just saving money.
1 pm : walking on NH on bright sunny day plus starving.
I reached NH somewhere around 1pm. So NH-05 is the road which comes from Chandigarh and shimla and later on connects to Nh505 which leads to Nako, Tabo, Kaza from Kinnaur. It was a bright sunny day plus I was starving. I walked on NH for like 6km thank God I had some offline songs specially the INTO THE WILD soundtrack by Eddie Vedder and let me tell you I love that movie like nothing else, tht soundtrack was ultimate motivation to just go on. It's not like I haven't tried getting a lift bt no one was stopping really. So kept waking n walking. Cause I was starving like hell, I had to reach next village ASAP. Bt you know what God had some other plans for me. No one was stopping. And I was tired of waking so stoped walking and just sat down near one roof. I STARTED feeling like dude why the fuck you've to do this, now die starving. Cause there's nothing in 10km and I wasn't in tht condition to walk backwards or frontwards. I just sat there for hours, starving, tired, doubting, crying. That's when one police officer came by nowhere and asked me what's wrong? why I'm waiting? So I told him and he waited there with me for like 15 mins and stoped one truck for me. Does angels exists? I guess yes.
3:30pm - The typical truck drivers
After that police uncle stopped them for me. I was so happy and crying I forgot take a picture of tht farishta. I started talking with the drivers about himachal n all. As they both were form Mandi, Himachal. We talked about apples, small villages Around, history n all. They even offered me some Roshagullas. I couldn't say no as I was starving even though I hate sweet. And trust me I was scared like hell, cause that's the one of the roads in kinnaur. More dangerous than the one which leads to Sangla Valley. It was so tough and the condition of Roads was the worst. Plus that's the shooting stone area, now yuh can imagine how scary it would've been. I've attached a picture of the road you can see tht.
5:20 pm - Yayyyy. Finally some food.
These sweet people dropped me at Spillo and I ran into one restaurant and told em to serve me whatever food you've ready now. There was some RAJMA-CHAWAL ready I ate it like a hungry dog. (No offense, I love dogs too, I've 3 at my home. ) And that's when I felt Alive. See it was already 5:40pm and it gets cold here in mountains plus days are smaller it gets dark at 6pm only. And I still hasn't figured out my stay so I decided to take a bus till Pooh and find something there. Cause tht was the only sensible and safe option. So took a bus. And that's where I met Bodhraj Bhai from Jammu. They're returning back from home. We started talking and became good friends. We discussed the Kashmir issue and all. And suddenly boooooom, landslide. Welcome to mountains. All of us in the bus got panicked and started rushinf out of bus. Bt that's when conductor stood and told everyone to just calm down. Such people make me believe in yes there are some people who absolutely love their work, no matter how tough it is. They do it with the absolute honesty. Plus he was so in love with HRTC. He challenged me to take a dope picture of HRTC bus one day and send it to him. Now I'm in search of one good shot for HRTC and home. Bt anyway after that landslide road was blocked by the rocks, so couple of men got out of bus including me. (c'mon man I'm a man now, I'm 22 😅) we cleared the stones on the roads, it wasn't easy, it was scary and dark bt you gotta do it man. That's the least you can do for yourself as well as others. Such a fun yet scary experience it was. After that landslide thing, Bodhraj Bhai offered me to stay at his place, it wasn't really his place but a construction site and I said yes, I would love to. We dropped down at Pooh. And started walking towards the site. And you know what the bus fare was 30rs and I gave 100rs to the conductor even though I had 30rs change in my wallet and said him ki give me the balance later. And I didn't take a balance intentionally and got down. I was sure he wouldn't accept if I gave him some money directly so I did it this way. That's the least I could do for tht guy.
7pm : Time to relax.
We got down at Pooh somewhere Around 6:30pm and started walking towards the Bodhraj Bhaiya's site. It was far. It took us 30mins to reach there. But I was just happy and smiling all the way. Cause I knew I'm gonna cherish these moments forever. Such a sweet experience it was man. I'm still smiling as I'm writing this. I wasn't really hungry bt sill I had some rice n as the workers there were so sweet and they insisted me to. Such a sweet world we live in. Btw gn I'm done for the day.
Time to go to BED. Ahhhhh Relief.
Tommorow I'll head towards Nako.