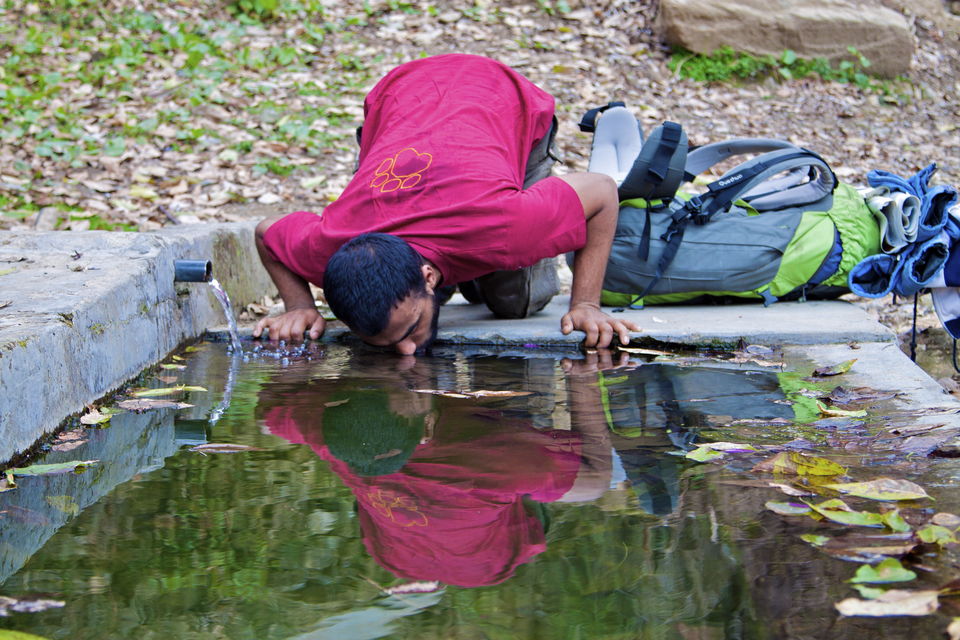 Such a tease this modest peak nestled in the Garhwal Himalayas has become that it almost feels like what Everest was to Mallory.
My second trip to this trekking route was scheduled as part of a rock climbing training regimen I am following these days. Since it is a steep 8kms climb to the peak from Pantwari village, I found the trek route beneficial in the form of a work out focusing on calves, thighs and feet; to be included in the climbing break that I take at the end of three and a half weeks of training at the wall.
My companion this time was Abhijeet Singh, a Delhi based fashion, wedding and travel photographer, whom I met at IMF, Delhi.
We reached Pantwari at noon on 26th February, on Abhijeet's dutiful standard 350. After stocking some provisions from the only tea shop this village has, we embarked on the climb.
Having done the trek before, I was in the guiding role this time and 'thought' that we'd be able to reach the summit camp faster than last time, given a strong partner in Abhijeet – compared to my novice friends last time.
We managed to keep pace until the first water hole despite the oppressive heat and dehydration. However, over confident about our strength and direction sense, we follied into finding shortcuts thus losing track of the main trail in no time. For hours we wandered on the leeward side of the hill however fortunately, progressing in the right direction and landing at the last water hole on this trek (just where the last human settlement on the route is located).
After a brief rest at the water hole, we started on the main trail, just to be lost five minutes later in the chase of another 'shortcut', AGAIN.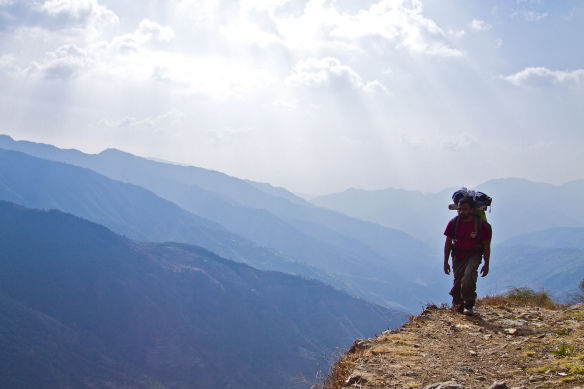 (Clicked before we got lost in the woods)
Tired, hungry and beaten down we wound up in a thicket of deciduous forest on a slippery Himalayan hill side. Racing against time and the oddity of the terrain, we were falling at each step. The sun was hastily going down and we had to make good use of the 30 minutes of the sunshine still left. Left without options, we decided to climb to the top and find the ridge line and a camping space. To our amazement, 50 metres of climb yielded the trail to us and we were able to find the forest rest house near the nag Jhandi, just in time.
Hurriedly we laid out our bags in a corner and rushed out to look for water, making use of whatever sunlight that was left. Minutes later I found myself buried in 5 feet of snow and some good sense prevailed that we abandon the search and build fire. We are thankful to the shepherds who frequent the area and had stocked the rest house with ample firewood for us to survive the night.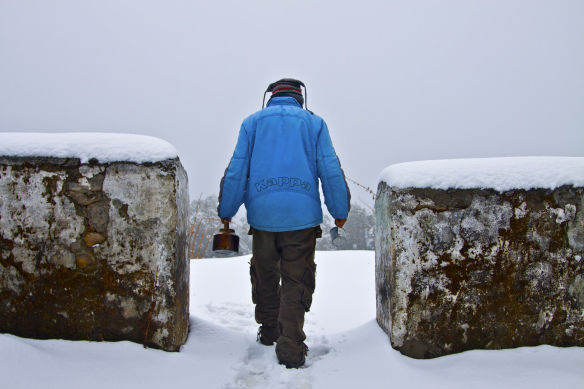 (collecting snow to make water)
The amber of the dried woods melted the snow into water, and I prepared some hot soup to rejuvenate the wearied trekker in us. With our stomachs full, we dozed off in a matter of minutes.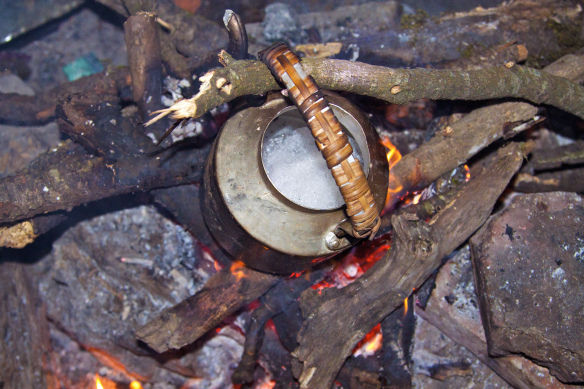 (Melting snow to make water)
A loud thunder sent chills down the spine of the roof and I woke up startled. Blinded in the pitch dark, I struggled to find a torch. It thundered even louder and someone banged the door. I was too afraid to sneak out of my bag and decided to cover my face like an ostrich and prayed that the apparition (if there were one) leaves us alone.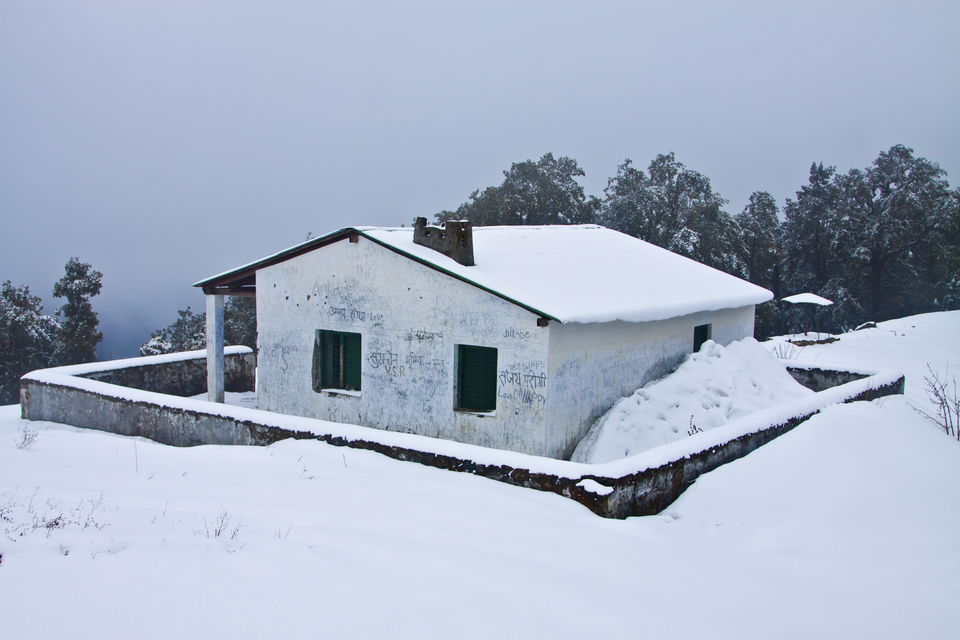 (powder! and more)
I finally woke up at 6 am in the morning, to find the room bathed in a bright white gleam. To my amazement, I found another 2 feet of snow piled up on the backlog we countered the night before; and it was snowing still. The apparition must have been a snow fairy :P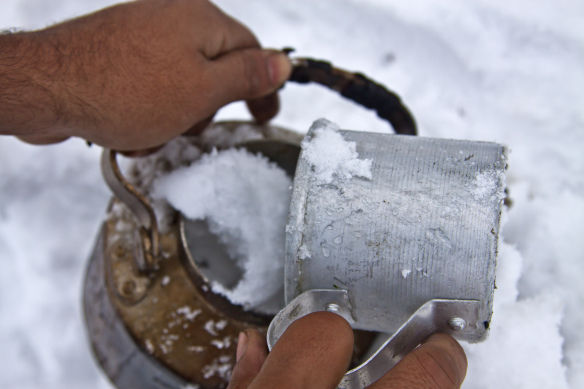 (collecting snow for breakfast)
Lacking technical equipment, especially the absence of snow rackets, made it impossible to climb the 2kms to the peak due to the deep powder – which was still falling from the heavens.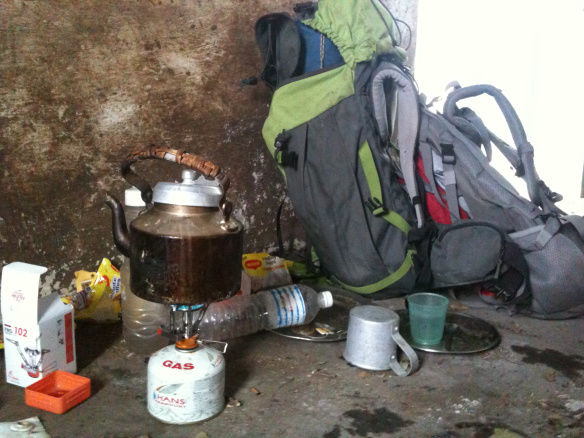 (Preparing Breakfast)
Post breakfast we decided to head down; the peak being elusive once again.
Another time! May be.
—
How to Reach:
-Nearest Railway Station: Dehradun
-Nearest Air Port: Dehradun
-Cab to Pantwari can be hired from Dehradun Railway station/ Mussoorie, Picture palace.
-Buses to Pantwari can be boarded from Dehradun Railway Station/ Mussoorie, Picture palace.
Equipment for a 2 day trek:
–        Light attire: T-Shirts, trousers, shoes, cap, sunglasses and socks; thermals and fleece for winters.
–        Tent (We used a 3.4 kg Quechua 2 men dome tent, for 3 people).
–        Sleeping Bag (I use a Quechua poly fill, that works upto -5 degree Celsius).
–        Iso Propane Butane Cylinder and cooking stove.
–        Dry ration and liquids.
–        Kiwi bag for waste disposal.
–        Pocket knife, torch, camera, spare batteries, lighters, candle and matchsticks.
–        A comfortable trekking bag (50L-65L).
–        Trekking pole (optional).
–        Crampons/snow rackets in the snow season (optional).