During a trip across Uttarakhand last winter, I was on the hunt for a secluded property that I could escape into. On a picturesque drive from Ranikhet to Sitlakhet, I stumbled upon a fascinating property called Nayalap. It was the property's unique name that compelled me to take a look inside. Soon, I was so enamoured that I was happily transferring my rucksack into one of their Himalayan tents.
Ideal for
For everyone who can slowly feel the heat evaporate their souls, the Nayalap offers an ideal getaway into the mountains. Spend time amidst nature, breathe fresh air, all whilst basking in complete luxury.
About the property
Located in a small Himalayan hamlet, Nayalap offers a retreat that will create a special place in your heart. The reason why I was instantly impressed with the property was because of the way it blends with nature and the community around it. While luxury tents were undoubtedly a highlight of the property, its untouched nature was what set it apart from other resorts and hotels that I have stayed at. Kaphal, deodar and pine trees bloomed aplenty around the property. They attract hundreds of bird species, making mornings chirpy and joyful.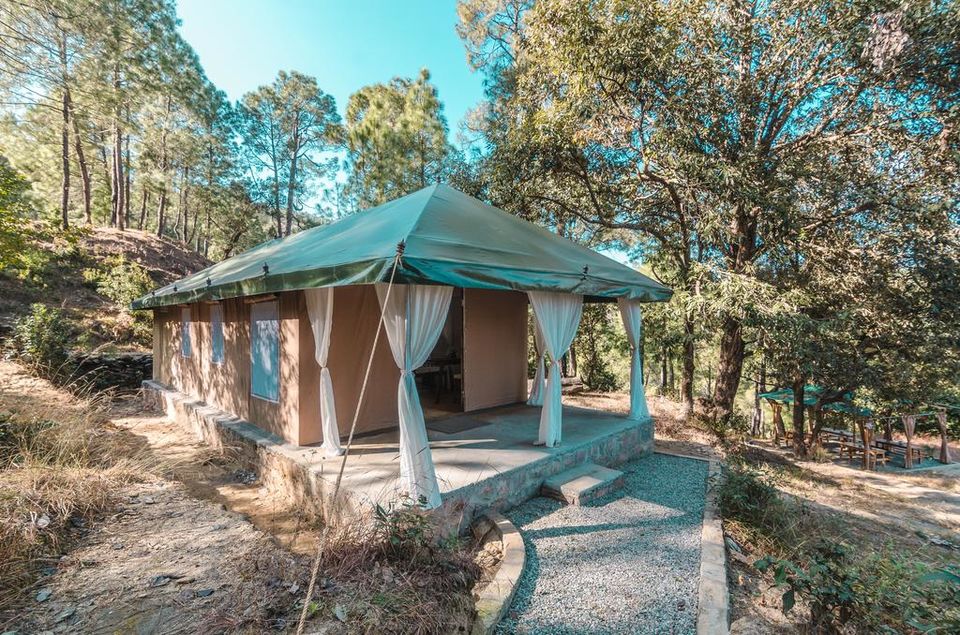 The luxury tents are pitched far from each other, ensuring that utmost privacy is maintained. All tent rooms are so spacious that you will forget that you are in fact, camping. The rooms are equipped with a dining table, double beds, study table and a huge bathroom! The decor is tastefully done up and every spot gleams with magnificence. With wooden furnishings, you will feel like you're living in a cozy chalet.
As if these gorgeous tents weren't impressive enough, the property offers sweeping views of mighty Himalayas!
However, it was most interesting to learn how the owner of Nayalap is giving back to the community of the village. The name Nayalap has been derived from the hindi word palayan that literally translates to migration. The ideology behind the property is to create employment in nearby villages in order to reduce migration. The word has simply been reversed to reflect this ideology. By employing men and women from around , Nayalap protects age-old villages from vanishing into the modern world.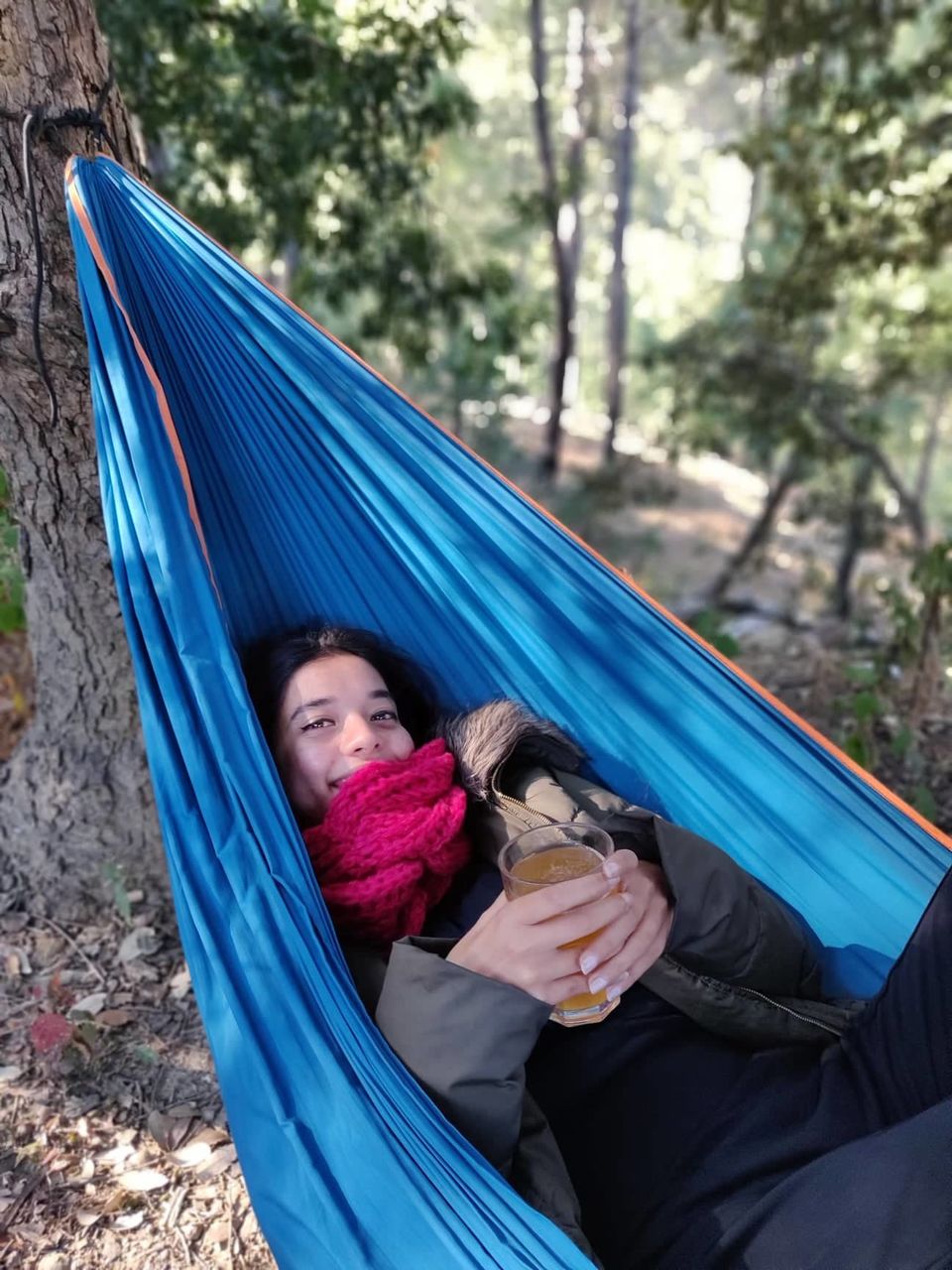 At Nayalap, there are numerous ways in which you can polish the art of doing nothing. Soak in the mountain sun as you chill on a hammock. Or picnic on the property's lawns with a drink in hand. Here, you will have the time and mind space for hobbies that you don't have time to pursue in your daily life.
Cost
The property features four tent rooms that have been carefully designed to give you the best glamping experience. A tent room here will cost you Rs 7,500 per night, including breakfast.
Food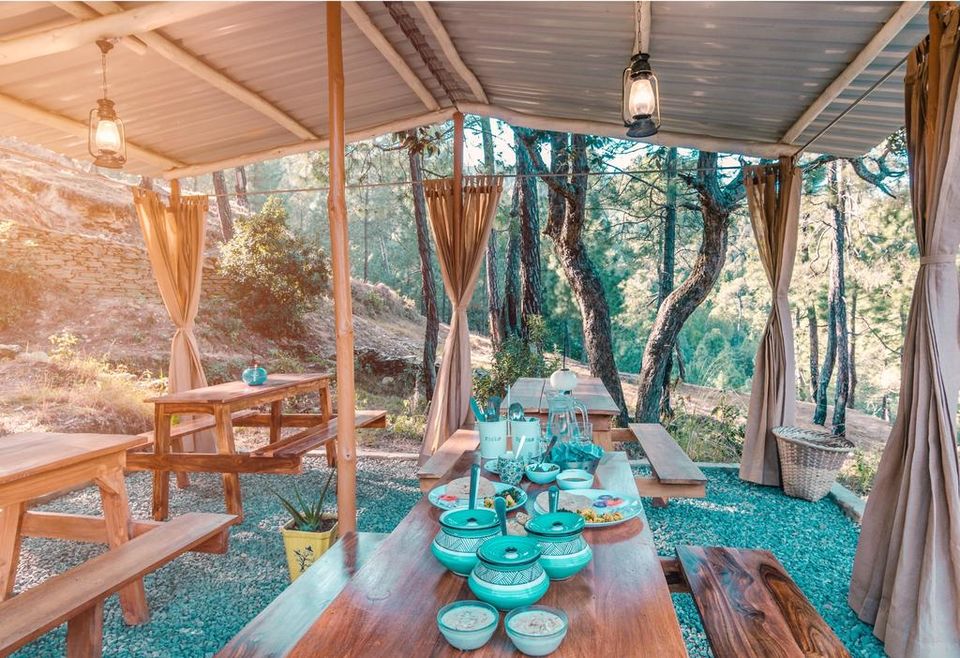 The food at Nayalap was particularly delightful. Nothing will comfort you like a piping hot meal of Kumaoni food. Whether it is shikaar (mutton) or lai (a leafy green vegetable), dubkey (a potato dish fried in Kumaoni spcies), pahaadi raita (curd with mustard and spices) or chudkaani dal – you are sure to feast to your heart's desire. You can also choose from their variety of north Indian dishes and devour their continental breakfast.
How to reach
Road: The road trip from Delhi – Sitlakhet (393 km) takes about 9-10 hours. Follow the route: Delhi – Hapur – Gajraula – Moradabad – Rampur – Bajpur – Bhowali – Ranikhet– Sitlakhet.
Rail: The most common and widely used mode to reach Sitlkahet is by train. The closest station is Kathgodam, situated about 75km (2.5 hours) away. Once at the station, you can hire easily available cabs to Sitlakhet.
Air: The closest airport to Sitlakhet is in Pantnagar, located 110 km (4 hours) away. From there, you can hail a cab to the property.
Around the property
Village walks
Apart from a unique glamping experience, Nayalap also offers village walks that will give you an insight into Kumaoni life. You can hike down to the village, interact with children, folks of the village, and even enjoy tea or a meal in their homes. If you're bringing younger children along, it will be a fascinating experience for them to see how vegetables are grown and where milk comes from! Indulge them in a learning experience all while having fun.
Visit nearby towns
Almora, Ranikhet and Kasardevi are beautiful nearby towns that you can drive to. Do visit the Chitai temple which is said to be one place where all wishes come true. Drive along the ridge of Kasardevi and enjoy mesmerising views of Himalayas. Head to Chaubatia Gardens in Ranikhet and trek through jungles!
So curl into the warmth of Nayalap; reconnect with nature and yourself like never before.
If you've visited a property that you fell in love with, you too can write about it on Tripoto here.