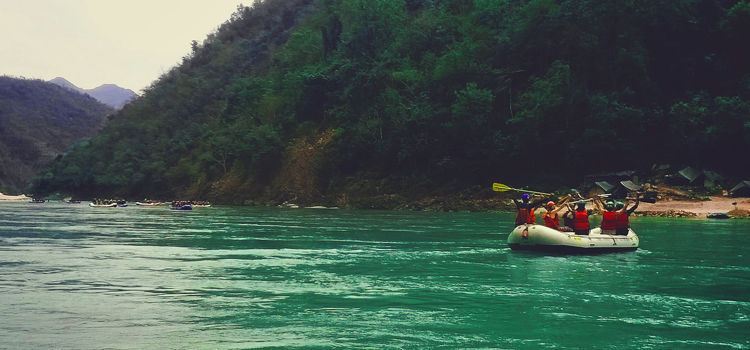 Jayalgarh for Rafting Jayalgarh is 80 kilometers ahead of Rishikesh and if you want to avoid the crowd that you will always find in Rishikesh, Jayalgarh is the place to be. The Jayalgarh resort which is at Camp no 5 is probably the best place to stay around there. The cozy and comfortable tents, with a small little balcony of your own makes you want to settle down there. The camp is by the sea and in the night when you sit in the Gazebo overlooking the sea and hear the waves it will not fail to give you a chill down your spine. Mine was a family trip but I strongly suggest going there with friends as that place will make you want to try everything crazy and adventurous and company of aunts and uncles might not be very conducive for the same. Also the place requires a lot of stamina as you can't park your cars outside your tent, to reach the road and your wheels one has to climb up and down the hill every time. It's camping after all! The resort will have arranged for you rafting, and that is freaking awesome, We did it for two consecutive days, the first day was a short one of about 10 kilometers and the next day was the big one where we started from our resort and ended it at Devprayag, crossing the point where Alaknanda, Bhagirathi and our very own Ganga river meet, you can see the three different rivers of different colors. Never before had I seen such beautiful mixing of fluids. Rafting is of course a lot of fun and an exhilarating experience for those of you who love water and speed but it is at the very same time dangerous and can cause serious damages if you don't pay attention to the instructor which my brother and I did not.
These three points will help.
1) Listen to the instructor closely
2) Don't get excited already by the attire that they give you to wear and start playing with the oars as swords with your siblings/friends.
3) Don't carry a lot of things in your pocket unless you want to donate it in the holy water, try to avoid wearing specs too.
When the raft begins to move and you reach in the middle of nowhere amidst the white sandstone mountains, the scene and the calmness of the sea makes you amaze at the nature, the place in its beauty and grandeur is no less then bay of plenty and hawke's bay in New Zealand. They have given many names to the rapids that come on your way and those are precisely that you have to overcome by rowing and rowing quickly. That's the funda if you don't want your raft to topple. KEEP ROWING! My experience became truly an adventurous one when my brother and I got out of the raft to surf and chill in the water (it's allowed) when there are no rapids. I slowly got too comfortable and wanted to explore further and moved ahead without holding the rope which I was instructed to, in no time the waves became strong and no matter how much u want to swim your way back to the raft the waves will always be too strong for you and take you in the direction where they are flowing which is not towards your raft, So all you people planning to go rafting NEVER LEAVE THE ROPE! I was lucky enough to catch the rope at last and made my way back to the raft. My next "Darr ke age jeet hai" moment was when I did cliff jumping and this time I followed my instructor closely, and believe you me after you do it successfully you will not stop humming the song "Hum mein hai Hero" because you will get such a great sense of accomplishment. You got to do it to feel it. On the third day after we did trekking, rock climbing and rappling in a cave like structure that again was a challenge as I had not done it after school. It's a lot of fun hooting when your friends/siblings can't get it right or are too scared to let themselves go down holding a tiny rope. Rafting is something which everyone once in their lifetime should experience, it lets you explore yourself and push your limits higher which you dint think existed before.