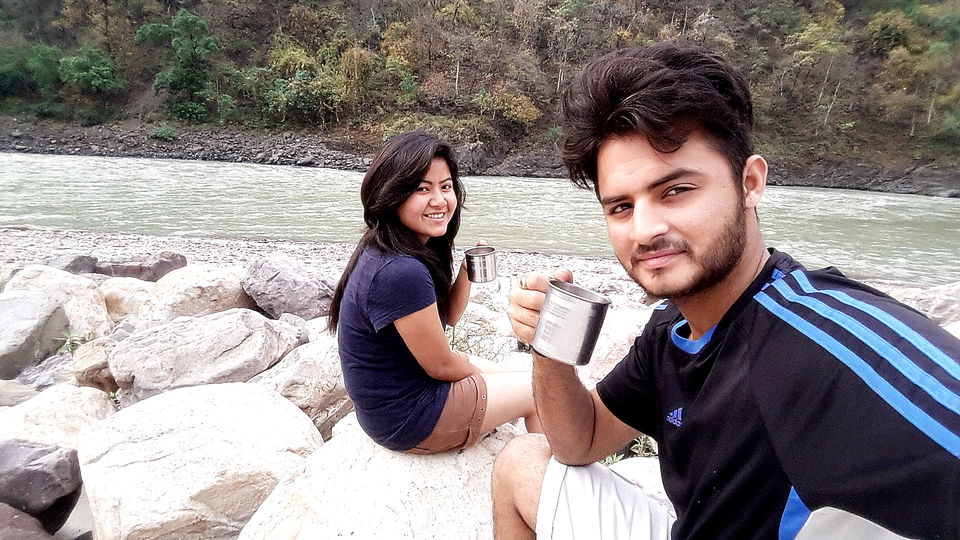 I love those spontaneous kind of trips where one person randomly suggests a place and everyone agrees to it without any questions. And the next moment you are packing your bags, putting your shades on and off you are to the faraway land! My recent trip to Shivpuri was one such trip. And I'll always love this trip for its spontaneity.
Uttarakhand, The Land of Gods, is home to many highly-revered Hindu shrines. And wherever the Himalayas stretch its arms, you know there is a plethora of adventures to dive in. This, like many other Himalayan regions is nothing less than a paradise for campers, trekkers and other adventure-enthusiasts. Shivpuri, 16 km from Rishikesh, is one such hub of campers and adventure-seekers in Uttarakhand. Since we chose bikes as our means of transport, it was double the fun with those timely stoppages for shikanjis by the roadside, trying to outrun the other fellow's bike. (Especially when you are relaxing on the back seat and all you are expected to do is make sure the driver doesn't get bored!) As soon as we crossed rishikesh and headed towards shivpuri, all I could see around were rafts carried over the rooftops of vehicles, group of enthusiasts like us hitch hiking to reach Shivpuri, rafts sailing on water and slowly disappearing. This place had a tranquillity of its own.
As soon as we reached our campsite, all that was in sight was huge Himalayan rocks, white sand all around and a few tents. Fortunately, our tents were close to the bank of Ganges which came out as a relief to us. And the next thing we did was throw our bags inside the tents, run towards the shore and do all sorts of stupid beach acts like playing with the sand, digging holes, play volleyball even if you know nothing about it! You just feel the urge to do these things upon reaching there. The place demands all that!
The nights are all the more beautiful. With a blanket of stars shining above you like tiny dots and you cannot resist but rest your head on the sand and stare at them for a long ,long time. It's something that cannot be described in words. And when the bonfire is lit, the conversations also get ignited. You get to know about the sikh brothers who are starting up a business in Delhi, their insecurities. And you get into conversation with another college group from Doon who tell you about their college policies and curse every management personnel. And what's a bonfire without music! As the night gets colder and cosier, and as whiskey starts taking a toll on you slowly, you start singing straight from your heart with all the right notes! And this singing and dancing marathon goes a long way. As the people start departing towards their camps for a sound sleep, night owls like me are attracted towards the sound of the river like a wasp is pulled towards a flame. Amidst all the silence and peace and darkness, try sitting on a rock, grasping every little sound, capturing every little detail of what's visible. And on a timely basis, you'll notice jugnus moving around in their wonderful colors. and as you close your eyes feeling the wind on your face, you just don't want that moment to fly by. Surreal. Ethereal. You just caught a trailer of what nirvana feels like. And you just want this serenity to linger on for a while.
The last thing I heard before closing my eyes was the sound of river. As soon as I would open my eyes, it would be there again, the beautiful sound! There is something very seductive about waking up next to a river! The next morning was filled with new adventures. But first thing's first. The morning tea! And it couldn't get better enjoying your hot cup of tea while sitting next to the Ganges. And after a scrumptious meal of boiled eggs, butter and bread, we were all ready for the much awaited task- river rafting! As soon as we reached the spot and started gearing up for rafting, I could feel a knot in my stomach! "Anything can happen". My mind went on a loop with that thought. Our guide had taught us all the safety measures and he made sure that we were all ready physically and mentally. As soon as the raft starts floating, I knew I was in for one hell of an adventure. There were in totality 7 rapids in our raft journey and within no time we experienced our first one! And the deadliest one! I was pretty sure that we were going to get thrown from our rafts. "Forward!" yelled the guide. When we hit the rapid, we got drenched within seconds. But we kept rowing with all our might. It felt as if the water was reluctant to let us part. But after some struggle we were on the other side of the rapid. We all started screaming and whistling as if we had achieved some unattainable job. Congratulating each other on being alive! Every time we were close to a rapid, the sight of angry water waves going up and down endlessly was enough to keep adrenaline flowing. As the other rafts would pass by, we all would cheer each other, screaming, celebrating as if we had known each since a long time. Occasionally, our guide would tell us some amusing stories of his rafting experiences in the past and we all would get awestruck. There were people on the banks of the river who would cheer for every raft that was passing. It felt like a celebration in its own way! After almost an hour, we reached a spot where all the rafts came to a halt. People enjoying maggi from the tiny stalls operating on that crowded area, clicking pictures together. But the best catch of that stop was cliff jumping! Did I tell you earlier that i had a fear of water as well as height before I came to this trip? Well, it's true. And I came here with the idea that I'm going to leave my fears behind this time. And this was the last step towards achieving this goal of mine. The cliff was crowded with over excited people. Some of them took a chance and jumped into the chilled water of the Ganges while some of them were standing there in the doubt- to jump or not to jump. As I was heading towards the cliff, i was filled with this thought and energy that "Yes! Today is the day!" But as soon as I reached the top of the cliff, all I could see was mighty mountains all around and the moment I looked down, I could see the enraged river, ready to take me in. Behind me, I could see my friends cheering my name. And that very instant, I closed my eyes and jumped with a scream! Within seconds, I was going down, the water making all the noises nullify around me. And the moment I was pulled on the surface by my life jacket, I was back to life! That was truly an 'Alive is awesome' experience! It was one of the best decisions I ever made in life.
After all the jumping fun, we were back in our rafts and by this time all had become pros: with our coordinated rowing skills and following every instruction by the instructor with full justice. Nothing could scare us now. The rapids felt childish now and we even jumped into the water from our raft- posing, showing our talent with the water. And within no time we had reached our destination spot- lakshmanjhula. We were tired as hell but longed for more of those rapids and rowing.
After we changed and collected our stuff from the camps, we were on our way back. With amazing, life altering (atleast for me)experiences and anecdotes to share. Even though some time has lapsed since I went on this trip, I can still recall the day with exact amount of emotions, feelings. Sometimes, amidst the solitude, you find yourself. The true YOU.