Rishikesh, the holy place situated in the Himalayan foothills beside the Ganges River. The river is considered holy and the city is considered as an ideal center for studying yoga and meditation. People from all around the globe visit this place for various reasons like adventure and spirituality.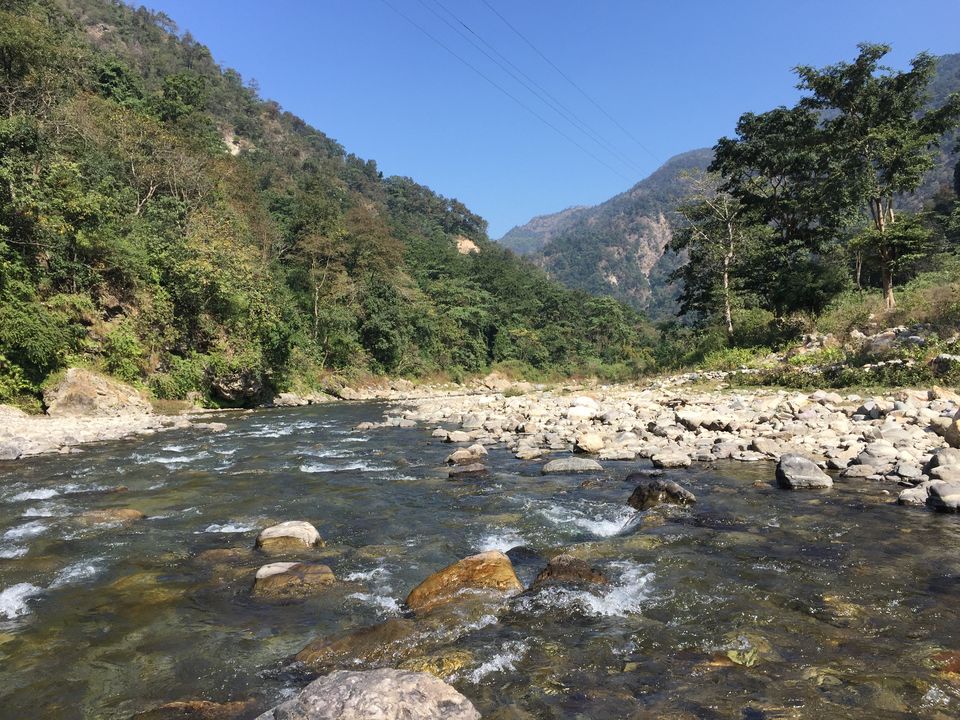 We planned to travel this holy place by road from Dehradun through motor bikes rented from gimmebyk rentals at a very reasonable rate of about Rs.800 per day. The distance to be covered is measured around 57 kms which can be covered in about 3 hours. The route passes through a broad airport highway, greenery jungle and river beside.
DAY 1: We started at about 6 o`clock early in the morning to witness the extraordinary view of sunrise near Dehradun airport. On the way we decided to have breakfast at roadside dhaba near harrawala which was very good at reasonable cost. The view through the jungles of Ranipokhari was amazing with minimal traffic and rush on the way. We reached Rishikesh at about 9 o`clock and decided to head towards Jumpin heights where adventures like bungy jumping, flying fox and giant swing are taken by fellow travellers. Rates for various activities are as follows:
• Bungy jump- Rs.3550 per head
• Giant swing- Rs. 3550 per head
• Flying fox- Rs.1800 for triple sharing or tandem and Rs.3000 for taking the ride alone.
• There are activity combo package also available which differs as per the activity chosen by the customer.
For every activity booking has to be done at jumpin heights booking office which is located near Tapovan police station where certain checkups such as weight, height and blood pressure are taken down for safety measures. After the procedure is completed we head towards the jump point which is few kilometers away. Photography/videography is strictly prohibited at this point.
After a thrilling experience at jumpin heights we planned to head towards Shivpuri for another taking our adventure to the next level by experiencing the gushing water of Ganges by river rafting. As we enter Rishikesh we found a huge number of shops who provides rafting services but to have the experience from initial point and for a much longer time we decided to start from Shivpuri.
We took the service from a provider which costs Rs.200 per person. Through van they took us to the point at a beach. The guide and safety gears are provided. The guide initially instructs about all the necessary tips for rafting and safety measures. Items such as ornaments, shoes, goggles, wallets etc are not to be carried with you on rafts whereas camera and mobile phones for the sake of photography can be taken but you need to mention your guide in advance so they carry their special waterproof bag with them.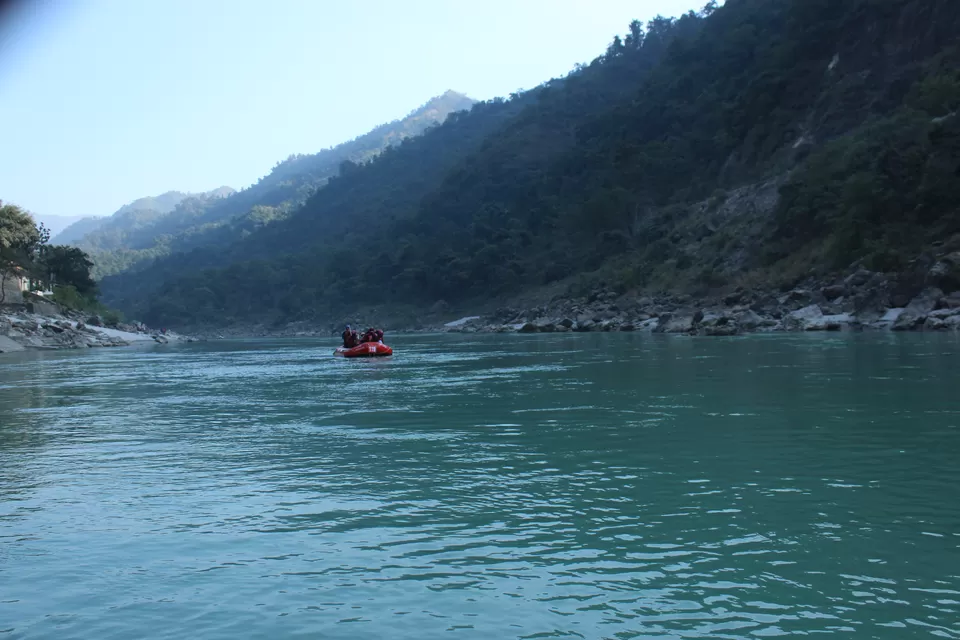 As we started our raft rowing on the river we were instructed our guide that we will be passing through 4 minor rapids and 3 major rapids. Minor rapids are turbulence state of water points that can be easily overcome whereas for the major rapids it's all about the way you row. The 3 major rapids are named as:
• Club house
• Roller coaster
• Golf course
We passed our minors and first two majors with our full muscle power on rowing the raft but as we came to the last rapid of golf course our raft turned upside down with the force of river stream that hit our raft. But with the help of our guide we were taken to the land and due to the safety gears nothing serious happened. Then we started rowing towards a cliff point where we made our stop to experience the cliff jump which was outstanding.
We can find eatables such as maggie and soup here. We completed our rafting by around 2 o`clock. We decided to take our lunch at chotiwala for which we need to cross the famous bridge of Ram Jhula which can be done by either walk or through bike only.
By around 3 o`clock we started our journey back to Dehradun. It should be kept in note that after sunset it is very risky to head back through jungle route as wild tuskers are believed to be on the roads that can be considered as threat and danger to life.