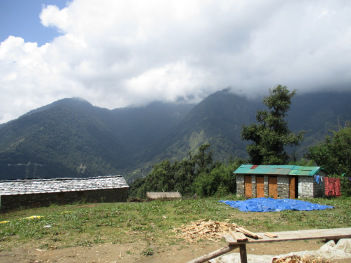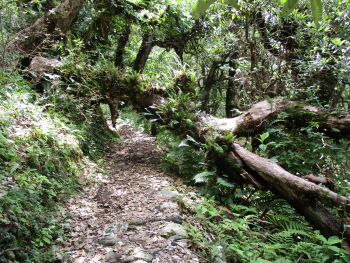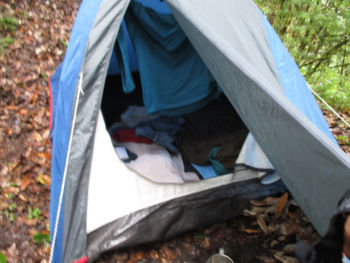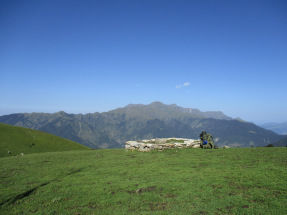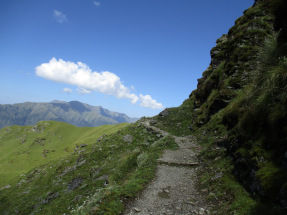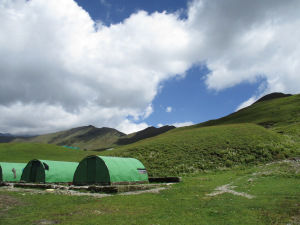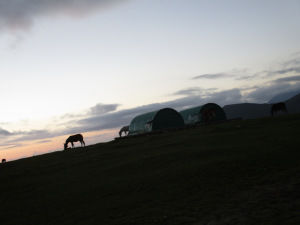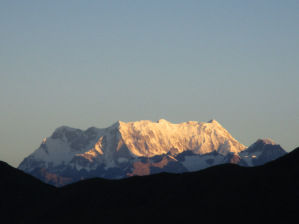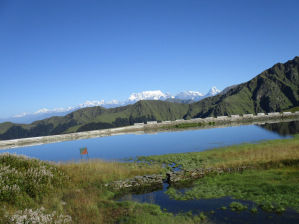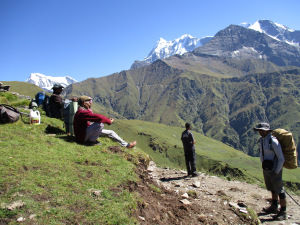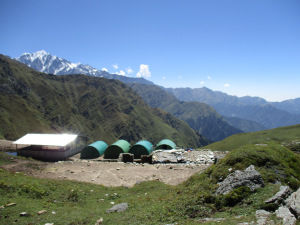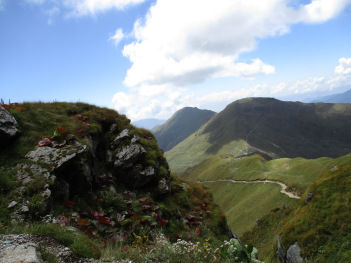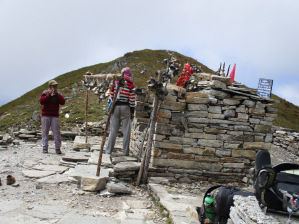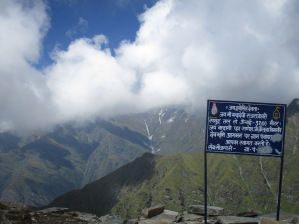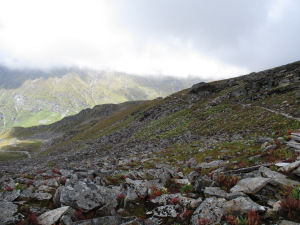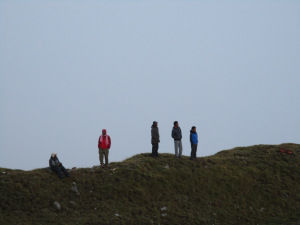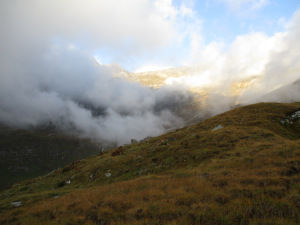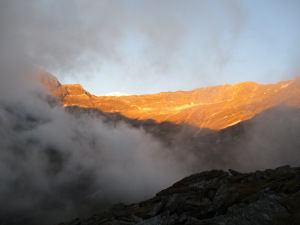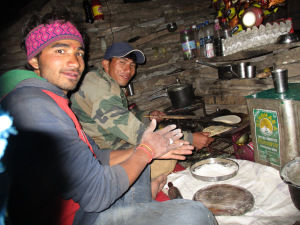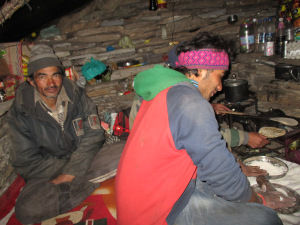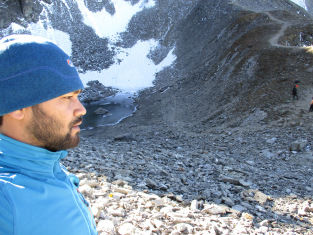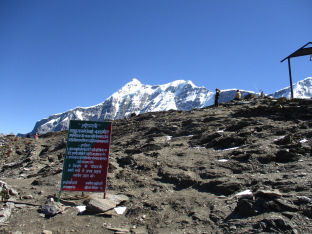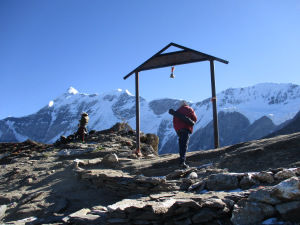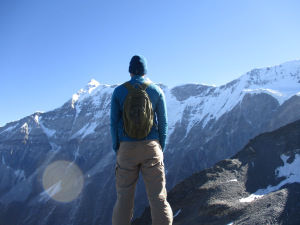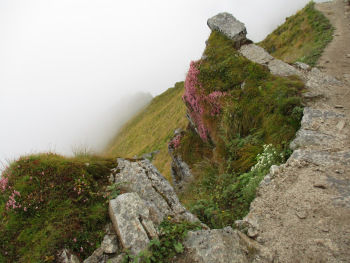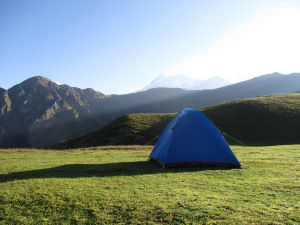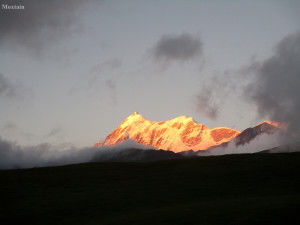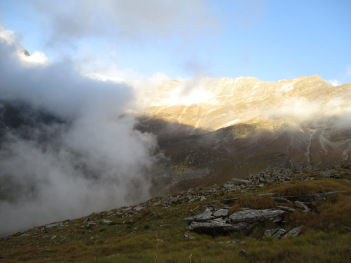 Day-1
Rucksack packed, I am ready, one bread omelet in, bill payed location is Lohajung, 7:30 am, plan is to reach Bedni Bugyal on the first day via Didna that means it is gonna be a busy trek for the first day. I took the motor-road route till Kulling village asked an old man the way to get down for Didna. Took the trail from Kulling, it descends till the bridge over the river and then the ascent starts for Didna village. Its mostly a jungle route but jungle are quite open. At 11 AM I reached Didna village, there was a home stay. I asked them if them for lunch, they were preparing food for Ronti-pass trekking group. They told lunch would take time, so I ordered Maggie and milk. The home stay person told me that two ways goes to Ali Bugyal, the shorter is not confusing but the hike is steep. I asked him the difference, he said 2 km.
I took the shorter one; time was 11:30 am the trail was really steeper and little muddy also. The whole trail goes through a jungle I didn't meet anyone on the trail. The jungle was also dense there. There were also some trees blocking the trail. It seems like people don't take this trail very often.
At around 1:30 I heard a sound of the leaves and it kept coming shortly. Soon I found it was raining; I tried to speed-up. The rain was slow enough for the jungle to protect me. I wanted to take that advantage. After half an hour, the rain seemed to cease. I took some rest, and suddenly the rain started again and this time, it was hard. I stood up with my rucksack and hiked to find some safer place. Trail was getting much worse. I found an open place, wrapped my rucksack with a rain sheet, kept it under a tree's protection and went up to see if the tree line ends soon or not. But I was 100m ahead when the rain got harder, and I decided to come back and pitch my tent. Raindrops became solid crystal, I pitched my tent, went inside and took rest. After about one hour the rain stopped, I came out and went for a walk to find the end of the tree line. It was around 600m trek remained to cross the tree line. I spent some time up, did some stretching, enjoyed the view and went down to my tent to spend the night in the jungle alone on half liter water and some chocolates.
Day 2.
I woke up early at around 4:30, opened the zip and it was dark outside, but I wanted to start early as I don't have much water. When I crossed the tree line, I got enough light and beautiful views too. But I didn't find a solid trail to follow. There were enough trails to confuse. But I know that I have to go east and have to ascend for Ali and Bedni. So I kept going towards the higher side of bugyal. On the way, a family of buffalo made me take the other trail, the mother wanted to keep me away. There was jungle on the other side also, I heard sound of a man guiding his mules. I waited there and tried to look for some person. I didn't find a glimpse of any, so kept going. The sun has now realized that I am dehydrated, I know that it will come, I took only one sip of water last night for this. After an hour, I saw some tents and on the left, there was some stone-hut. After half an hour, when I reached the hut, I found that was a small temple. Then I went towards the tents. I asked them by shouting "is jagah ka kya name hai?" They didn't reply, but wanted to. I went down near to them and saw they were some foreigners. Now I asked them "What is this place?" One girl among them did the talking and told "It's Ali and for Bedni I should follow the trail above the temple." That girl was Indian though.
I thanked them, and went to the temple again, I took some rest in the shade of the temple and then started to follow the trail. I felt the loss of energy and dehydration. I felt weak with each step; Sun was strong. I ate chocolate and took a small sip of water, and kept going. Soon I found the running water over the slope. I made a temporary structure from small- small stones to stop water and filled my bottle. I tried to store water in my palm and put that on my head. The water was cold; it was like help. I spent an hour there and kept cooling myself. I tied my wet handkerchief on my head and followed the trail again. Now I found three more running water sources. I reached Bedni at 10:30 asked them for lunch. They said it would get ready at 1:30, so I decided to halt and relax for the day. Forest people were not there, so they offered me the hut, and I took it.
I washed my clothes and put others also in the sun to dry. I enjoyed the Bedni with Kund and the views from here a lot, witnessed the game of fog and natural colors that made the views heart-touching and beautiful. I saw the happiness of animals roaming and grazing there.
Day 3.
Woke up at around 5 AM, got enough time to see the rising range of the Himalayas that could be seen only in the morning that includes Barakhamba, Bandar-punch, and many more giants.
I started at around 8:00 AM and the Bugyal was looking so refreshing. I caught up with the other team that was going for Ronti ahead of Junargali, talked to them, shared some good small talks with them and their leader, took a little break near GhudLautani after a good ascend to catch the scenic view of green and beautiful mountains all around in the fresh air in a light warm sunny day. From here the trail is level till Patharnachani.
There was a shop and some forest huts, it was better to take a small break here and sip some black tea to prepare for the steep ascend till Bagwabasa. While on this steep ascent on the mid- way, I was able to look back at the huge part of the trail I covered for the day. And it worked well to pat on my back by looking on the beautiful trail that was a perfect motivation to keep going.
I reached Kalu-Vinayak at noon, and one of the guide whistled the Sankh, and the sound was like praising the spirit of trekkers and mountains- a perfect deed at the perfect moment to capture. I spent around 45 minutes there by looking around and talking to the Ronti trekkers team; the moments were worth living, the view was alive, and everything and every effort was paid.
It was the hunger that I made me move ahead to reach on time to Bagwabasa. In Bagwabasa, I asked the shopkeeper to make food for me. As there was not much good flat space to pitch the tent, some booked forest huts though and the weather suddenly changed to cold and foggy, and wind was high. Sun was like fighting to show his glow from the back of clouds and fog and when it succeeds it glows the rocky mountains in the direction of Roopkund Lake that was shining.
Shopkeeper offered me to stay in their small store. Here, I met another team that came for Roopkund trek. I spent the night with the shopkeeper and his two sons till dinner, and it was a worth living experience to hear them, talk and share.
Day 4.
Chilly morning it was. Shopkeeper made parathas for me by waking up early in the morning- Thanks to them!. I started at around 6:30 AM and found the Roopkund trekkers team in the middle of my way at the only snow patch on trail that was also a snow bridge. I had a little misunderstanding with some mules roaming around the trail, we were confused who is gonna leave the trail, I left the trail in end for the mule. The hike was a good ascend and still no sign of sun. I was trailing behind the sun-rays that always looks ahead of me. The trail was more kind of small stone kind and moraines on the sides.
Finally reached the Roopkund Lake at around 8:15 AM and saw the simmering sun rays at little height on the fallen rocks, the perfect spot to rest and store the moment in memories. Lake was very low and solid, and was breaking- sound was audible at some moments. Skeletons were rare, and only a few were visible. Captured some photographs and took a breath for the final ascent of the trek. The final ascent was steep of course but not long. The trail was narrow and demanding; the sun was on my side now giving me warmth.
Reached the Junalgali top at 40 minutes and the view was awesome. The mighty giant beautiful Trishul peak was like just in front of me. It was like we are the two entities at the moment who can talk to each other and I paid my respect by looking the peak for few minutes standing still. It was a self-inspiring feel, the whole body and mental state was calm and peaceful. I spent around one and half hour there by looking around from the top, shared parathas with other Roopkund trekking team. A steep descent and a beautiful valley further at Homekund was visible. We returned from there and found the Ronti guys on the way still ascending for Roopkund Lake, took and gave good-bye and luck. I reached Baguwabasa, had lunch and took 1-2 hr rest. Packed my bag and paid my respect and departed to uncle, exchanged the numbers and with a wish to meet again sometime, returned for Bedni-Bugyal.
Before reaching Patharnachani the unexpected weather again played me with slow raindrops, but again the art of clouds and fog was winning my heart and rain drops were like refreshing me. I took a small break again at Patharnachani to see the weather's mood and had tea-biscuits. I buckled-up and kept going by enjoying the weather, air and smell and free will, reached Bedni at around 5 pm, decided to pitch my tent alone on the green bugyal.
Day 5.
Woke up aaram se, took breakfast, talked to the guy who explained me the trail for the day, I thanked him for everything and with a good-bye took a step in the direction of Wan, took the turn from a small temple on the way few minutes ahead from Bedni. After this turn, the whole trail was descending zig-zag well maintained, but in the jungle. Took rest in Gharoli Patal, there was a shop and some huts, the person was one of them whom I met on the Bedni the first day. He offered me pahadi Kheera, later some other local came there, and I bid goodbye to descend further. I met a few local on the way, and they kept helping me by telling me the trail. The trail was descending till Neelganga, and after that again the ascent starts. Few mules, wooden houses, water sources and small villages started to show up on the way. I washed my face and hair near a temple and took the rest in the much relaxing silence and shadow of big trees. The trees before just reaching Wan were really too big and wide in diameter. Also witnessed few ladies and a teenager carrying big logs on their back-way to their new house. I reached Wan at around 1 pm, but most of the shops were closed, so had some chole in a shop. Locals kept coming and talked to me in a very good manner. Vehicles were not there so I talked to truck driver, he was loading stones till Kulling village, he accepted and went to some house for lunch. Later I found the same trekkers team coming down and they said they have booked a sumo and I can share seat with them. Reached Lohajung in the evening, got fresh, had lunch, roam around, viewed the captures pics in the camera and had a well relaxed sleep.
This trip was originally published on pahadose