If you're a trekking enthusiast who is ready to hibernate on account of the fact that it's winter, I'd urge you to reconsider. A new trekking trail, Mukta Top has opened up in Uttarakhand which is the perfect snow trek you must take this season.
Where is it:
Located at a height of 11,838ft., the base camp of Mukta Top is a small village called Kuflon that is only 155km away from Dehradun. This is a five hour journey after which you will stay in tents. It is ideal to reach Dehradun by train early morning so that you can reach Kuflon at a comfortable time.
Difficulty Level:
This is an easy-moderate snow trek which makes it ideal for even beginners to experience. While popular snow treks like Kedarkantha and Chandrashila are over-crowded at this time, the only noise that you will hear at Mukta Top are beautiful sounds of chirping birds and a ringing silence that is typical of forests. The trail is a mild one which will give you the experience of being in a forest not just for a few hours but for two whole days. In fact, you will even get the chance to camp in the forest, an experience that treks rarely offer. However, as you approach the top, you will come to steep ascents, which are fairly difficult but doable. Another difficult aspect of the trek are the sub-zero temperatures that plunge as low as -5°C.
DIY or not?
The trail has recently been discovered by India Hikes, it is absolutely virgin and doesn't receive any other footfall at all. Since the trail is new and unmarked, it is best to register with India Hikes than attempt this unmarked trail yourself.
Cost:
India Hikes is offering the trek for 6 days at the cost of Rs. 8950. You can find out more details here.
When to do it:
For those of you who want to experience trekking in snow, the ideal time to do this trek is December-February. This is the time when Uttarakhand receives snowfall, so it only make sense for you to start booking your trek now. You can also do this trek from April-May and October-November when the temperature is rather comfortable and the mountains are in full bloom.
The route: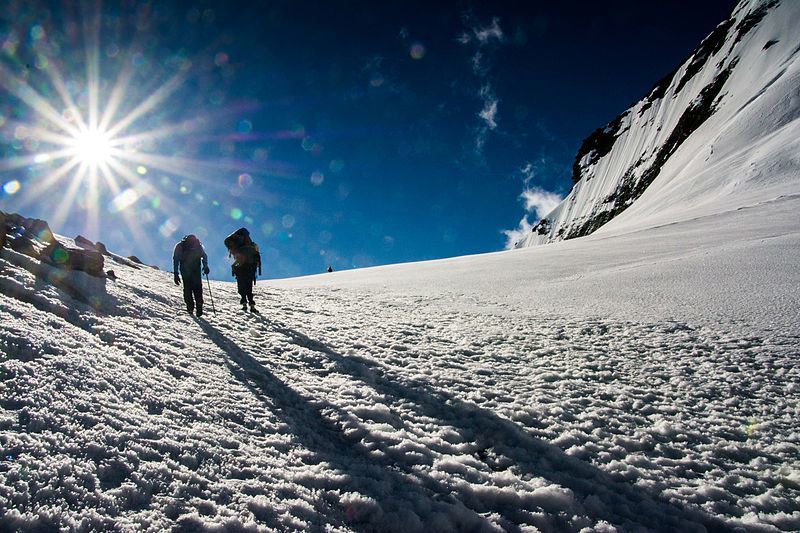 This six-day trek begins at Kuflon, a small village located on the banks of Asi Ganga river, a tributary of Bhagirathi. The trek begins early morning the next day, the trail on this day has mild ascents, goes through a village and then passes through pine forests. After a four-hour trek, you will reach a clearing forest, Shiladuni, where you camp for the night. The next day's trek onto Chaithathari gets comparatively challenging and passes through bamboo and oak forests. From hereon, you will head towards Kuari till you reach the campsite that is located beside a flowing stream. Next day, you head towards Mukta Tal where you will encounter snow for the first time. From here, you will witness breathtaking views of Mt. Bandarpoonch, Kalanag and Nag Tibba. A 15-minute walk from here will get you to Mukta Tal. You camp beside the lake for the night. The next day you climb to Mukta Top by following a trail from the lake. Meandering across pine forests, you will be blessed with snow-capped views of Mt. Bandarpunch and Kalanag. From the summit, you will head down to Kuari campsite, and then to Kuflon.
This is the route for Mukta Top: Kaflon–Shiladuni–Chaithathari– Kuari–Mukta Tal–Mukta Top–Kuari–Kuflon
Itinerary:
Day 1: Dehradun - Kuflon (7 hours)
Arrive at Dehradun early morning and head to Kuflon, located 155km away. You will cover this distance by car and drive along Bhagirathi river. Upon reaching Kuflon, you will stay overnight in camps.
Day 2: Kuflon - Shiladuni (4 hours)
Start trekking from Kuflon towards Shiladuni where you will come across rich forests of rhododendron, oak and maple. On this trail, you will cross several streams and behold majestic sights of snowcapped mountains in the Himalayan range. The campsite is located in an open, clear area which is ideal for star-gazing.
Day 3: Shiladuni to Chaithathar (5-6 hours)
This trail begins through a thick oak forest which leads you to a small stream that you will need to cross. After walking for an hour, you will reach Kuari and continue the trek for 3km towards Chaithathar, the campsite for the rest of the day.
Day 4: Chaithathar to Mukta Tal (4 hours)
Today's trail only has a slight ascent but glorious views that are sure to take your breath away. You will see Bandarpoonch, Kalanag and Nag Tibba covered in snow, looking magical beneath the clear, blue sky. With this gorgeous view following you, you will climb a steep trail which will take you to Mukta Tal, a high-altitude lake. Enjoy a colourful sunset at the lake and camp by its side for the night.
Day 5: Mukta Tal - Mukta Top - Kuari (7 hours)
Today is sure to be a long day because today, you attempt to summit and then descend to Kuari. From Mukta Tal, a steep trail will take you to Mukta Top. As you trek up, you will spot the Mt. Bandarpunch and Kalanag range as well. In addition, you will spot a small lake named Siyari Tal. Take in these majestic views and then head down to Kuari, the last leg of this tiring day. Camp overnight at Kuari.
Day 6: Kuari - Kuflon (4 hours) - Dehradun (6 hours)
On your last day, you will follow an easy route through pine forests to Kuflon. On your way, you will also cross Shiladuni where you may be lucky to spot animals like leopards, bears and deer. The route back is also ideal for bird-spotting and bird-photography. From Kuflon, you begin your road trip to Dehradun. The trek ends here.
What to pack:
The average minimum temperature on this trail is -3° C-6° C, with temperatures often plunging even lower when it snows. It is essential that you carry enough trekking clothes that will keep you warm but not burden you as you trek. Carry trekking tracksuits, fleece jackets, weather-proof down-jackets with hood, ankle-length hiking boots and snow boots if you're visiting during January-February. The sun is very strong at such high altitudes, so it is important that you carry sunglasses for your trek. Gloves, scarves, woollen caps, towels, and essentials like walking sticks, torches, energy bars, vitamin capsules and swiss-knives.
You can check out this comprehensive list of all that you can carry on your trek.
Have you taken more such treks in Himachal and other parts of the country? Share your tips, suggestions and hacks with travellers by creating a blog on Tripoto.
Don't forget to subscribe to Tripoto's YouTube channel for more travel inspiration.
Frequent Searches Leading To This Page:-
2 day trek in uttarakhand, uttarakhand pilgrimage trek, trekking in uttarakhand in February, one day trek in uttarakhand, chandrashila trek tour, most difficult trek in uttarakhand