One of the many wonderful things about mountains is that their beauty enchants all; enough for people of all ages to push their limits to explore and visit them. A couple in their 50s, Dr. Vipin Sood and Dr. Meenu Sood, from Kashipur in Uttarakhand recently proved their grit and determination by trekking to Everest Base Camp! Yes, you read it right, they trekked to the base of the highest mountain in the world, located at a height of 17,600ft.
Hi! Tell us about yourselves.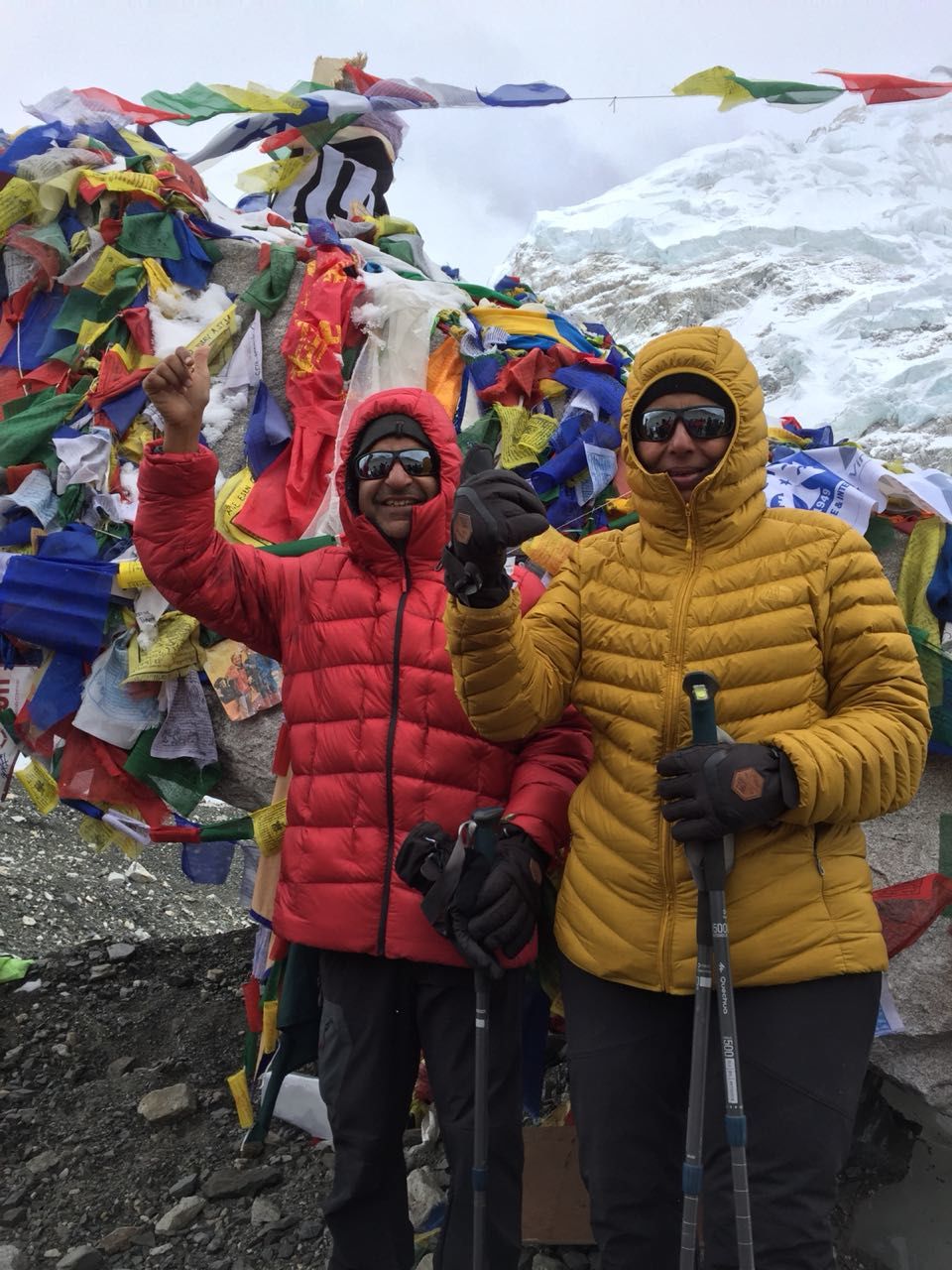 "I am Vipin Sood, a paediatrician and I am 59 years old. My wife, Meenu Sood is 53 years old and is a gynaecologist. We have had an active life, owing to our proximity to the mountains. However, 5 years ago I suffered from disc prolapse and knee dislocation because of which my physical fitness took a backseat. It was only after trying various therapies that I was able to recover slowly, and that is when I realised the importance of being physically fit. I was forced to choose a physical activity that would keep me healthy, and that is when I took to trekking. So my wife Meenu started accompanying me, and now trekking has become a passion for the both of us."
Have you had an inclination towards trekking for a long time now?
"It was in 2016 when my wife and I undertook our first major trek, which was the Kailash Mansarovar Yatra via Lipulekh Pass, organised by the Indian Govt," says Dr. Vipin. After trekking to a whopping height of 21,778ft., Dr. Vipin along with his wife undertook the Chardham Yatra where they trekked 11km to Yamunotri and 21km to Kedarnath. All those who've been there would know that these treks are not a cakewalk, sometimes even the fittest of people find these routes difficult. After coming back from these pilgrimages, the couple realised they could attempt higher peaks and greater heights; and that is when they decided that it was time to attempt the Everest Base Camp.
Tell us your experience during the trek, did you face any difficulties, did you have second thoughts as you trekked up?
"We trekked to Everest Base Camp in April 2018 with an agency. After reaching Kathmandu, the first lap of our trek began. This was a 4-hour trek to Phakding which is located at 8,565ft. We travelled along the valleys of Phakding, the banks of Dudh Kosi River, a route that was made of numerous ascends and descends."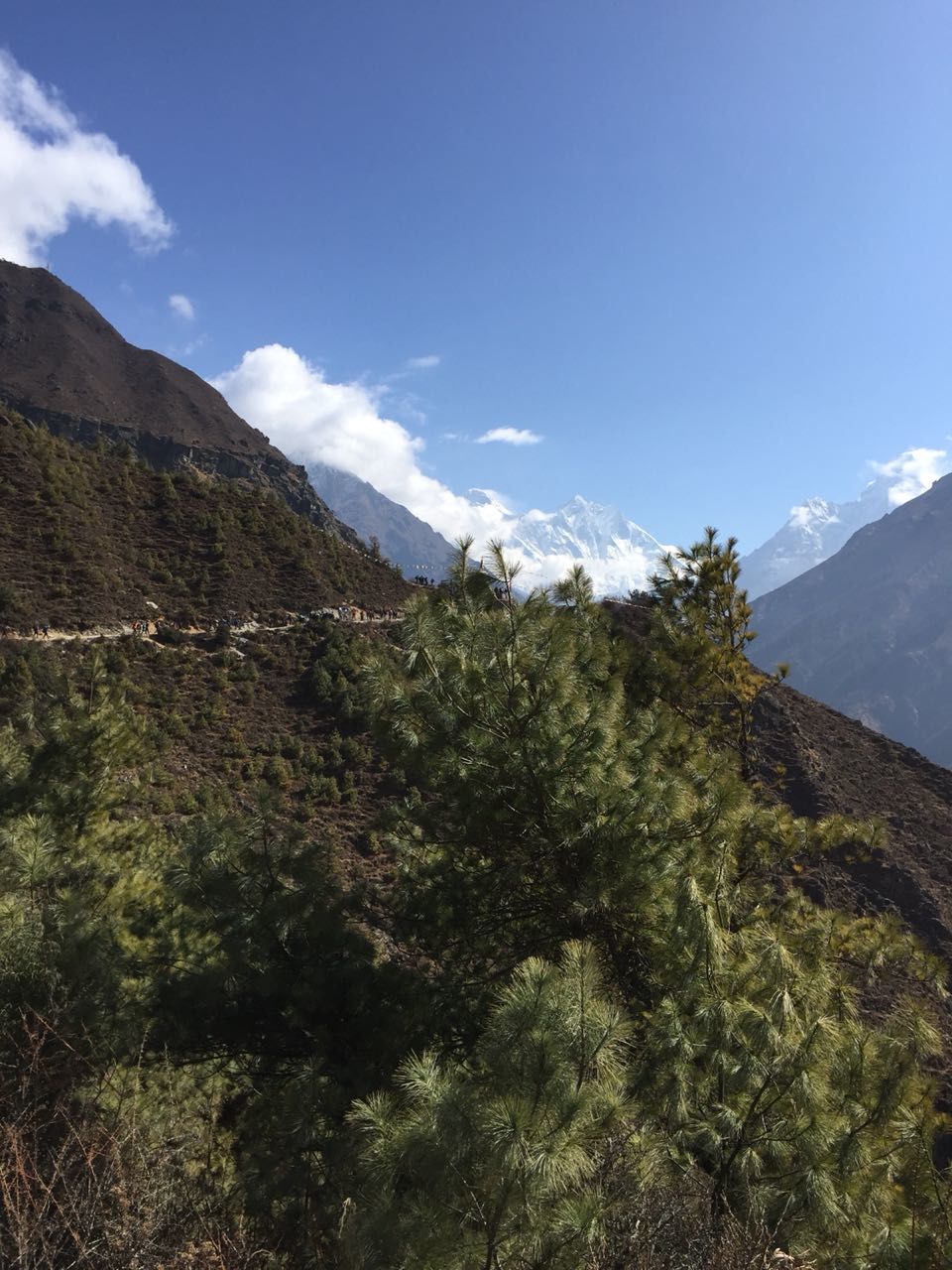 Here's when the couple experienced their first difficulty, when Mrs. Meenu had problem descending due to acute pain in the knees. However, despite this pain, she continued, even though this meant a few bruises by the end of the day. They continued further to Monjo, Jorsale, crossing numerous suspension bridges, boulders and the steep climb to Namche Bazaar. Here the temperature began to dip drastically. Dr. Meenu says, " At 11,300ft., I was so tired that I just wanted to go back by a helicopter flight the very next morning. My spirits were very low that particular day. Ascending to the base seemed like a distant dream." This is when the trek leader spoke to Dr. Meenu at length, and despite her pains and aches, she decided to keep going, since she had come so close.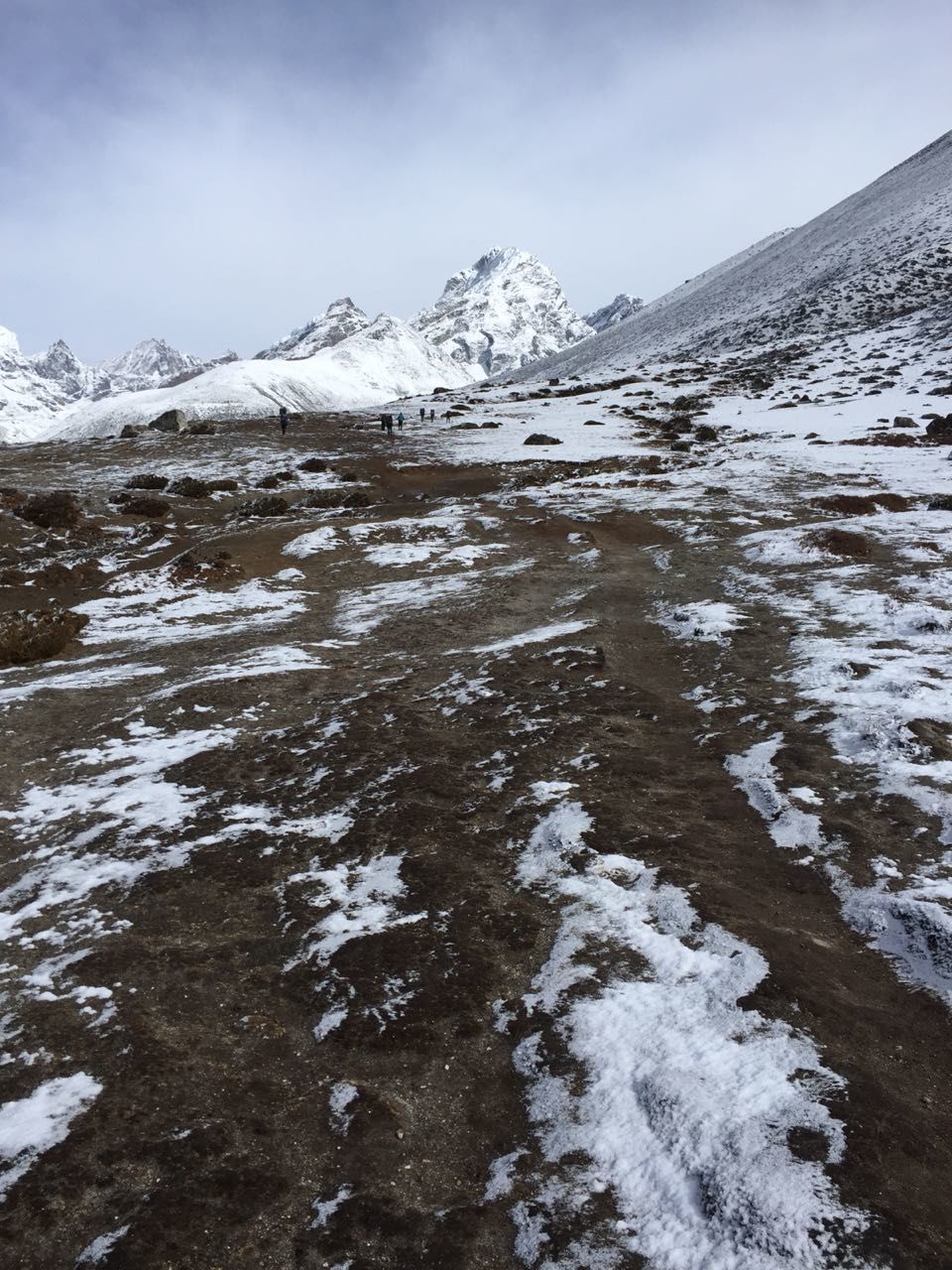 They began their next day by trekking through serene environs of Sagarmatha National Park where they got the first view of Mount Everest, along with Lhotse Peak. "We went on to Pangboche, located at a height of 13,400ft, after which the route was through a valley, flanked by mountains on both sides. Here we encountered a glacial stream which was a very steep climb up to 14,500ft." This lap, till Dingpoche was the most strenuous one, the couple said, as oxygen levels were getting low. To add to the difficulty, it snowed there all evening and night. The snowfall made the trail they were to take the next day even more difficult, but they persevered and reached Lobuche Pass. A significant sight here was the various Chortens or memorials of trekkers who perished while climbing Mt. Everest.
After this, they continued onward to Lobuche, located at 16,300 ft. where sub-zero temperatures had begun to hit. The trek from Lobuche was completely laden with snow, and lined with Kumbhu Glacier but the view of Mt. Everest at the top kept them going. Here they crossed numerous boulders, climbed up steep inclines and reached Gorakshep, 17,700ft.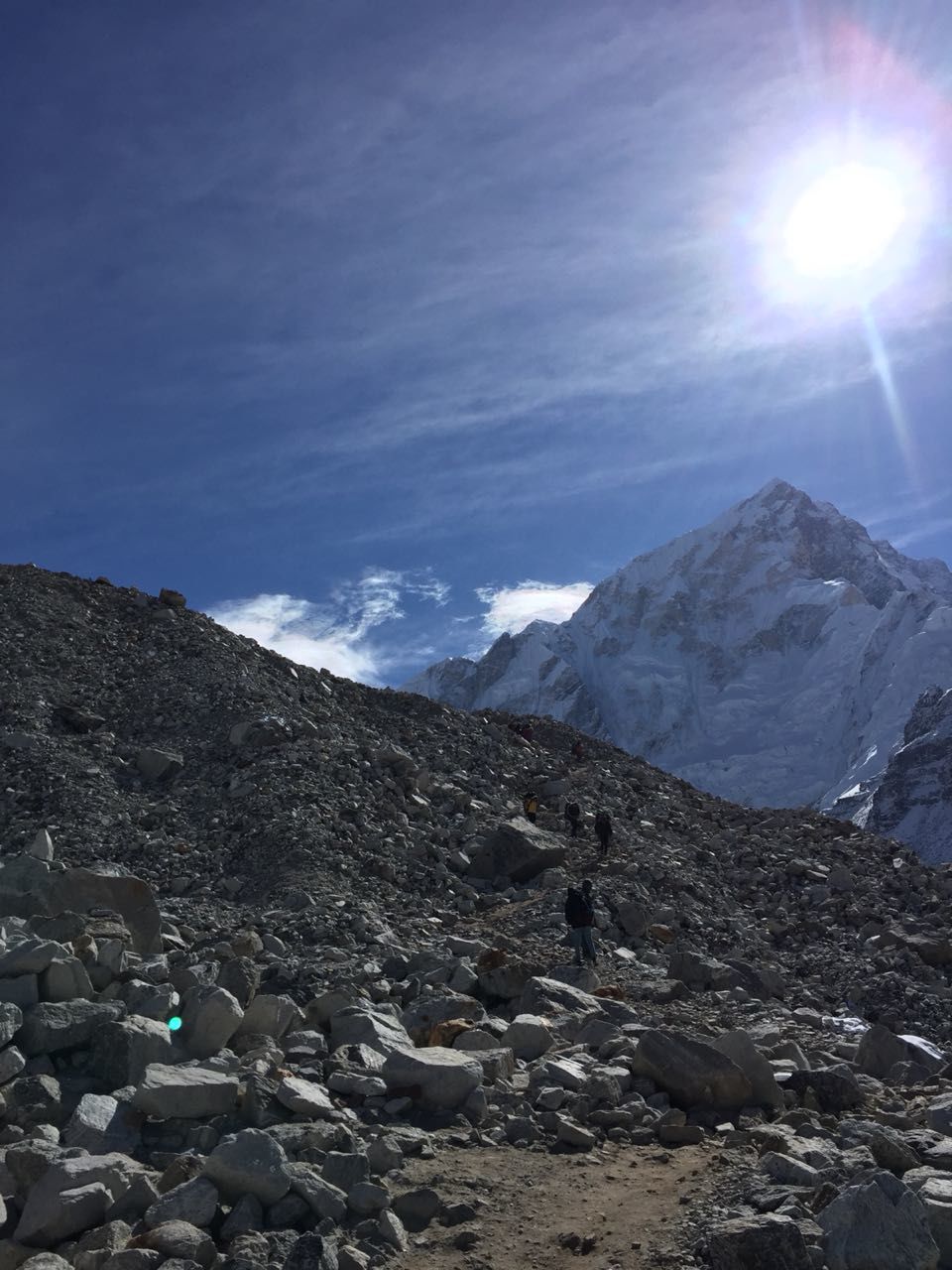 "This was our last pit-stop before we reached our final destination, the Everest Base Camp. We were exhausted but jubilant to be making our final ascent. A 40-minute trek later, we had reached our destination."
What is the one thing that kept you motivated throughout your trek?
The couple said that they cannot pin-point any one single thing that kept them motivated because trekking to the base camp is not that simple. "We saw a couple with their daughters aged 7 and 8 undertaking the trek to the base camp, someone older to us with two prosthetic legs walking briskly over difficult boulders, and a young American boy who was completely paralytic, and yet making his way up on horse-backs with the help of sherpas— they were all in more difficult positions than us and yet they continued , crossing all challenging terrains. These people were our constant inspiration; it was humbling to see their commitment and that's what really kept us going."
Please describe your feeling after having finished the trek. Would you undertake such a difficult task again?
"Yes, we would happily undertake a trek as difficult as this on again," said the couple. They were elated after having finished the trek successfully. In fact, once they reached the base, they didn't want the climb to get over, they wanted the trek to be longer than it was! Such is their addiction to trekking. In fact, even by night, as they rested at Gorakshep, they couldn't help but plan their next treks at even higher altitudes.
Now that you've trekked to the base camp, is climbing the Mt. Everest next on your list? If not, what other trek would you like to undertake next?
At this question Dr. Vipin said that Mt. Everest is surely on his list. "Don't even think about it," said Dr. Meenu, jumping in. They settled on aiming for Island Peak located at 20, 013ft. "If we can do the Island peak, then maybe, after 4-5 years, we can think of giving Everest a shot," they said.
Your story is truly inspiring for adults and youngsters alike; would you like to say something that could inspire more travellers to undertake trekking in the mountains?
"Everyone should have one sport or outdoor activity as a hobby. Trekking is something that everyone must try and undertake as it gives an amazing opportunity to meet people from all walks of life and exchange experiences." However, Dr. Vipin also added that the increasing commercialisation of many pristine treks has led to their degradation. So if one is enthusiastic about trekking, one should first inculcate sustainable travel within their lifestyle.
I'm thoroughly inspired after hearing their story, what about you?
If you have more such stories to share, create a blog on Tripoto today and share your thoughts with a community of 25million+ travellers! Check out Tripoto's YouTube channel for more travel inspiration.