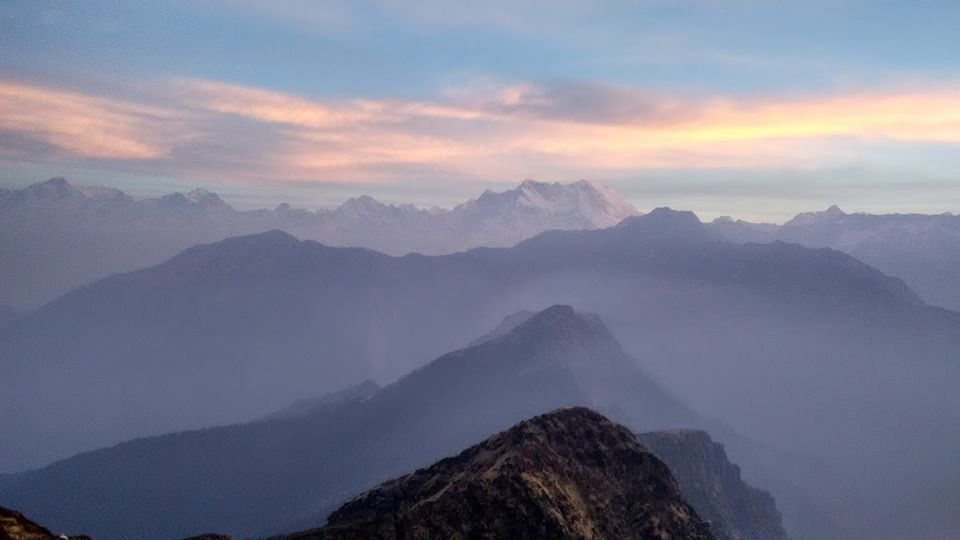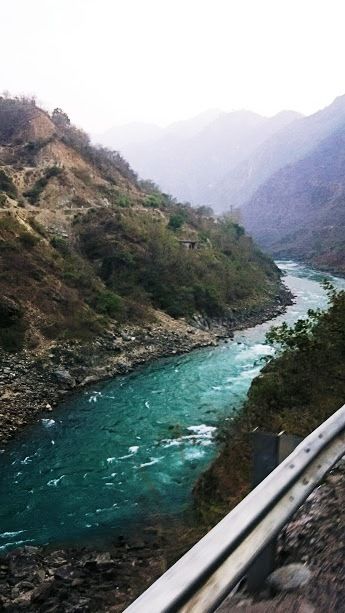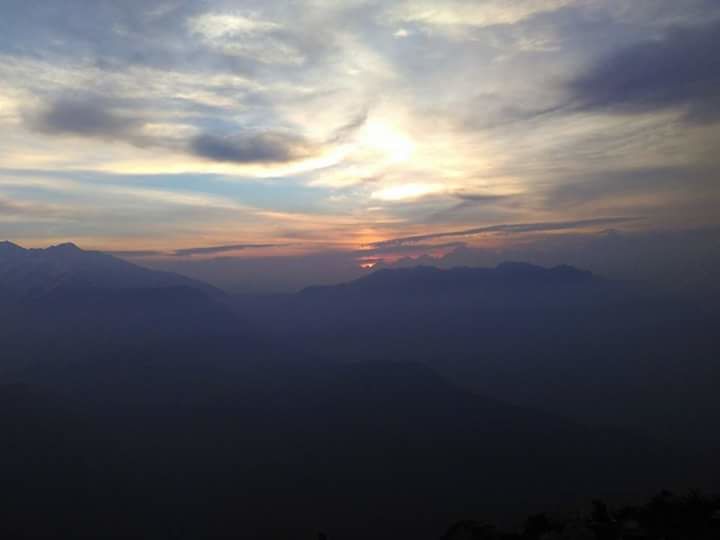 #TripotoTakeMeToHimalayas
It's March, here in Bombay winters are gone although it never lasts beyond January but yes, winters are officially over now. What is left behind is scorching heat and humidity and I needed a break from this.
Sitting with personal disappointments in a large, crowded and one of the most recognized cafes of South Bombay for an evening drinks, I was thinking about my next escape. Juggling with many places in my mind a glance over a café television solved my query. I saw an advertisement about Ardh Kumbh Mela at Haridwar which was an ongoing event.
Why not here! Gods hint - Lands of Gods: Uttarakhand.
It took me few days to fix the place, summing up details from various sources somehow I managed to fix up my itinerary for this trip and ended up on extending the trip Haridwaar to Tunganth.
Via Deoriataal Chopta Tunganath Rishikesh Haridwar
Traveling especially by the Mountains are my little escapes, and it helps me to heal the wounds of the life at least for some time. Life has its ups and downs and whenever I feel that there is something which is not in tune with the expectation then the cure I seek are "The Mountains". Being a Bombay resident I am very close to Western Hills but the western hills are my best favorite only in Monsoons as the proximity of reach and lush greenery are treat for eyes.
I generally travel alone but for this trip I got a company of my friend, on his desire.
So after doing all the arrangements we started our journey from Bombay and the first stop over was Saharanpur. Reaching Saharanpur at mid-night we boarded a bus for Rishikesh and we reached Rishikesh early morning around 4 o' Clock.
After that the route was like Rishikesh Devprayag Srinagar Rudraprayag. One will get a direct bus from Rishikesh till Rudraprayag (costing 200 INR Approx). From there, you have to change bus for onward lag till Sari Village via Ukhimath.
This trip was full of adventures and our first adventure was waiting for us at Rudraprayag.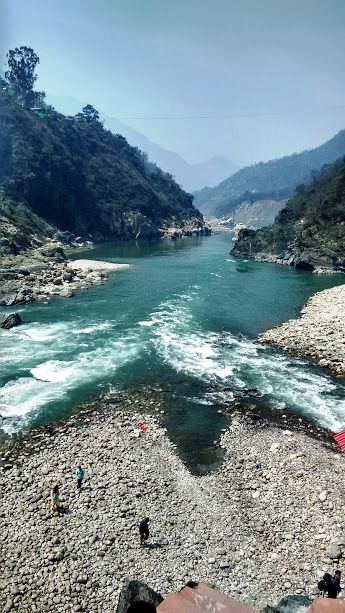 We had started our journey with limited cash with a plan to withdraw it on reaching Haridwar, however we were not lucky enough, it was a time when in Uttarakhand there was a political disrupt due to the then CM Harish Rawat and on that route from Rishikesh to till Ukhimath all the ATM were complete out of cash!! We tried our luck at many stops including major town 'Srinagar' but what all the machines could dispense was a paper slip and no cash! by the time we reached Rudraprayag we were left with only few hundred rupees and here comes the jugaad.
We requested one petrol pump owner in Rudraprayg to give us 1000 INR at a cost of 100-200 bucks extra and we will do NEFT in his account. With initial reluctance, the owner agreed to lend us money that too without any extra amount.
(HELP IS A MATTER OF SOLICITATION).
We knew that this amount will not suffice for forward journey but we could not ask for more. A bit of relief, as now we can have some food and water. After having food we started our journey for Ukhimath from Rudrapyag and by the time we reach Ukhimath we were again in the same situation. Only few hundred's in my pocket, but here the second adventure was waiting for us. The last bus for Sari village was not there and major local vehicles were booked due to mass marriages in the village and those who were available were not ready to go. The ones who agreed were demanding much higher fee than usual. So again, we have look for Jugaad!
We asked few shop owners in the same pattern with same offer but in return there were refusals. Then we tried our luck at Post Office in Ukhimath but that too in vain! Here, we met our partners for further part of the trip Arnav and Prateek, they were also in the same situation as we were but with a Limited Cash :-P . We were four now and here we succeeded in convincing a guy who can drop us till Sari village. Our affordability came at a sharing the cost, we paid 60 INR PP in place of 15 INR PP regular price.
(Practical of Demand vs Supply)
We finally were at Sari Village around 4 in the evening. I don't know what was the force behind me instead of opting for returning from Rudraprayag I kept On my onward journey with an approach "Lets deal with it, whatever happens"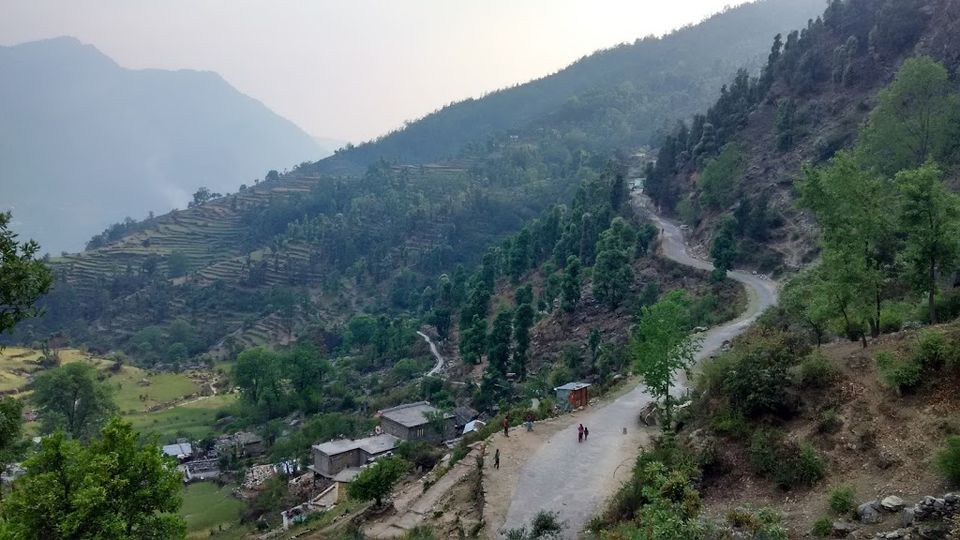 To reduce the load of my pocket we had a Maggie and Tea in Sari village and happily emptied our pocket. After resting for some time we started our Trek to Deoritaal.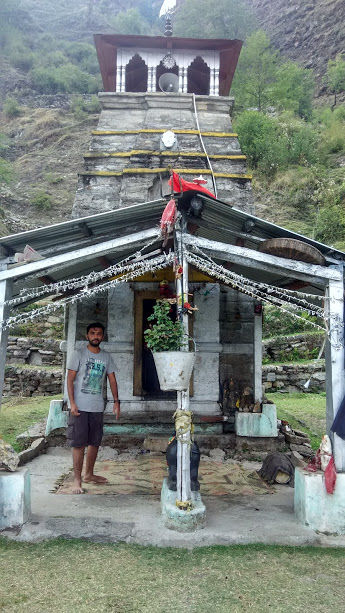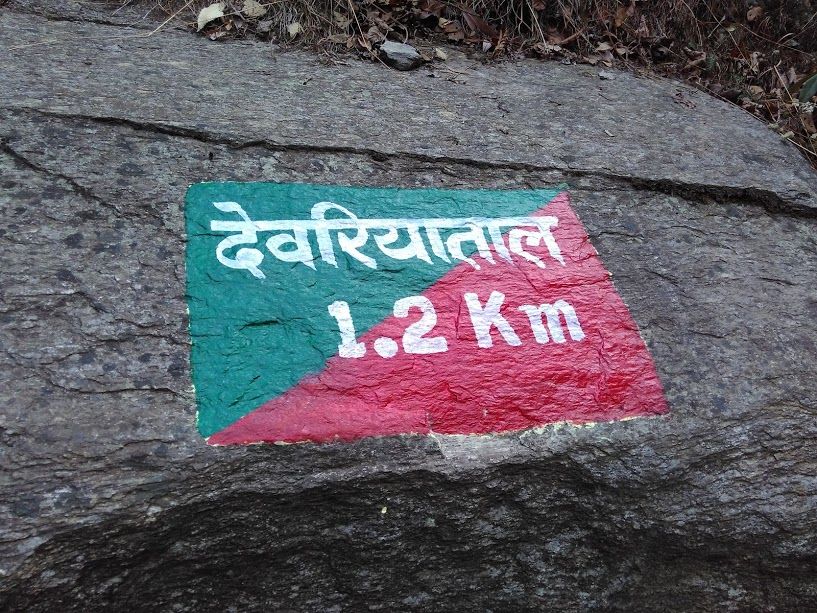 The first place of itinerary, it was some 2 hrs uphill Trek from Sari village with beautiful patches, sceneries and small jungle on the way. We reached around 6 in the evening at Deoriataal and Let me tell you it's like My Messiah for this trip was waiting for me. On arrival to this place a guy named Sonu approached us for Tea and refreshments.
Sonu: क्या लेंगे आप लोग ? (What I can serve you?)
Sarcastic Me, जो भी मुफ़्त मे हो वो दे दीजिए (feed us whatever is for free there in shop.
And his reply won my heart, मैने आपको खाने क लिए पूछा है, पैसे नही माँगे (I asked you for a food not for a money)
tell me what happened ?
I explained him the short story and his unexpected next move filled me with tear and joy both in the same moment. A guy in his 24-25 wearing a tored sweater and pant with a muffler around his neck took 2500 INR out of his pocket and said, more or that's it ? He said return this money once you reach Bombay and don't pay me for food, stay or anything. This incident left me with a dilemma, Should I believe Media or not ? The world is far better than how it's shown by Media.
I am the King now. We four pitched our tents near 'Taal' on a minimal fees paid to forest dept. Post dinner and some conversation with Sonu, we completed circuit of lake and we returned to our tents back.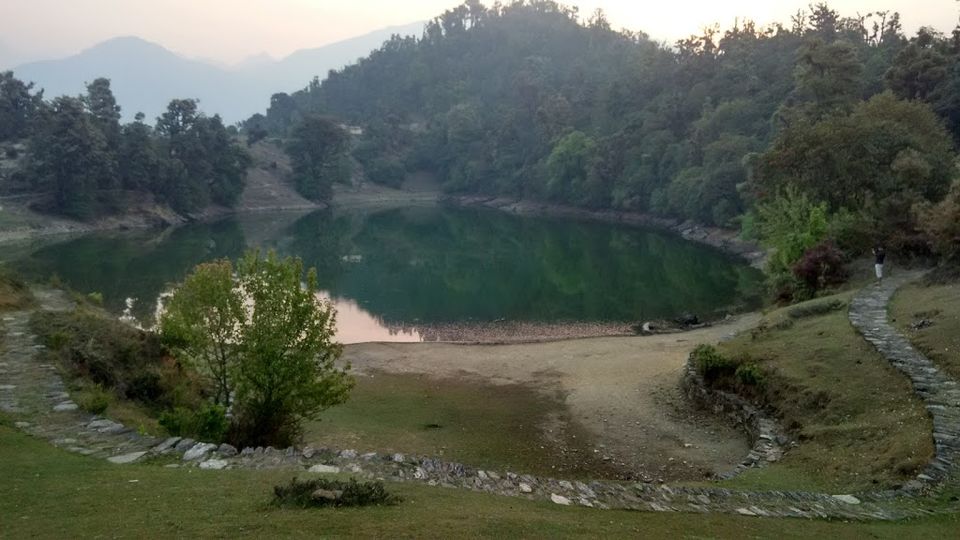 A beautiful night under millions of stars, near a lake centered in the forest, some guys in the nearby tents were playing songs, some were enjoying their drink, some were just sitting with their partner and Cold breeze, Sound and Silence both were perfectly stitched in that moment. And a loner like me was busy in his own world of dreams. :-P this scene was not less than a movie script. Good Night.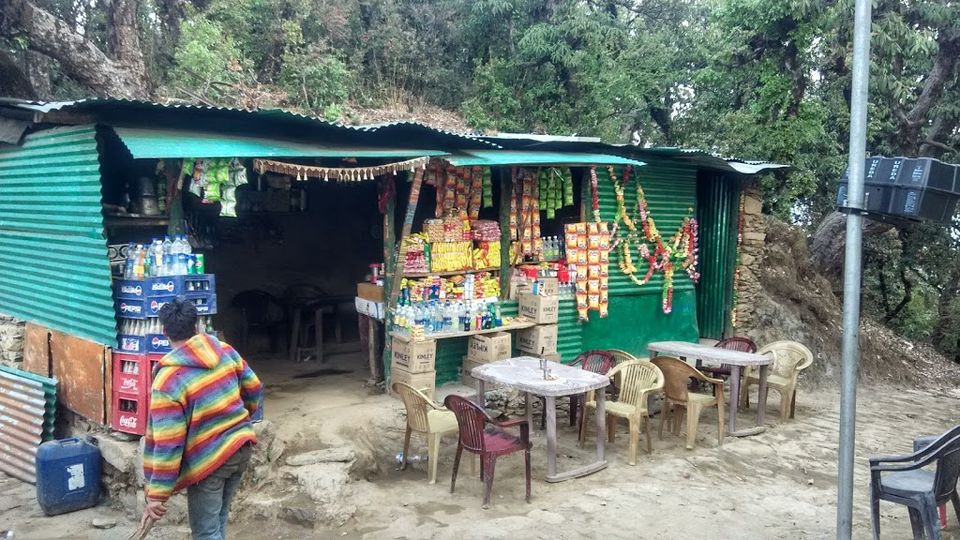 The next morning greeted us with melodies of chirping birds and view of Chaukhamba peaks. The day brought a fresh ray of hope and full of energy on the second day of our trip. After having sumptuous breakfast and good bye talks with Sonu we started early for our approx 15-16 Kms long trek to Chopta via Rohini bugyal.
This trek is not less than a playlist of Melodies, a trek full of beautiful sceneries, jungle, varieties of trees, Oak, Maple, flowers and Rhododendrons. Passing through various sections of the jungle, massive trees and many small bugiyals, some sections take you from the little dark thick woody patch and opens on the meadow on the other side, It's one of the most beautiful treks and gives ideal pit stops, It felt like different section of mountains are perfectly placed in all those intervals. At some places you will gain height and at some places you will meet small streams to quench your thirst. Tip to grassy plains this trek had everything to make you keep going. But yes, at the same time it will test your stamina too. Hence a bit of preparation will help you to avoid pain and keep moving. It's a Wonderful trek.
After 7-8 hrs of trek we reached Chopta. Chopta is also a beautiful grass land, open meadows and panoramic hill views it's again a wonderful place. We had to reach Tunganath before sunset so we did not make a long halt and after quick lunch and a rest for some time we laced back our shoes and continued our march till we reach Tunganath village.
Keep moving...don't fall to the prey of alluring Rhododendrons gardens. The entire way to Tunganath is well paved and blanket with a pink, red flowers. On the way to Tunganath we saw Himalayan Monal and other birds and may be a Musk deer too. After we covered some uphill distance at one point it started drizzling resulting dipping mercury and worst was that we were not prepared for it. So our clothes got soaked a bit, Resting, Resuming, Singing, Shivering we reached exactly before sunset to this ancient looking village.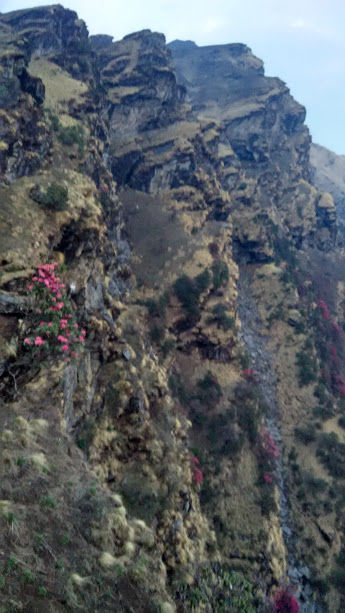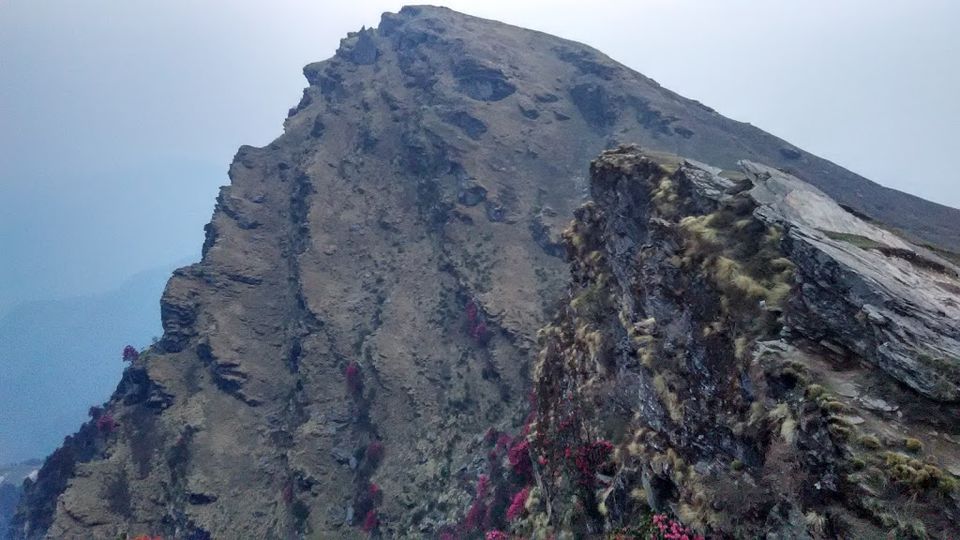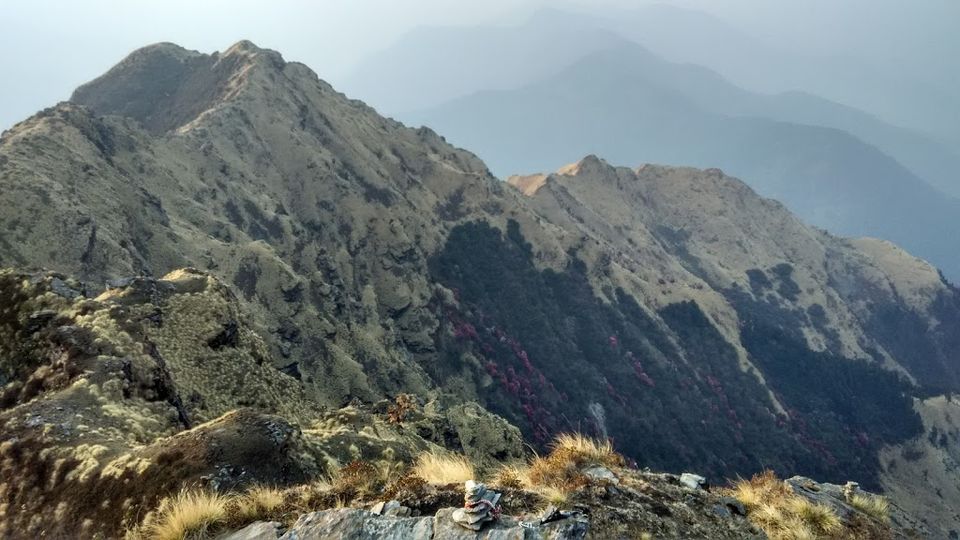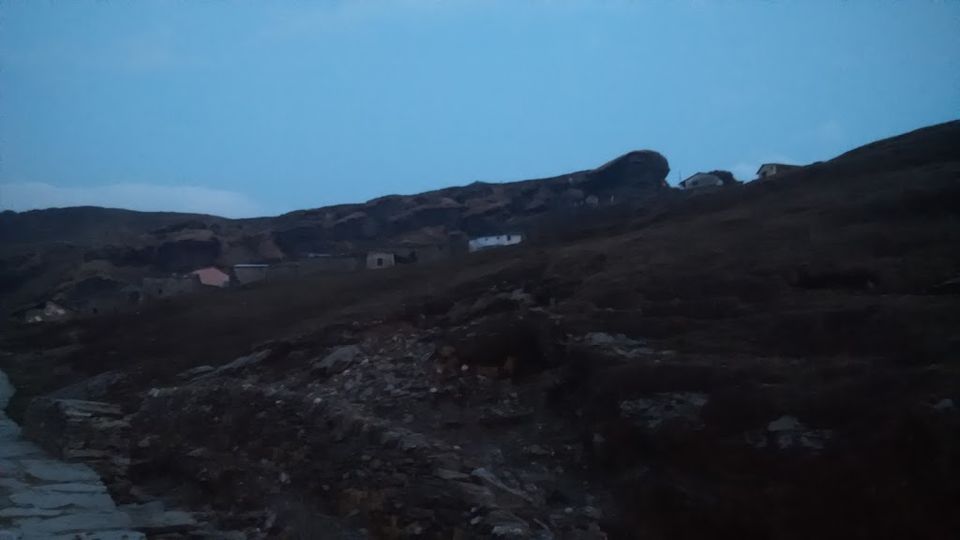 As we were already tired and our clothes were moist, it was my call that we will not pitch our tent and will opt for a home stay. Luckily, we all agreed on this. There are no proper hotels in Tunganath but home stay is best option. Its a village of some 10-15 houses and villagers leave this village during winters and resume it on arrival of summers. We arranged a small but cozy home stay at a cost of INR 500 for 4. The same old person also cooked Daal and Roti for us, Daal – Roti!!!! at the elevation of 14000 feet it was a simply WOW. One of us paid a toll of too much strain and fell sick and other were also dead tired they went to sleep immediately after their dinner.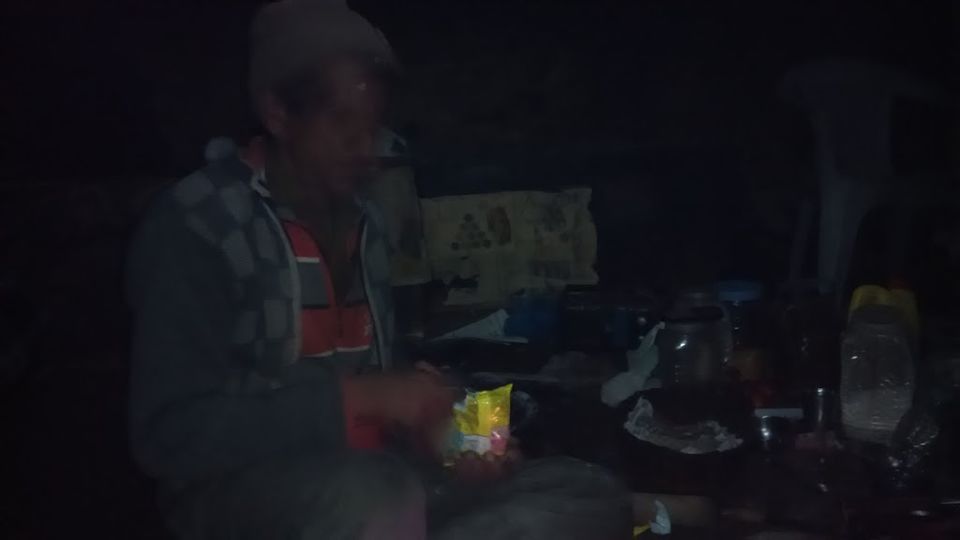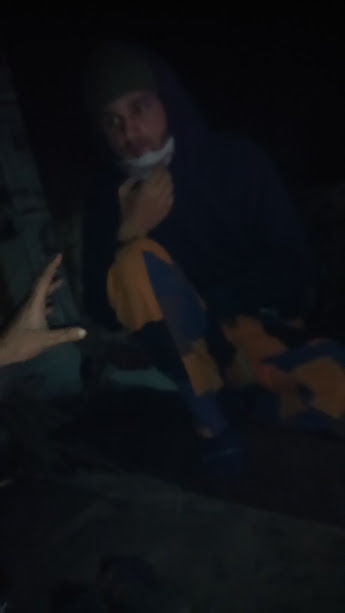 Here I found one couple from Finland who were also staying in a same house. For me it was good opportunity to get to know bit about Finland and share something about India. The couple was on a India tour and they had reached here after their trip to Pondicherry. They were simply amazed with India and happy about their experiences so far except few. As why we Indians charge so much Extra amount to foreigners ? an interactive interesting talk happened that night between us. One help they sought from us as they do not wanted to pay extra amount on their return trip so they asked us to take them along while returning to Rishikesh because local cab drivers will charge them to extra for being foreigner and we were happy enough to do this least for them. After dinner and chat It was a Good Night.
Next day We woke up around 4 in the morning and started walking towards Chandrashila Peak in full murkiness it was a little risky but worth once we reached on summit. The sun rise was about to happen I was the first to reach on top among 4 of us Cameras ready, Time lapse mode On, we were waiting for Sun rise and the moment arrived with the first ray of Sun on Nanda Devi peak it turned the white top of Nanda Devi into Golden Crown.
Bandarpoonch, Chaukhambha, Nanda Devi, Trishul, all snow capped, massive and majestic mountains were visible and it was such a bliss full moment, this was the moment for which I came here, for which I took so much of strain, I wanted to fill my every single breath with the joy of this moment, my all efforts begs, Jugaads, proved worth in this moment and yes I want to spend some more time here on top I told my friends.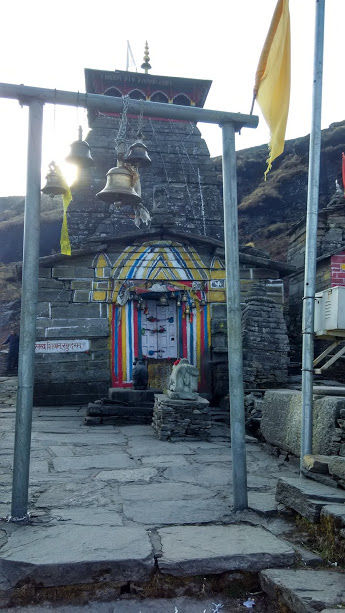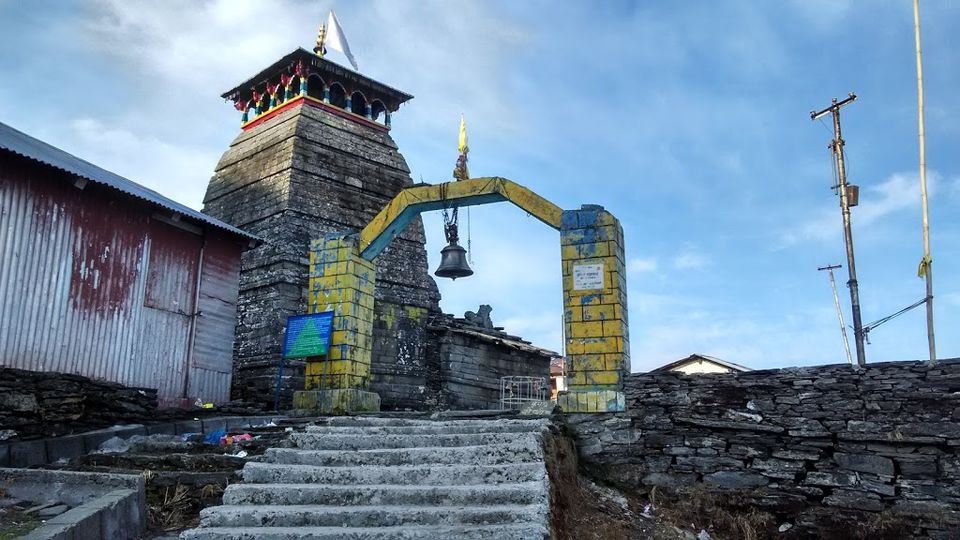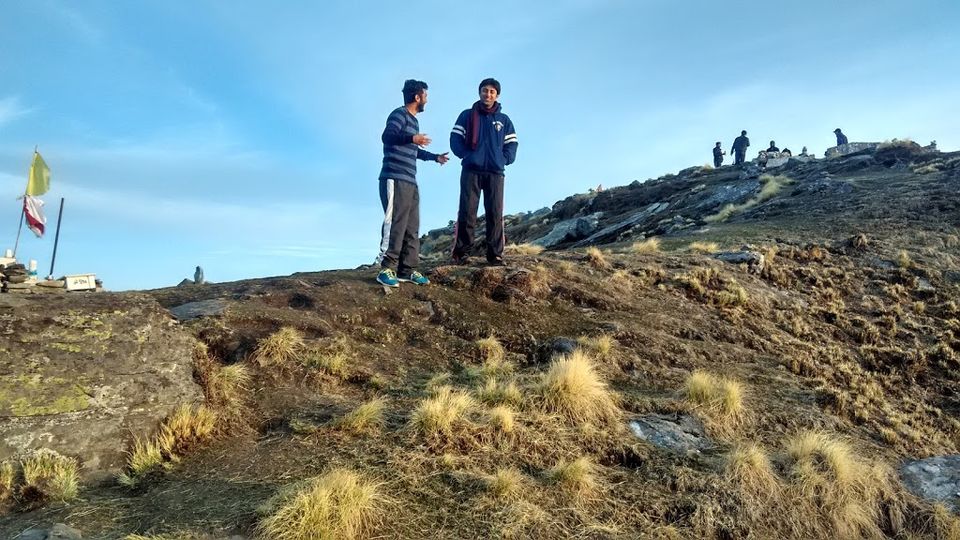 After spending some time on top we started descend to Tunganath, the gates of Tunganath temple were closed but yes, we offered our prayers, Thanked lord for this bliss full experience and started our return journey to Bombay.
My quest for relief ended here.
Travel Details:
* There is no direct bus to Ukhimath so reach till Rudraprayag first.
* From Rudraprayag you will easily get Cab or Bus till Ukhimath or if lucky enough you may get a service till Sari Village.
* From Ukhimath from there you will get a cab till Sari village ( There is no reliable bus service post Ukhimath so you have to be dependent only on private cabs)
* Stay options are there in Sari Village.
* Sari to Deoriataal is approx 2 Kms trek, and for the stay you have to carry your own Tents or you can hire it too. (small eateries are there around Taal.)
* For Chopta, either Trek till chopta or trek down to Sari village and take a cab till Chopta.
* No hotels for stay in Chopta so better carry or hire tents, for Food dont worry there are few joints to cater you.
* Trek to Tunganath from Chopta will approx take 2/3 hrs well paved paths.
* Apart from Home Stay or Tenting no other option to stay there.
# Message me for any kind of changes and improvement to my writing and info provided. Suggestions and Critics are loved & hearlty welcomed, and Wishlist it if you liked, as it cheers me to give my thoughts a wings of words.
Frequent Searches Leading To This Page:-
places to visit in uttarakhand on bike, hotel in bhimtal uttarakhand, uttarakhand tourism brand ambassador, is uttarakhand safe for tourists, uttarakhand group d question paper in hindi