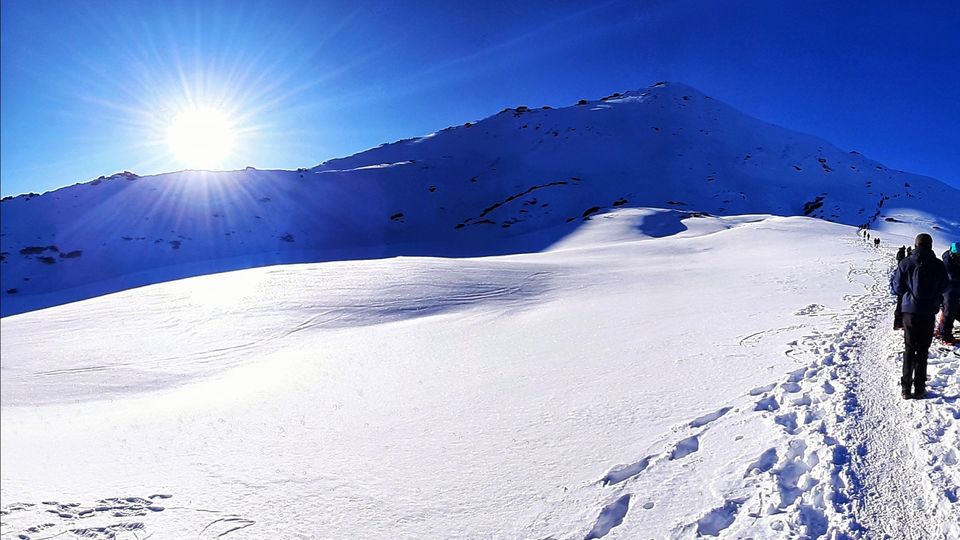 Surviving in negative degrees of temperature, wearing as many layers of clothes as possible, walking with frozen feet, waiting for the sunrays to reach you and that constant teeth chattering! One may feel why to pay for such torture?!
But trust me, the feeling of being on the summit makes all of it worth!
Kedarkantha is a peak situated in the Himalayan range in Uttarakhand. It is located in Govind wildlife sanctuary in Uttarkashi district. The elevation of kedarkantha is 12500 ft. and this trek starts from a small village called Sankri.
As a beginning of the trek we were transported from Mussoorie to Sankri. This distance is about 180kms but the paper pin turns of the road make the travel duration of 8 hrs approximately!
Around 50kms before Sankri, is a last point where you will have network, the driver will notify about that!
In my advice do not even try to search for the range after that, because these days with no network will turn out to be the best days!
We reached Sankri for the sunset.
Youth Hostel Association of India is an organisation which offers treks with no profit no loss policy.
We reported at YHAI basecamp and registered ourselves for the trek. Tents were allotted and then we had to work according schedule!
Day 1 was all about buying the things you forgot to get, from Sankri market.
Sankri is a small town where the main source of income is through trekking equipments. One can rent equipments at very cheap prices.
The temperature at sankri was pretty low. Some small patches of snow were seen in some areas of the campsite.
As the day leaned towards night we were shivering with cold. The hot soup and hot water were the only saviors now, as YHAI do not permit the actual bonfire because of the environment concern.
At 9 pm we were served bournvita and sent to the tents! Lights went off and in that temperature we some how tried to sleep!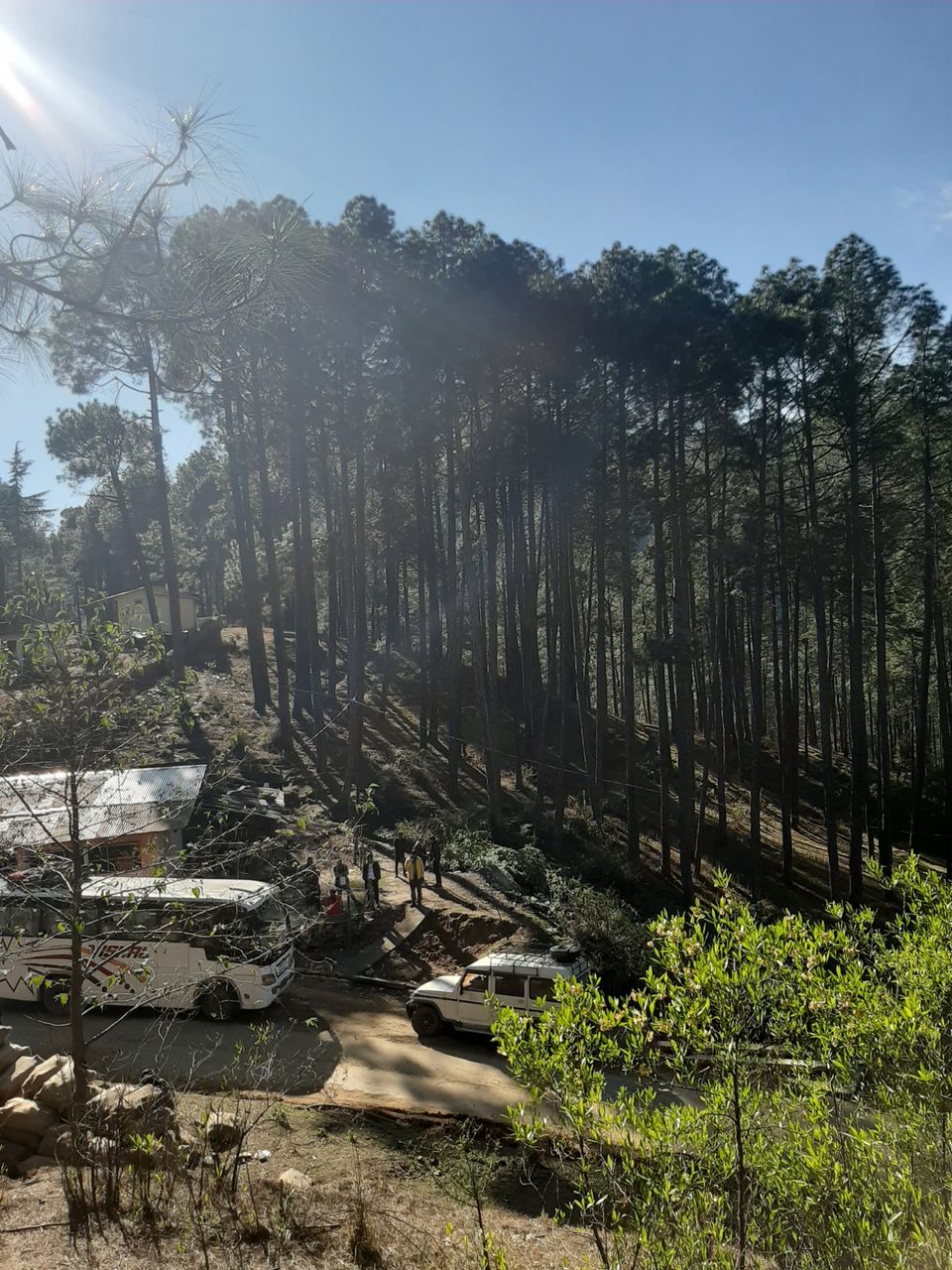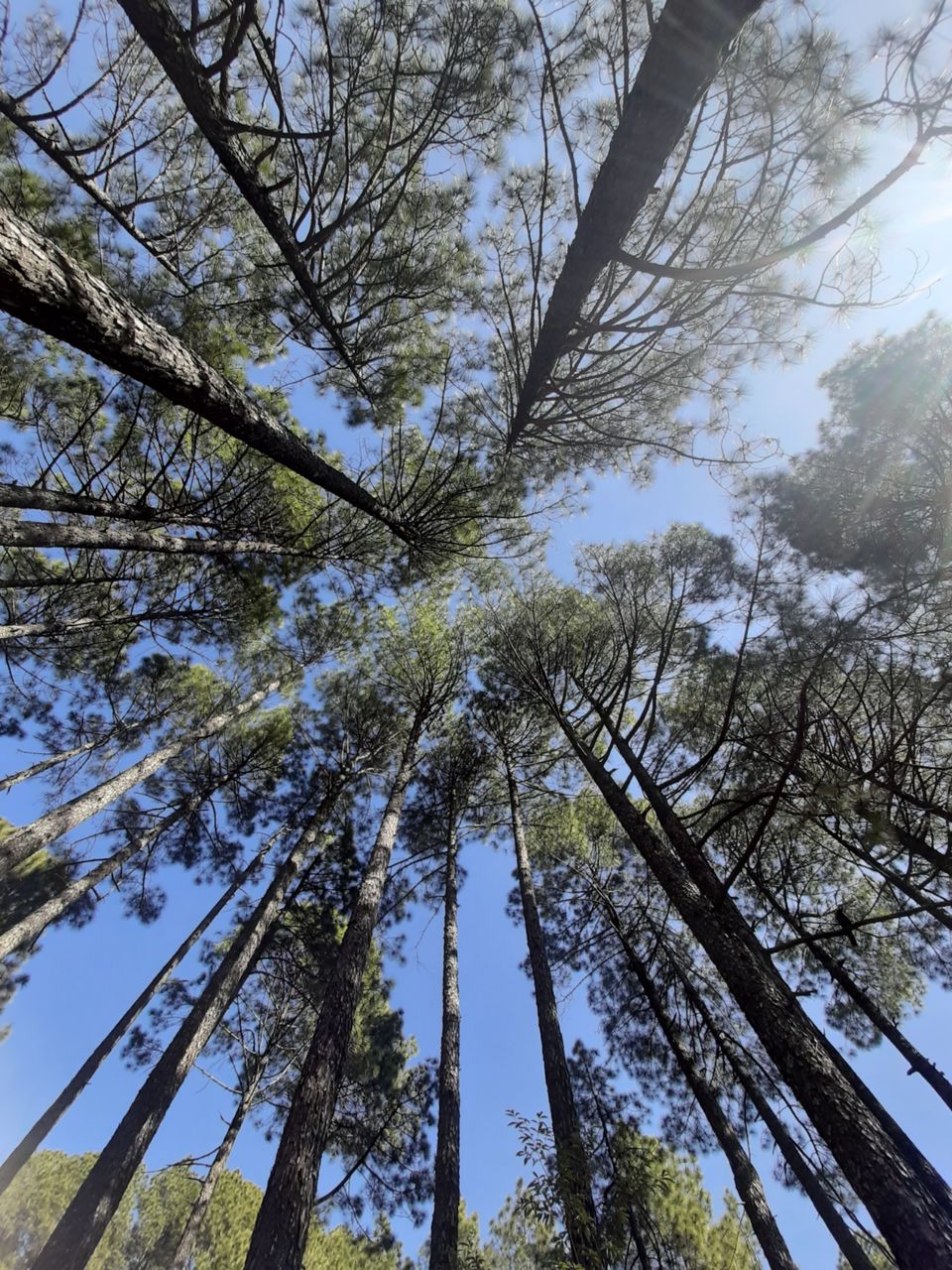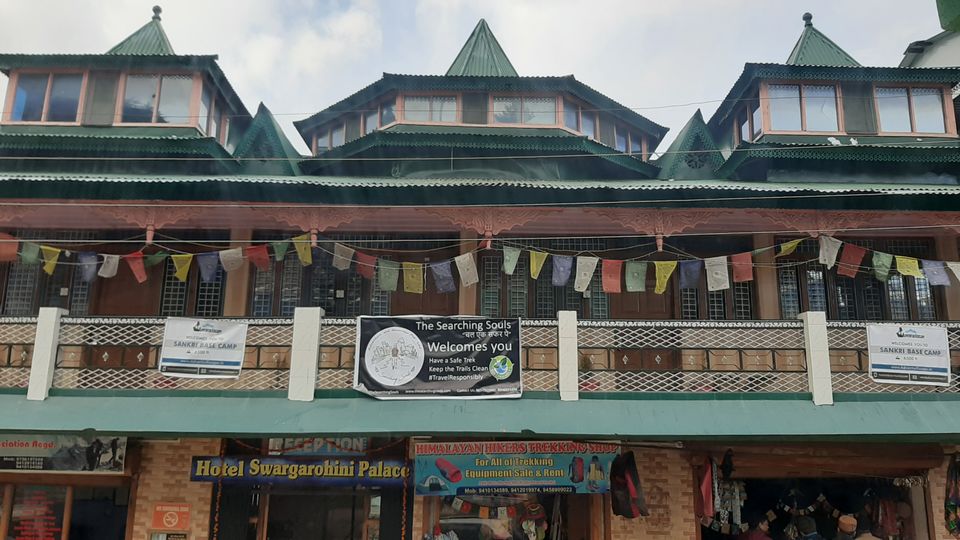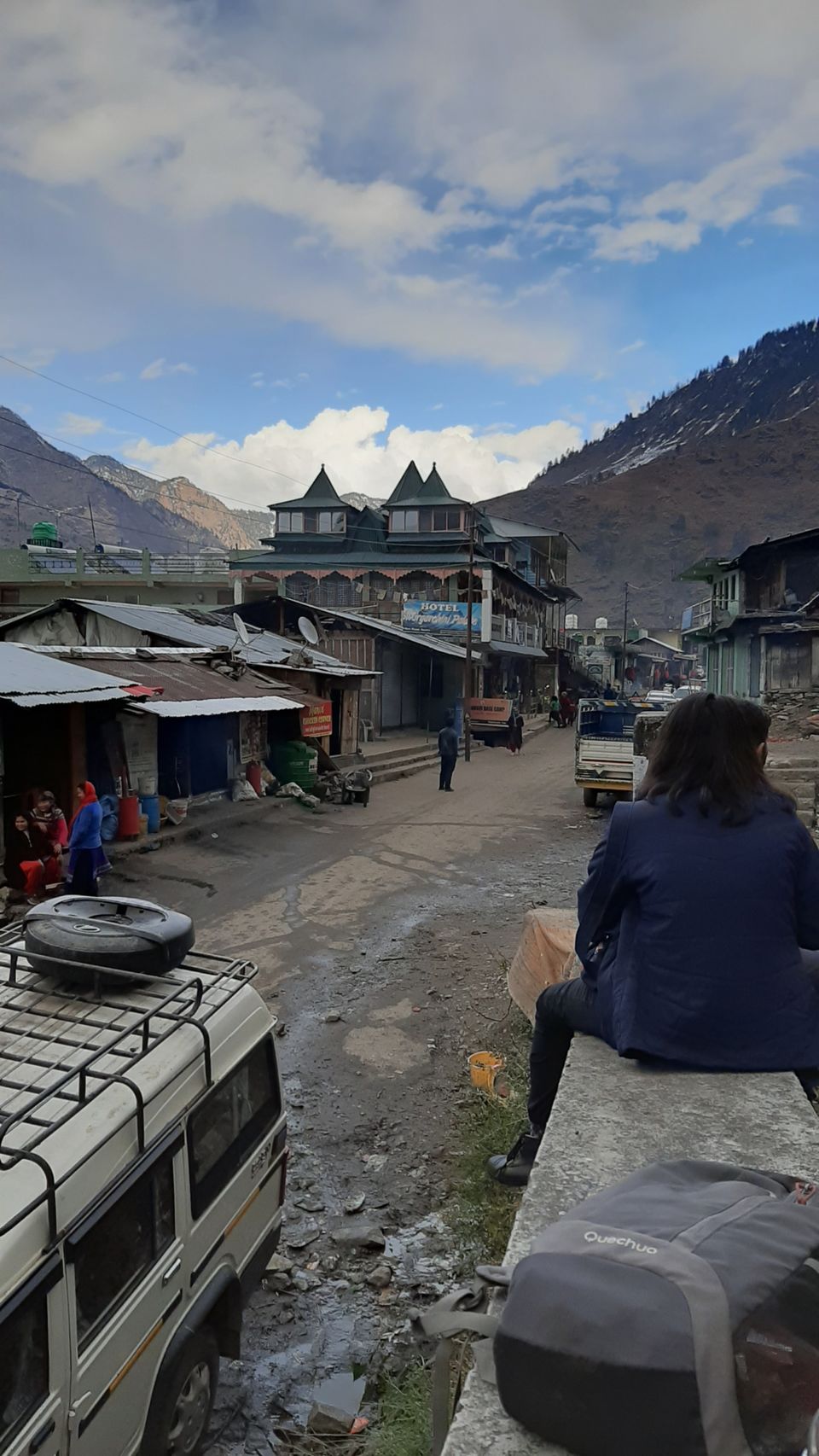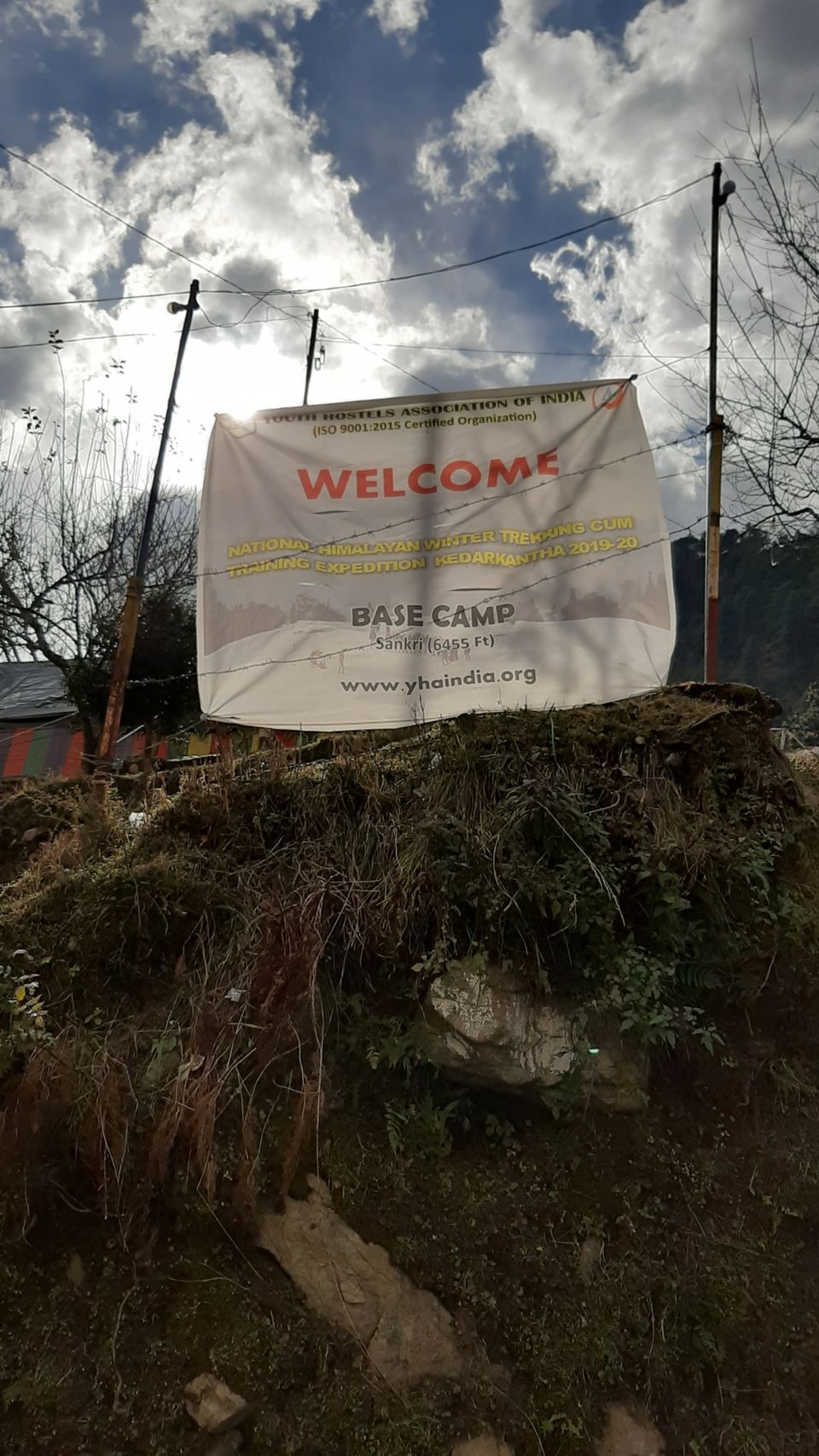 We got a morning call at 6 am sharp. Now this was a real struggle, to wake up and go to the washroom! Everything went according to the schedule here, so if you miss the bed tea, you drink water!
At 7 we got a line up call for morning exercise and warmup. One of the trek leaders and probably the only lady volunteer took us through the Sankri village. Before which we warmed up ourselves.
At the lower level of Sankri, stands a Shiva temple. Someshwar Mahadev temple. This beautifully built wooden temple is the local deity of the region. The immense faith of the locals, for this temple, can be noticed from the sheilds and trophies displayed there! Whenever some villager earns a prize, it is placed at the temple as a tradition of Sankri.
We had a small introduction session here.
After the walk, we prepared for our acclimatizatiom hike.
In only half an hour of walking we could see snow. It was 1st snow trek for many of us, so naturally the excitement level was high!
Acimatization hike was upto a chai spot up there. As I said, the only savior!
After the walk we were made to arrange our bags for the next day as the actual trek was going to start.
A seminar on dos and don'ts during the trek was conducted by our camp leader and medical officer.
Some instructions given were
1. Wear a woolen cap but do not cover your ears
2. Have water sip by sip at frequent intervals.
3. Take a stick for grip while walking.
4. Do not hurry to take off the jackets when you take a resting halt.( This may cause you catch cold)
5. Smoking and drinking strictly prohibited.
6. Littering around is a serious offence.
7. Choose a shoe with fine snow grip.
8. Carry a torch compulsory.
In the evening, we sneaked out only because the shop right in front of the basecamp had a small fire lit there. But as soon as the whistle from the incharge blew, we had to get in. After dinner we had a small gathering for team building purpose.
This day ended with a lot of excitement for next day!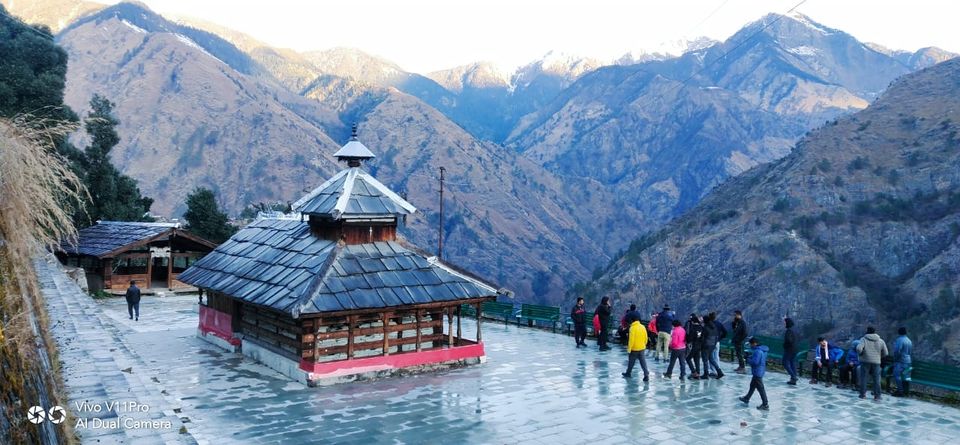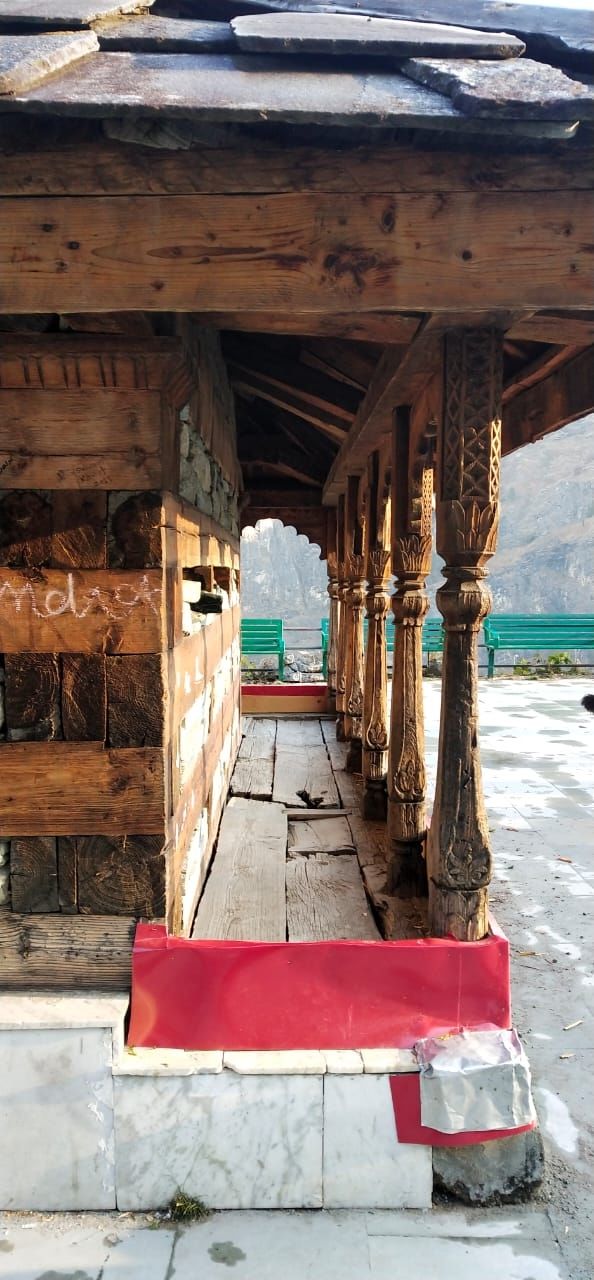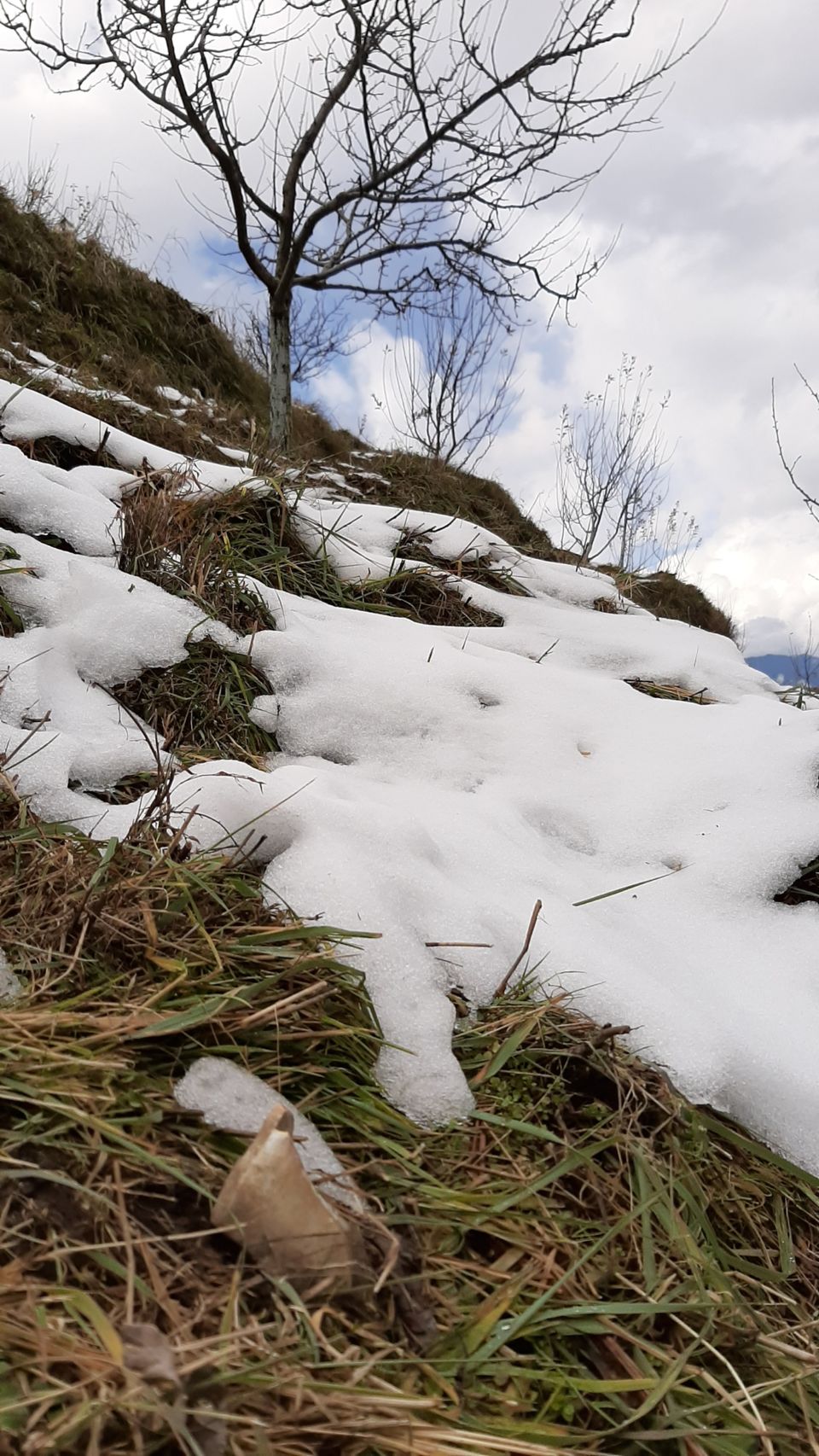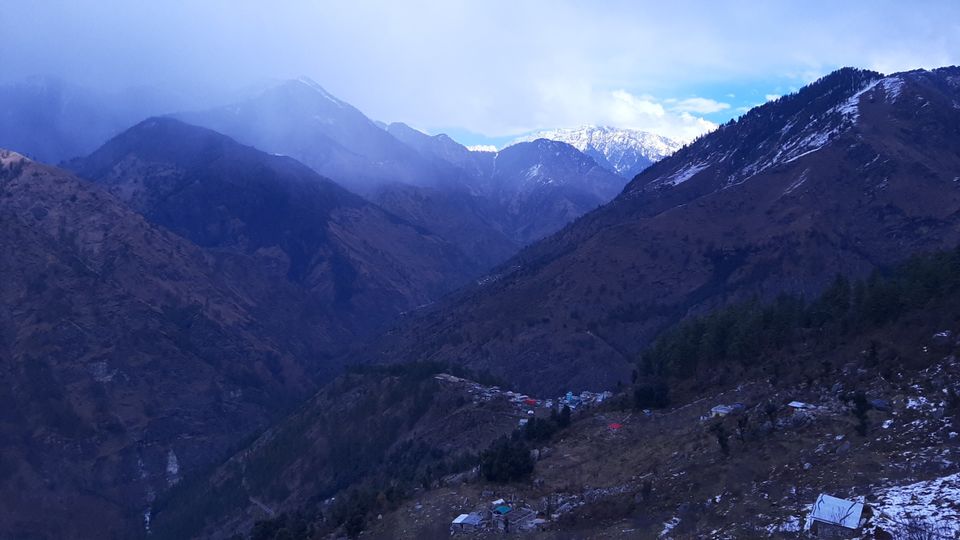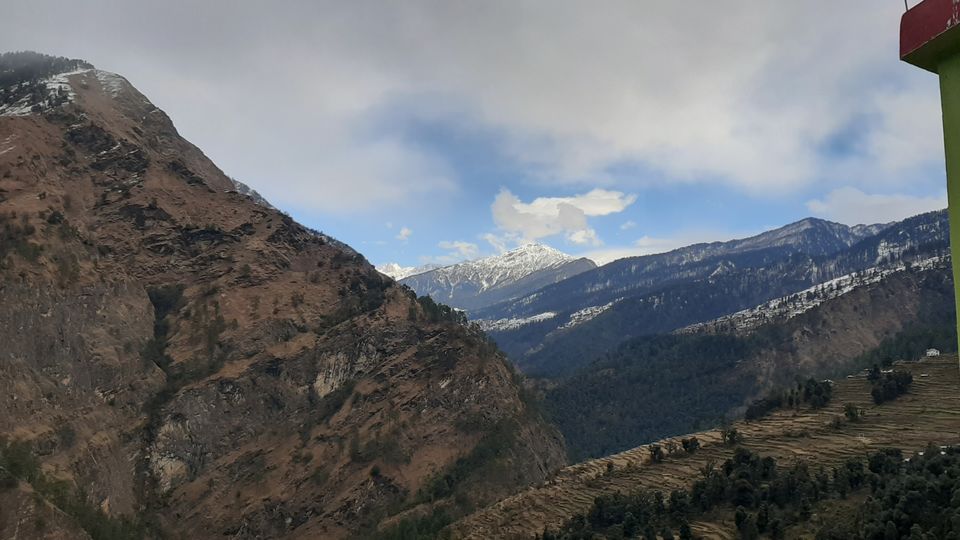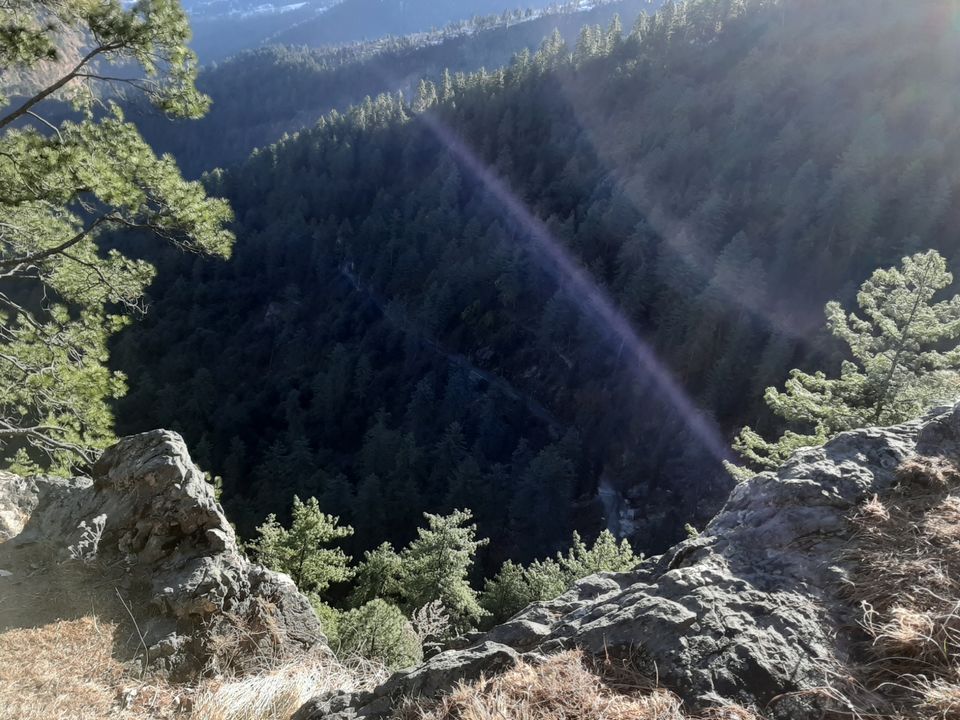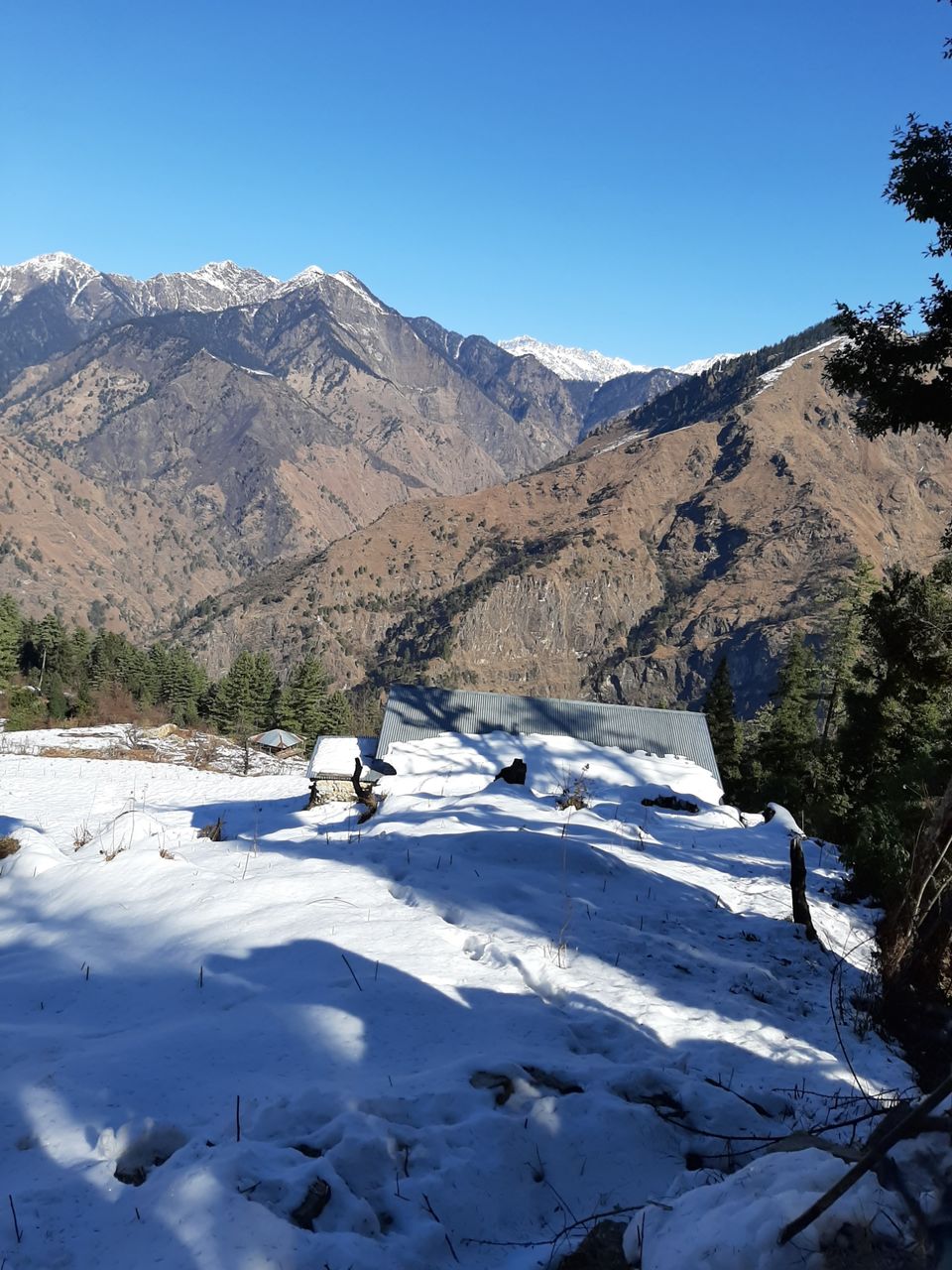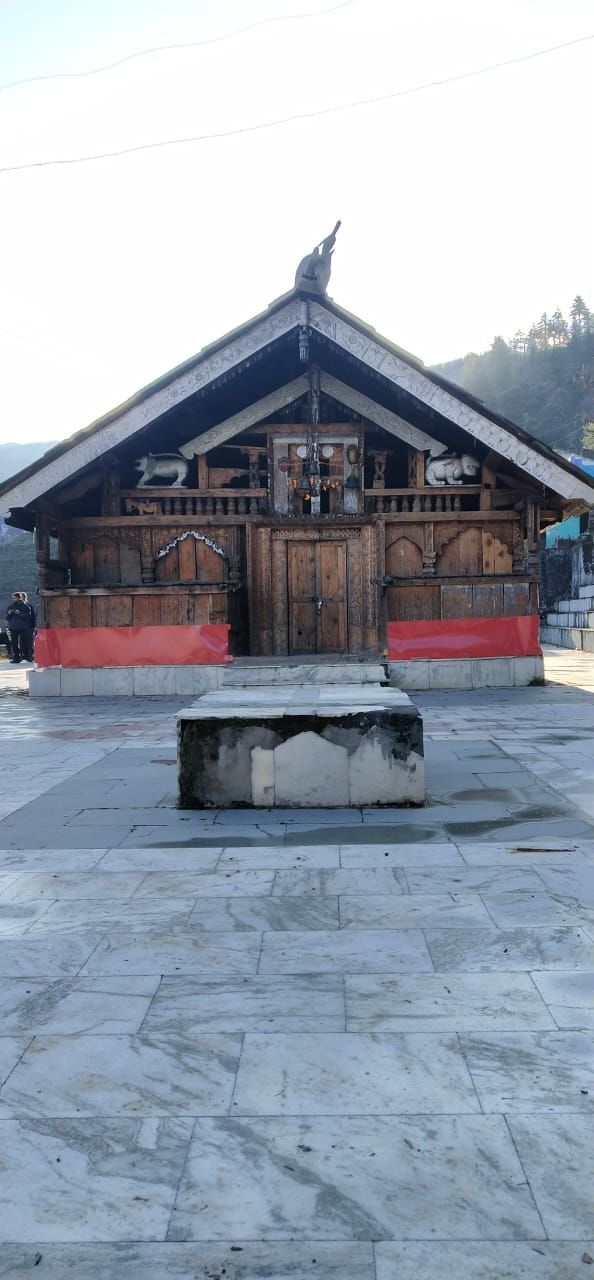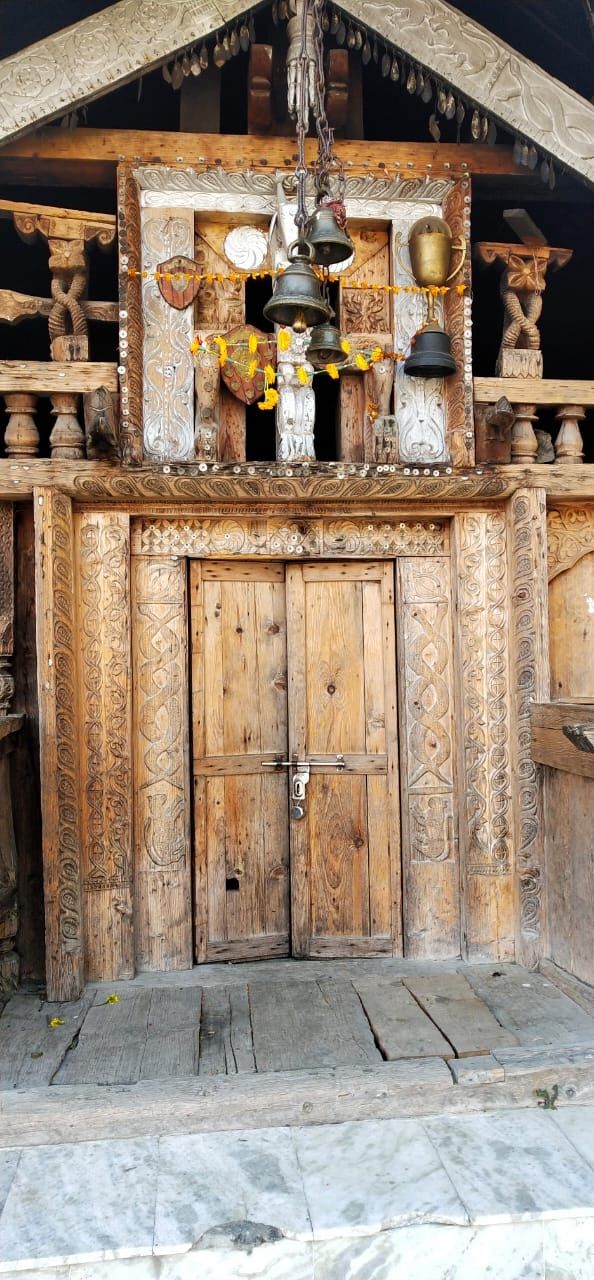 This morning was all about haste and nervousness and excitement! We had to be on time with ready rucksacks.
So after morning chores we had our breakfast. We returned the sleeping bags provided to us, took our icards and collected the packed lunch.
Now on the whistle call everyone gathered, ready for the climb. Some last minute instructions were given.
We were told that it is not sure that we will be able to reach the summit due to bad weather conditions. This was not what we had expected. We still had hopes and really strong willpower!
We started our trek. After 45 mins of climb it was difficult to find any green patch of land. It was just the white snow everywhere. The guide would tell us to drink water after every 20 mins so as to keep the body hydrated.
At the strike of noon we took a halt for lunch. We reached there before the scheduled time so now we had 2 hours here.
Keeping our bags near a stall there, we scattered in the surrounding to take pictures. We played a snow fight, snow cricket and even snow wrestling!
For the photographers, every angle was a treat!
The stalls on the way have this amazing maggi, bun omelette, tea and snacks! Maggi in the mountains is absolute love!
After lunch, we started towards our first campsite Juda ka Talab, which is situated at 9100ft elevation.
The pine trees and snow peaks hiding through them was everytime a frame to click!
We reached Juda at 3.45 pm.
This campsite was surrounded with all such pine trees. There was a small snowman already made,that welcomed us here.
Tents were allotted, soup was served and some instructions were given.
Sunsets in the mountains is a really pretty incident! You witness shades of the sky changing in a blink of eye! And it starts getting dark at as early as 5.30 pm!
Now no matter how many clothes you wear, you freeze like anything! Temperature surely was in negative degrees.
The charming starry sky peeked upon us from above. A clear view of galaxy was seen even when we just look out of the tent. We were trying to capture shots of the galaxy, the pine trees and snow, but frozen fingers wouldn't easily allow even to click the button!
The lights went off and we all went into our sleeping bags!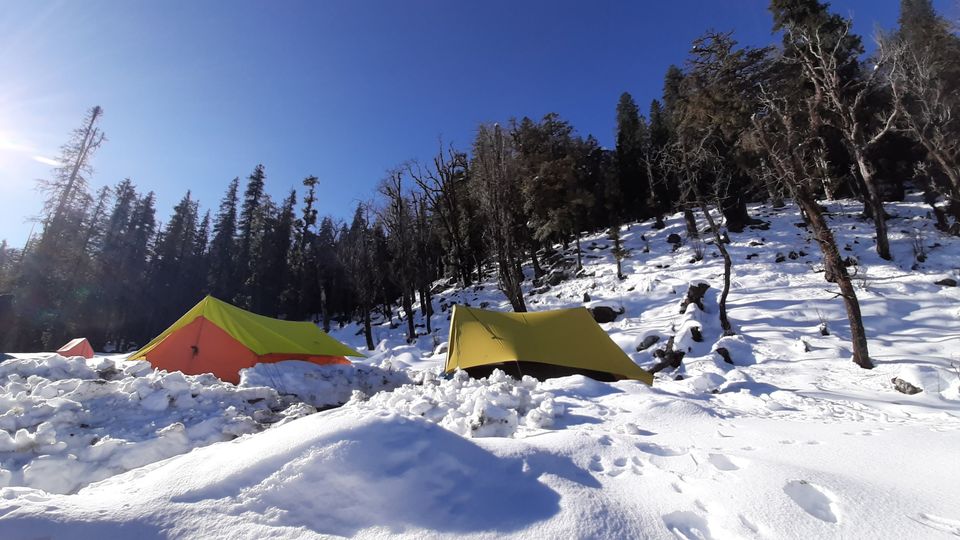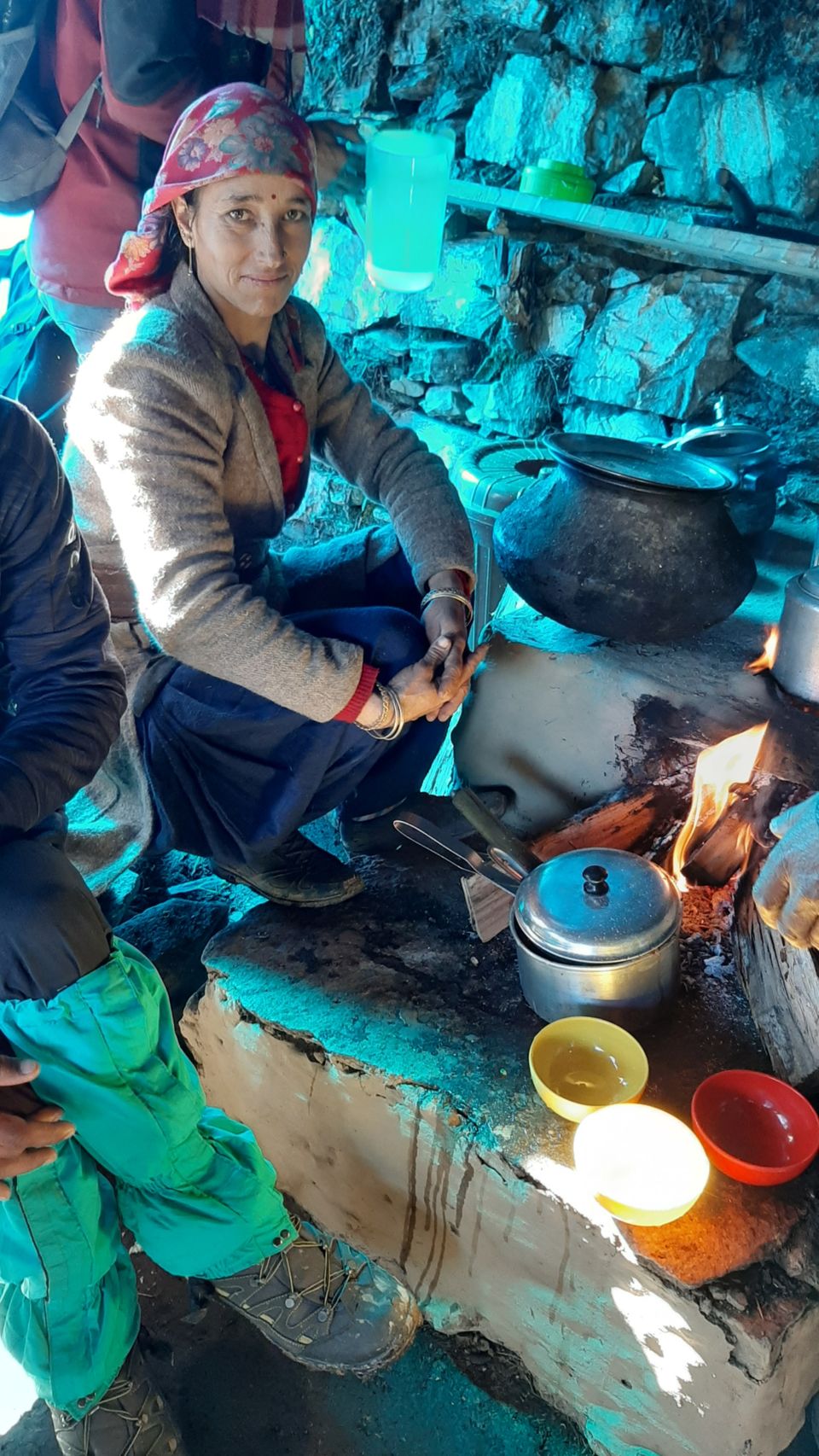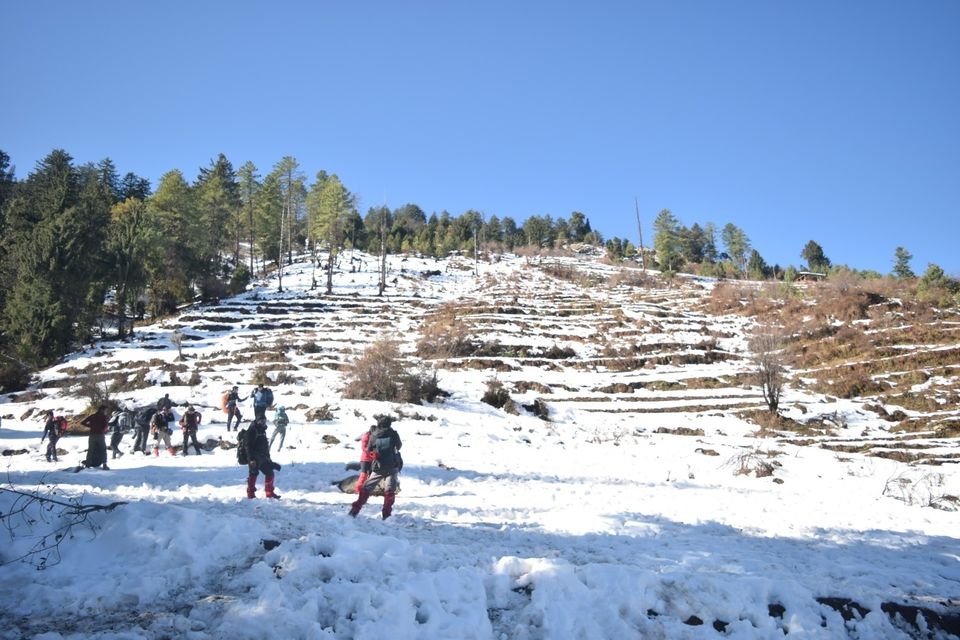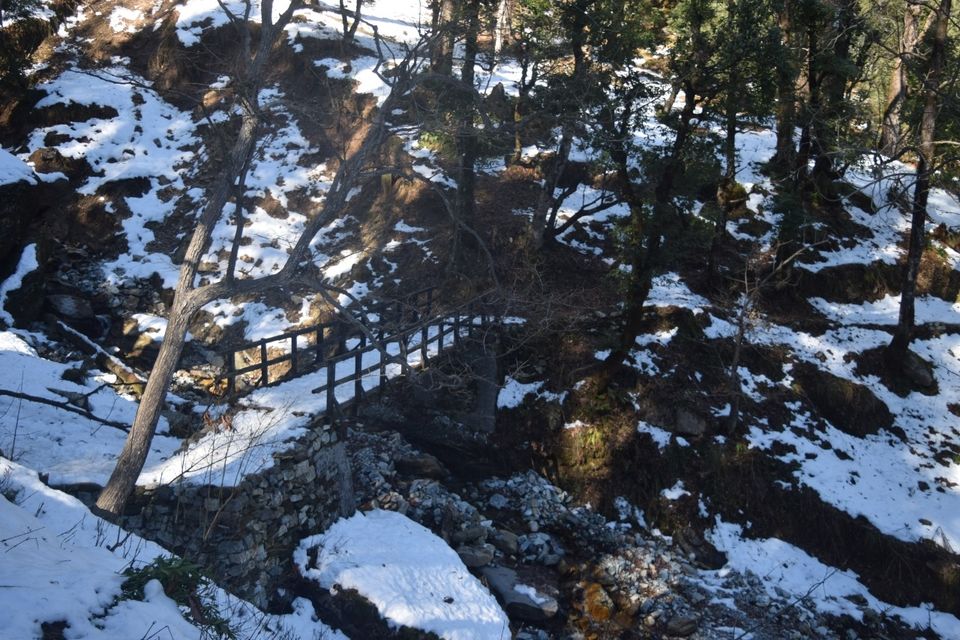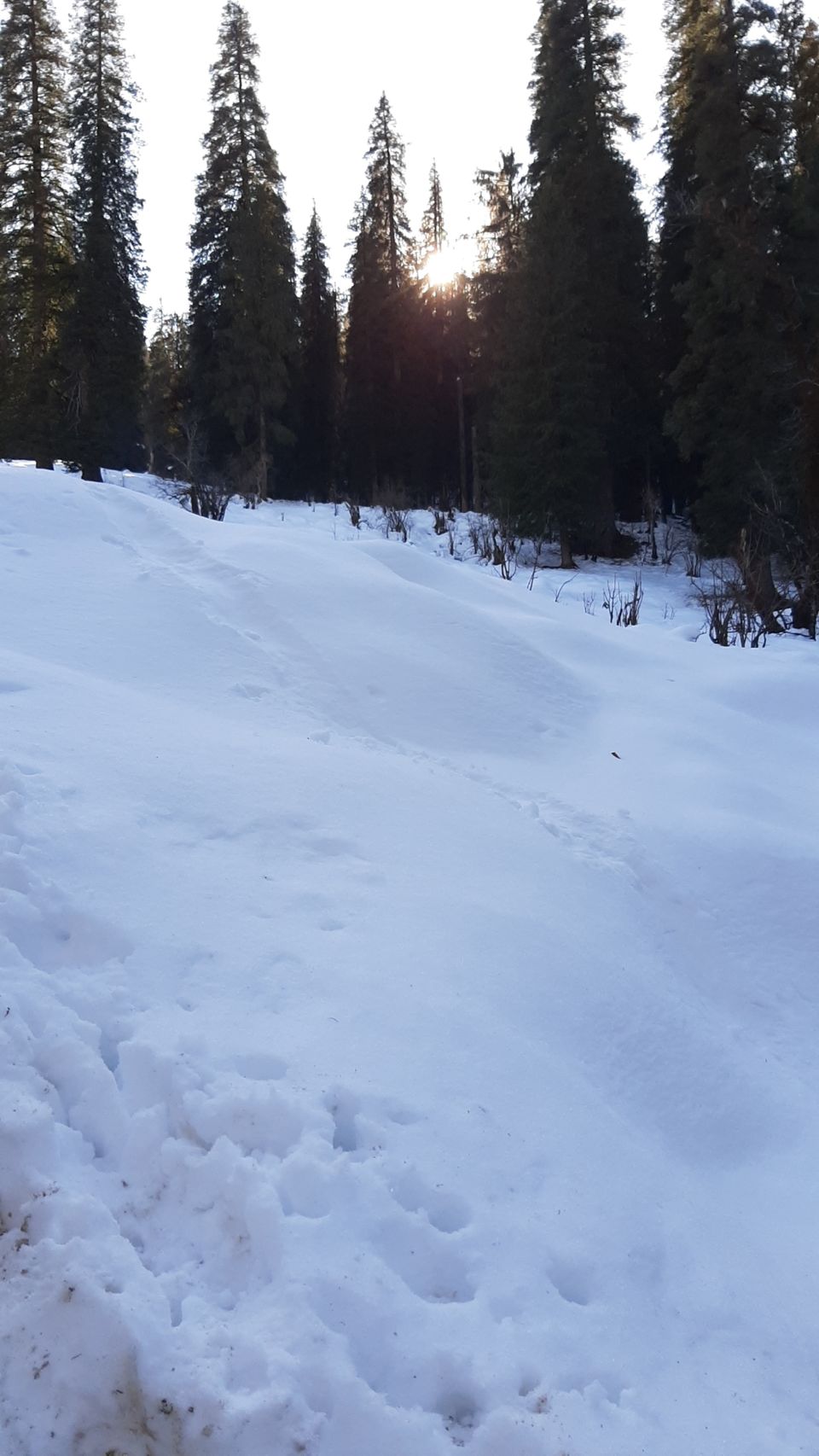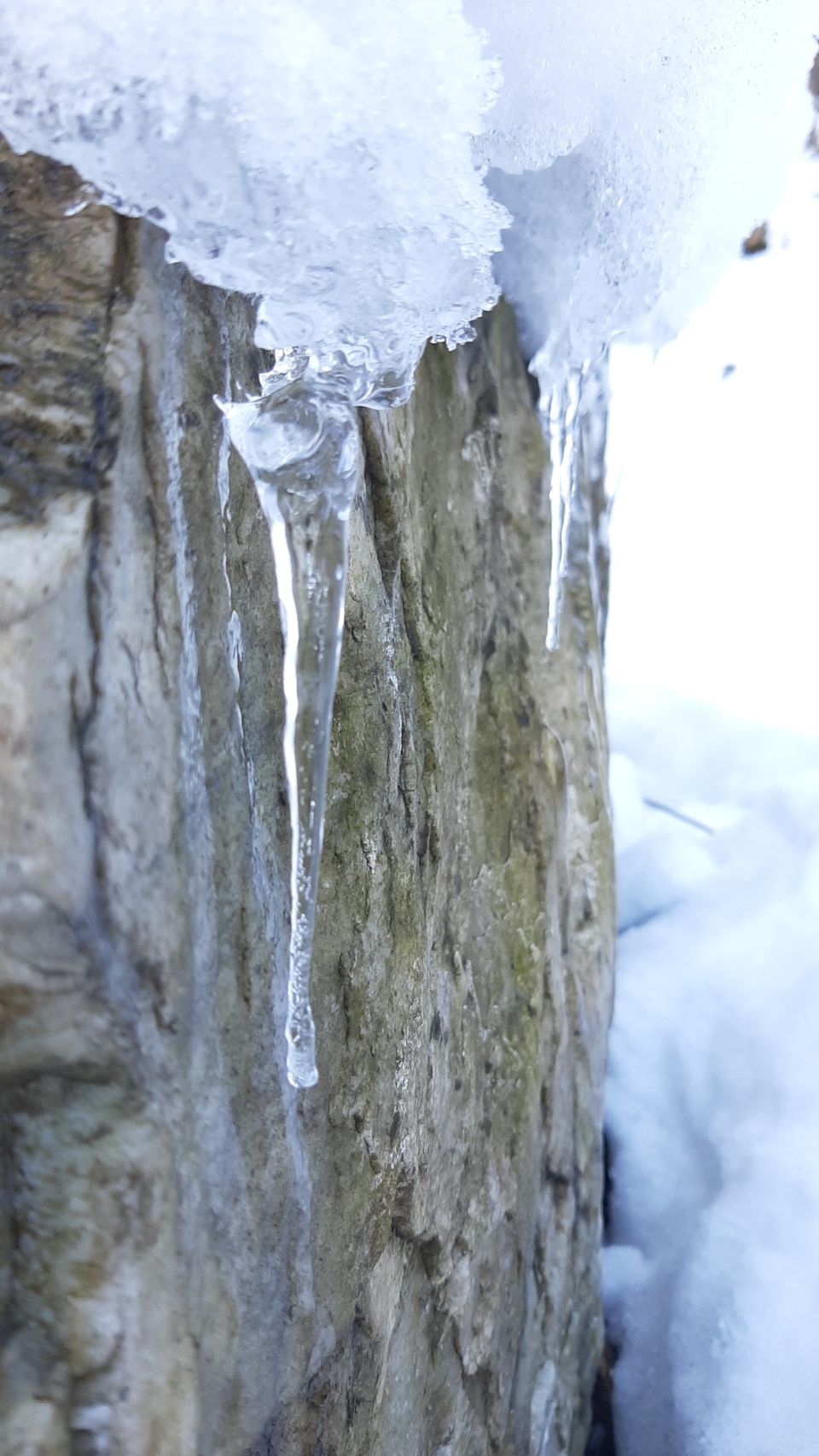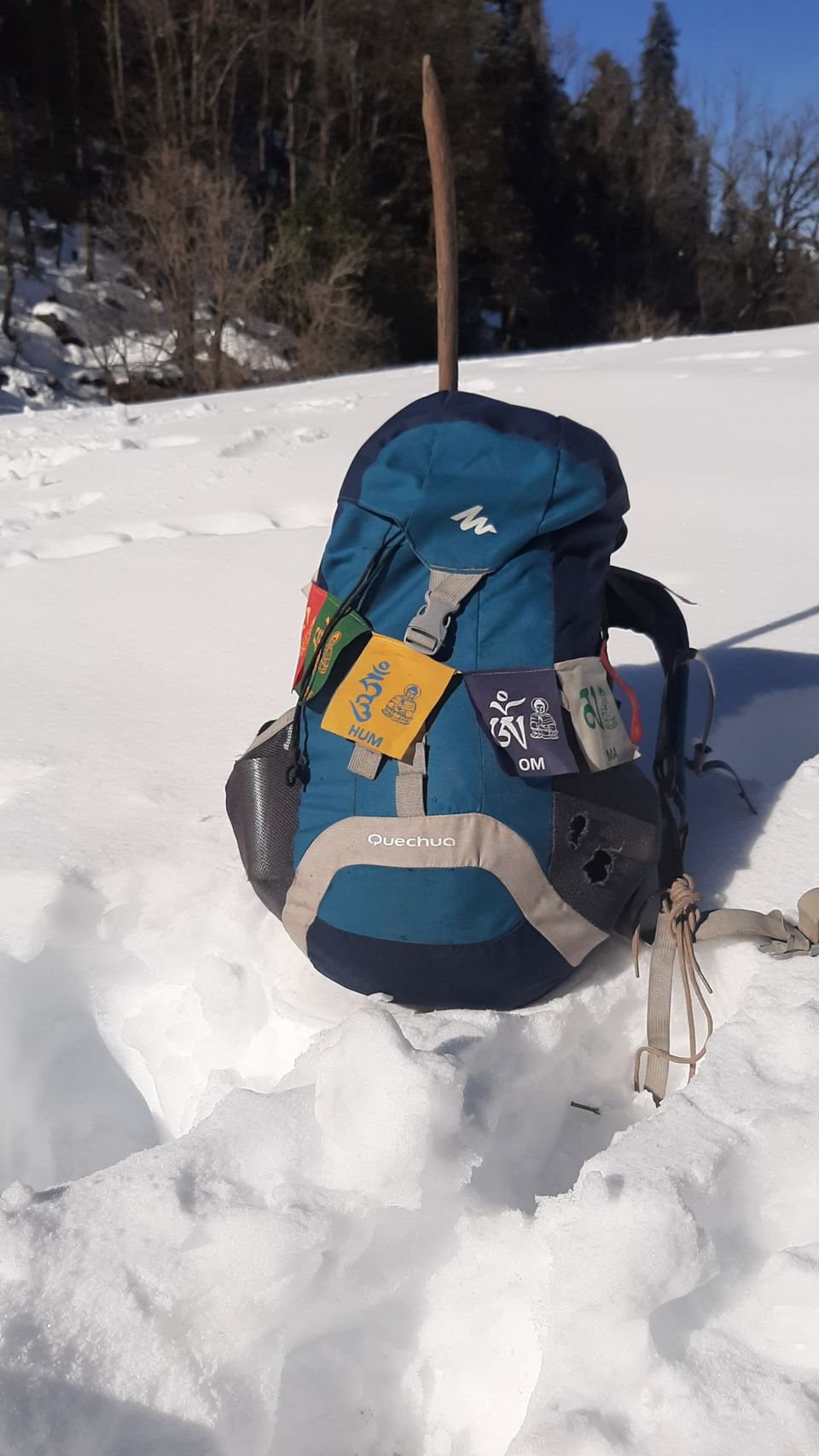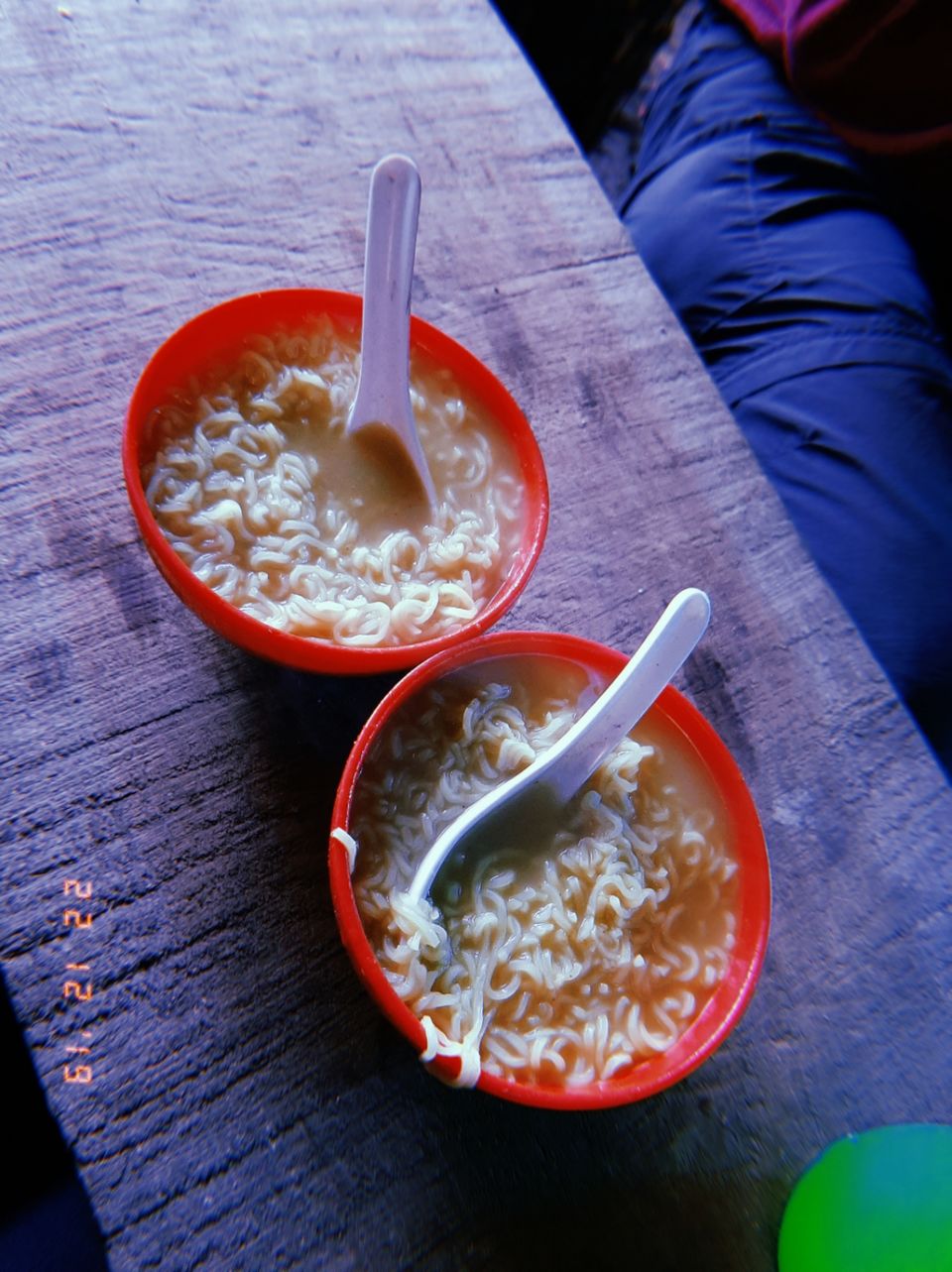 Today's trek duration and distance was not that much. We were told that there would be a lot of resting time.
We took our packed lunch, repacked our bags and started for next campsite, Luhasu campsite.
So as the altitude went on increasing the temperature was decreasing. During nights it would drop to even -15℃ as the guide said. Water in the drum would freeze and even our shoelaces!
Wearing 6 layers of clothes and being in sleeping bag with a blanket over it was still of no use, our teeth would still clatter!
But this was all worth because of those peaks one could see, those clear skies, pretty sunrises and sunsets and all such wallpaper scenes every where you look!
The transport system in the mountains is wholely dependent on the mules. They carry gas cylinders, huge bags etc with them. And whenever they cross us, we need to move to the mountain side of the route.
So after hardly an hour's climb we reached Juda Ka Talab. It is a frozen lake. It was strictly announced that no one would step on the surface for safety concern. Here we took pictures to our heart's content.
One thing that is constant for treks, may it be Himalayan, may ut be Sahayadris, is local dogs! They start for the trek with you and even end it with you. These dogs are real sweethearts, they guide you, eat with you and even wait for you if you stay aback!
So with tea breaks, lunch breaks, photo breaks we reached Luhasu campsite around 4.
Tents were allotted and sleeping bags were distributed. Here our schedule was to have dinner by 5.30, bournvita by 6.30 and Good Night at 7! This was because Luhasu was actually base camp for Kedarkantha summit and we had to start for the summit at 2 am.
Luhasu was the prettiest campsite of all! The mountain view ,directly from the tents ,was a checked item from my bucket list! Also one more thing about Luhasu, which got our hearts was we were given Gulab jamun at the elevation of 10,000ft! It was absolute heaven viewing the prettiest sunset!
When it was hardly possible for us to stand on the snow outside, we went into the tents. We had to wake up after few hours and finally start for the summit!
As I mentioned earlier, we started our trek hoping we somehow get lucky and the weather clears and we can reach summit, and it worked! 10 batches before us weren't able to reach the summit due to bad weather issues.
From Kedarkantha basecamp to the summit we did not have to carry our rucksacks, just a water bottle and a torch.
Tomorrow was going to be what we came for!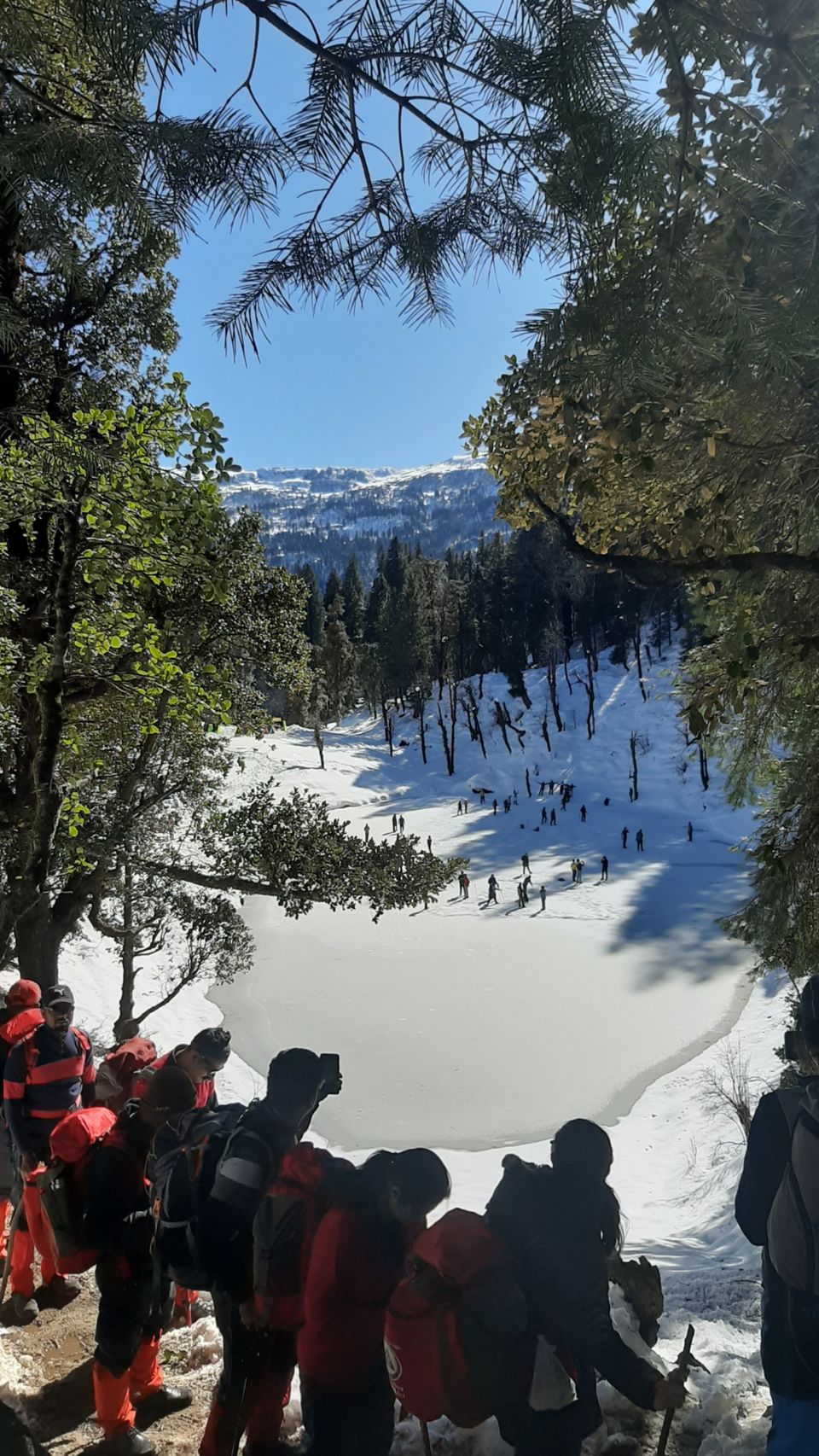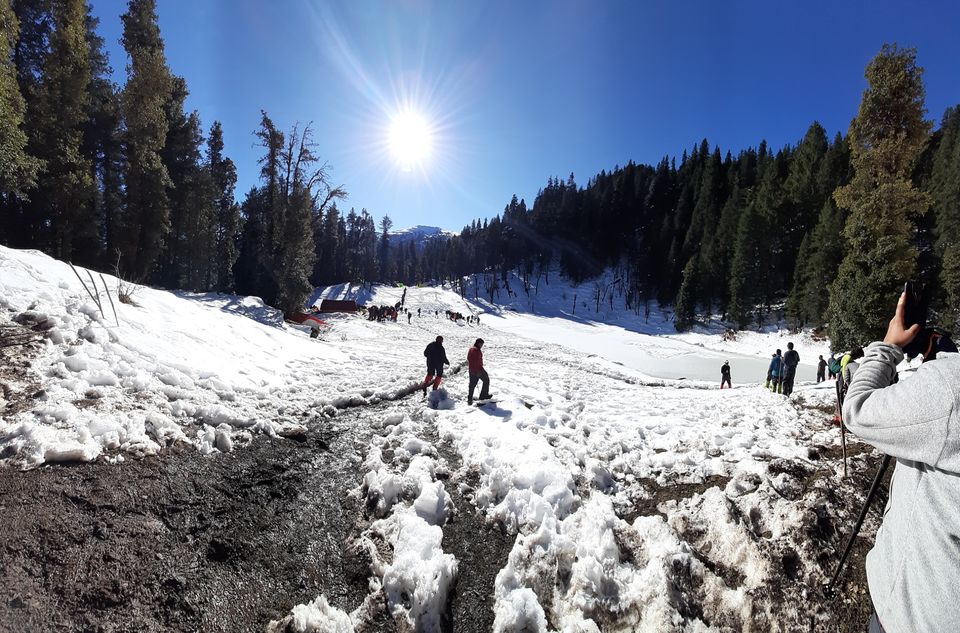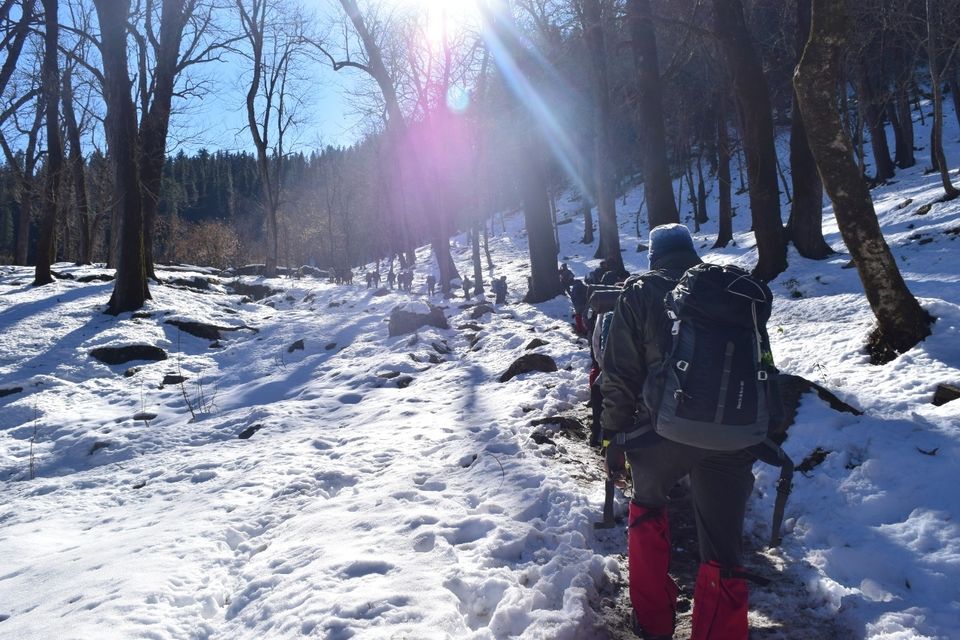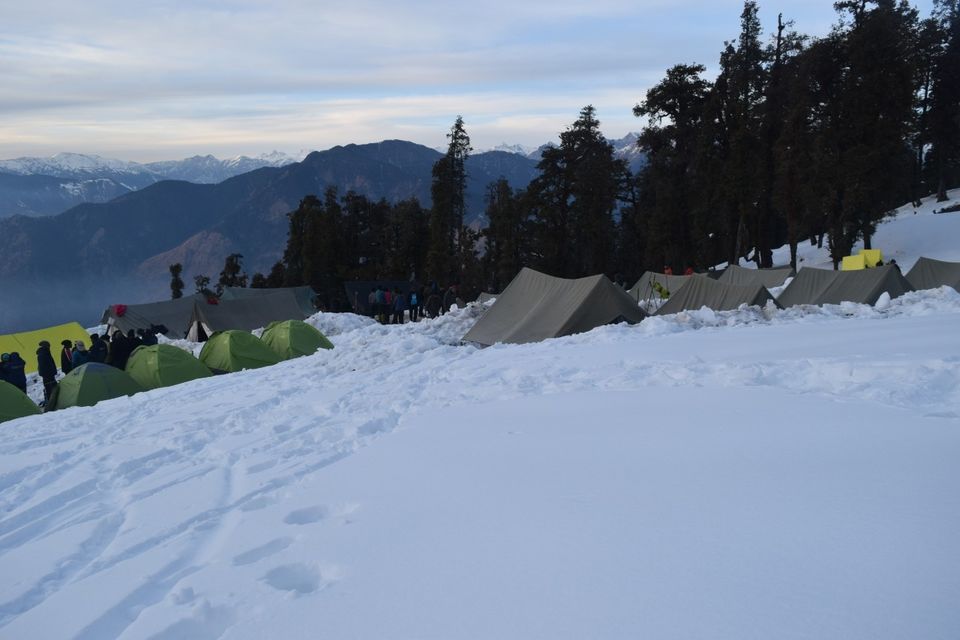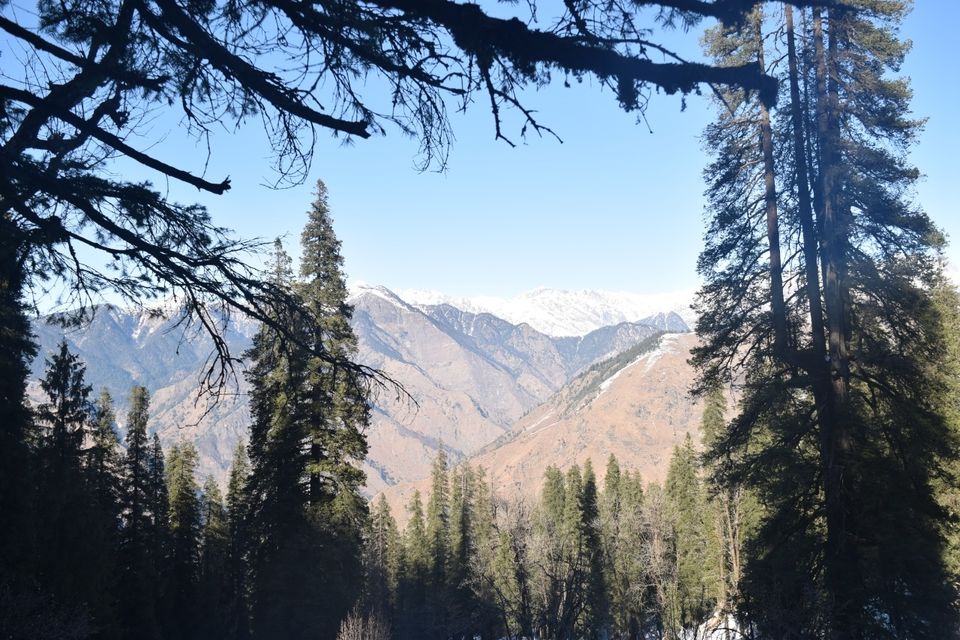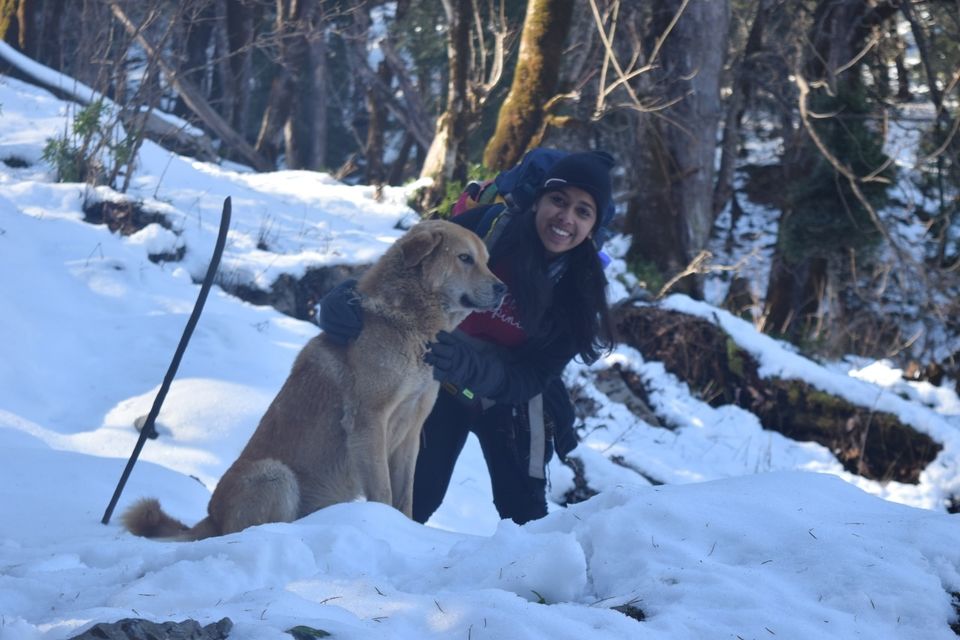 Day 5 was D-day!
We were so excited that we could hardly sleep!
At 1.30 am they gave us a good morning call and served maggi and chai!
The reason to start at 2 am was to witness the sunrise from Kedarkantha peak and the very heard 360° view from above.
We started walking, the route was tough one. It was steep and with the deadly cold breezes and dropped temperature. It was difficult to talk, to take pictures or even to stay still. We had to keep moving continuously.
On the way to the summit, there are three stalls where one can get tea, maggi etc.
Having some tea here and resting for few minutes, we again started our climb.
When I looked back I saw a whole row of torch lights with a background of sparkling snow.
The last patch of the trek is rocky steep patch, where even the stick couldn't help. Just few meters below the summit stands a small Shiva temple with Ganesh statue outside it.
These small temples give tremendous positive vibes at the peak. There is a feeling of someone supporting us!
I tried taking a picture of this temple but taking hands out of the warm gloves was a challenge. Here we came to know that we could catch network here for Airtel and Jio. Everyone started taking their phones out and tried calling parents and friends and everyone.
We reached summit at 6.45am. We reached on time, before sunrise. The view literally got tears in my eyes! The sight of peaks Swargarohini, Kalang peak, Bandarpoonch ranges, Nanda Ghunti seemed like some dream. Har Ki doon as well as Rupin valley could be seen from above.
The piled stones at the peak arrange in a square structure caught everyone's attention. People got busy taking pictures and videos with the tricolor. Some gave cliché poses while some were still trying to connect the call!
Sunrise was that one phenomena which will definitely stay as a memory forever!
My happiness had no limits! With shaky hands I somehow managed to take a video from the summit (as taking a non-blurry photo was nearly impossible for me)
We started descending now. This made us realise that grip of our shoes ,while trekking in snow, is something very important. The snow turned into ice which made the path slippery. I tripped and slipped many times while descending! Another option was to walk from the snow where our foot would bury till our thighs!
Some paths were such that we had to slide through it! This was so much fun as it sounds!
Laughing at the fellow mates on falling and then tripping ourself, we reched Luhasu again.
We cheered for ourselves!
Now after having lunch we had to move towards our next campsite i.e Argaon campsite.
But we decided to skip the stay at Argaon and reach directly to the Sankri base camp. It was a distance of 12km. Walking through the slope for straight 10 hours was torture for our knees. The weight of rucksack felt double while returning. We ate at a stall on the way and had good coffee!
As at the lower altitude the snow melted, so it caused the roads to be muddy. So again the chances of slipping arose!
At few remaining kms, me and knees both almost gave up! At the times like this, only thing that works is motivation given by your trek mates! I somehow managed to reach Sankri. All of us sat still and quiet. Every face had an expression of contentment and achievement, though legs and back screamed like anything! But all of it was absolutely worth and it was a lifetime experience! Himalayas never disappoint, NEVER!