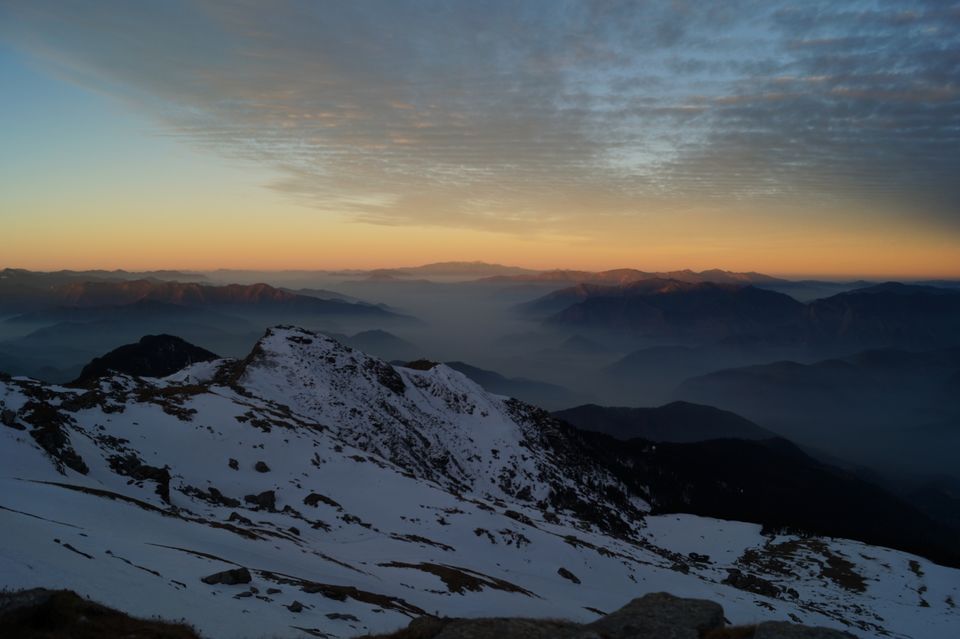 Himalayas have always attracted tourists as well as adventure seeking enthusiasts. If you have ever wanted to see snow clad mountains from up close, experience walking in knee deep snow as well some slides but want to avoid crowded tourist spots, then Kedarkantha is your answer.
It is easy to moderate winter trek with base camp at Sankri village. Temperature at night goes to negative in winters. It takes 5-6 days to complete trek. It is located in Govind national park which is rich in  flora and fauna and paradise for birdwatchers.
Nearest rail head as well as Airport is at Dehradun. It takes approx 8-10 hrs from Dehradun to sankri. One can stopover at Mussoorie also which is around one and half hours drive from Dehradun.
Our Journey
We (me, my wife and 2 friends) reached Youth hostel Mussoorie on 6th Jan evening. Dehradun to mussoorie route is full of sharp curves, so one can get motion sickness easily. It is advisable to keep some cloves or peppermint or medicine as well as vomit bag.
On reaching hostel, we met people from all over India. Our group comprised of around 50 people from age 22 to age 65 coming from various states of India. These people would be with us for next 6 days. Treks provide  opportunity to know people from various walks of life as well as their culture.
We had a nutritious vegetarian meal and afterwards there was briefing from our camp leader. Temperature was already -1 C.
Next day we were taken to sankri by bus. It took almost 7 hours with half an hour halt at Purola and another half an hour halt for lunch.
We reached Sankri by 2 PM and were alotted tent as well as blanket, hygiene sheet and sleeping bag.
Sankri is a small village. People are simple, hospitable and live in harmony with nature.
We stayed 2 days in sankri to acclimatise ourselves. One needs to stay hydrated also. Drink warm water regularly during complete trek to avoid high attitude sickness.
On 3rd day, we started trekking towards first higher camp Juda ka Talab. We reached there by 3 PM. After having hot soul, we played dumb charades and then had dinner by 6:30. In valleys, it turns dark soon after sun goes down surrounding mountain. Our guide and camp leader noticed some movement in the woods near our tents. There was probably a leopard lurking in vicinity. So, we all went inside our tents and we were instructed to come out of tent only in group of 4 to attend nature's call.
Next day, we trekked to highest camp Luhasu which is at 11000 ft. Our tents were pitched on snow as there was only snow all around. It was a perfect campsite. At 9:00 PM, it was pitch dark and we were looking at star studded sky. All the photographers in group were trying their hand at getting some good photos of sky as well as giving light effect to tent with pitch dark surroundings.  We woke up at 2:00 AM and by 3:00 AM started trekking to summit. It was getting cloudy and we were able to see milky way galaxy partially only. By 6:30 we reached summit and views were mesmerising.
We were able to see peaks like swargarohini, bandar poonch and kala naag. After spending almost 1 hour, we started trekking back to Luhasu camp. In between, we enjoyed 2 slides also. We were mostly walking through trail and  throwing snowballs at each other. We felt like kids. We reached luhasu, had lunch and after some rest started our journey downwards to Argaon camp.
Argaon camp was surrounded by woods and our camp leader made us aware about presence of bears in woods. But no need to fear.Bear won't come near camp. Don't go into woods.
Next day we were back at base camp by afternoon and reached Mussoorie hostel by night by bus.
Our journey had come to an end but we were rejuvenated after spending a week in lap of nature. Also, memories will last forever. It was special for me as it was first himalayan trek with my wife.