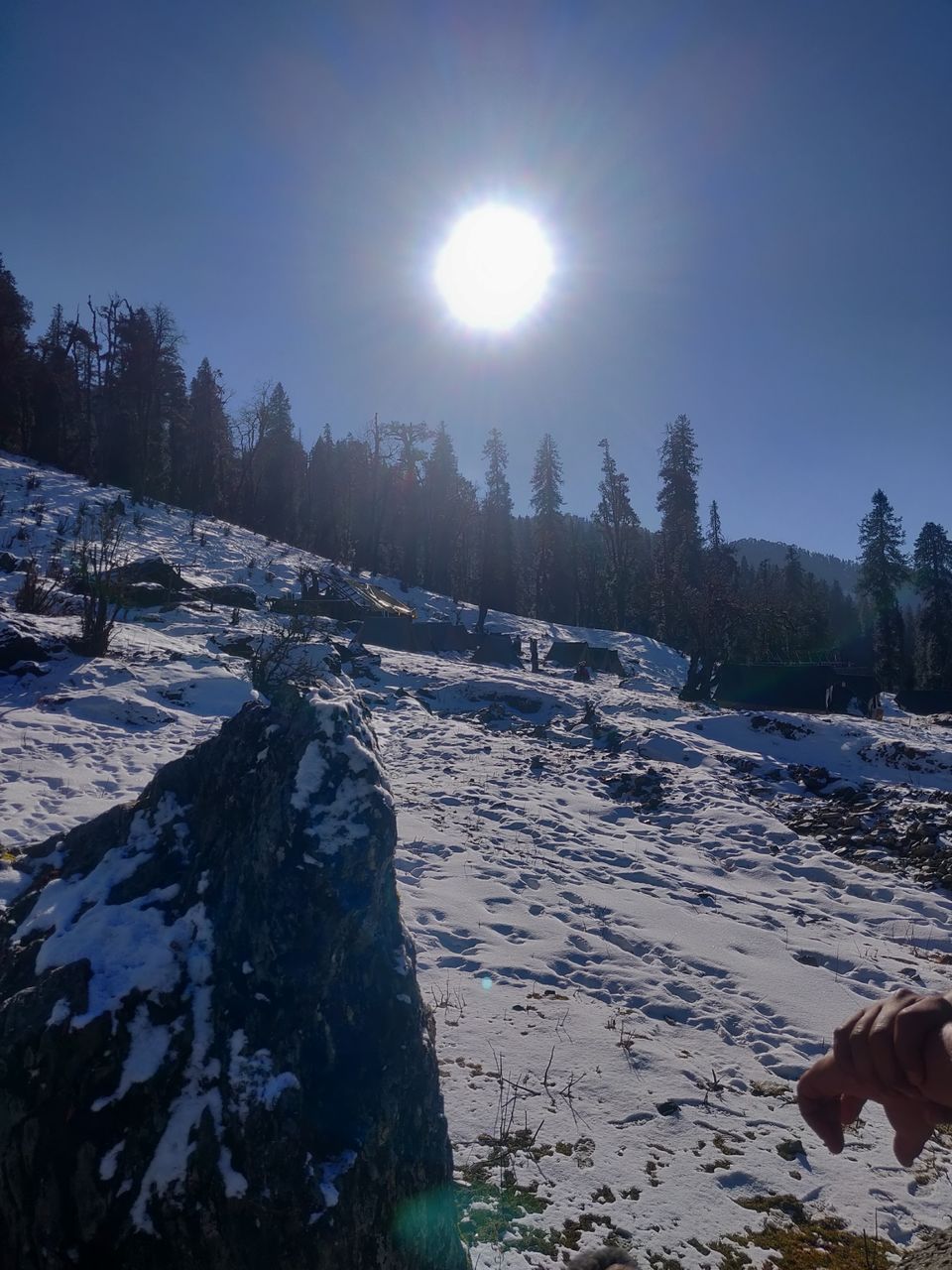 Next day, we started our long journey to Sankri Village(base camp for Kedarkantha Trek). The journey from Mussoorie to Sankri Village takes around 8 Hours and the whole journey was through some awesome valleys and mountains.
I guess the excitement of our first Winter Trek kept us energetic even after a tiring 8 hours bus ride through some very narrow and muddy roads.
We reached the Sankri Village in the evening where we stayed for 1 day to acclimatize ourselves to the altitude and climate. Sankri Village located deep inside the Himalayas near the Tibet border,is situated at the altitude of 6000 feet. Very few people know this village, but popular among the trekkers.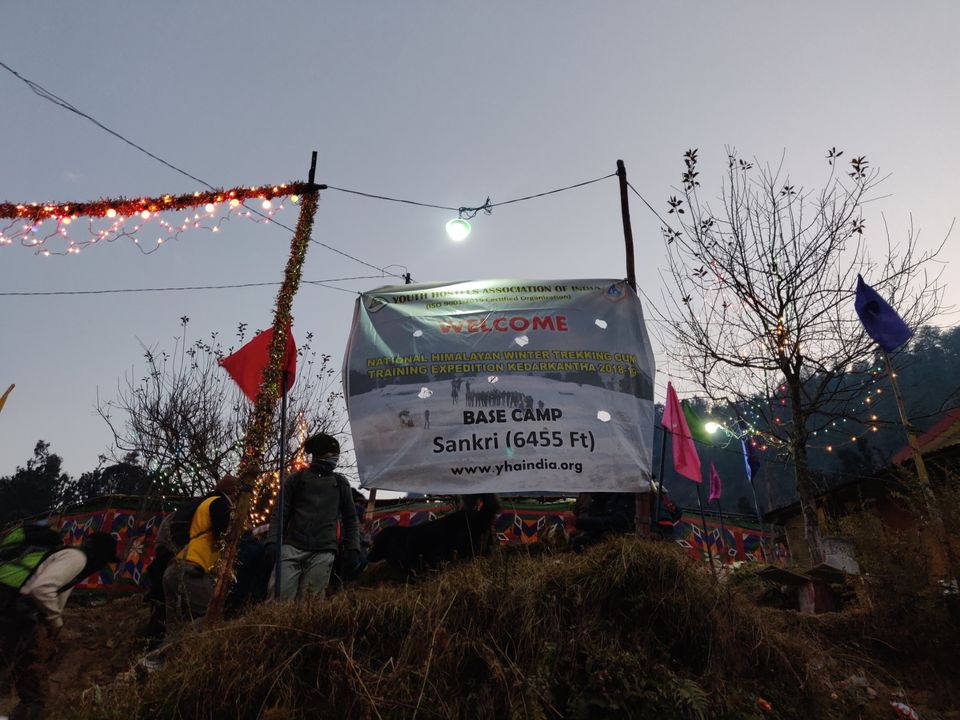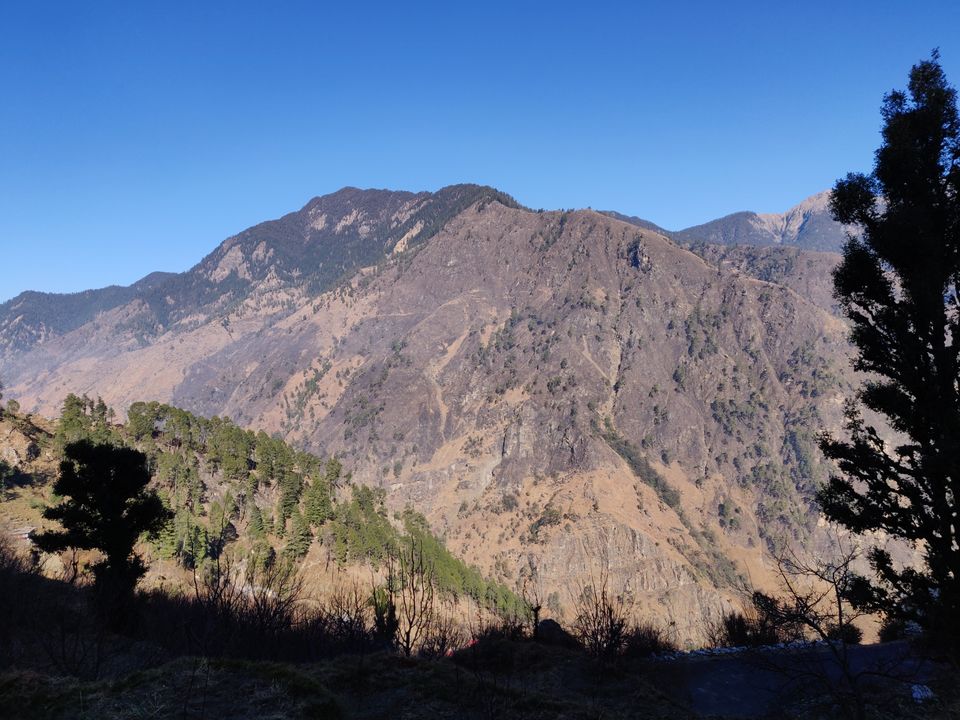 We had a full day here at Sankri village for acclimatization where we had a small 4kms walk around the village and also some basic exercises for warming up followed by some basic informative session regarding the treks do's and don't's.
We had great opportunity to spend our last day of the year and also welcome the new year among the local villagers and the new friends.
On the New Year Morning, with full excitement and full on energy we started our Trek to Kedarkantha summit, Which is our First Winter Trek in the Himalayas.
The first day trek was about 4kms through steep mountains to reach Juda Ka Talab.(8000 feet)
We took some rest at small tea stops and had our packed lunch .
Wat was a sunny weather with cold breeze at the start of the trek turned into full snowfall after 4hrs into the trek after which we reached the picturesque Juda Ka Talab the frozen lake -our first camp site. It was like a paradise with full snowfall all around and the frozen lake in the middle of the mountains. We had a chance to walk and slide over the frozen lake which was like an adventure itself as you don't know where the ice will break.
After walking for some more time we had our first camp site with a beautiful view and the temperature was around -3. We finally took some time and enjoyed the view from the campsite and ended our day at 6pm itself as it gets pitch dark after 6 and the temperatures drop, though we had a fun time inside our tents.
Next day as we were getting ready to start the trek to our next campsite - Luhasu(10000ft) , we were welcomed with a Snowfall which then continued throughout.
Way to our next campsite was longer than the previous as we had to trek 7km and the snowfall came as a surprise to us. Throughout the day we had snowfall and the trail also became slippery and steep at some places. We walked through some dense forest covered with heavy snow.
3hrs into the trek we had our lunch break where we finished our packed lunch and relished on some hot Maggi and ginger lemon tea in the freezing temperatures.
After some adequate rest.. started towards to our next campsite. After some tiring trek through steep mountains and deep valleys we reached our last camp site before the summit - Luhasu (10000ft),we quickly got some instructions as the weather was really bad  with heavy snowfall and the temperatures here would be dropping down to -10 to -15.
It's challenging to get out of the tent and because of that we quickly finished our dinner and got back inside the tent by 6pm.
With full enthusiasm and the urge to be free from the busy 9-8 job for some days...we started our trip from Hyderabad to Dehradun via a connecting flight from Delhi... reached Dehradun by 7 am on 29-Dec and were welcomed with the chilly whether there.
We got quick ride to the bus station and took bus to Mussoorie, where we had our stay (as well as our trek) booked with YHAI.
We had full day to explore the beautiful town of mussoorie.
With new friends met at the youth hostel we explored Mussoorie in the time we had.
The same night we had to get up at 2AM to start the trek towards the summit, the freezing temperatures at -15 and low oxygen levels made it much difficult.
The path is long and seems never ending, the difficulty level of trail keept on rising. The amount of snow has increased, trail steepness was all time high and oxygen level keeps on declining. Due to the bad and extremely harsh weather conditions no could complete the summit except for some who were almost in sight of the summit.
The Himalayas never let you win so easily.
But as far as we reached it was a breathtaking view experience that everyone has to experience once in a lifetime.
As usual, good things do not stay forever and it was time to come down. We started our descend to Argoan Basecamp which is located at 8000 feet, where we had a full day rest and enough time to enjoy the beautiful surroundings.
It was time to get back to the base camp sankri and we started our descent.
After few minutes of getting down we realized that descending is tougher than ascending even if you have great shoes as some places had very deep snow that was melting.
We came across some magnificent views of the Himalayan ranges as this not the route we came up.
After few hours we've reached where we have started from and took a bus on the same day back to Dehradun.
After talking some good rest and having a hot water bath after 6 days we went on to explore Dehradun.
The good part of this trek is, me and two of my classmates planned this trek and we went on to meet some new friends along the trek who have become a family now.
The only hardest part of the trek was saying goodbye to all the friends and getting back to our routine life!!