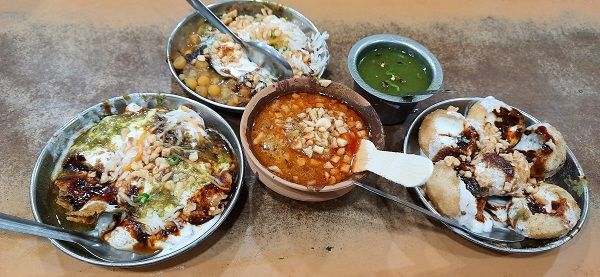 The historical town of Varanasi or Banaras is famous for its jostling narrow lanes, beautiful ghats of River Ganga, old temples, and spiritual way of living. But a trip to the city is incomplete without exploring the lanes and by-lanes for savouring the flavourful street food. Food is an integral part of Varanasi's life and there are plenty of options for street food throughout the city. The popular delicacies are vegetarians, usually made of desi ghee or pure milk, and are influenced by the neighbouring states of Bihar and West Bengal, having a local touch. Here's a list of 5 handpicked places to enjoy delicious street food during your next trip to Varanasi: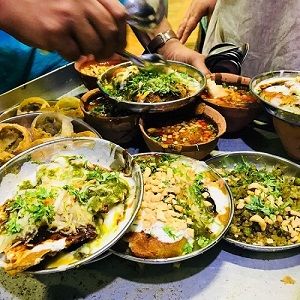 If you're craving for Chat near Dashashwamedh Ghat, look no further and head for Kashi Chat Bhandar. The shop has a small seating area and it is highly crowded during the evening as it is popular among the tourists and the locals alike. There's a wide range of savoury snacks and chats and a few desserts like Gulab Jamun, Kulfi Falooda available at this place to cater to the taste buds of thousands who flock to the shop for a delightful experience.
Things to try: Aloo Tikki Chat, Palak Patta Chat, Tamatar Chat, Chura Matar, Gulab Jamun
Location: Godowlia Chowk, near Dashashwamedh Ghat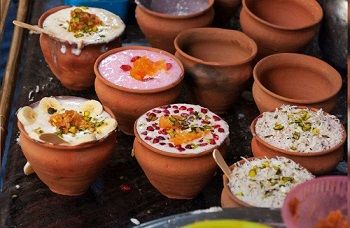 Located in a narrow lane that leads to Manikarnika Ghat, the largest Hindu Crematorium of Varanasi, the Blue Lassi shop has a unique appearance, adorned by blue walls and thousands of photographs and tiny handwritten notes of the visitors. This place serves around 80 varieties of thick, creamy, flavoured Lassis for almost three generations. Lassis are usually served in Kulhads (earthen pots) and topped with Fresh Malai, Rabdi, and your choice of garnishing.
Things to try: Indian Lassi, Kesar Pistachio Lassi, Mango Lassi, Dry Fruit Lassi
Location: Kachori Gali, near Manikarnika Ghat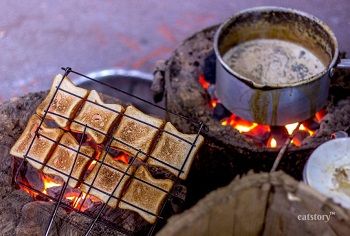 Lakshmi Tea Stall is one of the best places in Varanasi where you can enjoy a piping cup of hot tea along with the heavenly Malai Toast. This is a special breakfast item where the bread is toasted and topped with a good amount of creamy white butter and sprinkling sugar (hence Malai). Nothing can beat this combo on a chilly winter morning!
Things to try: Milk Tea, Malai Toast, Bread Toast
Location: near Chowk Police Station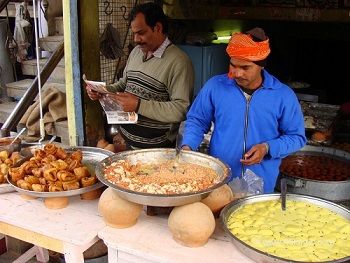 The Lanka crossing has 4 Pehelwan Lassi shops and the one which is a concrete structure is the oldest. This place is famous for its dairy products and delectable sweets. If you're a fan of Launglata, you'll love the taste and the sheer size of it. People also enjoy sipping on the warm Malai Milk on the cold winter evenings.
Things to try: Rabdi, Launglata, Lassi, Malai Milk
Location: Lanka BHU Road, near Ravidass Gate Lanka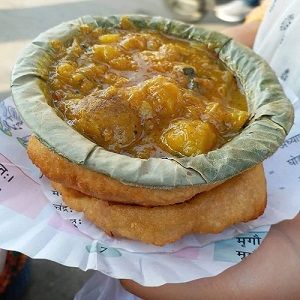 The small shop serving mouth-watering kachori-sabzi and jalebi was run by an old aunty (Chachi) and hence the name. Being the most famous breakfast of Varanasi, the shop, which is located near Banaras Hindu University, is flooded with customers since early morning, and everything is usually sold by 10.30 am. So, plan early if you don't want to miss out. The locals are a huge fan of the crispy, hot kachoris, tangy aloo sabzi (potato curry), and the syrup-dripping jalebis.
Things to try: Kachori-Sabzi, Jalebi
Location: Mall Road, near BHU Gate
This article is also published here.