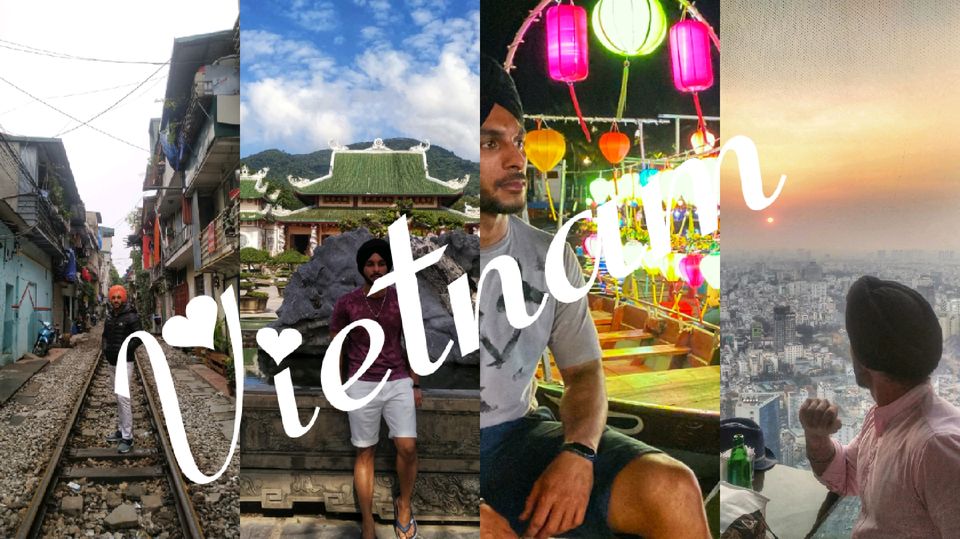 In this blog, you will get all the information required to plan your trip to Vietnam from the north to the south or vice versa. I planned my trip, so I can experience the cliffs in the north, beaches in the center and city life of Saigon in the south. I took flights to save my time but you can always choose the bus/train option. If you are traveling first time to Vietnam and don't have a month to see all of the attractions, I would suggest to choose wisely between the cities, that I have mentioned at the end of this blog. It will help you out to catch most of the sites of this extremely colorful, lively and relatively inexpensive country. The complete cost of flights, hostels, food, and fees I paid are also mentioned at the end of this blog.

Why Visit Vietnam?
More often than not, people have associated Vietnam as cheap, backward and undeveloped country but its cities can be compared to any of those in developed nations. Once you will visit this nation you will be mesmerized by its culture, delicious food, best coffee in the world, friendly people, beautiful beaches and this will carve a deep impression on you. All this on a very reasonable cost.
When to Visit Vietnam?
Spring (Mar-April) and autumn (Sep-Nov) is best time to go as weather is warm and sunny with clear skies. One downside is that the prices for everything will be high and there will be lots of people everywhere. In order to avoid that, I would suggest to stick to these two months- December & February as the weather became cooler with lesser rain and it is not as crowded.
If you are traveling by air, you are most likely would be landing at Noi Bai International Airport. You can easily spend two-three days starting from old quarters which is central landmark of the city which have a vibrant nightlife, colonial buildings and great places to see nearby. On the first day be sure to check out the Hoàn Kiếm Lake, Ho Chi Minh Mausoleum, train street, Hoa Lo Prison Memorial and Temple Of Literature.
For the second day, we will tour the most important heritage site in the world- Ha Long Bay. This will be a magnificent trip and will include- Sung Sot(Surprise) Cave, Tip Top Island, Fighting Cock islet, beach hopping, Kayaking, a tour to fishing village and an amazing Lunch on board.
After spending the last day hustling through the cliffs, on the third day you can take it slow and see the other attraction or those which you missed on the first day you arrived. At night do take part in pub crawls or you can watch the famous water puppet show.
Da Nang (3 Nights)
Next up, let's take a break at a developing coastal city in the center of the vietnam and visit this small but astonishing city which has great things to offer- pristine beaches, mountains, friendly locals and endless seafood restaurants lining the My Khe Beach.
Visiting the lady buddha and Hai Van Pass is a must where you will be able to see the temples and observation spots to have a bird-eye view of the city. These are nearby to the city but i would recommend to rent a manual bike for a drive through the curvy roads. In evening enjoy the sunset at My Khe Beach and later take a ride to famous Dragon bridge which lights up at night located in centre of the city.
If you are planning to visit Hoi an, then you can drive on your own bike as cabs are expensive and see the marble mountains enroute. Hoi An is not to be missed in order to appreciate the beautiful french architecture during sunrise and sunset.
Next you can checkout very important day trip to Ba Na Hills, Protip to see this medival castle is to reach late in afternoon, so you can see the town and hills in a clear sun as its misty in morning.
Ho Chi Minh (3 Nights)
If you are traveling by air, you are most likely would be landing at Tan Son Nhat International Airport. This is the biggest city in Vietnam and will be exciting for food lovers as they can find the best street food here.
Two popular day tour here are Cu Chi Tunnels and Mekong delta. I would suggest going straight to Mekong delta on the very first day, so you can later enjoy the shinny shopping malls, fancy rooftop bars and throbbing nightlife. Book a boat tour to see these iconic fishing villages with stilt houses and rice paddies and be amused by a traditional Vietnamese lunch, snack on fresh fruit and honey tea, and sample of locally made coconut candy.
The next day, take a trip to Cu Chi Tunnels which takes you through Cu Chi jungles where you can crawl as well as fire rounds from an AK-47 and experience what life was like during Vietnam War. At night be sure to check out the Bui Vein walking street if you want to shop, dine or party.
On our last day, it's time to see city's top tourist attractions- Saigon Central Post Office, Notre Dame Cathedral, War Remnants Museum and Independence palace. These are nearby to each other and are in walking distance. Start early in the morning, so that you can spend the evening viewing sunset at Saigon sky deck offering 360° panoramic views of the City.
Where to Stay?
Hanoi- Hanoi Buffalo Hostel(Budget) - 7.13 USD/Night (Dorm) || Peridot Grand Hotel & Spa by AIRA(Mid-Range) 80 USD/Night (BB Double Room)
Da Nang- Memory Hostel Danang(Budget) - 8.95 USD/Night (Dorm) || Hyatt Regency Danang Resort and Spa(Mid-Range) 90 USD/Night (BB Double Room)
Ho Chi Minh- The Common Room Project(Budget) - 12.44 USD/Night (Dorm) || Lotte Hotel Saigon(Mid-Range) 105 USD/Night (BB Double Room)
How to reach and get around?
You can fly into Hanoi or Ho Chi Minh depending on where you want to begin your trip. I paid around $200 for a round trip from New Delhi. You will likely find cheaper flight on Google Flights, but for the best possible deal, I would suggest to compare prices on Expedia and Skyscanner as well.
Inter-city busses and trains are pretty accessible here. You can buy the tickets directly from the station counters. If you want to save your time you should stick to the flight option when changing cities and will cost below $30 one way. Exploring cities, town and villages can be best done on a motorbike. It will be unique experience with not much money($5/day) and can be done easily. However, if you want to use taxi you can also ride that at very nominal price($1.3-5).
Food to try out
My personal favorite food to try is very popular snack available all over the country- Ban Mi and you can get either veg or non-veg fillings in this sandwich. The other food favorites that you need to try during your trip- Phoo Noodles, Bun Cha, Mi Quang, Com Tam, Goi Cuon and Banh Xeo.
Your trip to Vietnam is incomplete if you haven't taken a sip of one of their delicious coffees($1-2) Egg Coffee/Coconut milk Coffee/Drip Coffee.
Vietnam Visa
Vietnam do offer Visa on arrival. However, there process isn't easy and it's expensive as compared with other south Asian countries. Please do some planning in advance before reaching there as it is a two step process. First you need to apply for an online approval letter which will cost between $17-37 depending on the processing time you choose. When you will arrive at your destination airport show this letter along with photos, passport at immigration counter and pay the stamping fees($25).
Daily Budget
This place is inexpensive than most of other asian countries. You should expect to pay $30-80 per person including food, drinks, accommodation, travel and sightseeing.
Most of the meals will start probably at $1 and will go up to $5 at higher end restaurants. You will enjoy alcoholic drinks here very much as they are dirt cheap, expect to pay ($0.75-1.5) for each drink.
Where to travel:
This a very tough to recommend for a country this diverse. But if you are traveling first time here. Your trip will be incomplete if you don't visit Hanoi(as Halong bay is close) and Ho Chi Minh. These are so buzzing and trilling cities where you can meet so many travelers which gives lively vibe to it.
If you are into mountains you can choose between: Sapa/Ninh Bin/Hai Phong and if you are a beach person: Da Nang/ Nha Trang/ Phu Quoc. There are a lot other destinations as well but I can't put all of them on a one blog.
Important Links
Visas: https://vietnamvisa.govt.vn/ click on this link to apply for visa approval letter.
Hostel and Hotels: https://www.hostelworld.com for booking the hostels and https://www.booking.com for hotels.
Transportation: Use Grab or Fastgo to book rides when traveling around in Vietnam. I personally prefer Fastgo as prices are stable during rush hours. For booking a bus use https://busmap.vn/ and https://12go.asia/en to book bus as well as trains online.
Sightseeing: You can hit the https://www.klook.com or their app available on appstore/playstore. Here you will get plenty of options at very best price. Use my below link to earn $3.4 on signup or enter K5DMU on signup page. https://www.klook.com/en-IN/invite/K5DMU?c=USD