Mandarmani is a seaside resort village at northern end of Bay of Bengal, and located in West Bengal, India. It is one of the largest and fast developing seaside villages of that area. At a distance of around 180km from Kolkata, the settlement lies on the Kolkata – Digha route. Mandarmani's beach is argued to be the longest drive-able (drive in) one in the country.
We were a group of 8 friends – 5 guys and 3 two-wheelers! To describe our 'sleep' the previous night, 'proper' would not be the correct term. We had got together from our respective offices on Friday, and our post-dinner conversation went on way past midnight! It was around 2 am that we realized it's too early to get ready for the trip next morning! Hurriedly we had tried best to catch a couple of hours nap before alarms went up 5 am. The morning nevertheless was refreshing. Sharp at 6 o'clock we flagged off our journey and took the NH 16, our destination –Mandarmani.
Apart from a few stretches of the highway being in bad shape and a few abrupt unmarked speed breakers near Belur, this road is perfect for long distance rides. Around 7.30 am we halt for breakfast at Kolaghat area . Puri Sabji and parathas are the quick servings in the dhabas (roadside local eateries) lining up along the highway.
From Kolaghat it is another 30-35 kms ride till a point called Nandakumar. Energized by the food, we drove with so much vigor and gusto that we took a wrong turn and realized the error only after traveling close to 20 kms of a distance! We had to trace back to Nandakumar, and this time made sure we were on the right track – the route towards Digha via Contai village. (It is easy to get carried away in the well maintained highway and ride at a very high speed, but try avoiding the same as the path seems to be a favourite hangout for cows as well – and they don't give a damn if you are riding a bicycle or a tanker, they would casually and abruptly keep crossing the road at multiple points!) Once we entered Contai area, the road was a single lane which snaked its way through trees, lush foliage, open fields and occasionally rows of huts. Although well maintained for most of the part, the biggest problem we faced were the buses which refuse to give way and push you off the road. One of us who had previously been to this area suggested that paying a visit to the nearby Tajpur beach. So we arrive at this thinly crowded beach lined with shacks offering varieties of seafood.
Fishes, prawns, live chicken(!) are on display – you choose and the chef cooks! I tried tandoori pomphret – delicious! Spending about an hour there, we were back on the Digha Contai route.
Roughly 15 kms later we (at Chalkhola) diverged from the main road and entered into a narrower one with a number of twists and turns. This lane was lined with little huts and small-sized fisheries. Soon we arrived at a spot which had a few commercial vehicles and buses parked, we could see a small crowd of tourists too - we had reached Mandarmani.
Thelas (carts) which run on diesel, stood in line waiting for passengers. Small shops scattered around added to the melee. That spot was a gateway to the beach nearby, but the path was not accessible by vehicles. Hence, we continued on the pakka (cement) road – with rows of resorts on both sides of the street. Suddenly, we noticed another small path through which we could drive our bikes onto the beachfront and there we were next – riding beside the sea! It was serene spot with no one else around. We rode along the beach looking at the resorts as we passed them. Finally we stopped at one which had individual cottages with a pretty setting of palm trees by its side and decided to reserve our rooms there.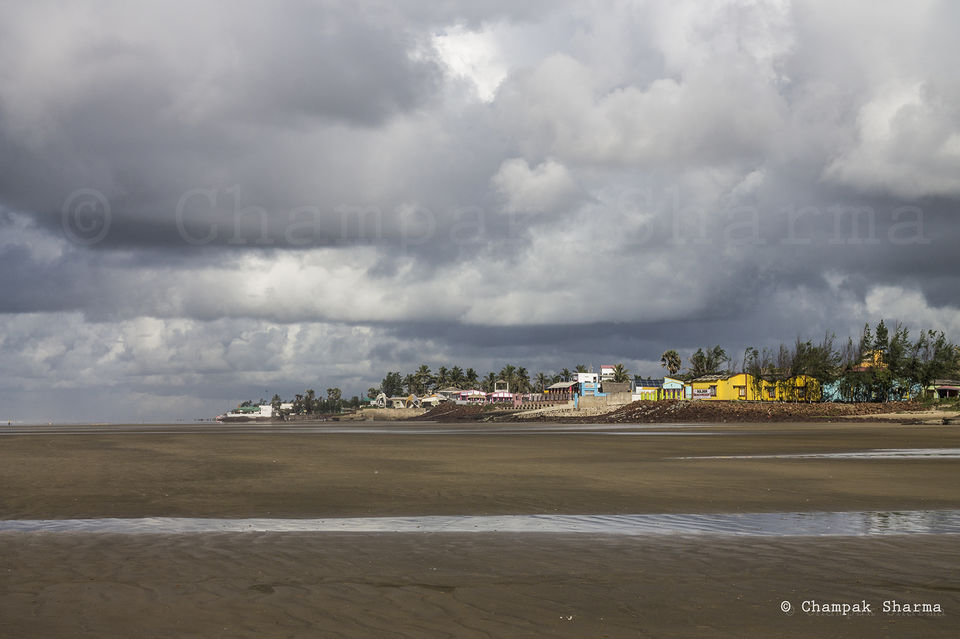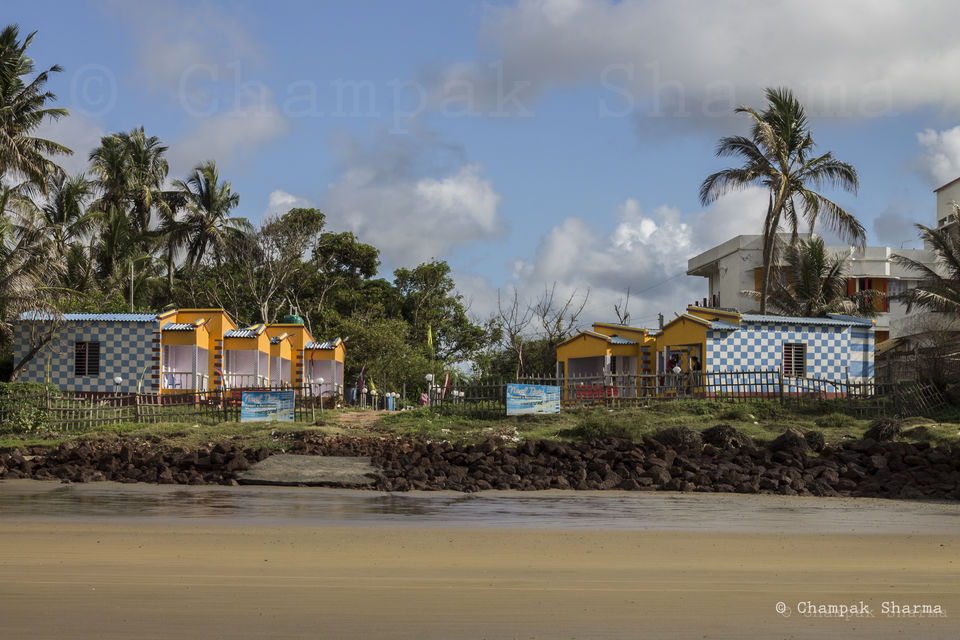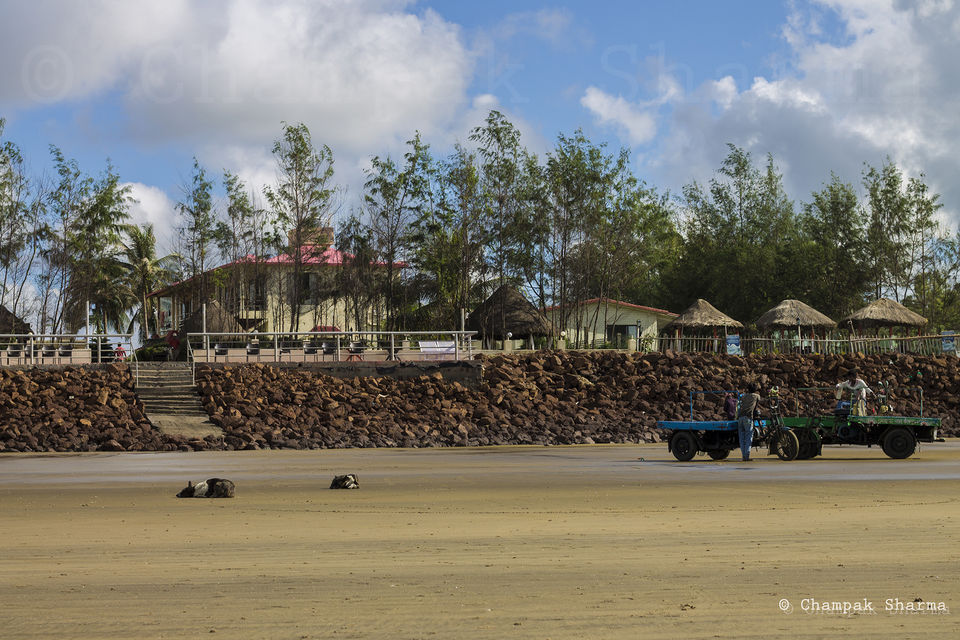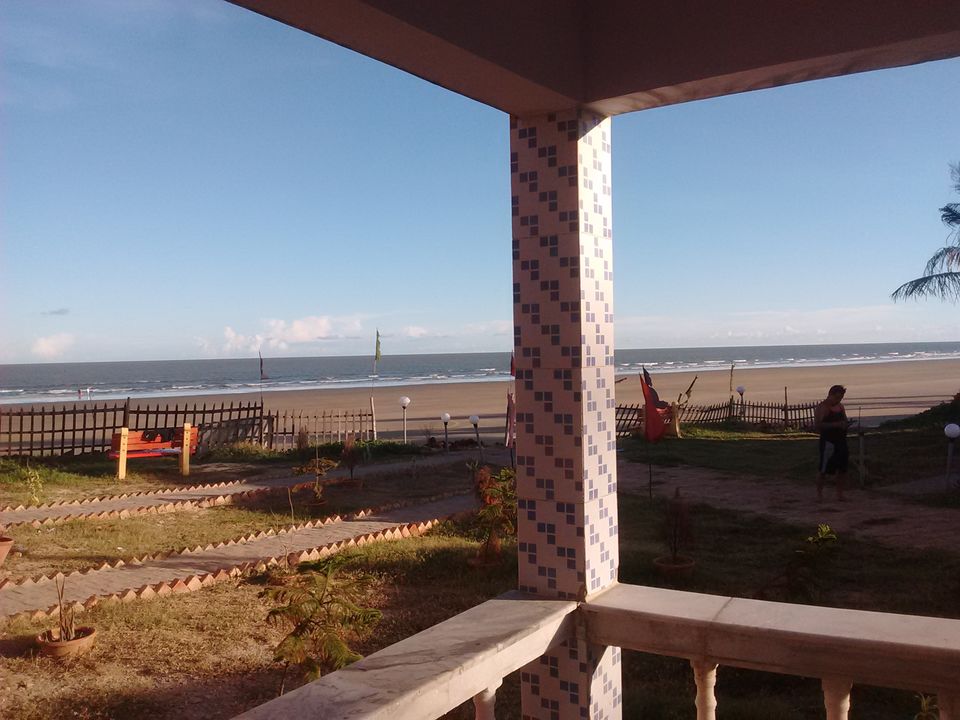 Since that morning, it had been a long ride under the summer sun – we freshened up at the resort and then snoozed off briefly. Up and awake re-energized, around 5 pm we once again drove out to explore the place. Along the beach, the tide had not yet set in and it was memorable ride with the cool ocean breeze on our faces. There is not much activity-wise that you could do here after dusk - so, after grabbing few eatables and snacks we returned. Back at the resort, the staff had made arrangements for the guests to lounge in the open lawn area facing the sea. We sat there throughout the evening, had our dinner gazing at the sea and listening to the sound of waves. As tides rose, to the guests' excitement, sea water reached the boundary of the lawn. With the full moon round the corner, the night sea glistened in its light. It was past midnight again when we retired to our beds.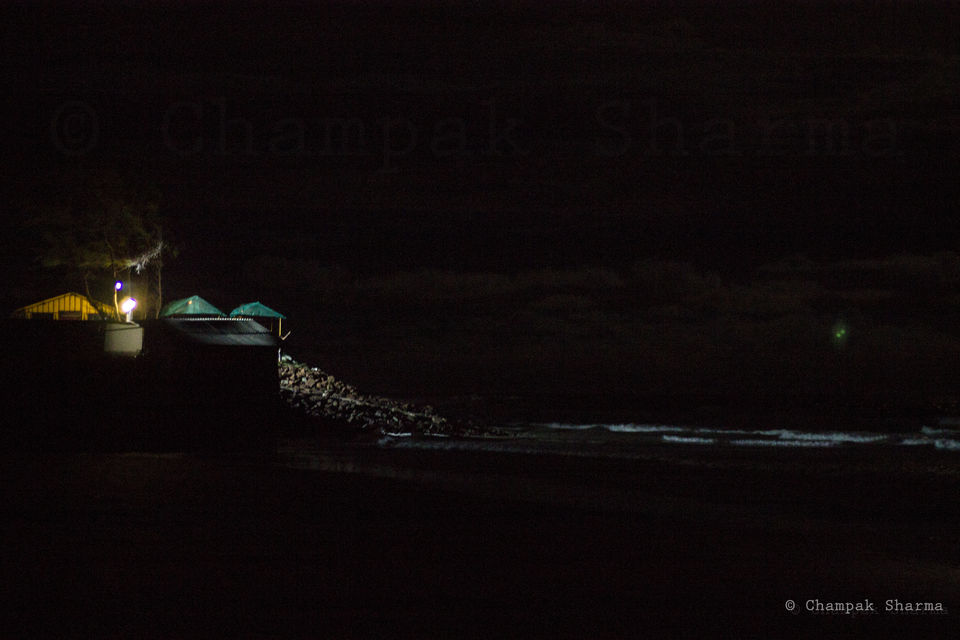 While my friends decided to sleep late into the morning, I rode out to the beach. An expanse of clouds deprived me of witnessing the sunrise. However, it were these clouds which added to a serene setting - a bit overwhelming too for me. A few people walked around the place, and I also spotted a herd of cows relaxing by the waves! A couple of brightly coloured thelas plied along the sands. A few dinghies (small boats) anchored close to the seafront gently swayed upon the waters– it was a perfect frame – as if from a picture postcard! Was expecting red crabs crawling around the 13 km long beach (of which I had heard so much about), unfortunately could not get a glimpse of even one.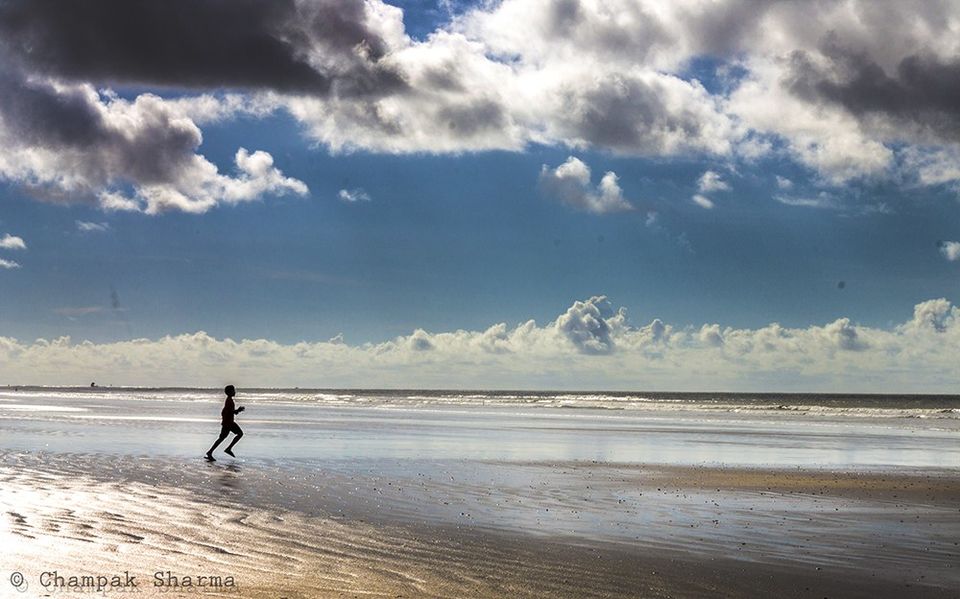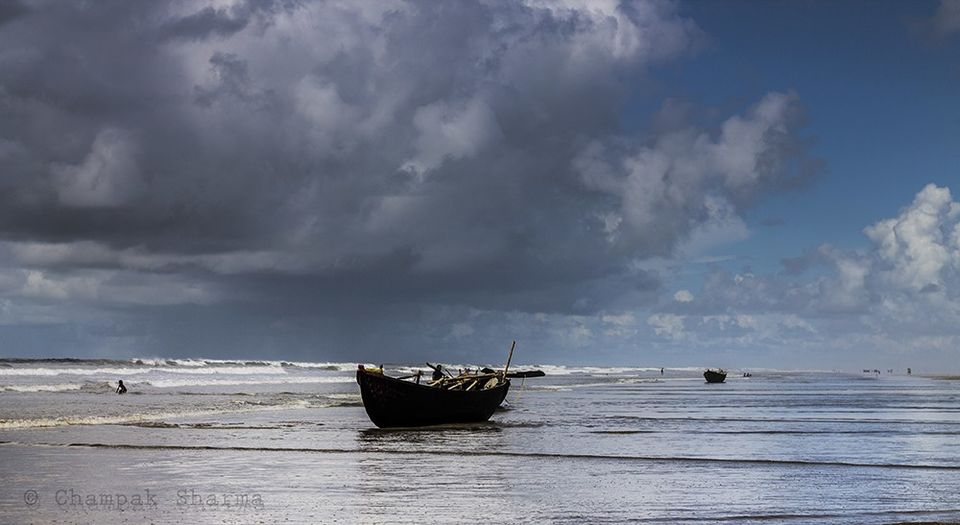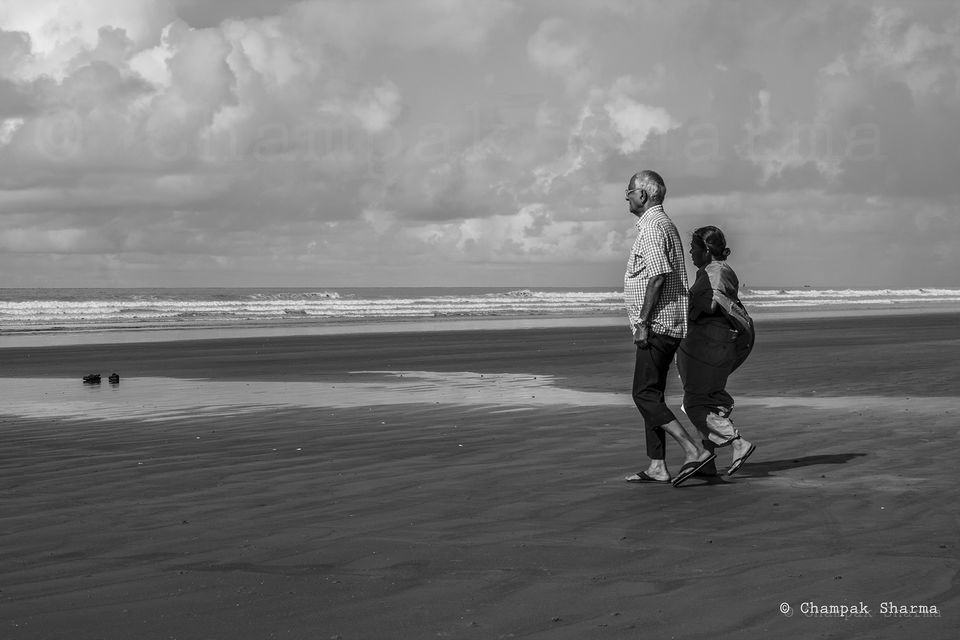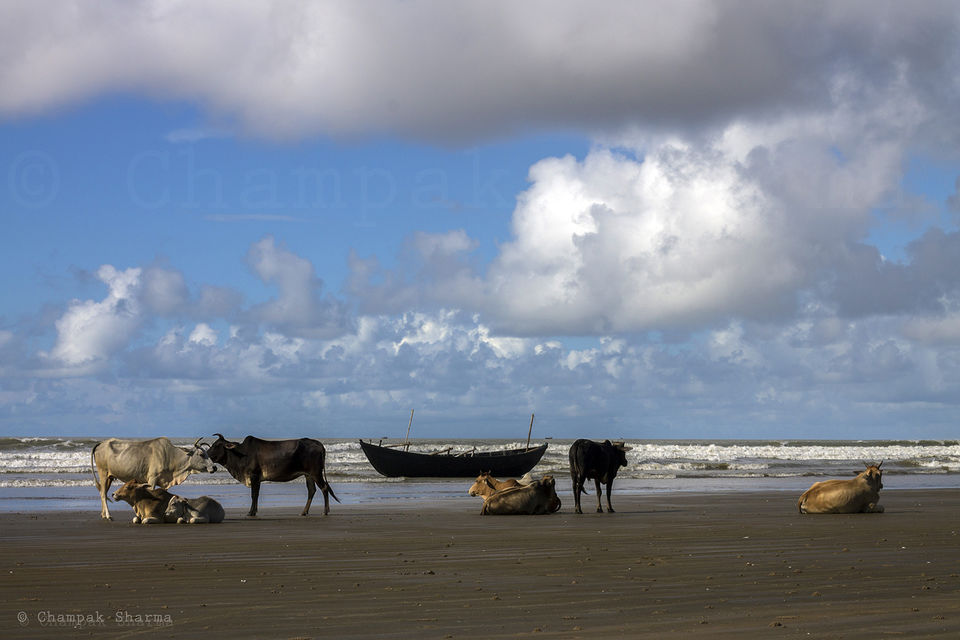 I went exploring the locale looking for more photographs. Amidst the usual setting of a sea side village, you find garages in every other courtyard. These workshops have sprung up as a result of increasing tourist vehicle visiting Mandarmani. Don't be surprised if you find mineral water bottles filled with petrol or diesel. Starving, I stopped by a small tea stall, had a plate of puri sabji before continuing my ride. On another note, the owner of the stall told that more the village beach is developing, the less beautiful it is becoming…and I could understand what he meant as I drove along the beach while returning to my resort – it was more of bricks and mortars than sand and palms.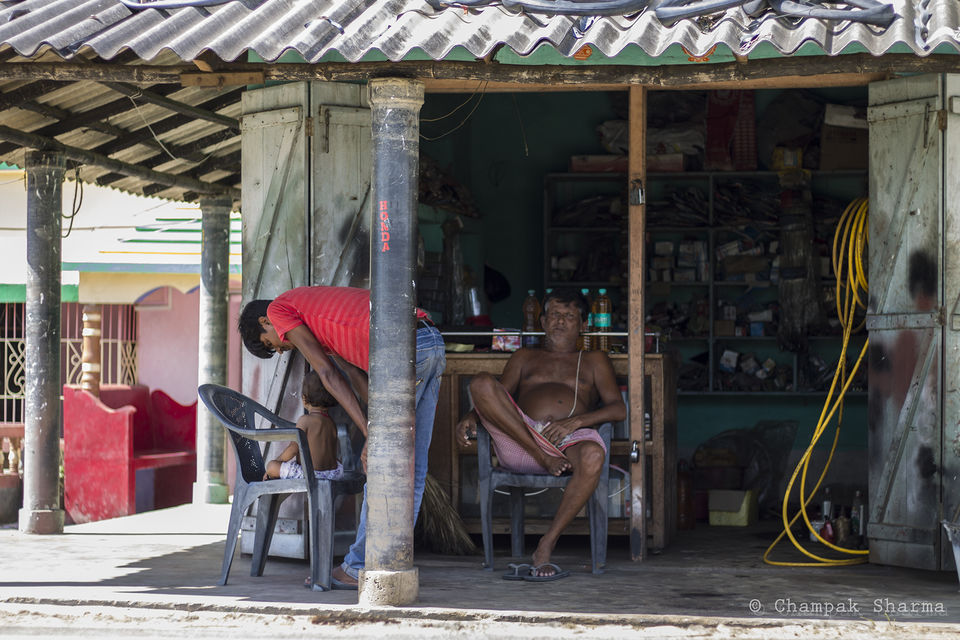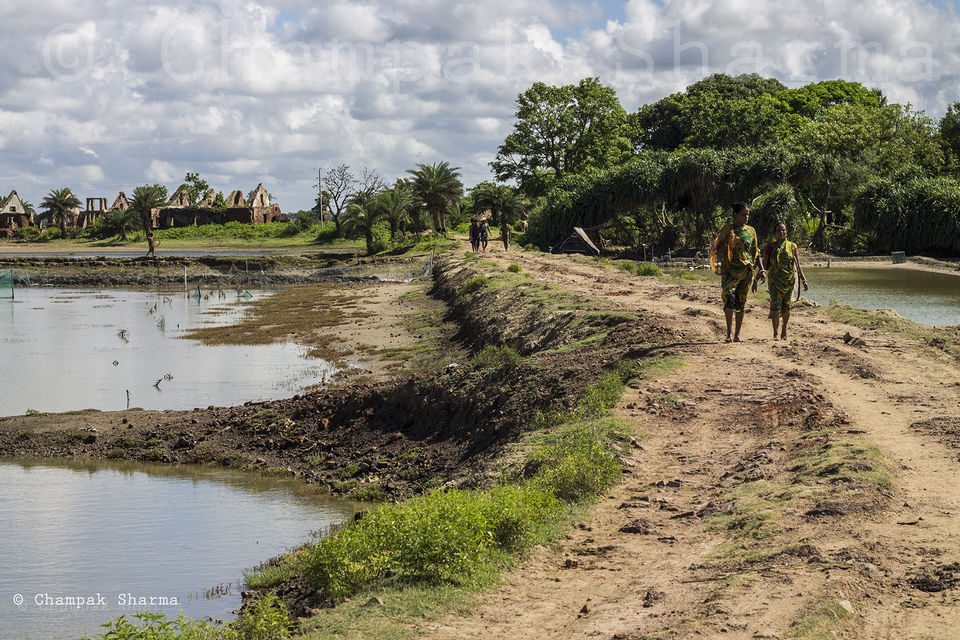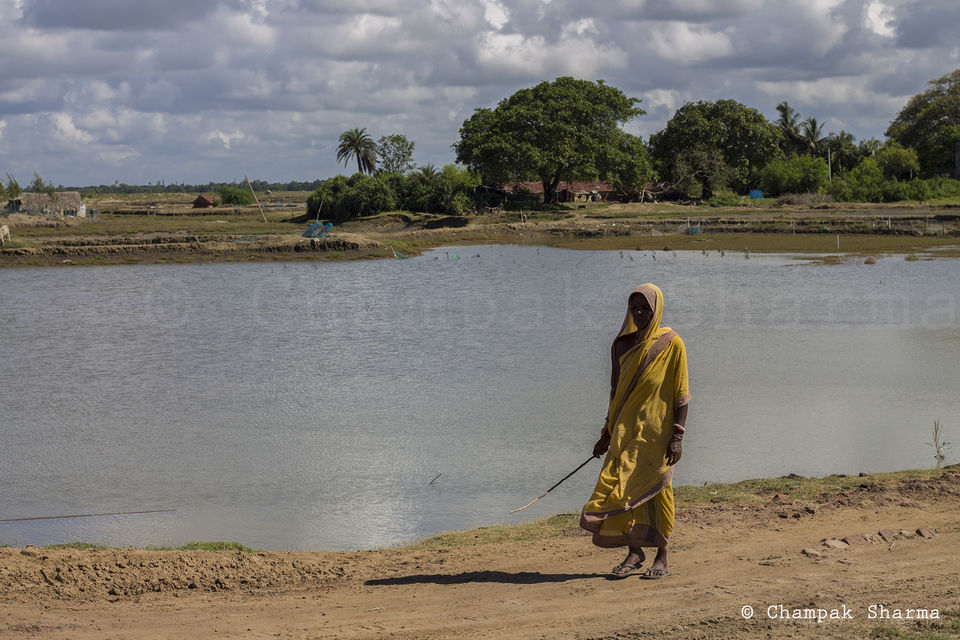 By the time I reached our resort, my friends were at the breakfast table. Shortly afterwards, a shower of rain descended and we excitedly rushed to the beach. As we ran towards the water, we realized it was the same scene all along the seafront as people from other resorts animatedly flocked towards the waves. Once into the water, it was pure fun for us. Hours later we finally lay down on beach, our body exhausted, our soul energized... My first and definitely not the last visit to this tranquil sea shore!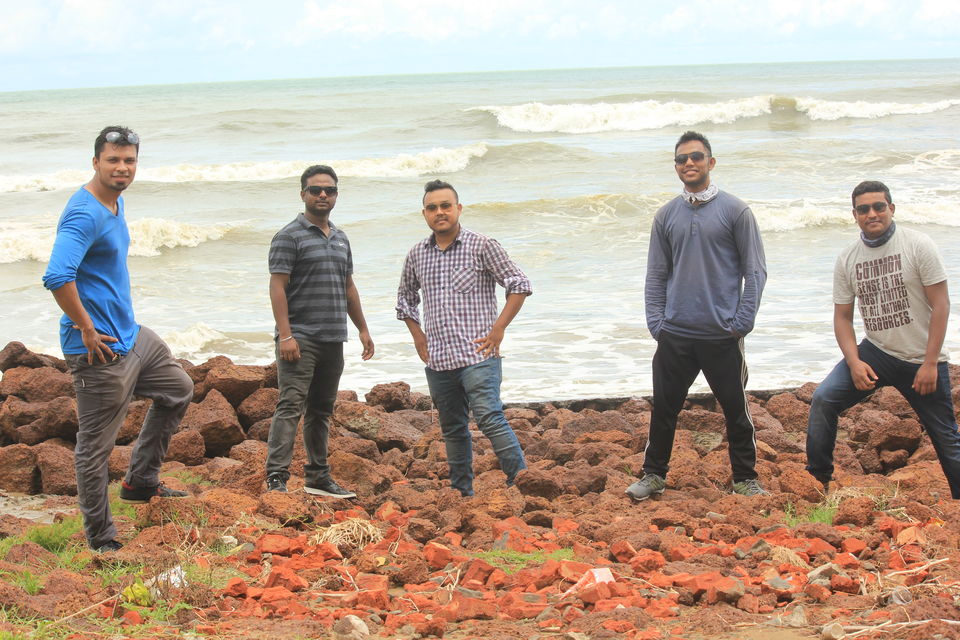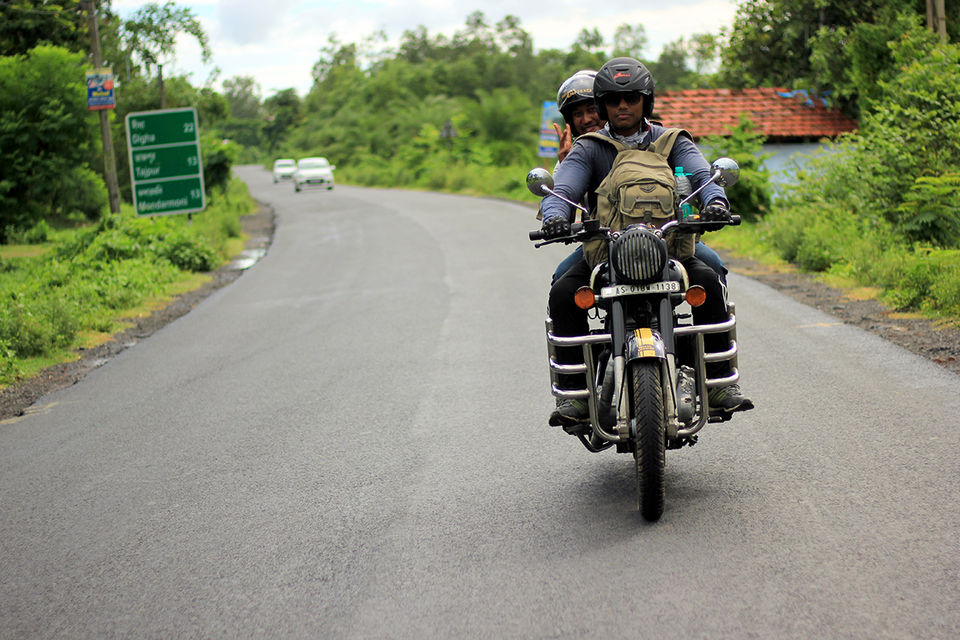 How to Go :
1) By Bus – Buses are the best option because of the economical rates that they are available at. Can be availed from multiple boarding points at Kolkata. Primary bus stand is in Esplanade.
2) By Train – Numerous trains during the first half of the day from Howrah.Get down at Digha station from where both buses and cars are available to Mandarmani (Around 30 Kms).
3) By Flight – Kolkata airport is the nearest airport.
4) Personal Vehicle– The Kolkata to Mandarmani distance takes approximately 4 hours to cover. The highway is quite well maintained except for certain stretches. If you love riding, go for it.
Must Experience :
Argued to be the longest drive-in beach in India - a drive along the beach side is must.
The next best things to do – walk, explore, eat sleep and laze around!
Accommodation :
Being a seaside village there are a plenty of resorts that offer accommodation. Tourists can choose between budget resorts and mid-range to semi-luxury resorts.
Few are listed below (from budget to luxurious) :
i) Anutri Beach Resort
ii) Kings Crown Hotel
iii) Aqua Marina Drive In
Food/Drinks :
1. Do not expect much from the mid range hotels as the chefs/staffs are not professionals (Nevertheless, there ain't much to complain when it comes to fish fry and chicken curry!)
2. Try Prawns and Pomphrets for starters for sure.
3. Hotel/Resorts may or may not have the facility of a bar. However, a wine shop is available at the midst of the market.
In case you want to know more about the trip, please feel free to reach out to me at champographie@gmail.com
You can also follow me at :
https://champographie.wordpress.com/
https://www.facebook.com/ChampakJS
Instagram #champographie
Twitter @Champak_JS
Frequent Searches Leading To This Page:-
mandarmani west bengal india, mandarmani in west bengal, mandarmani things to do, places to visit in mandarmani west bengal, mandarmani tourist attractions