#TripotoTakeMeToHimalayas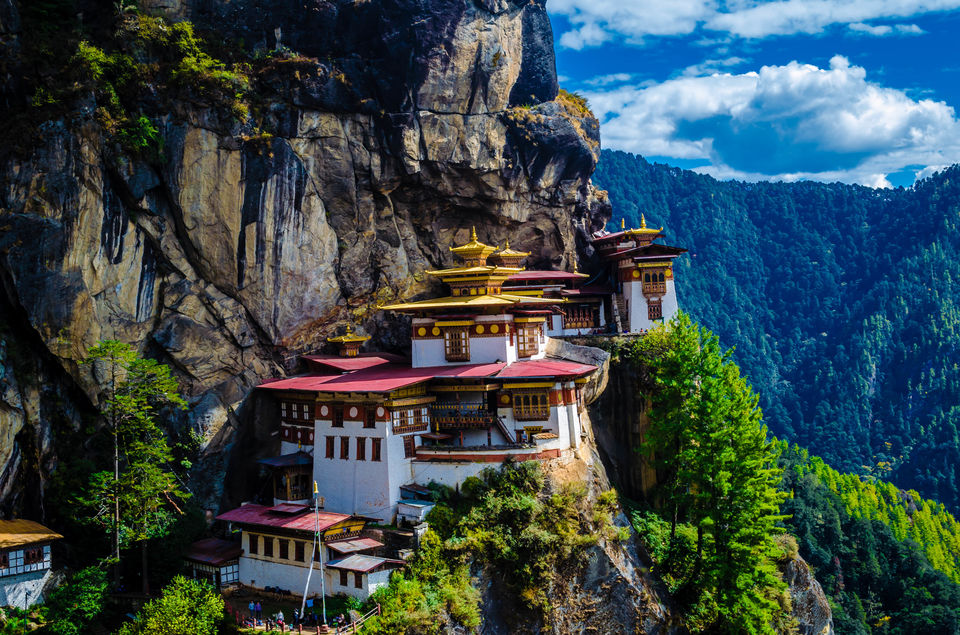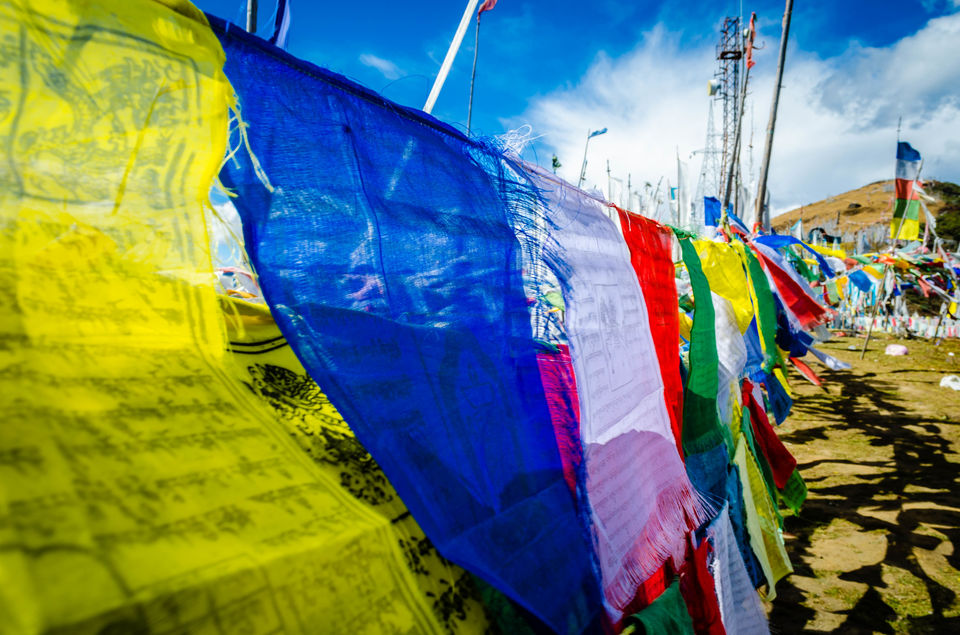 Bhutan – The happiest country in Asia, where GDP is measured not by economy, but by happiness, was in my bucket list for so many years. I had a hard luck in my 1st attempt to visit Bhutan which was in the year 2015. Of course, I did not plan well which led to the catastrophe. I had to return from the border town of Bhutan, Phuentsholing, due to consecutive holidays of the immigration office after travelling miles to witness its mystic beauty. Nonetheless, it never bogged me down & Bhutan never went out of my list. My desires to visit increased all the more & I finally made it happen this November, 2017.
I started planning approximately two weeks before the visit. I had contacted a person named Tashi Tobgay, from a tourism agency of Bhutan directly. I had known him since 2015 & he had helped many of my friends have a wonderful stay at Bhutan. I explained him over phone that I would like to go for a budget trip & he gave me an equitable quote for stay at Bhutan which was inclusive of the hotel accommodations, a personal car to commute in places around Thimphu, Paro & Punakha & bus tickets to & from Phuentsholing.
Day 1, Nov 1st, 2017: At 20:00 hrs, I was all set for the journey to start in the evening by Kanchankanya express, from Sealdah station. This is only train to reach Hasimara, the nearest station to Bhutan border, but you need to pack your food before boarding as this train doesn't have its own pantry.
Day 2, Nov 2nd, 2017: Next day morning woke up to find a faded white streak of the Kanchenjunga range as the train was approaching NJP station. I had figured out that the train was already running 2.5 hours late. A spur of nervousness aroused within thinking about the permit timings, but as the train was traversing across the dense forest range of Sevoke, the turquoise blue Teestha River & the green carpet of the tea gardens of Sukna, I took a deep breathe, decided to calm down & enjoy the moments for now.
At around 14:00 hrs, after a delay of almost 4 hours, we finally reached Hasimara, which is the nearest railway station from Bhutan border. Boarded a cab, for 400 bucks & reached Phuentsholing at around 14:30 hrs.
At 15:00 hours Karan who was appointed by Tashi to help us with our permit processes approached us & we rushed to the immigration office to get our permits done. I was almost shattered to find there that the person who was in charge of collection of the documents was kind of rude & was rejecting every requests made before us since it was closing time for them, but I do not know what Karan spoke in Bhutanese with the guy, that he chose to grant our permits. Mine was the last permit which was granted for the day.
Karan dropped us to the bus station. At 16:00 hrs the bus started for Thimphu and as soon as we crossed Phuentsholing, we could feel the fresh air of Bhutan. I kept watching the glorifying setting sun, playing hide & seek in the range of mountains we were crossing. I kept gazing at the moon & had become nostalgic over the fact that we don't usually see such bright moonlight these days. I had gone back to my childhood.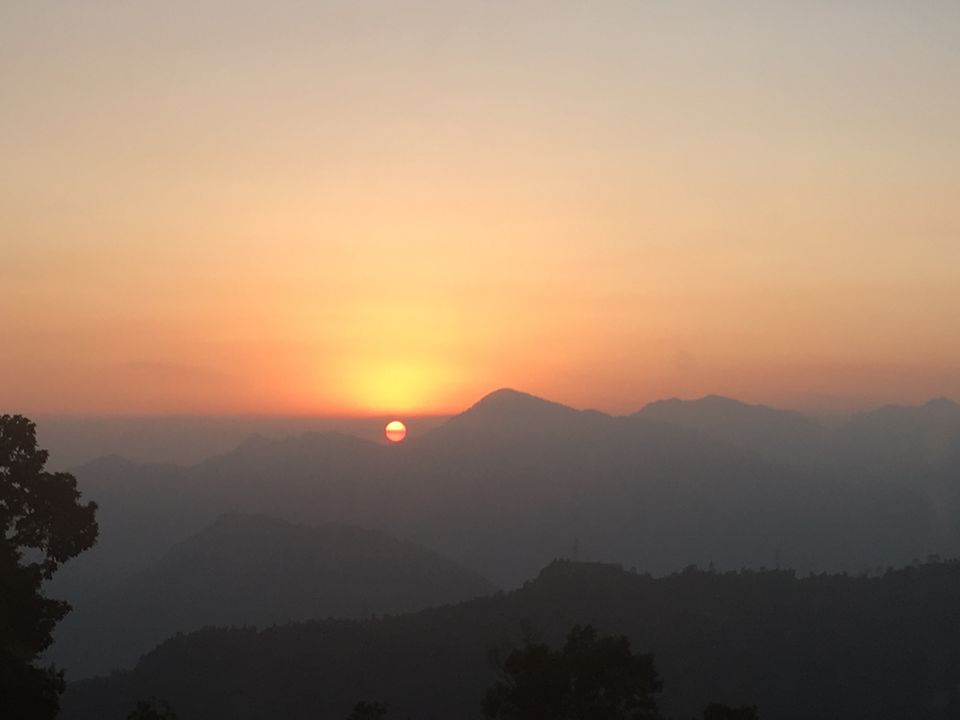 The bus halted at Karma hotel at around 19:30 hours where I had Suja (Butter tea) for the 1st time & I must say it's a must try. We hogged rice, dal & Bhutanese pork curry and started for Thimphu again.
At around 22:00 hrs Bhutanese time, we reached Thimphu & Tashi had already send his person Jimmy to pick us up from the bus station. It was cold as hell & as soon as we reached the hotel, Norkel Chopyel, the 1st thing I saw was the bed & I passed out.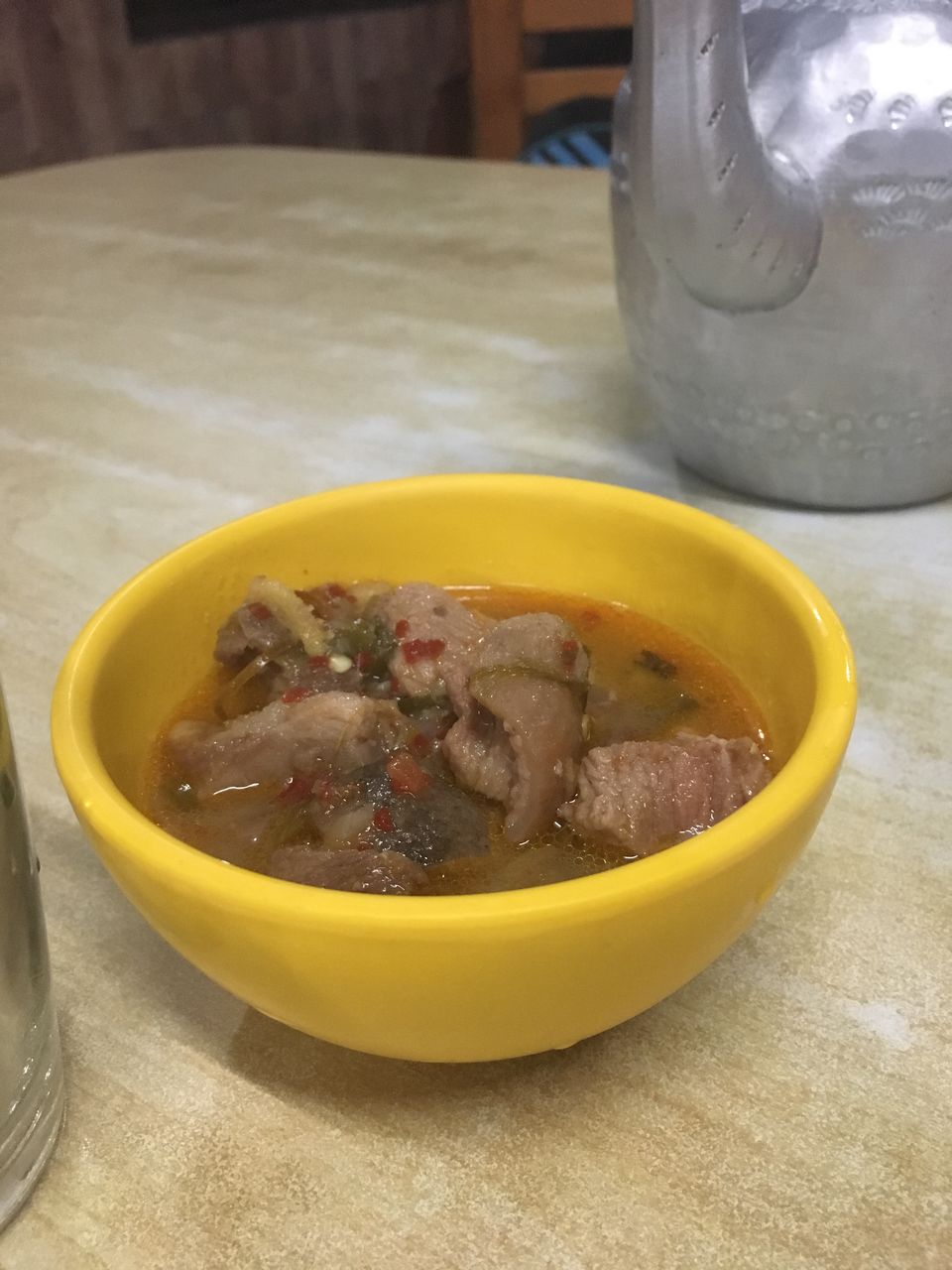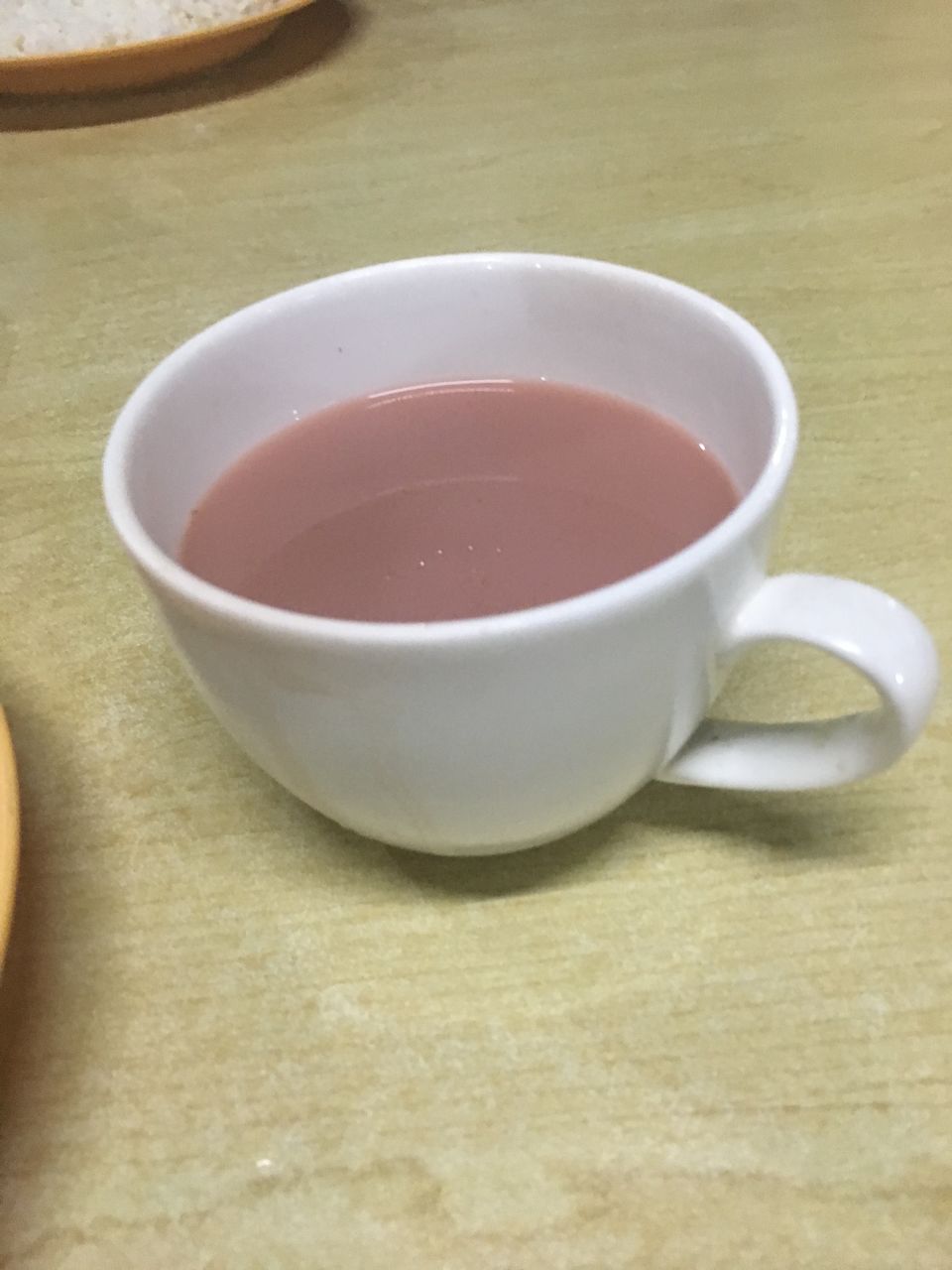 Day 3, Nov 3rd, 2017: Our hotel was right opposite to the clock tower which is supposed to be the most happening area of Thimphu. We strolled in the beautiful clean streets of Norzing Lam, which was surrounded by green mountains & pine trees everywhere. The mountains were running parallel to the road & the air was so fresh that you instantly will feel the happiness within you. We were amused to find that at 08:00 hrs no shop is open for breakfast or anything. They have this protocol of everything opening at 09:00, to which they strictly adhere to..
Sharp at 09:00, we met Vishnu, our trip guide at the reception of the hotel. His attire, posture, body language everything was very formal & gentle.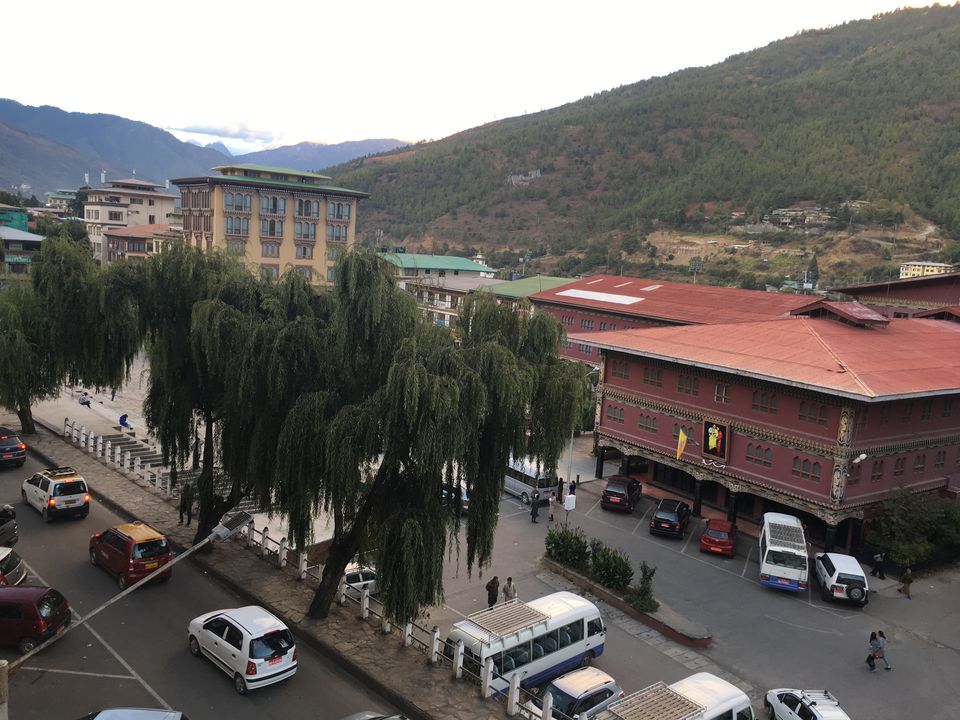 Our 1st destination was the famous Takin zoo. The zoo was surrounded by pine trees & was not a typical claustrophobic zoo. It was huge enough for the animals to breathe but we could spot only two lazy Takins & then headed to our next destination which was the white washed memorial Chorten of Bhutan, built in the memory of their 3rd king. We deliberately skipped the next stop which was the textile museum and thought we will instead spend some time in the majestic valley & relax in solitude in midway enjoying the beautiful landscapes of Thimphu.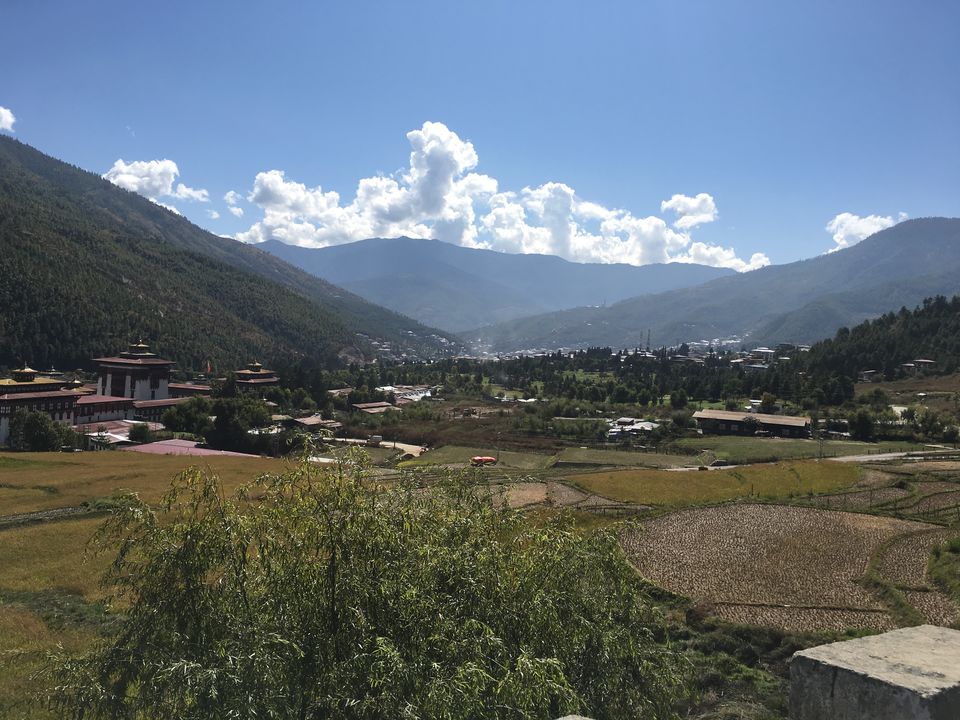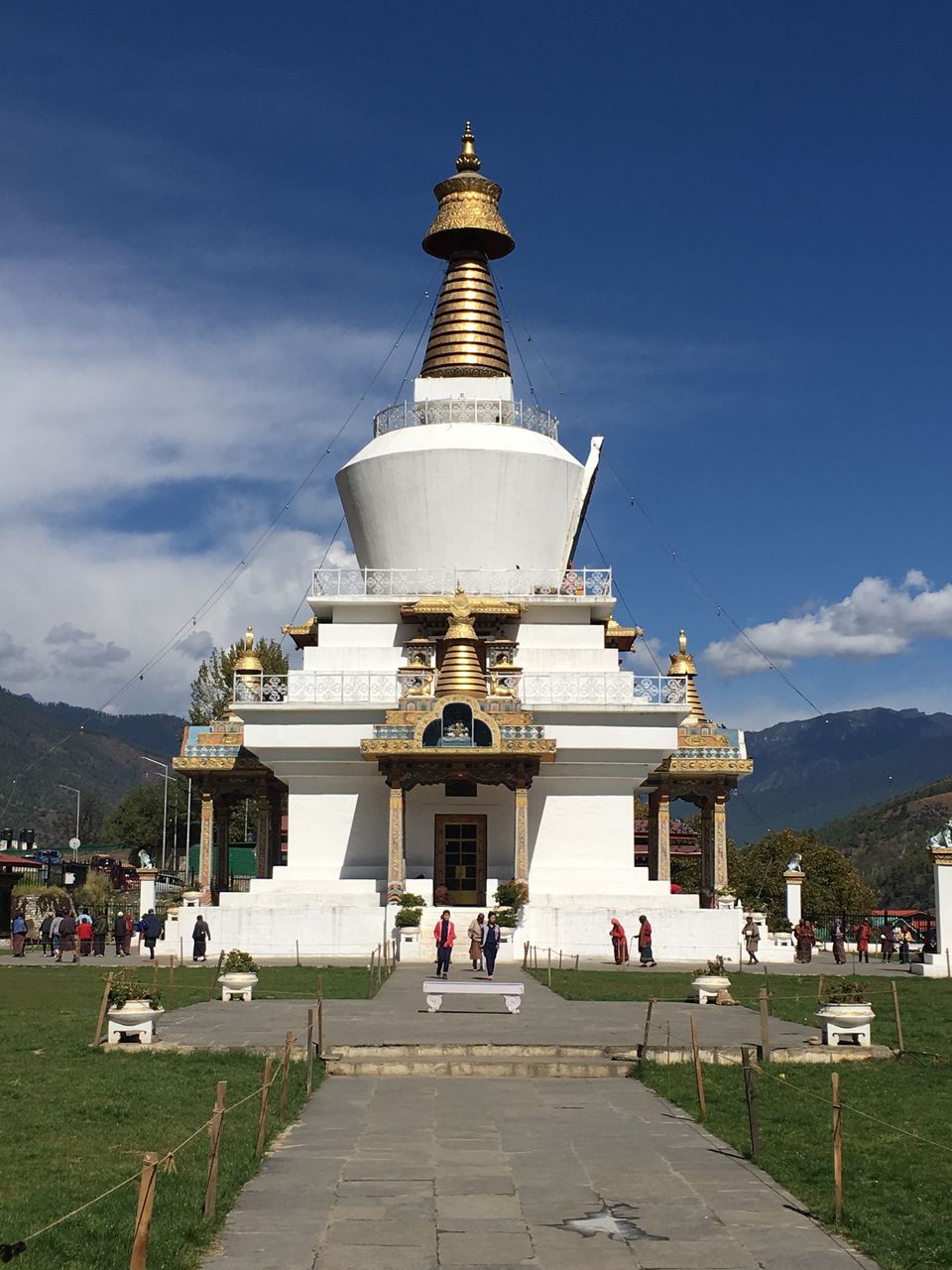 Next we went to the Big Buddha Dordenma statue which is one of the largest Buddha statues in the world. It was magnificent. We could spot over 1000 Bhutanese devotees offering prayers. On the way to our next destination which was the paper factory, we took some snaps of the mighty Tashiccho Dzong which was a treat to watch. The fortress was sieged with paddy fields & mountains all around. I was engrossed & amused to find the different stages of paper manufacturing from pine leaves in our next destination that was the paper factory.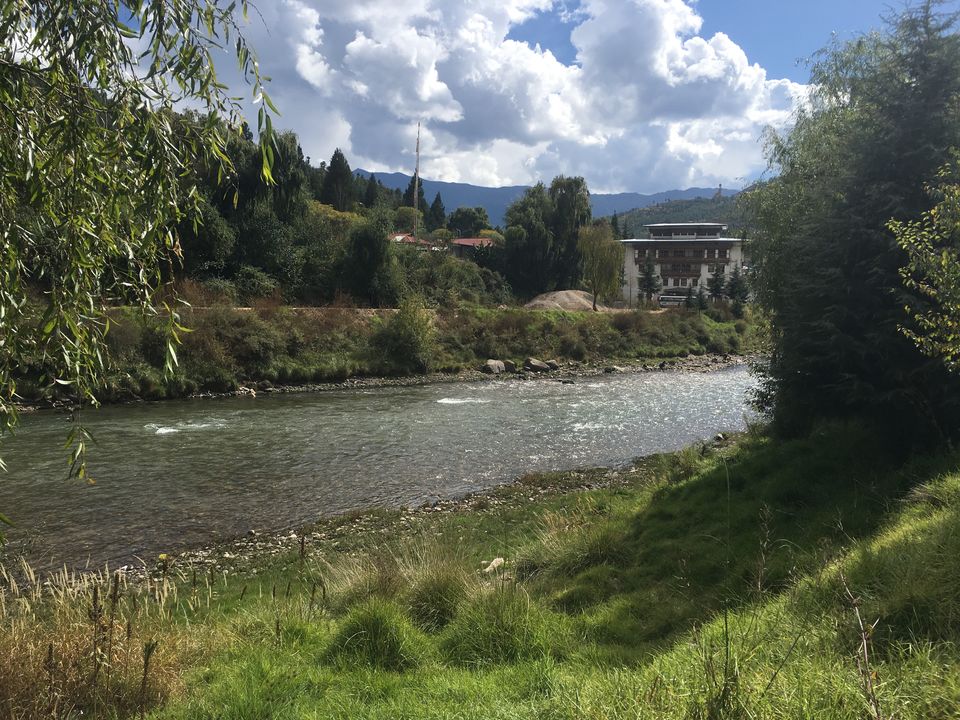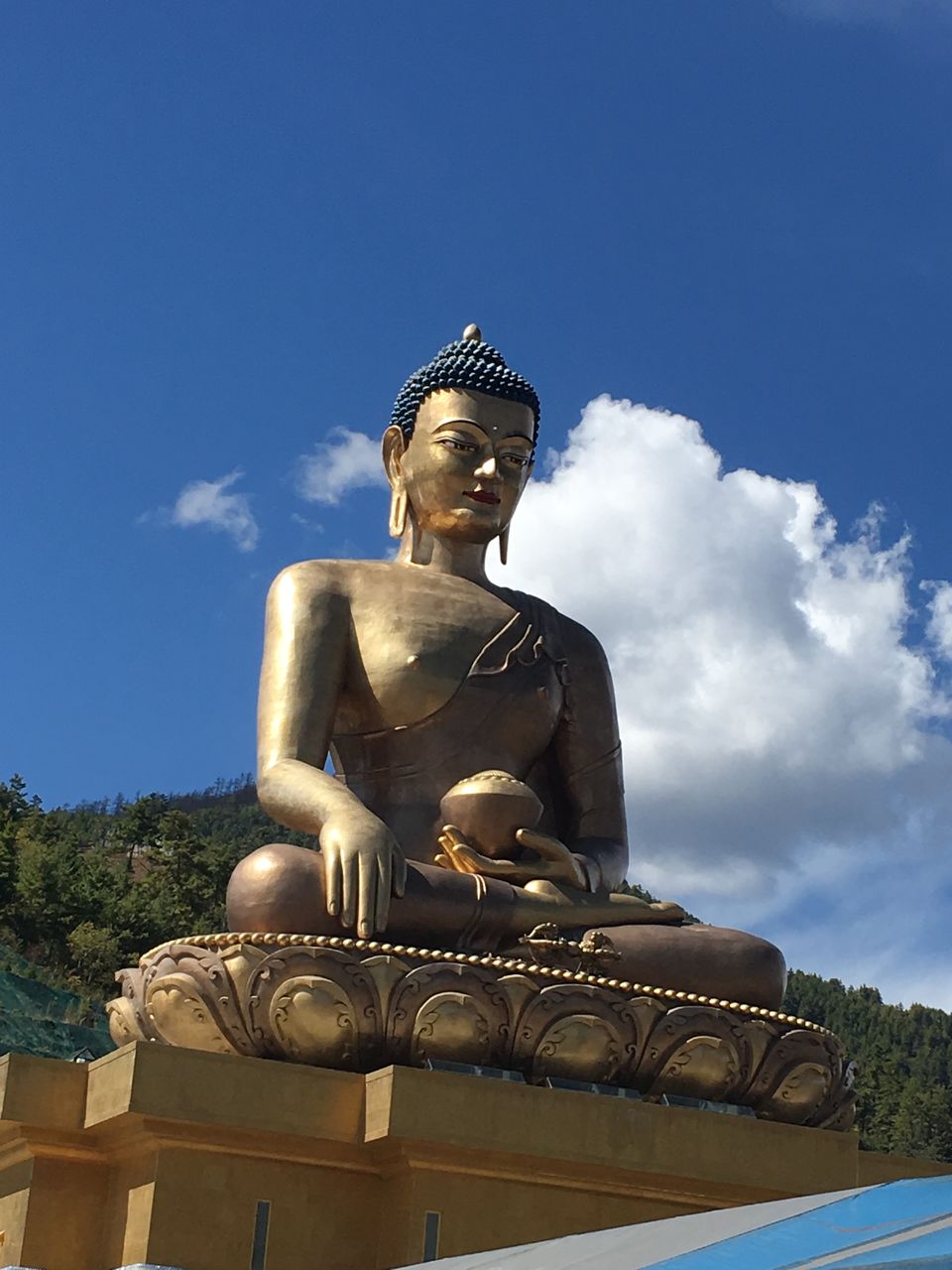 Vishnu took us to an authentic Bhutanese restaurant as I desperately wanted to taste Bhutanese cuisine. We took Ema datshi (Chilli in cheese based gravy), Shikam Paa (Roasted pork), red rice, cheese fry, & a few other Bhutanese delights. Though all their recipes are really very spicy, still at that temperature, I felt they were the best things to have. After a heavy lunch we were off to our final destination for that day, which was the Centennial Park, surrounded by mountains & the river Thimpu Chuu. The scenery there reminded me of my old school drawing books.
We were off to Paro after the Thimphu sightseeing, as our next two days will be spent there. The road from Thimphu to Paro had breath-taking views of barren mountains all around. As we were heading towards Paro valley, we figured out that here unlike Thimphu the mountain ranges were at a distance, there was this river which was flowing amidst the paddy fields & Paro definitely was more close to nature, less commercialized & totally rustic.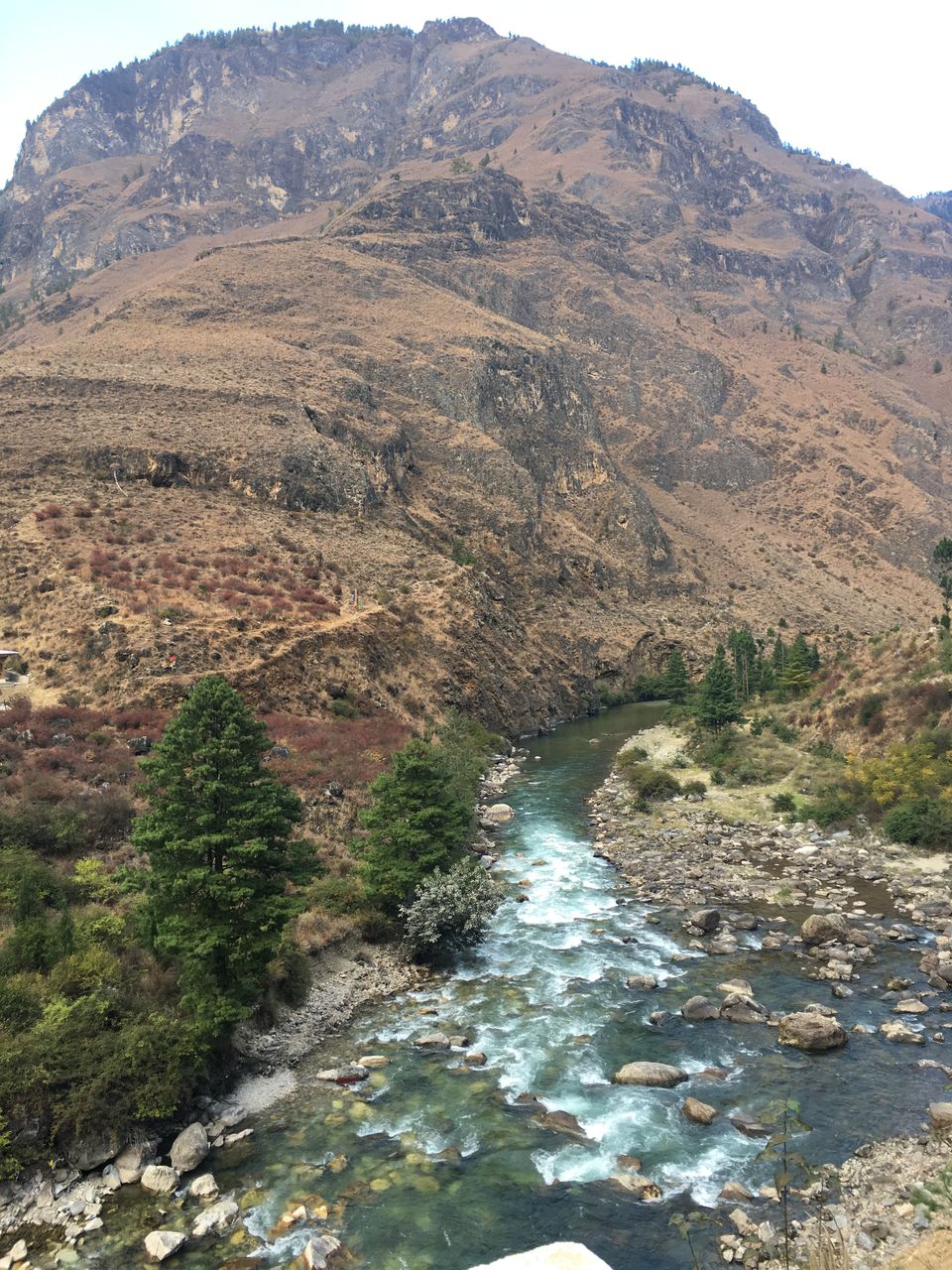 At around 16:00 hrs, we checked into the hotel Tashi Lhading. My room had a living space & a very spacious bed room. As I opened the window, there was this paddy field which ended to a range of mountains & all the snow-capped mountain peaks were distinctly visible. It was an absolute bliss to watch the sunset & the changing colours of the snow-capped mountains.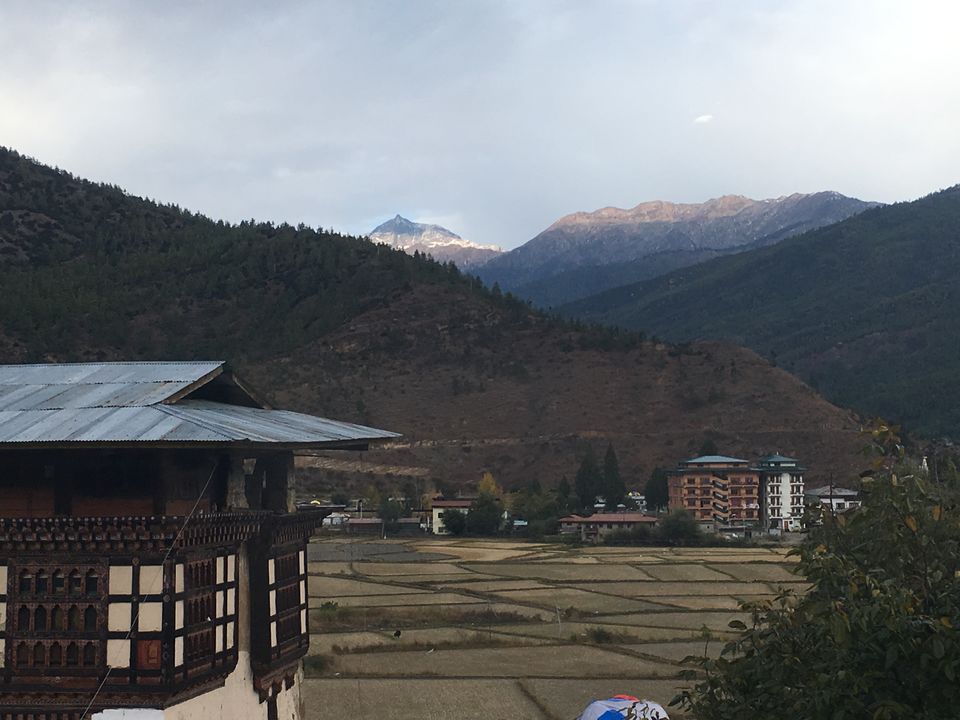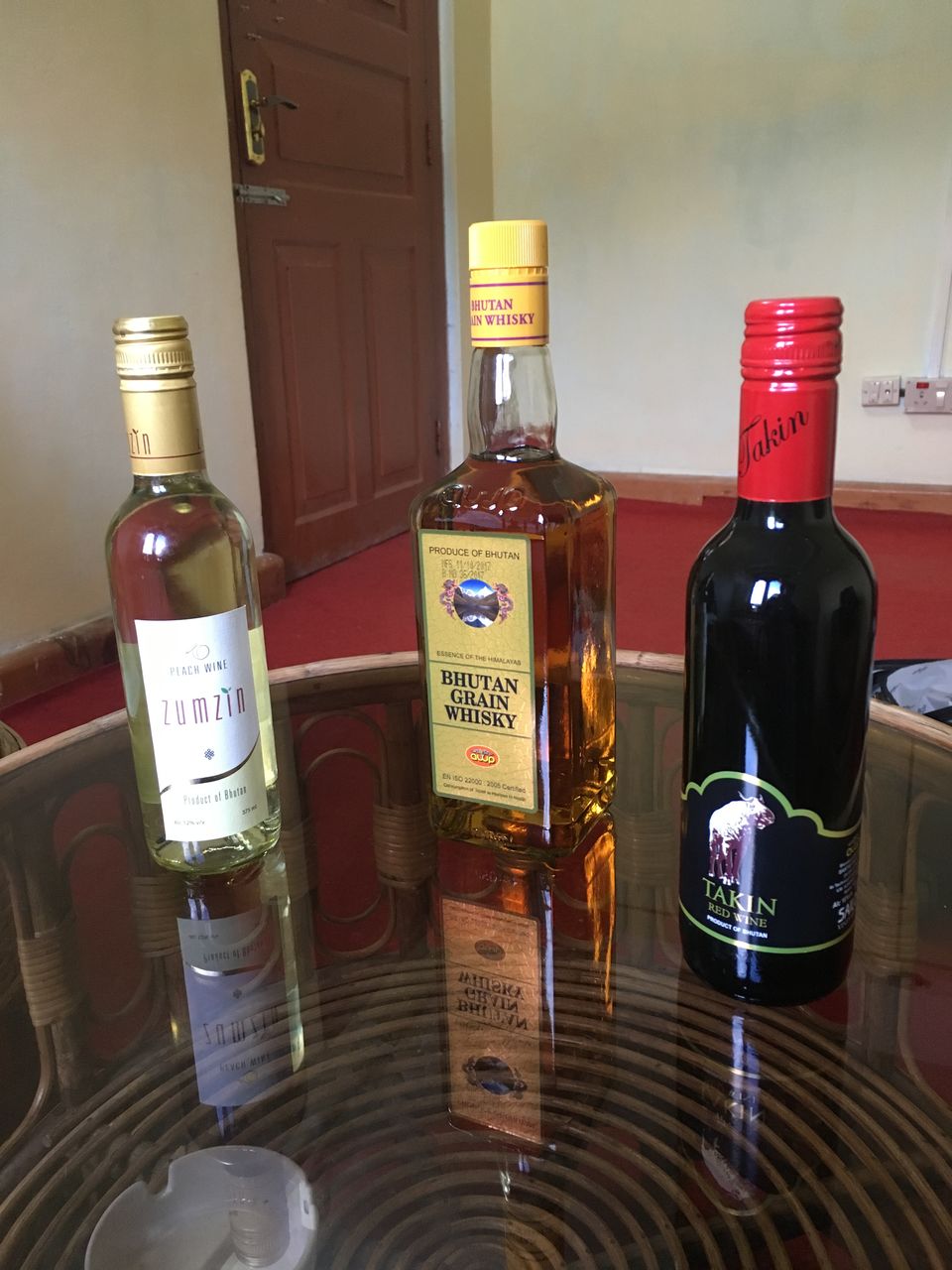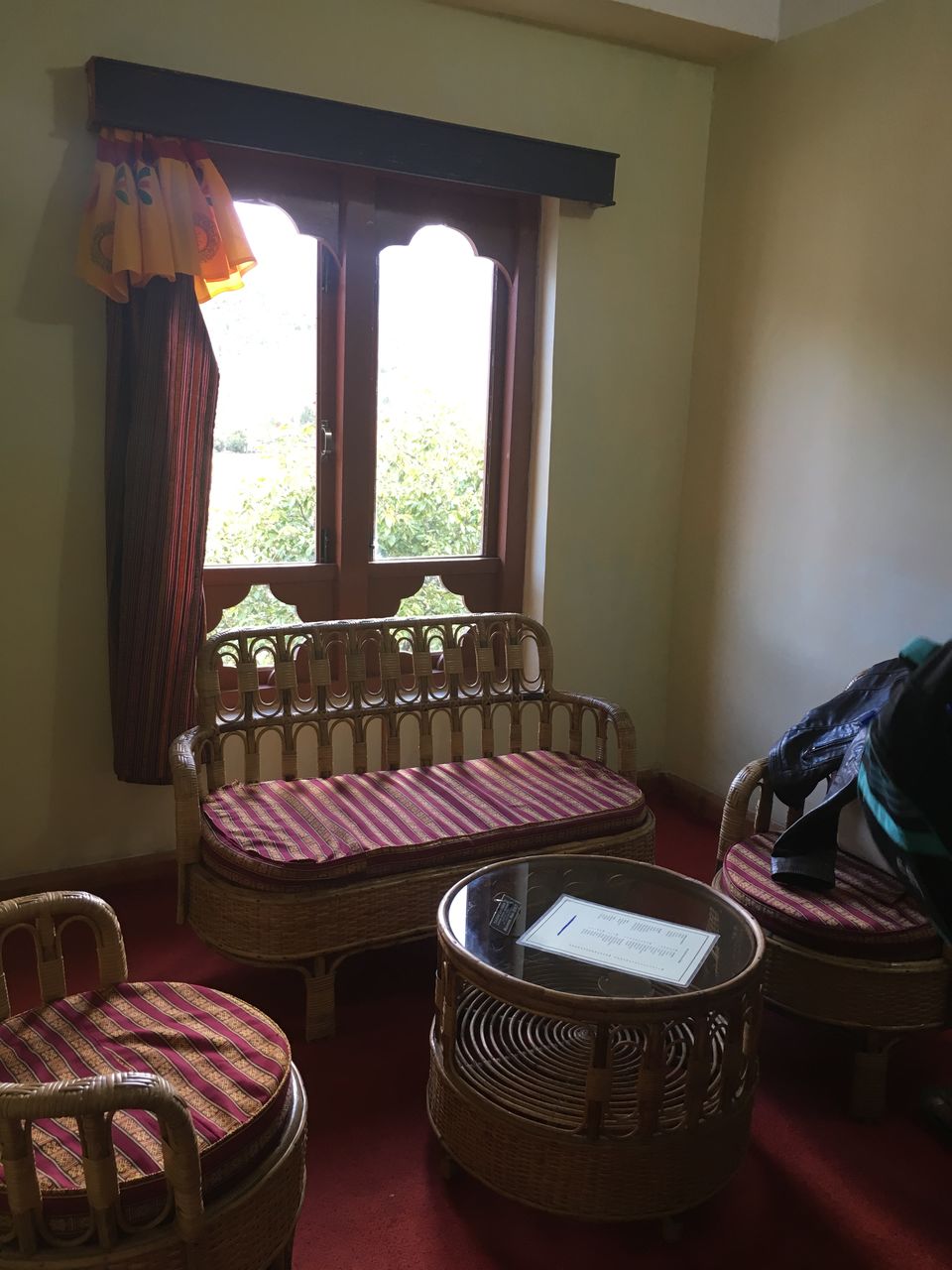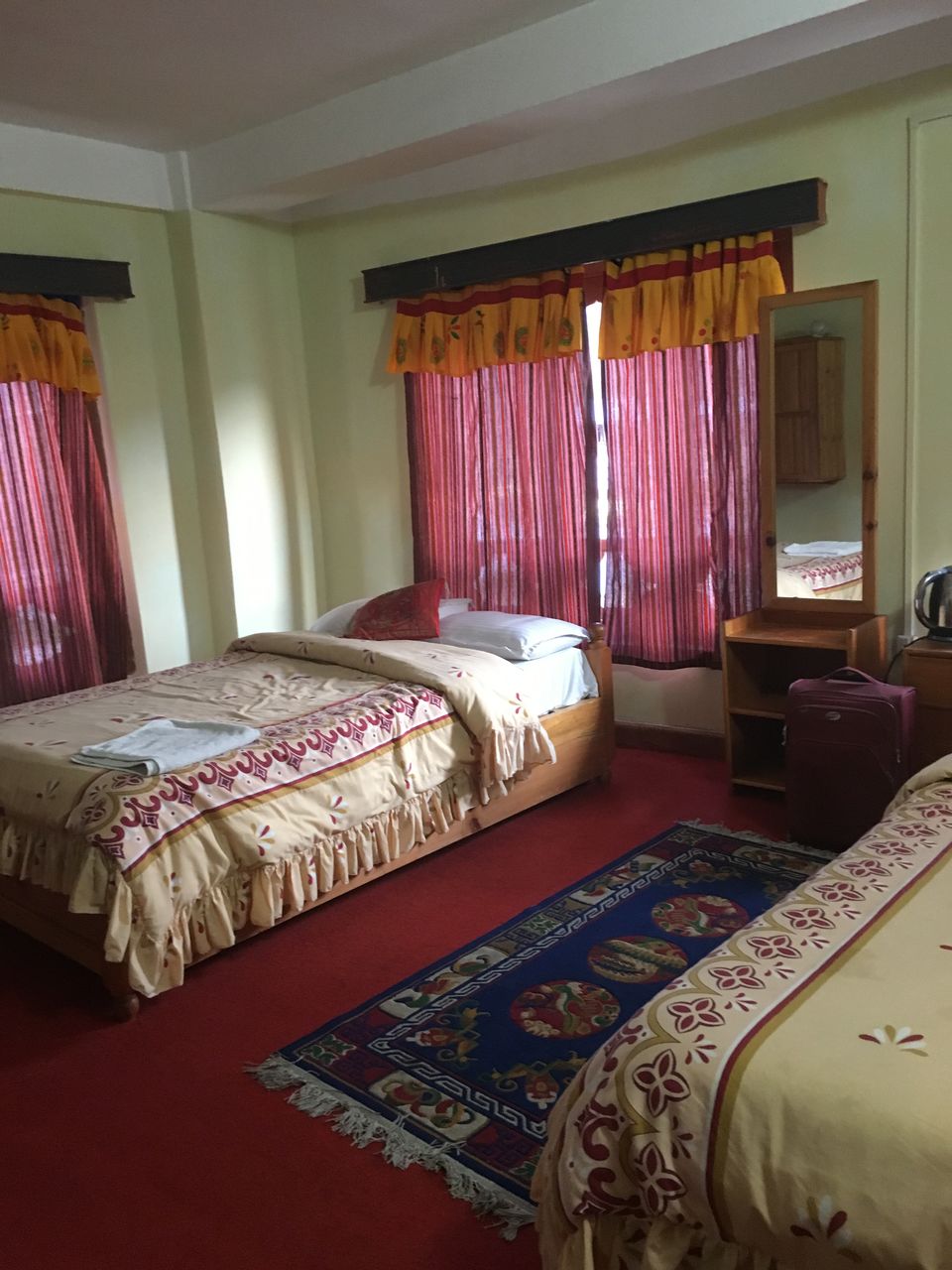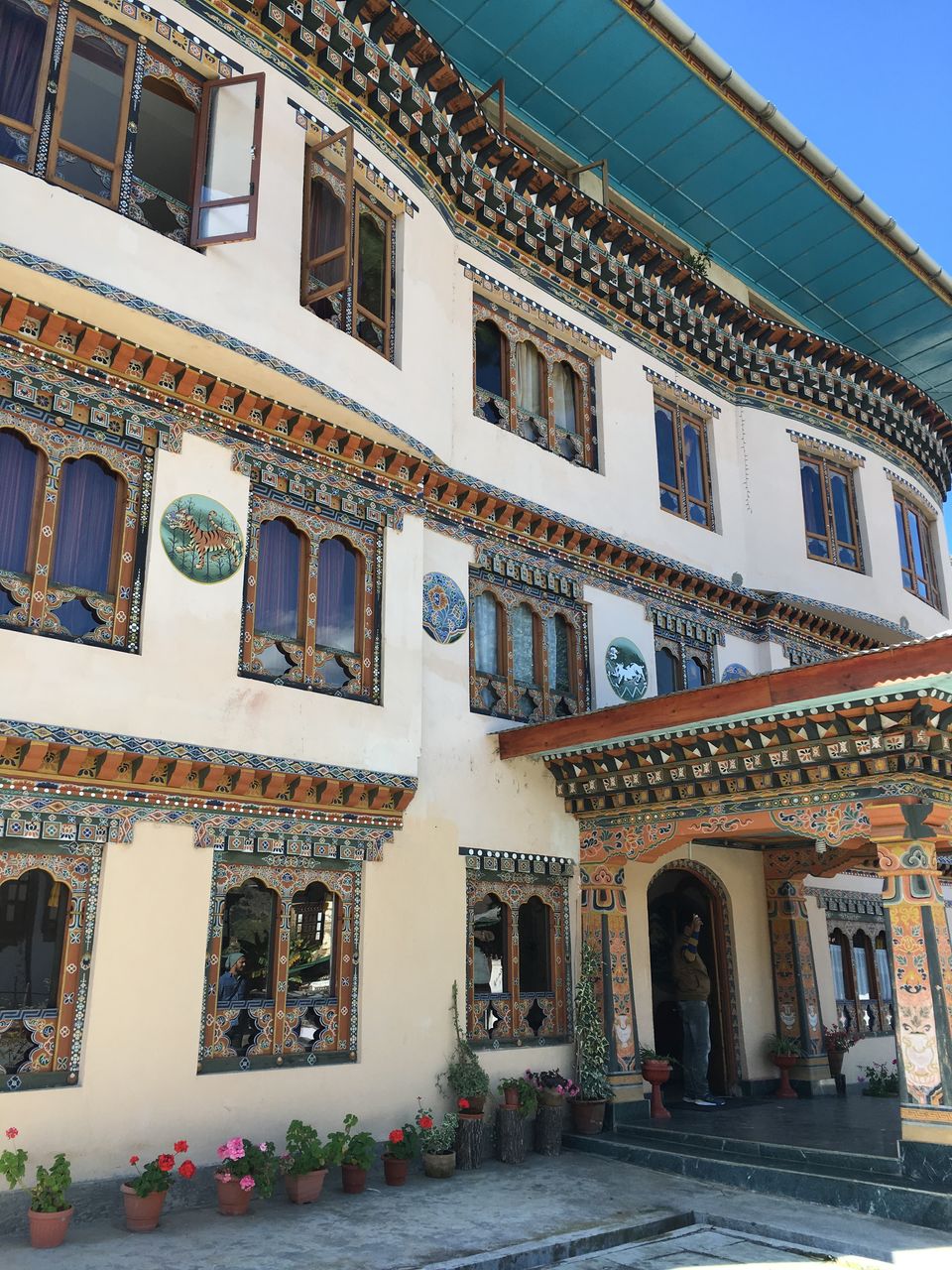 Day 4, Nov 4th, 2017: I was bucked up today for the most awaited part of the trip. Yes! It was time for the Taktsang trail. I was geared up with my trek shoes. Vishnu picked us up at 9:30 am from the hotel. We had eggs & butter tea for breakfast, before we started.
At the entrance, there were handicrafts & beautiful antiques lined up in street shops. We decided we would check on that later, as we were already running late. We opted to hike to the Tiger's Nest monastery but there is also option of ponies to port you there if one is not a trekking enthusiast. The trail was carved out in not much complicated way. There were steeper short cuts which at some parts we had taken. The steep climb was the only difficult part in the trail. We saw many elderly people hiking happily. You just need to be a little fit. They had many stupas built on the way which gave a very divine feeling. There was a cafeteria to relax in mid-way, but we preferred not to have a pit stop while ascending. As we marched, the mysterious tiger's nest came closer & closer. It took us roughly 2.5 hours to ascend in spite of taking multiple breaks. Descending was much easy & took 1.5 hours to reach the base & we were hardly out of breath. At the base, I did some street shopping. The prices out there were far more realistic & negotiable than the showrooms of the main cities. Before returning, I looked back at the enigmatic Tiger's nest and felt complete & contented after accomplishing the 10k trek.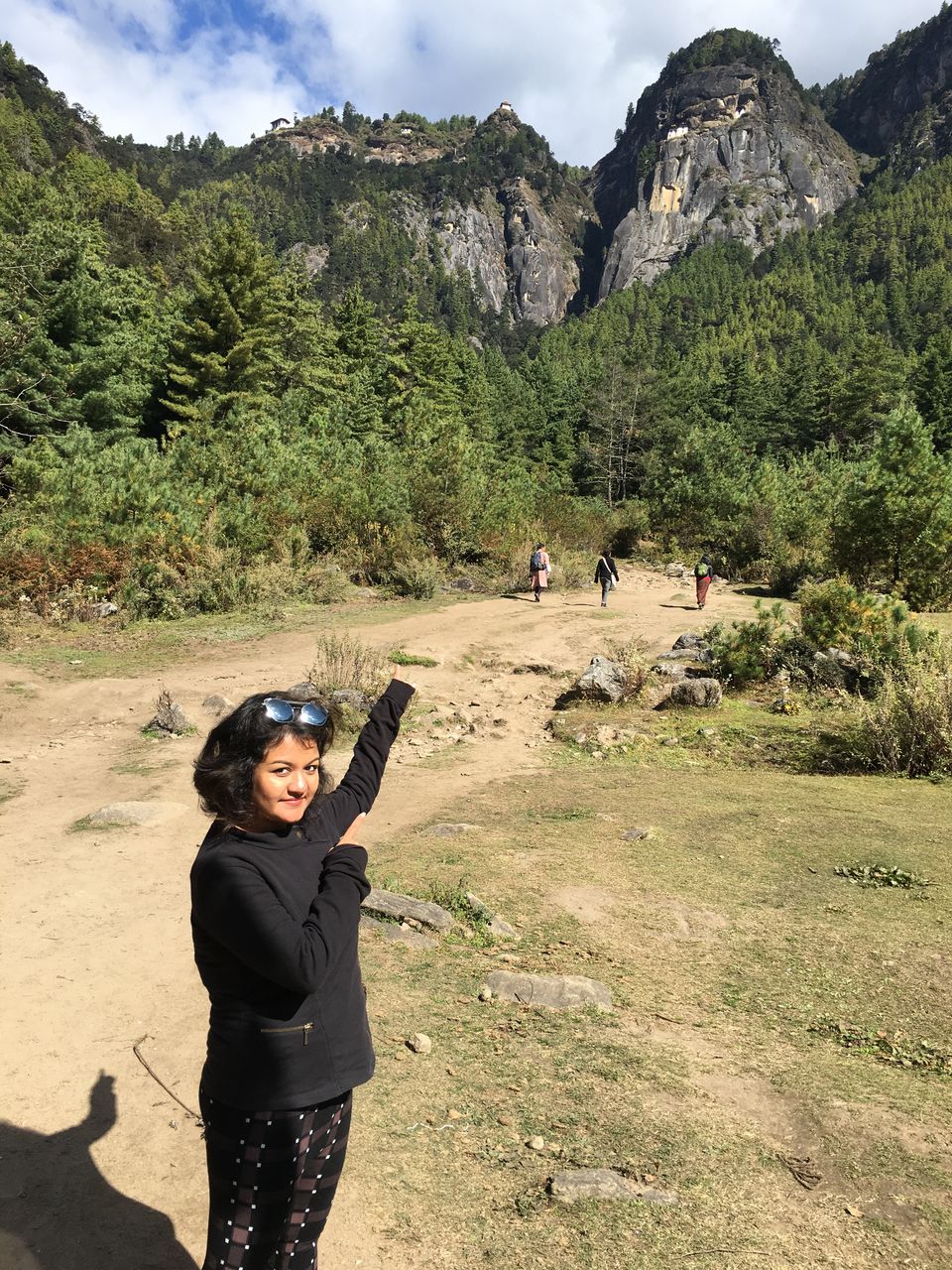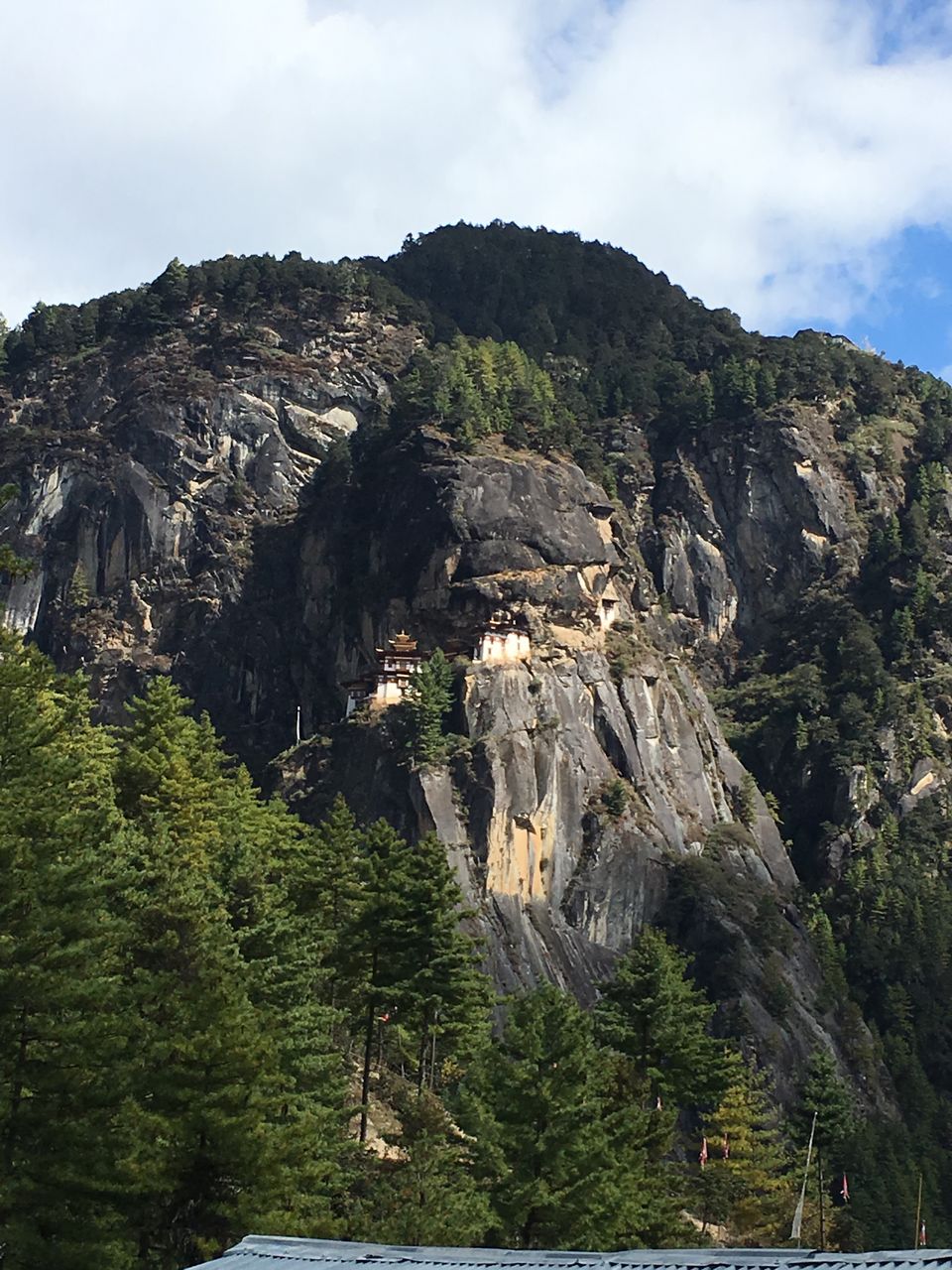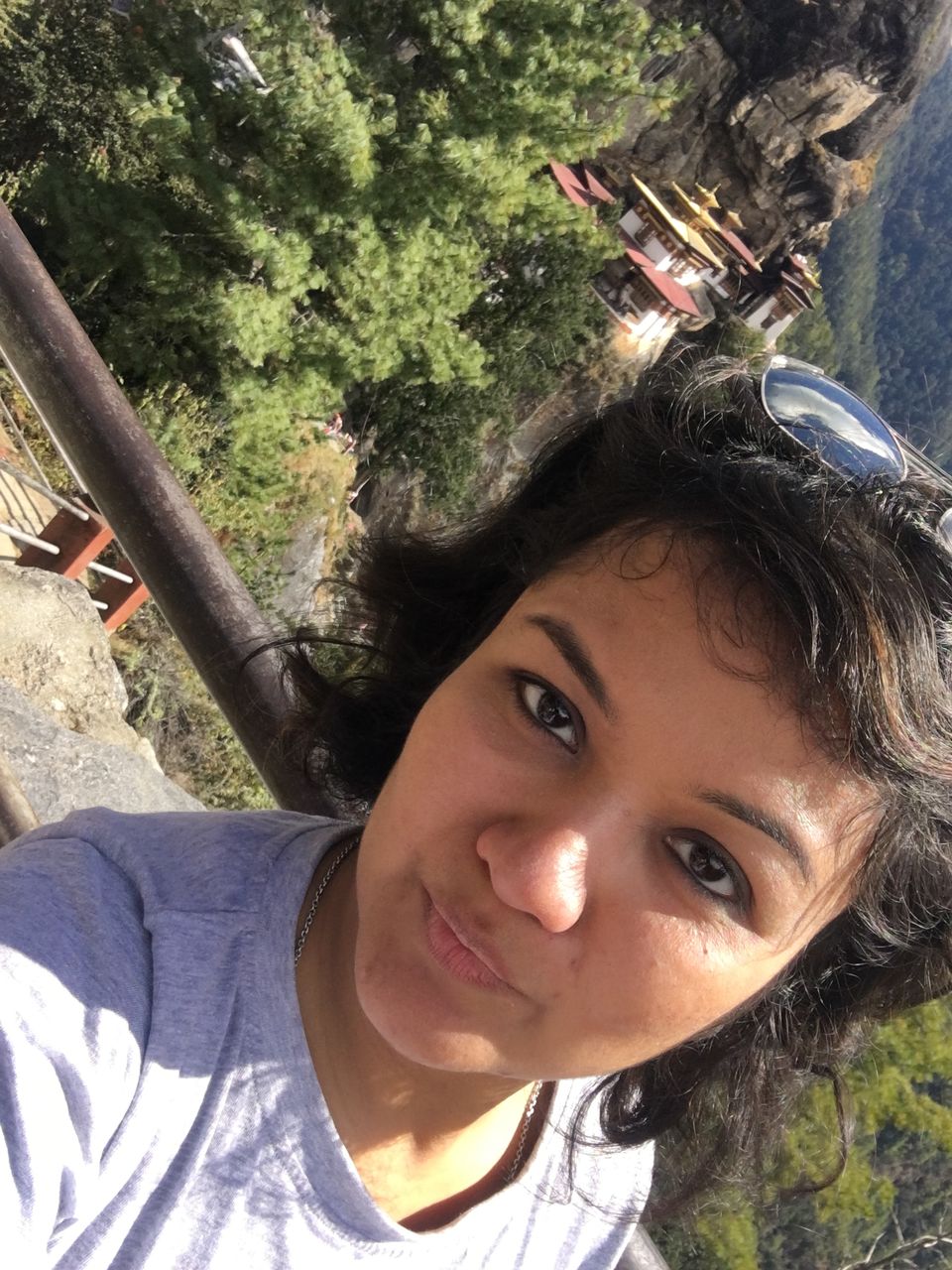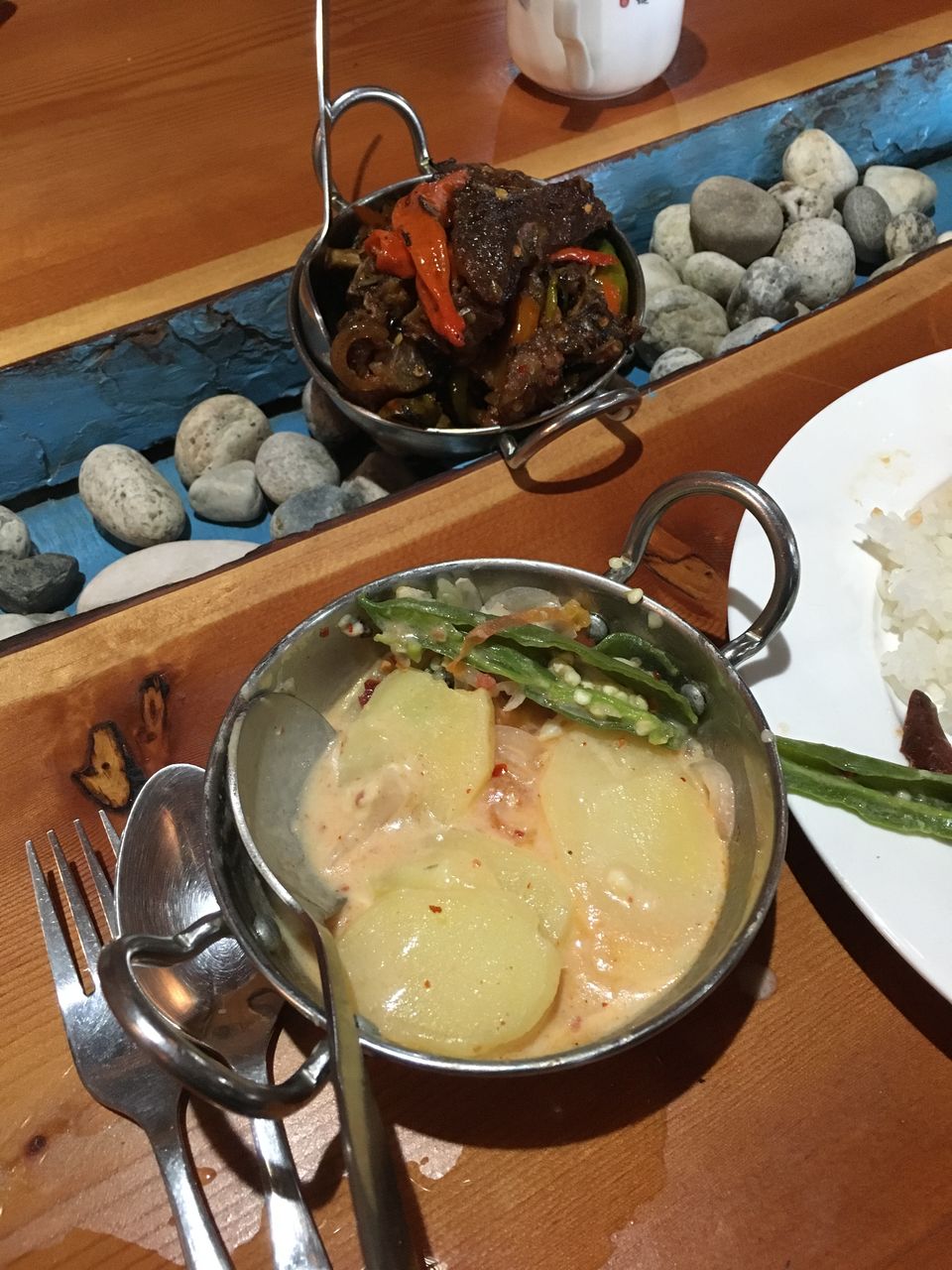 Day 5, Nov 5th, 2017: We got a wakeup call from Vishnu at 09:00 hrs. We headed to see the very famous Rinpung Dzong of Paro, which had a similar landscape like the Dzong in Thimphu. The river Paro Chuu which was streaming beside the Dzong, was adding panache to its beauty. Our next destination was the Chele La Pass which is at an elevation of 13000 feet. The road to Chele la pass was unique in every way. There were shades of spring & autumn trees all around; snow-capped landscape was getting crystal clear with each passing hair pin bend. Withered dandelions, wild flowers, lazy Yaks, everything your eyes long to see in a road trip.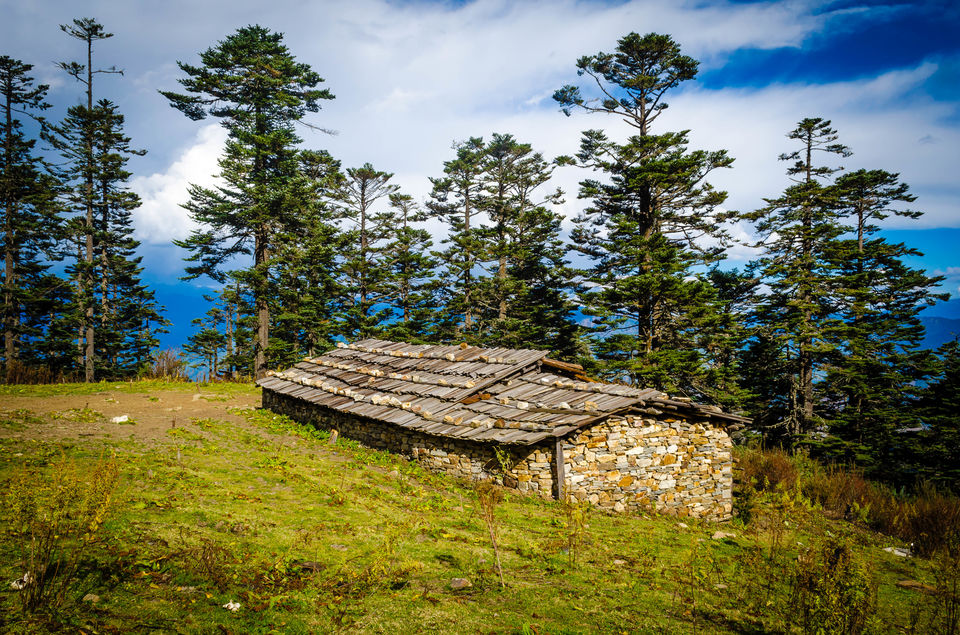 We reached Chele La pass after around 2 hours of drive. The place was draped with Buddhist prayer flags all around. The peace felt at that place was totally sublime. The chants & chimes of prayers along the view & aura of the place will ostensibly take you to heaven. We enjoyed the cold breeze of Chele la pass with some hot porridge & tea, and strolled to see the charismatic Haa valley which was a treat for the eyes to witness.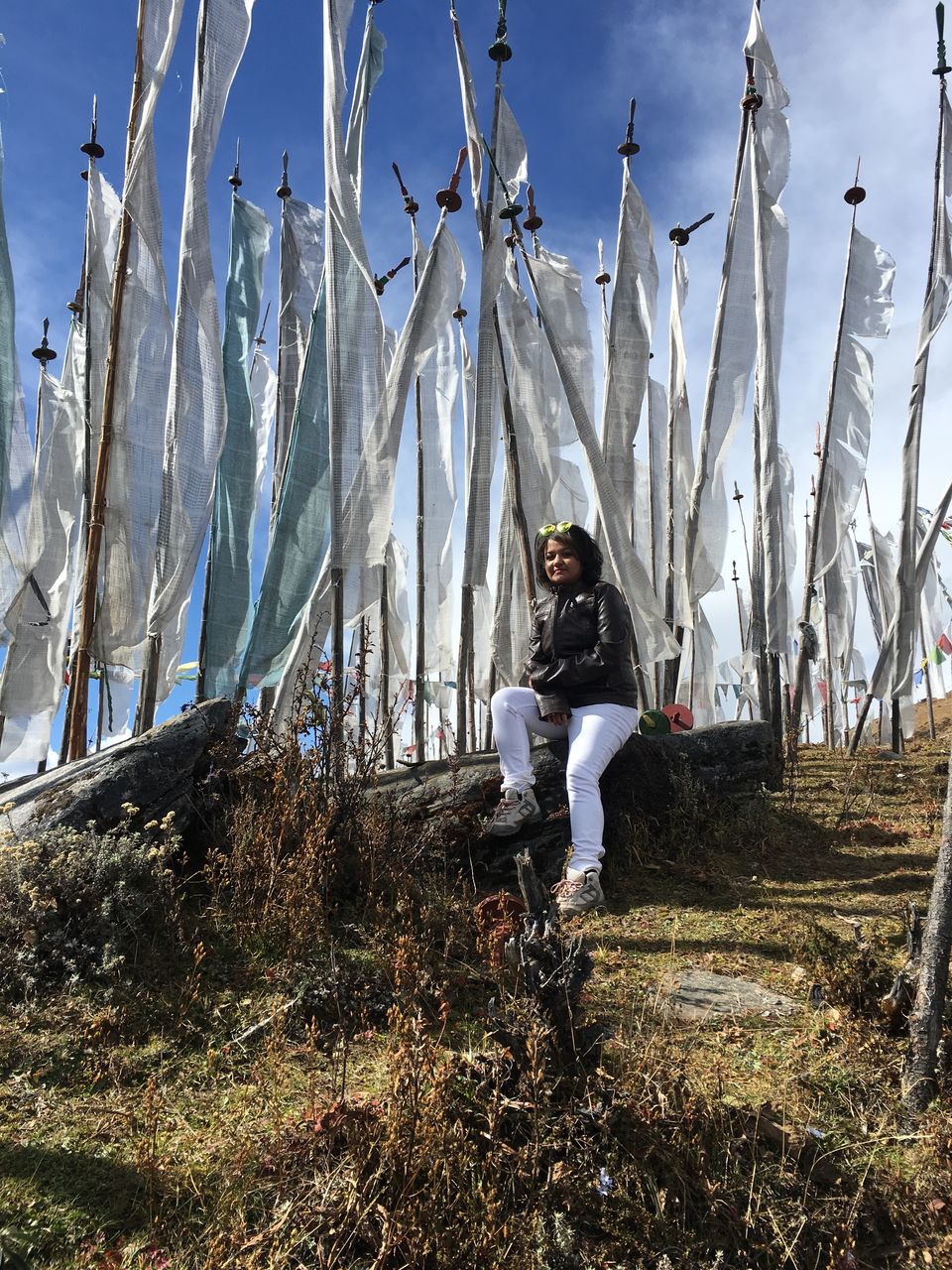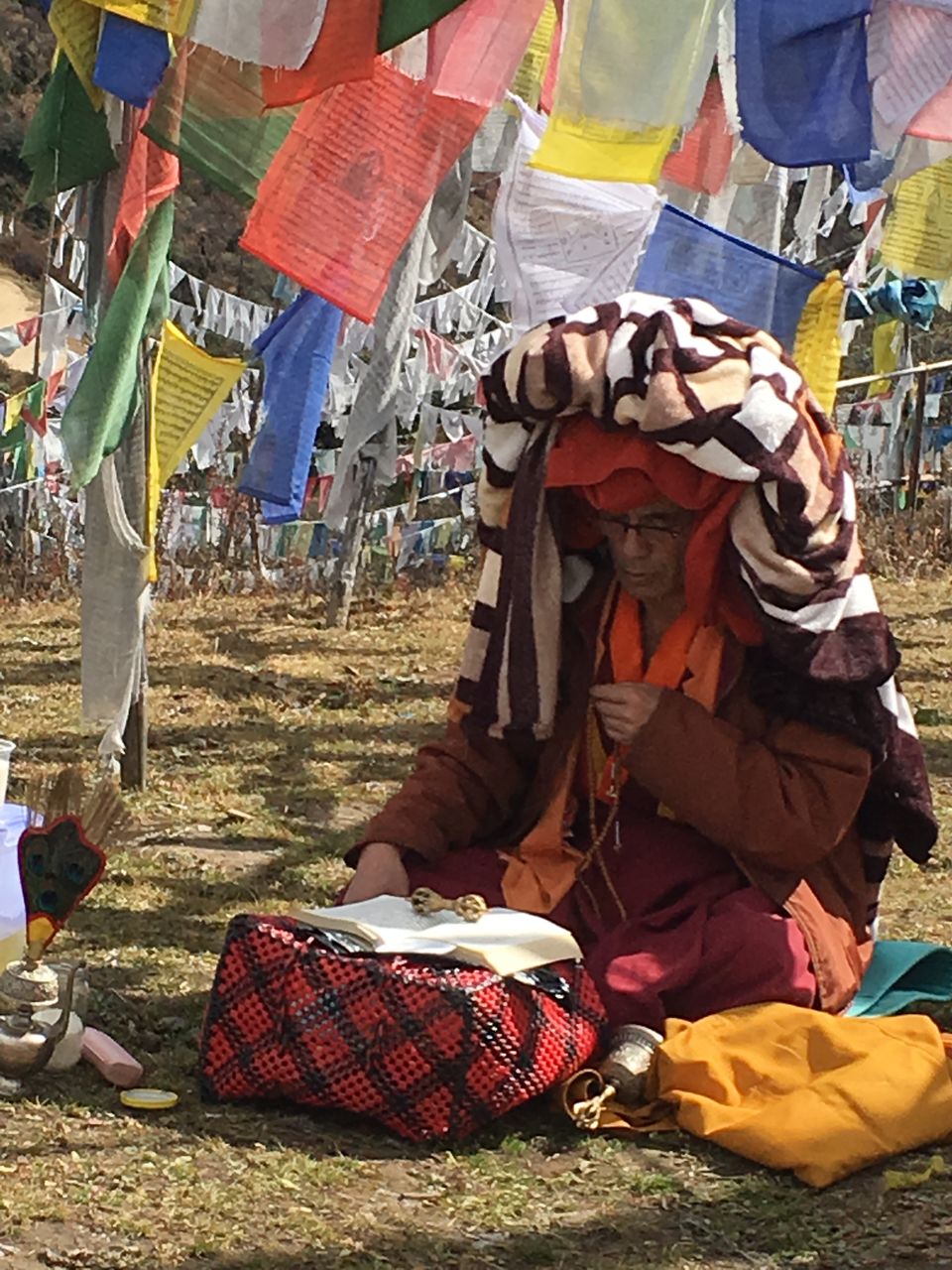 This time while returning, we headed back to Thimphu. We checked in in the same hotel Norkel Chopyel, but I ensured that I get a room with the clock tower view this time.
I was pumped up now for some night life in Bhutan. I had figured out that Mojo Park & Viva City were the two most happening party places in Thimphu. We headed straight to Mojo Park as it was at a walkable distance from our hotel. The live music out there was out of the world. From Bob Marley to Ed Sheeran, the lead vocalist nailed every song. We had brewed beer of Bhutan, Amber ale & Dragon Stout which were ambrosial.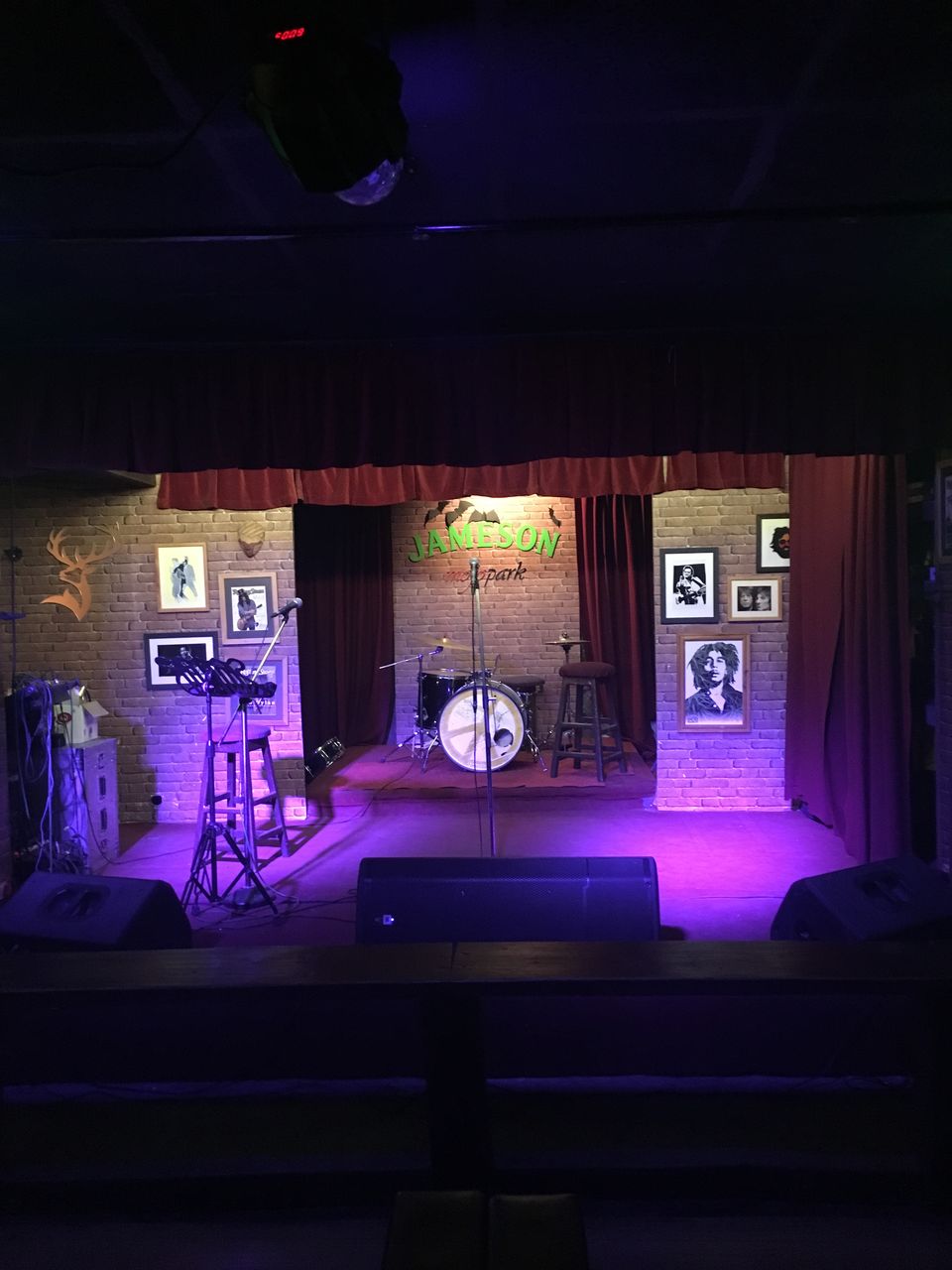 Day 6, Nov 6th, 2017: After the last night's party, I needed a coffee badly, so we went to the ambient café, which is rated as one of the best places for breakfast in Thimphu. Vishnu got our road permits done for Punakha & picked us up from hotel at 10:30 hrs.
On the way to Punakha, we halted at Dochula pass, where there were 108 Chortens built in memory of Bhutanese soldiers. The pass was at an elevation of 10,200 feet & we could witness a spectacular panoramic view of the snow-capped Himalayan range.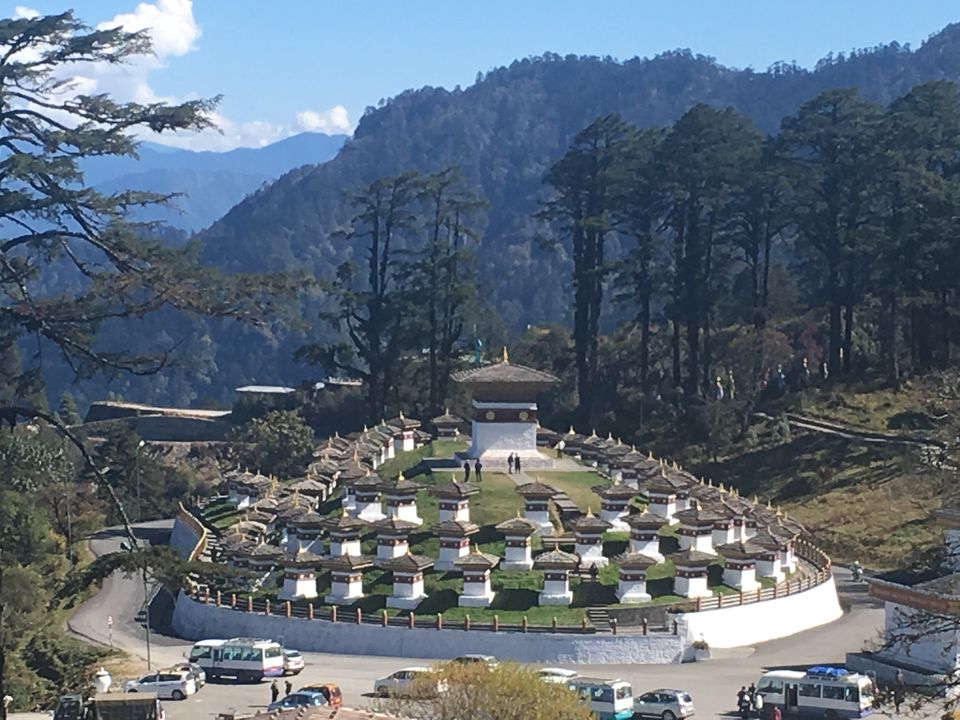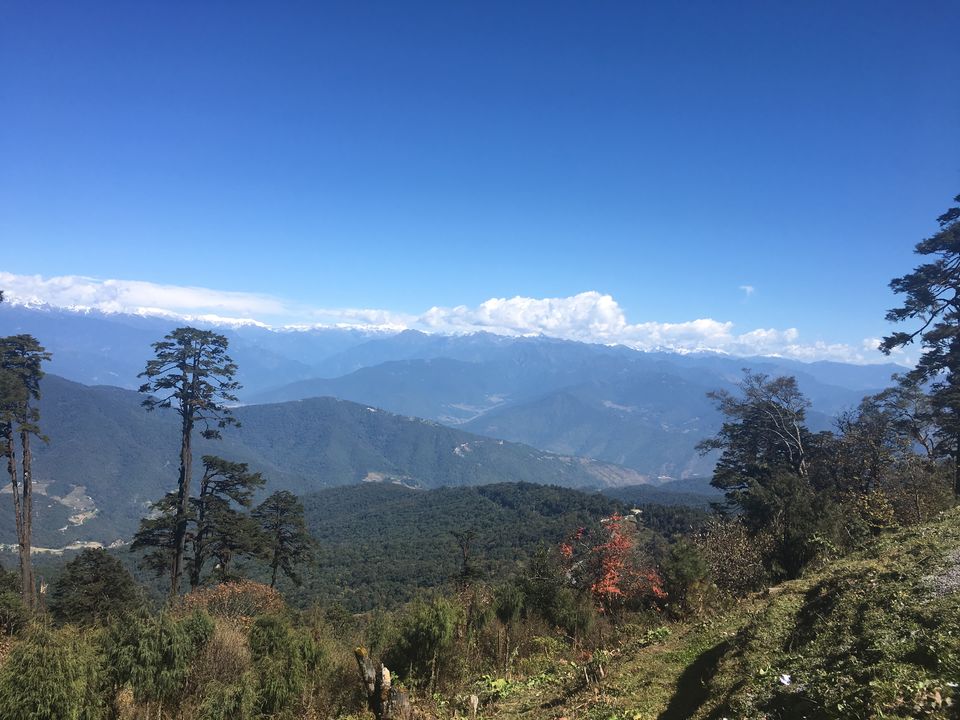 After around 1.5 hrs of drive, we reached the Punakha valley. The climate at Punakha was warmer compared to Thimphu & Paro. Punakha again was a very raw valley surrounded by lush green mountains & a surreal Punatsangchu river. We went to the hanging bridge, did some fun by shaking & dancing in that scary bridge. The view on either sides of the bridge was ethereal. Next we headed to see the famous Punakha Dzong which was located at the confluence of two rivers (male & female) as described by Vishnu. The golden apex of the Dzong was glittering in sunshine. The conjunction of the rivers which was shining in sea green was adding to the beauty of it. We sat on the bank of the river in order to capture this pristine beauty of the place in our minds, for some more time.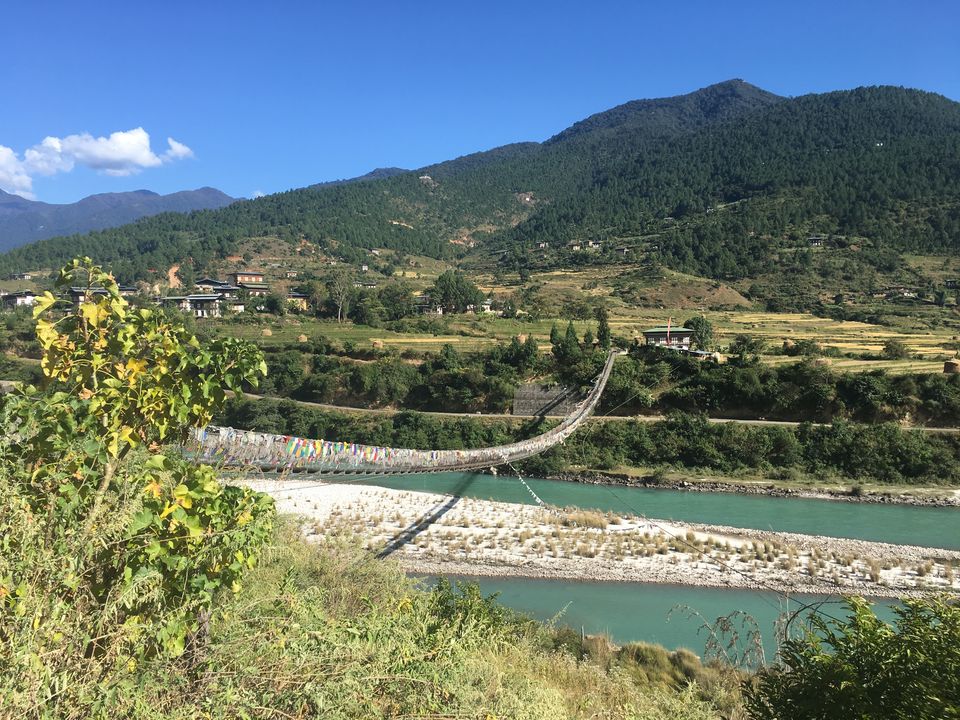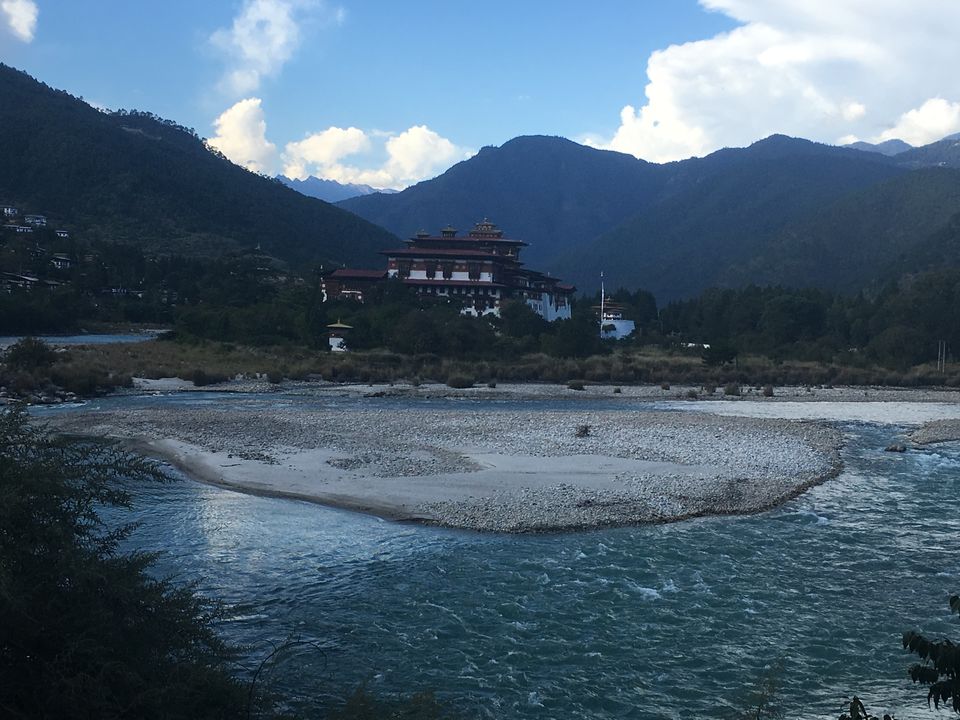 While driving back to Thimphu, we visited the Temple of Fertility, Chimi Lhakhang. The route to reach the temple was by walk which took around 30 minutes from the main road & it was quite interesting as we had to cross villages, paddy fields & do some hiking towards the end to reach the destination.
We reached Thimphu at around 18:30 hrs, expressed our gratitude to Vishnu for such hassle free & memorable trip & said goodbye to him.
As it was the last night in Bhutan, we decided to hang around in the streets of Thimphu for some time, do some shopping & have a good supper. We opted to go to Zombala 2 for dinner because that was quite a hyped up restaurant in Thimphu. We ordered some fried rice, chilli garlic noodles, Zombala special Pork & pork ribs along with Takin & Zumzin wine & I must say this was evidently the best eatery place in Bhutan. Everything was mouth melting & the quantity they gave in that price was a sure surprise.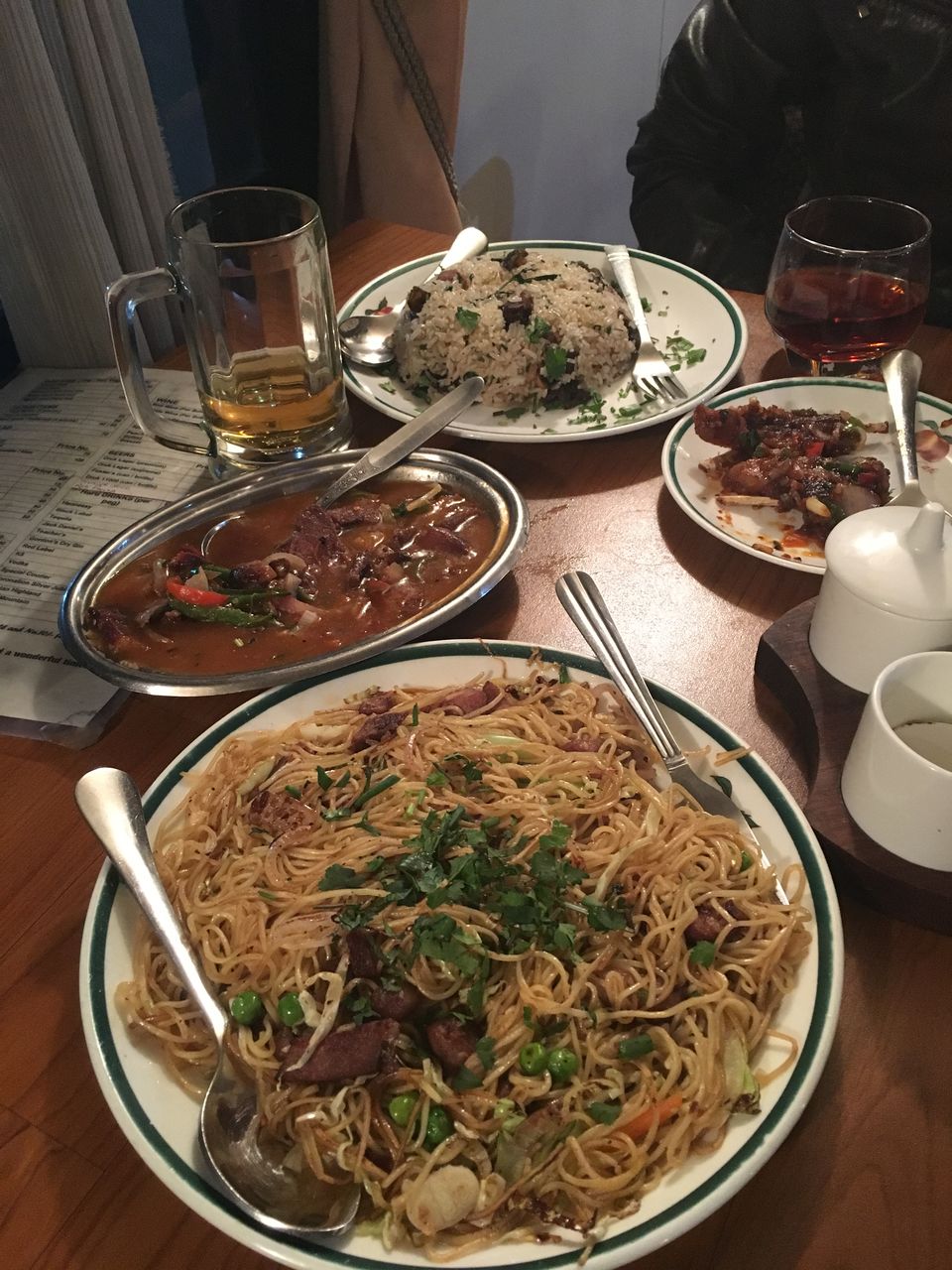 Day 7, Nov 7th, 2017: This time Tashi came himself to pick us up at 06:00 hrs to drop us to the bus station. I could not thank him enough for the wonderful stay & trip management he coordinated. We bid farewell to Thimphu & Tashi with loads of memories to cherish before we started off our return journey.
I was eager to walk in to my country & have some Bengali food for lunch. We had "Mach Bhaat" at Jaigaon & my appetite was completely satisfied to finally have ghar ka khaana after a long time. This time as we had a lot of time in hand, we chose to go in an auto to Hasimara station instead of a cab which costed us around 200 bucks. Our train was bang on time & we boarded for Kolkata. After dinner, as I was trying to sleep, Bhutan & its beauty kept on hovering in my mind & I knew that this hangover had to be there for few days.
Day 8, Nov 8th, 2017: Reached Sealdah station at around 08:30 hrs & took off to Bangalore in the same day.
I was extremely contended to finally make my Bhutan trip successful after so many years of yearning & it was totally
Frequent searches leading to this page:-
Bhutan trekking package, Bhutan tourism package tours, Bhutan trip itinerary,best travel agents in Bhutan, Bhutan luxury tour, Bhutan luxury travel packages