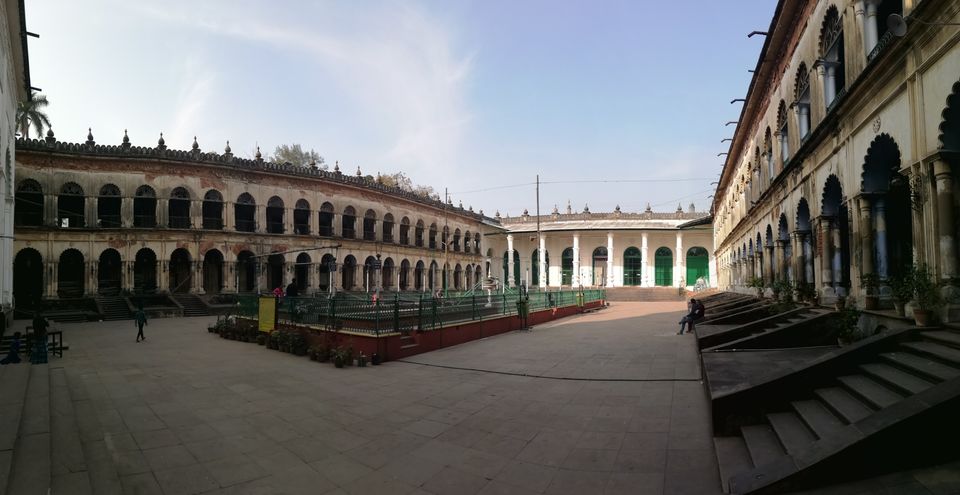 Hooghly District is in the North-Western vicinity of the City of Kolkata. Kamarpukur, the birthplace of Sri Ramakrishna, or Itachuna Rajbari are some of the day more popular tourist places of the district. But there's a circuit of closely situated travel attractions around the district HQ of Chinsurah which can be covered fully in a single day.
The area of Chandannagore was a French colony so many of the buildings have french style of architecture.
Hooghly Imambara is one of the finer places here. This 200-year old Islam mosque has a clock tower with a gigantic clock. Three bells (largest one weighing around 3,200 kgs) operate the clock. There's a sun dial also where the timing can be interpreted by the shadow casted upon it against the sunlight. Situated just besides the Hooghly river, a brilliant panoramic view of the river including the Jubilee Bridge can be seen from the top of the tower clock.
Entry fee for Imambara- 10 rupees
Bandel Church, Hanseshwari Temple are nearby tourist spots..
The second place which I'm highlighting is Chandannagar Strand. Situated on the right bank of Hooghly river the strand road is a conglomeration of stalls, food trucks, people strolling through the carved sidewalk. There's a chapel nearby. The area is very festive even in a midweek afternoon. There's a French Language library-cum-Museum 'Institut de Chandannagore' just opposite to the strand gate. There's a house where the ground floor is submerged in Hooghly river called 'Patal Bari' (underground House). Rabindranath Tagore lived in that house for some time.
How to reach: Chandannagar Station in Howrah Bandel main line. From there board an auto.