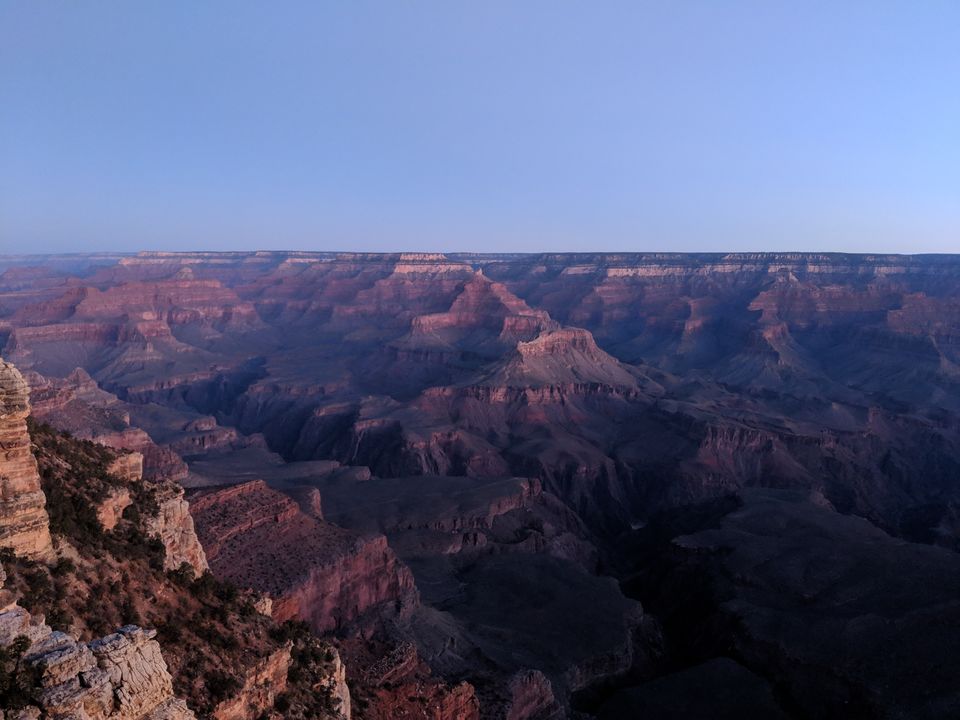 Ever since I moved to the US, I've taken it upon myself to travel more and experience more new places. The different seasons adding new charm to known places and bringing more adventure to newer ones never ceases to fascinate me. Growing up in Chennai, I've only experienced the hottest of weathers except for those gloomy, gray-skied monsoon months. And for this boredom with the heat, I kept postponing my trip to Arizona - home to the Grand Canyon.
Away from the gray Seattle skies and Olympic vistas, I flew to Phoenix, Arizona. While many Grand Canyon visitors stay in hotels within the park itself or choose the capital city of Flagstaff, I chose to book an Airbnb in Williams. This quaint town on the historic Route 66 offers the unblemished charm of a small town with its neon signs, rustic stores, handmade souvenirs, and wonderful food. Now, over to my guide to the Grand Canyon.
Where to stay
Airbnb: There are quite a few beautiful Airbnbs in Williams and Flagstaff. The one I stayed at was a 30 minute drive from Williams and a 40 minute drive to the Grand Canyon. Located in a remote location away from all the lights and buzz of traffic, it was a wonderful, well-maintained house with all the necessary facilities. It had incredible sunset views and one could just keep staring at the stars at night by merely stepping out on to the driveway. And the hosts were warm and friendly, from guiding me to the house right to mailing the power bank I left behind and ensuring I received it, they made the experience all the more memorable!
The Grand Canyon National Park: The park also offers a wide range of accommodation options right in the lap of nature with extraordinary views of the natural wonder and the Colorado river. Surrounded by nature, with the Canyon just a walk away, it's hard not to feel pampered with these options.
The Grand Canyon Railway Hotel: For a more luxurious stay on Route 66 pick the Grand Canyon Railway Hotel. Located right next door to the train depot and downtown Williams, this combination of the rustic Williams' town experience with the classy hotel is sure to be a hit!
Where to eat
Station 66 Italian Bistro: They have a good selection of food and the service is fast and friendly. Although there were very few vegetarian items and no vegan items, they're open to making it vegetarian but unfortunately not vegan. The specialty wood fired pizza was good and really fresh too; also good were the mac n cheese, bruschetta, and garlic bread. They also have a wide selection of wine and beer too. There's also a brewery next door for any enthusiasts to sip and shop.
Grand Depot Cafe: Located in the Grand Canyon Railway Hotel, this cafe offers a buffet service for all three meals opening at 6.30am for breakfast and closing at 9pm for dinner. With decor making it feel like the inside of a train, this cafe offers a good selection for vegetarians too. Although I didn't get to eat there during my visit, I'll definitely give this cozy cafe a try next time.
Arizona Room: With wonderful views of the Grand Canyon, located in the Bright Angel Lodge very close to Bright Angel trail. There's usually a wait at this place given its good food and even better location. Here again there are only a few vegetarian options but the ones available are worth going back for. Service is friendly and fast. And never forget to try out their desserts!
Things to do
Walk around downtown Williams: This is something I always enjoy doing - walking around any city I visit. It gives a good sense of what the people are like, what cafes are popular, and the general feel of the place. This town has a bunch of very pretty boutique stores with handmade earrings, necklaces and other jewelry, home decor pieces, Native American artwork, and other souvenirs.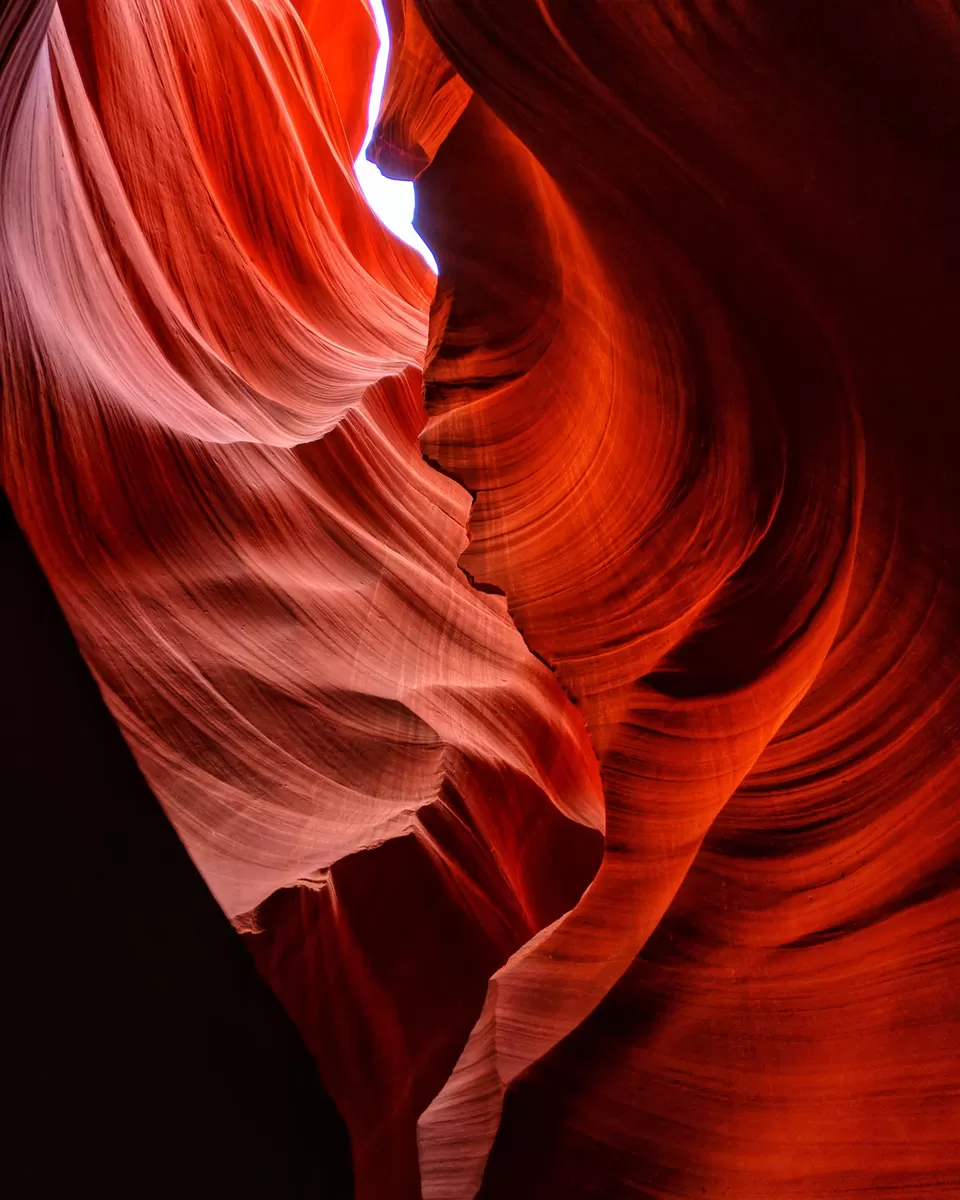 Lower Antelope Canyon: The Lower Antelope Canyon is one of the most scenic spots I've ever visited. Located in Arizona-Utah border, it is one of the two slot canyon sections (the other being the Upper Antelope Canyon). Also referred to as The Crack, this place is accessible by a Navajo guided tour only. The formations created from water running through rocks is a sight to behold and keep in memories forever. This is definitely a must on everyone's Arizona or Utah visit guide. I booked my tour via Ken's Tours and our guide was very informative and friendly throughout the time we spent in there, taking pictures of everyone and helping everyone set up their phones and cameras for the best possible photos.
Horseshoe Bend: Located just a 10 minute drive from Lower Antelope Canyon is this picturesque horseshoe shaped meander formed by the 1,450 mile long Colorado River entering northern Arizona before moving on into the Grand Canyon. The lookout is just a 20 minute walk from the parking but be prepared to carry some water as it gets quite hot in this spot.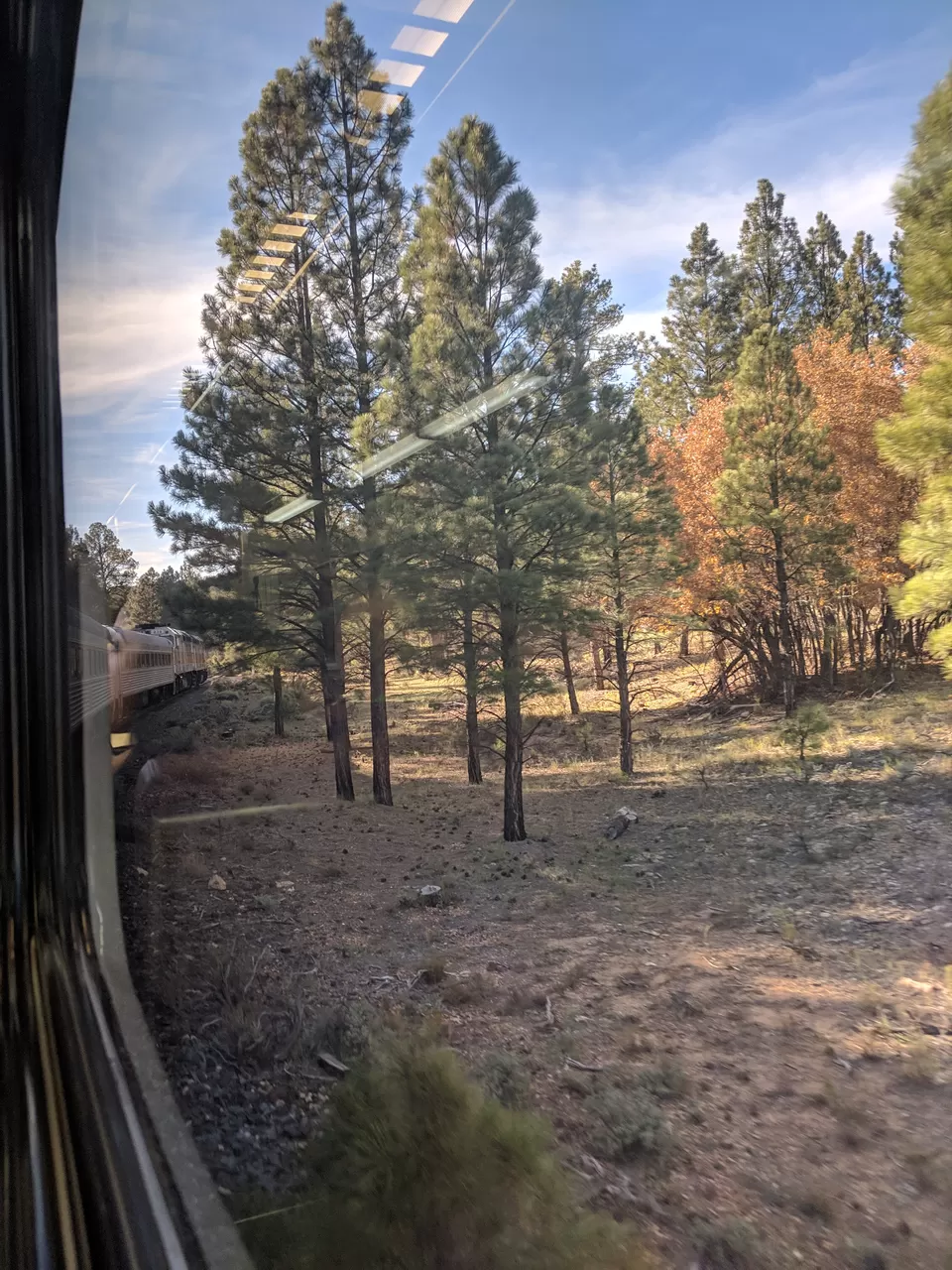 Train ride to Grand Canyon: Riding the train has always been a fascination since childhood and I never pass up any opportunity to take the train. So when I learned there was a train that went from Williams to Grand Canyon, I couldn't resist but book my tickets. Walking along the Rim Trail stopping to take in the magnificence of this natural wonder, breathing in the air filled with the smell of tress and high altitude, cursing the heat only to be calmed down by fresh cold breeze is definitely an experience of a lifetime.
The train departs Williams at 9.30 am and after chugging along for two hours over desert lands, it reached the Grand Canyon at 11.45 am; the return train starts at 3.30 pm and reaches Williams at 5.45 pm.
Sunrise and sunset at Grand Canyon: (Long narrative alert) After a day at the Canyon through train wasn't enough, I decided to visit the Grand Canyon again to see it in all its glory from dawn till dusk and then some more. I reached Mather Point at 5.30 am to ensure a front seat to what was going to be a spectacular show and I was not disappointed. What started out as a peck of light on the highest point of the Grand Canyon went on to illuminate the entire region like a giant torch held up to look for a lost penny within the depths and folds of this beauty.
After warming myself in the first rays of the warm sun, I went to all the lookouts around the South Rim to just look at the Canyon from all possible angles and spots. I sat and read in some of them and ventured a bit down the trail in others. The silence, the slow cool winds blowing noiselessly, tiny birds flying and dancing around with all their might, words on my Kindle making more sense than ever, thoughts getting rid of the fogs bogging them down, this feeling of being an insignificant dust particle in this vast universe demands to be felt.
If sunrise was a spectacle, sunset was waiting to blow my mind and my hat along with it. What started as a hazy, cloudy sky casting shadows on the Colorado River at the lookout near Desert View Watchtower, slowly turned the clouds to an incredibly long brush stroke brightening the blue skies beneath to an even deeper shade of blue. The cold evening winds howling in my ears, rocking me back and forth on the ledge I was on, I watched this show. The show that is up for us every single day if we only choose to see it. The clouds turned a dark gray and the sky with it, as the still veiled sun set on the Canyon horizons only to light the sky on fire making the spectacle so far seem a subtle opening for the dramatic oranges and crimsons to come within seconds of each other. The restless, barking dogs settled as they too took in this vision that ended with the gray clouds becoming tufts of orange and pink. And another day passed by.

I drove back to Mather Point witnessing the still pinkish clouds and horizon with such amazement. As I reached it was starting to get pitch dark and I walked from the parking lot, away from all the lights. As I stood there one among the trees looking up, I started seeing all the stars reporting to duty to adorn the night sky. The arm of the galaxy above my head, cold winds rusting my hair to tingle my ears, my breath was filled with the scent of the woods.
And with this, the trip came to an end. Making a pact to hike through the Canyon during my next visit, I packed my bags along with my memories, locking away those wonderful sights and smells away in a corner of my mind, I returned home to gray rainy skies welcoming me in Seattle.