If there is something that you should not miss on your Europe tour, then it is Plitvice Lakes National Park in Croatia! Wondering why? Just read this entire article and I'm sure, you too would agree with me on this by the time you finish reading it!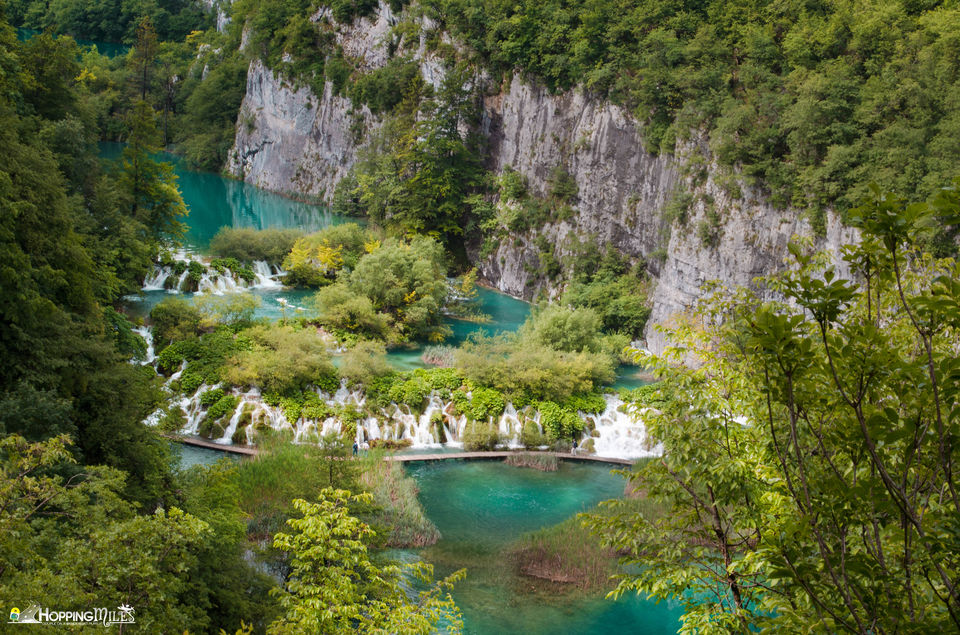 Nestled deep inside woods of Croatia and spread across 73,350 acres – Plitvice Lakes is a living proof of how Nature can paint a beautiful canvas. 16 cascading lakes come together to form a series of waterfalls of all sizes and shapes. There are big, small and mid-sized waterfalls in every corner of the National Park!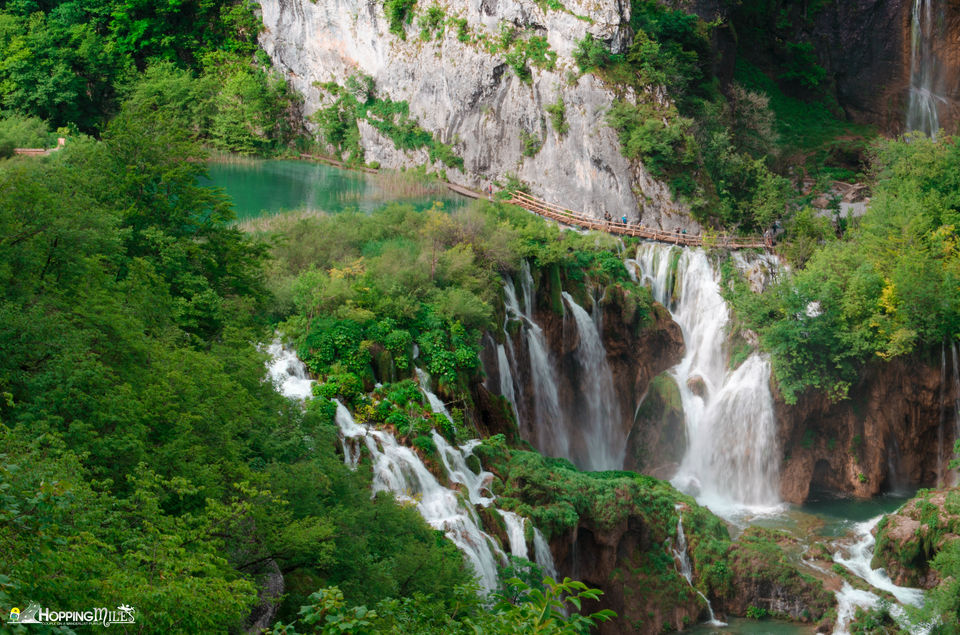 Another amazing fact about the waterfalls in Plitvice Lakes National Park is that these waterfalls are not rooted i.e. if you see a waterfall today, it might not be there tomorrow!! The reason for this is the travertine formation. The water here is rich in Calcium elements. During the course of time, when water with limestone elements traverse the same path, the calcium carbonate in the water settles down at some places, forming a barrier thus creating a new waterfall. And this process is constant – happening every day – round the clock (unless it's frozen in winter). So, it's safe to assume there is a new waterfall created somewhere in this humongous National Park every day, even on the day I visited it!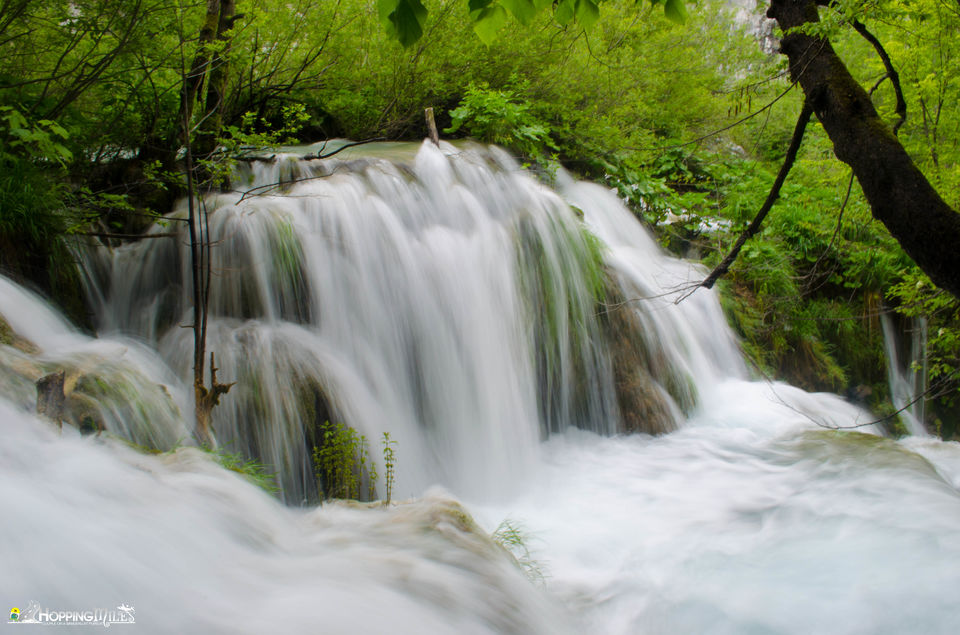 The various hues of water in Plitvice Lakes surprised me. From emerald green waters to cyan coloured lakes which are accentuated by the lush green vegetation around Plitvice lakes. The rickety wooden paths which take us to different corners of this National Park simply enhance the beauty of Plitvice Lakes. At some places I could feel the rumbling waters down below my feet. I walked next to a series of small waterfalls on the designated pathway in the middle of a huge lake and the experience was second to none!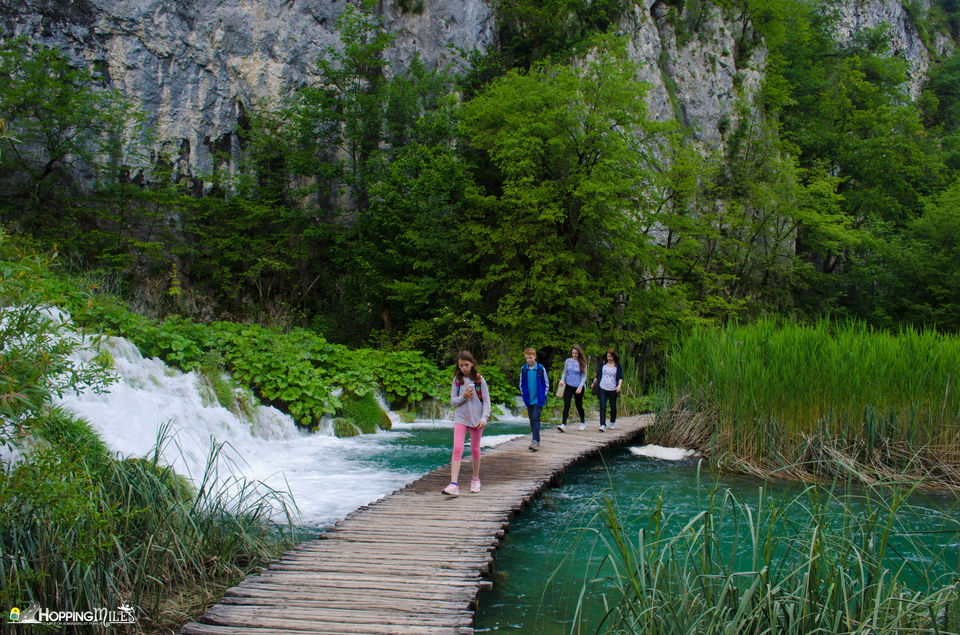 Apart from being host to more than 90 waterfalls created by 16 lakes, Plitvice Lakes are home to many beautiful caves and caverns and is rich in flora and fauna.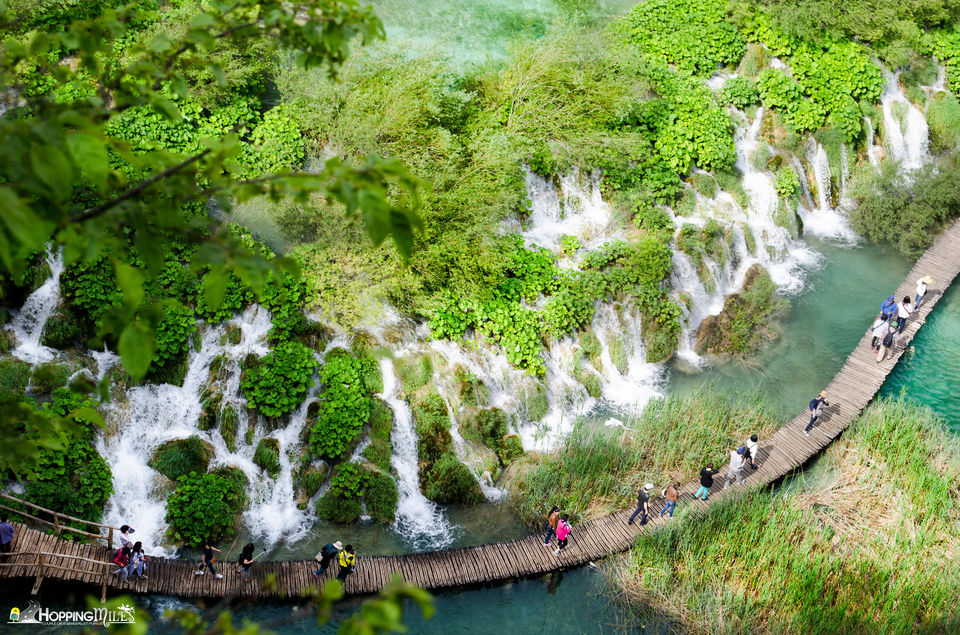 Exploring Plitvice Lakes:
Plitvice is geographically divided into 'Lower Lakes' and 'Higher Lakes' due to their location. There are two entrances to Plitvice Lakes National Park – Entrance 1 for the 'Lower Lakes' and Entrance 2 for 'Higher Lakes'. There are 8 hiking paths ranging from treks which are 2-3 hours short to 4-6 hours long. Most of these treks are simple and doable by an average person. Know more about the hiking paths here.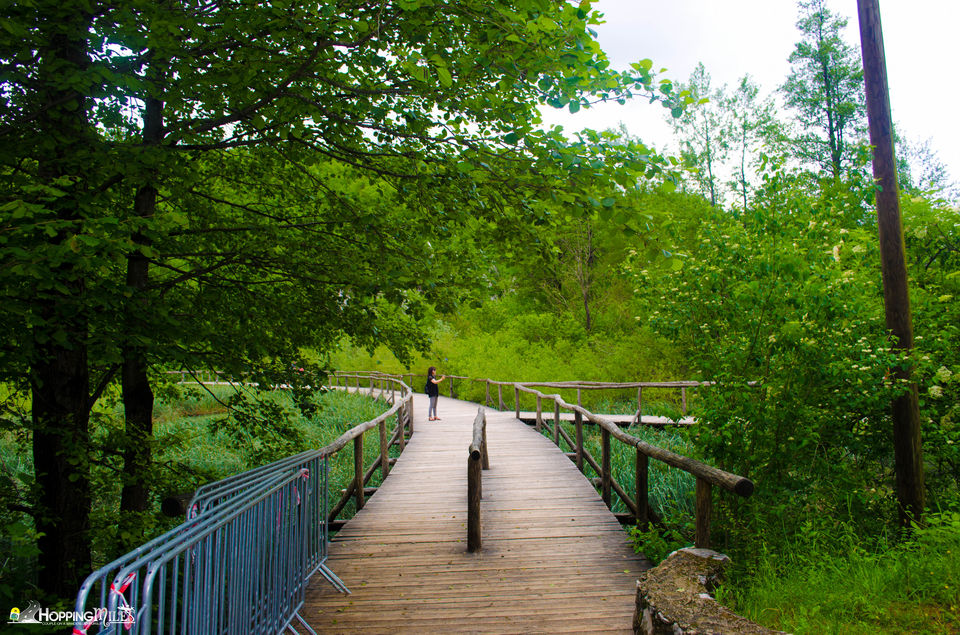 An Electric boat ride takes people across the park, from 'Lower Lakes' to 'Higher Lakes' and vice versa. Alternatively, there are bus rides which will takes people into the forests and one can explore Plitvice Lakes by hopping onto any one of these buses which have 3 stops at St1, St2, St3. These buses run every 30 minutes once across the park. These rides are free and included in the price payed for the entrance tickets.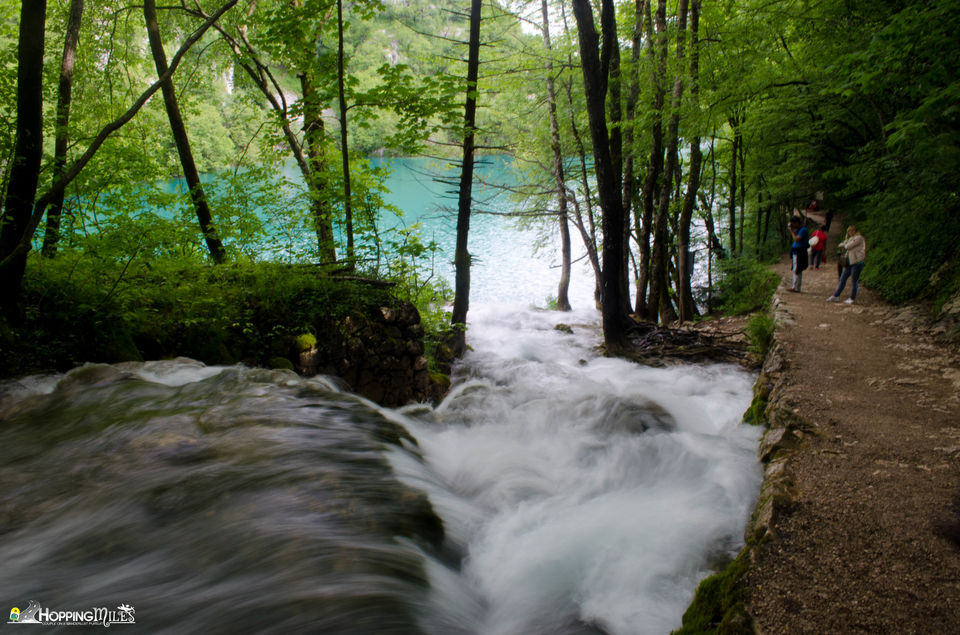 Entrance fee:
Speaking of Entrance Tickets, the price of one day entrance ticket is usually is around 55 HRK (525 INR) in the low season to 180 HRK (1700 INR) in the high season.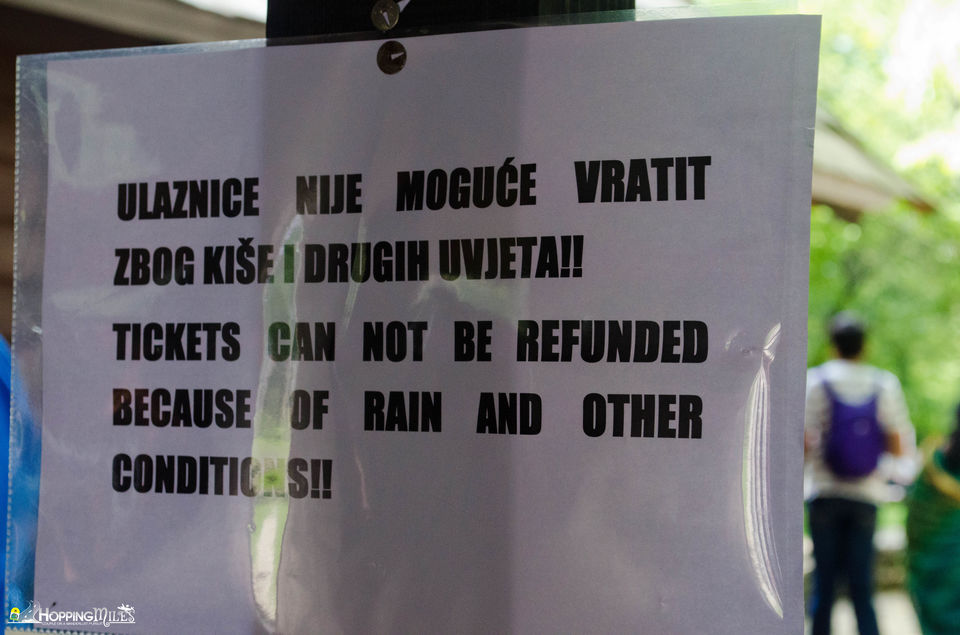 Currency:
The currency of Croatia is Kuna.
1 Croatian Kuna = 9.31 Indian Rupee
Though Euros are accepted widely in Croatia, it's wise to have some Kuna handy to spend just in case the stores refuse to accept Euros.
Location:
Croatia is an Eastern European country which was part of former Yugoslavia. Croatia boasts of a rich coastline along the Adriatic sea and is got fame for its lovely people and amazing picture postcard towns. Many parts of the recent hit Television series 'Game Of Thrones' were shot in Croatia.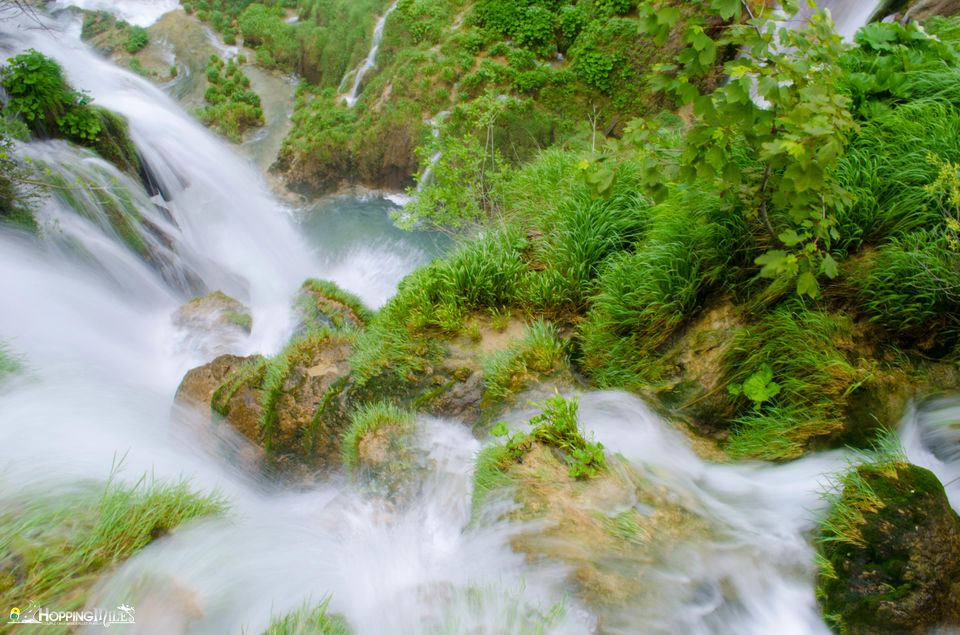 Plitvice Lakes are located in the heart of Croatia and it wouldn't be an exaggeration if I say that it is the heartbeat of Croatia. Plitvice Lakes is an easy 2 hour drive from Zagreb, the capital city of Croatia.
How to reach Plitvice Lakes from India?
There is an International airport in Zagreb, the capital city of Croatia and almost all major airlines have connections from Delhi to Zagreb. And Plitvice Lakes is just 2 hours drive on the road from Zagreb.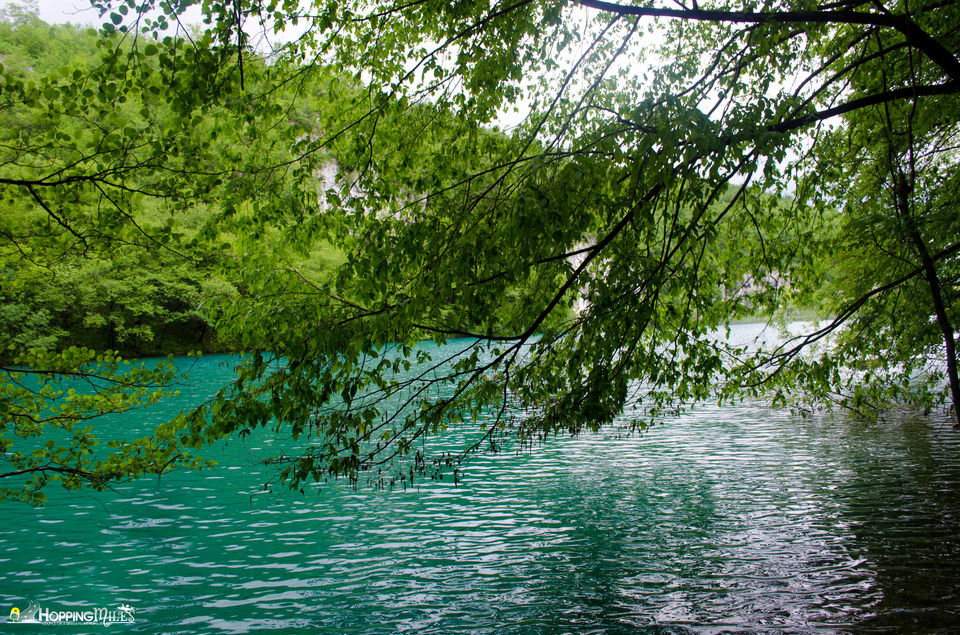 Flight charges:
The cost of return flight from Delhi to Zagreb starts from 40,000 INR and upwards.
Internal travel in Croatia:
Though Croatia doesn't have a sophisticated train system, the bus network is good and is reliable. Renting cars in Croatia is an easy affair, just carry your valid original Driving License.
Language:
Croatian is the widely spoken language in Croatia by the locals. As tourism is one of the main attraction in Croatia, almost everyone understands and speaks English. So exploring Croatia will not be a difficult task.
Season:
The best season to visit Croatia would be Spring i.e. from June to August. Though the shoulder seasons – May and September are good too.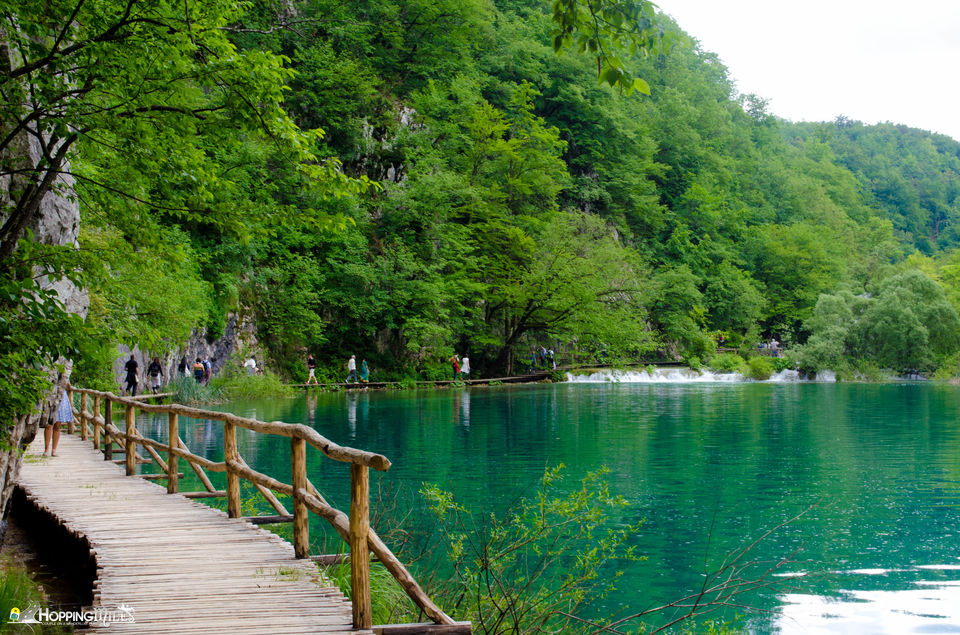 But, winters in Croatia are magical in its own way especially Plitvice Lakes. Plitvice Lakes look like a winter wonderland with frozen lakes and standstill waterfalls. See here!

One photo, just one photo of Plitvice Lakes convinced me to plan a trip to Croatia! When will you plan yours??
Follow me on my Instagram Journeys here: Ashwini Neetan
Frequent searches leading to this page:-
Europe tour packages for family from Delhi, Europe tour packages for family from India, Europe tour packages for family from Mumbai, Europe tour package from India, best things to do in Europe during winter, best things to do in Europe, unusual things to do in Europe, extreme things to do in Europe