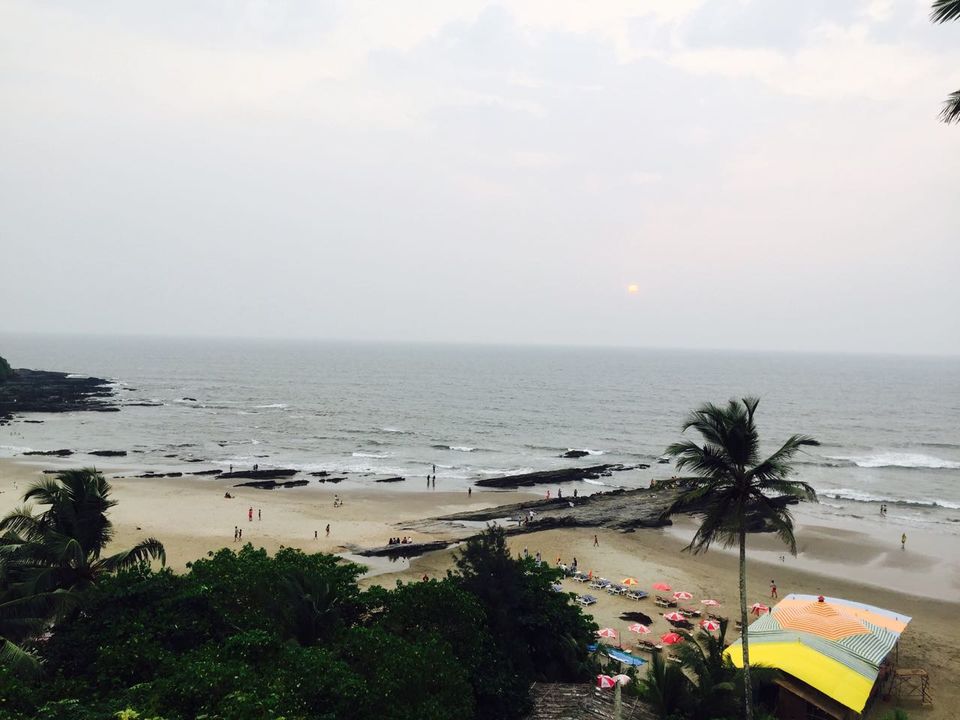 Goa! More than a state it is an emotion. It is honeymooners' paradise, a teenager's dream, centre of most made and cancelled plans, a traveller's delight and tourist's bucket list.
Goa, despite its size has so much to offer. From majestic hills to pristine beaches, its scenic beauty knows no bounds. Goa has some of the most beautiful waterfalls including the most talked about Dudhsagar Falls. It has a rich cultural history which has been preserved very well and it can be clearly seen in the architecture and cuisine. It has modernised itself beautifully to keep pace with the developing world and to the comfort of the numerous tourists it witnesses, yet keeping the culture alive.
Goa handles 1/8th of the foreign tourists of India. It has over 50 beaches, innumerable shacks and eateries and many beautiful resorts and hotels. Goa is famous mostly for two things: its beaches and its parties. We were all set to explore both of these and so we planned a short trip to Goa right after Diwali. We decided to drive because our love for road trips knows no bounds.
We started from Kolhapur (we were at Kolhapur for Diwali) at around 6 in the morning. The typical route taken by most people driving to Goa from Mumbai/Pune is that via Amboli Ghat. We chose the one which goes through Belgaum. The route was Pune Bangalore Highway (NH48)- Belgaum- Chorla Ghat- Mapusa (Goa)- Arpora (Goa).
The roads of this route were very much in shape, especially that of Chorla Ghat. They were very narrow, two lane roads but very smooth. Driving through Chorla Ghat was a delight. Almost the entire stretch was lined with trees on both sides, making it look like a tunnel of trees. It was breezy, it was beautiful, it was like a dream. After about 80 kms, the magical route came to an end and we entered Goa through Mapusa. Another hour and we reached our hotel at Arpora. It wasn't a very good one, the rooms were bad and the food was worse. I wouldn't really recommend it to anyone, so I shall not disclose the name. After a short nap we freshened up and left to explore GOA.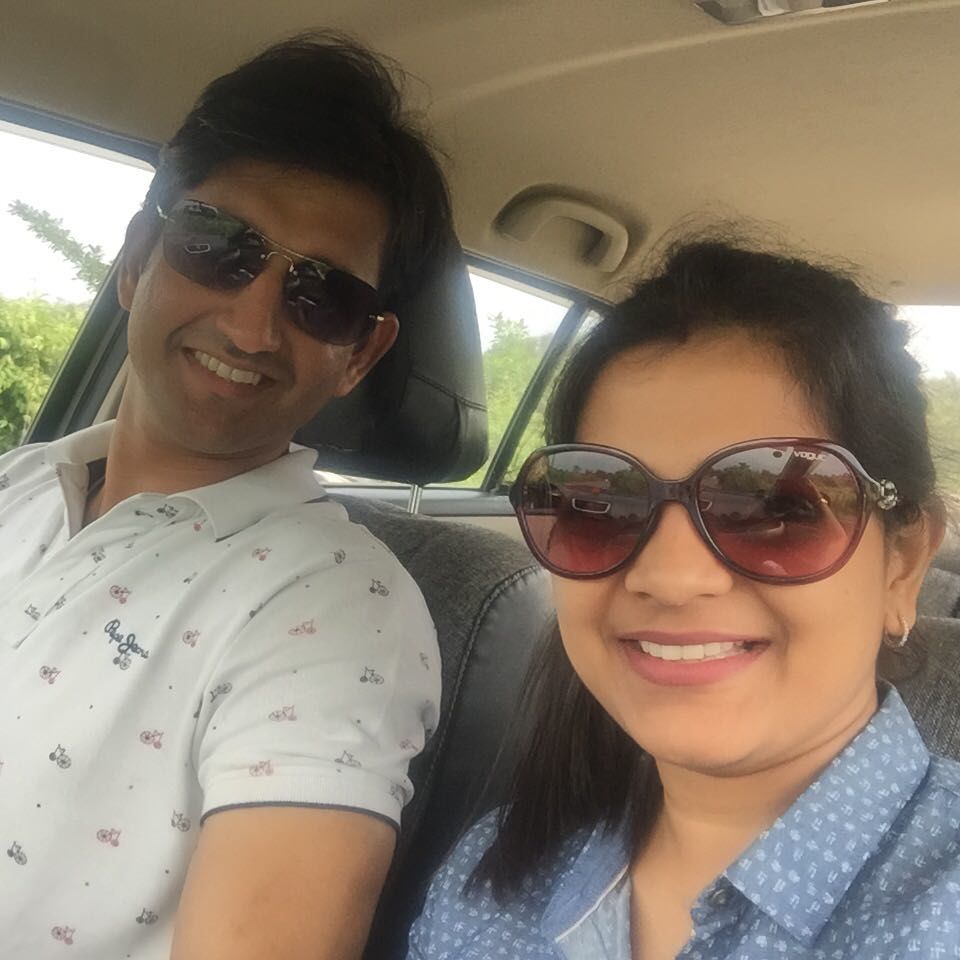 The first place where we headed to was on our list for ever. We reached Thalassa at around 4:30. We planned to stay there for sundowner but we were told that prior booking was required for a table. Also, they do not consider bookings over phone (as on Oct 2017). We booked our table for Day 4, stayed for a while to soak in the atmosphere and left for the Calangute Market Square. We spent some time window shopping and talking to the locals. After a couple of hours, we went for dinner at Tuscany Gardens Ristorante Italiano, Sinquerim. We arrived a little early for dinner so we were the only one's around. The food was nice and so were the staff there. After a nice fill, we made our way to another most spoken about place in Goa, Club LPK-Love Passion Karma. We were among the first few people there and thus got ourselves a nice table close to the lake. The place had good vibes and even better crowd. We got lucky with the DJ as well, as he definitely got the floor dancing. Even after all the driving we had the energy to dance for over 3 hours. Finally, at about 2 we left for the Hotel to retire for the day.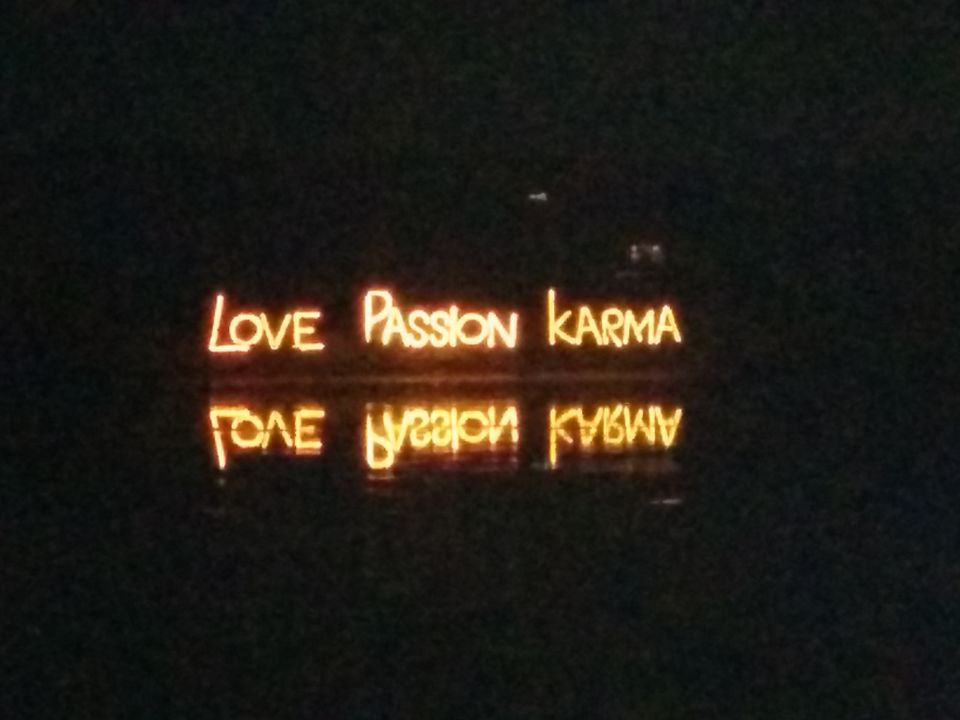 We started our day pretty early as we were all set to explore the mainland Goa on Day 2. We had our breakfast at the hotel and drove to Panjim, our first stop for the day. We started with visiting the church 'Our Lady of the Immaculate Conception', It's a beautiful white church right on the main road. The architecture of this church is highly inspired by Portuguese Baroque style, the interiors are very colourful but simple. Parking is a big problem here as half the places are one way which Google Maps doesn't warn you about, and the rest are no parking zones. Be very careful while parking your car and do not forget to ask locals for help.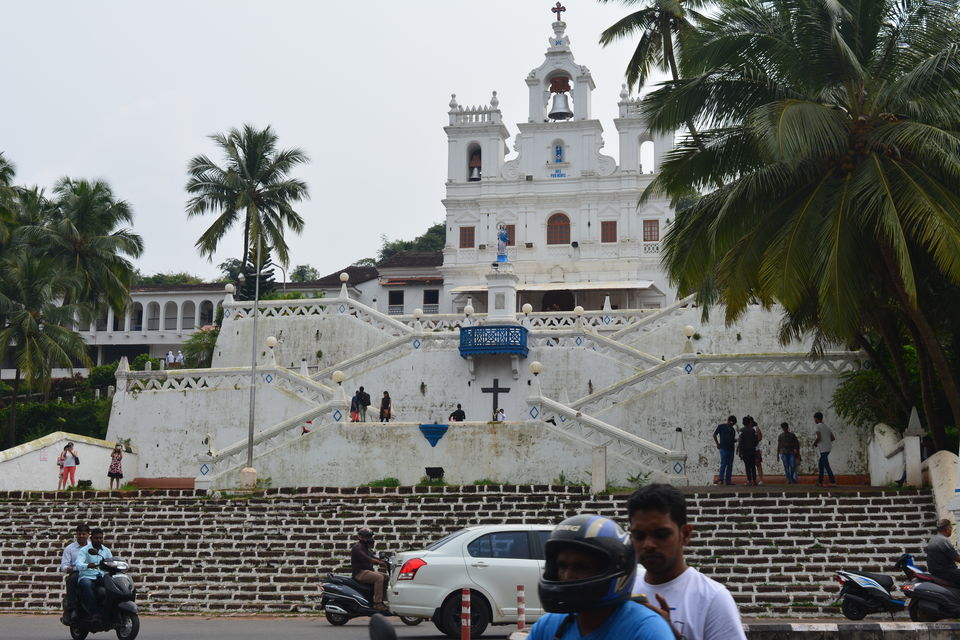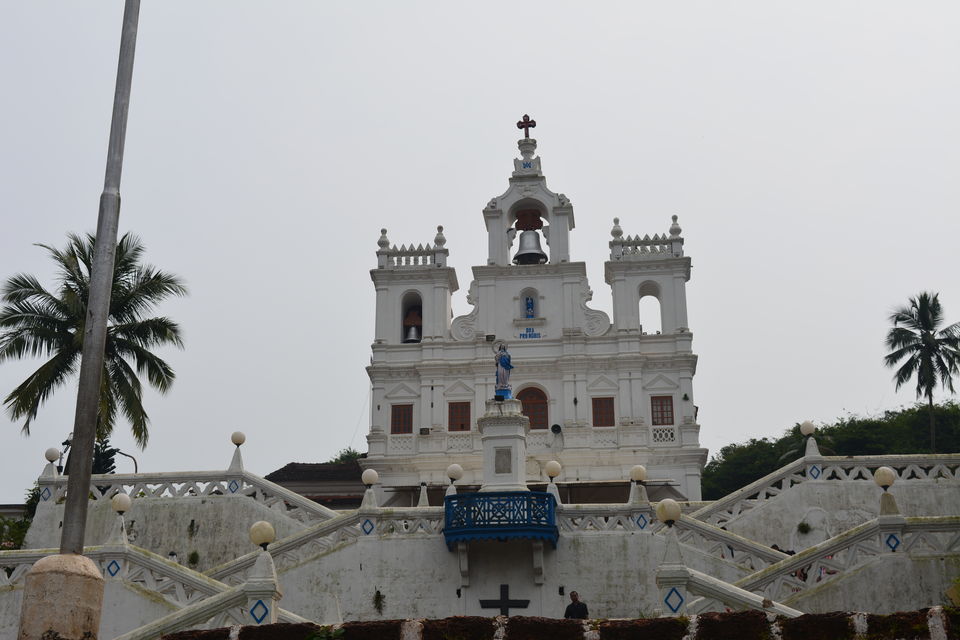 We then headed to Donna Paula Point, very famous for the shoot of Bollywood movie Singham. As the legend goes, a couple in love with each other jumped off from this point and committed suicide. They even have a sculpture of the couple made there. The point offers pretty view of the ocean around.
We made our way to the old Goa also known as Velha Goa. All the roads are in very good shape and we thoroughly enjoyed driving through Goa. We visited Basilica of Bom Jesus, one of the most visited churches in Goa. It would be rare to find this church uncrowded. It's a huge beautiful brown church which holds the mortal remains of St. Francis Xavier. That's the reason it attracts numerous visitors from around the world. There are two more churches in the vicinity, Our Lady of Mount Chapel and Se De Santa Catarina. The architecture of the same is pretty commendable too.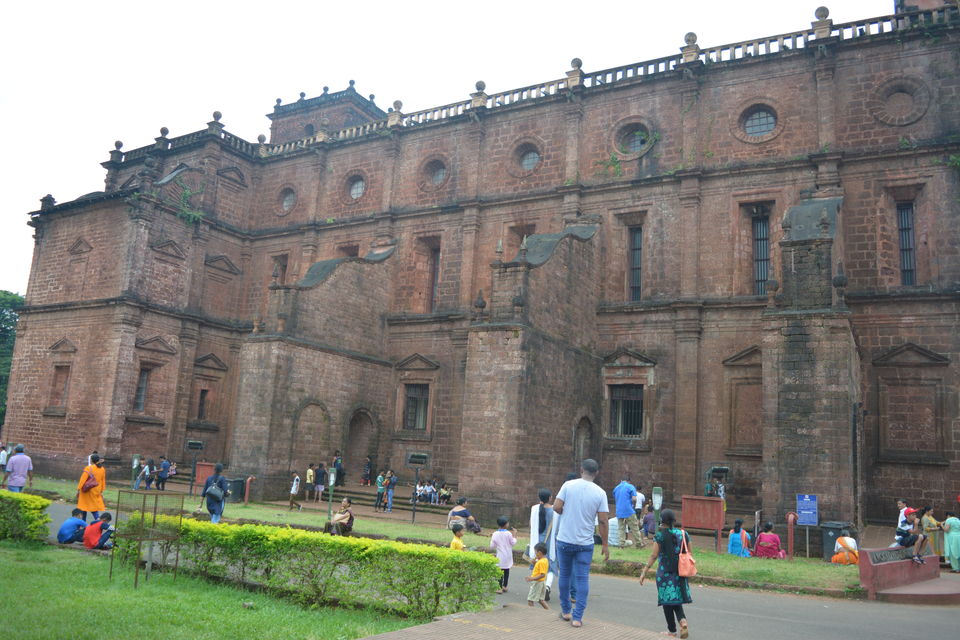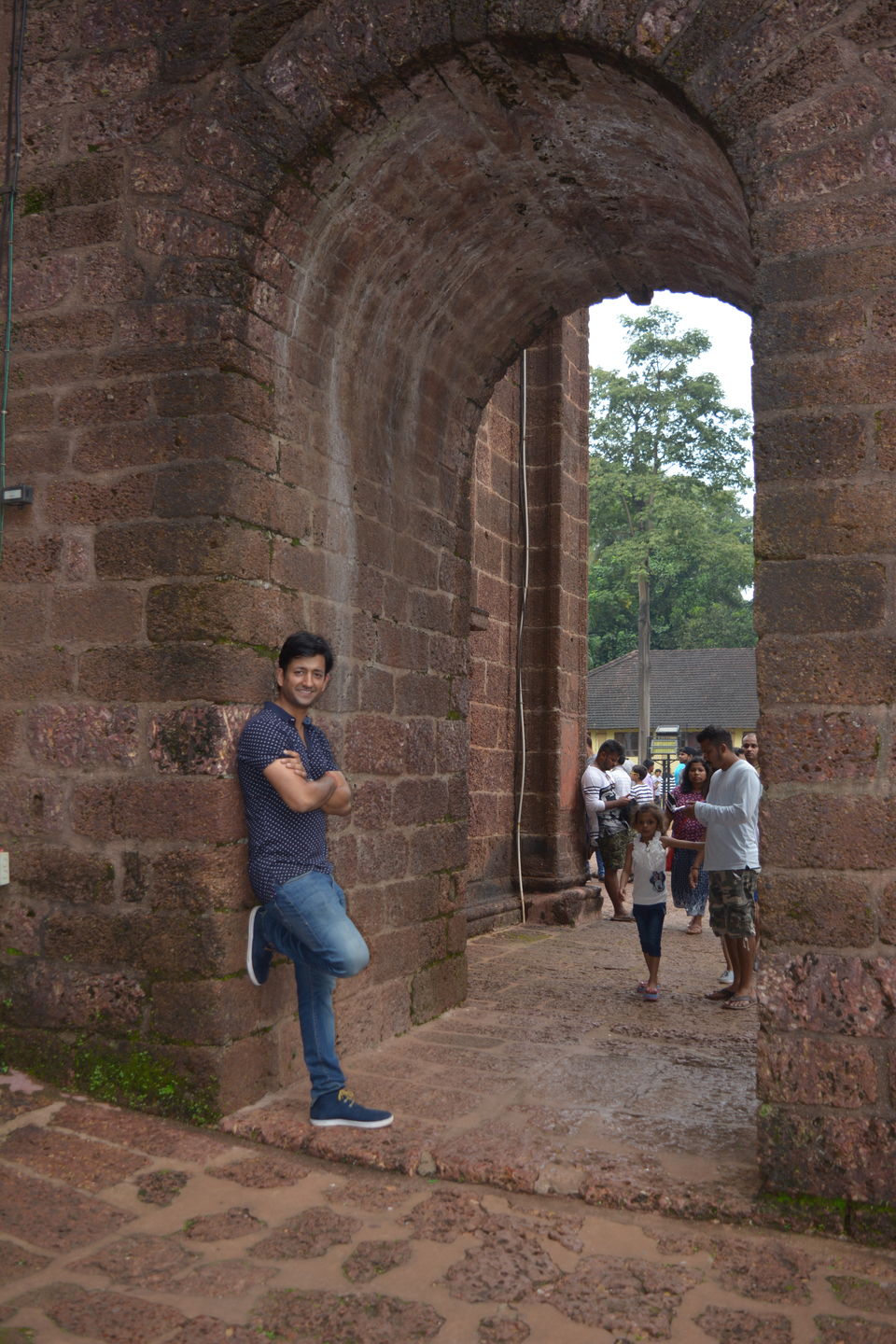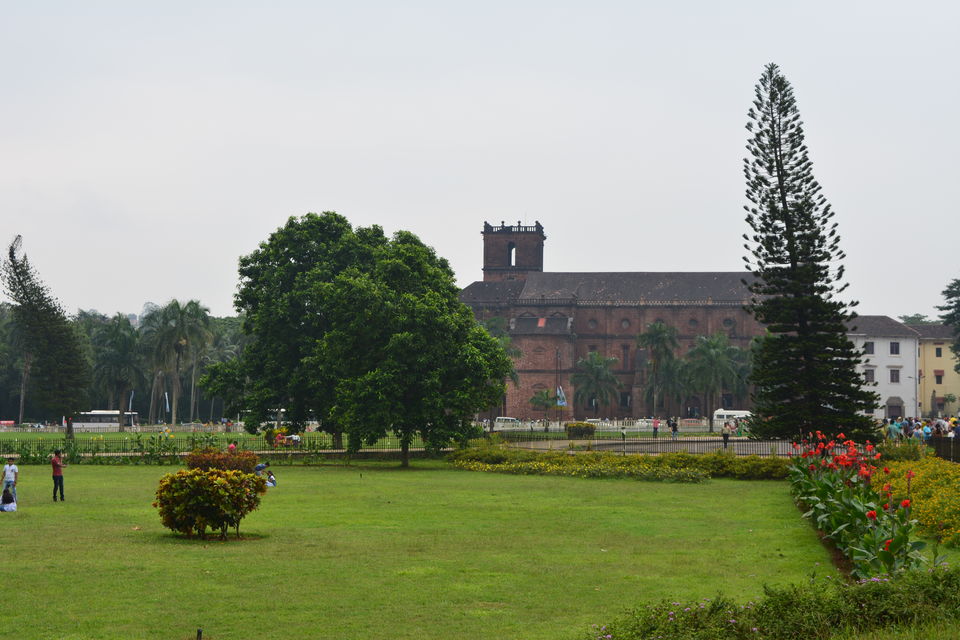 It was almost midday when we made our way to Sahakari Spice Farm. It was one of our best experiences in Goa. To read more about this place, please click here.
After an amazing experience on the off beaten path, we headed for another such to Ancestral Goa. They had a little village set up here to depict the life of ancient Goans. I wouldn't recommend this unless you have a 4-5-year-old with you. After this we went back to Panjim to try our luck at the casinos.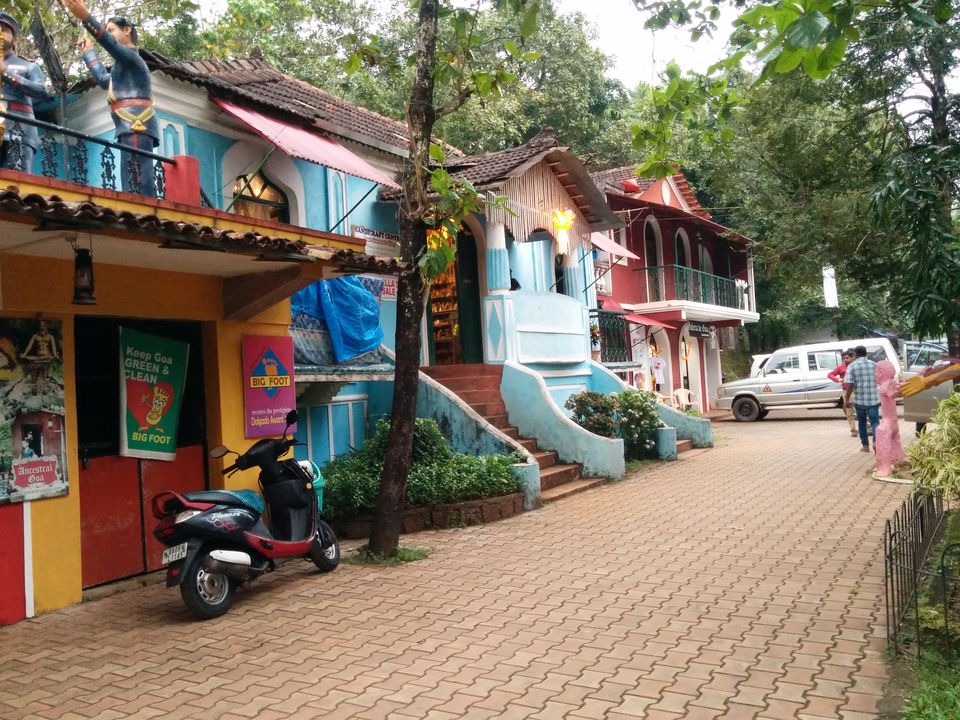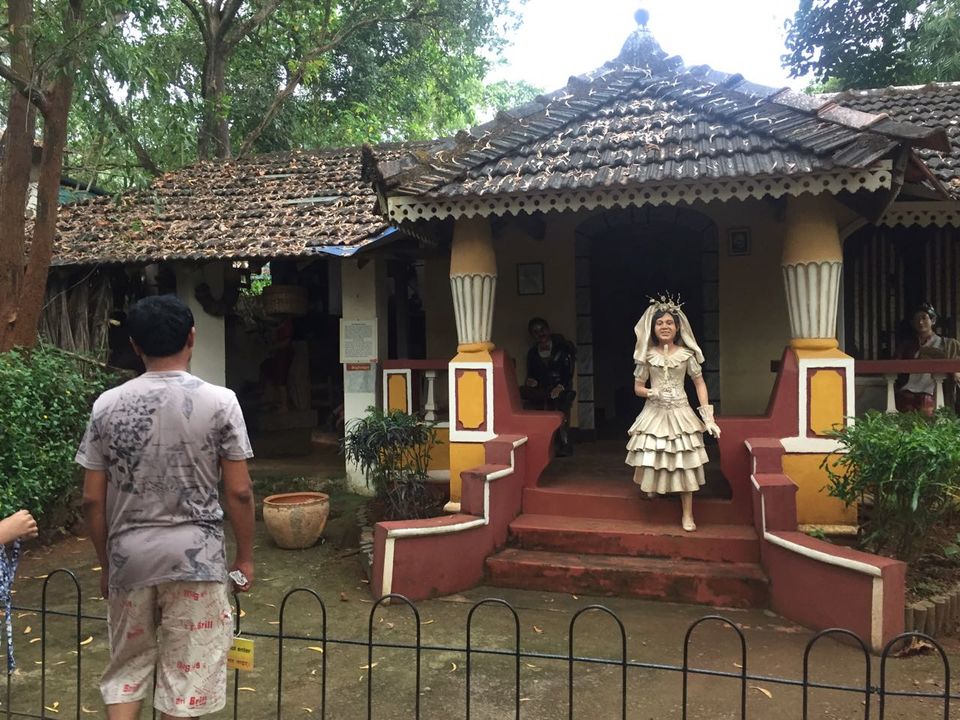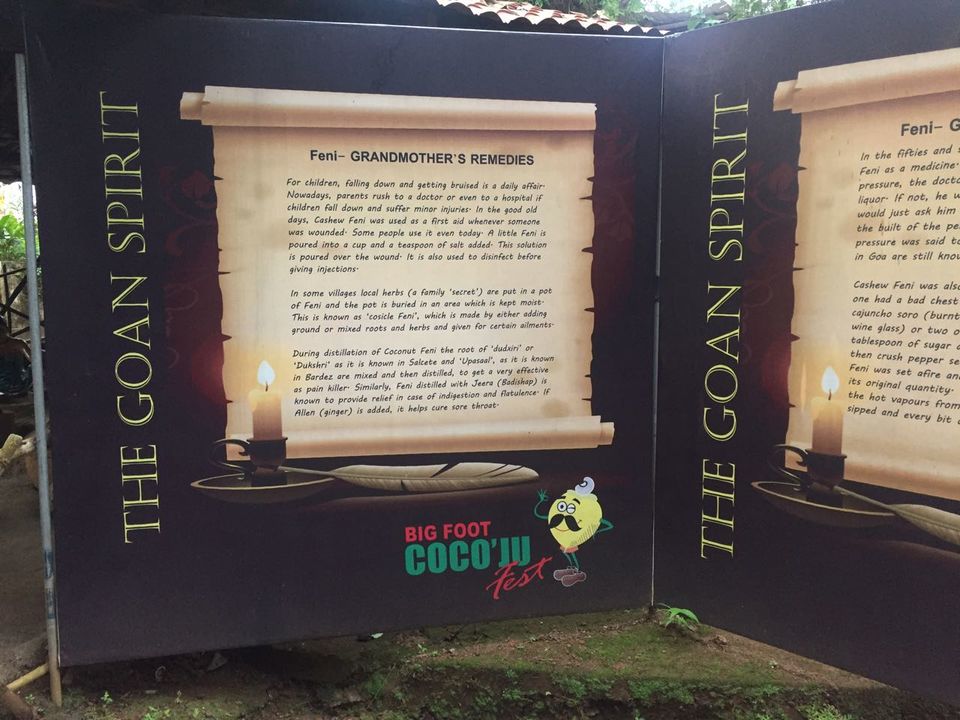 The casino we chose was Casino Royale. While on a casino hunt, you would surely be tempted to pay almost double and go to Deltin Royale. Its huge and grand and by the look of the exteriors, it just takes your heart away. But if you ask me, I would always suggest on not going with Deltin Royale. After a good discussion with some friends who have been to Deltin and others who have been to both Deltin and Casino Royale, we realised that Casino Royale have more tables and more variety of games than Deltin. On the plus side Casino Royale charges you almost half and provides a full cover as well. Now let's see the insides of the casino. My overall experience wasn't very good. The casino was super crowded, food kept on finishing, crowd wasn't great resulting in the dining hall to be a mess. Food tasted decent. Coming on the games part, they had a very good variety of games and the number of tables were also in good numbers to cater to such a huge crowd. Dealers were good and knew their job well. So, if you have never been to a casino before or if you are there just to play, then sure, give it a visit. Otherwise I wouldn't really recommend the casinos here. We left around 12:30, exhausted as hell, after a long day, and drove to our hotel.
We decided on exploring South Goa on Day 3. Considered as offbeat till a few years back, south of Goa, these days, has become mainstream too. A lot of beaches of South Goa are still unexplored and others are comparatively less crowded and very clean. Water here is very clean and swimming is a pleasure in itself. If you are lucky you might find a couple of beaches entirely to yourself. We went to Palolem Beach, it's not one of those completely empty ones. It had a different vibe, different from that of North Goan beaches. It was particularly calm and more beautiful as it was untouched by the flocks of tourists. There was a shack right on the beach which offered great views of the Arabian Sea and really good food. We were there for some time soaking in the calmness and losing ourselves at the sound of the waves. After sometime, we enquired about the water sports and boat trips there but we couldn't take water sports up as we just had the time for a boat trip. (These trips are highly recommended as they have some beautiful places around only accessible by boats). The boat trip required us to drop our stuff at the shack lockers. We took an hour-long speed boat trip to various beaches including the most talked about Butterfly Beach. It's a secluded beach accessible only by boats, it pretty and serene. You would rarely find anyone there. We couldn't reach the beach as the tides were very high, but I would certainly recommend spending some time there. At the end we were dropped at a beach which was at a walkable distance from Palolem (you could opt to go back to Palolem by boat as well). After spending some quiet time there, we walked back to Palolem to collect our stuff and leave for the day.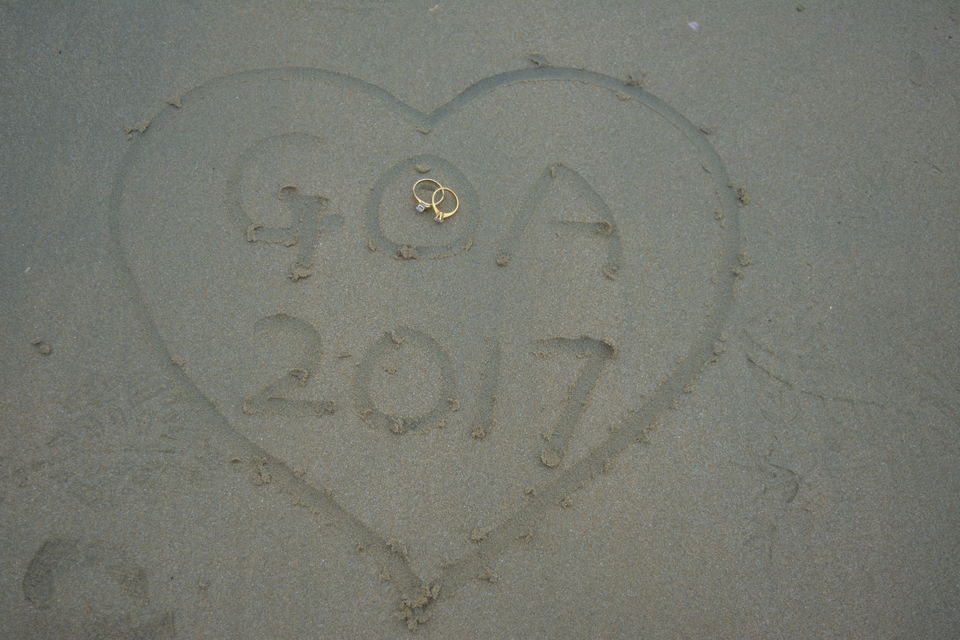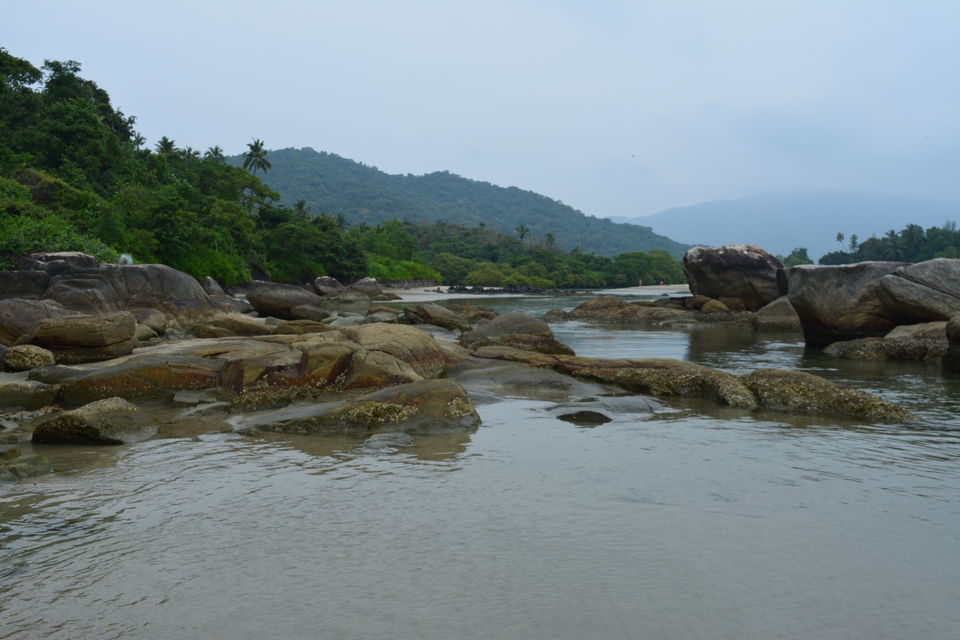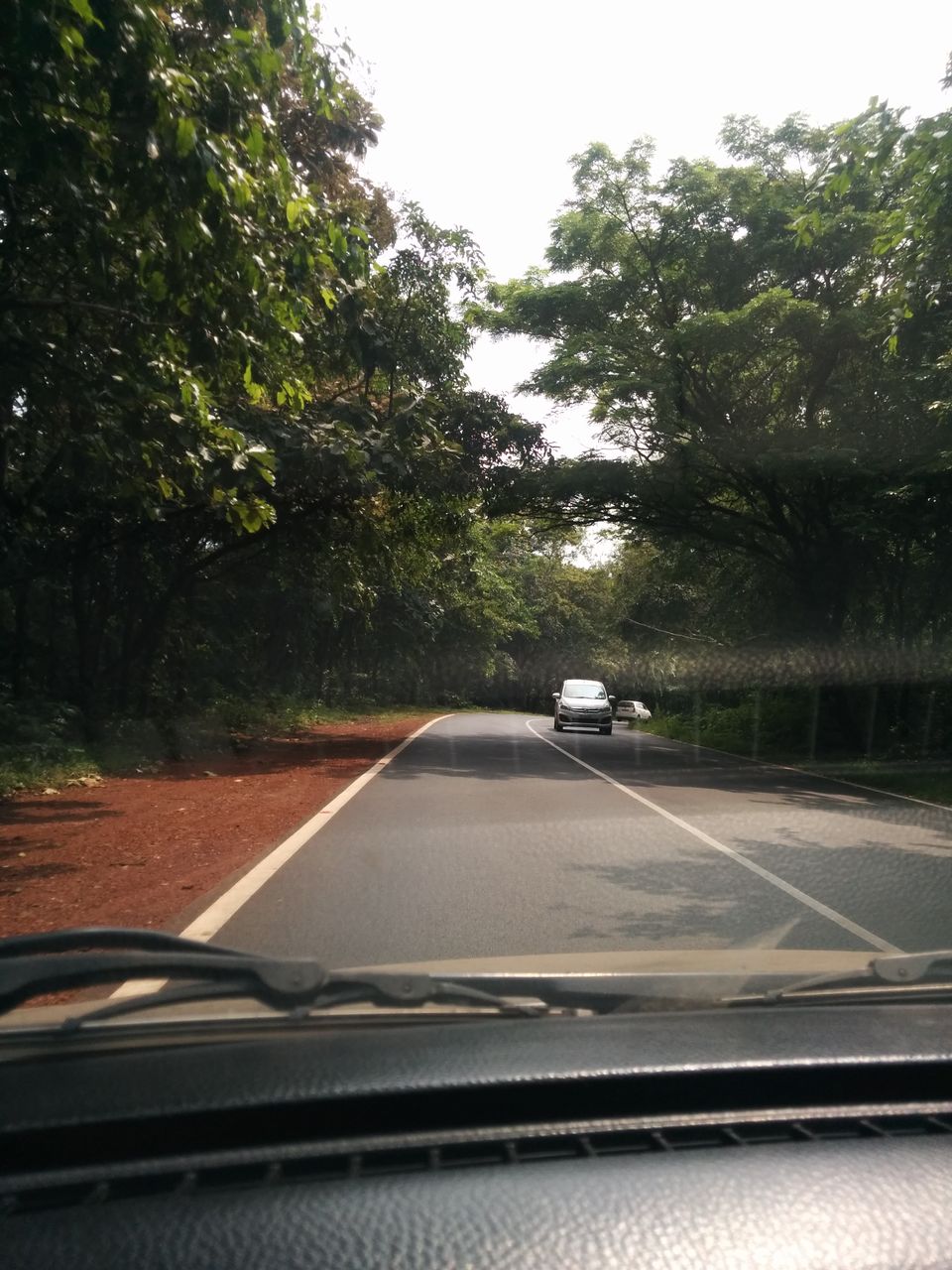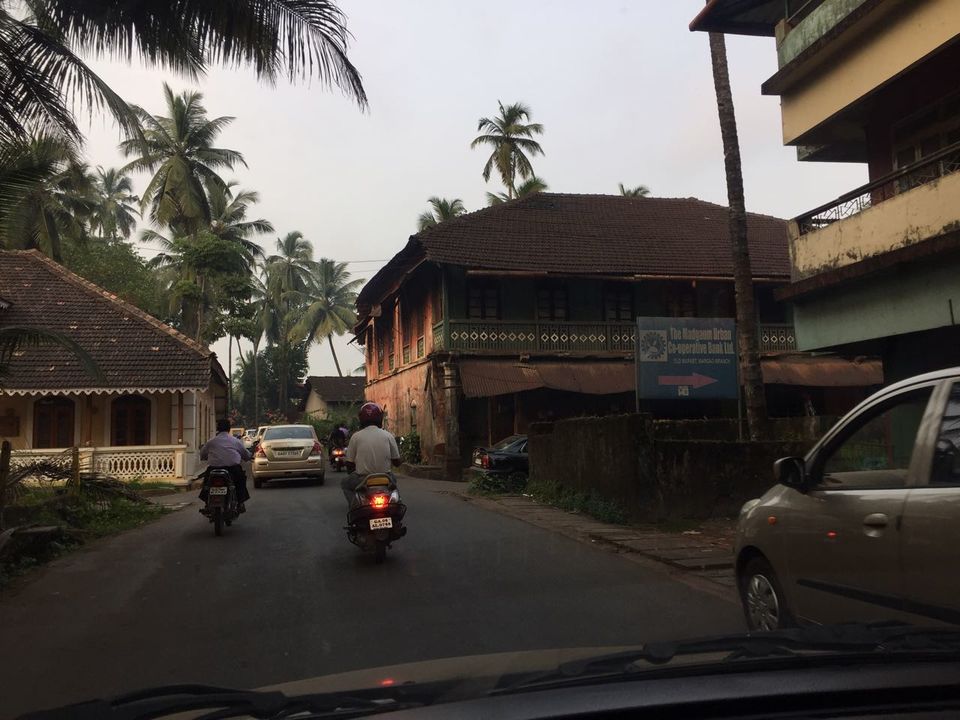 It was already past noon and we decided on having lunch before we drove about 80 kms back to the North. We saw this place called Magic Italy just on the way out from the beach. Its run by an Italian family who settled here in Palolem decades back. It had some of the best pizzas we ever had.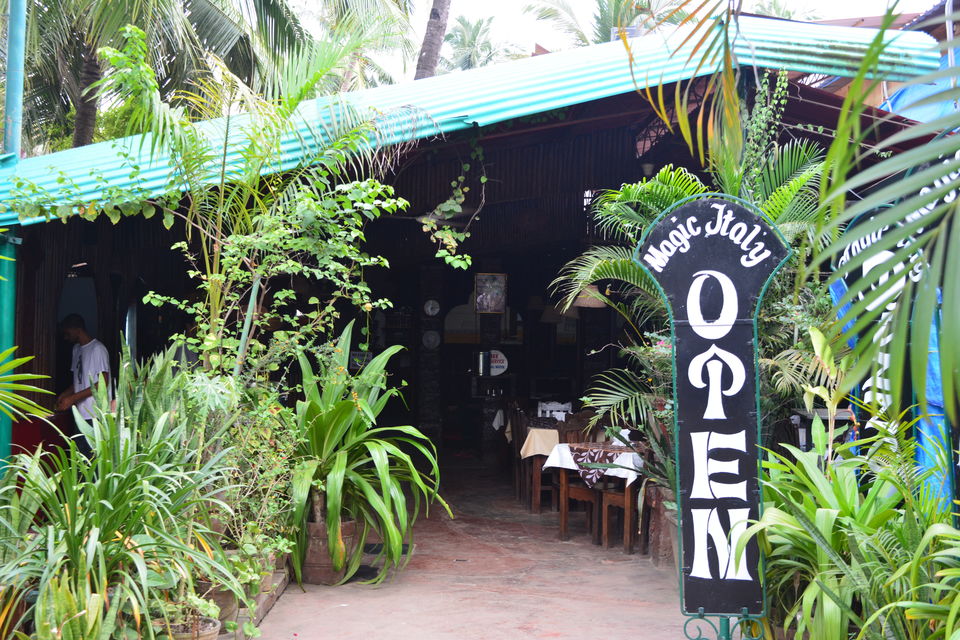 After a good fill we headed to the parking. Now here in Goa, since parking on the beach is very difficult, lots of locals turn their backyards into car parks for a charge of about Rs. 100 an hour (it is negotiable). The hosts were very warm and good to talk to. They gave us a good discount on the charges without much persuasion. The roads connecting North and South of Goa are in good shape. Expect narrow winding roads throughout as the roads here are mostly carved out of hills. Well this is the reason why covering a distance of 80 kms takes over two hours.
Tip: Start really early in the morning if you are planning to take a day trip, to make the most of the South.
Once back to the North, we went for some shopping at the Calangute Market Square. We then had dinner at A Reverie, another gem of a place to dine in Goa. (more about it here).
This was our last day at Goa and so was reserved completely for the North of Goa. After being super disappointed with our breakfast we left for the southernmost part of North Goa, Fort Aguada. After a quick round we moved upwards towards Candolim Beach. This is where we chanced upon Rams Shack. Famished, we decided to take a quick stop for some food and ended up spending about 2 hours here. We sat there as the breeze caressed our faces and we realised that it isn't always about loud music and parties. It's about unwinding as we watched the waves clash on the shores, the patterns it leaves behind on the sand, the realisation that nothing is permanent. Unwilling to move we made our way further up towards Calangute Beach. It was super crowded and we just wanted to move away. But we also wanted to try one of the sports (which we couldn't try at Palolem). So, we went for Parasailing. The entire drill left us drenched and exhausted.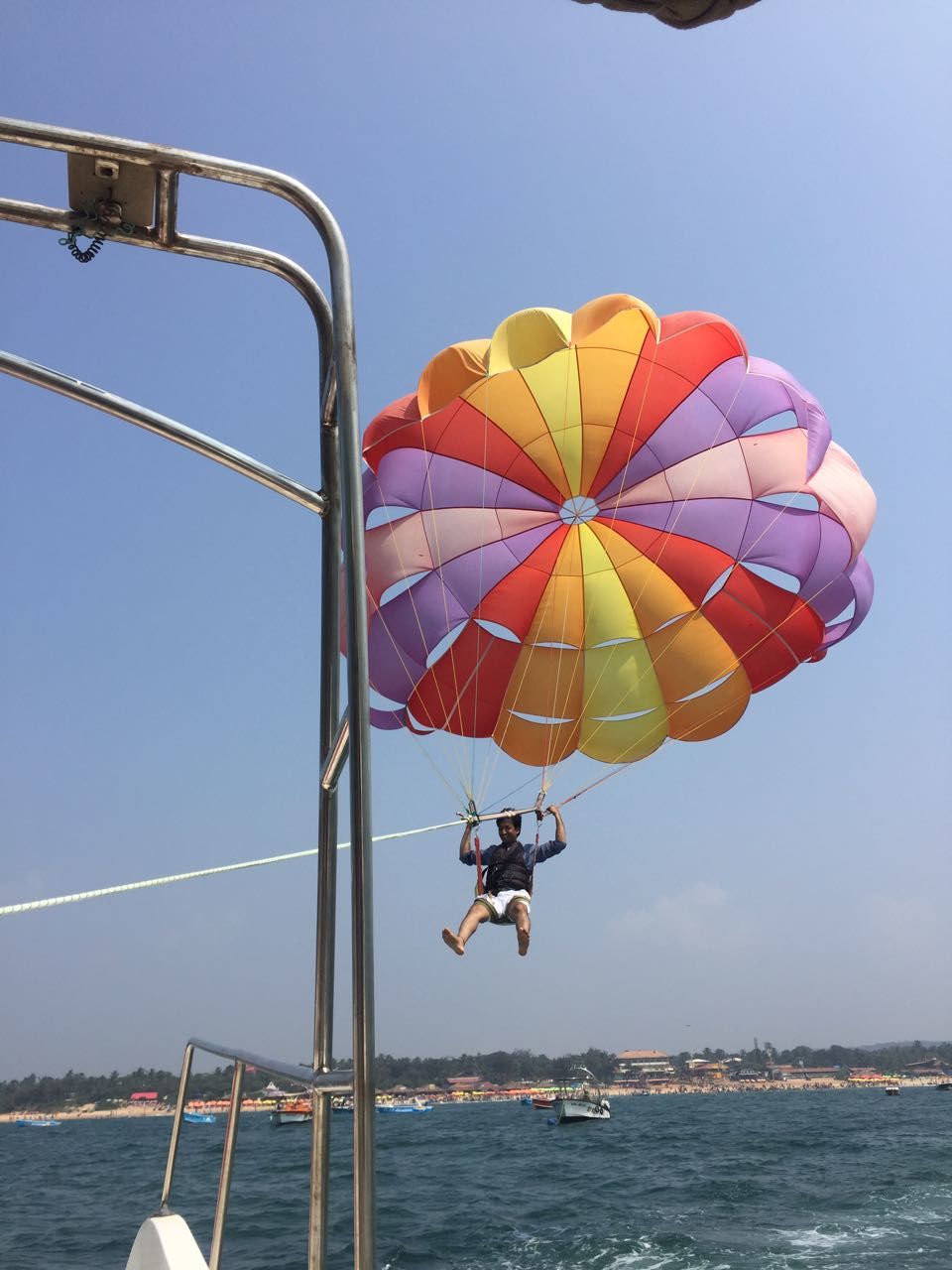 After a quick change at our hotel we went to Charpora Fort, fondly known as Dil Chahta Hai Fort (yes! Its still called by that name). The only thing left in the fort was its cracked outer wall, with nice view of the sea. There was nothing there apart from it. There were these hawkers selling lime water and other stuff at the fort and one of them made really nice Sharbat for us. We got into a conversation and he told us about the daily life at the fort, how it witnessed numerous visitors and how everyone still wanted a picture in DCH pose. We then spent some time staring at the sea before we made our way to Thalassa.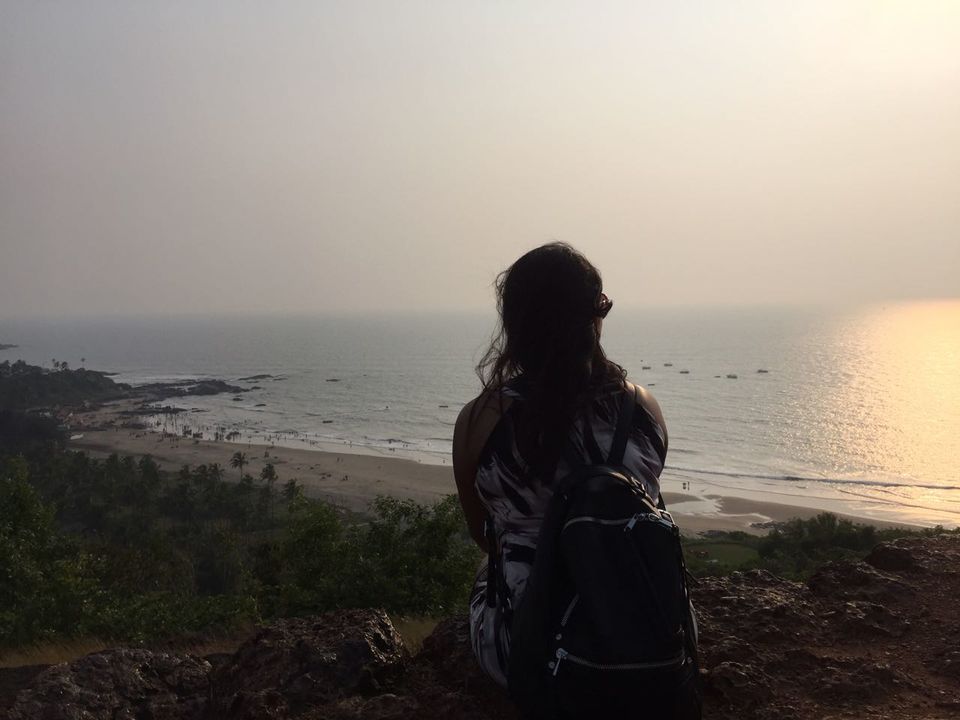 We booked our sundowner slot on day 1 at Thalassa and here we were to indulge in the sight and sounds of this Mediterranean themed restaurant. We had the yummiest lasagne and breezer as we watched the sun go down for the day. (More about the place here.)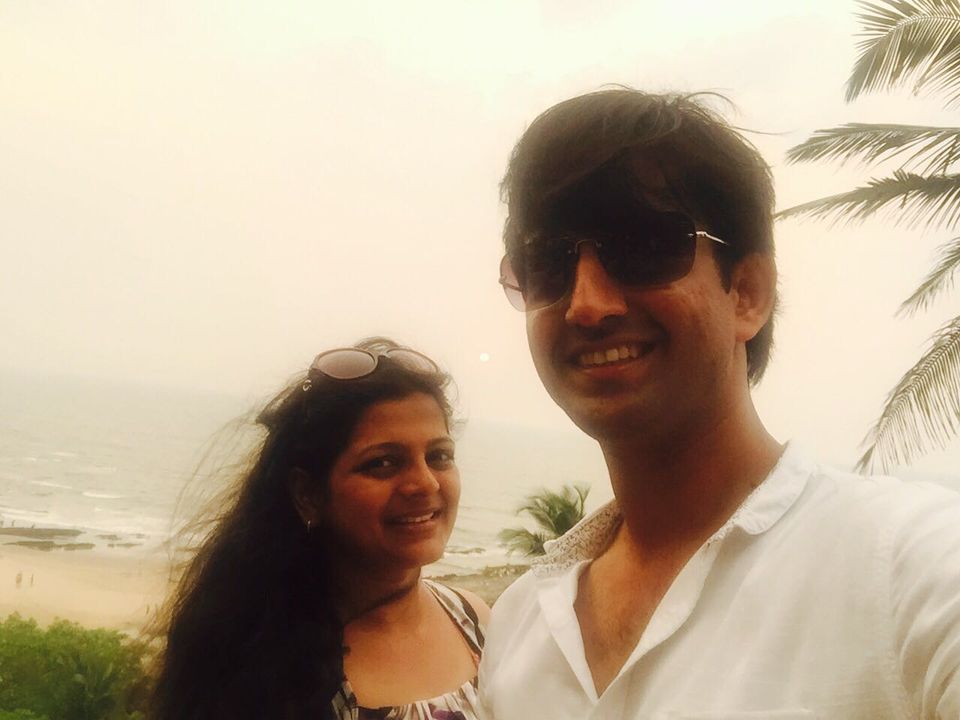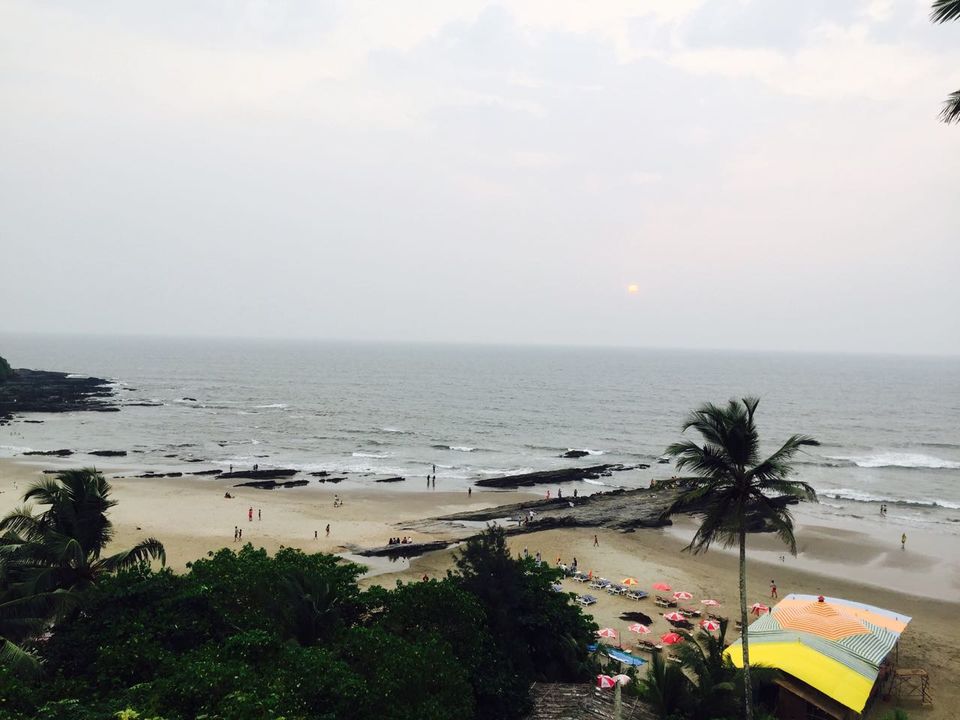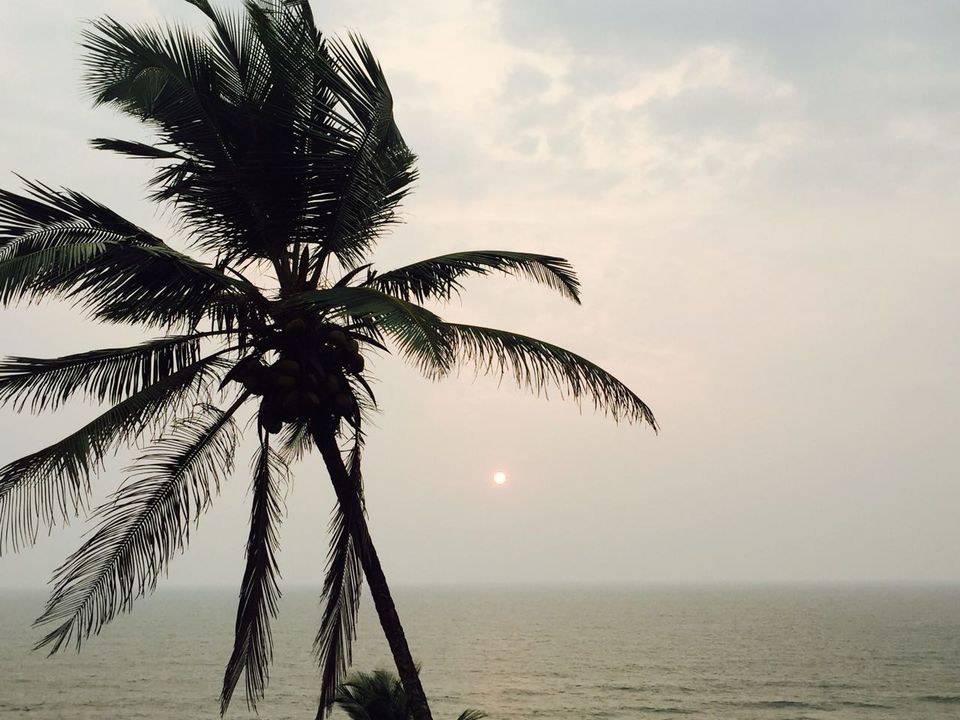 Baga Beach is known for its hugely famous shacks Tito's and Mambo's (which belongs to two brothers) and how could our trip be complete without visiting these. Mambo's is more of a party place and Tito's more of a chillout one. The music here was good, food average. We were there for about an hour and half and then we went for a stroll on the beach. Beaches at night looks completely different. It's less crowded and peaceful. Specially the feel of the breeze from the sea, its unmeasurable.
We had heard really good things about Club Cabana and weren't willing to leave without going there. Location of the club is its USP. They had pick up and drop service from parking to the entrance. It was a cute bungalow converted into a party place. The ambience was wonderful and so was the crowd. As pretty as the place was, we dint enjoy the music there. Also we were super tired after such a long day, and thus we retired for the day..
Here ended our short but very hectic yet productive trip to Goa. With heavy hearts and a promise to get back, we drove back to Pune.
How to reach: Goa is well connected to most major cities of India by air. Buses ply on regular basis from Pune and Bombay.
Where to stay: Goa has innumerable properties ranging from Air B&Bs to hotels suiting all budgets.. Cidade De Goa is one good property providing a taste of both luxurious amenities and the culture of Goa.
Frequent Searches Leading To This Page:-
Best Tour Packages for Goa, Goa Tour Package for Couple, Goa Itinerary for Couples, Best Goa Trip Packages, Goa Holiday Tour Packages, Top Goa Packages for Family, Goa Honeymoon Packages from Delhi