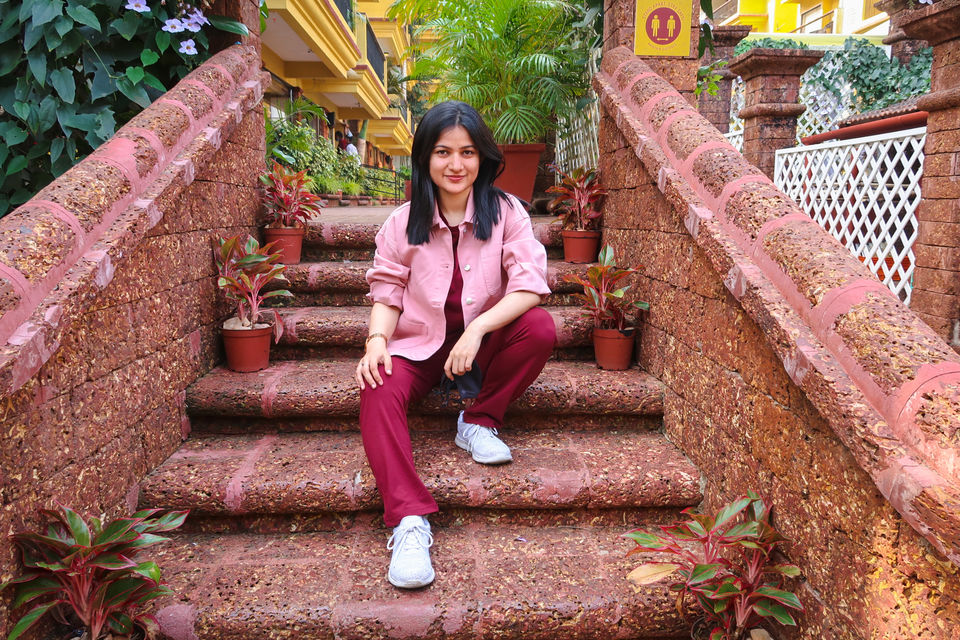 After months of sitting at home, I finally headed out for my first trip of the year 2021, to one of my favorite Indian holiday destinations - Goa.
I live in Pune so I travelled to Mumbai by cab to pick my friends & then we together took a flight to Goa from Mumbai. It takes 45 minutes by air.
Goa, as expected was a breath of fresh air. It was 5th February so the weather was pleasant as well.
We planned our stay at Deltin Suites. It is a beautiful 5-star hotel situated at Candolim.
Day 1: After having our complimentary breakfast there we rested for a few hours & in the evening headed out to Asia's largest Casino, "Deltin Royale".
The casino is stationed at Mandovi river. To reach the Casino, you have to reach one of their Jettys:
1) Panjim Jetty
2) RMJ Jetty
If you are staying at Deltin Suites like me then you do not have to worry about reaching the Jetty as Deltin Suites provides you free to & fro service from the hotel to the casino.
We reached the Panjim Jetty at around 7:30 pm. All the COVID-19 precautions were in place from the entry point itself. We got our bands after our booking was done(bands represent the package you have chosen). The rates vary from time to time & hence it is recommended to check their official website for correct information. All the packages include unlimited food & drinks. VIP package includes premium drinks.
We waited for a few minutes at the Panjim jetty for the feeder boat to arrive which was supposed to take us to the Deltin Royale casino.
Accompanied with cold winds & beautiful sight, the feeder boat experience was mesmerizing to say the least. It took around 10 minutes to reach the casino.
At the casino we received a warm welcome with folded hands from their staff at the entrance. The casino has 5 floors.
Level 1 - Ground Floor - Gaming Zone & Poker Room
Level 2 - Vegas Restaurant(open to all) & Whiskeys Lounge(only limited to Deltin Club Members)
Level 3 - Gaming Floor & Teen Patti Room
Level 4 - Deltin Members VVIP Gaming Room(not open for all)
Level 5 - Roof Top (Sky Bar)
At the ground floor gaming zone, there is a 'Learn to Play' area so if you are a newbie like me you can learn each & every game there.
Even though I did not play but I had a fun time watching all the games on the floor. It was an entirely new experience for me.
We had some snacks on Level 2 at the Vegas restaurant & then headed to Level 5, "Sky Bar". It is on the rooftop & hence the view is beautiful. The Sky Bar also has live music & live dance performances which start from 7 pm onwards.
We spent most of our time here enjoying the performances, the view & beautiful weather. There are live counters for food & drinks on this floor & hence it is a great package overall.
With full bellies & great memories we decided to head back to the hotel. We waited for around 5-10 minutes for our feeder boat which brought us to the RMJ jetty. At the jetty we had Deltin Suites cab which took us back to our hotel, Deltin Suites.
Watch my full experience here:
Day 2: We started Day 2 by visiting the very beautiful Candolim beach, which was only 5 minutes from our hotel.
It was day time so a bit sunny, hence we quickly found a shack to enjoy the beach view & of course the shack food. We stayed on the beach for a few hours & left at around 4 pm. We headed back to the hotel as we had planned to visit Deltin Jaqk casino that day which is the first & the foremost casino of India.
We informed the reception at Deltin Suites in advance so they had arranged for a cab for us to reach the Jetty.
We reached the Deltin Jaqk Casino & it was another fun experience. We enjoyed their gaming zone, exquisite buffet & live music. Snacks & drinks are served to you on your table when you are playing which makes you feel great. After spending some quality time, it was 10 pm & we decided to head back to the land as I had planned to meet few friends in Goa.
The day ended on a beautiful note, exactly how it is expected from Goa.
Watch my Day 2 at Goa here: