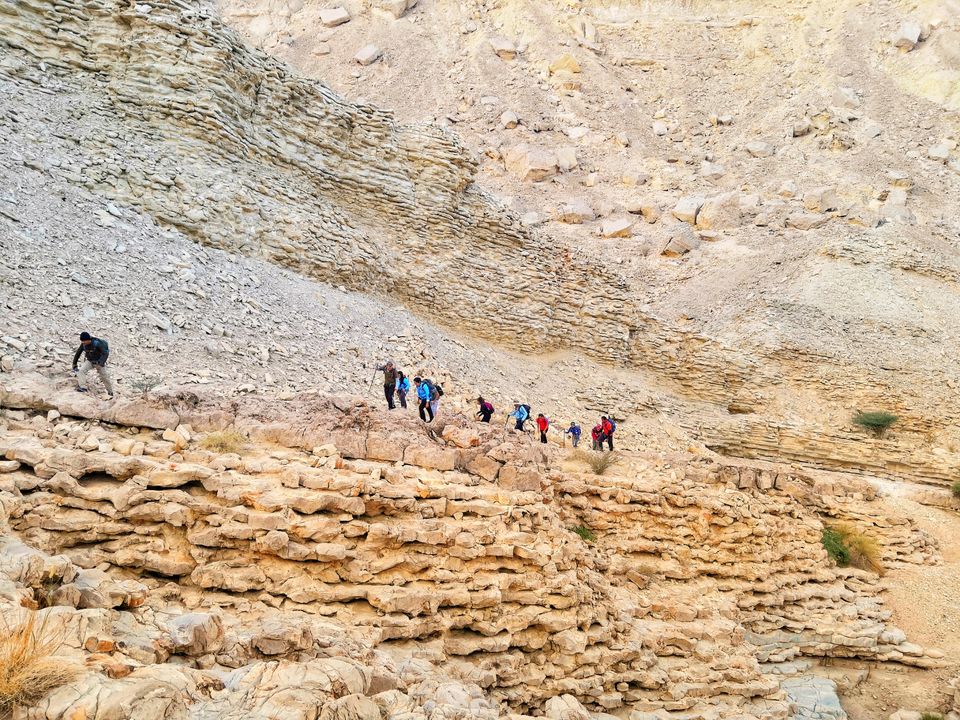 The Mighty Hafeet is the 2nd highest peak in the UAE. Most of the weekend planners residing in uae would have definitely visited this place. Hafeet is known for its rich history of fossils that were found in its surroundings & zig zag roads reaching to its top.
Below the mountain lies Green Mubazzarah, a popular tourist attraction, which is a park come hot spring lake, swimming pool and jaccuzi. This park is well maintained and it is very different experience spending time there, where greenery is surrounded by rocky clay mountains.
We the group of 28 hikers started from green mubazzrah, through back of the mountain.
Technically this hike is rated as moderate+ and not suggested for first time hikers. One need to have much pace and stamina as the trail has more of inclines and scrambling.
Distance is 8 km & it took 4 hours to reach the summit. But i felt like doing 15 km because of the inclines. Throughout the hike we got to see very different views and lots of picturesque landscape. On reaching the summit, one can take rest in mercure hotel, which is located at the top of Hafeet Mountain. You will also get a free desert view ride for summitting hafeet.
After taking rest for few minutes, we the group of 5 people planned to climb down hafeet and explore the view through the zig zag road. We made it to the 70% and our team gave us the ride down. That was another 8 km. Im happy that our team was very enthusiastic and had lot of energy through out the hike. Below are few tips if you plan to do this trail. Hike routes are available in wikilok.
Tips :
* Use hiking poles as this trial has more of inclines. This will help you balance your backpack and support climbing.
* Wear hiking gloves as it protects your hand from injury by the time of scrambing. Most of the scramble part in this hike has sharp edged rock, which can hurt your hand.
* Wear proper hiking shoes. Walking/Running shoes not suggested.
* carry minimum 3 liters of water and light healthy snacks.
* i would recommend hiking this place early morning soon after sunrise so that you can hike in shade throughout the hike.