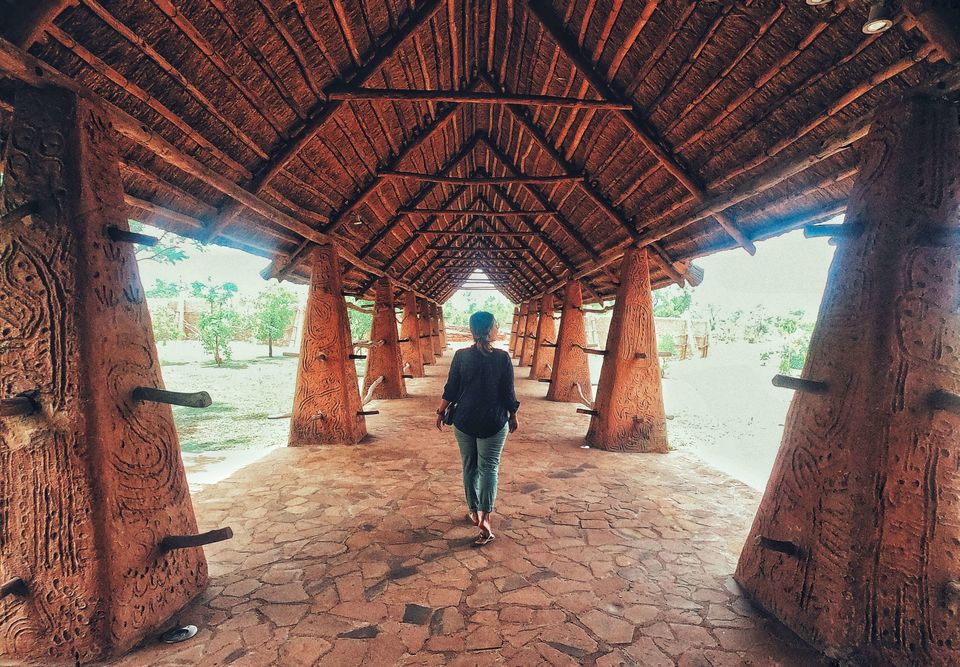 My recent trip to Ghana for a friends wedding was full of surprises. I made no plans this time and had decided to go with the flow, just to realise that sometimes it's the best thing to do! Staying with our friends family gave us an exposure to the local Ghanian Lifestyle and here are some of my favorites from the trip to truly enjoy Ghana!
Start with gorging on some delicious Jollof!
We got our first taste of it the night we landed in Accra and our friends sister had cooked some delicious Jollof and fried plantains for us. Interestingly we found out about the ongoing Jollof war between Nigeria and Ghana, for which Country makes it the best! I haven't tried one from Nigeria yet, but this dish definitely reminded me of Biryani and I absolutely loved it. After Belize, this was my second trip where I enjoyed local food truly.
Try a Kizomba class in Accra City hotel
I had heard of Kizomba back in Dublin when we were deciding which class to join next after we were done with Lindy Hop. In Ghana we got the opportunity to get a dose of it. Kizomba originated from Angola and is characterised by a slow, romantic and sensuous rhythm. Learning Kizomba was fun and a must try if you are in Accra.
Line Dance in Afrikiko
Dancing in Ghana was a different rush. High energy, subtle moves, enthusiasm, music and the beats! All of it could get anyone off their chair and on the dance floor. Afrikiko is pretty famous in Accra city and an absolute recommendation to experience nightlife in Ghana with some dance, delicious skewers and good vibe!
Attend a Ghanian Wedding
Well it is easier said then done unless you have a Ghanian friend. Coming from India, I appreciate the whole wedding jazz. But Ghanian wedding took it to a different level with its energy, simplicity and vibe. Right from the rituals, traditions, the bride & grooms entry with the bridal party and the reception! It was a fun extravaganza!
Go for a wildlife safari in Mole National Park
Hello Elephant!
Mole National Park located in the North is a must visit if in Ghana. We took a flight form Accra to Tamale and had our lodge pick us up at the airport. It is around 2 hours 30 minutes worth of a drive from Tamale Airport. Get ready to witness the vast difference up north in comparison with the south. Mole National Park is huge and going on a safari without a local guide is prohibited. We took the safari from the lodge for $70 per person and saw some elephants swimming, baboons fooling around, antelopes running away from us and the rugged forest!
Stay in Zaina lodge and experience their amazing hospitality
Zaina Lodge is a luxury hotel located amidst the National Park. It has the elegant, modern decor and well facilitated tents for your stay with scrumptious food, friendly staff, incredible customer service, an infinity pool overlooking the lake where elephants come to swim and the sanctity of being in the wildlife. I still remember we reached after sunset and were welcomed to the thunder - lightning show in front of us, almost like a disco minus the music. It is also a perfect place for star gazing right from your tent!
Enjoy the food at Kokrobite
Although I didn't get a chance to visit Kokobrite, I would recommend going to Kokrobite Garden which is a small fishing village. It falls on your from Accra to Cape Coast. After some good food a walk by the beach is only a few minutes away!
Cocoa Village in Kumasi
This was another place on my list that I couldn't make it to. Frankly speaking commuting within Ghana is not easy and very time consuming. Due to our cut throat schedule, we couldn't make another three drive to Kumasi from Mole National Park. I wanted to visit the Cocoa Village near lake Bosomtwe which is a crater lake. Cocoa Village Guesthouse is a perfect place to relax and enjoy the views by the lake.
Try Akpeteshie cocktails in the Republic Bar
We went to the Republic Bar in Osu district famously known as the party place of Accra, after our Kizomba lesson and were stunned to see the true Ghanian nightlife. It turned out to be a night of strong local Ghanian drinks, dance and music. It was our first time trying Akpeteshie which is a national spirit of Ghana distilled from either palm wine or sugar cane, something you have to try when in Ghana.
Enjoy a nice steak at Sky Bar
Sky Bar is a hot spot near Accra Airport. This premium rooftop bar overlooking the Accra city is a gem for good drinks, food and a quiet, relaxing time.
Talk to the locals!
Talking to the locals in Ghana is a promisingly enjoyable time. In no time you will end up making friends for life who will go above and beyond to help you and make sure you have a good time throughout your stay! Friendly people with great insight into the world, knowledgeable and a definite fun bunch to hangout with.
Go shopping at Accra Art Center
Located along the seafront near Black star square, the Art center is a stop worth shopping for the local artefacts. You will be persuaded by the hawkers from all the directions once you get here. If you can help not get exhausted by the throng, you will find really interesting things to buy. A variety of African arts and crafts such as carvings, paintings, clothes, scarves are sold here at an affordable price if you can bargain!
Checkout Nema Market to see where the locals shop
Nema Market reminded me of the market back in my hometown where I and my mom would go shopping for vegetables, bargain with the vendors and eat street food! A pretty crowded market that sells everything small.
Try the delicious vanilla cupcakes from the Bake shop in Labadi
We were staying in Labadi , the beach, good restaurants everything was close by. Our friends sister had recommended the bakery next to their house for yummy cupcakes and chocolate croissant, one of the best cupcakes I have ever tried!
Go for a horse ride at Labadi Beach
Labadi Beach is a perfect place for an urban beach experience, good drinks, music, good friends around the corner and to bask in the sun. They have tones of beach activities to choose from, horse ride is one of them. When the waters become too dark and dangerous to swim in, visitors/locals abandon the waves to party until very late in the night. Live bands and reggae artists, as well as disco and pop DJs play for all night raves around bonfires. A place where you can have a good time any day of the week!
Try the traditional Shocker
The Ghanian Moonshine with a secret ingredient! It basically is made of pineapple juice, coconut, rum, vodka and ounce of weed. We knew drinks in Ghana are strong and weren't sure if we were up for it, because the day we tried Mary Jane was a mind numbing experience! So we knew what we were going to get ourselves into if we were to try shocker!
After you are drunk enjoy some Banku with Fried Tilapia
Another favorite local dish that I would love to try cooking back in Dublin. Banku with fried fish and ground pepper, grilled/fried tilapia, tomato sauce, and with okra soup/stew and crab are some of the dishes found on restaurants' menus that serve this mouth-watering meal.
If in Ghana, do not forget to try the things above to truly enjoy Ghana! There are many other places and activities I wanted to do such as paddle boarding in Lake Bosomtwe, Watch the Black Volta meet White Volta, visit the many waterfalls in Ghana, enjoy the beach party with the locals, but now I have a reason to revisit!