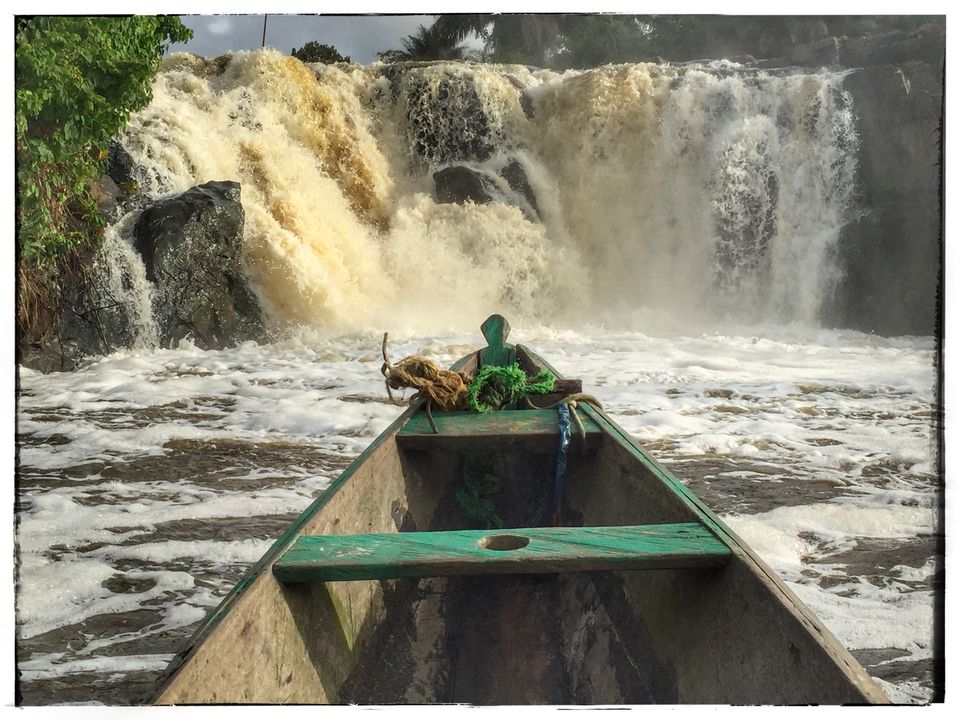 The first time I ever heard the name Cameroon was when a 42 year old almost-retired football player put the country on the Football map in 1990 – Roger Millar! So, it is a very interesting coincidence that I have decided to explore this country when I am 42 ;-) I had a lots of expectations from this country – in terms to things to see, do and experience – since I had heard so much about it from my Cameroonian friends and also since most guide books tout this place as "Africa in Miniature". Unfortunately, my adventures in this country didn't get kicked off on a positive note. I was exposed to the Bureaucratic BS that I had been warned about right after I landed at Yaoundé Airport. I had to wait for a couple of hours for my special Immigration officer to get into the airport (he was supposed to report for duty at 8:00 AM, but didn't show up until 11:30) to stamp my passport! Considering I had already paid a lot of money (one of the most expensive Visa-On-Arrival processing fees I had ever paid!) to get this Visa arranged, this was quite frustrating. Plus, on top of that the entire city traffic to /from the airport was shut down because the Cameroonian President had come to the airport to bid farewell to his new buddy – the Italian Première! This made what goes on in a place like India – in the name of 'diplomatic security' – seem so tolerable! But I didn't want anything to dampen my spirit and was ready to get the Cameroonian party started!

Yaoundé
Despite a lot of not-so-favourable reviews, esp. around the location of the hotel – I decided to check-in to Mont Febe hotel, which was indeed located a bit far away from the city centre. But since I passed through the city first before checking in, i figured out there was not much to do in Center-Vile and so was not worth staying around it. Luckily for me, it was a good decision. The hotel was perched on top o f a hill with spectacular views of the city – from almost all the rooms – which you could enjoy with a hot coffee or cold beer right from your own balcony! And all that for a very reasonable mid-range hotel price – considering the Hilton in city centre was charging around 300 USD++ ! However being a sundowner junkie, I did drop into the Hilton to check out the views from their rooftop bar and it was absolutely worth it!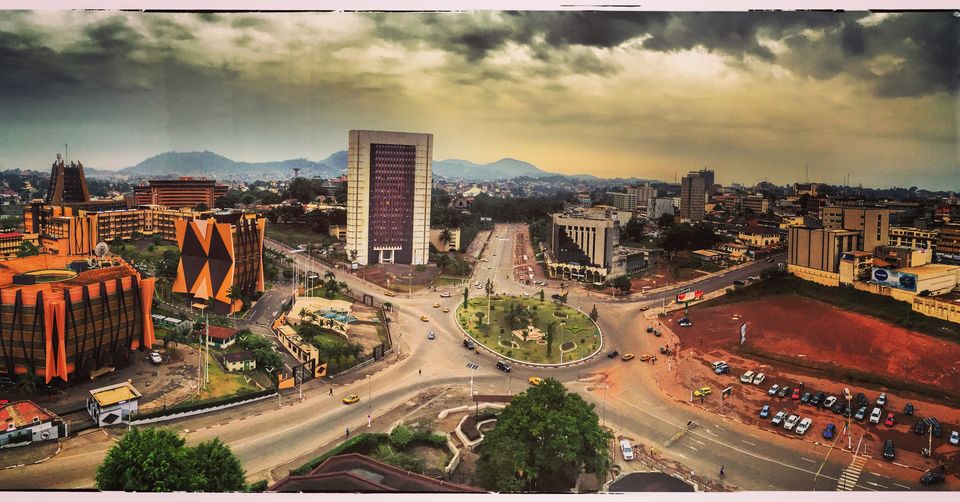 Recommendation: Get out to the terrace –with your drink - to enjoy lovely views instead of settling down inside and getting absorbed into a typical star-hotel bar atmosphere of Africa that lacks character and caters mainly to men who are striking deals or unwinding after a day's work with cold beers and premiership league games on the telly.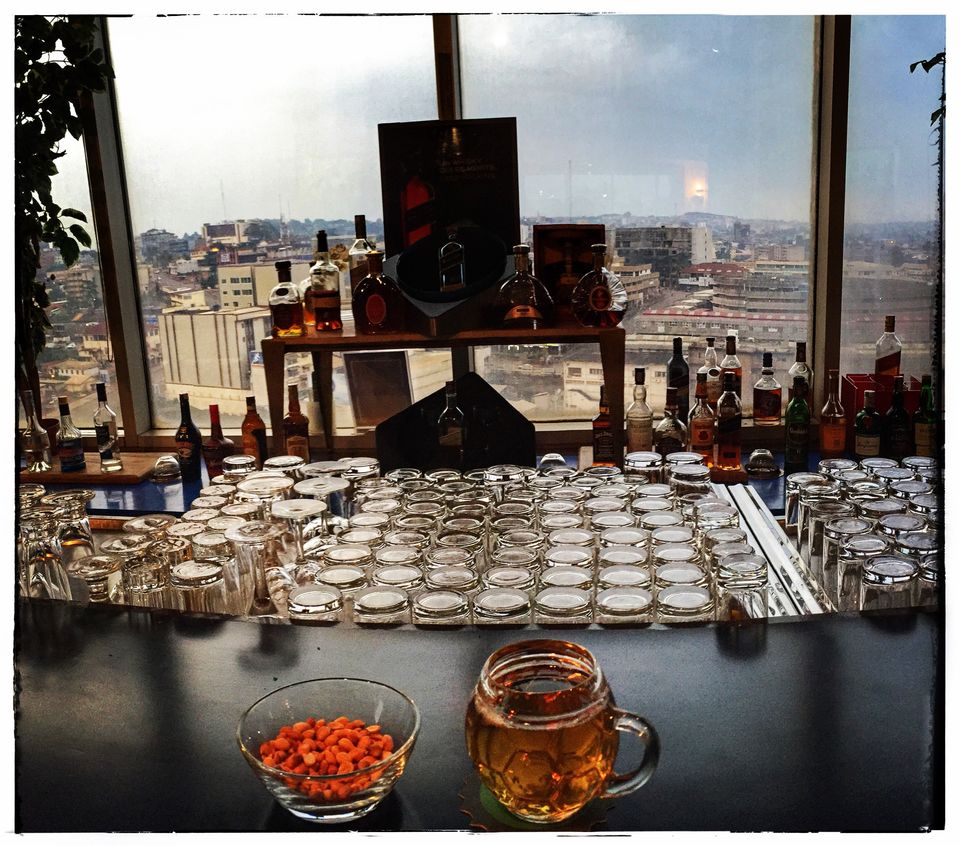 After a couple of over-priced beers at the Hilton, I returned back to Mont Febe for a delicious dinner at their restaurant - that included some authentic Cameroonian dishes (Ndole aux Crevettes and Capitaine a la Camerounaise) made with Shrimp and Fish, washed down with locally brewed Mutzig beers. Thanks to the wholesome meal, I managed to catch up on the sleep and eliminate the Jetlag for good.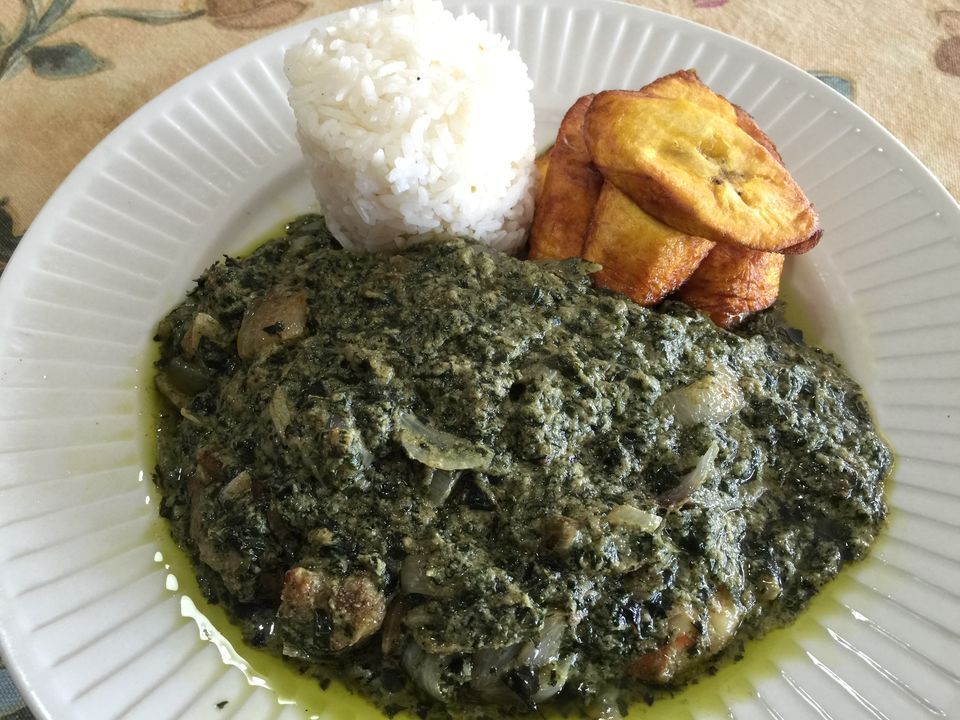 Being at an elevation made this place seem and feel like a hill station – the temperature was lower than down in the city center as well as you are surrounded by low-hanging clouds and mist in the morning that is an enchanting sight.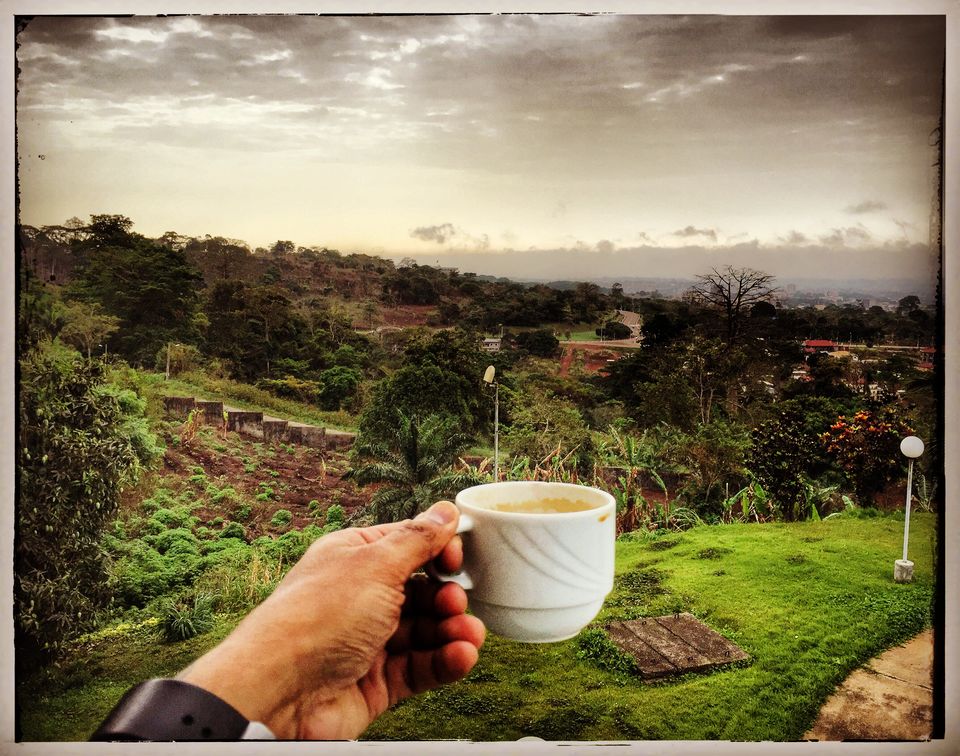 Kribi
The next day got off to a high-octane start fueled by some fine Cameroonian Coffee – didn't realize this country produced such aromatic and flavorful coffee! Hit the road at around 9:00 AM (had arranged for a 3 day car+driver package through the hotel reception) and after around 3-1/2 hours of drive- filled with sceneries that have Lush-Green a new meaning altogether!- arrived into Kribi town just in time for lunch. Decided to stop at a beach side restaurant called Le Plaisir du Gout (had no idea what that meant! J) for a quick bite and beer. This was a classic example of winging-it in travel. There were no mention of this place in any of the guide books (the tiny selection that were available!), blogs or articles. Google maps or other Location-detection apps didn't even recognize this place. But it turned out to be one of the finest sea-side alfresco places I have ever been to!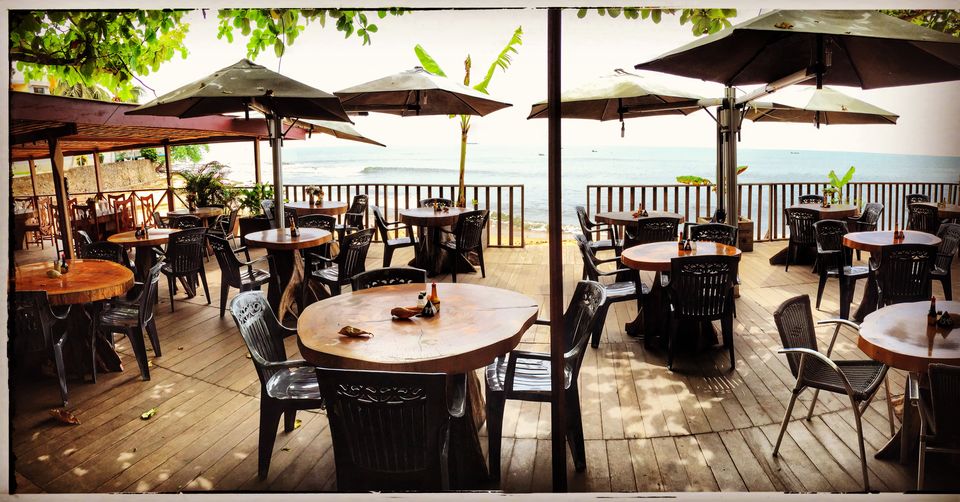 Africa can test you, tire you, tease you, please you, overwhelm you or scare you. But on some days she just hugs and kisses you – and today seemed like one of those days. Sitting on a deck over one of the finest beaches in the continent, cold beer in hand, grilled fish from the ocean next to you cooked to perfection while being caressed by the warm Atlantic breeze! What more can a guy ask for?! J'aime Cameroun!
Breaking the language barrier
Travelling in an exotic destination can be filled with surprises and the first time I experienced in Cameroon was at the Le Plaisir du Gout restaurant. The waitress started off in fluent French to take my order and unfortunately I cant speak French to save my life and my driver was from the Anglophone part of Cameroun and his French was very broken. So what do we do now? "Habla Espanol senor?" asked my lovely waitress and Voila! - there you go – we have a potential solution being proposed. "Si, Un poco – pero mi espanol es mui malo" I uttered in my really rickety Spanish. And that's how it began. From there on, we both managed to communicate – albeit in a funny way – in Spanish. I was able to get my cold beers, spicy food and in fact, get it cooked the way I wanted it! The scenario cannot be easily explained through simple words. An American citizen of Indian origin sitting in French heavy region of Cameroun (Kribi) and talking to a person originally from Equatorial guinea in Spanish to order a meal and a drink!
Post lunch, I walked into the hotel across the road (Les Gites des Kribi) to check out the room and property. Thank god I did before checking in. It was a classic example of the pictures of a hotel in a booking site being as far from reality as Mars is from our planet! It was appalling and surely not the kind of place I would like to spend the only evening I had allocated for a lovely beach side town like this. So i temporarily suspended all modern modes of hotel booking – Damn you OTA's and Meta-searches – and went old school. I spoke to the friendly restaurant manager and asked for recommendations on the best beach side (I was insisting on this as I in a beach town, for crying out loud!) property around the area. Without hesitation he immediately recommend Ilomba hotel. I had never heard about this place or read about it in anywhere until a few minutes ago when I saw a roadside sign advertising it – and I thought I had done decent research! It didn't show up in Booking.com (The monstrous booking site that has around million properties around the world probably!) or even in TripAdvisor (at least directly under Kribi). So, I moved away from Online booking to Offline, from Crowdsourced review sites to a single local expert's recommendation and from extensive research to word-of-mouth!
I was praying and hoping – as we drove into this property – that they had rooms available, as I absolutely fell in love with the location and the hotel grounds at the very first glimpse! Thanks to my travel fairy – they did have a sweet room available that had all the creature comforts (sans television) that costed me only 40000 CFA (taxes included). And the place was located inches away from what is arguable one of the finest beaches in Africa and come with a Bar and restaurant that was so close to the sand you could feel the thud of the heavy waves from the Atlantic ocean! So this mode of picking a hotel seemed to trump the digital mode I have been priding myself to be an expert of! Yet another Travel Surprise.
After checking in, freshening up and catching up on mails and updating travel plans/reservations I headed out to the famed Lobe Waterfalls (Chutes de la Lobe) that was something the town of Kribi is known for, other than the beach and wide variety of fish that is J What is unique about this natural wonder is that these overwhelming and energetic waterfalls of the Lobe river gorgeously empty themselves into the Ocean directly. There are probably not many other places in the planet where you can get to see something like this easily. Though the place was only a stone's throw away from Ilomba hotel and I could have easily walked to the place, I decided to go with a local fisherman on a Canoe ride as it was highly recommended by almost every tourist who had been here and also provided extremely close access to the pretty falls.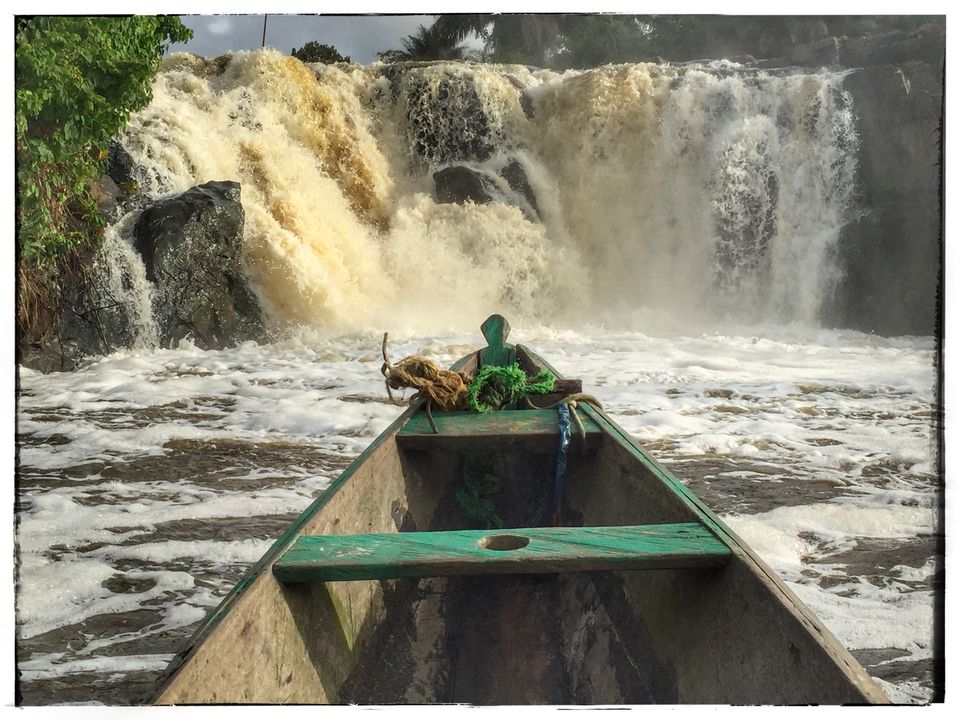 I stuck a deal with a local fisherman for a 1 hour tour at 7500 CFA – which I felt a bit guilty about as that wouldn't have fetched me more than a fine imported beer at the Hilton back in Yaoundé and here this guy was getting paid the same for 1 hour of hard labor L Classic example of a Price disparity in the third world you get to see all over Asia especially. The canoe ride totally lived up to its build up and expectations and easily qualified itself into the list of my favorite African Experiences. It was quite an interesting sight to witness - a roaring waterfall on one side and a surf-worthy beach on the other side. But the highlight of the mini tour was what my fisherman friend did – upon reaching the site of lobe falls, he realized the canoe was on the other side of a mini bay and his shouts for help didn't reach his friends on the other side. So, without hesitation he stripped to his shorts and jumped into the ocean and started swimming like a maniac. I am not exaggerating here, but within a few minutes he was on the other side of the bay – which was clearly a few hundred meters away and all that through mildly rough waters. If he had been discovered and trained by one of the best coaches in America, he could have easily given any Olympic swimmer a run for their money in sprinting!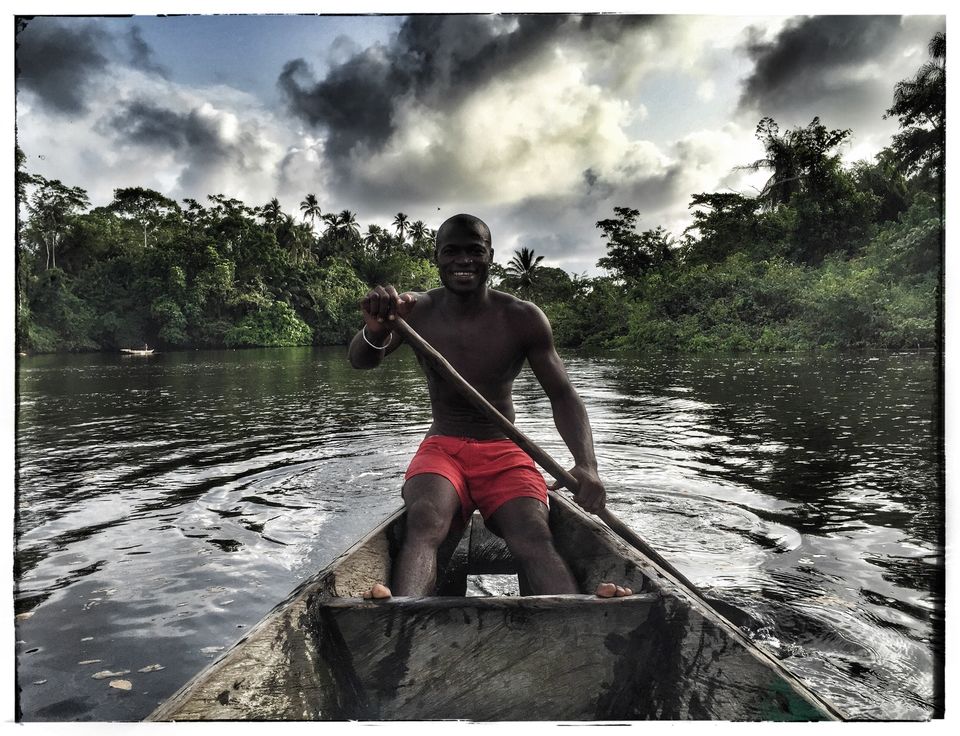 Also, the dude was so sweet as he tried so hard to give me all the information & facts about the place. Unfortunately he was going on and on in French and all I could register were worlds like Crevette, Barracuda, Capitaine and Ebandja – all of which were names of the fishes/seafood you could catch in this river! J Was I already gearing up for my next meal?! Jokes apart this was so worth it as opposed to so many other such experiences – like the infamous boat ride in Benares, India – where the guy doesn't do anything other than taking you from one point to another.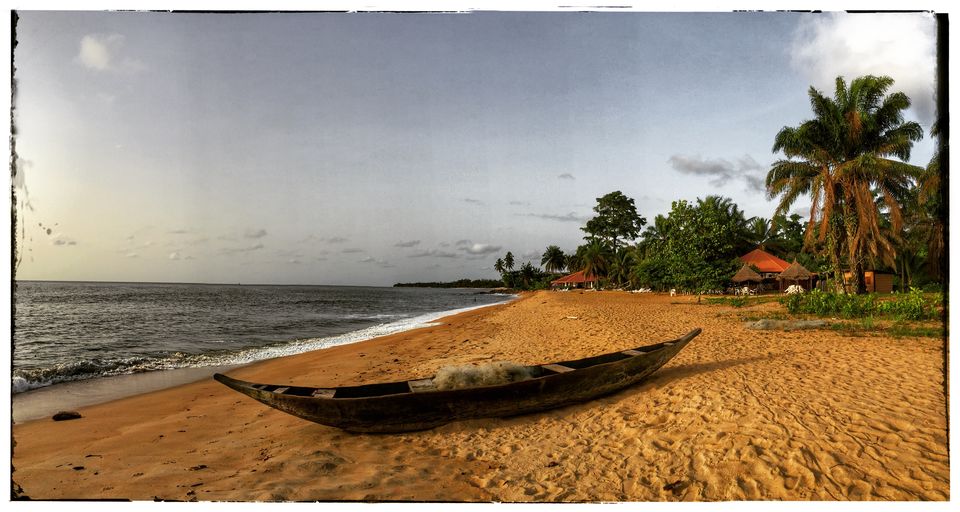 I got back to Ilomba hotel on time for a quick shower and catch yet another surreal sunset with a few cold 33 Export beers. Since it was a Monday I had the bar all to myself after a while and it was a lovely experience to sit back, have my feet up, and enjoy the dusk turning into darkness - decorated by the passing ships in the distance – with some Castel beers, which I have seemed to gotten used to by now and not complaining as much as the first day. You know you are really off the beaten track and at a place still under the radar when the most intelligent location/points-of-interest detectors like Instagram, Facebook etc., struggle to or never manage to recognize the establishment. I hope this whole place stays that way and embrace only travelers who love and reach out to Africa and not open up to mass tourism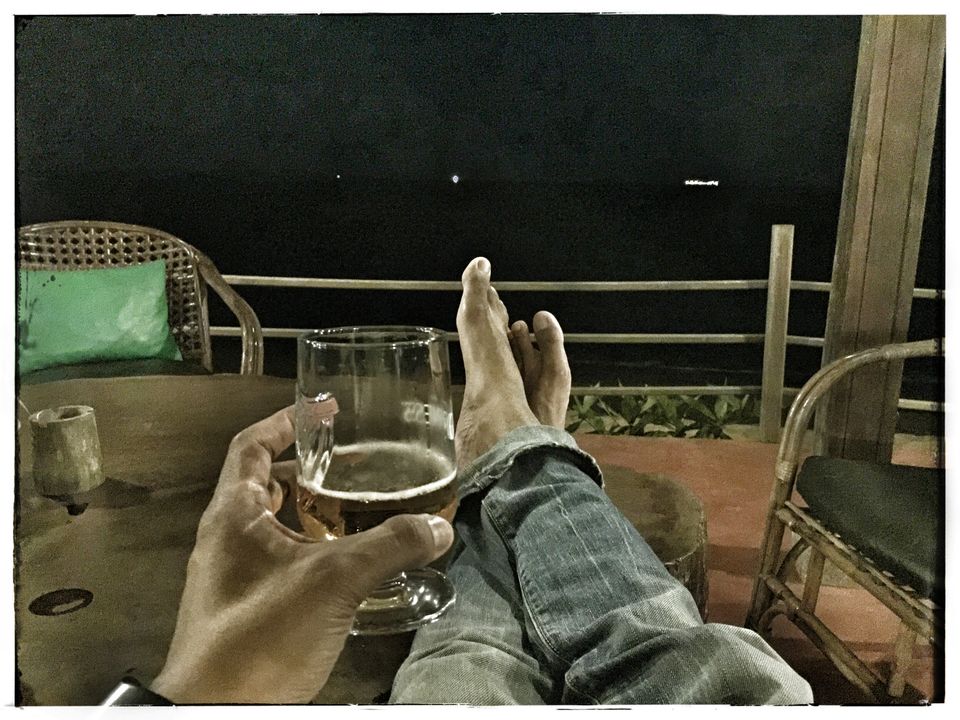 Limbe
After another night of deep slumber, I woke up around 7:00 for another round of freshly brewed Cameroonian coffee – which I now seemed to have developed a craving for. And how could I resist the experience of relishing it setting on a easy-chair in the verandah that was almost stretching into the ocean. After reconfirming plans for the day and getting a last minute hotel booking at a new place called Fini Hotel BobendeI near Limbe(Yes, I simply love the feeling of cancelling and rebooking and thrive on runtime plans than committing myself J) hit the road at around 9:15 AM.
The drive from Kribi to Limbe was one of the most painful ones I have endured in this continent. I assumed the roads would be in the same condition as the ones from Yaounde to Kribi. But I couldn't have been more wrong. Since this route had to pass through Douala it made it even more of a nightmare. I was shocked that Douala, being the economic capital and financial heart of Cameroon, had not done anything about this. But then this is Africa, where just like in India political corruption and embezzlement is like a fashion statement every official has to make!
After 5 hours of grueling drive, made a pit stop at Hotel Miramar –near Down Beach area of Limbe - for a quick bite and a phone call I had to make via skype. Once again this moment will fit so well into the #SuprisingAfrica category. A few minutes back I was enduring a back breaking drive on muddy roads and now I was sitting on a breezy balcony – right above the loud lashing waves of the ocean – and sipping on a cold Castel and savoring a Barracuda made by a local chef. And all this while being connected to high speed Wi-Fi and talking to someone across the continent via Skype. Did I see that coming? Hell No!
Until I landed in Cameroun, I was assuming they were like other former French colonies in West Africa and spoke only French as a national language. So I was surprised to learn that there were actually two sects of people here – Anglophones and Francophones – so strongly attached to their linguistic preferences, that there is even a political and cultural divide that runs under the surface. The reason I brought this up was, Limbe was located in an Anglophone heavy region and it was very evident as soon as I entered the township. Everyone spoke English fluently and signs and billboards were all leaning more towards English. Pretty interesting!
Fini Hotel Bebende was not actually located in Limbe but on the outskirts, but the location was killer. It was situated on one the finest black sand beaches this region is known for and had regale views of Mount Cameron and other hills on the other side. There are hotels that are worth staying purely because how good they are, and then there are hotels which are crappy at best and don't value customer experience or quality but survive purely because of their location and the vantages they are blessed with. Fini Hotel Bebende clearly belongs to the latter category. The rooms were run down and everything about the property was dated. But I didn't care as they came with Balconies loaded with mind-blowing views of the black sand beach that was so close, you could almost dive into from your room! The bar and restaurant were not too bad. So, it seemed like a perfect pit stop for a quiet night at the foothills of Mount Cameron.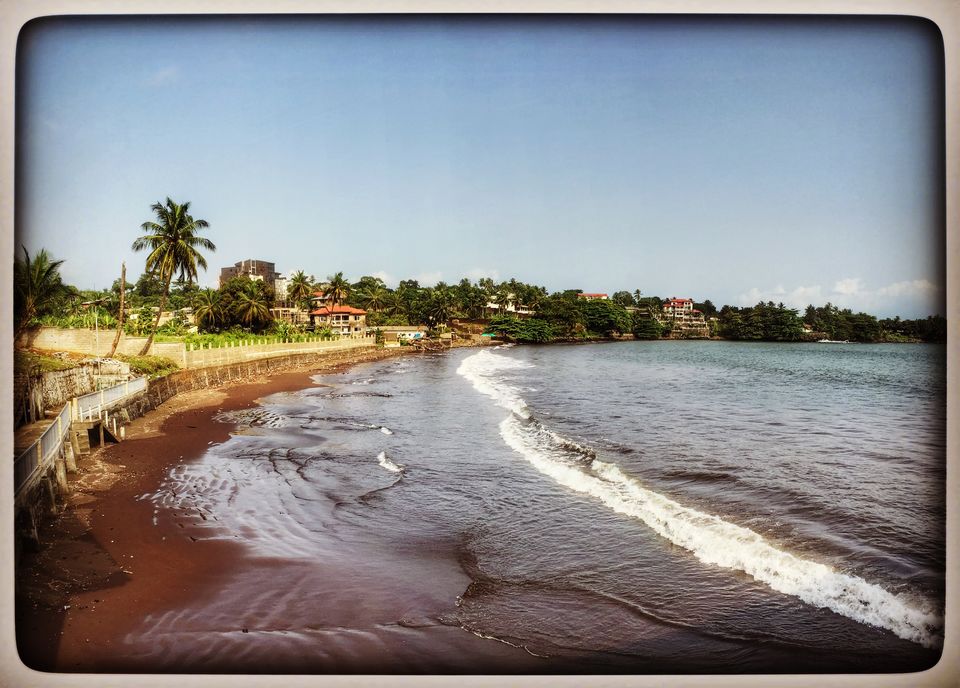 Bid farewell - for the day - to the big fall of fire from the terrace next to the pool with a cold 33 Export. The temperature dropped a bit and the breeze picked up as the evening evolved and it felt like there couldn't have been any better place in town to relax and review all the wonderful pictures that were captured through the day but couldn't do any justice to the amazing nature's own art that Cameroon was. For dinner I went with my waitress's recommendation of Brochette de crevettes – of course along with loads of Pepe (the hot sauce which I have gotten addicted to!). And In the end the quality of the room or lack of luxury amenities/fittings didn't matter at all as I ended up lulled into deep sleep by the tunes of the rhythmic waves you could hear so loud and clear from your room!
I woke up next morning to lovely weather (means, cloudy and an absentee sun in my world! J) and after a hot coffee – while relishing the views of the black sand beach – hit the road to the town of Buea. And today seemed like my lucky day, as the majestic Mount Cameroun decided to show up from his hiding in the clouds and was right in front of me, in full glory, as I stepped out of the hotel. So, I got a fine glimpse of him even before going to Buea, the town known for its captivating views of this volcanic mountain. The drive towards Buea from Limbe was filled with visually arresting sceneries of lush green plantations and rain forests that could rival Borneo and Costa Rica in magnificence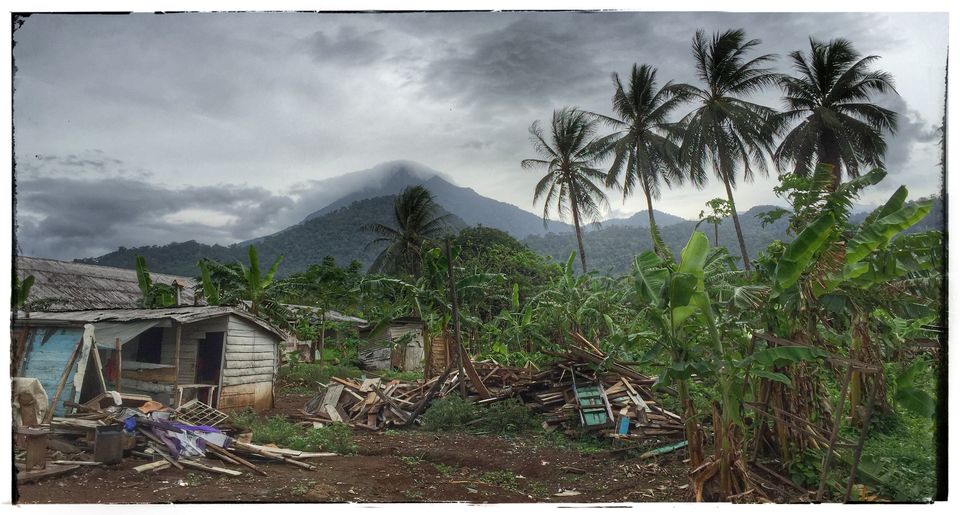 Despite trying hard couldn't easily locate the Tole Tea plantations that I was so looking forward to – as a tea plantation in this continent is quite a rarity. So, decided to proceed directly to Buea, which was sleepy little town located at right at the foot of Mount Cameroon – which I couldn't easily spot when I was there! Nothing much to do out here. So after a few touristy pictures hit the road to continue to Douala
Douala
Reached Douala on time for Lunch. Though Douala is bit of a chaotic mess, it felt so nice to be back in the city – and get treated to the fine pleasures of sophistication that you can get only in a big town. God, I was so happy to get a crispy beer on tap along with refined gourmet good served to you by waiters who immediately got what you wanted and how you wanted it! Little pleasures that make this grimy, polluted and overcrowded city bearable even its only for a day. The Ibis hotel I was staying at was nothing more than a midrange hotel, but had a great little restaurant (serving fine local cuisine along with other choices) and wide variety of movie and sports channels that I had been so deprived of in the last few days! And guess what, they even had Super Sports channels that were screening the T20 Cricket world cup game between India and Bangladesh!