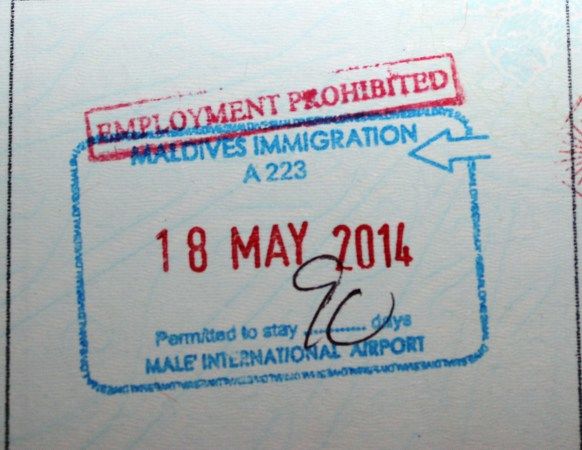 Very few countries have a No Visa Required (NVR) or Visa on Arrival (VoA) status for Indian passport holders. One of the effects of a weak economy. But there are some beautiful and stunning countries on the list.
One of the closest to us is Maldives. This stunning island nation is located south west of India, just below the Lakshadweep Islands.
Maldives offers VoA facility to Indian passport holders. The only requirements are a valid passport, proof of onward/return journey ticket and confirmed Resort/Hotel booking. If you have not booked a Resort or Hotel, you will have to submit a proof of sufficient funds (US$100 + $50 dollars per day)
The Ibhrahim Nasir International Airport at Male is small compared to the other international airports. Be ready to wait in long queues. The immigration officers may ask you to produce the documents so keep them ready before you reach the counter. It will help speed up your process. In my case I had kept everything ready but was lucky as the officer did not demand anything and gave me a 90 day visa whereas my husband standing along with me got only a 30 day visa. The period of the Visa is at the discretion of Immigration. It is usually for 30 days or less but can vary.
Don't wait to experience this paradise!
Frequent searches leading to this page:-
Maldives honeymoon package cost, Top Maldives tour packages with price, Best Maldives tour packages for couple with price, Best Maldives tour packages with price from Delhi, Maldives tourism best places to visit, Maldives tourism best time to visit, Maldives tourism honeymoon packages from India, Maldives holiday packages for family