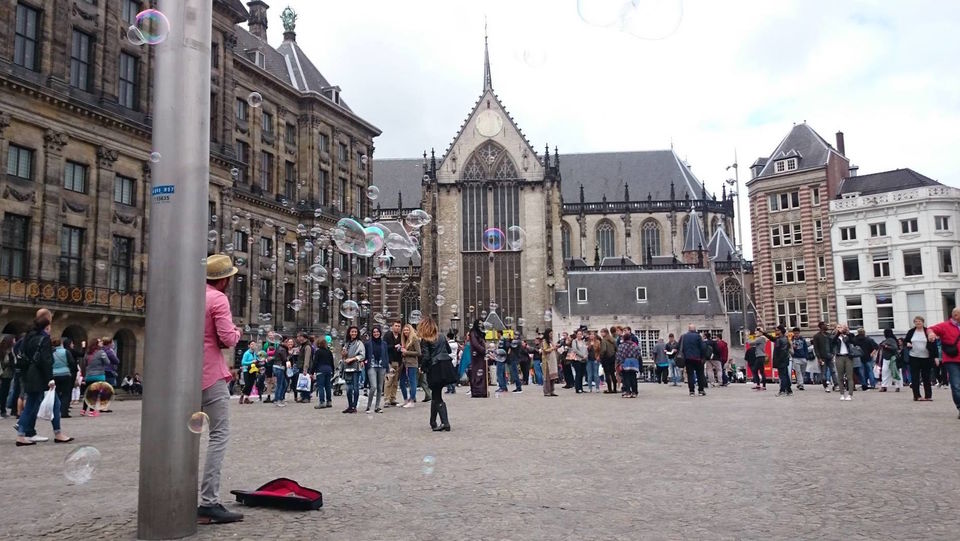 "I get high with a little help from my friends."
This line from the famous Beatles song summarises my trip to Amsterdam. This was the last leg of my Euro trip. I had few friends joining me from various corners of the world and yes, we got high af.
Amsterdam is one of those cities where you need not plan anything. Going with the flow is the best thing you can do.
Since I am a fan of how cities are built, I took a walking tour in Amsterdam. Our guide explained a bit about the city's history which was intriguing and amusing.
Did you know the world's first stock exchange and the first condom shop are bang (pun not intended) opposite each other.
Condomerie has some really interesting condoms you can buy as Souvenirs. Ofcourse these are for display purposes and not for use.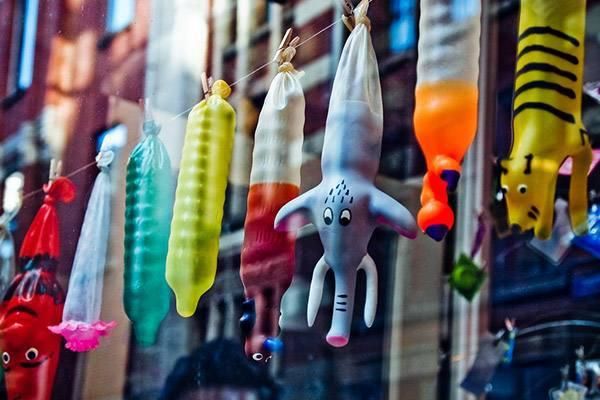 The story of how Brothels came into existence is extremely interesting. Shockingly, most of the properties where the brothels are located were owned by the Church. It all started when the Church realised, men would come to confess after sinning. The way to attract more people to the Church was if, more people felt guilty about something they did. Hence they started leasing these properties to Sex workers.
We took a walk down the Red Light area. Even though it was daytime, there were a few windows open for business.
If you'd like to explore the city by yourself, there are plenty of places to visit.
A bunch of my friends visited the Heineken Factory which is something you can do during the day. Instead, me along with two other fellas visited the Sex Museum. Our decision was based on the loose change we had in our pocket. It was the cheapest of all Museums in Amsterdam, we paid 4 euros only. This place totally exceeded our expectations.
From the birth of pornography to sex practices in different civilizations; all of this was amusing and informative at the same time. We read stories of how men used to smuggle photos of naked women in the late 1800's inorder to fantasise and please themselves.
The main 'attraction' was a hideous looking statue of a dude in a trench coat. The minute you approach it, he steps out and flashes his thing. We heard women shrieking and giggling through out.
Warning: there is a lot of gory stuff in this museum which can creep some people out.
After great sex comes great food. To our luck, adjacent to the museum was Pasta Bar. This place has the best pizza that money can buy. A whole pizza for only 4.95 Euros. That's pretty darn good for a place like Amsterdam where food and alcohol is expensive.
Now for the part most of you have been waiting for. There are 2 types of places you should know about in Amsterdam.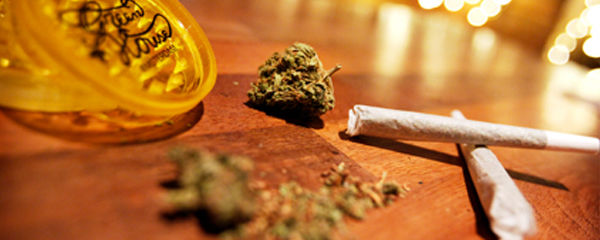 Coffee Shops: These are of course places where you will get coffee. But Coffee shops are different from Cafes, you go to coffee shops to get high. Weed and Hash are legally available here. You can also purchase the stuff just like you would at a shop, by the weight. You can roll your own joint, smoke it there or outside, at your will.
For an amateur like me, they had ready to smoke joints!!
You can also consume the Space Cakes aka Pot brownies at these places. They take a while to hit you and for most people one does not do the trick. I'd suggest that if you are new to this, stick to the cakes. If you would like to experiment, go with the weed. And if you smoke than you will probably go with Hash since you love your Tobacco.
Visit: Original Dampkring, Bulldog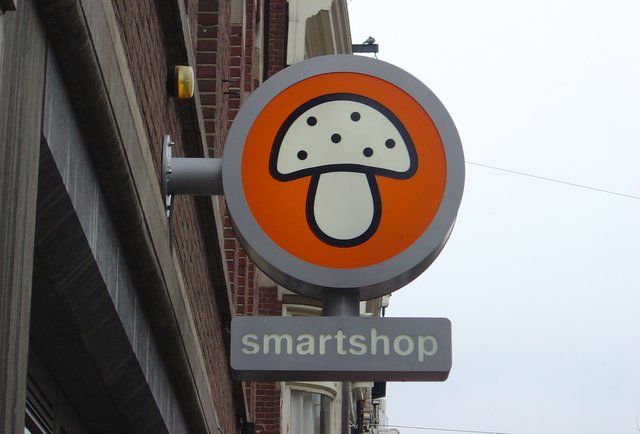 Smart Shops: This is where you can purchase psychoactive aka 'smart drugs'. Our purchase of truffles were a complete rip off, because we consumed it after a meal. Always consume psychedelic drugs on an empty stomach for best effects.
Lesser known fact: Magic mushrooms have been banned in Amsterdam since 2008.
If you are in a mood to detox from all the alcohol and surround yourself with nature, go to Vondelpark. The best option is to find a spot in the park, light your J and just gaze at the sky.
Amsterdam is a very cycle friendly city and I would highly recommend you to rent a bike.
One common phenomenon occurring in Amsterdam is losing track of your expenses. Mostly because of mindless purchases of drugs, alcohol and food after you get high. Transport and Stay is also expensive in my experience.
Amsterdam has some really famous museums, such as Van Gogh Museum, Rijksmuseum(pronounced as Rikes) and Ann Frank House. There are top 3 on Trip Advisor as well. However, I didn't visit any of these.
You can take the canal tour where you can ride in a boat across the canal which is circulating the city. I avoided most of the touristy experiences since I only wanted to relax.
If you want to enjoy the city's vibe, Dam Square is the place to be. It has a lot of food joints and street performers.
I captured a glimpse of one of the most beautiful days during our trip in Amsterdam . Watch the video below
U2 live at Ziggo Dome
Every journey needs to have a great ending. I had mine when I watched U2 live in Amsterdam. Even though I bought my pass from somebody at thrice the price, it was worth every euro. It was an experience I cannot describe in words. Hence i'll let this picture speak for itself.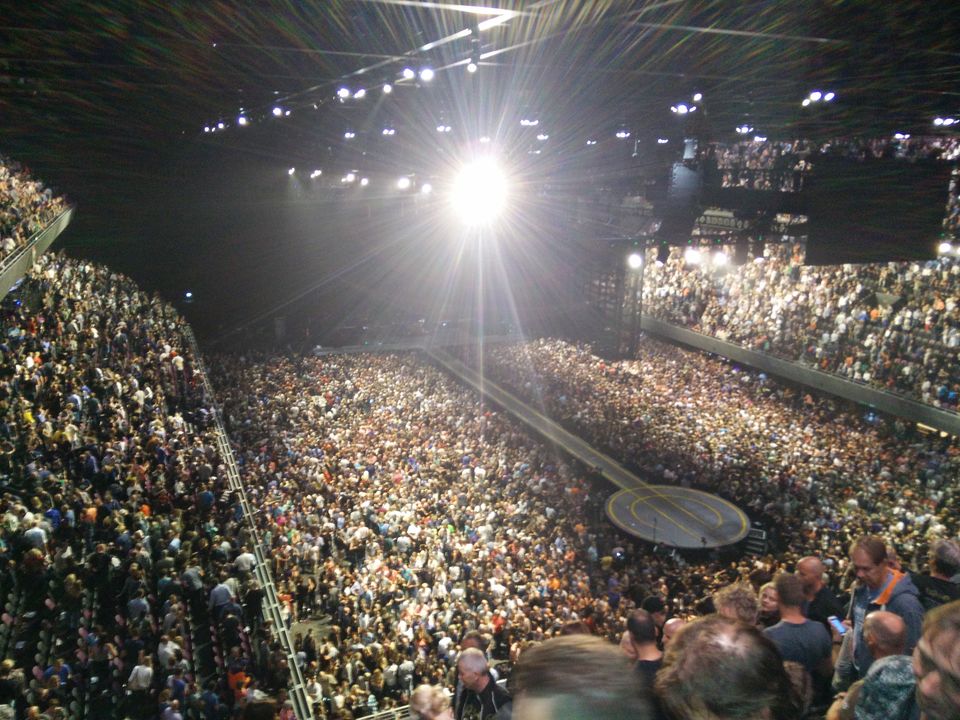 Amongst thousands of fans, I found my seat next to a couple who was watching them live for the third time. Bono, the frontman sang his heart out while he shared their emotional journey as a band. Having lost his mother at 14, young Bono started his musical journey very early. 40 years later, these 4 men who started out as kids, are still tight as ever. They are the only band in the world who have played together with the same lineup since inception.
They ended the night with my favourite song With or Without You. As the song came to an end, he said "Goodbye Amsterdam" Goosebumps ran through every part of my body and a tear ran down my cheek.