Let's get this straight—there's no better freedom than the freedom to love whoever you want and that is the spirit celebrated at every Pride festival in the world. Pride Amsterdam is one such celebration of freedom, inclusivity and love, and a wonderful one at that!
I've always wanted to attend a proper Pride parade, where the whole city forgets everything else and drowns in the rainbow colours of freedom. We have parades happening in various Indian cities now, but honestly, it hasn't reached that level yet (but I know in my heart that it'll happen soon). I clearly remember this one picture drenched in rainbow colours and festivity that I had seen on the Instagram page of Pride Amsterdam. It made me want to leave everything and attend the parade. And guess what? I did.
The whole story of how I reached Amsterdam (on a scholarship), just in time for the Pride is a different story altogether. For now, let me tell you all about Pride Amsterdam and my experience!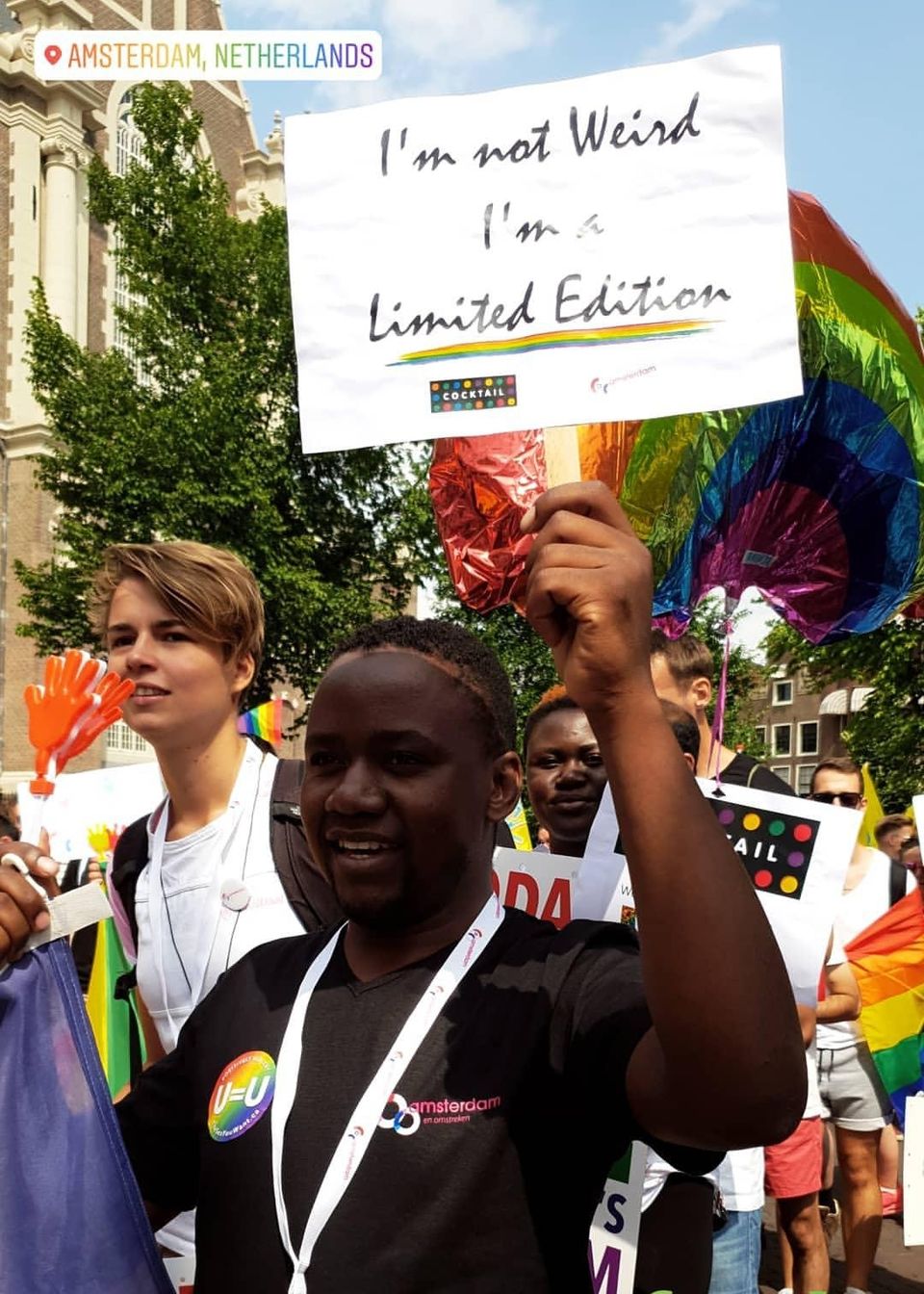 What, When & Why
Amsterdam Pride or Amsterdam Gay Pride is a citywide gay festival held annually in Amsterdam. The event starts from the end of July and goes on until the first weekend of August. Since its inception in 1996, Pride Amsterdam has developed into a nine-day festival and has become one of the best and biggest celebrations of its kind worldwide.
Contrary to popular belief, Amsterdam Pride did not originate as a demonstration or a protest march. It was a party organised by gay hospitality entrepreneurs, united in GBA, to promote Amsterdam as a gay nightlife hub and to celebrate the freedom and diversity of the city! It is simply a festival that celebrates the right to be who you are and to love who you want.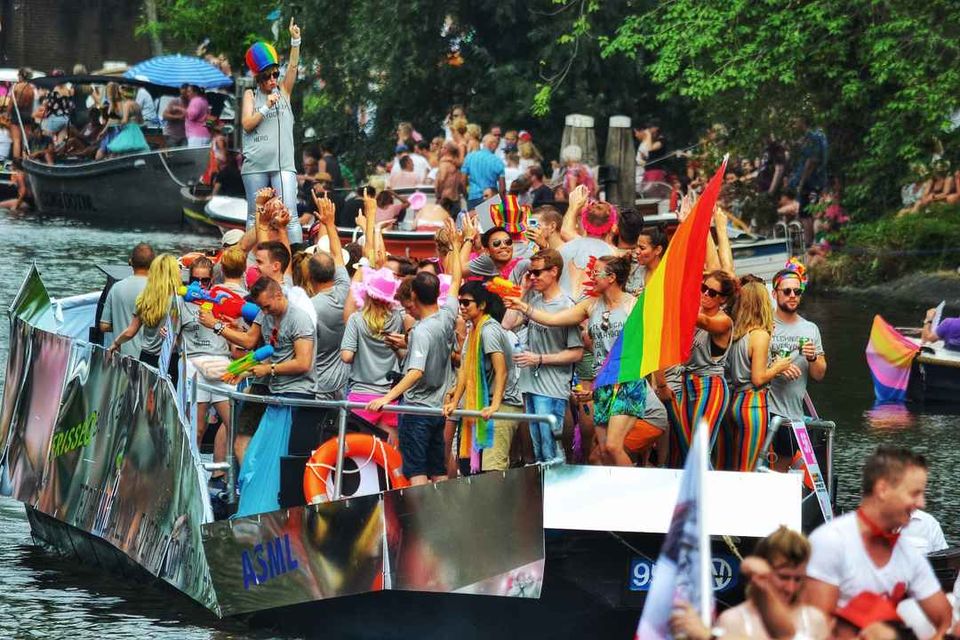 The annual highlight is undoubtedly the unique Canal Parade consisting of a colourful parade of 80 boats and thousands of enthusiastic and colourfully dressed visitors. Nowhere else in the world is Pride celebrated on such a scale on the water as in Amsterdam.
Fun Fact:
Since July 2019, Pride Amsterdam has been on the Intangible Heritage Inventory of the Netherlands
My Pride experience
The year in which I attended Pride Amsterdam was 2018. I was in Amsterdam as a Youth Against AIDS volunteer at AIDS 2018. AIDS 2018 was from 22nd to 27th of July 2018, so I had to make a bunch of arrangements to attend Pride as its opening party was on 28th July and I just couldn't miss it.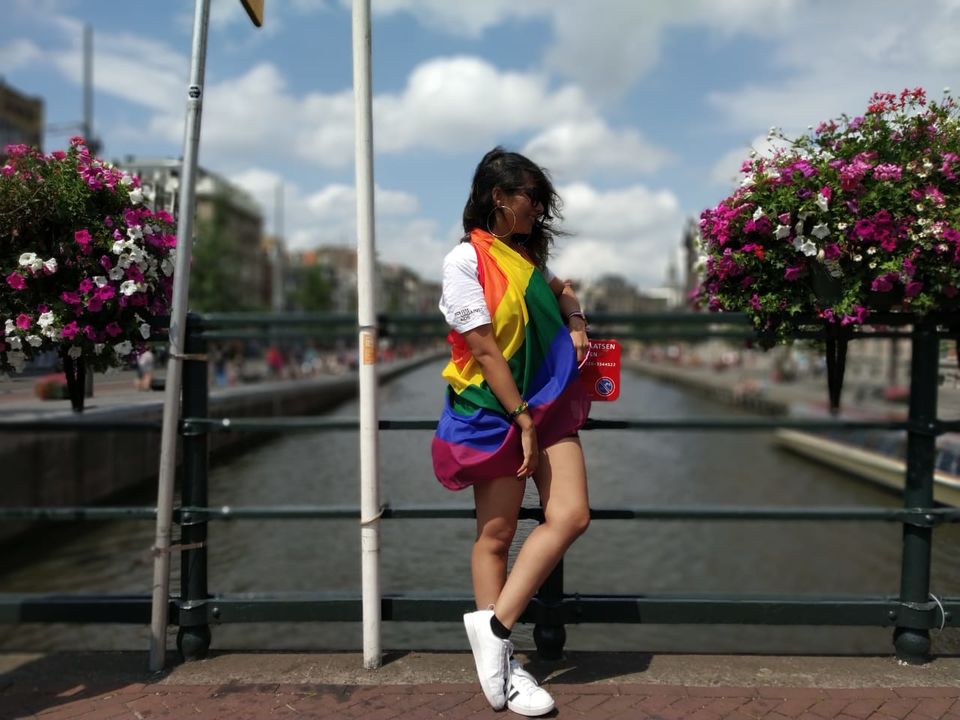 So, on the morning of 28th July 2018, I reached Homomonument by tram around 11:00 am with a few other friends. It was the starting point of Pride Walk Amsterdam which continued till Vondelpark - Pride Park. I excitedly wore my Levi's volunteer tee and bought a beautiful Pride flag to get in tune with the Pride spirit!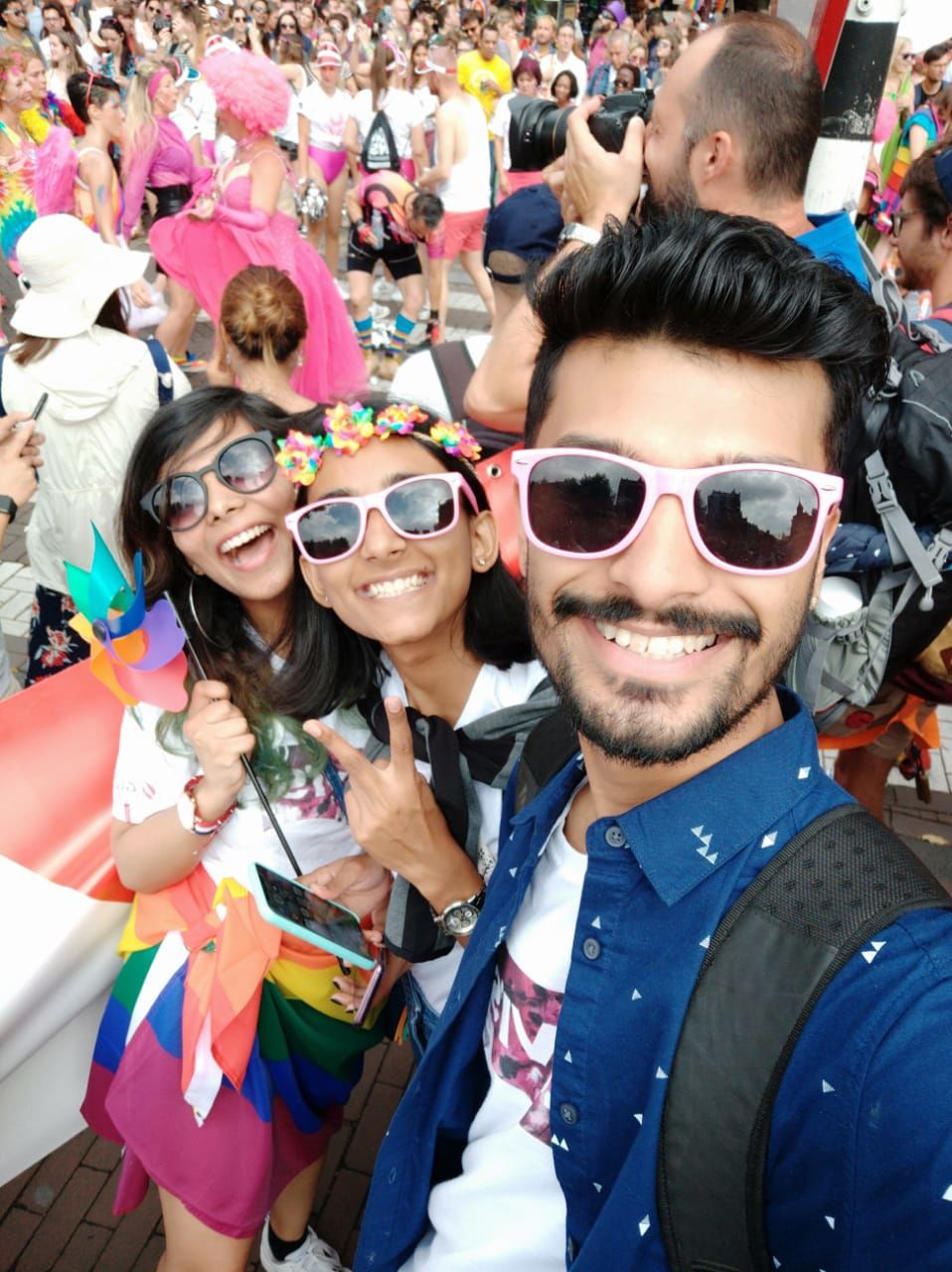 I simply couldn't believe what I was seeing and it took me a while to take in the vibrancy and positive energy of the place, bustling with happy faces and peppy outfits! It was heartwarming. I saw people dressed in their most colourful outfits with their friends and families, dancing and laughing. I even saw others carrying messages and slogans for creating awareness and spreading love along with the giant Pride flag!
There were some dance performances as well and then, we all proceeded to walk towards Pride Park where a bunch of concerts were going to take place. While walking through the city, you'll know it's Pride week because the whole city celebrates it. It's like a family get-together where the entire city becomes one big happy family.
On finally reaching the lush and beautiful Vondelpark, we witnessed Jordan Roy perform live and danced our hearts out! There are food and beer stands in case you get hungry or thirsty. Once you're done with the concerts and tired of dancing, you can take a walk in the park or just sit by the pond.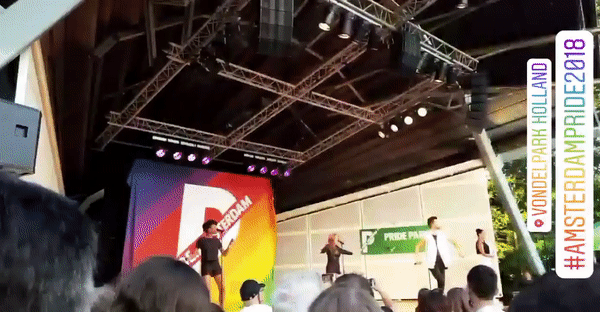 P.S: They have special Pride sales all over Amsterdam around that time, so don't forget to get some awesome stuff at throwaway prices!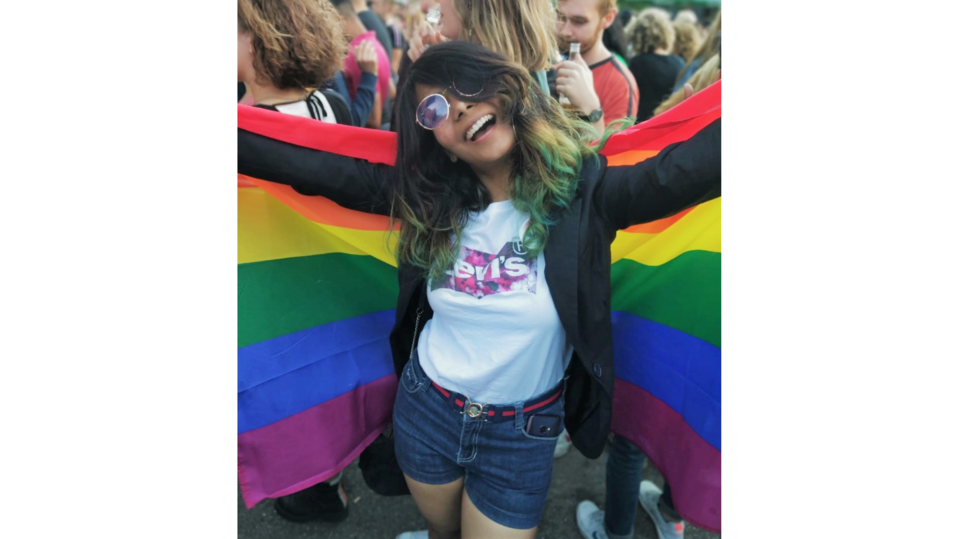 Don't worry, just because you missed this or last year's Pride, it doesn't mean you can't attend it next year. Get all the updates about Pride 2020 here! Till then, live and let live!
Attended some festival or celebration as amazing as the Pride? Write about it here on Tripoto and earn Tripoto Credits!
Get travel inspiration from us daily! Save our number and send a Whatsapp message on 9599147110 to begin!