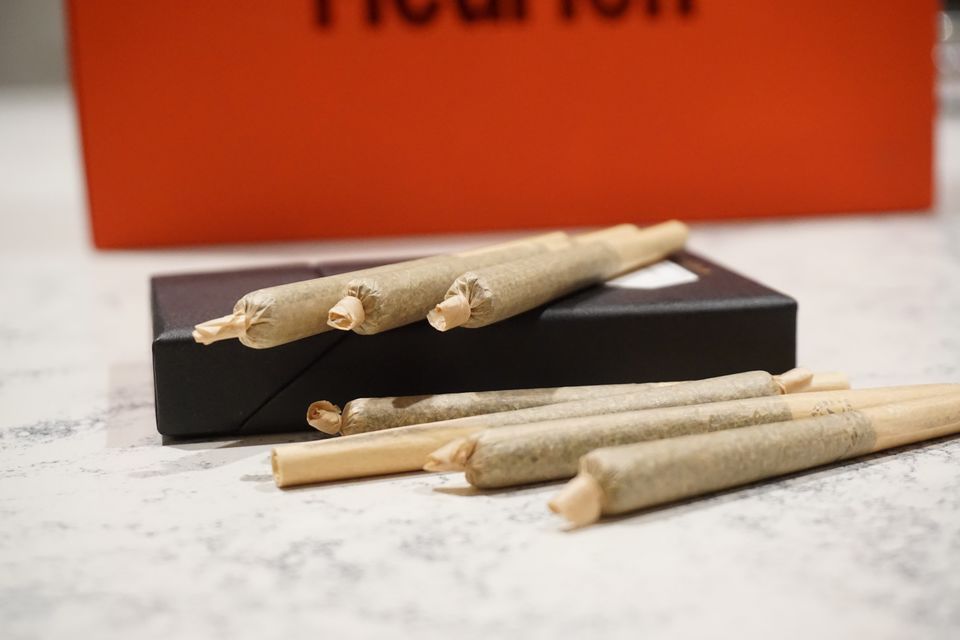 When I moved to France, I knew Amsterdam was going to be the first place I visit, then the second and the third. Oh, I know what all of you thought immediately, but no, it was for the Van Gogh Museum, for the beautiful canals and its classical architecture.
But away from the museum, the red light areas and epic pub crawls - I went around the city exploring what every pot smoker has on their bucket lists -- the coffee shops of Amsterdam.
Tourists need to know the difference between coffee shops and cafes. Coffee shops are where you can smoke freely, cafes are where you enjoy a coffee and a meal in a smoke-free space. The purchase and consumption of cannabis are legal in Amsterdam since 1976, which has led to over 200 coffee shops being opened in the city. This means you are never away from the spacewalk you went looking for.

Although a newbie should be aware of the fact that smoking is no longer permitted in public spaces and all the coffee shops have a place to smoke. Also, while they may be called coffee shops, they offer mediocre coffees.
The crème de la crème of cannabis, the gauntlet of ganja, and the Holy Grails of hash - here are the top 5 coffee shops that should be on your bucket list for your next trip to the stoner's paradise.
Opened by two Americans, Grey Area Coffeshop is one of the best coffee shops in Amsterdam. Over the years it has gained a reputation and has turned into a hangout spot for eminent stoners like Snoop Dogg. From award-winning maal to the back to basic, this place has an extensive menu for any type of stoner. Do not be surprised by a queue outside the shop waiting to buy the US-style eight-ounces (3.5 gm).
What to try
- BubbleGum, cannabis (mostly Sativa) has a chewing gum taste and is very powerful.
- Gray Crystal, an unpressed Sativa-like hash. It has very sweet taste and is powerful enough.
-Chocolope (or D-line), a chocolate flavored Sativa weed, it gives a powerful and long lasting high .
Address : Oude Leliestraat 2 1015 AW Amsterdam.
Price: 10-15 euros/ gram (Depending on what you buy, Isolator can go up to 20 euros/gram).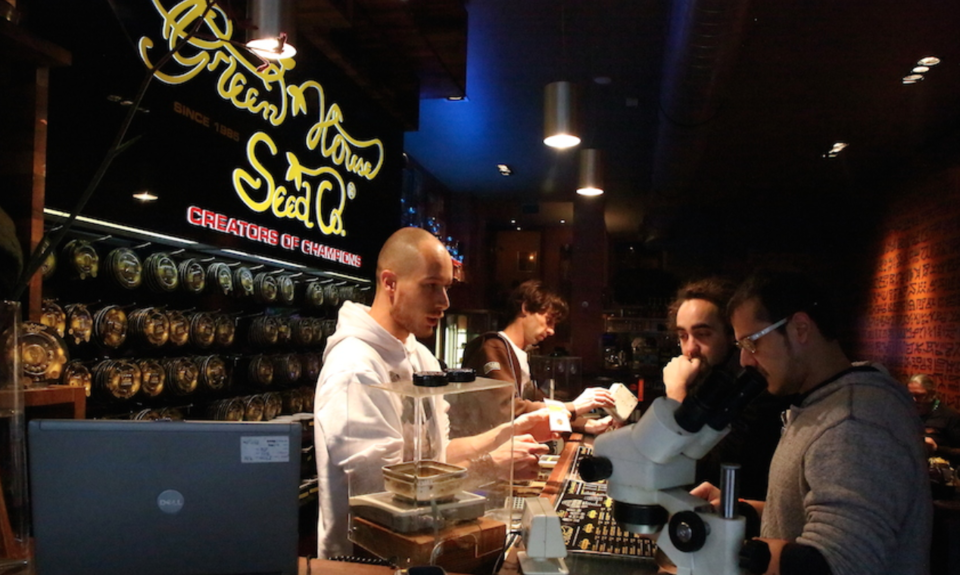 If you are looking for a great environment and a place to just chill, this should be on your list. Great Décor, Cozy sunny terrace, and a gorgeous view of the canal in the red light area, Green house prides itself on the quality of its weed. You will find locals, a few tourists, and sometimes a star since all the "biggest" smoking artists seem to have set foot there ; From Tarantino to Britney Spears, Eminem, Bon Jovi, Borat, and Rihanna.
What to try
- The Super Lemon Haze with its rate of 22.9% THC and taste of lemon, citrus, and pepper is a must. This is a cross of Lemon Skunk (Indica) and Super Silver Haze (Sativa). Provides a powerful and long-lasting high. Winner of Cannabis cup in 2008 and 2009.
- The Super Silver Haze is an Indica 18% THC, This is the Green House star child, the weed won the competition Cannabis cup in 1997, 1998, and 1999.
- The Arjan Haze 1 and 2 are also mixtures of Indica and Sativa, with over 22% THC, the trapping is powerful and long. Winner of Cannabis cup in 2004 and 2005.
- The hashish Green Ice has up to 58.2% THC! Produced in the Netherlands, it should be reserved for those who want to be up in the clouds for a very long time.
Address: Tolstraat 91 1074 VJ Amsterdam , Green House Centrum.
Oudezijds Voorburgwal 191, 1012 EW Amsterdam.
Price : 8-12 euros/ gram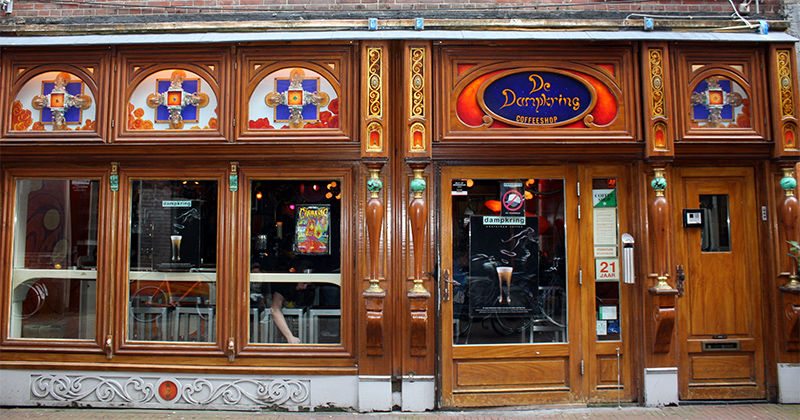 Can't have an article on the best coffee shops and miss out on this one. Known for its unforgettable interiors, even by a stoner's standard, this place leaves you tripping even without taking a puff. It became famous after it featured in Ocean's 12 and for the friendliest cat. With a widespread menu, you will find people tripping over what to buy. One could always ask the vendor for their suggestion with regards to what kind of time you are looking for. No-fuss and product quality always at the rendezvous!
What to try:
- Haze in Sativa (Amnesia, Super Silver, or G13) for energetic effects.
- Chocolope or BubbleGum in Indica for original tastes.
Address: Handboogstraat 29 1012 XM Amsterdam.
Price: Depending on the season and the growth the price changes but an average of 14-16 euros/gram. The cheapest can be up to 12 euros/gram.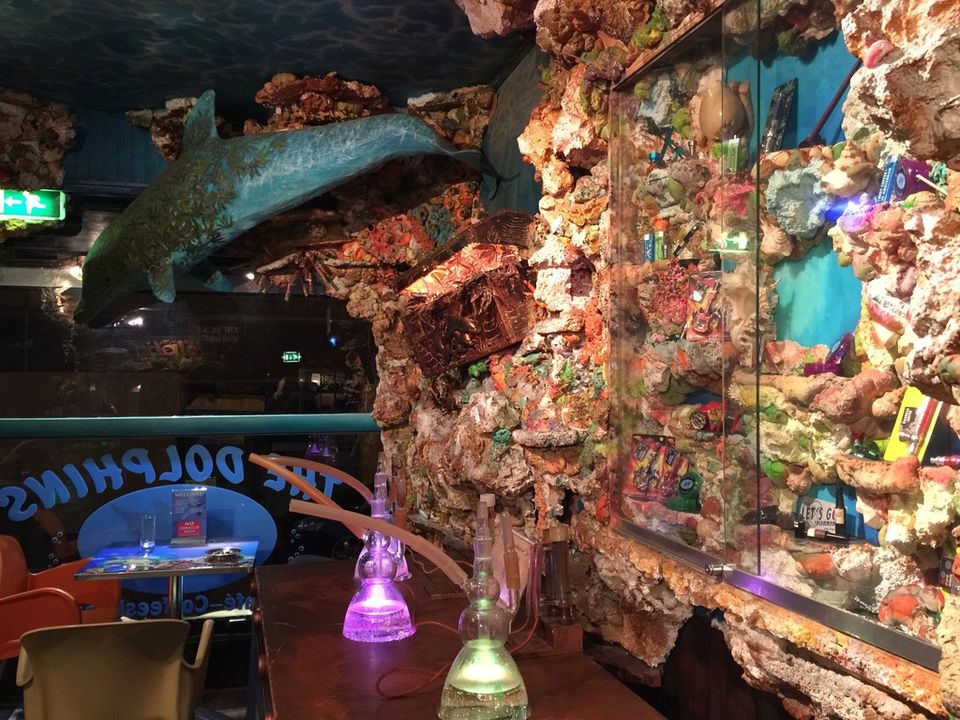 This coffee shop manages to bring under the sea theme to life. I swear I'd end up calling myself Ariel after one slice of the cake. With some of the best munchies in town, if you are not much of a smoker, this can be your place. Milkshakes, edibles, homemade cookies, and cakes, I think I found my home.
What to try:
-DLPHN Diesel, Kush, or Haze – their three Indica strains. You can get a premium selection of the three, as well.
- Tesla, a strong Sativa that is renowned as being one of the fruitiest weeds, often compared to Jasmin flowers.
- White DLPHN.
- The Space Muffins are homemade, the space cookies and milkshakes are up for grabs too.
Address: Kerkstraat 39, 1017.
Price: 12-14 euros / gram.
A Dutch local's favourite, this will soon turn yours too. Tweede Kamer is a play on the name of the Dutch Parliament with the same name. It was the first shop to start packing products in front of the customer so they could feel and experience their purchase.
The word on the street is that the staff won't sell anything they won't smoke themselves. Sound like a good deal to me.
What to try
- Kosher Mandarin, milkshake Kush, and a special like Blue Magic.
- Super Silva with G13 crosses, Amnesia and G crosses, Heaven's haze shake.
- C5 Pioneer (which we had never heard of), Green Magic CBD weed, and Amnesia.
- Space cakes.
Address: Heisteeg 6, 1012 WC Amsterdam.
Price: 8-16 euros/gram.
When you do visit Amsterdam, you'll find it lined up with Bulldog coffee shops. It is a chain of coffee shops and I believe, it's the Starbucks of weed world. You could try it but I swear by the ones above.
The best part of Amsterdam is that at 3 am everyone is on the same frequency. So even if I was Harry Potter and crying that my Nimbus 2000 won't fly, an entire group came to help. I think I flew? Also, my true colours were shown when I screamed Avada Kedavra at random strangers.
Sharing more than joints, Amsterdam leaves each one with some legendary stories. It is a place that welcomes newbies to professionals. It is a place that will make you feel at home instantly. And hence it makes it impossible to leave.
All in all, I had a very normal time in the city of sin.
.
.
.
For more travel info, follow me on Instagram
Ready to travel for free? Earn credits and redeem them on Tripoto's weekend getaways, hotel stays and vacation packages!
Explore the best of travel inspiration on Tripoto Instagram!