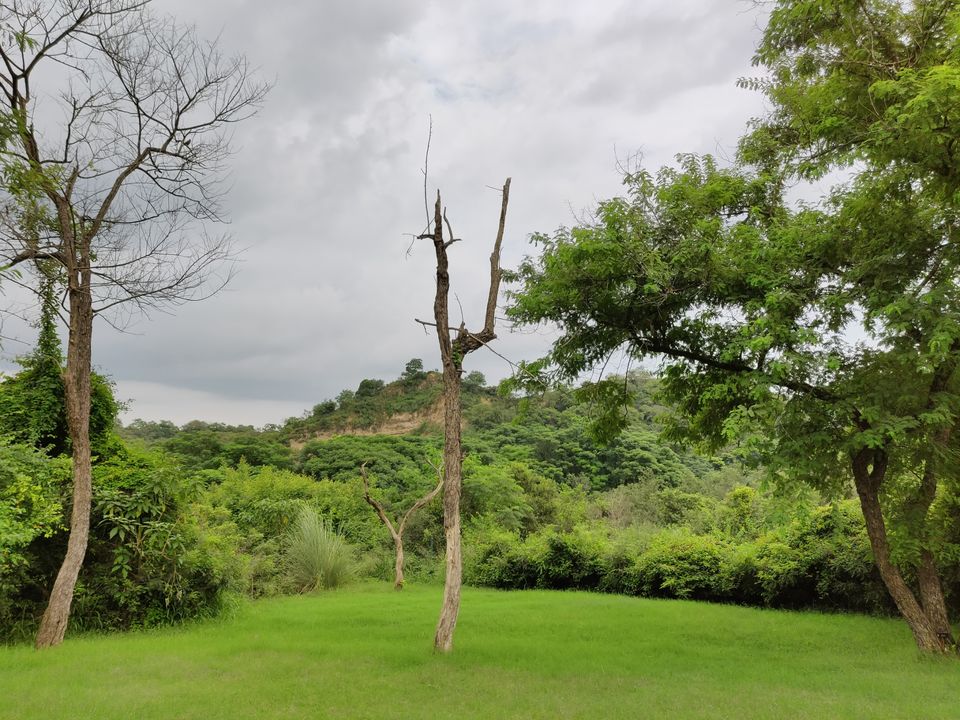 For all those who are looking for a quick getaway away from city life, in middle of nowhere, this resort fulfills all the requirements of secluded and exotic weekend.
If you want to experience warmth, comfort and adventure all in one location, head to "The Kikar Lodge". Nestled in the Shivalik foothills at the northern periphery of the State of Punjab, The Kikar Lodge is India's First Private Forest Reserve spread over 1800 acres of forest, a secluded haven of luscious green splendour. If you wish to stay away from your cell phone, with limited network connectivity then this place is for you.
Reaching there:
Just 75 Kms from Chandigarh, around 300 kms from Delhi and 80 kms from Ludhiana, this place is easily approachable from any of these places. Kikar Lodge is a destination resort near Ropar, Punjab in close proximity to Anandpur Sahib and Ropar Wetlands. Prefer driving your own SUV rather than depending on public transport. The most important thing you will require to reach there is Google Maps.  You will cross many narrow lanes of some typical Punjabi Villages. Seeing the road leading to hotel, you can never realize that such road can lead to a damn exotic location. The condition of road is not very good after diverting from the national highway. But this last stretch becomes enjoyable as one gets the slight feeling of off roading amidst busy city roads. As the surroundings change from Desi Punjabi Villages to shades of trees and forests, sunlight starts to play hide and seek with shades of trees, expect the destination arriving.
The property:
Once you cross the gate no. 1 and 2, there comes the parking of resort. From the parking itself, one can guess that it's not like any typical resort in Punjab. An impeccable location and some offbeat offerings are the main assets of this property. A wonderful resort surrounded by lush and tranquil forested area where one can continue enjoying the luxuries of the urban world with the inclusion of lots of adventure.
There are a total of 22 AC cottages with forest view, 8 deluxe rooms and 12 luxury Safari tents. Prefer staying in Forest view cottages if you are travelling as a couple or family.
PS:  If you are travelling as a couple feel the romance in the environment around these Forest view rooms.
The resort also has arrangements for outdoor activities like bird watching, off road quad biking (ATV), off road mountain biking, fishing, Burma Bridge, croquet, darts etc. There are two swimming pools and a professional spa to pamper yourself.
The Food:
There are no options nearby or outside this property for good food, but that's not a regret. There is a multi cuisine restaurant and bar offering excellent food with literally no complaints. In room dining is also provided and one can also enjoy drinks and snacks by the pool also. Right from the welcome drink to the main course, the food here will never disappoint.
Things to do: "Spice up the romance"
Indulge in an open air candle light dinner just outside your Forest view cottages. Take a walk through the forests in the evening. Wake up early for a quick yoga session. This place is not for waking up late in the morning, there is a strange aroma in morning breeze of this place. Take your camera and capture some of your best shots and believe me they will be some of your best Instagram posts. This place is also ideal for pre wedding or any type of couple shoots.
There is a place known as "The Den". Use this place to relax, read a book, or hear soft music. This area can also be used as a private dining on request.
The Forest Spa offers various treatments which can be enjoyed as a couple.
The adventure activities offered by the resort can be enjoyed together.
Cost:
A two night three days trip to this resort, including food and some of adventure activities will cost your pocket around INR 20-25K.
Travelling tips:
Before travelling here please make sure you carry the money in cash as due to low network connectivity, cards swiping don't always work.
Inform your family and friends in advance that your phone can be out of reach most of the time.
Carry all the essentials especially medicines required with you as there are no shops nearby.
There are no options for food nearby so you will have to rely only on food served in the resort.