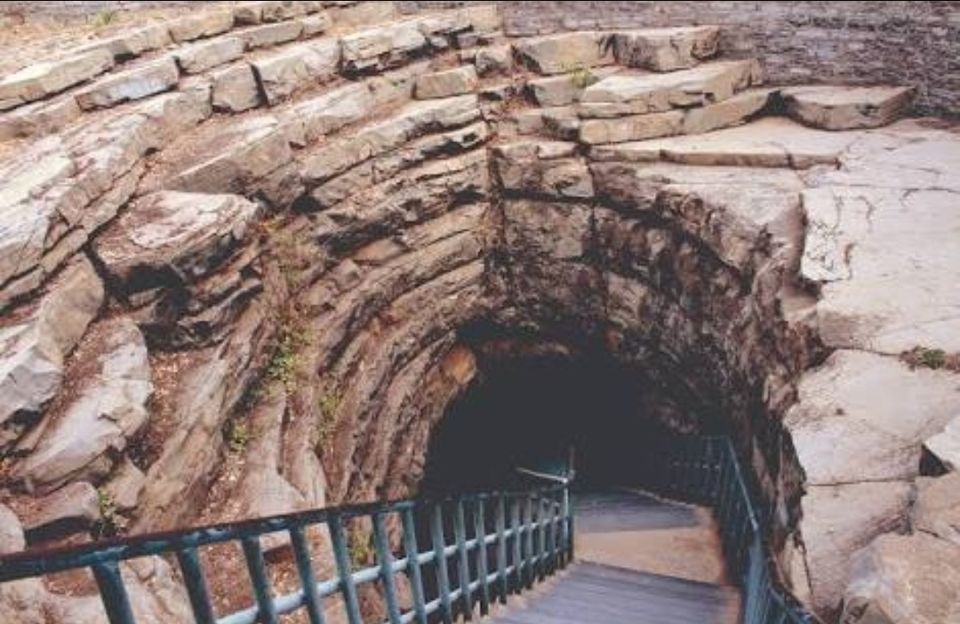 Belum Caves are the largest and longest black limestone cave system in India still open for the tourists which are famous for their unique formations such as stalactite and stalagmite formations. The country's second largest caves were formed over a period of millions of years with the consequent formation of limestone. These caves have numerous pathways with intricate patterns of water stream on limestone which are bound to leave you awestruck over the sheer will of nature and the beauty it can create. Evidence of the Jain and Buddhist remains have been found in the caves. Few relics found inside the caves could be dated back to 4500 BC.
An enormous forty feet high statue of Lord Buddha was installed outside the caves to commemorate the roles of monks in these caves. Inside the caves is the maze of 16 paths and an entrance chamber. The cave consists of various long passages, galleries, large cavities with fresh water and water tunnels. There are three spectacular sinkholes.
One of the most interesting features here is the Saptasvarala Guha (the chamber of seven notes) where the stalactite formations produce musical sounds when struck with a wooden stick or knuckles. Deep inside caves is a perennial underground stream that forms a natural waterfall at the lowest point in the caves i.e. 150 feet below ground level which is called Patalganga. Intricate formations created by nature add immensely to the allure of the Belum caves. The breathtaking natural sculptures include the Simhadwaram (an arch-like formation in which the stalactites appear like the head of a lion), Kotilingalu Chamber (with thousands of stalactite formations akin to lingams), Voodalamari (a banyan tree like stalactite formation) and Thousand Hoods (stalactite formations shaped like the hoods of thousands of cobras).
When to visit:
The caves are open throughout the year but winter season (November-January) are considered to be the best time to visit
How to Reach:
By Air: The nearest airport is Tirupati which is approx. 250 kms. away
By Rail: The nearest railway station is Tadipatri which is 30 kms away. Direct buses ply to Belum from Tadipatri
By Road: One can take a bus or hire a taxi to reach the caves from Belum village which is approx. 106 kms from Kurnool. Also, you can hire a taxi from Hyderabad and Bangalore (5 hrs drive)
Where to Stay:
Accommodation options are scarce around the Belum Caves. Andhra Pradesh Tourism operates a 32-bed dormitory near the caves which you need to book in advance. Budget hotels are available at nearest towns like Tadipatri and Banganpalli which are 30 and 20 kms away respectively. You'll find high-end accommodation options at Kurnool which is almost 100 kms away
Nearby Attractions:
Yaganti cave temples which is approx. 44 km away
Gandikota canyons which is approx. 60 km away
Mantralayam which is approx. 186 km away
The rock formations at Belum caves are proof that wonderful things can appear when water meets limestone.