How can you find the best hotels with the best bathtubs? This is an essential question to ask yourselves when deciding on a getaway. Because when we talk about bathtubs, the bigger, the better.
The best hotel rooms – those with massive bathtubs, and perhaps a pleasant private view – call for long, cozy soaks together. While the shower area can be fun too, it's never as luxurious as the bath. For the same reason, it's always disappointing to visit a reputedly luxurious hotel, peeping into the washroom, and finding a miniature version of an anticipated tub. To ensure you won't encounter a situation of this nature, scroll through some of the best hotels bathtubs where you must indulge in a lazy bubble bath.
Oberoi Wildflower Hall – Shimla
For an ultimate luxury escape that overlooks the Himalayas and the holy Gangotri, nothing beats the Oberoi Wildflower Hall Shimla property. For the stunning view, you can book either the Premier Valley View Rooms or Deluxe Garden View Rooms, both of which offer a full-length warm bathtub. If you can bear to leave your comfortable bed, you can relax and unwind in your personal tub or enjoy soothing showers. Plus, what could be better than snuggling up to your loved one in the bath, while enjoying the view that nature puts for you!
How to get there:
Nearest Airport – New Delhi Airport
Nearest Railway Station – Kalka Railway Station
Daily Budget: Rs. 17,500
Contact: 0177 264 8585
Spread across a massive area amidst Lake Pichola, Taj Lake Palace features majestic architecture and is home to a number ultra-luxury lake view suites that entice guests away from the commotion of the city. Each of the spacious marble and stone themed suites is fully equipped with Jacuzzi tubs for relaxation at its finest. To take it up a notch, you can book one of the lake view suites which is equipped with a private outdoor tub that won't demand you to step out of your private haven.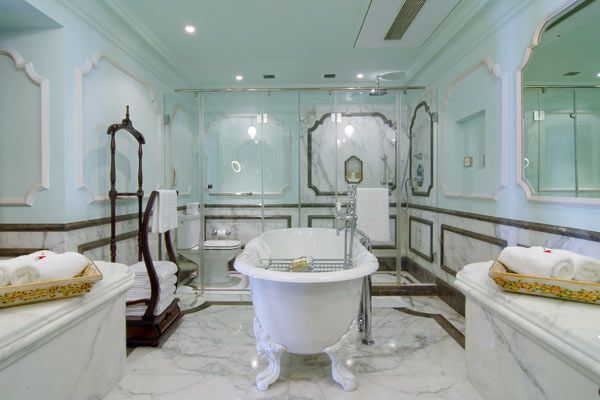 How to get there:
Nearest Airport – Udaipur Airport (Maharana Pratap Airport)
Nearest Railway Station – Udaipur Railway Station
Daily Budget: Rs. 30, 000
Contact: 0294 242 8800
Nestled on a small hill overlooking the colourful city of Jodhpur in Rajasthan, this ultra-luxurious palace offers rooms with secluded balcony and picturesque city views. Carved from a massive piece of subtle pink Italian marble, the bathtub installed in the Maharani Suite is nothing less than an art piece in itself. The welcoming indulgent tub, a shower-head, and a glass of wine are all you need to meet your in-room Jacuzzi daydreams.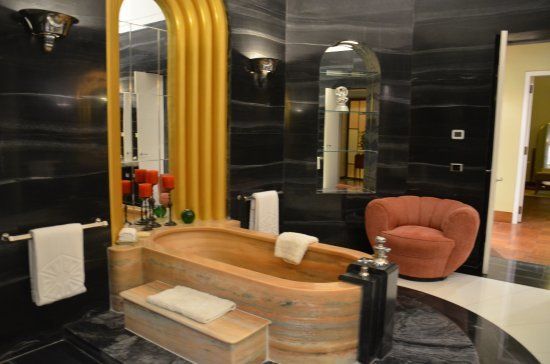 Nearest Airport – Jodhpur Airport
Nearest Railway Station – Jodhpur Railway Station
Daily Budget: Rs. 34,000
Contact: 0291 251 0101
The bathtub at the Royal Mughal Suite of ITC Mughal is more than just a place to soak. To the extreme end of the room is the marble framed bathtub comfortably fit to reeking luxury. You can enjoy a grand walk-in shower adorned in elaborate glittering tiles and indulge in the complimentary amenities. Leave it to ITC Mughal to design this immaculate bath corner – the only element that could drag you away from Agra's architectural wonderland – the Taj Mahal!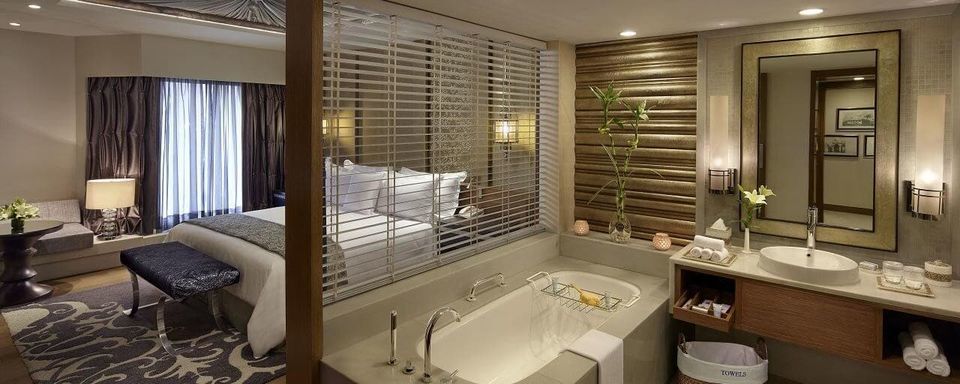 How to get there:
Nearest Airport – Agra Airport/Delhi Airport
Nearest Railway Station – Agra Cantt.
Daily Budget: Rs. 6,000
Contact: 0562 402 1700
The bathrooms at Radisson's property are all about tranquility, featuring cozy and warm aesthetics, giant walk-in showers, and spa-like bathtubs which is good for any time of the day – a morning dip, an afternoon soak, or a late evening respite. The suites at Radisson are a contemporary design lover's paradise, with a sophisticated tub, walk-in shower, private patio, and crystal-clear sliding windows that allow for views of the lush landscape.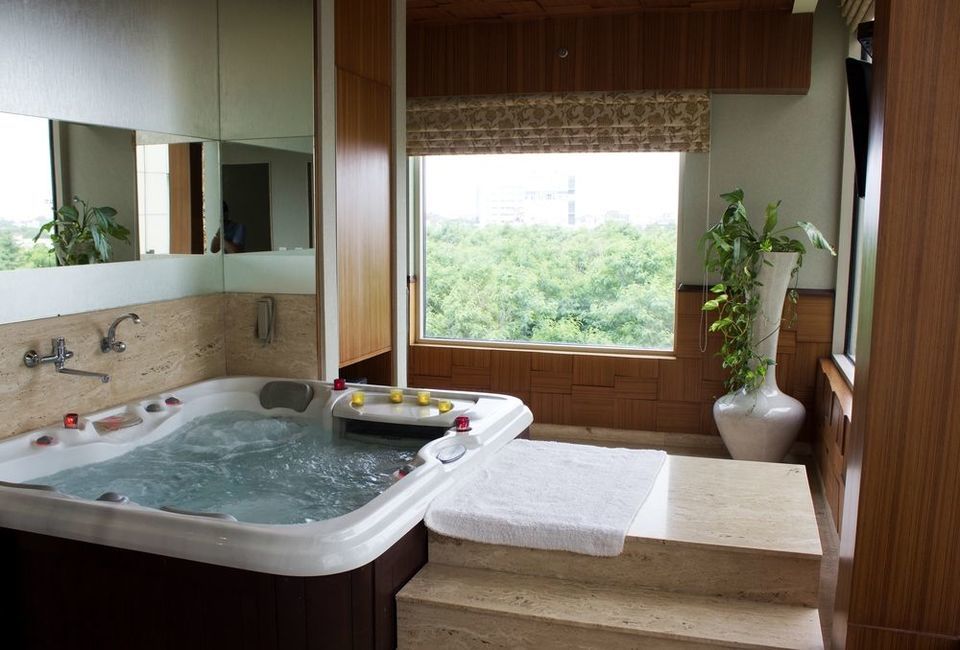 How to get there:
Nearest Airport – Mumbai Airport (Chhatrapati Shivaji International Airport)
Nearest Railway Station – Karjat Railway Station
Daily Budget: Rs. 16,000
Contact: 070282 40240
Sink into the stone clad and impressive bathtub in the Premium or Deluxe cottage at Taj Madikeri in Coorg. The traditional yet ultra-luxurious bathroom surrounded with evergreen forest view is an exclusive feature that these rooms embrace. Stay here to experience a bathroom that gives the feel of a tropical forest. After spending hours traveling through the dense terrains, you will look forward to a private dip and walk-in shower.