Venturing into a world that is free of traffic, deadlines and most importantly, humans, can leave you goggly-eyed and rejuvenated. Life underwater is surreal and quiet. As you try scuba diving in the Andamans, the only sound will be of your own breathing and of an odd fish pecking at some coral nearby. As the colourful sea creatures zigzag around you, you will find a clear stretch of sand and stop to kneel at the bottom of the sea. For a few minutes, your senses will try and take in as much marine life as possible. But soon, you'll have to head back, for air pressure will be dropping. As you come out of the water, you'll feel changed. And you'll ache to go back.
The untainted seas of the Andaman Islands are home to around 750 species of fish such as angelfish, parrot fish, loggerhead turtles and unique coral, all of which can be seen up close by diving deep into the ocean.
What is scuba diving?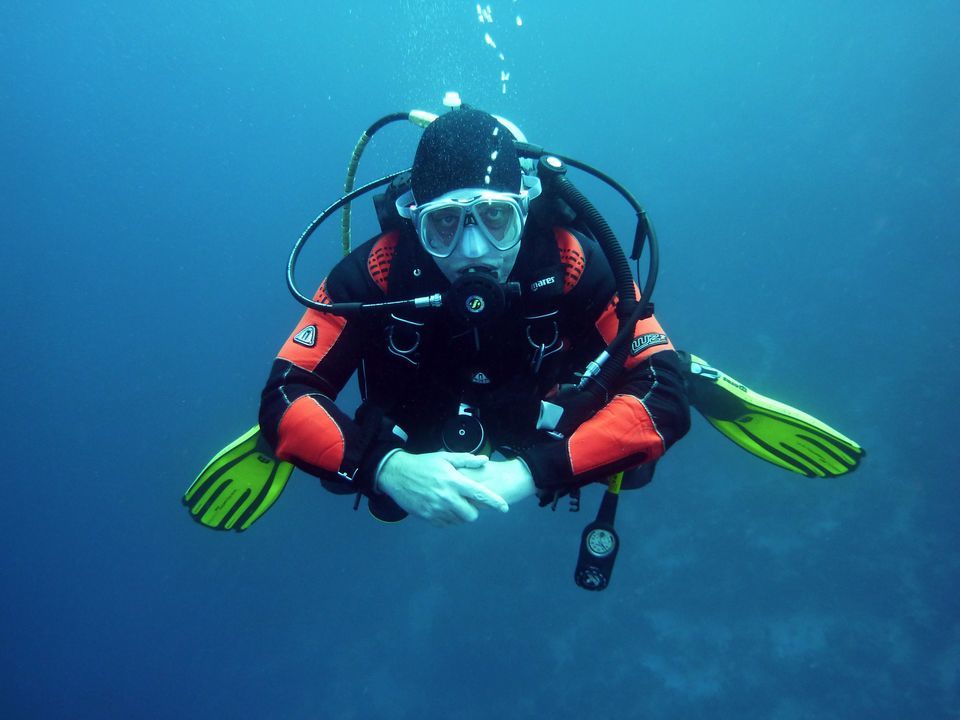 Scuba is an abbreviation for Self Contained Underwater Breathing Apparatus, essentially equipment that allows you to breathe under water. The sport of scuba diving helps you explore the underwater world with the help of a tank filled with compressed air. You don't need to know swimming to scuba dive; just a few hours of basic training is enough. First-time divers have to stay within a depth of 30 to 40 metres, but with special training or a trained professional, you can go deeper. What is important is that you choose a good diving school. Fortunately, with the Andaman Islands being a popular destination for scuba diving, there are many diving schools that offer free dives or open water courses that certify you as a scuba diver.
Scuba diving schools in the Andamans
PADI and SSI are the most popular and trusted scuba diver training organisations in the world. So the school you choose should be certified by either.
According to PADI's official website, Lacadives and Barefoot Scuba are certified centres. Around nine schools are SSI certified in the Andamans: Dive India, Scuba Lov.in, Seahawk Scuba, Eco Diver India, Doongi Dives Dive Centre, Andaman Bubbles, Blue Corals Dive, Ocean Tribe Scuba and Havelock Divers.
Types of scuba diving in the Andaman Islands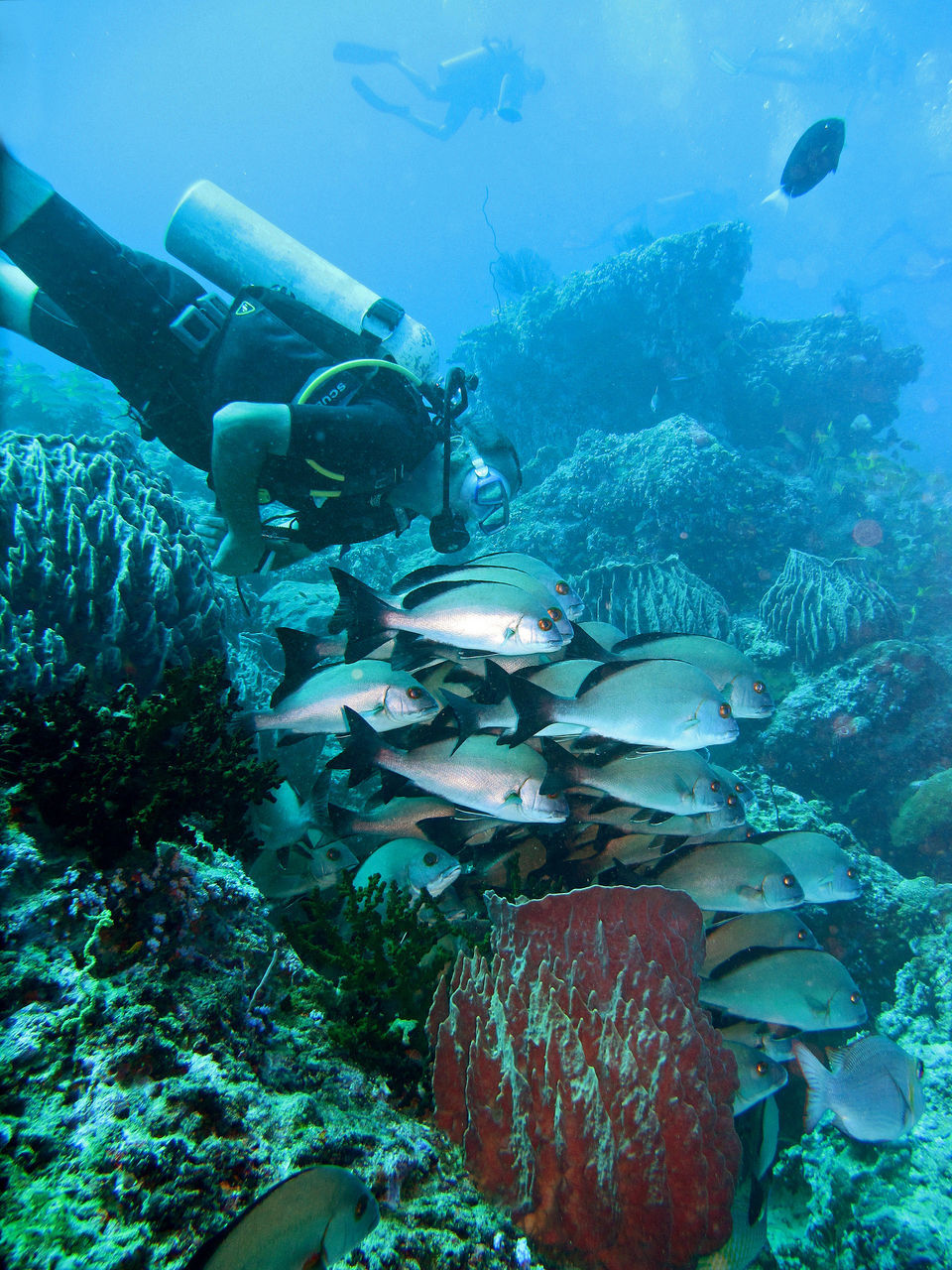 Besides the regular open water diving, there are two other kinds of scuba diving that you can enjoy in the Andaman Islands.
Night diving
Yes, this means diving at night! It makes the activity more thrilling and adventurous and you can see many nocturnal animals such as polyps that withdrawn into their skeletons during the day, and protrude out for feeding at night. In the dark, you dive with a powerful scuba torch that helps you see and communicate with the other divers. You will also be taught some basic scuba sign language that you will use with the torch illuminating your hands.
Deep diving
Diving deeper into the sea is ideal for exploring coral reefs and wrecks. Deep diving takes you till 30 metres under water, and can be dangerous if not organised properly. Ask a lot of questions and make sure everything is in order before attempting this one. Once you get there, however, you'll be able to see rare species of marine life that are usually not visible above.
Cost
The price depends on what you want and which diving school you pick. The cost includes the rent of diving gear and underwater photography and video. To give you an estimate, here are some approximate costs:
A single dive – Rs 4500 to 5000 (This includes an introductory scuba session, and one guided dive with an instructor.)
Two dives – Rs 6000 to 7000
Scuba lite – Rs 3500 (This includes a shorter version of the introductory scuba session and your time underwater is limited to 30 minutes.)
Best time to scuba dive in the Andamans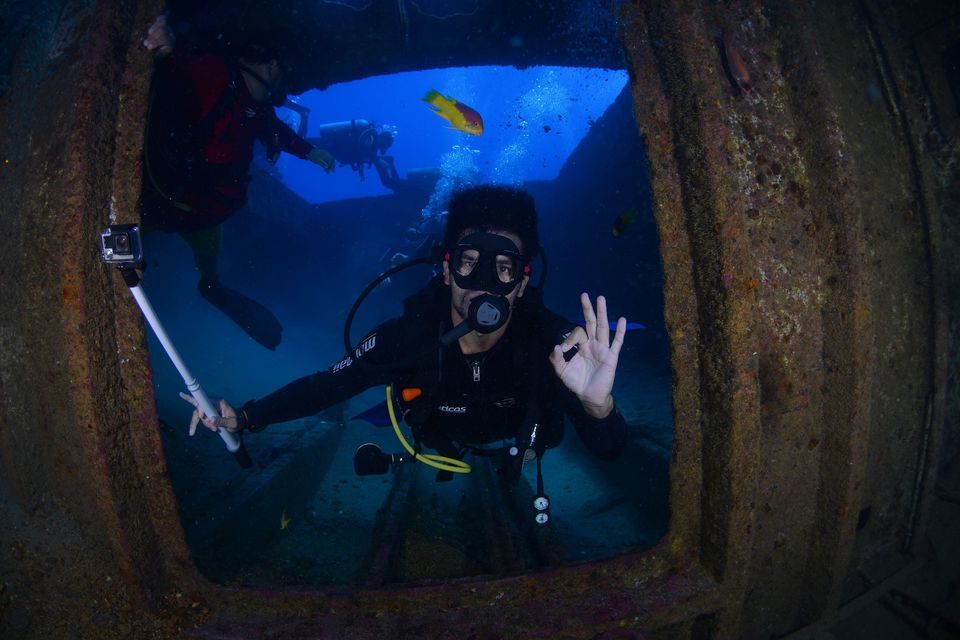 The water is the calmest from January to May, making it a good time to scuba dive. Still water means that the visibility will be high and you will be able spot fishes and other marine life clearly.
September to November is when the southwesterly winds are about to die down. The wind still picks up sometimes and fish swarm up in the sea, making these three months another period to scuba dive.
Diving sites
With around 572 islands, new sites for scuba diving in the Andamans are always being discovered. All sites have a different underwater habitat, water clarity and marine life. While I can't list down all of them here, I can tell you about the most popular ones. For a complete list, ask your diving school instructor.
The most popular location to scuba dive is Andaman is in the Havelock Island, which has around 25 sites. Some of the most popular ones are: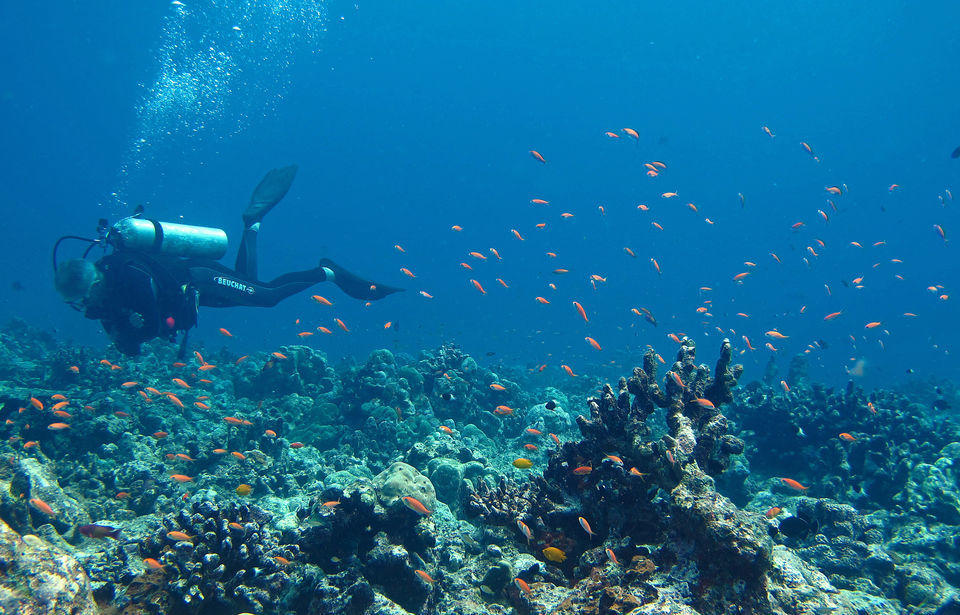 Aquarium – With soft and easily predictable currents, this reef spot is great for beginners. Expect to see hard coral and beautifully colourful and varied fish.
Lighthouse – This diving site, with a depth of six to 18 metres, is great for night diving, when you can see aquatic life such as lobsters, lionfish, humpback parrotfish, octopus etc.
Seduction Point – This is a pretty, massive rock with Staghorn corals that is home to all kinds marine life.
Mac Point – You know of the dugong, that unique sea mammal found in Eastern Africa and Australia? Well, you can see some here when you dive at Mac Point.
This national park includes a group of islands and is close to Wandoor Beach on the Andaman Island. The crystal clear water here makes for an excellent dive site and is full of rich marine life such as turtles, starfish, crocodiles and a variety of coral reef.
Neil Island, a neighbour of Havelock is located in the Ritchie's Archipelago. It has around five diving sites, of which Bus Stop with its sloping sandy bed, K Rock, with its gentle current, and Margherita's Mischief with its crystal clear water are suitable for all kinds of divers.
A dive in Barren Island is quite exciting, what with it being the location of the only active volcano in South Asia. The island is barren, as the name says, except for a few birds, bats and goats. Marine life you can see here includes black tip and oceanic white tip sharks, manta rays, turtles, and fish such as tuna, barracuda and kingfish.
Scuba diving in the Andamans not your thing? Then try snorkelling instead. Read: Snorkelling In India: A Know-It-All Guide To The Next Big Thing In Water Sports
Frequent Searches Leading To This Page:-
best time to dive in Andaman andaman trip package cost